Air Temperatures – The following high temperatures (F) were recorded across the state of Hawaii Saturday…along with the low temperatures Saturday:

79 – 66  Lihue, Kauai
81 – 71  Honolulu, Oahu
77 – 66  Molokai AP
81 – 68  Kahului AP, Maui
78 – 67  Kona AP, Hawaii
77 – 65  Hilo, Hawaii

Here are the latest 24-hour precipitation totals (inches) for each of the islands Saturday evening:

1.35  Mount Waialeale, Kauai
0.11  Kamananui Stream, Oahu
0.33  Molokai
0.00  Lanai
0.01  Kahoolawe
0.92  West Wailuaiki, Maui
0.59  Kawainui Stream, Big Island

The following numbers represent the strongest wind gusts (mph) Saturday evening:

32  Port Allen, Kauai
44  Oahu Forest NWR, Oahu
35  Molokai
30  Lanai
42  Kahoolawe
35  Maalaea Bay, Maui
42  Waikoloa, Big Island
Hawaii's Mountains – Here's a link to the live webcam on the summit of our tallest mountain Mauna Kea (nearly 13,800 feet high) on the Big Island of Hawaii. Here's the webcam for the 10,000+ feet high Haleakala Crater on Maui. These webcams are available during the daylight hours here in the islands, and at night whenever there's a big moon shining down. Also, at night you will be able to see the stars, and the sunrise and sunset too…depending upon weather conditions.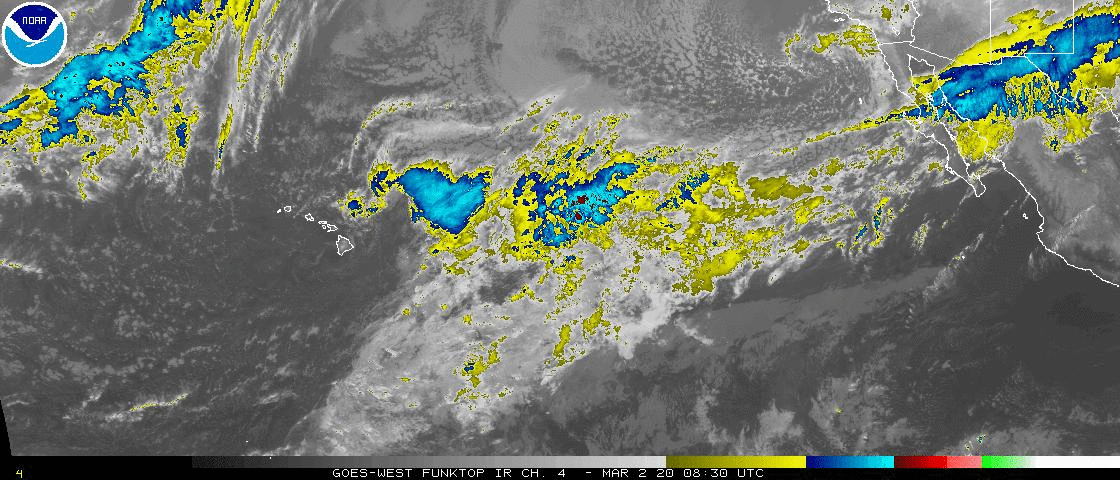 A swath of high clouds continues its journey…out of the deeper tropics
(click on the images to enlarge them)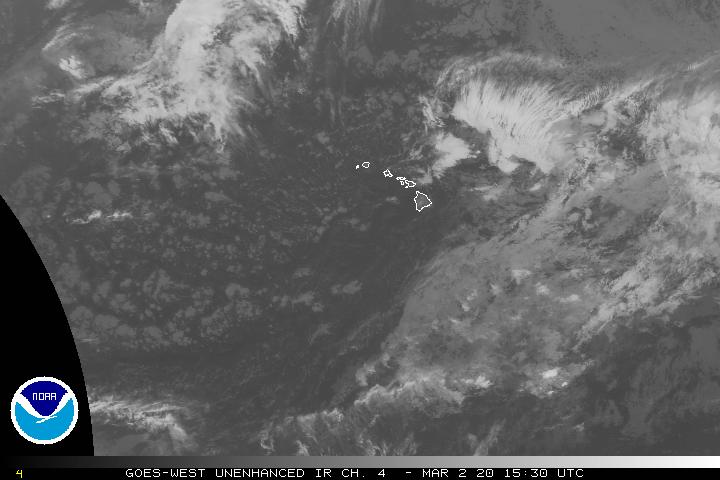 These high level clouds are extending up over the state as far as Oahu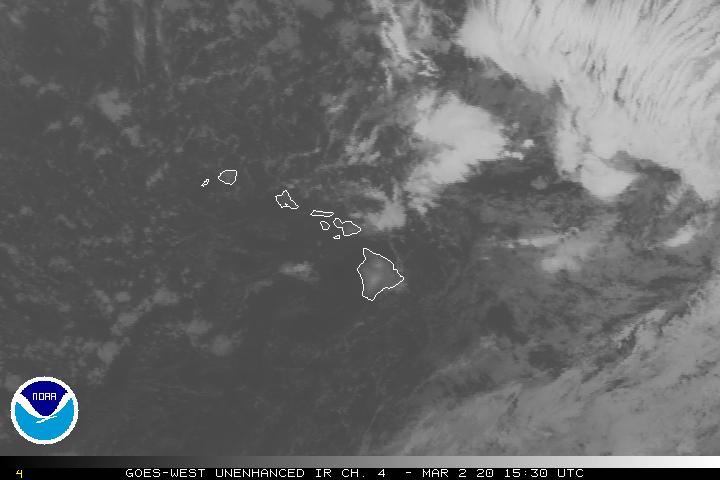 Partly to mostly cloudy skies…with a few clear areas


There are showers falling locally – Looping image
Small Craft Advisory…pink color below
High Surf Advisory…purple color below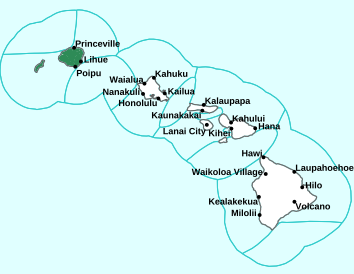 ~~~

Hawaii Weather Narrative

~~~
Broad Brush Overview: Windy trades will continue, as strong high pressure remains north of the state. Clouds being carried along in the trades will focus rainfall over windward areas…although some of these showers will spread leeward at times. An increase in showers is expected tonight through Monday morning, as a band of moisture moves through. The trade winds are expected to gradually become lighter Monday through later in the new week. 
Details: Locally windy trades will continue through Monday, although the trade wind speeds should edge slightly lower Monday. We could see a slight increase in the trade wind speeds tonight and again Sunday night, when the windier areas across Maui County and the Big Island could see Wind Advisories issued by the NWS. A band of moisture is expected to push into the islands tonight and linger through Monday morning.
This should bring periods of fairly wet weather to windward areas, with leeward spillover activity on the smaller islands. High cirrus clouds are also expected to spread northward into the central islands, and perhaps as far west as Oahu through Sunday, as a sub-tropical strong jet stream lifts northward over the state. The thickest high cloud cover is expected over Maui County and the Big Island through early Sunday.
Looking Further Ahead: Typical late winter trade wind weather conditions are expected statewide late Monday morning through the remainder of the work week, with some decrease in shower coverage likely toward the end of the week. The trades will trend downward Monday and Monday night, then hold in the moderate range Tuesday through Thursday…becoming lighter by Friday. Off and on showers will continue to favor windward and mountain areas.
Here's a near real-time Wind Profile of the Pacific Ocean – along with a Closer View of the islands / Here's the latest Weather Map

Marine Environmental Conditions: A surface high will remain parked northeast of the islands through the weekend, supporting strong to near gale force trade winds. The trades will drive an increase in wind swell waves that will combine with an increasing northwest swell to bring elevated seas, and a Small Craft Advisory (SCA) is posted through Monday for all waters. Winds and seas will gradually trend down early in the new week as the high moves away, and a front washes out north of the state. A new high building north-northwest of the islands Tuesday and Wednesday, will support light to moderate trade winds.
A new northwest swell will peak tonight, then gradually diminish Sunday into Monday. A slightly smaller northwest swell arriving Monday through Wednesday will produce surf below advisory levels. Yet another northwest swell arriving Thursday…may peak near advisory levels before diminishing Friday.
Rough and choppy surf along east facing shores will gradually build to advisory levels Sunday and Monday, as the upstream fetch of trade winds increases. Surf along east facing shores is expected to diminish Tuesday and Wednesday as winds diminish. A small south swell will build slightly into Sunday, peak below advisory levels…then diminish Monday and Tuesday.



World-wide Tropical Cyclone Activity



Here's the latest Pacific Disaster Center (PDC) Weather Wall Presentation covering the western Pacific Ocean, the Indian Ocean, and the Arabian Sea, including retiring  Tropical Cyclone 18S (Idai)…and a tropical disturbance being referred to as Invest 99S


>>> Atlantic Ocean: The 2019 hurricane season begins June 1, 2019

Here's a satellite image of the Atlantic
>>> Gulf of Mexico: The 2019 hurricane season begins June 1, 2019

>>> Caribbean Sea: The 2019 hurricane season begins June 1, 2019

Here's a satellite image of the Caribbean Sea…and the Gulf of Mexico
>>> Eastern Pacific: The 2019 hurricane season begins May 15, 2019

Here's the link to the National Hurricane Center (NHC)
>>> Central Pacific: The 2019 hurricane season begins June 1, 2019
Here's the link to the Central Pacific Hurricane Center (CPHC)
>>> Northwest Pacific Ocean: No active tropical cyclones

>>> South Pacific Ocean: No active tropical cyclones
>>> North and South Indian Oceans / Arabian Sea: 

Tropical Cyclone 18S (Idai)

JTWC textual advisory
JTWC graphical track map
Interesting: Meet 'The Blobs': Two Continent-Size Mountains in Earth's Deep Mantle That Nobody Understands – About halfway between your feet and the center of Earth, two continent-size mountains of hot, compressed rock pierce the gut of the planet — and scientists know almost nothing about them.
Technically, these mysterious hunks of rock are called "large low-shear-velocity provinces" (LLSVPs), because seismic waves shuddering through Earth always slow down when passing through these structures.
A mesmerizing image, featured in an article on Eos (the official news site of the American Geophysical Union, or AGU), gives us one of the most detailed views yet of these rocky anomalies — which most scientists simply call "the blobs."
Geophysicists have known about the blobs since the 1970s but aren't much closer to understanding them today.
"They're among the largest things inside the Earth," University of Maryland geologist Ved Lekic told Eos reporter Jenessa Duncombe, "and yet we literally don't know what they are, where they came from, how long they've been around, or what they do."
This much is evident: The blobs begin thousands of miles below Earth's surface, where the planet's rocky lower mantle meets the molten outer core. One blob lurks deep below the Pacific Ocean, the other beneath Africa and parts of the Atlantic. Both are massive, stabbing up about halfway through the mantle and measuring as long as continents. According to Duncombe, each blob stretches about 100 times higher than Mount Everest; if they sat on the planet's surface, the International Space Station would have to navigate around them.
To get a better sense of their shape and scale, take a look at the stunning 3D map of the blobs that Lekic and University of Cambridge seismologist Sanne Cottaar created in 2016 (shown above). The blobs' vast, cascading plains have been likened to mountains of sand or interconnected pits of gravel, Duncombe wrote, but whether they're lower- or higher-density than the surrounding mantle remains a point of contention among scientists.
Equally mysterious is how, if at all, the blobs affect geological functions such as plate tectonics and volcanism. A more recent map of the structures, presented by University of Oxford doctoral student Maria Tsekhmistrenko at the 2018 annual meeting of the AGU, suggests that the tips of the blobs might branch into plumes of hot material that brush up against volcanic hotspots just below Earth's surface. What does this mean? Nobody knows. It may take many more decades to better understand the enigma near the heart of our planet. Luckily, the blobs don't seem to be going anywhere.
March 2nd, 2019 at 11:28 am
Michael G McCallister Says:

Glenn;

My wife and I are traveling to Maui for the seventeenth time(how lucky are we?) and are looking forward to little to no vog for the first time. We are leaving the mainland for Maui on the 20th and look forward to the sunny warm weather. It has been a somewhat cool and snowy winter where we live here in Northern Arizona with more than 100 inches of snow, more than 70 last month alone. Look forward to enjoying paradise for a while.

Mike

~~~ Hi Mike, good to hear from you again. Lucky you, wow, 17 times to Maui…wonderful!

It will feel so good to travel from the snow and cold of N. AZ…heading back to paradise!

Hawaii has been cooler than normal this winter, at least some of the time, although it will sure feel good to you and your wife.

I hope you two have the best vacation ever!

Aloha, Glenn
Leave a Reply