The last update to this website was at 715pm (HST) Monday, September 26, 2022

Air Temperatures – The following high temperatures (F) were recorded across the state of Hawaii Monday afternoon…along with these low temperatures Monday morning: 
86 – 73  Lihue AP, Kauai
88 – 73  Honolulu AP, Oahu
87 – 67  Molokai AP
91 – 71  Kahului AP, Maui – 92 was the record Monday
87 – 74  Kona AP, Hawaii
86 – 67  Hilo AP, Hawaii 

Here are the latest 24-hour precipitation totals (inches) for each of the islands Monday evening: 

0.21  Puu Opae, Kauai
0.34  Honouliuli, Oahu
0.01  Molokai 1, Molokai
0.00  Lanai
0.00  Kahoolawe
0.03  West Wailuaiki, Maui
3.42  Waiaha, Big Island
The following numbers represent the strongest wind gusts (mph) Monday evening: 

16  Poipu, Kauai
28  Kuaokala, Oahu
23  Makapuapai, Molokai
29  Lanai
29  Kahoolawe
31  Maalaea Bay, Maui
23  Kealakomo, Big Island
Hawaii's Mountains – Here's a link to the live webcam on the summit of our tallest mountain Mauna Kea (~13,800 feet high) on the Big Island of Hawaii. Here's the webcam for the (~10,023 feet high) Haleakala Crater on Maui. These webcams are available during the daylight hours here in the islands, and at night whenever there's a big moon shining down. Also, at night you will be able to see the stars, and the sunrise and sunset too…depending upon weather conditions.
Low and cold front west and north…thunderstorms in the deeper tropics


High Cirrus clouds arriving from the north at times


Variable low clouds…along with clear areas

Showers locally and offshore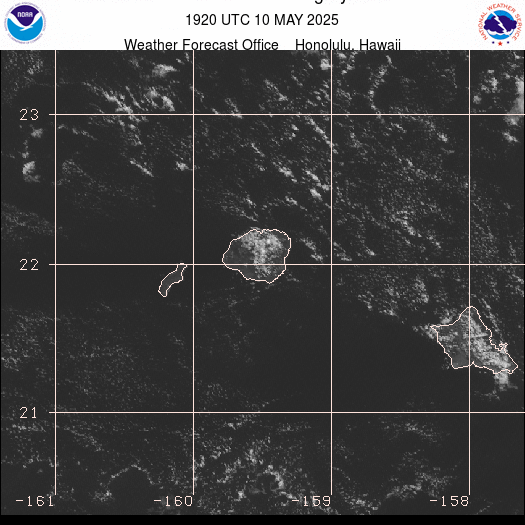 Kauai and Oahu (Satellite)

Kauai and Oahu (Radar)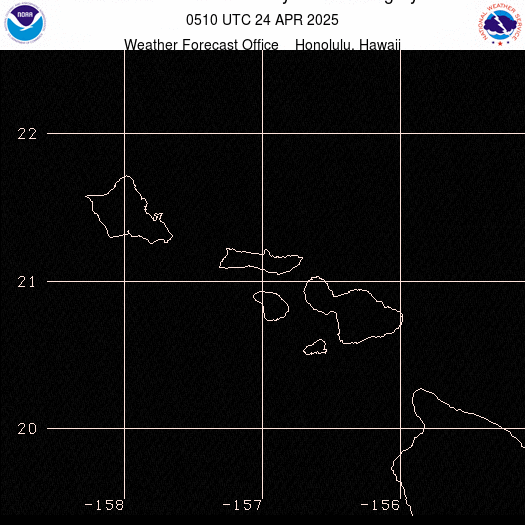 Oahu and Maui County (Satellite)

Oahu and Maui County (Radar)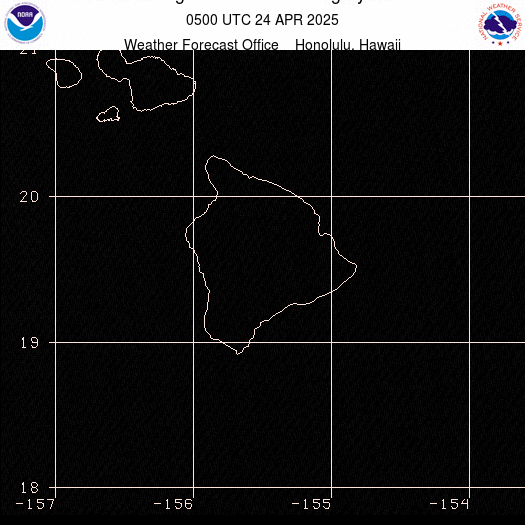 Big Island and Maui (Satellite)

Maui County and the Big Island (Radar)

Big Island (Radar)
Model showing precipitation through 8-days (you can slow this animation down)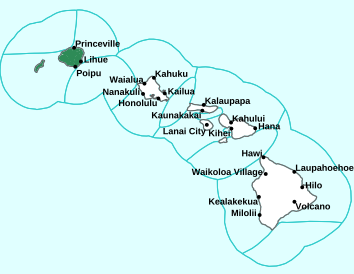 Please open this link…to see current Watches, Warnings and Advisories noted above



~~~

Hawaii Weather Narrative ~~~
Glenn's Monday comments: I'm here in Long Beach, California, and the low temperature this morning was 59.5 degrees, with clear skies…although with a few patches of middle level altocumulus clouds.

The high temperature today here in Long Beach is forecast to be 91 degrees.
I'm heading over to see my Mom for several hours, although I'll be back later this morning (Hawaii time), for a complete updating of this website.
I'm back from my Mom's rest home, and it's hot! The high so far today has been 89 degrees, without the cooling trade wind breezes that makes the Hawaii heat more manageable.
It's dark, and I've taken my early evening walk and had dinner. Obviously I'm back at the computer updating all my weather stuff on this website, and all the tropical cyclones around the world for the Pacific Disaster Center…my employer.
1007pm CA time, the temperature outside is 64.5 degrees, and 80.6 inside.
Hawaii's Broad Brush Weather Overview:  Light to moderate trade winds will prevail this week, carrying low clouds and showers to windward areas, especially on Kauai and Oahu. The winds may be light enough to allow afternoon sea breezes to bring some clouds…and a few showers to leeward areas.
Hawaii's Weather Details:  Look for a slow transition from light east-southeast breezes and sea and land breeze circulations, towards strengthening trades. An area of high pressure well northeast, will be dropping slowly southward to within about 500 miles north-northeast of this islands…maintain light trades across the islands through the first half of the week.
This will allow for the continued development of afternoon and early evening sea breeze showers across leeward areas and island interiors through Tuesday. The airmass is forecast to be drier to begin the work week across much of the central and eastern islands, when compared to Sunday.
Expect an increase moisture and enhanced rainfall chances over the westerns islands into Wednesday. A southward sagging frontal boundary is forecast to erode by mid-week, while the ridge north of the state begins to firmly reestablish itself. This pattern will begin to increase the easterly trades on Wednesday, before further strengthening to locally breezy by the weekend.
There remains some model differences with respect to the exact timing of when trades finally strengthen across the islands. Though expect the chances for sea breeze showers will diminish across leeward areas Tuesday, with showers becoming redirected to mainly windward areas in a typical trade wind weather pattern through the weekend.
>>> Here's a near real-time Wind Profile of the Pacific Ocean – along with a Closer View of the islands / Here's the latest Weather Map.  Here's the animated volcanic emissions graphic
Hawaii's Marine Conditions:  Expect light to moderate trade winds through the first half of this week, as a low far to our northwest moves farther away and high pressure builds to our north. Wind speeds may approach Small Craft Advisory threshold during the second half of the week.
South swell and surf will continue to decrease, leaving only background swell by the middle of the week. Minimal energy is expected from the south during the second half of the week.
A small north-northwest swell will arrive Wednesday followed by a slightly bigger pulse over the weekend. Light trades will keep small surf breaking along east shores through Wednesday, with a slight increase towards the end of the week as the trades strengthen.
World-wide Tropical Cyclone Activity
Atlantic Ocean: 

 Central tropical Atlantic:
An area of low pressure located several hundred miles west of the Cabo Verde Islands is producing showers and thunderstorms. While the system has not become better organized today, environmental conditions are expected to be sufficiently conducive for the system to become a tropical depression during the next couple of days. Further development will become less likely by the end of the week due to strong upper-level winds. The disturbance is forecast to meander for the next day or two and then turn north-northwestward by early Thursday.
* Formation chance through 48 hours…high 70 percent
* Formation chance through 5 days…high…70 percent
Caribbean Sea:  

Tropical Cyclone 09L (Ian)…is located about 105 miles east-southeast of the western tip of Cuba

IAN EXPECTED TO BECOME A MAJOR HURRICANE OVERNIGHT OR EARLY TUESDAY…SIGNIFICANT WIND AND STORM SURGE IMPACTS WILL BEGIN IN WESTERN CUBA VERY SOON
Ian is moving toward the north-northwest near 13 mph (20 km/h). A turn toward the north with a slightly slower forward speed is expected on Tuesday. A turn toward the north-northeast with a further reduction in forward speed is forecast on Wednesday. On the forecast track, the center of Ian is expected to move near or over western Cuba overnight and early Tuesday. Ian will then emerge over the southeastern Gulf of Mexico on Tuesday, pass west of the Florida Keys late Tuesday, and approach the west coast of Florida on Wednesday into Thursday. Maximum sustained winds have increased to near 105 mph (165 km/h) with higher gusts. Rapid strengthening is expected during the next day or so, and Ian is forecast to become a major hurricane overnight or early Tuesday when it is near western Cuba, and remain a major hurricane over the southeastern Gulf of Mexico on Wednesday. Hurricane-force winds extend outward up to 35 miles (55 km) from the center and tropical-storm-force winds extend outward up to 115 miles (185 km). An amateur radio operator recently reported that an automated weather station at Cayo Largo, Cuba measured a wind gust of 46 mph (74 km/h) during the last couple of hours.
Gulf of Mexico: There are no active tropical cyclone
Eastern Pacific:
South of the Southern Coast of Mexico:
An area of low pressure is forecast to develop south of the southern coast of Mexico in a couple of days. Environmental conditions are forecast to be conducive for gradual development, and a tropical depression could form by the end of this week while the system moves generally westward to west-northwestward.
* Formation chance through 48 hours…low…10 percent
* Formation chance through 5 days…medium…60 percent
Here's the link to the National Hurricane Center (NHC)
Northwest Pacific Ocean: 
Tropical Cyclone 18W (Noru)…is located approximately 513 NM west of Manila, Philippines
Tropical Cyclone 19W (Kulap) …is located approximately 195 NM north of Iwo To, Japan
South Pacific Ocean: There are no active tropical cyclones
North and South Indian Oceans / Arabian Sea:
Tropical Cyclone 02S…is located approximately 697 NM east-southeast of Diego Garcia
Here's a link to the Joint Typhoon Warning Center (JTWC)
>>> Here's a link to the Pacific Disaster Center's (PDC Global) Weather Wall website
Interesting: Marine Protected Areas Can Help Safeguard Ocean Biodiversity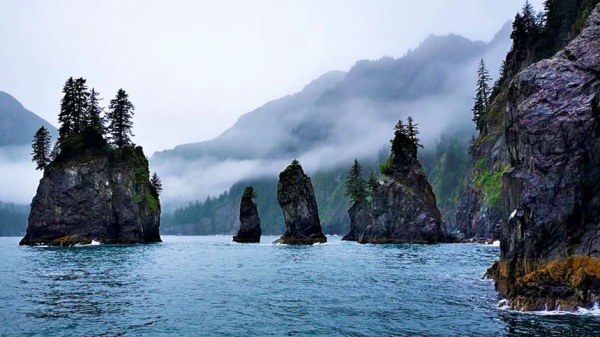 If the nation is to achieve its goal of safeguarding critical marine ecosystems and other ocean resources from detrimental human activity, it must not only establish more marine protected areas (MPAs) but also ensure they are strictly managed to accomplish desired results, a University of Miami environmental scientist and others agreed in a recent study that examines these important ocean zones.
"The detrimental impacts of not having an adequate number are just too costly," said Daniel Suman, a professor of environmental science and policy at the Rosenstiel School of Marine, Atmospheric, and Earth Science. "Increased threats to marine biodiversity and unchecked overfishing are just some of the consequences.
We also lose the opportunity to fully confront climate change because MPAs, most notably those with seagrass beds and kelp forests that absorb carbon dioxide, are important in mitigating greenhouse gases."
MPAs, which exist worldwide, range from minimally enforced zones, where resources are used in such a way that hopefully does not result in long-term damage to the environment, to no-take zones, where drilling, fishing, mining, and other extractive activities are not allowed.
Read more at: University of Miami
September 18th, 2022 at 12:41 pm
Marilyn Wright Says:

I have a friend doing research on marine mammals off of Nome Alaska who reports the research vessel is steaming North to get out of the way of a disturbance in that area.
Can you report on the system up there.
Thanks

~~~ Hi Marilyn, here's a story about this storm:

https://www.nbcnews.com/news/us-news/alaska-prepares-powerful-storm-said-strongest-decade-rcna48167

Aloha, Glenn

September 11th, 2022 at 9:59 am
Steven Says:

Hi Glenn,

Currently I'm in Del Mar, where, after a very strange hothouse type period of 3 weeks (80 degree mornings with 80 percent humidity!), some tropical moisture from Hurricane Kay, crept up the Baja Peninsula giving us (drum roll)…a few drops of rain. The rain it unleashed was all in the mountains, so us urban types were underwhelmed. Downtown San Diego got a .62 inch of rain washing of debris into the ocean, however) What movie did you see?

~~~ Hi Steven, good to hear from you. I've been keeping close tabs on Kay and the southern California area, as I'll be flying to Long Beach this coming Thursday. It's been rather remarkable, the high temperatures and the high humidity…and those warm low temperatures too. It's unusual for the southern CA to get rain this time of year, although many areas got some, and some areas got too much!

I haven't been to see a movie at a theater in several years, due to the Pandemic among other things. I do however watch films on Netflix and Amazon Prime of course.

Be well, Aloha, Glenn

September 10th, 2022 at 6:10 pm
Mike Says:

Aloha Glenn, please keep us posted about any tsunami related news from the big quake in New Guinea! Yikes!

~~~ Hi Mike, there is no negative tsunami threat for the islands…thank goodness!

Aloha, Glenn
Leave a Reply