Air Temperatures – The following high temperatures (F) were recorded across the state of Hawaii Thursday…along with the low temperatures Thursday:

79 – 63  Lihue, Kauai /
80 – 64  Honolulu, Oahu /
81 – 56  Molokai AP
81 – 58  Kahului AP, Maui / 
83 – 66  Kona AP, Hawaii
83 – 65  Hilo, Hawaii / 

Here are the latest 24-hour precipitation totals (inches) for each of the islands Thursday evening:

0.07  Kalaheo, Kauai
0.04  Mililani, Oahu
0.00  Molokai
0.01  Lanai
0.00  Kahoolawe
0.00  Maui
0.01  Saddle Quarry, Big Island
The following numbers represent the strongest wind gusts (mph) Thursday evening:

15  Makaha Ridge, Kauai
21  Kuaokala, Oahu
08  Molokai
12  Lanai
12  Kahoolawe
23  Kula 1, Maui
14  Kohala Ranch, Big Island
Hawaii's Mountains – Here's a link to the live webcam on the summit of our tallest mountain Mauna Kea (~13,800 feet high) on the Big Island of Hawaii. Here's the webcam for the (~10,023 feet high) Haleakala Crater on Maui. These webcams are available during the daylight hours here in the islands, and at night whenever there's a big moon shining down. Also, at night you will be able to see the stars, and the sunrise and sunset too…depending upon weather conditions.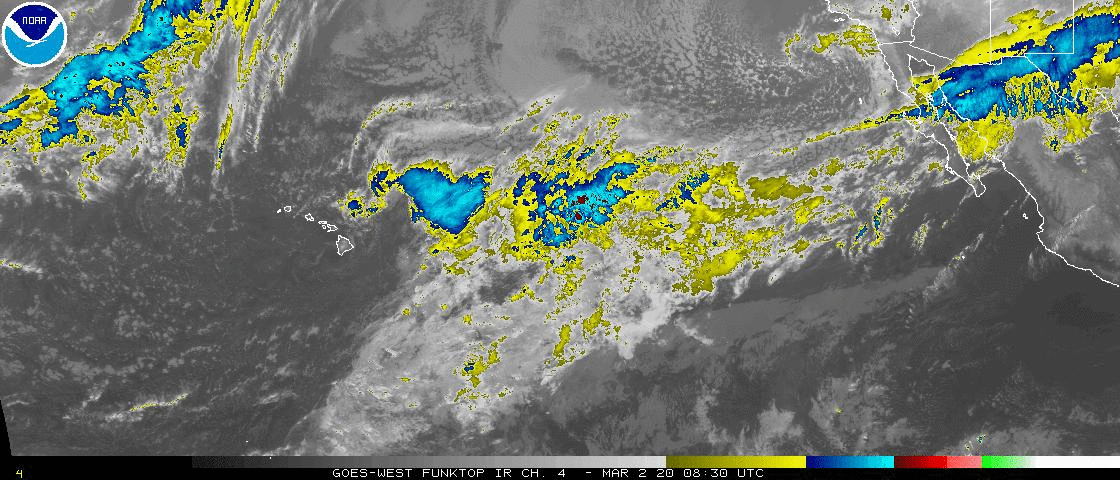 A cold front is located northwest
(click on the images to enlarge or animate them)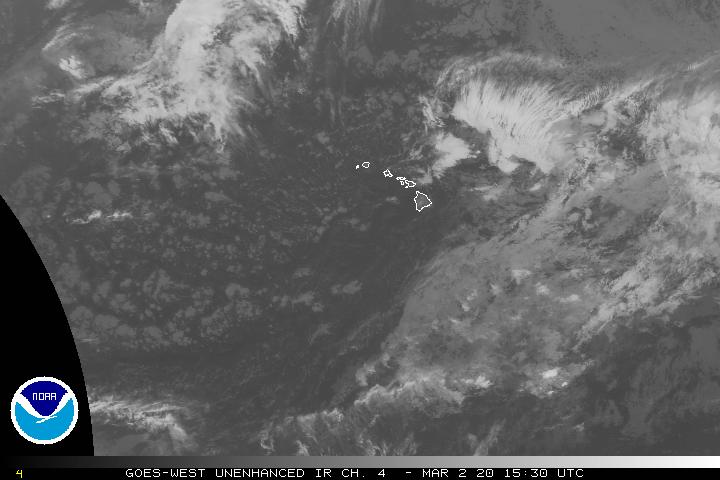 Higher level clouds remain offshore…southwest through southeast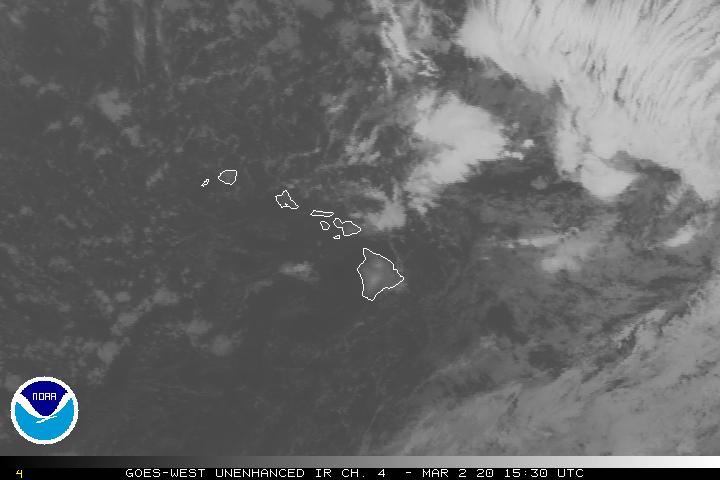 Stable low clouds in the vicinity…many clear areas




A few showers locally
Looping image


  Please click this link…to see current Watches, Warnings and Advisories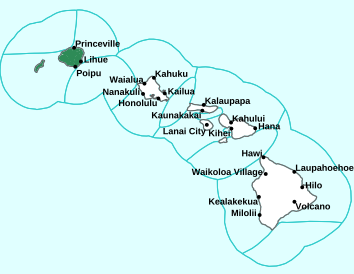 ~~~

Hawaii Weather Narrative

~~~




Broad Brush Overview: Light and variable winds in a stable land and sea breeze pattern…will continue over most of the state through Friday afternoon. Look for low clouds developing, with light interior showers possible each afternoon, followed by overnight clearing. One exception will occur over the southeast slopes of the Big Island, where a slight increase in clouds and showers may occur through Friday.
A weak cold front stalling near Kauai on Friday evening, will increase clouds and showers over the Garden Isle through Saturday. Moderate trade winds will return from Friday afternoon through the weekend, along with slight increases to windward and mountain showers. Winds will decrease and veer southeasterly in a dry land and sea breeze pattern for the first half of next week.
Details: Light and variable winds will continue through the end of the week, allowing local scale land and sea breezes to prevail. Dry moisture levels in the atmosphere will produce cooler than normal low temperatures each night. Friday through Sunday, the weather pattern changes a bit, as a weakening cold front moves into Kauai.
This front will reach there by Friday evening, just as the forward motion along the frontal band fizzles out. Expect increasing clouds and showers for Kauai Friday into Saturday. Trade winds will return out ahead of the stalling frontal band…then slowly spread eastward to all islands through Saturday morning.
Clouds and scattered showers will also return over windward and mountain areas with these moderate trades lasting through the weekend. East to southeast trade winds on Sunday will push the clouds and showers along the remnant frontal boundary towards the northwest, away from Kauai County…with improving weather conditions Saturday night onward.
Looking Ahead: Monday through Wednesday, trade winds will veer southeast, with a ridge anchored north of the state. Light southeasterly winds will allow a return to land and sea breezes, with a slight increase to clouds and showers along the southeastern slopes of the Big Island. This drier weather pattern will bring sunny skies back to the islands through the middle of next week. Additional high clouds moving into the area next week will enhance sunrise and sunset colors Wednesday onward.
Here's a near real-time Wind Profile of the Pacific Ocean – along with a Closer View of the islands / Here's the latest Weather Map

Marine Environmental Conditions: Light and variable winds will continue through early Friday, then shift north to northeast and increase into the moderate to strong category late Friday…as a front passes north of the area. Moderate to locally strong easterly trades are expected for a brief period over the weekend, before trending back down by early next week, as a series of fronts pass to the north. Although seas may briefly drop below the Small Craft Advisory (SCA) level Friday, as the large northwest swell subsides, advisory level conditions will return Friday night through the weekend…due to a combination of winds and seas.
Surf along north and west facing shores will remain up through next week, due to a series of large northwest swells evolving from the progressive pattern over the northern Pacific. The current swell building down the island chain is peaking, a gradual downward trend will begin. This downward trend will be short-lived however, due to another large northwest swell arriving Friday night into Saturday. Surf will respond and return to warning levels Saturday through Sunday. As this swell eases into early next week, advisory level surf may hold through late Monday before dropping on Tuesday. Another large northwest swell will be possible by Wednesday as a gale develops over the far northwest Pacific this weekend.
Surf along exposed east facing shores will remain small through the period, due to the lack of persistent trades locally and upstream across the eastern Pacific.
Surf along south facing shores will remain small through next week. A couple of south swells expected over the weekend and next Tuesday should be enough to keep things from going flat.

Be careful of the very large surf on the north and west shores!
 


World-wide Tropical Cyclone Activity


Here's a link to the latest Pacific Disaster Center's Weather Wall

>>> Atlantic Ocean: There are no active tropical cyclones
Latest satellite image of the Atlantic
>>> Caribbean Sea: There are no active tropical cyclones
>>> Gulf of Mexico: There are no active tropical cyclones

Latest satellite image of the Caribbean Sea and the Gulf of Mexico
>>> Eastern Pacific: There are no active tropical cyclones
Here's an animated color enhanced satellite image of the central and eastern Pacific
>>> Northwest Pacific Ocean: There are no active tropical cyclones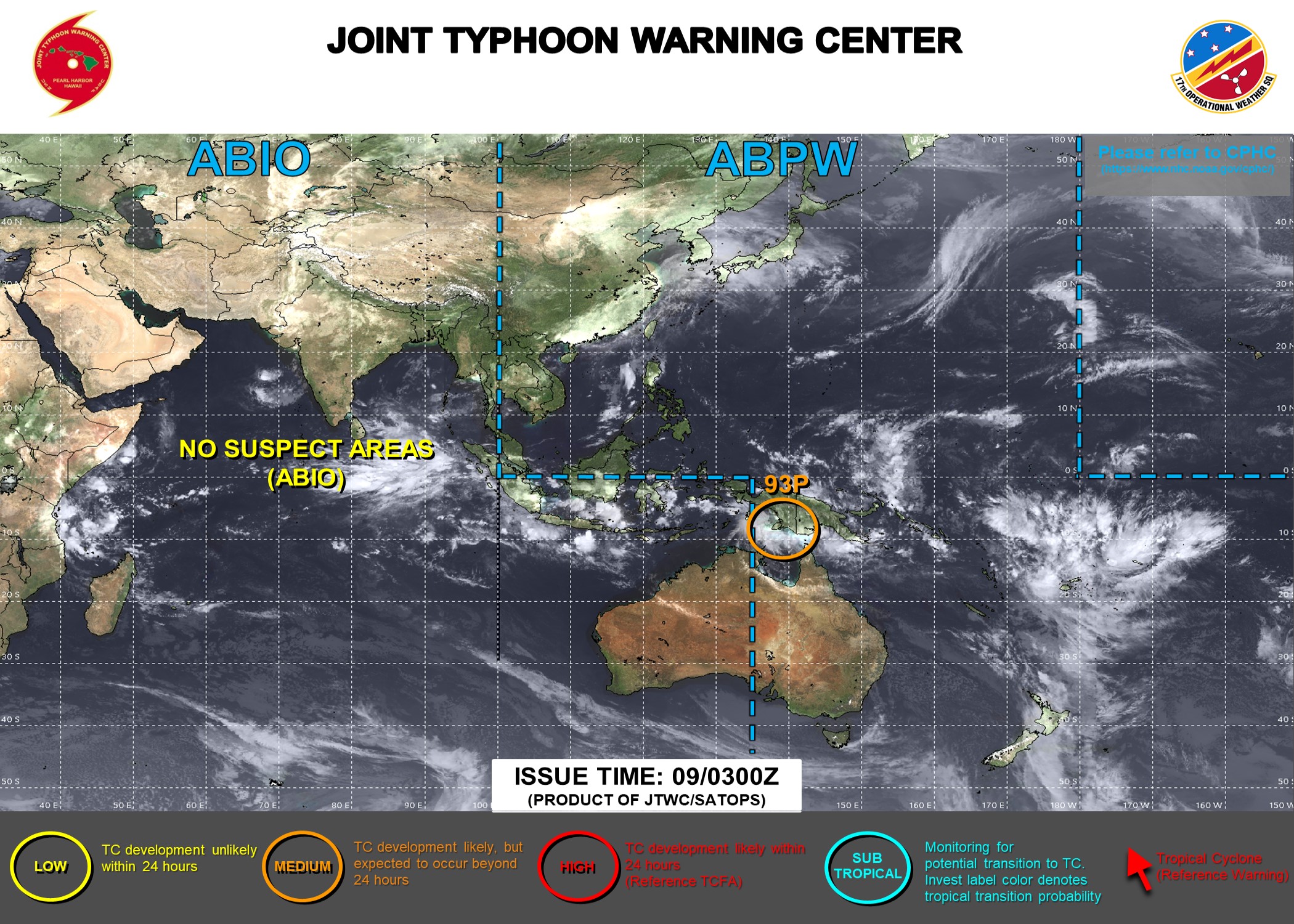 >>> South Pacific Ocean: There are no active tropical cyclones
>>> North and South Indian Oceans / Arabian Sea: There are no active tropical cyclones



Interesting: To get across Hanoi, Vietnam, you have to go with the flow…by John Fox – "Don't count on finding a traffic light," the clerk cautions as we leave our hotel in Hanoi, jet-lagged and desperate for a meal. They're few and far-between, especially in the tangled warren of centuries-old alleys and lanes that make up the city's old quarter. "And don't assume anyone will stop when the light turns red."
Vietnam's capital is a chaotic city of seven million people and five million motorbikes (the math adds up once you've seen a family of five piled onto a single scooter). Cars are too expensive for many residents, and public transportation is considered unreliable and inconvenient. The Vespa, therefore, reigns over the road, and chaos follows: Motorists go the wrong way on one-way streets, ignore lanes and cross-walks, and generally flout traffic rules. Their paths are so unpredictable that Hani Mahmassani, a traffic flow expert at Northwestern University, uses video clips of Hanoi's traffic in his classes to highlight what he calls "the last frontier for autonomous vehicles to overcome."
For a pedestrian, then, crossing the road in Hanoi is a learned skill, and not for the faint of heart. The hotel clerk has handed us printed instructions for "How to Cross Road," wedged between spa hours and tips for haggling with street vendors:
Be relaxed and self-confident
Look two ways or keep your eyes on the drivers
Keep the speed slowly
Never look back
At first, my wife and I have a good laugh over what seems like excessive tourist-coddling. "Do they think we're complete idiots or something?" But we're grateful for the help as we stand on a street corner, hands clenched, about to leave the curb and step into an angry swarm of motorbikes.
At our first intersection, a churning confluence of rubber and metal, we pause and survey the scene. New arrivals to the city cower anxiously on corners, while locals and battle-tested tourists hardly break stride as they slide into the current. My wife deftly moves to my downstream side. Though it's disconcerting to have your spouse of 20-plus years use you as a human shield, her logic seems at least defensible: I'm nearly a foot taller than her, so more visible. And my gray hair might elicit more respect, so motorists give us a wider berth.
Following the instructions, we look both ways, only to confirm that — yes — there is an unbroken stream of traffic moving toward us. We draw deep breaths and make our move, leaving every shred of instinct and agency at the curb as we give over to the elements. We walk at a steady, predictable pace as scooters and the occasional car swerve and dance around us. It's like we're in a life-sized game of Super Mario Brothers where Hanoi is the Mushroom Kingdom, and the hazards magically avoid us rather than the other way around.
But how exactly does this game operate without any hand on a controller? What seems on the surface a recipe for disaster somehow mostly works. When I return home, I ask a physicist friend if there's some universal law that might explain it. He notes that Hanoi traffic has loose parallels with Bernoulli's Principle, where traffic is the fluid and we pedestrians are the curved objects it flows around.
But, of course, there are humans on those motorbikes. Some are distracted, others are having a bad day, and each is making split-second decisions and turns based on limited information. So there's clearly more than physics at work.
That's where Mahmassani's studies come in. The engineering professor describes Hanoi as a classic case of a "seemingly chaotic traffic environment where amazing self-organization somehow prevails — and eventually fails, sometimes spectacularly." Self-organization is a natural principle, first recognized in ancient Greece, that has been used over the centuries to explain everything from thermal convection to animal swarming to market economics. It describes situations in the natural and social worlds where order forms spontaneously — and often inexplicably — from the elements or participants in an otherwise disorderly system. This may be as close as I'm likely to get to an explanation for how my wife and I make it to the banh mi shop and back in one piece.
After a week in Hanoi I become a seasoned pro, expanding my repertoire from narrow lanes to dauntingly wide boulevards. I come to love the city and the freeing sense of being swept up in its imperfection. And should I ever find the guts to contemplate sky diving or bungee jumping — or plunging into any other void of uncertainty — I realize I have my instructions: Be relaxed. Never look back.
Leave a Reply