Last update to this website was at 450pm (HST) Thursday afternoon, January 20, 2022

Air Temperatures – The following high temperatures (F) were recorded across the state of Hawaii Thursday afternoon…along with these low temperatures Thursday morning:
79 – 66  Lihue AP, Kauai
79 – 67  Honolulu AP, Oahu
77 – 60  Molokai AP
84 – 63  Kahului AP, Maui
81 – 71  Kona AP, Hawaii
79 – 68  Hilo AP, Hawaii 

Here are the latest 24-hour precipitation totals (inches) for each of the islands Thursday afternoon:

0.02  Kalaheo, Kauai
0.10  Ahuimanu Loop, Oahu
0.00  Molokai
0.20  Lanai
0.00  Kahoolawe
0.20  Kepuni, Maui
1.17  Puu waawaa, Big Island
The following numbers represent the strongest wind gusts (mph) Thursday afternoon:

16  Moloaa Dairy, Kauai
13  Wheeler AAF, Oahu
12  Molokai
09  Lanai
20  Kahoolawe
13  Hana, Maui
20  South Point, Big Island
Hawaii's Mountains – Here's a link to the live webcam on the summit of our tallest mountain Mauna Kea (~13,800 feet high) on the Big Island of Hawaii. Here's the webcam for the (~10,023 feet high) Haleakala Crater on Maui (not currently working). These webcams are available during the daylight hours here in the islands, and at night whenever there's a big moon shining down. Also, at night you will be able to see the stars, and the sunrise and sunset too…depending upon weather conditions.


The next cold front is approaching from the northwest


Clear to partly cloudy across the state…although with cloudy areas 


 High level clouds streaming by to the north…clipping the islands at times locally

Showers locally

Model showing precipitation through 8-days (you can slow this animation down)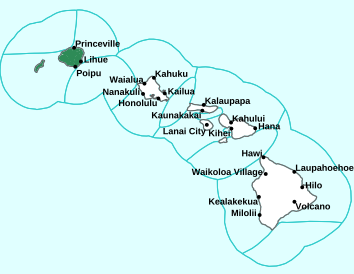 Please click this link…to see current Watches, Warnings and Advisories noted above



~~~
Hawaii Weather Narrative
~~~
Glenn's Thursday comments: I'm here at home in Kula, Maui…the low temperature this morning was 48 degrees, with clear skies. 
Just got back from my early walk, the first of three that I do each day. This first walk is from near Crater Rd, up the hill to the top of Copp Rd. It's about a two mile walk round trip, and because much of it is uphill, and I walk pretty fast, it get me huffing and puffing pretty good…which is a healthy thing to do in my estimation.
I just got back from playing some tennis down at the courts here in Kula. While I was down there I met some nice folks who were playing something called pickleball. I hadn't heard of it, and it looks fun, because it's a mix between ping pong and tennis, which are some of my favorite ball sports! One of the ladies loaned me her extra paddle, and I hit the ball against the wall, and watched them play some too. They invited me back to play, and I will take them up on it for sure…I'm excited to have a new sport to play.
330pm, and it's way cloudy up here in Kula, and a few raindrops are beginning to fall…which I like very much. The temperature is a cool 65.3 degrees, and it looks very hazy down in the central valley.
Broad Brush Overview: The next cold front approaching the state will continue to weaken the high pressure ridge over the state, keeping variable sea breezes over most islands. The position of the ridge remains directly over the islands keeping fairly stable conditions in place.
Light large scale east to southeasterly winds will allow local scale sea breezes to build clouds and produce a few showers over island mountain and interior sections. Trade winds will return Friday as high pressure strengthens behind a dissipating cold front.
Cloud and shower bands associated with the frontal remnants will drift over the islands, from northwest to southeast Friday and Saturday. A low level trough may pass through the region next Tuesday…boosting trade wind shower activity through mid-week.
Weather Details: Satellite imagery shows a cold front approaching the islands from the northwest and a series of upper level lows far northeast to east of the state. A weak low level trough is drifting into the eastern half of the state, with slight increases to clouds over south and east Big Island, and east Maui.
This cold front will continue to weaken the high pressure ridge over the state through Friday. The position of the ridge directly over the islands will keep fairly stable conditions in the forecast for most locations. Light east to southeasterly winds will allow local scale land and sea breezes to continue.
Converging sea breeze winds and surface heating will build clouds over island interior sections, with a few showers possible as convergent winds and surface heating decreases, causing larger cumulus clouds to collapse and cloud droplets to fall as rain.
The cold front will dissipate by Friday as it approaches the island chain. Remnant cloud bands and showers will drift into Kauai and Oahu by Friday night, with increasing shower coverage reaching Maui and Hawaii Counties on Saturday.
A high will build in behind the front Friday, allowing trade winds to return. An upper level low will pass just east of the Big Island Monday. Expect stronger upper level northerly winds affecting the mountain peaks of Haleakala on Maui, Mauna Kea and Mauna Loa on the Big Island…as this upper low passes just east.
This upper low appears to form a low level trough, moving towards the islands on the trade wind flow. This trough will move into the state on Tuesday and Wednesday, and in turn likely enhancing trade wind clouds and showers…favoring northeast windward slopes.
>>> Here's a near real-time Wind Profile of the Pacific Ocean – along with a Closer View of the islands / Here's the latest Weather Map.  Here's the animated volcanic emissions graphic
Marine Environmental Conditions: A surface ridge of high pressure over the area will continue to support light to locally moderate winds into tonight, favoring an east to southeast direction near the Big Island, and southeast to south near Kauai.
A weakening cold front moving toward the area will cause the ridge to move south and weaken, resulting in a brief period of light and variable winds tonight into Friday. A high pressure cell passing north of the area will then support moderate to locally strong northeast winds Friday afternoon into early next week.
These stronger winds could potentially reach Small Craft Advisory (SCA) levels over the typically windy waters around Maui County and the Big Island. The passing high will also push fragments of the front over the area, leading to an increase in showers, mainly over windward waters Friday and Saturday.
There will be a temporary lull in the surf along the north and west shores, before a powerful west-northwest swell builds Friday, peaks Friday night and Saturday, then lowers Sunday and Monday. A High Surf Warning (HSW) will likely be necessary for exposed north and west shores, including the west  shores of the Big Island.
After dropping below HSW level, continued wave energy from the west-northwest may require a high surf advisory through early next week. The weekend's large swell will require a SCA for seas in most marine areas. Additionally, a small to moderate east-northeast swell is possible over the weekend.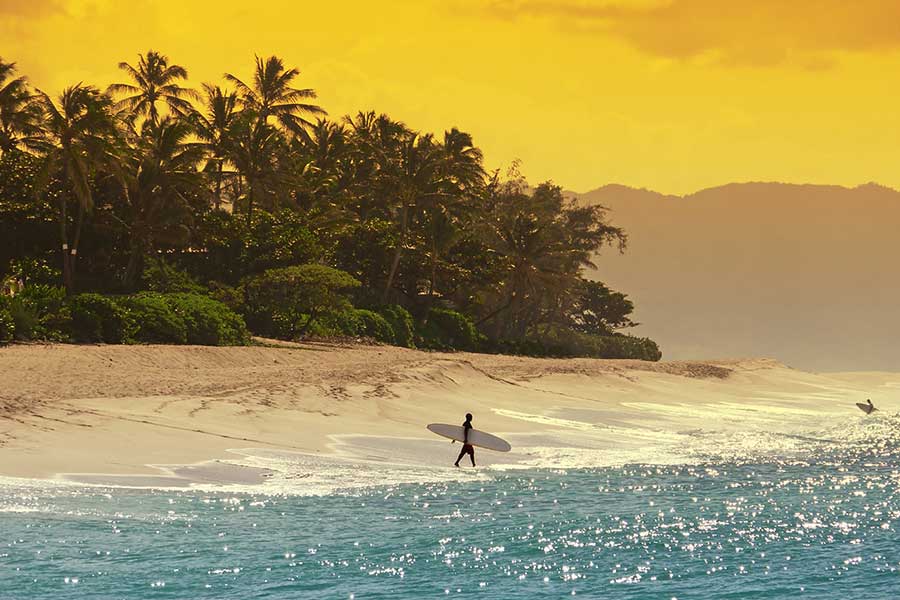 World-wide Tropical Cyclone Activity
Atlantic Ocean: There are no active tropical cyclones

Caribbean: There are no active tropical cyclones
Gulf of Mexico: There are no active tropical cyclones
Eastern Pacific: There are no active tropical cyclones
Invest 90E
A well-defined area of low pressure producing gale-force winds is located more than 1000 miles east-northeast of Hilo, Hawaii. Shower and thunderstorm activity has recently increased in coverage and organization near the center. While environmental conditions appear only marginally favorable for additional development, if this activity persists, it could result in the formation of a short-lived subtropical or tropical cyclone over the next day or so. By Friday, environmental conditions are expected to become unfavorable for additional development.
* Formation chance through 48 hours…medium…40 percent
* Formation change through 5 days…medium…40 percent
Here's the link to the National Hurricane Center (NHC)
Northwest Pacific Ocean: There are no active tropical cyclones
South Pacific Ocean: There are no active tropical cyclones
North and South Indian Oceans / Arabian Sea: There are no active tropical cyclones
Here's a link to the Joint Typhoon Warning Center (JTWC)
Interesting: Climate Change Threatens Future Winter Olympics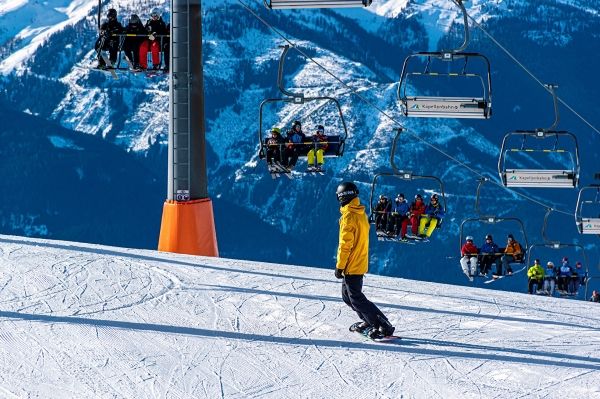 Climate change will limit where the Winter Olympics can be held as winter changes across the Northern Hemisphere, according to a study by an international team of researchers led by the University of Waterloo.
The study, involving researchers from Canada, Austria and the United States, found that if global emissions of greenhouse gases are not dramatically reduced, only one of the 21 cities that have previously hosted the Winter Olympics would be able to reliably provide fair and safe conditions for the snow sports program of the Games by the end of this century. However, if the Paris Climate Agreement emission targets can be achieved, the number of climate-reliable host cities jumps to eight, with only six considered unreliable.
"The world of winter sport is changing as climate change accelerates, and the international athletes and coaches we surveyed are witnessing the impacts at competition and training locations, including the Olympics," said Daniel Scott, a professor of Geography and Environmental Management at Waterloo."
In conducting the study, the researchers reviewed historical climate data from the 1920s to the present day, and future climate change scenarios for the 2050s and 2080s.
They also surveyed international athletes and coaches and found that 89 per cent felt changing weather patterns are affecting competition conditions, and 94 per cent fear climate change will impact the future development of their sport.
Read more at: University of Waterloo
December 25th, 2021 at 7:33 am
Glenn Says:

Merry Christmas Glenn. I understand your situation with mom as I am in a similar situation, but closer. Best wishes for the New Year for the both of you.
Aloha, Glenn in South Jersey.

~~~ Hi Glenn, and a very Merry Christmas to you as well! It's tough when our Mom's get older…that's for sure! Best wishes to your Mom as well! Aloha, Glenn
Leave a Reply