Last update to this website was at 427pm Tuesday afternoon, January 19, 2021


Air Temperatures – The following high temperatures (F) were recorded across the state of Hawaii Tuesday afternoon…along with the low temperatures Tuesday morning:
72 – 67  Lihue, Kauai
83 – 70  Honolulu, Oahu
82 – 67  Molokai AP
83 – 69  Kahului AP, Maui 
83 – 70  Kona AP, Hawaii
82 – 68  Hilo, Hawaii

Here are the latest 24-hour precipitation totals (inches) for each of the islands Tuesday afternoon:

14.78  Kilohana, Kauai!
3.97  Poamoho RG 1, Oahu
5.57  Molokai
0.35  Lanai
0.09  Kahoolawe
6.99  Puu Kukui, Maui
2.67  Mountain View, Big Island
The following numbers represent the strongest wind gusts (mph) Tuesday afternoon:

27  Nawiliwili, Kauai
30  Kuaokala, Oahu
27  Molokai
18  Lanai
33  Kahoolawe
21  Kahului Harbor, Maui
35  South Point, Big Island
Hawaii's Mountains – Here's a link to the live webcam on the summit of our tallest mountain Mauna Kea (~13,800 feet high) on the Big Island of Hawaii. Here's the webcam for the (~10,023 feet high) Haleakala Crater on Maui. These webcams are available during the daylight hours here in the islands, and at night whenever there's a big moon shining down. Also, at night you will be able to see the stars, and the sunrise and sunset too…depending upon weather conditions.



Considerable clouds over the islands…with high cirrus streaming over the eastern islands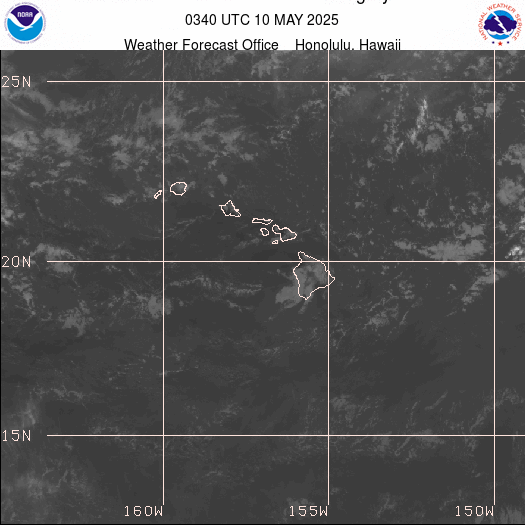 Partly to mostly cloudy


Unsettled weather conditions prevail near Kauai…although isolated thunderstorms on some of the other islands

Showers locally…some are heavy on Kauai


Model showing precipitation through 8-days (you can slow this animation down)


Hawaii is on the 3rd line down from the top…and the 1st line to the right of the middle line (lightning is the blue dots)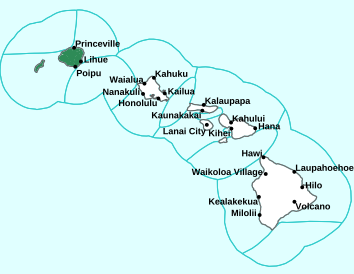 Please click this link…to see current Watches, Warnings and Advisories noted above



~~~

Hawaii Weather Narrative

~~~

>>> Glenn's Tuesday comments: My low temperature this morning here in upper Kula was 56 degrees.
Our skies this morning have all manner of clouds, ranging from the high to lower levels of the atmosphere…although none of them appear particularly showery at the time of this writing.
All or most of the action today has shifted west to Kauai, although here on Maui we're seeing the low clouds increasing, triggered by the daytime heating of the island…in combination with all the leftover moisture from yesterday big rains.
The afternoon finds cloudy skies in Kula, and we just had a quick, although light to moderately heavy shower.
3pm, thunder in the area, getting louder and longer…and rain started again!
427pm, the rains have ended, and now rather thick fog has arrived here in upper Kula.
Broad Brush Overview: An unstable cloud band associated with a low level trough, begins to drift westward over Oahu and Kauai, with showers increasing over the western islands through tonight. Strong northeasterly winds will gradually become moderate to strong trades…over Maui and Hawaii Counties.
Windy and wet weather conditions will continue over Oahu and Kauai. Improving weather will occur Wednesday through the end of the week, with moderate to strong trades, and periods of showers favoring the windward sides. Trade winds are expected to strengthen through the weekend…with off and on passing showers.
Details: Abundant unstable moisture, associated with a low level trough currently over Maui County, will move westward, spreading widespread rain and locally heavy showers back into Oahu and Kauai. This large band of showers will combine forces with strong and gusty northeasterly trade winds, to produce several inches of rainfall along the windward and mountain slopes from Kauai to Maui.
The Flash Flood Watch to cover the elevated flooding threat, has been expanded westward to include Kauai County. Enough dynamic forcing and instability over the general area, may produce a few thunderstorms along this unstable cloud band. Stronger winds are expected to shift back into Kauai, and the Wind Advisory was expanded to include Kauai County.
Meanwhile, the Big Island will see improving weather, with gradually decreasing rainfall over Maui. A Winter Weather Advisory remains in effect for the highest peaks on the Big Island above 12,000 feet, with an additional 1-2 inches of snow accumulations, along with some freezing fog at times. Wind speeds will become gradually lighter over the eastern islands.
Looking Further Ahead: As we reach Wednesday through Friday, the trade winds will become moderate to strong, with periods of showers favoring windward and mountain areas…with fewer showers falling over the leeward areas.
As we get to the weekend, the trade winds will increase in strength, becoming strong to windy easterlies by Sunday. Isolated to scattered showers remain in the forecast for both days…favoring typical windward and mountain areas as usual.
Here's a near real-time Wind Profile of the Pacific Ocean – along with a Closer View of the islands / Here's the latest Weather Map.  Here's the animated volcanic emissions graphic
Marine Environmental Conditions: A surface trough is moving slowly westward. There is also a broad surface high pressure system far north. The tight pressure gradient between the trough and the surface high is producing gusty northeasterly winds and elevated, rough seas over most of the waters along and west of the trough.
There are also elevated seas near the Big Island. A Small Craft Advisory (SCA) is now in effect for all waters, except Maalaea Bay. In addition to the strong winds and rough seas, widespread cloud cover, locally heavy downpours and isolated thunderstorms will likely continue across most of the state into tonight.
Once the surface trough of low pressure moves west of the state, look for a wet trade wind weather pattern to begin to set up later this week, as a surface high builds far north-northeast of the area.
A large north-northwest swell. combined with the locally generated wind waves is producing very large and disorganized surf along north and west shores of most of the islands. Guidance shows the swell direction will become more northerly into tonight.
Therefore, expect a high surf advisory will be needed for the north and west shores of the smaller islands into tonight. Expect the high surf advisory to eventually be cancelled by early Wednesday, as the local winds decrease and the north swell gradually subsides.
Expect modest surf along most east shores, due to the locally strong winds during the next couple of days. The surf will decrease somewhat Thursday, although will increase again along east shores this weekend, as the trade winds strengthen. Small surf will persist along south shores through the weekend.

Locally wet weather continues…locally windy too

World-wide Tropical Cyclone Activity

>>> Here's a link to the latest Pacific Disaster Center's Weather Wall…covering the Pacific and Indian Oceans

Atlantic Ocean: Routine issuance of the Tropical Weather Outlook will resume on June 1, 2021. During the off-season, Special Tropical Weather Outlooks will be issued as conditions warrant.
Caribbean: Routine issuance of the Tropical Weather Outlook will resume on June 1, 2021. During the off-season, Special Tropical Weather Outlooks will be issued as conditions warrant.
Gulf of Mexico: Routine issuance of the Tropical Weather Outlook will resume on June 1, 2021. During the off-season, Special Tropical Weather Outlooks will be issued as conditions warrant.
Eastern Pacific: Routine issuance of the Tropical Weather Outlook will resume on May 15, 2021. During the off-season, Special Tropical Weather Outlooks will be issued as conditions warrant.
Here's the link to the National Hurricane Center (NHC)
Central Pacific: Routine issuance of the Tropical Weather Outlook will resume on June 1, 2021. During the off-season, Special Tropical Weather Outlooks will be issued as conditions warrant.
Here's the link to the Central Pacific Hurricane Center (CPHC)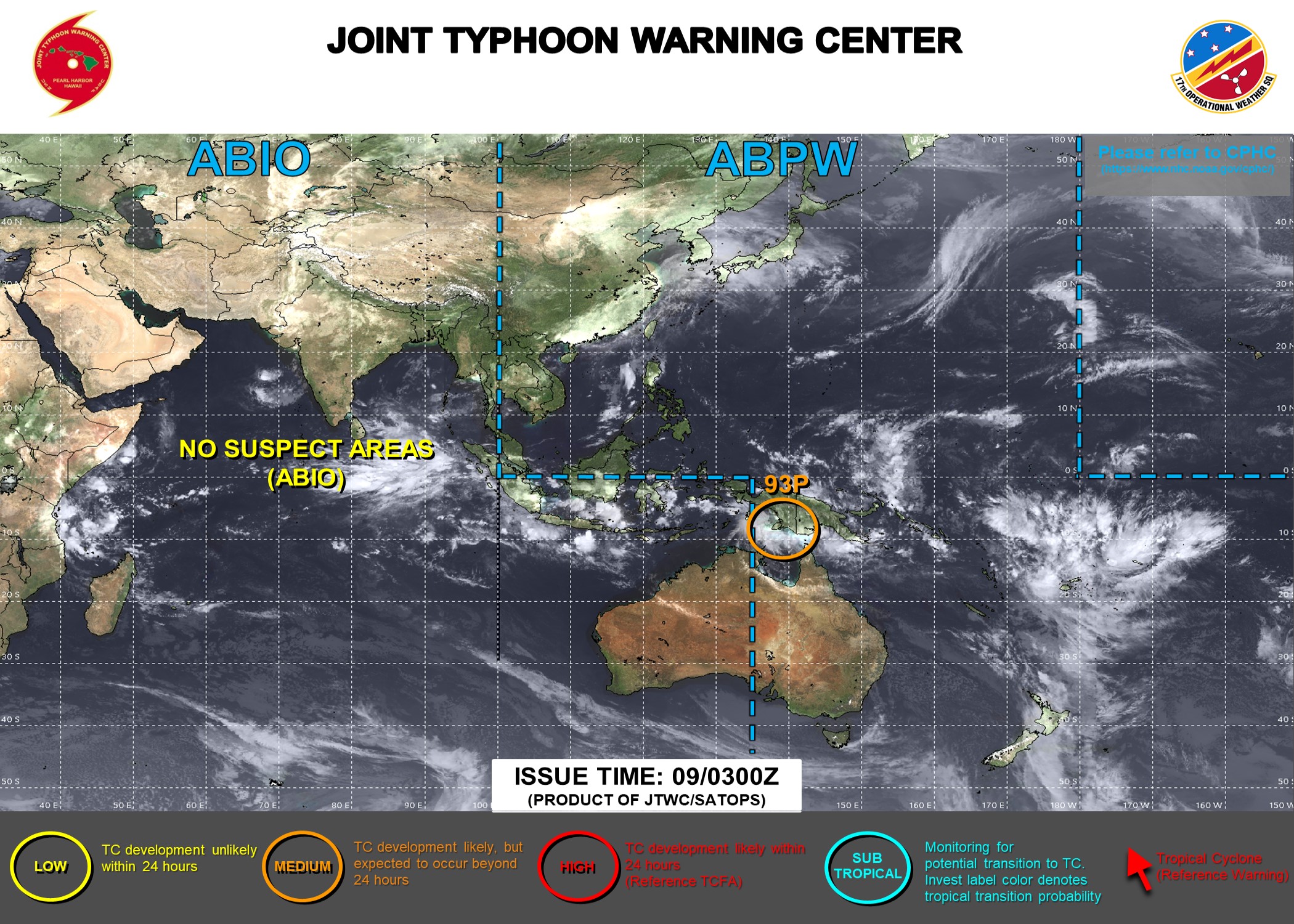 Northwest Pacific Ocean: There are no active tropical cyclones
South Pacific Ocean: There are no active tropical cyclones
North and South Indian Oceans / Arabian Sea: 
Tropical Cyclone 12S (Eloise) is located 262 NM northeast of Antananarivo, Madagascar…in the South Indian Ocean
Here's a link to the Joint Typhoon Warning Center (JTWC)


Interesting: Red and Green Snow Algae Increase Snowmelt in the Antarctic Peninsula
Red and green algae that grow on snow in the Antarctic Peninsula (AP) cause significant extra snowmelt on par with melt from dust on snow in the Rocky Mountains, according to a first-of-its-kind scientific research study led by Alia Khan, affiliate research scientist at the National Snow and Ice Data Center (NSIDC) and assistant professor at Western Washington University.
Algal blooms are likely to increase in Antarctica as the planet continues to warm, which will further exacerbate seasonal snowmelt and contribute to the expansion of ice-free areas in the AP region. This could have serious impacts on regional climate, snow and ice melt, freshwater availability and ecosystems, yet is not accounted for in current global climate models. Results of the research were published on January 13, 2021, in the European Geosciences Union's The Cryosphere.
"Warming along the Antarctic Peninsula is causing drastic changes in snow and ice melt, as well as ecosystem responses," said Khan. "We are seeing these algae blooms spread across wide areas along the coast. The blooms can be so intense and dark, like wearing a dark T-shirt on a sunny day, that they warm up the surface and cause more melting. The warming is likely expanding and strengthening the snow algae bloom season, which could continue to increase in this region of Antarctica as the climate continues to warm."
The researchers investigated the impacts of red and green algae on albedo, which is how much light the surface of the snow reflects back to space, and radiative forcing, which is how much energy the surface absorbs. Darker surfaces decrease albedo and increase radiative forcing, and positive radiative forcing causes the planet to warm. This is the first time that radiative forcing effects from algae have been estimated in the AP region.
The scientists conducted this research by taking ground-based spectral albedo measurements of red and green snow algae at three sites in January 2018 and then modeled the radiative forcing using historical multi-year measurements of solar radiation at Palmer Station in Antarctica.
Two of the ground sites were on King George Island, north of Palmer Station, and one was on Nelson Island. Because algal blooms are linked to animal waste, which produces the nutrients that the algae need to grow, the researchers chose sites that seals, penguins and other birds frequent.
When compared with clean snow, the scientists found that green algae patches reduce snow albedo by 40 percent, and red algae patches reduce albedo by 20 percent. Green snow algae contain more chlorophyll than red snow algae and therefore absorb more solar radiation, reducing albedo by a greater amount for the same concentration of algae in the snow. As a result, radiative forcing averages are twice as high for green patches compared with red patches.
During peak growing season, in austral summer, the increase in radiative forcing is about 26 watts per square meter, and about 13 watts per square meters for red algae. These amounts of radiative forcing are comparable to those caused by dust on snow in the mid-latitudes, such as in the Rocky Mountains, which advances snowmelt there. In the AP, algal blooms result in about 3,700 cubic meters, or over a million gallons of additional snow melt per year.
"Antarctica is already an incredibly beautiful place, and snow algae blooms add an extra artistic dimension," said Ted Scambos, a polar researcher at the Cooperative Institute for Research in the Environmental Sciences (CIRES) and co-author of the study.
"But like so many natural systems, the change in climate is pushing things to new extremes, with some unwanted consequences. We're seeing that these new darker and more widespread blooms are having a knock-on effect of accelerating melting, a feedback that makes the ice retreat a little faster."
The results of this research show that snow algae play a significant role in snowmelt in the AP regions where they occur, and should be accounted for in future estimates of ice-free expansion in the AP region. Future research will focus on a wider mapping the spread of algae blooms, and on the climate events that create the most intense blooms.
Leave a Reply