The latest update to this website was at 815pm Wednesday evening, June 23, 2021
Air Temperatures – The following high temperatures (F) were recorded across the state of Hawaii Wednesday afternoon…along with these low temperatures Wednesday morning:
86 – 76  Lihue AP, Kauai
88 – 74  Honolulu AP, Oahu
85 – 73  Molokai AP
87 – 66  Kahului AP, Maui
85 – 76  Kona AP, Hawaii
84 – 71  Hilo AP, Hawaii 

Here are the latest 24-hour precipitation totals (inches) for each of the islands Wednesday evening:

0.84  Mount Waialeale, Kauai
0.79  Manoa Lyon Arboretum, Oahu
0.10  Molokai
0.00  Lanai
0.00  Kahoolawe
0.28  Puu Kukui, Maui
1.57  Kohala Ranch, Big Island
The following numbers represent the strongest wind gusts (mph) Wednesday evening:

16  Port Allen, Kauai
25  Kuaokala, Oahu
23  Molokai
27  Lanai
32  Kahoolawe
28  Maalaea Bay, Maui
24  Kealakomo, Big Island
Hawaii's Mountains – Here's a link to the live webcam on the summit of our tallest mountain Mauna Kea (~13,800 feet high) on the Big Island of Hawaii. Here's the webcam for the (~10,023 feet high) Haleakala Crater on Maui. These webcams are available during the daylight hours here in the islands, and at night whenever there's a big moon shining down. Also, at night you will be able to see the stars, and the sunrise and sunset too…depending upon weather conditions.


We see a cold front northwest…with thunderstorms in the deeper tropics south


Variable clouds over the island chain


Low clouds being carried along in the trade wind flow…high cirrus clouds are approaching from the north


Showers falling locally

Model showing precipitation through 8-days (you can slow this animation down)


Hawaii is on the 3rd line down from the top…and the 1st line to the right of the middle line (lightning is the blue dots)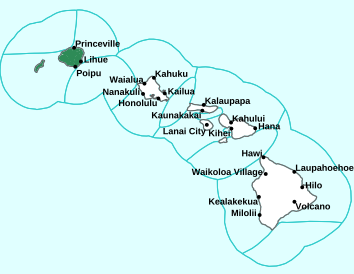 Please click this link…to see current Watches, Warnings and Advisories noted above



~~~

Hawaii Weather Narrative

~~~
Glenn's Wednesday comments: It's mostly clear here at my place in upper Kula, with an overnight low temperature of 48.5 degrees…along with a big, almost full moon setting into the western horizon. BTW, the full moon is officially on Thursday. / Early Wednesday afternoon and our skies are clear to partly cloudy here on Maui, with some cloudy areas around the mountains. It was a super sunny and warm afternoon here in Kula, more so than normal for sure. / This sunny afternoon has lead into a sunny early evening, which will likely continue right through into sunset. The full moon tonight into Thursday will be big and bright! / At sunset, the outside temperature was 65.8 degrees, and the breezy conditions were quickly calming down here at my place. As it turns out, there's just enough high cirrus to the north and northwest, that we got yet another delightfully pink/orange sunset!

Broad Brush Overview: A ridge of high pressure north of Kauai will continue to drift slowly south, before coming to a halt before reaching that island Thursday. This will keep our trade winds blowing, then giving way to lighter winds with a slight south component Thursday night and Friday. Trade winds return and strengthen Friday night through the weekend.
Details: Weather maps show a high pressure system located far northeast, while its ridge extends southwestward to a point north of the island chain. The high will be migrating northeast through Friday, ending up off the Washington coast over the weekend. The surface ridge will be moving south, becoming nearly stationary north of Kauai Thursday.
This will cause the light to moderate trade winds to weaken and shift east and east-southeast Thursday night and Friday. As a result, we'll have a mix of trade winds over the ocean, and a daytime sea and nighttime land breezes over the islands. The convergent sea breezes over leeward and interior areas…will prompt some clouds and showers Friday afternoon.
We'll see a localized increase in trade clouds and showers, which will be caused by an upper level trough approaching the islands from the north. It will reach the islands tonight, where it will remain stalled over the islands through Thursday, before moving south of the Big Island Friday night. This disturbance may cause some generous afternoon and evening showers the next few days as well.
Looking Further Ahead: When the trade winds return Saturday night, they will remain at moderate strength through Sunday, before strengthening to locally strong levels Sunday night. These early summer trade winds will hold at this strength through the middle of next week.
Here's a near real-time Wind Profile of the Pacific Ocean – along with a Closer View of the islands / Here's the latest Weather Map.  Here's the animated volcanic emissions graphic
Marine Environmental Conditions: Light to moderate trades will prevail through Saturday, then strengthen to moderate and locally strong levels Sunday through early next week. Small Craft Advisories may be needed for the windier waters around Maui and the Big Island at that time.
Surf along south shores will be a notch below seasonal levels, then rise to near the summertime average again Thursday through early next week, as a series of small overlapping south swells move through.
A series of small northwest swells will keep small surf in place along north shores through early next week, with the peak day looking to be Saturday, where slightly overhead surf will be possible. Surf along east shores will remain small and below the summertime average through early next week.

Mangoes ready for picking
 
 
 

World-wide Tropical Cyclone Activity
>>> Here's a link to the latest Pacific Disaster Center's Weather Wall…covering the Atlantic Ocean, Caribbean Sea, and Gulf of Mexico

>>> Here's a link to the latest Pacific Disaster Center's Weather Wall…covering the Pacific and Indian Oceans

Atlantic Ocean: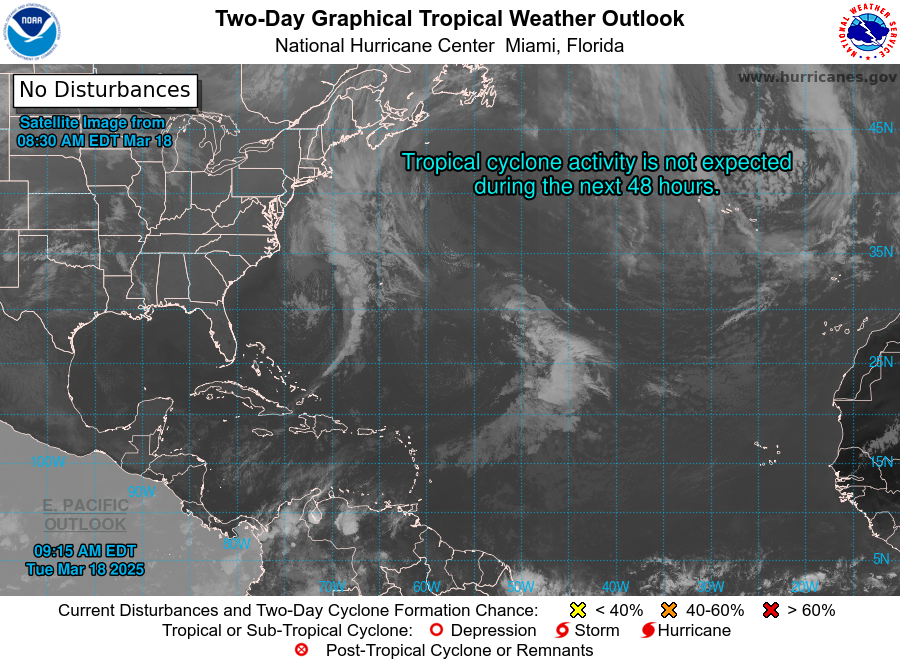 Disorganized shower and thunderstorm activity continues to the east of a small area of low pressure located about 200 miles east of Barbados. Increasing upper-level winds are likely to prevent further development of this system during the next couple of days while it moves west-northwestward at about 10 mph. This disturbance could produce increased shower activity and some gusty winds when it moves across the Lesser Antilles on Friday.
* Formation chance through 48 hours…low…10 percent
* Formation chance through 5 days…low…10 percent
>>> A strong tropical wave is expected to emerge off the coast of Africa later today. Although ocean temperatures are still relatively cool over the tropical Atlantic Ocean and are only marginally conducive for development, a small tropical depression could form by early next week while moving westward to west-northwestward at about 15 mph across the tropical eastern and central Atlantic Ocean.
* Formation chance through 48 hours…low…10 percent
* Formation chance through 5 days…medium…40 percent
Caribbean:  Tropical cyclone formation is not expected during the next 5 days
Gulf of Mexico:  Tropical cyclone formation is not expected during the next 5 days
Eastern Pacific: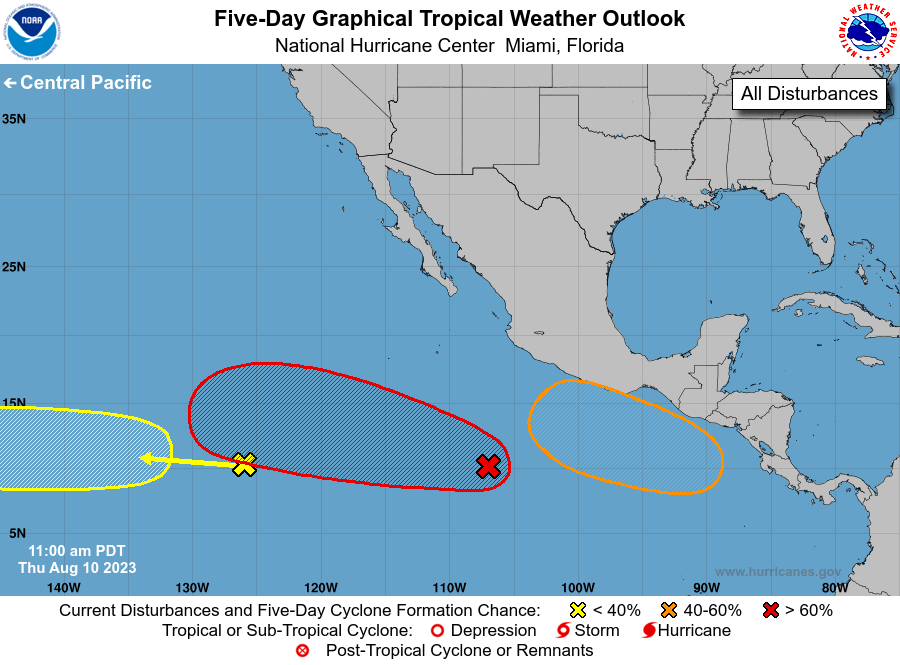 Showers and thunderstorms are gradually becoming better organized in association with a broad area of low pressure located a couple of hundred miles south of the coast of southern Mexico. Environmental conditions are conducive for further development, and a tropical depression is expected to form during the next couple of days while the disturbance moves west-northwestward at about 10 mph. This system is expected to be near the coast of southern or southwestern Mexico through the weekend, and interests in those areas should monitor its potential for development, as well as the threat of heavy rainfall and flooding.
* Formation chance through 48 hours…high…80 percent
* Formation chance through 5 days…high…90 percent
Here's the link to the National Hurricane Center (NHC)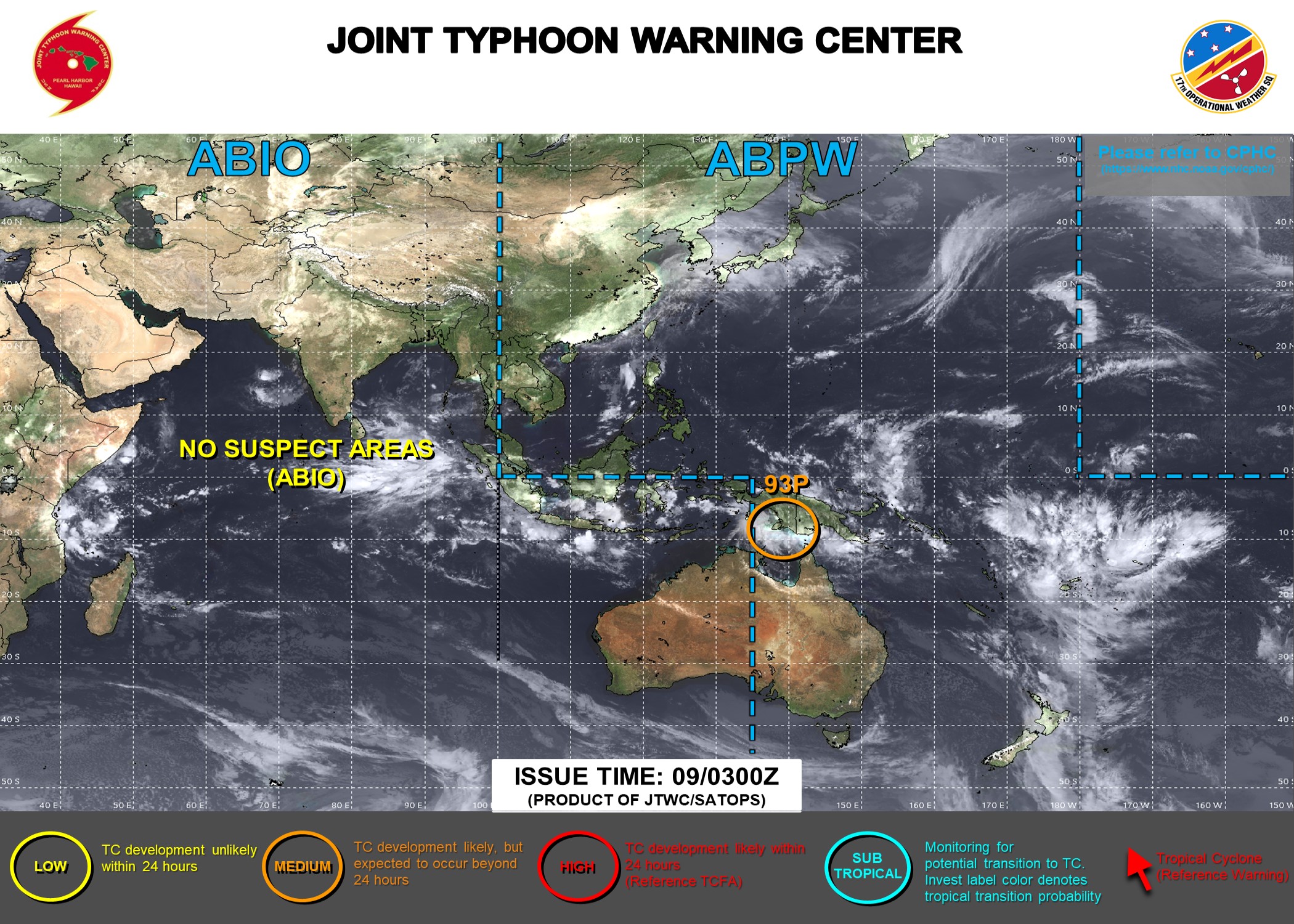 Northwest Pacific Ocean: 

Tropical Cyclone 06W (Champi)…is located approximately 379 NM south of Iwo To, Japan

South Pacific Ocean: There are no active tropical cyclones
North and South Indian Oceans / Arabian Sea: There are no active tropical cyclones
Here's a link to the Joint Typhoon Warning Center (JTWC)


Interesting: Creating Cooler Cities
Researchers at the University of Pittsburgh Swanson School of Engineering used a Computational Fluid Dynamics model to find ways to decrease cost and increase usage of cooler surfaces. The paper, published in the journal Nature Communications, examined the possibility of applying cooler surfaces to just half the surfaces in a city.
If you've ever been in a city's central core in the middle of summer, you know the heat can be brutal—and much hotter than in the surrounding region.
Temperatures in cities tend to be several degrees warmer than in its rural areas, a phenomenon called the Urban Heat Island (UHI) effect. Many cities have been observed to be 2-4ºC warmer than the countryside in virtually every inhabited continent. This phenomenon occurs because urban infrastructure, especially pavements, absorbs a lot of heat as compared to natural vegetated surfaces. This heat pollution causes higher air conditioning and water costs, while also posing a public health hazard.
One mitigation strategy called gray infrastructure involves the modification of impermeable surfaces (walls, roofs, and pavements) to counter their conventional heating effect. Typical urban surfaces have a solar reflectance (albedo) of 0.20, which means they reflect just 20 percent of sunlight and absorb as much as 80 percent. By contrast, reflective concrete and coatings can be designed to reflect 30-50 percent or more. Cities like Los Angeles have already used reflective coatings on major streets to combat heat pollution, although the solution can be expensive to implement city-wide.
Leave a Reply