The latest update to this website was at 456am Monday morning

Air Temperatures – The following high temperatures (F) were recorded across the state of Hawaii Sunday…along with these low temperatures Sunday morning: 
86 – 77  Lihue AP, Kauai
89 – 76  Honolulu AP, Oahu
87 – 74  Molokai AP
88 – 72  Kahului AP, Maui
86 – 74  Kona AP, Hawaii
83 – 70  Hilo AP, Hawaii 

Here are the latest 24-hour precipitation totals (inches) for each of the islands as of Sunday evening:

0.18  Mount Waialeale, Kauai
0.54  Waiawa, Oahu
0.24  Puu Alii, Molokai
0.00  Lanai
1.31  Puu Kukui, Maui
0.45  Kawainui Stream, Big Island

The following numbers represent the strongest wind gusts (mph) Sunday evening:

22  Port Allen, Kauai
35  Oahu Forest NWR, Oahu
25  Makapulapai, Molokai
28  Lanai 1, Lanai
25  Maalaea Bay, Maui
29  Upolu AP, Big Island

Hawaii's Mountains – Here's a link to the live webcam on the summit of our tallest mountain Mauna Kea (~13,800 feet high) on the Big Island of Hawaii. Here's the webcam for the (~10,023 feet high) Haleakala Crater on Maui. These webcams are available during the daylight hours here in the islands, and at night whenever there's a big moon shining down. Also, at night you will be able to see the stars, and the sunrise and sunset too…depending upon weather conditions.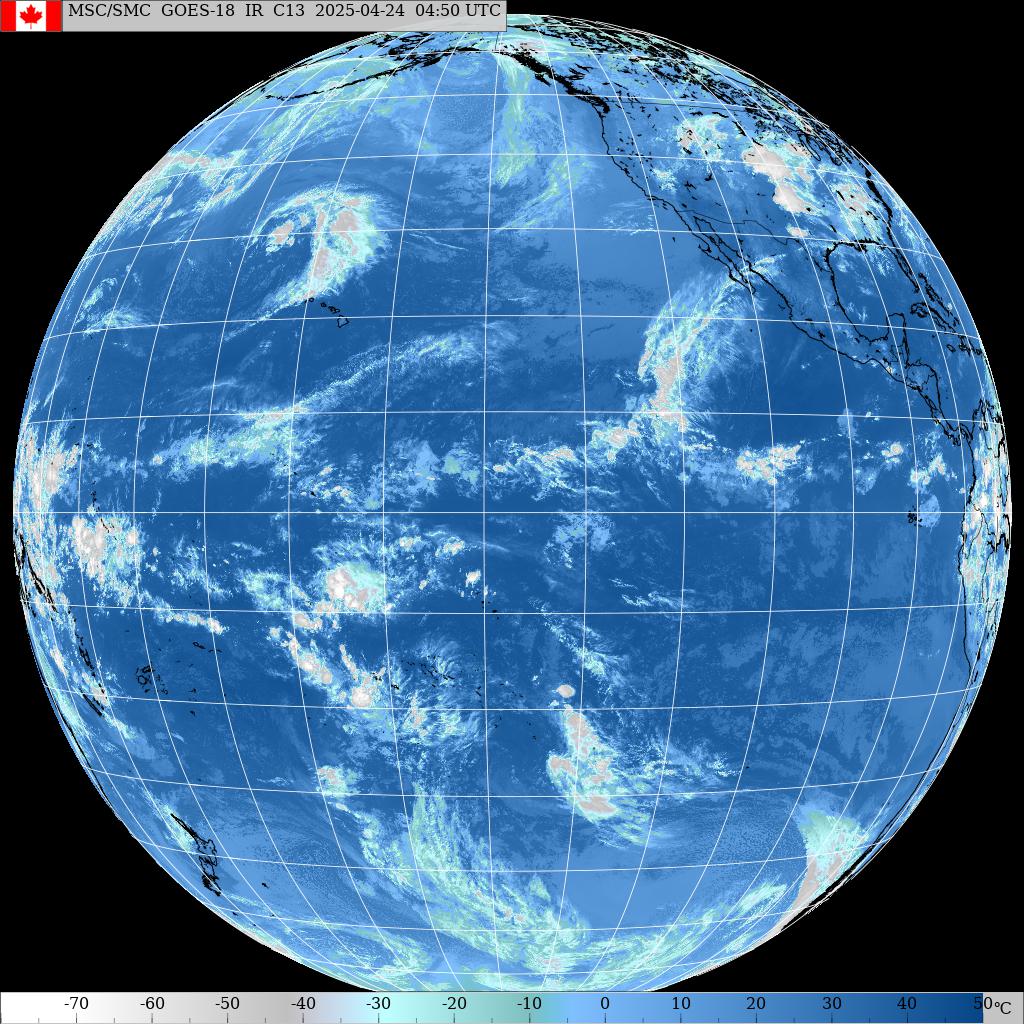 Big Blue…click twice for largest version
 Thunderstorms in the deeper tropics…a cold front far north is dropping southward…Post-Tropical Cyclone 14E far east-southeast
(click for larger version)

 Low clouds arriving on the trades…high clouds south

Variably cloudy across the state…lots of clear skies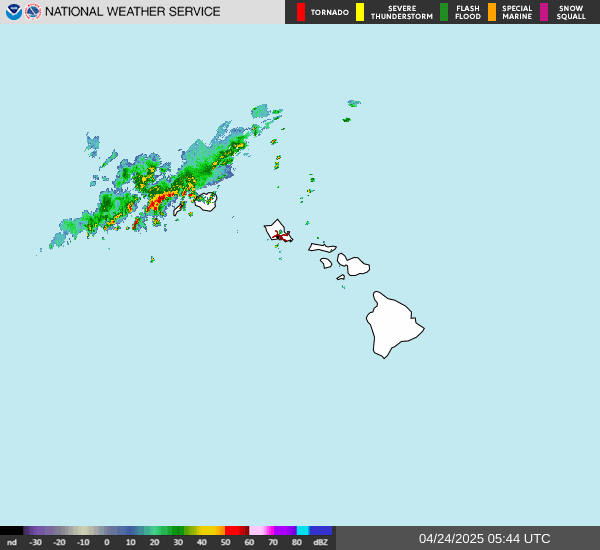 Passing showers locally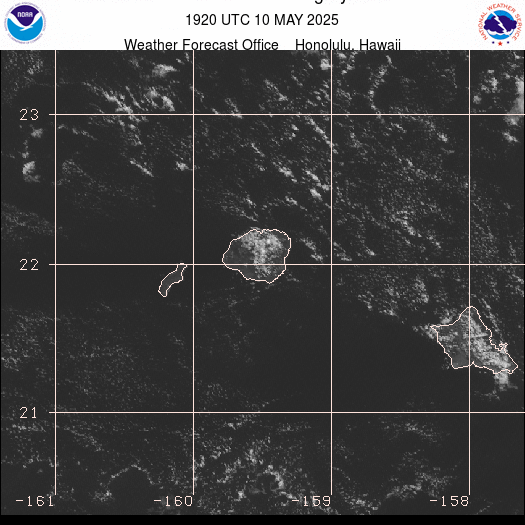 Kauai and Oahu (Satellite)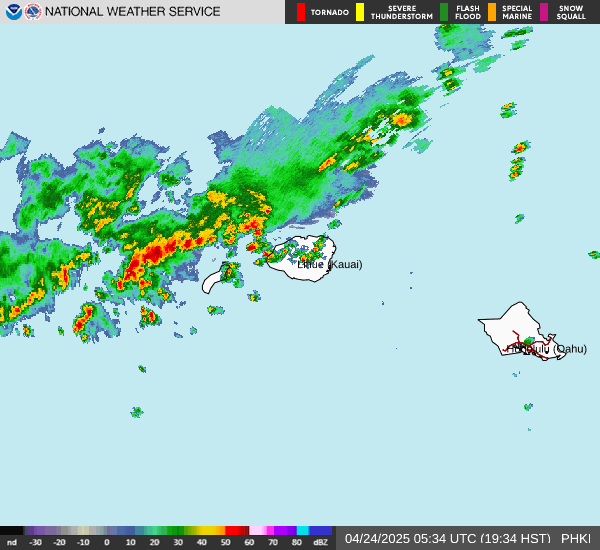 Kauai and Oahu (Radar)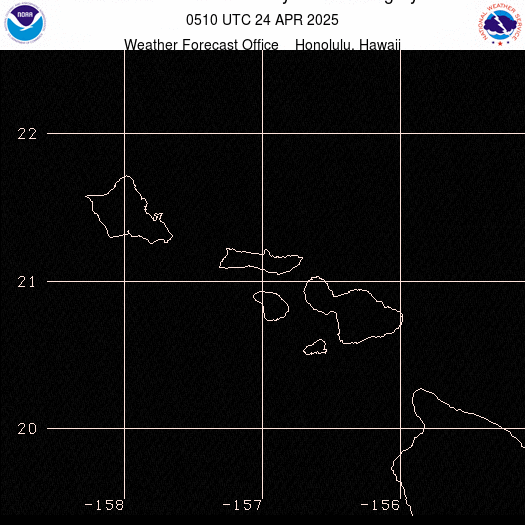 Oahu and Maui County (Satellite)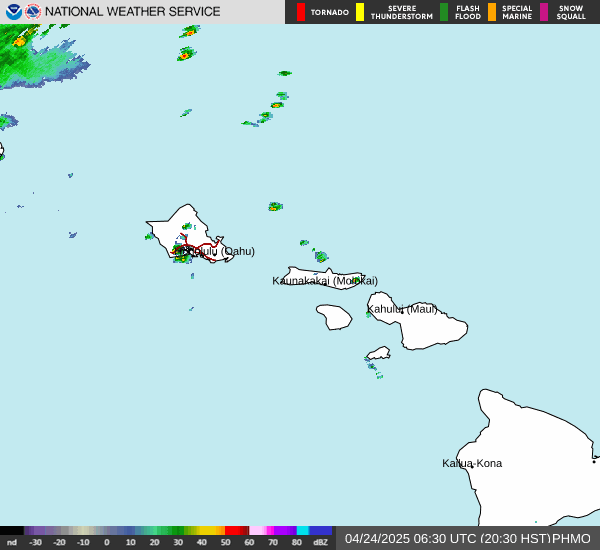 Oahu and Maui County (Radar)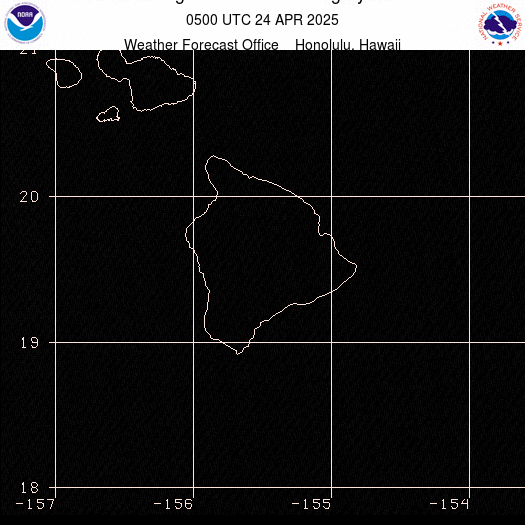 Maui, Kahoolawe, Lanai, and the Big Island (Satellite)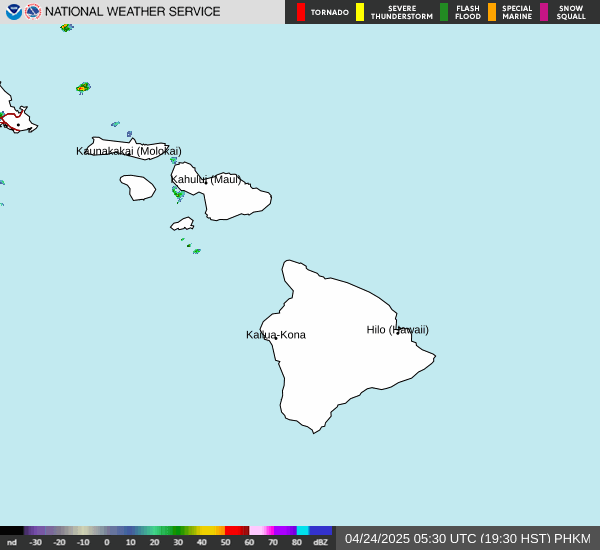 Maui County and the Big Island (Radar)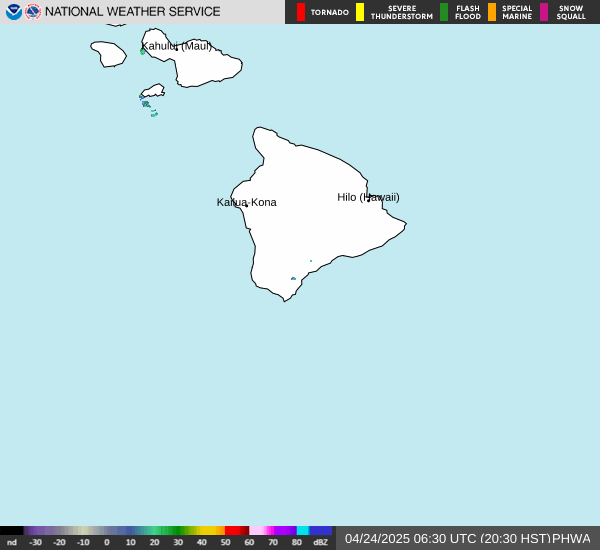 Big Island (Radar)
Model showing precipitation through 8-days (you can slow this animation down)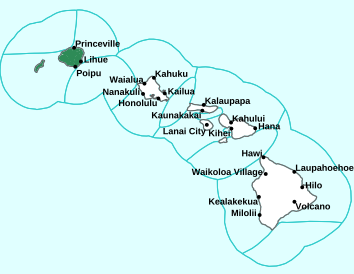 Please open this link…to see current Watches, Warnings and Advisories noted above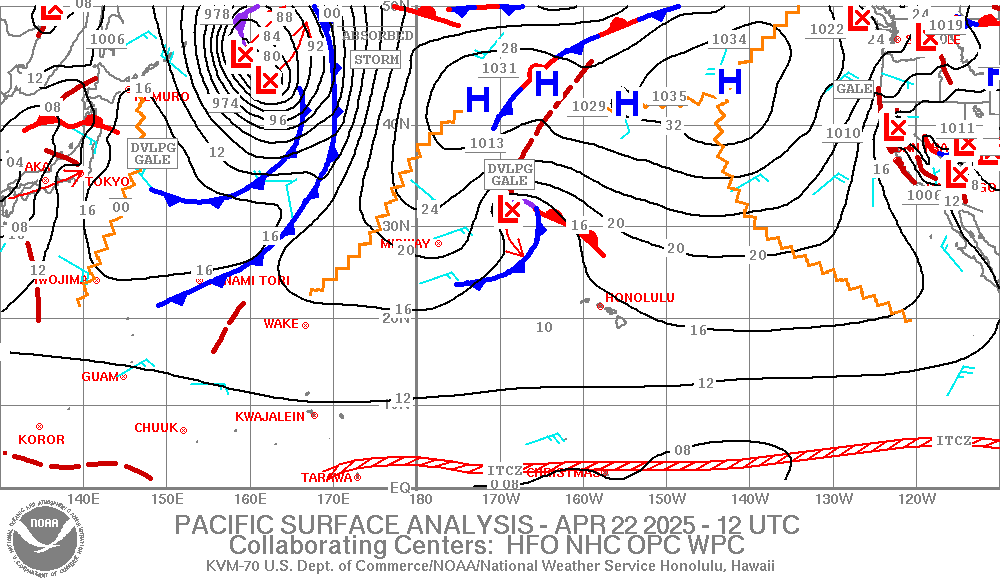 ~~~

Hawaii Weather Narrative ~~~
Glenn's Sunday comments: I'm staying with friends here in Haiku, Maui, Hawaii
Good morning everyone, I hope you have a great Sunday wherever you happen to be spending it.
It's partly cloudy this morning here in Haiku, Hawaii, with off and on showers. The low temperature was 66.5 degrees.
I have been evacuated from my house, and I'm now in Haiku at some friends. When I went up to my area in upper Kula I found that the cottage right next door burned, and houses just below me burned! Fortunately, I also found my house standing, with no damage other than lots of ash and soot inside and out. I'm safe with friends, and will wait to go back when I get done cleaning out of my house.
I've been taken in by some very good friends who live out along the windward side of east Maui. They own an 8 acre piece of land, with all kinds of tropical vegetation. I have my own little office in the barn, and my own sleeping room. So, I'm settled in, and brought all my food here from the refrigerator in Kula. Sharon and Paul are both professionals, and we get along very well…as we've known each other for decades and decades.
5pm, lots of showers early this morning, then sunny and dry conditions this afternoon, and we just had a brief shower as we head into the early evening. I used to live here on the windward side of east Maui, many years ago, and as I stay here longer and longer, I'm falling back in love with the changeable weather conditions here in Haiku!
745pm, the moon is growing by leaps and bounds the last several nights! I won't be long before it's completely full, which happens to be on the 29th of September.

Hawaii's Broad Brush Weather Overview:  High pressure far northwest of the islands will keep moderate to breezy trade winds in place through late in the upcoming week, with only minor fluctuations in strength. Fairly typical trade wind weather will prevail, with showers favoring windward and mountain areas…along with a stray shower reaching leeward communities at times.
Hawaii's Weather Details:  Weather maps show a high centered far northwest, which continues to generate moderate to locally breezy trade winds across the island chain. This high pressure system will remain anchored to the northwest of the islands, while a cold front drops steadily southward…well to the north of the state.
Little change in trade wind strength is expected, with moderate to breezy trade winds prevailing. The high will weaken and shift eastward tonight and Monday, while the front edges southward and closer to the island chain, eventually stalling well north Monday night. This should ease the trades ever so slightly Monday. The high will then re-strengthen north-northeast Tuesday through late in the week…bringing a return of breezy trade winds.
As for the remaining weather details, fairly typical trade wind weather will prevail during the next week, although there could be a slight decrease in shower coverage through Tuesday. Overall, showers will favor windward and mountain areas through the period, particularly at night and during the early morning hours…with a few showers reaching leeward areas at times.
>>> Here's a near real-time Wind Profile of the Pacific Ocean – along with a Closer View of the islands  / Here's the Volcanic emissions (Vog) map
Marine Environmental Conditions:  A surface high pressure system located far northwest of the state will maintain locally strong trade winds early this week. As a result, the Small Craft Advisory (SCA) has been extended through Tuesday night for the typically windier waters adjacent to the islands of Maui County and the Big Island.
The latest forecast indicates the trade winds should remain locally strong most of this week. Therefore, the SCA will eventually need to be extended through mid-week, for the same typically windier waters in the vicinity of the eastern islands. SCA conditions may develop over additional waters by mid-week, as high pressure builds far north of the state…and the trade winds strengthen slightly.
The current small southwest (210 degrees) swell will continue to spread over the area. This southwest swell energy, combined with a lingering southeast trade wind swell, will likely maintain small surf along south facing shores early this week.
The small north-northwest (330 degrees) swell will prompt a small rise in surf heights along exposed north and west facing shores through early Monday. In addition, a small north (350-360 degrees) swell may arrive around Tuesday, followed by a modest north-northeast (020 degrees) swell Thursday through Friday.
Moderate, rough surf will persist along east facing shores. The surf may lower slightly along east facing shores tonight into Tuesday, due to a subtle weakening of the trade winds. Moderate, rough surf may return along east facing shores by mid-week…due to strengthening of the trade winds.


World-wide Tropical Cyclone Activity
Atlantic Ocean
Tropical Cyclone 17L (Philippe)…is located about 1160 miles east of the Northern Leeward Islands

PHILIPPE EXPECTED TO CHANGE LITTLE IN STRENGTH
According to the NHC advisory number 9…
Philippe is moving toward the west near 13 mph. A turn to the west-northwest is expected by tonight, and a northwestward motion is forecast to occur in a couple of days. Maximum sustained winds remain near 50 mph with higher gusts. Little change in strength is forecast during the next few days. Tropical-storm-force winds extend outward up to 115 miles from the center.
>>> Eastern Tropical Atlantic…
Invest 91L
An area of low pressure located several hundred miles southwest of the Cabo Verde Islands continues to produce disorganized showers and thunderstorms. Environmental conditions are forecast to be conducive for additional development, and a tropical depression is likely to form within the next few days as the system moves west-northwestward across the central tropical Atlantic.
* Formation chance through 48 hours…low…30 percent
* Formation chance through 7 days…high…80 percent
Caribbean Island and Sea: There are no active tropical cyclones
Gulf of Mexico: There are no active tropical cyclones
>>> Southeastern Gulf of Mexico…
A trough of low pressure is producing disorganized shower activity over portions of the southeastern Gulf of Mexico. Development, if any, of this system is expected to be slow to occur over the next day or two while it moves slowly westward. The disturbance is expected to move into unfavorable environmental conditions by the middle of the week, ending its chances for development.
* Formation chance through 48 hours…low…10 percent
* Formation chance through 7 days…low…10 percent
Northeastern Pacific:  There are no active tropical cyclone
Here's the link to the National Hurricane Center (NHC)
North Central Pacific:  There are no active tropical cyclone
Northwest Pacific Ocean:
Tropical Cyclone 13W…is located approximately 21 NM northeast of Da Nang, Vietnam

Southwest Pacific Ocean: There are no active tropical cyclones
North and South Indian Oceans  There are no active tropical cyclones

Arabian Sea: There are no active tropical cyclones

Here's a link to the Joint Typhoon Warning Center (JTWC)
>>> Here's a link to the Pacific Disaster Center's (PDC Global) Weather Wall website
Interesting: What would happen if plant-based alternatives replaced half of meat and milk consumption?
Short answer: a lot. A new study found that meat substitution would cut global agricultural GHG emission by 31%, water use by 10%, and spare a quarter of the land needed to reach 2030 biodiversity targets.
Untangling the worst impacts of livestock on our planet won't require us to completely reject meat and dairy: in fact, replacing 50% of these products with novel plant-based substitutes in our global diet would chop agricultural and land-use emissions by 31% in just 30 years. More intriguingly, that figure could be doubled if the land released by livestock was devoted to reforestation.
There's lots of talk about how transitioning to novel plant based foods like meatless burgers and soy sausages can revolutionize our food system. But until this study there hasn't been a global analysis that looked at what these direct substitutes would actually accomplish in terms of emissions and land use.
Writing in Nature Communications, the study authors explain that they wanted to close this gap, by looking at the possible meat protein substitutes that could be made from isolates of soy, rapeseed, potato, wheat—all of which are already used to make replacement foods for chicken, pork, beef, and milk. Crucially, they made sure these substitutes would be nutritionally equivalent to their animal counterparts.
Then they modeled a set of dietary changes up to 2050 that would introduce these substitutes into the global diet at a gradually increasing rate, up to 50%. Using the Global Biosphere Management Model, they explored the impact of these changing and increasingly ambitious diets on land-use, greenhouse gas emissions, food security and biodiversity, assuming the climate stays the same.
Read more at: Anthropocene Magazine
>>>>Notice: if you want to leave a comment at the bottom of this page, you have to leave your email address, or your comment won't register!
Leave a Reply