The last update to this website was at 404am (HST) Monday, May 16, 2022

Air Temperatures – The following high temperatures (F) were recorded across the state of Hawaii Sunday afternoon…along with these low temperatures Sunday morning:
81 – 70  Lihue AP, Kauai
83 – 72  Honolulu AP, Oahu
85 – 65  Molokai AP
90 – 65  Kahului AP, Maui
85 – 74  Kona AP, Hawaii
82 – 66  Hilo AP, Hawaii 

Here are the latest 24-hour precipitation totals (inches) for each of the islands Monday morning:

4.34  Mount Waialeale, Kauai
1.76  Poamoho RG 1, Oahu
0.01  Molokai
0.00  Lanai
0.00  Kahoolawe
0.06  West Wailuaiki, Maui
0.72  Lower Kahuku, Big Island
The following numbers represent the strongest wind gusts (mph) Monday morning:

14  Moloaa Dairy, Kauai
18  Kii, Oahu
16  Molokai
14  Lanai
23  Kahoolawe
14  Kahului AP, Maui
20  South Point, Big Island
Hawaii's Mountains – Here's a link to the live webcam on the summit of our tallest mountain Mauna Kea (~13,800 feet high) on the Big Island of Hawaii. Here's the webcam for the (~10,023 feet high) Haleakala Crater on Maui (not currently working). These webcams are available during the daylight hours here in the islands, and at night whenever there's a big moon shining down. Also, at night you will be able to see the stars, and the sunrise and sunset too…depending upon weather conditions.

Low with cold front northwest…thunderstorms south in the deeper tropics


Low clouds in the vicinity…high cirrus arriving from the west


Variable clouds…with some clear areas

Showers locally and offshore

Model showing precipitation through 8-days (you can slow this animation down)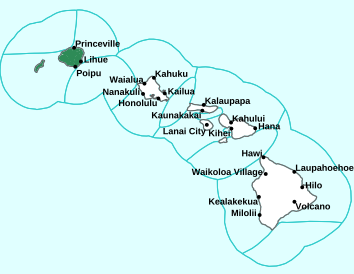 Please open this link…to see current Watches, Warnings and Advisories noted above



~~~
Hawaii Weather Narrative
~~~
Glenn's Monday comments: I'm here in Bend, Oregon, the low temperature this morning was 44 degrees with cloudy skies.

Hawaii's Broad Brush Weather Overview: Warm and humid conditions with increasing rainfall chances are expected, as an out-of-season upper disturbance and cold front move into the area Tuesday through Wednesday.
Winds will diminish and shift out of the south to southeast direction. This will result in afternoon showers forming over our dry leeward areas, where sea breezes form and along southeast facing slopes.
More widespread rainfall with embedded locally heavy showers and a few thunderstorms are possible over the western end of the state Tuesday night through mid-week. Conditions should begin to improve by the weekend.
Hawaii's Weather Details: Look for a significant pattern change evolving across the area this week, as a strong pulse aloft dives southward, carving out an upper trough near or over the western end of the state.
Deep southerly flow associated with this feature and its attendant cold front, moving in from the northwest, will draw abundant deep tropical moisture northward into the area.
This combined with south to southeast low-level flow will bring warm and humid conditions, with rainfall chances incresing over southeast facing slopes, and our dry leeward areas where sea breezes form.
Peak heating due to the high sun angle for this time of year, may support a few heavy afternoon showers through Tuesday.
The southerly kona winds are expected to increase to moderate levels by mid-week, as the unusual cold front draws closer. This combined with the deep moisture near or over the western end of the state…will lead to showers becoming more widespread.
If this moisture axis shifts farther east, localized flooding can't be ruled out Tuesday night through Wednesday night. Some showers will be heavy and a few thunderstorms could flare up.
Models show the upper support lifting northeastward and away from the area Thursday through Friday. This combined with the ridge lifting northward…should lead to improving conditions by the weekend.
>>> Here's a near real-time Wind Profile of the Pacific Ocean – along with a Closer View of the islands / Here's the latest Weather Map.  Here's the animated volcanic emissions graphic
Hawaii's Marine Conditions: The winds are becoming weaker, and shifting out of the east-southeast to southeast. This means that most of the coastal waters near the smaller islands will be in the shadow of the Big Island through early Tuesday.
A cold front moving toward us from the northwest will cause the winds to become southerly and strengthen starting Tuesday, with the strongest winds expected around Kauai Wednesday.
The latest forecast indicates the south winds may be near the Small Craft Advisory threshold over the waters in the vicinity of Kauai Wednesday. A slight chance of thunderstorms is also expected over the waters in the vicinity of Kauai and Oahu Wednesday. Expect light to moderate southeast winds for most Hawaiian waters Thursday and Friday.
The current small south swell may provide a slight bump in surf along most south shores through early Tuesday. A larger south swell will arrive Tuesday, then peak Wednesday. This will produce a noticeable increase in surf heights along south facing shores by mid-week.
Note that this swell coincides with the strengthening southerly winds, so surf may become choppy, especially along south shores of the western islands late Tuesday through Wednesday. This south swell will gradually lower late Thursday through Saturday.
The current modest surf along east shores is expected to gradually lower through Tuesday, due to the local winds weakening, and becoming southeasterly. An upstream fetch of east winds will likely keep small surf along exposed east shores for most of this week.
Surf will remain nearly flat along most north and west shores into Wednesday, with only small northwest swell energy available. The wave model guidance still indicates a small northwest swell may arrive late Wednesday night, peaking Thursday. Assuming this swell does show up…it will gradually lower Thursday night through Friday.
World-wide Tropical Cyclone Activity
Atlantic Ocean: There are no active tropical cyclones

Caribbean: There are no active tropical cyclones
Gulf of Mexico: There are no active tropical cyclones
Eastern Pacific: There are no active tropical cyclones
Here's the link to the National Hurricane Center (NHC)
Northwest Pacific Ocean: There are no active tropical cyclones

South Pacific Ocean: There are no active tropical cyclones
North and South Indian Oceans / Arabian Sea: There are no active tropical cyclones
Here's a link to the Joint Typhoon Warning Center (JTWC)
Interesting: An Isolated Population of Antarctic Fur Seals Could Save the Species, but They're Disappearing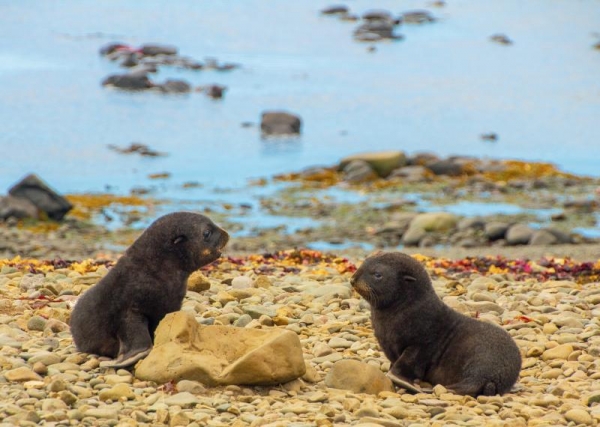 Losing fur seals from the South Shetland Islands means losing crucial genetic diversity the species may need to adapt to rapid climate change.
Research biologist Douglas Krause has studied fur seals in Antarctica for more than 20 years. As leader of pinniped studies in the Antarctic Ecosystem Research Division at NOAA Fisheries Southwest Fisheries Science Center, he and many colleagues thought they knew how climate change would affect the photogenic fur seals that are a key species in the Antarctic ecosystem.
They figured that the fur seals would benefit from warmer temperatures and habitat that would emerge as sea ice melts along coastlines.
The species should flourish, they thought, a winner in the climate change lottery that affects different species in different ways. The reality turned out to be just the opposite.
Krause and his colleagues recently published a new study showing that the fur seal population in the South Shetland Islands of Antarctica is declining sharply, especially at its largest colony on Cape Shirreff.
The population faces greater risk from climate change and predation than fur seals elsewhere in the Southern Ocean. The population is aging, with fewer females giving birth to fewer pups each year.
Continue reading at NOAA Fisheries
Leave a Reply