The latest update to this website was at 634pm (HST) Saturday evening, October 16, 2021
Air Temperatures – The following high temperatures (F) were recorded across the state of Hawaii Saturday afternoon…along with these low temperatures Saturday morning:
81 – 72  Lihue AP, Kauai
85 – 73  Honolulu AP, Oahu
84 – 71  Molokai AP
85 – 71  Kahului AP, Maui
86 – 71  Kona AP, Hawaii
78 – 70  Hilo AP, Hawaii 

Here are the latest 24-hour precipitation totals (inches) for each of the islands Saturday evening:

1.43  Mount Waialeale, Kauai
0.75  Manoa Lyon Arbroetum, Oahu
0.33  Molokai
0.02  Lanai
0.00  Kahoolawe
3.06  West Wailuaiki, Maui
1.77  Papaikou Well, Big Island
The following numbers represent the strongest wind gusts (mph) Saturday evening:

24  Port Allen, Kauai
28  Kuaokala, Oahu
28  Molokai
30  Lanai
37  Kahoolawe
33  Maalaea Bay, Maui
29  Upolu AP, Big Island
Hawaii's Mountains – Here's a link to the live webcam on the summit of our tallest mountain Mauna Kea (~13,800 feet high) on the Big Island of Hawaii. Here's the webcam for the (~10,023 feet high) Haleakala Crater on Maui. These webcams are available during the daylight hours here in the islands, and at night whenever there's a big moon shining down. Also, at night you will be able to see the stars, and the sunrise and sunset too…depending upon weather conditions.


 Thunderstorms in the deeper tropics


High level clouds moving into the state…at times locally


Low level clouds being carried our way on the trade wind flow

Showers falling locally

Model showing precipitation through 8-days (you can slow this animation down)


Hawaii is on the 3rd line down from the top…and the 1st line to the right of the middle line (lightning is the blue dots)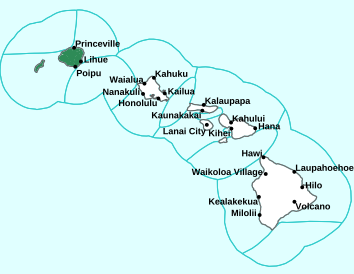 Please click this link…to see current Watches, Warnings and Advisories noted above



~~~

Hawaii Weather Narrative

~~~
Glenn's Saturday comments: I'm at my friend Linda's place here in Corte Madera, located in Marin County, California. / The low temperature this morning was 42.5 degrees under clear skies. / It's the last day of a long string of warm to very warm and dry days here in the SF north Bay area. As we get into Sunday, we'll have increasing clouds, with some showers as a cold front pushes through…along with much cooler temperatures.
Broad Brush Overview: Our long lasting trade winds will persist through the weekend, supported by high pressure to the north. Clouds and passing showers will favor windward areas, with a few briefly heavy showers possible. Lighter trades and fewer showers are expected for the first half of the upcoming new work week, as a cold front slowly approaches the area from the north. The dissipating front may reach Kauai by Thursday, potentially spreading to the other islands by next weekend…bringing an increase in mainly windward showers.
Weather Details: High pressure far north will maintain our trades, carrying off and on showers into the windward areas, with a few spilling leeward on the smaller islands. Satellite images indicate some cooler cloud tops moving along with the trade flow, and these taller clouds may bring a few soaking showers, as a trough develops northwest of Kauai. Models indicate that we may see some briefly heavy showers over Kauai and Oahu. The developing low aloft is expected to send some high cirrus over the islands from the west tonight into early in the new week.
As the low moves away to the west early in the new week, a ridge aloft will build over the islands from the southeast. Additionally, a pair of surface lows will traverse the north Pacific, weakening the ridge to the north and pushing it toward the islands. This will lead to weaker trade winds Monday, with winds becoming light northeast Tuesday and Wednesday, as a cold front associated with the first low presses south toward the islands. This combination will lead to fewer showers…with rainfall limited by a strong low-level inversion.
Looking Further Ahead: Latest guidance indicates the initial cold front slowing and stalling north of the islands, although then being reinforced by a cold front associated with the second low, which helps push associated moisture over Kauai as early as Thursday. The moisture associated with the dissipating front may potentially sag southward over the other islands Friday and Saturday. High pressure building north will support strengthening trades, which pushes most of the associated moisture into windward areas. 

>>> Here's a near real-time Wind Profile of the Pacific Ocean – along with a Closer View of the islands / Here's the latest Weather Map.  Here's the animated volcanic emissions graphic
Marine Environmental Conditions: High pressure north will keep moderate to locally strong trades in place through the weekend. A Small Craft Advisory is in effect for the typically windy waters around Maui and the Big Island through 6pm Sunday. The trades are expected to ease into the light to moderate range Sunday night through the middle of the new week, as a cold front approaches from the north…keeping winds below advisory levels.
Surf along east shores will slowly lower through the weekend, although will hold close to normal levels. Surf will then slowly lower through the upcoming work week, with east shore surf dropping below normal during this time.
The current small northwest swell will keep some small surf in place along north and west shores this weekend. A larger north-northwest swell is forecast to build late Tuesday and Tuesday night, then peak Wednesday, with surf possibly nearing advisory levels along north shores. This swell will then gradually lower Thursday, followed by a larger north to north-northeast swell Friday, which appears to have a higher chance of bringing advisory level surf to north shores.
Mainly background south swells will keep surf very small along south shores through early in the new work week. The next small south swell is forecast to reach the islands Tuesday and slowly lower through late next week.
World-wide Tropical Cyclone Activity
>>> Here's a link to the latest Pacific Disaster Center's Weather Wall…covering the Atlantic Ocean, Caribbean Sea, and Gulf of Mexico



>>>

Here's a link to the latest Pacific Disaster Center's Weather Wall…covering the Pacific and Indian Oceans
Atlantic Ocean: There are no active tropical cyclones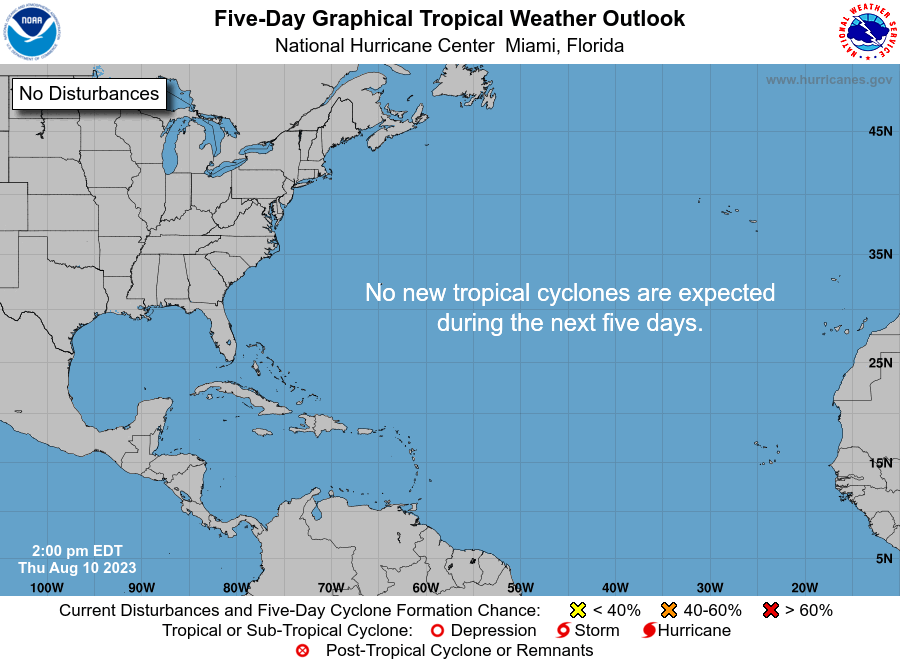 Caribbean: There are no active tropical cyclones
Gulf of Mexico: There are no active tropical cyclones
Eastern Pacific:  There are no active tropical cyclones
Here's the link to the National Hurricane Center (NHC)
Northwest Pacific Ocean: 
Tropical Cyclone 23W (Namtheun)…is located approximately 810 NM north of Wake Island

South Pacific Ocean: There are no active tropical cyclones
North and South Indian Oceans / Arabian Sea: There are no active tropical cyclones
Here's a link to the Joint Typhoon Warning Center (JTWC)
Interesting: As Drought Bears Down on Northern Kenya, Millions Face Hunger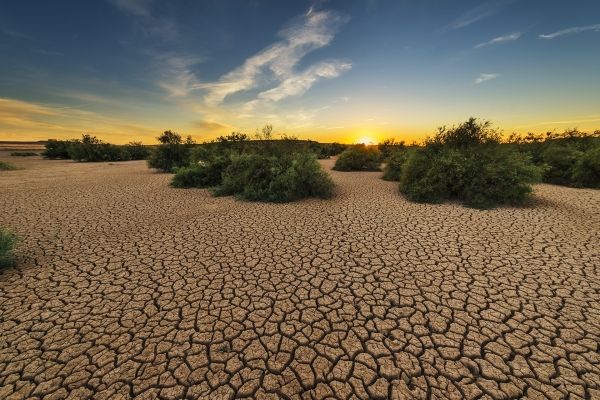 For the second consecutive year, Kenya's semi-arid north has experienced meager rainfall, causing a drought that threatens the food supply of 2.4 million people, according to the United Nations World Food Program, Reuters reported.
"Goats are unsellable, cows are even worse to sell and our children are starving," Moses Loloju, a herder from Isiolo county, told Reuters.
The north has received just 25 to 50 percent as much rainfall as is typical, with no relief in sight. The Kenya Meteorological Department expects the region to see below-average rainfall this month, Reuters reported.
"The few remaining animals have nothing to graze, they can't reach water points since they have grown weak," Bargeri, a herder, told Reuters. Some herders in his home county have walked 40 kilometers to find water, according to the Kenya government.
Temperatures in northern Kenya have risen .6 F degrees per decade since 1985, according to U.S government data, fueling more severe drought. As temperatures continue to increase, droughts are expected to grow more frequent and severe.
"The past droughts were largely predictable," Maurice Onyango, regional head for disaster risk management at Plan International, told Reuters. "We had longer cycles of 5 to 10 years (between them). And this meant that the pasture and water bodies would regenerate very quickly. Now we are seeing droughts coming every two years, sometimes every year."
Leave a Reply