Air Temperatures – The following high temperatures (F) were recorded across the state of Hawaii Saturday…along with the low temperatures Sunday:

79 – 65  Lihue, Kauai /
82 – 68  Honolulu, Oahu /
84 – 63  Molokai AP
86 – 59  Kahului AP, Maui / 
83 – 70  Kona AP, Hawaii
82 – 66  Hilo, Hawaii /

Here are the latest 24-hour precipitation totals (inches) for each of the islands Sunday morning:

0.07  Mount Waialeale, Kauai
0.01  Poamoho RG 1, Oahu
0.00  Molokai
0.00  Lanai
0.00  Kahoolawe
0.13  Hana AP, Maui
0.26  Kapapala Ranch, Big Island
The following numbers represent the strongest wind gusts (mph) Sunday morning:

09  Waimea Heights, Kauai
09  Waianae Valley, Oahu
06  Molokai
08  Lanai
12  Kahoolawe
09  Maalaea Bay, Maui
20  PTA West, Big Island
Hawaii's Mountains – Here's a link to the live webcam on the summit of our tallest mountain Mauna Kea (~13,800 feet high) on the Big Island of Hawaii. Here's the webcam for the (~10,023 feet high) Haleakala Crater on Maui. These webcams are available during the daylight hours here in the islands, and at night whenever there's a big moon shining down. Also, at night you will be able to see the stars, and the sunrise and sunset too…depending upon weather conditions.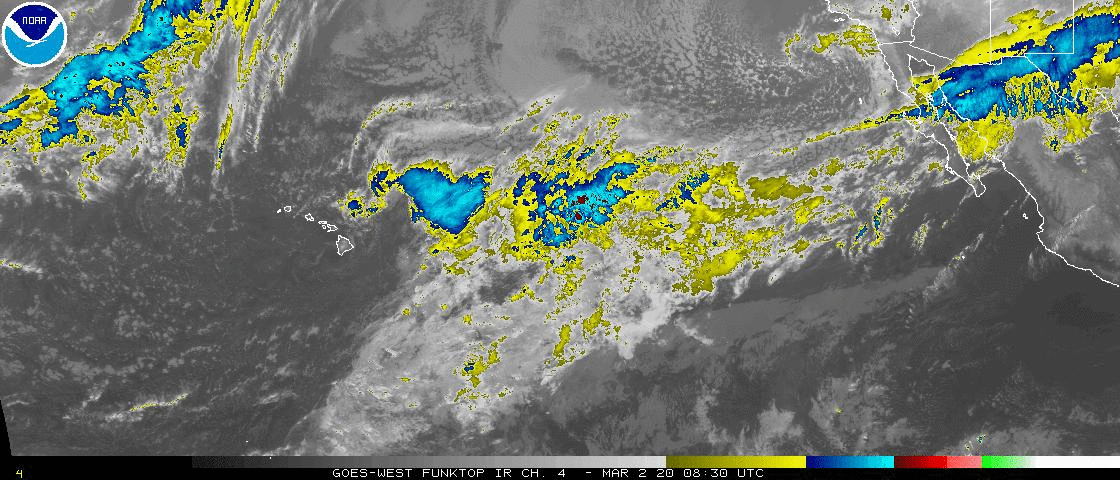 The next cold front is approaching to the northwest
(click on the images to enlarge or animate them)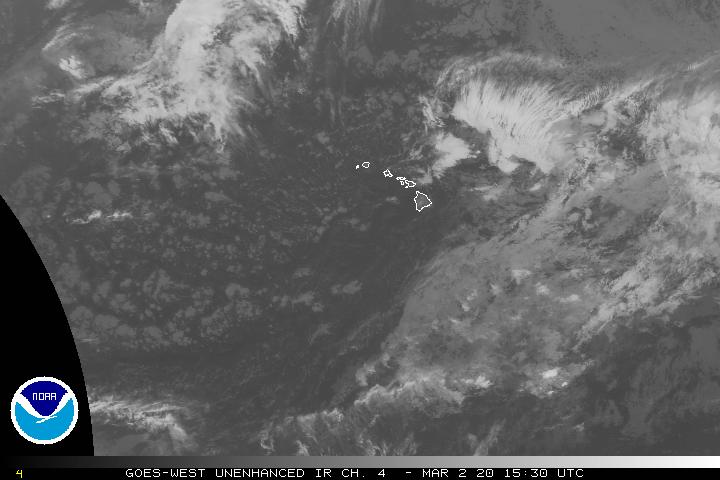 High clouds to the north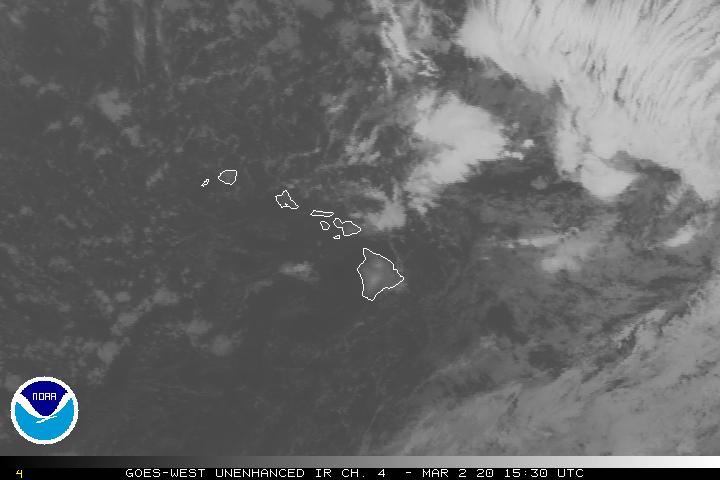 Clear skies for the most part…with some clouds locally



A few showers locally
Looping image


Please click here for Watches, Warnings, and Advisories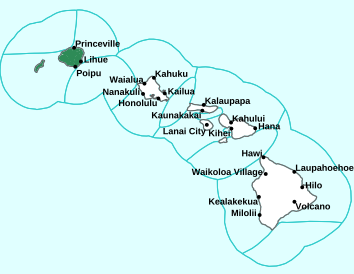 ~~~

Hawaii Weather Narrative

~~~


Broad Brush Overview: Light winds will continue through the first half of the new week, as a cold front moves into the area and stalls to the north. Outside of a few clouds and showers over interior areas each afternoon due to sea breezes, mostly dry and stable conditions are expected. Increasing moisture associated with another front that is forecast to move down the island chain, will bring increasing rainfall chances and gusty trades by the end of the week.
Details: The models suggest mostly dry and stable conditions prevailing, as the next late autumn cold front stalls and diminishes just north of the state, and the ridge becomes established over the islands. Light and variable winds will keep a land and sea breeze pattern in place. Although dry conditions will prevail, a few clouds and showers over interior areas may fall each afternoon due to the sea breezes…especially over Kauai near the stalled front.
Looking Further Ahead: As we reach Wednesday into next weekend, models show a strong trough approaching and moving over the state. Although it remains too early to determine the specifics, increasing moisture and rainfall chances, along with gusty trades remain a possibility by Friday, as the attendant cold front moves into the area. Breezy trades along with a drying trend will be possible next weekend, as high pressure builds north of the state…in the wake of the front.
Here's a near real-time Wind Profile of the Pacific Ocean – along with a Closer View of the islands / Here's the latest Weather Map

Marine Environmental Conditions: A ridge of high pressure will remain over the island chain, as a front approaches from the northwest. This will keep a light and variable wind regime in place across the marine area. The front will stall north of Kauai Monday through Wednesday, with the ridge axis shifting back north of the islands, bringing a return of light to locally moderate trades. A front is expected to approach from the northwest late in the work week, and depending on how far south this front progresses, could bring strong, possibly near Gale force winds to marine area Thursday night into next weekend.
A north-northeast swell will be lowering, although may produce harbor surges at both the Kahului and Hilo harbors. The swell will continue to lower tonight and Monday, likely dropping below advisory thresholds along all shores by Monday morning.
A new northwest swell is expected to arrive, then gradually build tonight and Monday. Advisory level surf will likely impact exposed north and west facing shores late Monday through mid-week, before a much larger northwest swell arrives. This larger northwest swell is expected to arrive Wednesday, likely pushing surf to warning levels along north and west facing shores beginning during the day Wednesday, and holding at warning levels through Thursday and possibly into Friday. This swell is expected to lower Friday and Friday night, with yet another large, possibly advisory level, northwest swell arriving next weekend. No other significant swells are expected.

Good morning Hawaii!


Weekend poem:
Each one is a gift, no doubt,
mysteriously placed in your waking hand
or set upon your forehead
moments before you open your eyes.
Today begins cold and bright,
the ground heavy with snow
and the thick masonry of ice,
the sun glinting off the turrets of clouds.
Through the calm eye of the window
everything is in its place
but so precariously
this day might be resting somehow
on the one before it,
all the days of the past stacked high
like the impossible tower of dishes
entertainers used to build on stage.
No wonder you find yourself
perched on the top of a tall ladder
hoping to add one more.
Just another Wednesday


World-wide Tropical Cyclone Activity


Here's a link to the latest Pacific Disaster Center's Weather Wall

>>> Atlantic Ocean: There are no active tropical cyclones
Latest satellite image of the Atlantic
>>> Caribbean Sea: There are no active tropical cyclones
>>> Gulf of Mexico: There are no active tropical cyclones

Latest satellite image of the Caribbean Sea and the Gulf of Mexico
>>> Eastern Pacific: There are no active tropical cyclones
Here's an animated color enhanced satellite image of the central and eastern Pacific
>>> Northwest Pacific Ocean: There are no active tropical cyclones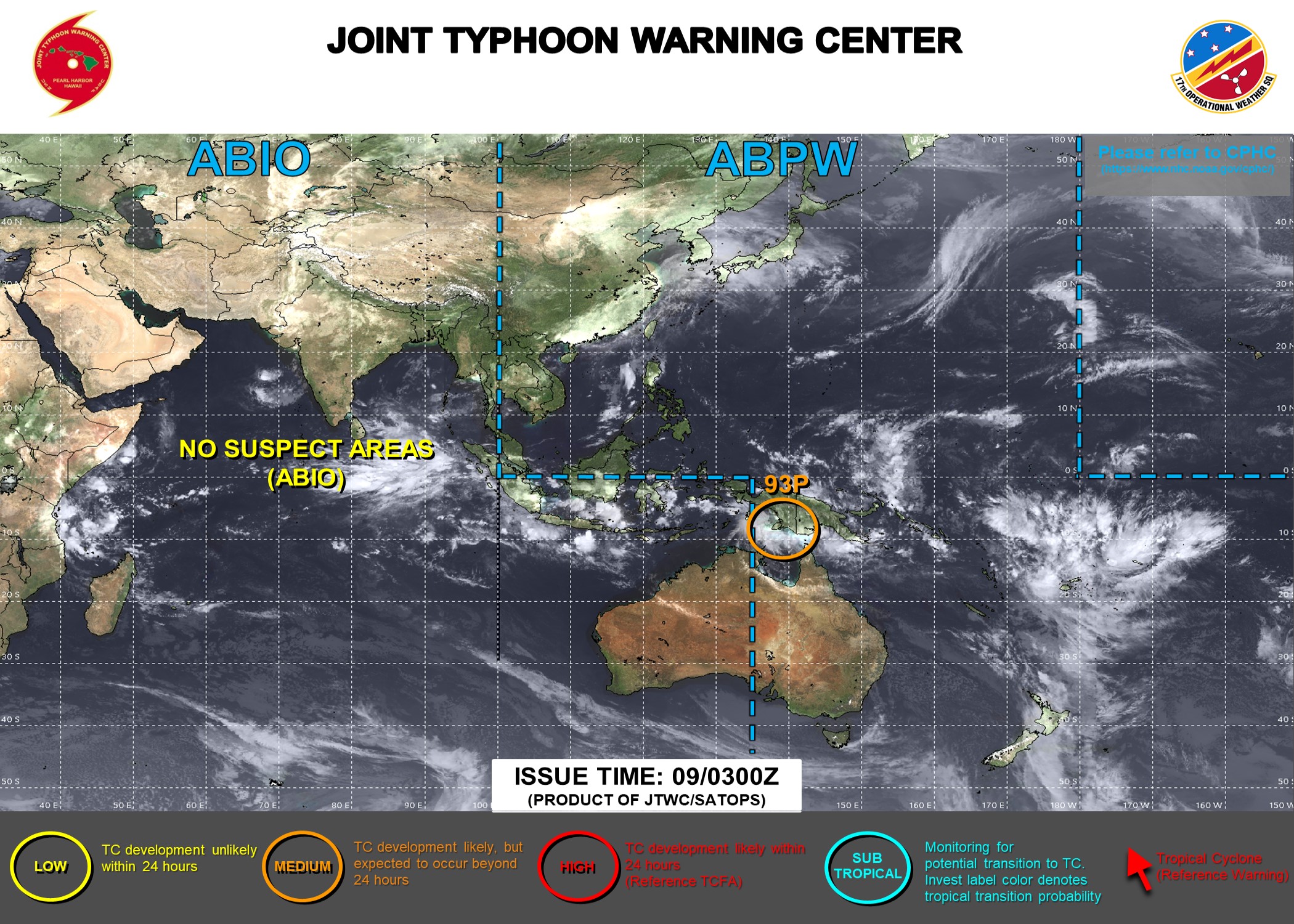 >>>

South Pacific Ocean: 

There are no active tropical cyclones

>>>

North and South Indian Oceans / Arabian Sea: 

Tropical Cyclone 02S (Belna)

Sustained winds are 90 knots with gusts to 110 knots…as of Warning 8
Here's what the computer models are showing
Interesting: A Tiny Leak Led to a Massive, Unexpected Collapse at Kilauea Volcano – The 2018 eruption of Kilauea in Hawaii featured the spectacular collapse of the volcano's caldera, creating a hole nearly as deep as One World Trade Center in New York City is tall at its summit. Now new research finds that this dramatic change was triggered by only a small leak of magma from the reservoir beneath the peak.
Instantaneous and explosive caldera collapses, such as the event that formed Oregon's Crater Lake 7,700 years ago, are a better known phenomenon. But the new findings suggest that slow-motion collapse events such as Kilauea's—which are vastly different in nature—may be occurring at volcanoes around the world. In fact, a comparable one occurred at Bardarbunga's caldera in Iceland between 2014 and 2015.
"What we have learned from these two events (Kilauea and Bardarbunga) is that there may not be much warning," says geophysicist Magnus Tumi Gudmundsson, who studied the Bardarbunga collapse but was not involved in the new Kilauea research. At first, Gudmundsson says, caldera-collapse eruptions look a lot like typical eruptions. "Then, when conditions are right, the magma chamber underneath a volcano can just split apart, and magma can flow freely, and the caldera roof collapses."
Kilauea is a 1,250-meter-tall, broad shield volcano on the southeastern coast of Hawaii's Big Island. In 1983 it began belching lava from its Eastern Rift Zone, an area fractured by fissures created as gravity pulls the entire area downward, toward the sea. That eruption culminated furiously in May 2018, when the lava lake within the caldera, or crater, at the volcano's summit began to drain like a bucket with a hole in it. Simultaneously, the lower part of the Eastern Rift Zone came alive with lava fountains and new fissures, one of which spouted a river of lava that flowed through residential neighborhoods and into the sea. More than 700 homes and other buildings were destroyed before the eruption stopped in August 2018.
The disaster took place under the watchful eyes of more scientific equipment—including drones, GPS sensors, thermal cameras and satellite-based radar—than any caldera-collapse eruption in history. "Some of the detail you get from Kilauea is unlike anything we've seen before," Gudmundsson says.
In three separate papers published this week in Science, researchers wove together much of the data from those instruments to tell the tale of Kilauea's eruption from summit to sea. The first revelation, discovered in a study led by U.S. Geological Survey geophysicist Kyle Anderson, was that the eruption caused the caldera collapse rather than the other way around. That relationship had been a geologic chicken-and-egg question debated among scientists, but at both Bardarbunga and Kilauea, the eruption clearly came first. Anderson and his team found that the rifting of the island, which occurs as gravity drags the slope of Kilauea seaward, opened up fissures for magma to drain from the volcano's reservoir and the lava lake above it. When the magma below the caldera disappeared, all the rock in its floor crumbled down more than 500 meters over an area of five square kilometers. Once the caldera floor buckled, it pressurized the whole underground magma plumbing system like a piston—increasing and prolonging the eruptive activity in the rift zone.
Previously there were no good estimates of how much magma drainage is necessary for a collapse, but Anderson says the Kilauea eruption demonstrated that it can take remarkably little to kick off this fiery process. "Before the first collapse, really only a very small fraction of the magma was removed—almost certainly less than about 3.5 to 4 percent," he says. Kilauea's summit caldera may have already been thin and faulted and thus weak, Anderson adds. It remains to be seen if other calderas are similarly vulnerable.
The connection between the caldera collapse and the lava flow in the lower Eastern Rift Zone was evident in real time, says Matthew Patrick, a geophysicist at the USGS's Hawaiian Volcano Observatory. In a separate paper, he and his colleagues found that the lava river flowing through the rift zone experienced hours-long surges that occurred within minutes of the collapses at the summit caldera, 40 kilometers away. These lava floods resulted from pressure pulses created by the collapsing caldera, Patrick says. The pulses sometimes caused the lava channel to overtop its banks, creating new rivulets that threatened nearby property. A geochemical analysis of lava in the rift zone, led by University of Hawaii at Hilo volcanologist Cheryl Gansecki, further cemented the caldera–rift zone connection. It found that hotter magma, likely from the summit reservoir, mixed with magma left over from older eruptions.
Kilauea is not likely to erupt with such vigor again until its magma chamber refills with molten rock from the earth's mantle, which could take years to decades. But there are other, similar volcanoes sitting in rift zones around the world, from Iceland to the Galápagos Islands, and the information learned at places like Kilauea and Bardarbunga could help illuminate how those far-flung calderas might collapse.
"Well-monitored caldera collapses can provide crucial information about the magma plumbing system beneath these volcanoes," says Michelle Parks, a geophysicist at the Icelandic Meteorological Office, who was not involved in the new research. These novel details could include how magma is stored, how much of it is available to erupt and how it migrates, she says, adding, "All of this information is critical for determining the potential style of the eruption—and also the size of the eruption."
Leave a Reply