The latest update to this website was at 230pm Monday, May 10, 2021

Air Temperatures – The following high temperatures (F) were recorded across the state of Hawaii Monday afternoon…along with these low temperatures Monday morning:
83 – 73  Lihue, Kauai
85 – 74  Honolulu, Oahu
83 – 71  Molokai AP
85 – 65  Kahului AP
84 – 73  Kona AP, Hawaii
84 – 72  Hilo, Hawaii

Here are the latest 24-hour precipitation totals (inches) for each of the islands Monday afternoon:

0.95  Mount Waialeale, Kauai
0.34   Nuuanu Upper, Oahu
0.20  Molokai
0.00  Lanai
0.00  Kahoolawe
0.55  Puu Kukui, Maui
0.91  Kawainui Stream, Big Island
The following numbers represent the strongest wind gusts (mph) Monday afternoon:

29  Port Allen, Kauai
35  Kuaokala, Oahu
27  Molokai
27  Lanai
33  Kahoolawe
30  Kahului AP, Maui
31  South Point, Big Island
Hawaii's Mountains – Here's a link to the live webcam on the summit of our tallest mountain Mauna Kea (~13,800 feet high) on the Big Island of Hawaii. Here's the webcam for the (~10,023 feet high) Haleakala Crater on Maui. These webcams are available during the daylight hours here in the islands, and at night whenever there's a big moon shining down. Also, at night you will be able to see the stars, and the sunrise and sunset too…depending upon weather conditions.


A late season cold front is moving by well north…high cirrus streaming by well south


High and middle level clouds moving away to the east


Low clouds being carried our way on the trade winds


Showers falling locally…mostly windward areas


Model showing precipitation through 8-days (you can slow this animation down)


Hawaii is on the 3rd line down from the top…and the 1st line to the right of the middle line (lightning is the blue dots)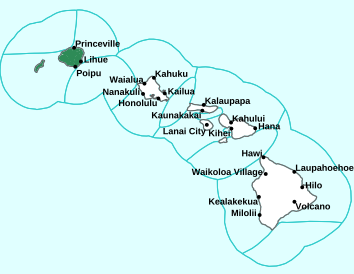 Please click this link…to see current Watches, Warnings and Advisories noted above



~~~

Hawaii Weather Narrative

~~~
Glenn's comments: I'm in northern California, although will continue to update this website on a daily basis.
(May 6) I flew from Kahului to San Francisco yesterday, and took the airporter up to Marin County last night. I'm staying at my friend Linda's, who owns a place in Haiku, Maui…and here in Corte Madera (not far over the Golden Gate Bridge). The weather is perfect, and it's a treat to be on vacation for a while! Late afternoon on this first full day, a cool breeze has arrived, preceding an approaching cold front…a dry frontal passage. Nonetheless, I enjoy knowing that a front is heading towards me.
(May 7) After being hunkered down in upper Kula, Maui for the last 15 months, as you can see I've ventured out, and am visiting California. Today here in Marin County it is so beautiful, and it's finally sinking in that I'm on a vacation, and I must say…I love it! The weather could hardly have been nicer today, cool breeze with warm sunshine. At 10pm, the temperature here has dropped to 53.9 degrees.
(May 8) The weather here in Marin County just continues to be perfectly lovely! By the way, can you imagine how wonderful it is to be on vacation? I was getting up at 415am every morning, yes on the weekends too, for the last 15 months. It's so nice to get up just when I feel like it, which happens to be around 630am here in California! Now at 315pm, the temperature is all the way up to 88 degrees…geez! It's finally sinking in that I'm away from upcountry east Maui, and here in northern California, and I'm really enjoying these middle latitude weather conditions.
(May 9) Yet another near perfect day here in Marin, with clear skies…and a few wisps of high cirrus clouds. I've been helping my friend Linda work in her yard, and looking around this neighborhood, lots of families are out doing stuff in their yards as well…the weather is supporting all kinds of outdoor activities. Happy Mother's Day all you Mom's out there!
(May 10) These clear dry days just keep rolling along, which of course provides lovely warm weather to northern California again today. I must say, that it continues to worry me about how historically dry it is, which could very well lead to an active fire season ahead.
Broad Brush Overview: A broad high pressure ridge north of the state will keep moderate trade winds blowing into the weekend. Look for passing showers mostly over windward and mountain areas through the week. An upper level disturbance arrives Friday, potentially increasing showers across the island chain into the weekend.
Details: A broad high pressure ridge will maintain its strength north of the state, producing trade winds into the upcoming weekend. When the trade winds are at their lightest, we could have some localized sea breezes in our leeward areas…although most showers will focus their efforts best along the windward sides.
Models show high pressure to the north strengthening some after mid-week, prompting stronger trade winds, and perhaps more pronounced windward shower activity. An upper low developing to the northeast of the state, could potentially enhance whatever showers that are around then.
Looking Further Ahead:  It looks like our springtime trade wind flow will continue on into next week. If this turns out to be the case, there will be the usual off and on passing windward biased shower activity. Just for the record, the first tropical cyclone (Andres), now active in the eastern Pacific…will have no bearing on our local weather.
Here's a near real-time Wind Profile of the Pacific Ocean – along with a Closer View of the islands / Here's the latest Weather Map.  Here's the animated volcanic emissions graphic
Marine Environmental Conditions: Surface high pressure far northeast of the state will maintain moderate to locally strong trade winds this week. A Small Craft Advisory (SCA) is now in effect through early Tuesday morning for all of the typically windier waters adjacent to the islands of Maui County and the Big Island. This SCA may need to be extended for these same waters from Tuesday through mid-week based on the latest forecast.
The current moderate northwest swell will gradually lower through Wednesday. Surf will likely become nearly flat along most north facing shores Thursday through next weekend. The current south swell will maintain surf heights near the May average along south shores through Tuesday. A new small south swell arriving Wednesday is expected to persist through Friday. The moderate trade winds in the vicinity of, and upstream of the islands will likely produce surf heights near or slightly below the May average along east shores this week.
World-wide Tropical Cyclone Activity

>>> Here's a link to the latest Pacific Disaster Center's Weather Wall…covering the Pacific and Indian Oceans

Atlantic Ocean: Routine issuance of the Tropical Weather Outlook will resume on June 1, 2021. During the off-season, Special Tropical Weather Outlooks will be issued as conditions warrant.
Caribbean: Routine issuance of the Tropical Weather Outlook will resume on June 1, 2021. During the off-season, Special Tropical Weather Outlooks will be issued as conditions warrant.
Gulf of Mexico: Routine issuance of the Tropical Weather Outlook will resume on June 1, 2021. During the off-season, Special Tropical Weather Outlooks will be issued as conditions warrant.
Eastern Pacific: 

Tropical Depression 01E (Andres)…is located about 475 miles south of southern tip of Baja, California
Here's what the computer models are showing
According to the NHC, the depression is moving toward the north-northwest near 7 mph. A turn to the northwest and west-northwest is expected on Tuesday, followed by a westward motion on Wednesday.
Maximum sustained winds have decreased to near 35 mph with higher gusts. Additional weakening is expected during the next couple of days, and Andres is forecast to become a remnant low on Tuesday and dissipate by early Thursday.
Here's the link to the National Hurricane Center (NHC)
Central Pacific: Routine issuance of the Tropical Weather Outlook will resume on June 1, 2021. During the off-season, Special Tropical Weather Outlooks will be issued as conditions warrant.
Here's the link to the Central Pacific Hurricane Center (CPHC)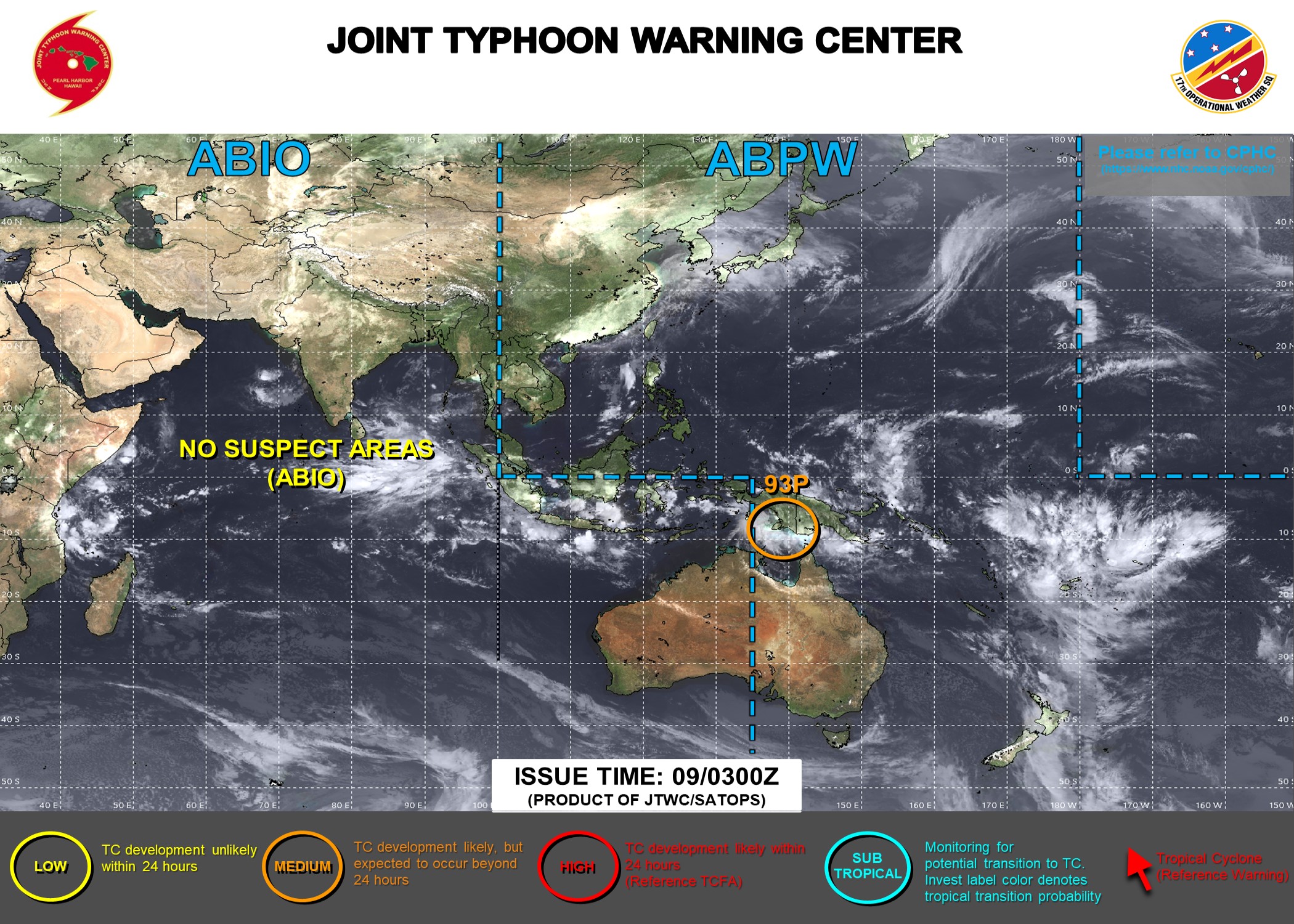 Northwest Pacific Ocean: There are no active tropical cyclones
South Pacific Ocean: There are no active tropical cyclones
North and South Indian Oceans / Arabian Sea: There are no active tropical cyclones
Here's a link to the Joint Typhoon Warning Center (JTWC)


Interesting: New Gauge on Weather Forecasts
Australia, the driest inhabited continent, is prone to natural disasters and wild swings in weather conditions – from floods to droughts, heat waves and bushfires.
Now two new Flinders University studies of long-term hydro-climatic patterns provide fresh insights into the causes of the island continent's strong climate variability which affects extreme wet or dry weather and other conditions vital to water supply, agriculture, the environment and the nation's future.
For the first time, researchers from the National Centre for Groundwater Research and Training (NCGRT) at Flinders have revealed a vegetation-mediated seesaw wetting-drying phenomenon between eastern and western Australia.
The seesaw phenomenon covered in a new paper in Earth's Future is characterized by eastern Australia gaining water, while western Australia is losing water, and vice-versa being reset by strong La Niña induced continent-wide wetting.
"The seesaw phase seems to depend on vegetation cover anomaly prior to the strong La Niña event, and can be explained by subsequent vegetation and soil moisture interactions," says lead researcher Dr Huade Guan, Associate Professor in Hydrology.
"This finding provides society with valuable reference for managing forest, water, and disaster risks in the wake of a next strong La Niña induced continent-wide wetting in Australia," says co-author Flinders University Professor Okke Batalaan.
Rainfall on land has its moisture source mostly from evaporation in oceans. Sea surface temperature variation – in tropical Pacific in rhythm with the El Nino-Southern Oscillation, and in northern Indian Ocean represented by Indian Ocean Dipole – provides a lead up of several months for predicting overall drought or wet condition in Australia.
In another lengthy NCGRT study over more than a decade, Flinders researchers evaluated the impacts of sea surface temperature variations in Southern Hemisphere oceans on rainfall in South Australia. They found a seven-year lead ocean-atmosphere oscillation for precipitation patterns – which may help prepare South Australia for future extreme weather conditions, the Frontiers in Earth Science paper says.
"This long-running study, beginning with a postgraduate project (by Dr CP Rofe in 2009), revealed a seven-year lag precipitation teleconnection with a large-scale ocean-atmosphere oscillation index known as Southern Annular Mode, or Antarctic Oscillation," Associate Professor Guan says.
"We filled the teleconnection with a 27-season lag correlation between sea surface temperature off the coast of South Australia and the Southern Annual Mode, and a two-season lag correlation between rainfall in SA and sea surface temperature."
Leave a Reply