Last update to this website was at 833am Sunday morning, January 17, 2021


Air Temperatures – The following high temperatures (F) were recorded across the state of Hawaii Saturday afternoon…along with the low temperatures Sunday morning:
80 – 70  Lihue, Kauai
83 – 68  Honolulu, Oahu
83 – 64  Molokai AP
89 – 66  Kahului AP, Maui – broke the record Saturday
85 – 73  Kona AP, Hawaii
83 – 68  Hilo, Hawaii

Here are the latest 24-hour precipitation totals (inches) for each of the islands Sunday morning:

0.37  Port Allen, Kauai
0.50  Punaluu Pump, Oahu
0.00  Molokai
0.11  Lanai
0.01  Kahoolawe
0.06  Kealia Pond, Maui
0.75  Waikoloa, Big Island
The following numbers represent the strongest wind gusts (mph) Sunday morning:

12  Makaha Ridge, Kauai
18  Waianae Harbor, Oahu
05  Molokai
06  Lanai
16  Kahoolawe
13  Maalaea Bay, Maui
14  PTA West, Big Island
Hawaii's Mountains – Here's a link to the live webcam on the summit of our tallest mountain Mauna Kea (~13,800 feet high) on the Big Island of Hawaii. Here's the webcam for the (~10,023 feet high) Haleakala Crater on Maui. These webcams are available during the daylight hours here in the islands, and at night whenever there's a big moon shining down. Also, at night you will be able to see the stars, and the sunrise and sunset too…depending upon weather conditions.



We see a dynamic cold front approaching from the northwest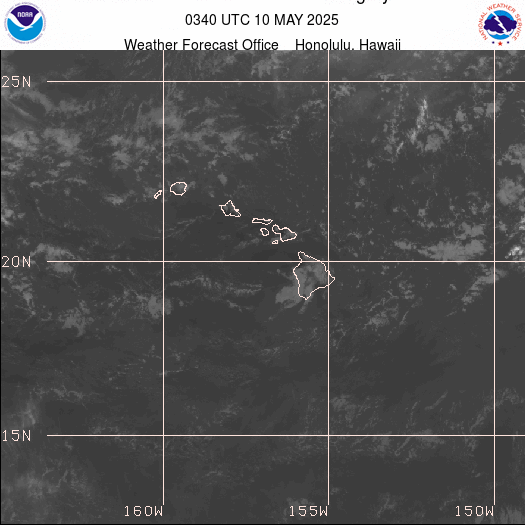 Partly cloudy across most of the state…some clear and cloudy areas


The cold front is getting closer to Kauai
Showers locally…some are rather generous


Model showing precipitation through 8-days (you can slow this animation down)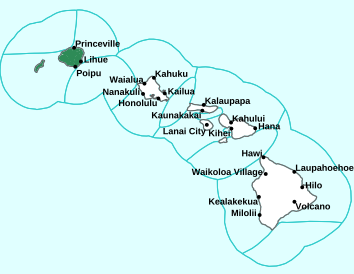 Please click this link…to see current Watches, Warnings and Advisories noted above



~~~

Hawaii Weather Narrative

~~~


>>> Glenn's Sunday comments: My low temperature this morning here in upper Kula was 48 degrees.
Broad Brush Overview: A wet weather pattern is expected over the islands during the first half of the coming week. This will be prompted by a winter cold front, as it moves down the island chain then stalls around Maui and the Big Island…between Monday and Tuesday.
The cold front, or trough of low pressure, will then drift back to Oahu and Kauai between Tuesday afternoon and Wednesday. The cold front will have good support aloft from an upper level disturbance, resulting in heavy showers and isolated thunderstorms.
In addition to the locally heavy rainfall, strong northeast trade winds will follow in behind the front. Moderate to strong easterly trades return to the island chain during the second half of the week…bring off and on wet weather to the windward sides of the state.
Details: A cold front with strong trade winds and cooler temperatures in its wake will move through the islands, starting with Kauai, then Oahu early this evening, Maui County during the night into early Monday morning. The front is expected to stall around Maui and the Alenuihaha Channel early Monday morning.
Between Monday and Tuesday, Maui County and the Big Island will likely be on the receiving end of these unsettled weather conditions, as an upper level trough approaches Kauai from the northwest…adding some extra energy to an already moist and unstable atmosphere.
Through Monday night, Oahu will be at the fringe of these inclement weather conditions. In the wake of the cold front, strong and gusty northeast trade winds will settle in, possibly becoming strong enough to warrant a Wind Advisory for most…if not all of the smaller islands.
Looking Further Ahead: The upper trough stalls over Kauai, then evolves to a low southwest of Kauai on Tuesday. At the surface, the front weakens into a trough that moves west, back across Oahu and Kauai Tuesday afternoon and Tuesday night, giving these two islands another round of wet and unstable weather.
By Wednesday afternoon, the surface trough will be west of Kauai. Although, the air mass remains unstable with plenty of low level moisture, with wet trades persisting through the second half of the work week. It will be cooler, although the strong trades and clouds and showers…will keep the overnight lows from dipping too much.
Here's a near real-time Wind Profile of the Pacific Ocean – along with a Closer View of the islands / Here's the latest Weather Map.  Here's the animated volcanic emissions graphic
Marine Environmental Conditions: A High Surf Warning for exposed north and west facing shores has been extended through Monday night, despite surf having already diminished below warning levels on Kauai, while also likely dropping below warning levels by tonight elsewhere.
This is because another powerful northwest swell building tonight into Monday, will once again bring warning level surf, with peak surf heights expected to be slightly lower than they were this most recent swell. Very strong north to northeast winds will limit chances of quality surf along north facing shores with this new swell however.
A High Surf Advisory for exposed north and west shores of the Big Island was also extended through Monday night.  If the full brunt of these swells were actually reaching the shoreline, we would expect surf heights to be well above warning-levels, although most of this swell energy is not realized at the coast with this particular swell direction.
Seas will diminish slowly, although will be ramping up again tonight and Monday. A Gale Watch is posted for waters from the Alenuihaha Channel westward starting tonight, as very strong north to northeast winds are expected to develop after the passage of a cold front, that is rapidly approaching from the NW, producing frequent gusts greater than gale force.
As the front approaches, weakly convergent, light to moderate south to southwest kona winds will lead to the development of some pre-frontal showers. The front will enter Kauai waters first, Oahu waters tonight, before stalling over the central portion of the island chain early Monday, bringing some heavy showers and the potential for thunderstorms. A developing trough aloft Monday and Tuesday, will likely invigorate the lingering moisture through Wednesday, as it drifts westward…keeping the potential for heavy showers and thunderstorms.

Wet winter weather conditions are on the horizon

World-wide Tropical Cyclone Activity

>>> Here's a link to the latest Pacific Disaster Center's Weather Wall…covering the Pacific and Indian Oceans

Atlantic Ocean: Routine issuance of the Tropical Weather Outlook will resume on June 1, 2021. During the off-season, Special Tropical Weather Outlooks will be issued as conditions warrant.
Caribbean: Routine issuance of the Tropical Weather Outlook will resume on June 1, 2021. During the off-season, Special Tropical Weather Outlooks will be issued as conditions warrant.
Gulf of Mexico: Routine issuance of the Tropical Weather Outlook will resume on June 1, 2021. During the off-season, Special Tropical Weather Outlooks will be issued as conditions warrant.
Eastern Pacific: Routine issuance of the Tropical Weather Outlook will resume on May 15, 2021. During the off-season, Special Tropical Weather Outlooks will be issued as conditions warrant.
Here's the link to the National Hurricane Center (NHC)
Central Pacific: Routine issuance of the Tropical Weather Outlook will resume on June 1, 2021. During the off-season, Special Tropical Weather Outlooks will be issued as conditions warrant.
Here's the link to the Central Pacific Hurricane Center (CPHC)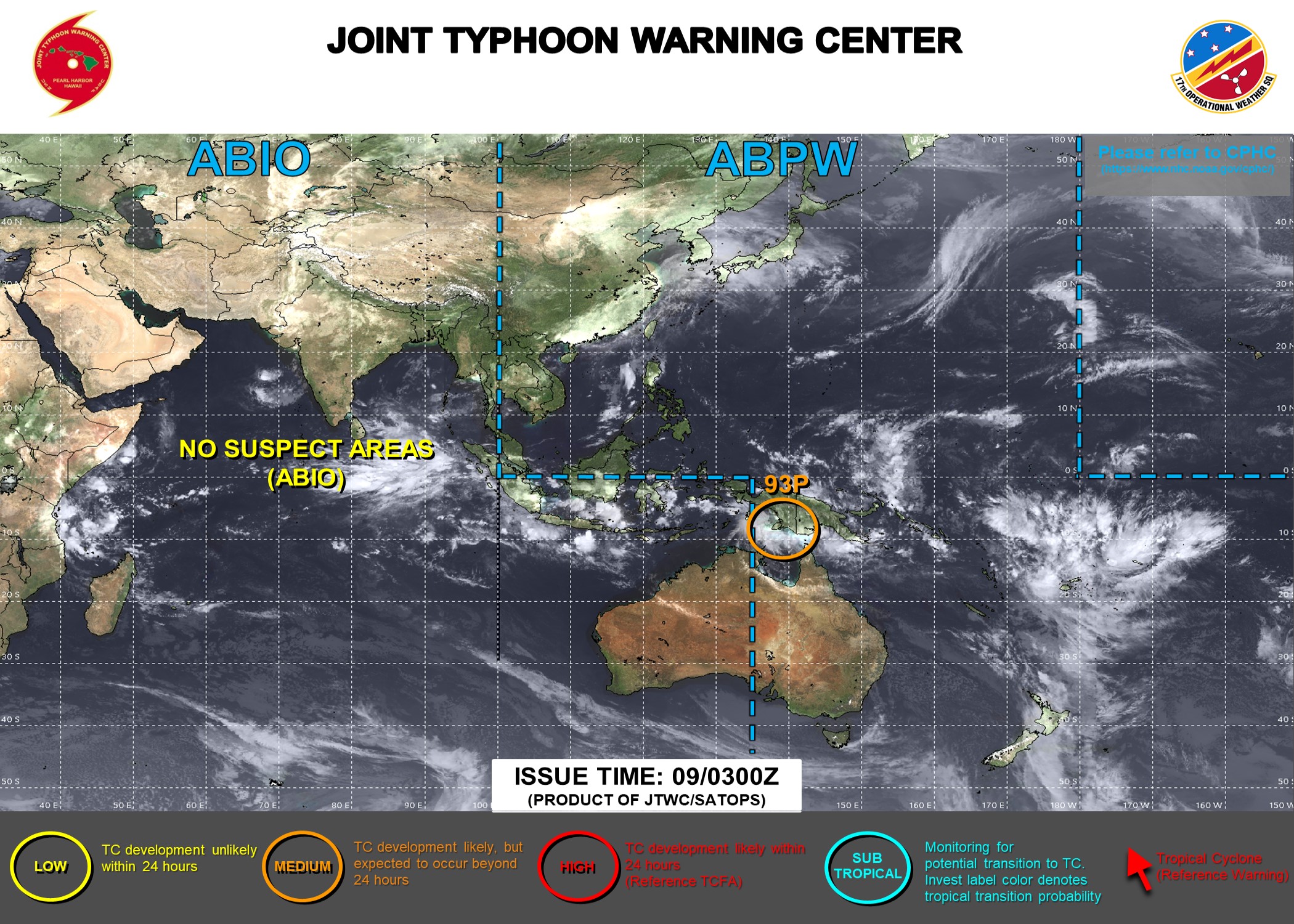 Northwest Pacific Ocean: There are no active tropical cyclones
South Pacific Ocean: 

Tropical Cyclone 11P (Kimi) is located 77 NM north-northeast of Cairns, Australia

North and South Indian Oceans / Arabian Sea: 

Tropical Cyclone 10S (Joshua) is located 1214 NM southeast of Diego Garcia…in the South Indian Ocean

Tropical Cyclone 12S (Eloise) is located 528 NM north-northeast of Port Louis, Mauritius…in the South Indian Ocean
Here's a link to the Joint Typhoon Warning Center (JTWC)


Interesting: U.S. Fishing and Seafood Industries Saw Broad Declines Last Summer Due to COVID-19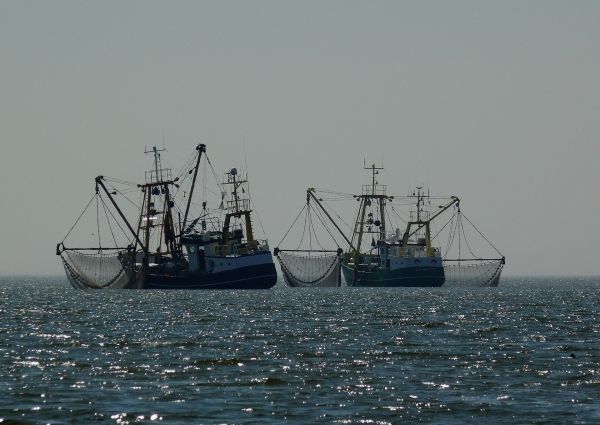 The U.S. fishing and seafood sector generated more than $200 billion in annual sales and supported 1.7 million jobs in recent years. It experienced broad declines in 2020 as a result of the COVID-19 public health crisis, according to a new NOAA Fisheries analysis released today. While losses vary by sector, by region and by industry, data and information from this report may help businesses and communities assess losses and inform long-term recovery and resilience strategies.
According to analysts, COVID-19 protective measures instituted in March across the United States and globe contributed to an almost-immediate impact on seafood sector sales. There was a strong start to the year, with a 3 percent increase in commercial fish landings revenue in January and February.
However, revenues declined each month from a 19 percent decrease in March to a 45 percent decrease by July. This translates to a 29 percent decrease across those 7 months, as compared to 5-year averages and adjusted for inflation.
Restaurant closures, social distancing protocols, and other safety measures also contributed to losses in other sectors of the seafood economy. By the end of second quarter 2020, 78 percent of aquaculture, aquaponics, and allied businesses reported COVID-19 impacts with 74 percent experiencing lost sales.
The analysis noted outdoor seating at restaurants in warm months and a pivot to direct delivery at some supermarkets provided an outlet for some aquaculture sales. Also, the recreational charter/for-hire fishing industry was completely shut down in the spring with some phased reopenings in the early summer. The new analysis contains regional snapshots to help industries understand local impacts to key fisheries.
The protective measures that shuttered restaurants also impacted charter fishing operations. Charter operations were completely shut down in most coastal states beginning in mid-March, with phased re-openings starting in May. NOAA Fisheries estimates that in the Southeast, charter revenues relative to the preceding 3-year period fell 72 percent in March through April due to local and state COVID-related closures and protocols.
In May-June, revenue was down 4.5 percent as businesses began to re-open. In contrast, charter operations in Alaska and Hawaii, which rely heavily on out-of-state tourism, continue to experience severely depressed sales due to the sharp decrease in tourism.
Hawaii is estimated to have lost 99% of charter trips between April and July. In addition, many fishing tournaments have been postponed or cancelled with about 50 fewer Atlantic HMS tournaments registered this year compared to 2019. Hawaii sportfishing tournaments have been similarly impacted.
"In the coming months and years, scientists and economists will work to obtain a more complete picture of COVID-19's impact on U.S. seafood and the Blue Economy. It is our hope that this initial analysis provides a foundation that the industry researchers and planners can draw upon as they plan for the future," said NOAA Fisheries Assistant Administrator Chris Oliver.
On the trade front, international markets were negatively affected by disruptions in harvesting, processing and shipping. U.S. seafood exports declined 18 percent in value in the January to June period, when compared to the past five years. Fresh product exports experienced steeper declines when compared to frozen product exports.
The value of seafood imports into the United States declined 4 percent in value in this period. These declines were offset by U.S. consumer demand for tuna imports (canned and in pouches), which increased 25 percent in this 6-month period, peaking to 49 percent in June.
The report notes that some U.S. industry losses may be offset by the infusion of emergency federal relief funding. In May, NOAA allocated $300 million in fisheries aid to states, territories, and tribes as part of the Coronavirus Aid, Relief, and Economic Security (CARES) Act.
They, with the help of interstate commissions, are distributing these much-needed funds to eligible fishery participants. Furthermore, in September, the Secretary of Agriculture made $530 million available through the Seafood Trade Relief Program to support fishermen and industries impacted by retaliatory tariffs from foreign governments.
"NOAA Fisheries stands with our fishermen, seafood industries, and coastal communities who have suffered great economic hardship this year due to COVID-19," added Oliver. "The United States is a global leader in sustainable, world class fisheries. Our goal is to help all those up and down the U.S. seafood supply chain rebound, recover and strengthen resilience as we plan strong returns to sea in 2021 and beyond."
Leave a Reply