The latest update to this website was at 630pm (HST) Monday evening, August 2, 2021
Air Temperatures – The following high temperatures (F) were recorded across the state of Hawaii Monday afternoon…along with these low temperatures Monday morning:
87 – 79  Lihue AP, Kauai
88 – 74  Honolulu AP, Oahu
84 – 74  Molokai AP
87 – 73 Kahului AP, Maui
85 – 74  Kona AP, Hawaii
82 – 70  Hilo AP, Hawaii 

Here are the latest 24-hour precipitation totals (inches) for each of the islands Monday evening:

0.21  Mount Waialeale, Kauai
0.31  Tunnel RG, Oahu
0.08  Molokai
0.00  Lanai
0.00  Kahoolawe
0.13  West Wailuaiki, Maui
1.49  Kawainui Stream, Big Island
The following numbers represent the strongest wind gusts (mph) Monday evening:

29  Port Allen, Kauai
38  Kuaokala, Oahu
36  Molokai
35  Lanai
44  Kahoolawe
40  Maalaea Bay, Maui
35  South Point, Big Island
Hawaii's Mountains – Here's a link to the live webcam on the summit of our tallest mountain Mauna Kea (~13,800 feet high) on the Big Island of Hawaii. Here's the webcam for the (~10,023 feet high) Haleakala Crater on Maui. These webcams are available during the daylight hours here in the islands, and at night whenever there's a big moon shining down. Also, at night you will be able to see the stars, and the sunrise and sunset too…depending upon weather conditions.


Thunderstorms active in the deeper tropics…tropical cyclones far east-southeast


Variable clouds over the island chain


Low clouds being carried our way on the trade winds

Showers falling locally

Model showing precipitation through 8-days (you can slow this animation down)


Hawaii is on the 3rd line down from the top…and the 1st line to the right of the middle line (lightning is the blue dots)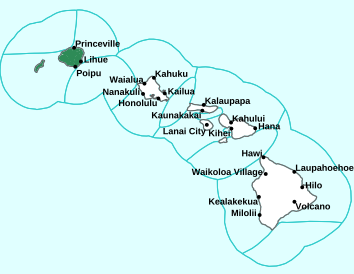 Please click this link…to see current Watches, Warnings and Advisories noted above



~~~

Hawaii Weather Narrative

~~~
Glenn's Monday comments: I'm at my Mom's place in Long Beach, California for a visit. / The low temperature in my Mom's backyard this morning was 55 degrees. It's a clear and calm morning here in southern California. BTW, tomorrow morning I'll be flying up to San Francisco, and then take the Sonoma Airporter up to Santa Rosa, where my good friend Greg will pick me up…for a visit to his place out in the countryside of west Sebastopol. / Had my last visit with my Mom for this particular trip to Long Beach, it was sad to leave her! /

Broad Brush Overview: Strong high pressure far north-northeast of the Hawaiian Islands will generate strong to locally windy trade winds across local waters. Winds will decrease slightly beginning Tuesday as the high weakens. Generally dry conditions will prevail into Tuesday. Expect an increase in showers by the middle of the week, with rainfall favoring windward areas.
Details:  The pressure gradient between a high far northeast of the state and equatorial low pressure, is sufficiently steep to drive locally windy conditions across the islands. Models show the high will weaken a bit Tuesday, resulting in a decrease in trade wind speeds Tuesday through Saturday. Rather stable conditions will continue over the next couple of days…as upper ridging dominates.
Dry weather will prevail with brief passing showers possible over windward and mountain areas. Upslope showers are possible over the Kona slopes of the Big Island during afternoon and evening hours. Beginning Tuesday, a weak upper trough will move near the east end of the state, raising inversion heights. Showers may increase, especially for windward areas…and will be highly dependent on incoming moisture availability.
Fire Weather: Near critical fire weather conditions will persist due to strong and gusty trade winds and a rather dry and stable atmosphere. The Keetch Byram Drought Index at Honolulu will be just shy of the critical 600 mark during the next couple of days, but winds and daytime relative humidity will be at or very close to critical thresholds today. A slight drop in winds is expected Tuesday, although dry leeward conditions will hold.
Here's a near real-time Wind Profile of the Pacific Ocean – along with a Closer View of the islands / Here's the latest Weather Map.  Here's the animated volcanic emissions graphic
Marine Environmental Conditions: A strong high pressure system far northeast of the Hawaiian Islands will keep moderate to strong trade winds in the forecast through the week. A Small Craft Advisory (SCA) will decrease in coverage to include all eastern Hawaiian waters. By Tuesday, the SCA will decrease further covering only the typically windier waters near Maui County and the Big Island…and these SCA winds will linger through much of the week.
The rough, slightly elevated surf continues along east shores driven by the strong trade winds. Expect these slightly elevated surf heights to persist into Tuesday, before decreasing to near the summertime averages Wednesday onward, as the trade winds weaken slightly. Swell energy from the south to southeast direction will continue to keep south shores from going flat through mid-week. A small south-southwest swell arriving Friday, may provide a small boost in surf heights along exposed south shores heading into the weekend. Expect nearly flat conditions along most north and west shores this week.
World-wide Tropical Cyclone Activity
>>> Here's a link to the latest Pacific Disaster Center's Weather Wall…covering the Atlantic Ocean, Caribbean Sea, and Gulf of Mexico



>>>

Here's a link to the latest Pacific Disaster Center's Weather Wall…covering the Pacific and Indian Oceans
Atlantic Ocean:  
A surface trough of low pressure over the far eastern Atlantic Ocean centered a few hundred miles south of the Cabo Verde Islands is producing disorganized showers and thunderstorms. Some development of this system is possible during the next couple of days while it moves northward or northwestward before the system moves over cool waters by Thursday.
* Formation chance through 48 hours…low…10 percent
* Formation chance through 5 days…low…20 percent
Caribbean: Tropical cyclone formation is not expected during the next 5 days  
Gulf of Mexico: Tropical cyclone formation is not expected during the next 5 days
Eastern Pacific: 
Hurricane Hilda…is located 980 miles west-southwest of the southern tip of Baja California

HILDA IS STILL A HURRICANE
Here's what the computer models are showing for Hilda
According to the NHC advisory 14…Hilda is moving toward the northwest near 7 mph (11 km/h). This general motion is expected to continue through Wednesday, followed by a turn toward the west-northwest on Thursday. Maximum sustained winds remain near 75 mph (120 km/h) with higher gusts. Hilda is forecast to gradually weaken during the next several days. Hurricane-force winds extend outward up to 15 miles (30 km) from the center and tropical-storm-force winds extend outward up to 90 miles (150 km).
Tropical Storm 10E (Ignacio)…is located 435 miles west-southwest of the southern tip of Baja California

DISORGANIZED IGNACIO LIKELY TO BECOME A REMNANT LOW TOMORROW NIGHT
Here's what the computer models are showing for TC 10E
According to the NHC Advisory 6…Ignacio is moving toward the northwest near 9 mph (15 km/h) and a decrease in forward speed is expected over the next day or so. Maximum sustained winds are near 40 mph (65 km/h) with higher gusts. Weakening is forecast, and the system is expected to become a tropical depression on Tuesday and degenerate into a remnant low Tuesday night. Tropical-storm-force winds extend outward up to 45 miles (75 km) from the center.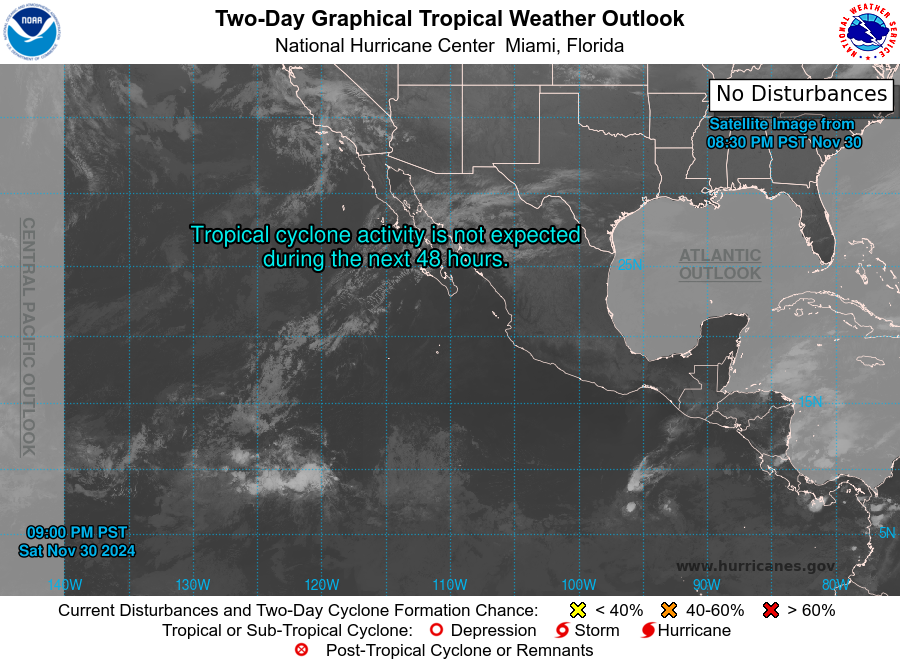 A low pressure system associated with the remnants of Tropical Depression Nine-E is located more than 1500 miles west-southwest of the southern tip of the Baja California peninsula. The associated shower activity continues to show signs of organization, but satellite-derived wind data indicate the low-level circulation is still somewhat elongated. Environmental conditions are expected to remain conducive for continued development early this week, and a tropical depression is likely to form during the next day or so while the system moves west-northwestward to northwestward at 5 to 10 mph. By late Thursday, the system is forecast to move over cooler waters and further development is not expected.
* Formation chance through 48 hours…high…70 percent
* Formation chance through 5 days…high…70 percent
>>> An area of low pressure is expected to develop a few hundred miles south of the southern coast of Mexico late this week. Environmental conditions are forecast to be conducive for gradual development thereafter while the system remains offshore and moves west-northwestward at 10 to 15 mph, roughly parallel to the coast of southwestern Mexico.
* Formation chance through 48 hours…near 0 percent
* Formation chance through 5 days…low…20 percent
 Here's the link to the National Hurricane Center (NHC)
Northwest Pacific Ocean:

Tropical Cyclone 12W…is located approximately 117 NM northwest of Minami Tori Shima, Japan
Tropical Cyclone 13W…is located approximately 75 NM southwest of Hong Kong
South Pacific Ocean: There are no active tropical cyclones
North and South Indian Oceans / Arabian Sea: There are no active tropical cyclones
Here's a link to the Joint Typhoon Warning Center (JTWC)


Interesting:  A Summer of Fire-Breathing Smoke Storms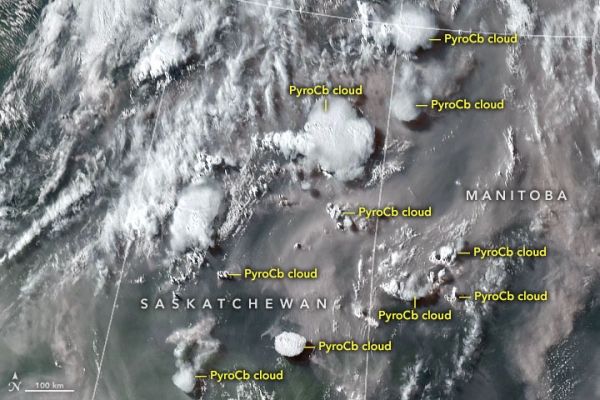 For decades, scientists have been tracking extreme thunderstorms created by wildfires. However, the ferocity of the storms that have popped up in Canada in 2021 has surprised them.
In 2000, atmospheric scientists from the U.S. Naval Research Laboratory (NRL) first reported that smoke plumes from intense wildfires could spawn towering thunderstorms that channeled smoke as high or higher than the cruising altitude of jets. These pyrocumulonimbus, or pyroCb, events wowed scientists at the time. Prior to that discovery, only explosive volcanic eruptions and extreme thunderstorms were thought to be capable of lofting material so high.
Though the workings of these smoke-infused storm clouds have come into clearer focus, their increasingly extreme behavior in recent years has surprised and worried some scientists who track them. The latest encounters with these fire-breathing smoke clouds came in North America in June and July 2021 during an unusually warm fire season that arrived early in Canadian and U.S. forests.
Michael Fromm and David Peterson of NRL and a team of colleagues from NASA and several other institutions have used the Advanced Baseline Imager (ABI) on the NOAA-NASA GOES weather satellites, as well as sensors on other satellites, to identify 61 pyroCbs in North America this year as of July 29, 2021, about the halfway point of the fire season.
Their observations included a remarkable outbreak of 10 pyroCbs along the Saskatchewan-Manitoba border on July 16. It was more of the wildfire smoke storms than scientists have ever observed in North America on a single day since they started tracking all of them with satellites in 2013. In the ABI image shown above, all of the marked clouds ended up generating PyroCbs, though some were still in the pyrocumulus (pyroCu) stage when the image was taken. The image below shows an example of a small pyroCb rising above the McKay Creek fire on June 30, 2021.
Leave a Reply