Air Temperatures – The following high temperatures (F) were recorded across the state of Hawaii Tuesday…along with the low temperatures Wednesday:

74 – 64  Lihue, Kauai
74 – 62  Honolulu, Oahu
73 – 65  Molokai AP
73 – 63  Kahului AP, Maui
72 – 68  Kona AP, Hawaii
71 – 65  Hilo, Hawaii

Here are the latest 24-hour precipitation totals (inches) for each of the islands Wednesday afternoon:

0.82  Anahola, Kauai
0.22  Manoa Lyon Arboretum, Oahu
0.61  Molokai
0.36  Lanai
0.76  Kahoolawe
2.15  Kepuni, Maui
4.51  Kapapala Ranch, Big Island

The following numbers represent the strongest wind gusts (mph) Wednesday afternoon:

10  Waimea Heights, Kauai
10  Waianae Valley, Oahu
09  Molokai
10  Lanai
18  Kahoolawe
24  Kula 1, Maui
23  Ahumoa, Big Island
Hawaii's Mountains – Here's a link to the live webcam on the summit of our tallest mountain Mauna Kea (nearly 13,800 feet high) on the Big Island of Hawaii. Here's the webcam for the 10,000+ feet high Haleakala Crater on Maui. These webcams are available during the daylight hours here in the islands, and at night whenever there's a big moon shining down. Also, at night you will be able to see the stars, and the sunrise and sunset too…depending upon weather conditions.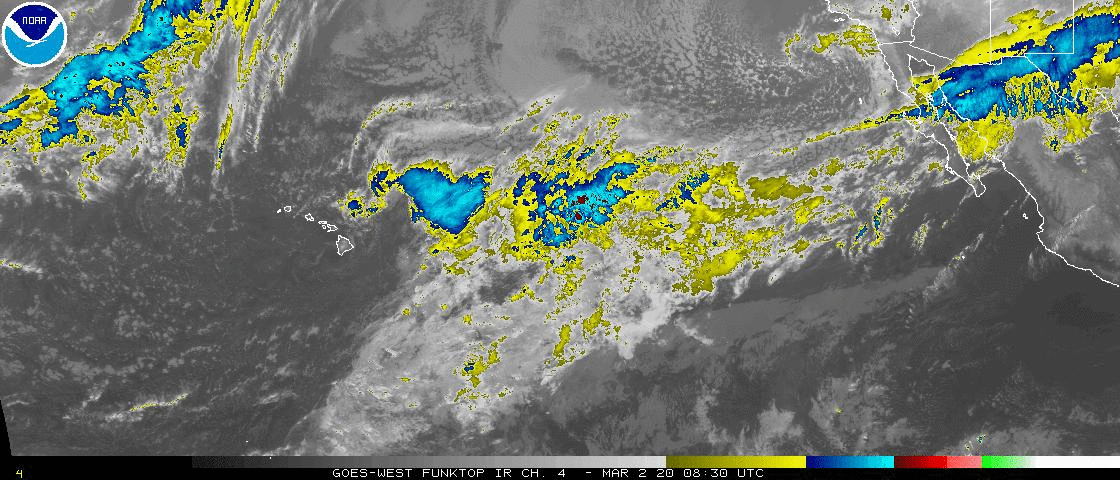 A plume of deep moisture is riding northward…while moving eastward
(click on the images to enlarge them)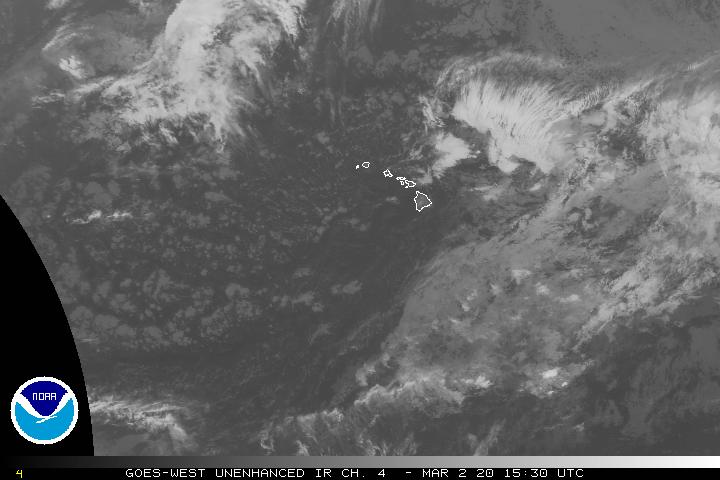 Heavy clouds remain near the Big Island


Clear to partly cloudy…with some cloudy areas


The recent heavy showers are now east of the state
Looping image
Small Craft Advisory…pink color below
High Surf Advisory…purple color below
High Wind Warning…orange color
Gale Warning…offshore waters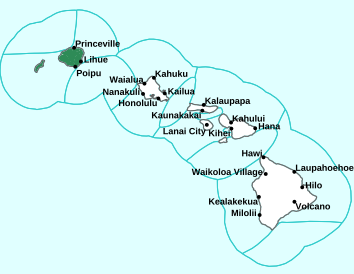 ~~~

Hawaii Weather Narrative

~~~
Broad Brush Overview: Light winds and mostly dry conditions will prevail the next couple of days. However, a trough east of the Big Island will drift west Thursday, bringing an increase in showers for the windward areas of that island into the weekend. The trough will move away from the Big Island Saturday, with a brief period of trade winds expected Sunday into Monday. The trade winds will deliver clouds and showers to windward areas of all islands.
Details: Satellite imagery shows a trough quickly lifting northward and away from the islands. The plume of deep tropical moisture streaming northward over the far eastern end of the state, and surface trough that supported the recent widespread rainfall…are shifting eastward. A drying trend from west to east will limit rainfall chances, especially for the smaller islands. A few interior showers over the smaller islands may fall locally through the afternoon hours.
Looking Further Ahead: As we push into the weekend and early next week, the models show high pressure building north of the state, in the wake of a passing cold front. Winds will remain in the light to moderate category out of the north to northeast, likely giving way to land and sea breeze conditions each day. Weather conditions will remain on the cool side…tropically speaking.
Here's a near real-time Wind Profile of the Pacific Ocean – along with a Closer View of the islands / Here's the latest Weather Map

Marine Environmental Conditions: A surface trough will meander just east of the coastal waters through the weekend. Variable winds will prevail over the majority of the marine area, with gentle to locally moderate northeasterly winds developing tonight and holding through the weekend.
The lingering small northwest and north swells will slowly fade, with only small surf expected along north, west and south facing shores through the weekend. An easterly swell will build, then peak through tonight…gradually lowering Thursday through the weekend. A series of moderate size northwest swells are possible early next week.
A Small Craft Advisory (SCA) remains in effect for all windward waters and some adjacent waters through tonight due to elevated seas. Seas are expected to drop below SCA levels Thursday, with winds and seas then holding below advisory levels through the weekend.




World-wide Tropical Cyclone Activity



Here's Wednesday's Pacific Disaster Center (PDC) Weather Wall Presentation covering the western Pacific Ocean, the Indian Ocean, and the Arabian Sea, including Tropical Cyclone 15P (Oma) and Tropical Cyclone 02W (Wutip)


>>> Atlantic Ocean: The 2019 hurricane season begins June 1, 2019

Here's a satellite image of the Atlantic
>>> Gulf of Mexico: The 2019 hurricane season begins June 1, 2019

>>> Caribbean Sea: The 2019 hurricane season begins June 1, 2019

Here's a satellite image of the Caribbean Sea…and the Gulf of Mexico
>>> Eastern Pacific: The 2019 hurricane season begins May 15, 2019

Here's the link to the National Hurricane Center (NHC)
>>> Central Pacific: The 2019 hurricane season begins June 1, 2019
Here's the link to the Central Pacific Hurricane Center (CPHC)
Interesting: Here's Why Great White Sharks Are Natural-Born Superheroes — For a multitude of reasons, great white sharks should be considered nature's ocean-dwelling superheroes — they're big and strong, live long lives, can heal their wounds remarkably fast, and it's even likely that they rarely get cancer. But how is it possible that these ancient giants have so many superhero-like traits? Scientists have now taken a major step toward answering that question by decoding the entire genome of the great white shark.
An international team of researchers led by scientists at the Save Our Seas Foundation Shark Research Center and the Guy Harvey Research Institute at Nova Southeastern University in Florida sequenced the genome of the great white shark (Carcharodon carcharias) and compared it with the genomes of several other vertebrate species. The team discovered a wealth of unusual genetic characteristics that might explain why white sharks are the superheroes (or supervillains, if you're a plump sea lion) of the sea. Their study was published online on Monday February 18 in the journal Proceedings of the National Academy of Sciences.
Genetic stability is key
Sequencing the great white shark genome was no small task — the genome consisted of 4.63 billion base pairs (the nitrogen-containing molecules that make up the "rungs" of the DNA ladder), which is about 1.5 times the size of the human genome. "It's quite an impressive effort," said Dovi Kacev, a marine molecular ecologist and researcher at the National Marine Fisheries Services Southwest Fisheries Science Center in California, who was not involved with the study.
Nearly 60 percent of the white shark genome consisted of repeated genetic sequences, which is similar to what's seen in the human genome. What's special about the white shark genome was that many of those repeated regions are codes for a special group of genes known as LINEs.
"These [LINEs] make copies of themselves and then reinsert randomly in various locations in the genome, and in the process they make double-stranded breaks in the DNA that need to be repaired," said Michael Stanhope, an evolutionary biologist at Cornell University in New York. Stanhope co-led the study with Nicholas Marra and Mahmood Shivji, conservation biologists at Nova Southeastern University.
Those frequent breaks in the DNA make the genome unstable, which typically leads to a higher risk of problem-causing genetic mutations that can eventually lead to cancer. But white sharks seem to have evolved a way to avoid such genomic instability.
The researchers found that the white shark genome contained a lot of genes responsible for maintaining genetic stability — things like DNA-repair genes and tumor-suppressing genes. And when the researchers compared the white shark's stability genes with analogous genes in other vertebrates, they found small changes in the gene sequence that suggest a specific pattern of evolutionary adaptation for these genes in white sharks.
"Think of it as fine-tuning the role of these genes in maintaining genome stability in the white shark," Stanhope said.
People have speculated that sharks have a much lower rate of cancer than other animals, but "there's not a lot of real data to say that with certainty," Kacev said. Nonetheless, the abundant presence of specially adapted stability genes could explain the potential cancer resistance.
"If you want to prevent cancer, you need to maintain the stability of your genome," Stanhope said, which means avoiding genetic mutations. An accumulation of excess mutations leads to cancer, but the shark genome seems specifically designed to prevent that. "These are things we would have to test in the lab, though, to really know," he said.
Stanhope also cautioned that while white sharks might have a genetic adaptation to prevent them from getting cancer, that does not mean that consuming shark products could prevent a human from getting cancer, despite what proponents of "alternative medicine" may claim.
And their other special abilities …
Genetics may also explain another one of the white shark's superpowers: the ability to heal quickly. The team discovered several white shark genes that are known to play important roles in vertebrate wound-healing processes. And, similar to the stability genes, the wound-healing genes in the white shark were under the same kind of positive evolutionary selection pressures, meaning there's a tendency for the number of these beneficial traits to increase.
"We also found an enrichment of genes for both wound healing and genome stability genes in the white shark compared to other vertebrates," Stanhope said. In other words, the white shark genome has a higher proportion of these types of genes compared with what's seen in other vertebrate genomes.
While the team discovered a number of genes that may be responsible for many of the great white's super-shark abilities, there was one characteristic that wasn't clearly accounted for by the genome: the shark's sensitive sniffer.
Sharks are known for having a keen sense of smell, so the researchers expected to find numerous olfactory receptor (OR) genes, which are the genes responsible for the effective schnozes of other vertebrates. But the white shark genome contained exceptionally few of these genes. What the researchers found instead was another category of genes, called vomeronasal genes. These genes can also be involved in the perception of smell, but they aren't normally as abundant as OR genes, Stanhope said. In the white shark genome, however, there are more than dozen vomeronasal genes, so the researchers suggested that maybe those genes drive smell perception in the white shark.
"We're still at a point here where we're scratching the surface, but having this genome sequence gives us a starting point for addressing these questions in more detail," Kacev said. This research will undoubtedly help answer questions about other species, too, he added. "Understanding the genome of the white shark is not only important for the white shark, but it's a scaffold, or jumping-off point to understand related species."
Great white sharks are one of the world's most well-recognized marine creatures, but their populations are struggling as people continue to hunt them out of fear and greed. "People have these images of [white sharks] that are depicted in movies and TV shows as being these killing machines," Kacev said. Yet, the reality is that humans kill far more sharks than sharks kill humans.
"Humans kill many, many millions of sharks every year across the world for silly, fake medicine reasons; for shark fin soup and all sorts of reasons that are just tragic, really," Stanhope said. The researchers hope their study helps more people realize how special these ancient vertebrates are.
"I hope that people recognize the remarkable, biological adaptations of these animals and as a consequence, have a greater appreciation for them," Stanhope said.
Leave a Reply