Air Temperatures – The following high temperatures (F) were recorded across the state of Hawaii Tuesday…along with the low temperatures Wednesday:

83 – 71  Lihue, Kauai
86 – 75  Honolulu, Oahu
83 – 74  Molokai AP
87 – 74  Kahului AP, Maui
87 – 73  Kailua Kona
82 – 72  Hilo, Hawaii

Here are the latest 24-hour precipitation totals (inches) for each of the islands Wednesday morning:

0.07  Mount Waialeale, Kauai
0.32  Tunnel RG, Oahu
0.14  Molokai
0.01  Lanai
0.00  Kahoolawe
2.19  West Wailuaiki, Maui
1.10  Papaikou Well, Big Island

The following numbers represent the strongest wind gusts (mph) Wednesday morning:

14  Poipu, Kauai
27  Oahu Forest NWR, Oahu
13  Molokai
24  Lanai
24  Kahoolawe
22  Maalaea Bay, Maui
22  Kealakomo, Big Island
Hawaii's Mountains – Here's a link to the live webcam on the summit of our tallest mountain Mauna Kea (nearly 13,800 feet high) on the Big Island of Hawaii. Here's the webcam for the 10,000+ feet high Haleakala Crater on Maui. These webcams are available during the daylight hours here in the islands, and at night whenever there's a big moon shining down. Also, at night you will be able to see the stars, and the sunrise and sunset too…depending upon weather conditions.




Aloha Paragraphs






Thin swath of high clouds now east of the Big Island



Thunderstorms over the ocean far southwest and southeast of the islands


Cloudy windward Maui and the Big Island…mostly clear to partly cloudy elsewhere


A few showers locally and offshore
Looping image
High Surf Advisory…purple color below
Small Craft Advisory…pink color below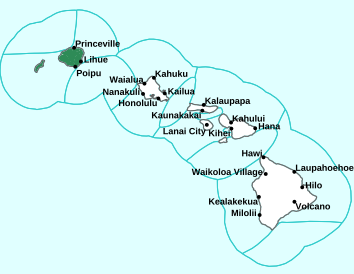 ~~~

Hawaii Weather Narrative

~~~
Broad Brush Overview: A moderately strong high pressure system is located well north of the state, which will keep light to moderate trade winds blowing over the next few days. The trades will ease slightly Friday, as a cold front passes by to the north of the island chain. Moderate trade winds will then return over the weekend, as high pressure builds north of the state once again. Clouds and showers will favor windward areas…with a stray shower reaching leeward areas occasionally.
Details: High pressure will hold in place to the north of the state, keeping a light to moderate trade wind flow in place. A frontal boundary will then pass by to the north of the island chain Thursday through Friday, weakening the high pressure ridge…softening the trades slightly. Overall lighter trades should prevail across the entire state Friday, with some of the more sheltered areas seeing land and sea breezes. High pressure will become better established to the northwest of the state over the weekend, bringing a return of moderate trade winds back to the island chain.
Meanwhile, remnant moisture associated with an old front will continue to linger over the eastern islands through the remainder of the work week. This is expected to keep off and on showers moving in on the trades across Maui and the Big Island through Friday. The atmosphere will also remain a bit unstable over the Big Island, and an isolated thunderstorm can't be ruled out each afternoon through Friday. Drier air will remain anchored over the smaller islands, particularly to the west of Maui…so that windward and mountains showers are expected…primarily during the overnight and early morning hours.
Looking Ahead: The return of moderate trades and precipitable water values near normal for this time of year, should bring a fairly typical trade wind shower pattern to the islands over the weekend…through early next week. As a result, look for scattered windward and mountain showers through the forecast period, with a shower or two drifting leeward from time to time on the smaller islands.
Here's a near real-time Wind Profile of the Pacific Ocean – along with a Closer View of the islands / Here's the latest Weather Map / Here's the latest Vog Forecast Animation / Here's the Vog Information website

Marine Environmental Conditions: The current north-northwest swell will peak. The High Surf Advisory (HSA) remains in effect for north and some west facing shores of the smaller islands as well as for north facing shores of the Big Island exposed to north-northwest swell.
The swell and combined with moderate to locally strong trades, are keeping the SCA in place for most local waters…and may need to be extended depending on how the event pans out. Trades are expected to ease during the second half of the week.
A smaller north-northwest swell is expected to arrive this weekend, although is expected to remain below advisory levels. Surf along south facing shores will trend down now. A new south swell is expected to arrive Friday and peak Saturday into Sunday…at high end advisory or low end warning levels.




World-wide Tropical Cyclone Activity



Here's the Wednesday Pacific Disaster Center (PDC) Weather Wall Presentation covering the Atlantic Ocean, Caribbean Sea, and Gulf of Mexico

Here's the Wednesday Pacific Disaster Center (PDC) Weather Wall Presentation covering the Pacific and Indian Oceans, including two tropical disturbances in the eastern Pacific


>>> Atlantic Ocean: No active tropical cyclones

>>> Gulf of Mexico: No active tropical cyclones

>>> Caribbean Sea: No active tropical cyclones
Here's a satellite image of the Caribbean Sea…and the Gulf of Mexico
Here's the link to the National Hurricane Center (NHC)

>>> Eastern Pacific:

1.) Satellite-derived winds and surface observations indicate that an elongated low pressure system has developed about 100 miles south of Guatemala. Although associated shower and thunderstorm activity is currently disorganized, environmental conditions are expected to be conducive for additional development, and a tropical depression or a tropical storm is likely to form during the next day or two. The system is forecast to moves generally toward the west-northwest at 10 to 15 mph, near or just offshore the coast of southern Mexico.
* Formation chance through 48 hours…high…80 percent
* Formation chance through 5 days…high…90 percent
2.) A weak and nearly stationary area of low pressure located about 900 miles south-southwest of the southern tip of the Baja California peninsula continues to produce disorganized shower activity. Some slow development of this system is possible while it drifts northward or north-northeastward during the next several days.
* Formation chance through 48 hours…low…10 percent
* Formation chance through 5 days…low…20 percent
>>> Central Pacific: No active tropical cyclones

>>> Northwest Pacific Ocean: No active tropical cyclones

>>> South Pacific Ocean: No active tropical cyclones

>>> North and South Indian Oceans / Arabian Sea: No active tropical cyclones

Here's a link to the Joint Typhoon Warning Center (JTWC)
Interesting: Moonmoons (Moons That Orbit Other Moons) Could Exist, Scientists Say – True to form, the internet has endeavored to name an unnamed thing, and the results are hilarious. From the people who brought you Boaty McBoatface— the Arctic research drone that has already returned some very interesting discoveries from the world's coldest abysses — here come moonmoons: moons that orbit other moons.
Moonmoons — also known online as submoons, moonitos, grandmoons, moonettes and moooons — may not exist in our solar system or any other. However, according to a pair of astronomers writing in the preprint journal arXiv.org earlier this week, the concept of a moon hosting its own mini-moon is, at least, plausible.
"In all known planetary systems, natural satellites occur in a restricted dynamical phase space: Planets orbit stars, and moons orbit planets," the researchers wrote in their new paper (published online October 9th). "It is natural to ask, 'Can submoons orbit moons?'"
Study author Juna Kollmeier's son asked her that same question in 2014, Gizmodo reported. Kollmeier, an astronomer at the Observatories of the Carnegie Institution of Washington, D.C., didn't have a good answer then. While no known moonmoons reside in our solar system, the phenomenon does seem possible. After all, Earth's moon is so massive that some scientists want to call it a planet in its own right; why shouldn't this planet-size moon have its own moon?
In their new paper, Kollmeier and her colleague Sean Raymond, an astronomer at the University of Bordeaux in France, looked for a mathematical answer to the moonmoon puzzle. Using equations designed to show the tidal effects of planets on their moons, the team determined that moonmoons (or "submoons," as these researchers called the objects) could hypothetically exist if the host moon is sufficiently massive, the submoon is sufficiently small, and there is a wide orbital gulf between those moons and their host planet.
"We find that 6 miles submoons can only survive around large 600 miles moons on wide-separation orbits," the researchers wrote. If these persnickety parameters are not met, the host planet's tidal forces would either be great enough to smash the moon and submoon together or weak enough that the submoon would get jettisoned into space.
Based on this criteria, a handful of moons in our solar system could hypothetically host mini-moons of their own, "including Saturn's moons Titan and Iapetus, Jupiter's moon Callisto, and Earth's moon."
That's right: Our very own moon could have its very own moonmoon! Why it doesn't is a question that Kollmeier and Raymond said they hope to answer with further study.
"The existence, or lack thereof, of submoons may yield important constraints on satellite formation and evolution in planetary systems," the authors wrote.
Once that's settled, the next natural question will be whether a moonmoon can host its own moonmoonmoon — and, if so, what the proper name would be for it. A great-grandmoon? Moony McMoonface? Truly, the sky's the limit.
Leave a Reply