The last update to this website was at 837am (HST) Sunday, May 22, 2022

Air Temperatures – The following high temperatures (F) were recorded across the state of Hawaii Saturday afternoon…along with these low temperatures Sunday morning:
79 – 72  Lihue AP, Kauai
89 – 75  Honolulu AP, Oahu
85 – 71  Molokai AP
89 – 71  Kahului AP, Maui
85 – 73  Kona AP, Hawaii
81 – 68  Hilo AP, Hawaii 

Here are the latest 24-hour precipitation totals (inches) for each of the islands Sunday morning:

1.63  West Waialeale, Kauai
0.16  St. Stephens, Oahu
0.01  Molokai
0.00  Lanai
0.00  Kahoolawe
0.02  Hana AP, Maui
0.33  Waiaha, Big Island
The following numbers represent the strongest wind gusts (mph) Sunday morning:

12  Poipu, Kauai
22  Palehua, Oahu
25  Molokai
18  Lanai
22  Kahoolawe
21  Maalaea Bay, Maui
21  Upolu AP, Big Island
Hawaii's Mountains – Here's a link to the live webcam on the summit of our tallest mountain Mauna Kea (~13,800 feet high) on the Big Island of Hawaii. Here's the webcam for the (~10,023 feet high) Haleakala Crater on Maui (not currently working). These webcams are available during the daylight hours here in the islands, and at night whenever there's a big moon shining down. Also, at night you will be able to see the stars, and the sunrise and sunset too…depending upon weather conditions.

Thunderstorms far south


Low clouds in the vicinity


Variable clouds

Just a few showers locally and offshore

Model showing precipitation through 8-days (you can slow this animation down)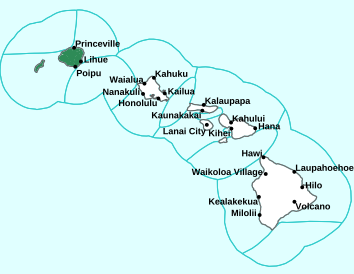 Please open this link…to see current Watches, Warnings and Advisories noted above



~~~
Hawaii Weather Narrative
~~~
Glenn's Sunday comments: I'm here in Corte Madera, California, the low temperature this morning was 41.5 degrees with clear skies.
Another gorgeous morning here in Marin County, as I finish my morning weather work and head out for my morning walk.
Hawaii's Broad Brush Weather Overview: A return of a mostly dry and stable weather pattern, with moderate easterly trade winds is expected through much of the next week.
Clouds and showers will favor windward and mountain locations, mainly overnight through the morning hours.
Trade winds will briefly ease Monday night through mid-week and again next weekend, potentially enough for a localized land and sea breeze regime to become established over portions of the state.
Hawaii's Weather Details: Models show the moisture axis associated with the old frontal boundary, that brought the much needed rainfall to the western end of the state over the past few days, diminishing and lifting northwestward and away from the state.
This combined with the subtropical ridge shifting northward, and drier air filling in from east to west, will support a more stable trade wind pattern returning for much of the new week.
The ridge will weaken by Tuesday due to a cold front passing by far to the north, which may allow the trades to briefly ease enough for localized land and sea breezes to develop.
The stable environment and dry conditions will limit rainfall chances and any accumulations. A similar scenario is possible next weekend…as a weakness in the ridge forms.
>>> Here's a near real-time Wind Profile of the Pacific Ocean – along with a Closer View of the islands / Here's the latest Weather Map.  Here's the animated volcanic emissions graphic
Hawaii's Marine Conditions: A high to the far northeast of the state will support moderate to strong trades into Monday. A Small Craft Advisory remains in effect for the windier waters and channels around Maui County and the Big Island through Monday afternoon.
The high will weaken slightly during the first half of the week, translating to slightly weaker trades. During the second half of the week, a new high will build north of the area and move east…which will strengthen trades slightly.
Surf heights along south shores will hold near average, then drop below average Monday through mid-week. The next south swell will fill in Thursday through the rest of the new week, bringing above average surf. In the long range, look for above average south shore surf events lasting into early June.
Surf along north and west shores will remain small to flat through Monday. The next northwest swell will generate a ripple for north and west shores late Tuesday into Wednesday, then slowly fade through the rest of the week.
Small, choppy surf will return along east shores into Monday, before subsiding a notch Tuesday and holding through the rest of the week.
World-wide Tropical Cyclone Activity
Atlantic Ocean: There are no active tropical cyclones

Caribbean: There are no active tropical cyclones
Gulf of Mexico: There are no active tropical cyclones
Eastern Pacific: There are no active tropical cyclones
Here's the link to the National Hurricane Center (NHC)
Northwest Pacific Ocean: There are no active tropical cyclones

South Pacific Ocean: There are no active tropical cyclones
North and South Indian Oceans / Arabian Sea: There are no active tropical cyclones
Here's a link to the Joint Typhoon Warning Center (JTWC)
Interesting: Muskegon Lake Nears Recovery After Years of Restoration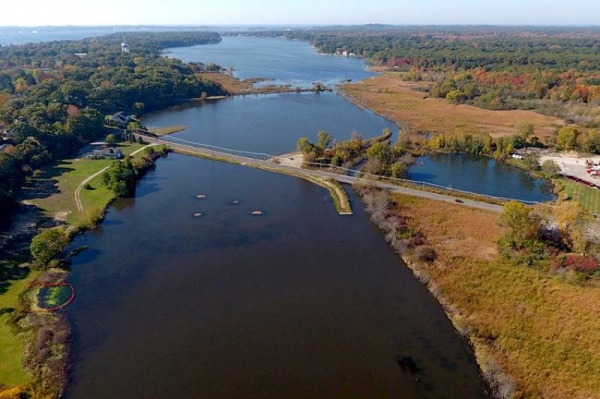 Through a multi-year partnership with the Great Lakes Commission, NOAA has helped restore what was once one of the Great Lakes region's most degraded areas.
For decades, Michigan's Muskegon Lake was considered one of the most degraded areas in the Great Lakes region. NOAA and the Great Lakes Commission have partnered since 2008 to restore habitat and improve water quality in the area.
With much of this work nearly finished, Muskegon Lake could soon be removed from the list of Great Lakes Areas of Concern.
This May, NOAA and other partners will celebrate a significant milestone where all management actions necessary to remove the AOC designation are now complete.
In the late 1800s, Muskegon was home to many different industries, including lumber mills, chemical companies, foundries, a coal-fired power plant, and a paper mill.
Over time, these industries filled in the shoreline of the lake and contaminated the water and sediment with compounds such as mercury and polycyclic aromatic hydrocarbons.
This resulted in habitat loss and degradation, water quality concerns, and declines in fish and wildlife populations.
In 1987, Muskegon Lake was listed as a Great Lakes Area of Concern, one of 43 "toxic hot spots" in the United States and Canada. Designation as an Area of Concern is based on a list of "beneficial use impairments."
Continue reading at NOAA Fisheries
Leave a Reply