Air Temperatures – The following high temperatures (F) were recorded across the state of Hawaii Friday afternoon…along with the low temperatures Friday morning:
86 – 76  Lihue, Kauai
88 – 73  Honolulu, Oahu
83 – 71  Molokai AP
90 – 75  Kahului AP, Maui – 
85 – 73  Kona AP, Hawaii
88 – 72  Hilo, Hawaii 

Here are the latest 24-hour precipitation totals (inches) for each of the islands Friday evening:

0.52  Mount Waialeale, Kauai
0.94  Tunnel RG, Oahu
0.32  Molokai
1.46  Lanai
0.00  Kahoolawe
0.44  Puu Kukui, Maui
1.09  Waikoloa, Big Island

The following numbers represent the strongest wind gusts (mph) Friday evening:

22  Port Allen, Kauai
22  Honolulu AP, Oahu
23  Molokai
22  Lanai
27  Kahoolawe
18  Kahului Harbor, Maui
21  South Point, Big Island

Hawaii's Mountains – Here's a link to the live webcam on the summit of our tallest mountain Mauna Kea (~13,800 feet high) on the Big Island of Hawaii. Here's the webcam for the (~10,023 feet high) Haleakala Crater on Maui, although it's often not working correctly these days. These webcams are available during the daylight hours here in the islands, and at night whenever there's a big moon shining down. Also, at night you will be able to see the stars, and the sunrise and sunset too…depending upon weather conditions.



  Thunderstorms far southwest…a cold front northwest
Looping version of the image above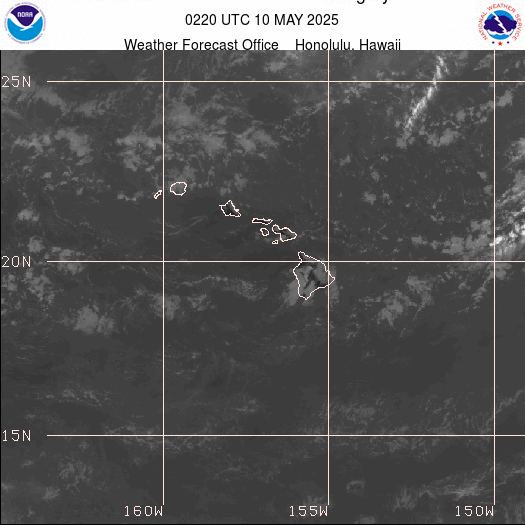 Low clouds locally…considerable high cirrus south



Showers locally…and offshore
Looping Radar Image
Model showing precipitation through the next 8-days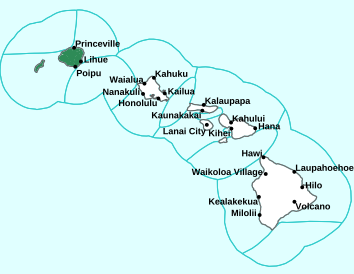 Please click this link…to see current Watches, Warnings and Advisories noted above



~~~

Hawaii Weather Narrative

~~~


Glenn's Friday comments: A nice beginning to the day has now slid down into a cloudy reality…along with a light to moderately heavy shower. This is the case up here in Upper Kula, although I can see lots of sunshine down near the beaches in contrast.

The early afternoon is still cloudy after the earlier showers have backed off, at least temporarily…oops, here they are again at just before 1pm. The clouds have lowered, bringing some fog down over the area now as well. Meanwhile, at the same time it's cool up here, it was 90 degrees with fair skies down at the Kahului AP.
330pm, in sum, it's a cloudy and wet day here in Upcountry east Maui, likely in other areas too…although I can see out from under the clouds. Rather chilly here in Kula at 345pm, with my outside sensor reading 68.9 degrees, while at the same time it was 86 degrees down at the Kahului AP.
Now at 610pm, it's still raining, in fact, some of the heaviest showers of the day…it was a cool and wet day here in Upcountry east Maui.
By the way, the models are now showing the chance of another band of enhanced moisture approaching after next Wednesday, fueling showers…as yet another upper trough edges over or near us then.
I just noticed that the Haleakala Crater webcam is operating correctly again!
Broad Brush Overview: Light to moderate trade winds will prevail through this holiday weekend, then strengthen early next week. An area of abundant moisture will be moving across the islands through Saturday, bringing with it warm and muggy conditions, and an increase in showers. The boost in the trades early next week…will bring with it a drier and more stable air mass.
Details: Moderate trades will continue to gradually weaken, leading to light to moderate speeds through Saturday night. The wind direction will be veering as well, from the current northeast…to east to east-southeast tonight. In association with this lighter wind pattern, there will be localized daytime sea breezes each day through Sunday.
With this change in wind direction, we'll find an area of high humidity arriving. This is associated with a low level trough, that will be moving through the islands. The trough should be west of Kauai by Saturday afternoon. In addition, this atmosphere could be interacting with a weak upper level trough over the islands during the weekend.
The GFS models suggests a less stable air mass as the inversion rises. Given the higher humidity levels, less stable air mass, daytime heating, and weaker trades, an increase in showers is likely, especially during the afternoon and evening hours. These showers can be expected on any part of the island chain…including the leeward upcountry areas.
If all the ingredients come together as expected, we would probably get some isolated, spotty, heavier showers. as well. Both the ECMWF and GFS models are in good agreement with this scenario over the weekend. Also, with higher than normal humidity levels, the 4th of July holiday weekend could very well be an uncomfortable, muggy, and sticky one.
Looking Further Ahead: This area of high humidity will be exiting the islands Sunday, with a more stable air mass spreading westward from the Big Island end of the island chain. This process will not reach Kauai until Monday morning. This air mass will be accompanied by a boost in the trade winds to locally strong levels…with further strengthening to moderate to strong levels by Wednesday of next week.
Here's a near real-time Wind Profile of the Pacific Ocean – along with a Closer View of the islands / Here's the latest Weather Map

Marine Environmental Conditions: Small Craft Advisory conditions for the typically windy areas around Maui County and the Big Island are expected to return by Monday.
The current small south-southwest swell will gradually decline over the next day or two. Otherwise, a mix of swells from the south-southeast and south-southwest is expected through the middle of next week. Surf is expected to stay below advisory levels for the foreseeable future.
Surf along east facing shores will be decreasing through the weekend as the trades weaken, although rise a couple of feet after Sunday, as the stronger trades return. Surf along north facing shores will remain nearly flat with small trade wind swells locally.



World-wide Tropical Cyclone Activity

>>> Here's a link to the latest Pacific Disaster Center's Weather Wall…covering the Atlantic, Caribbean Sea, and Gulf of Mexico





>>>

Here's a link to the latest Pacific Disaster Center's Weather Wall…covering the Pacific and Indian Oceans



>>> Atlantic Ocean:  There are no active tropical cyclones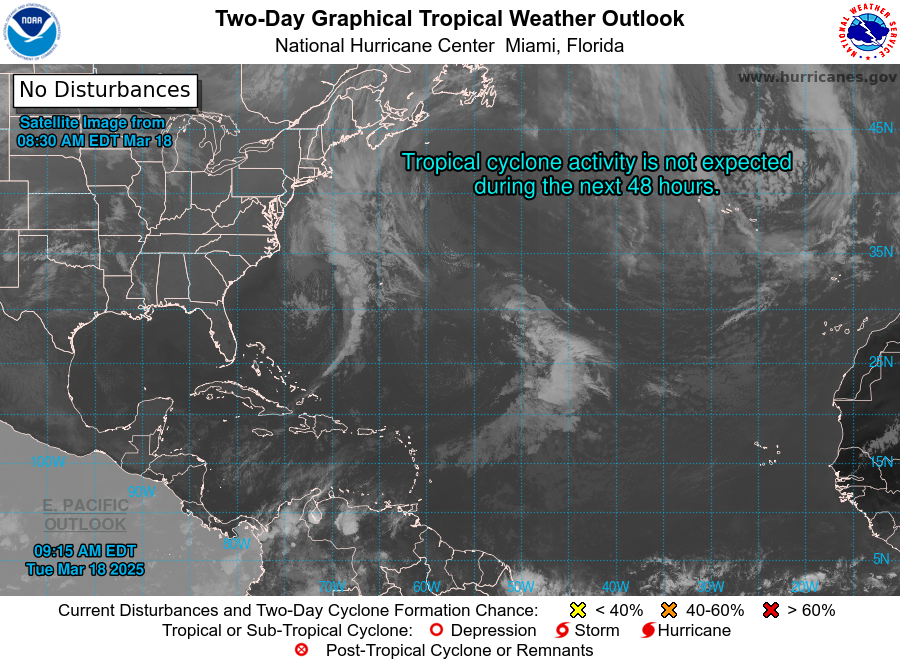 A small area of low pressure, being referred to as Invest 97L, located about 400 miles west-southwest of Bermuda is producing some shower and thunderstorm activity. This system's low-level circulation has become better defined during the past several hours, and a tropical depression could form later today or Saturday evening while the system moves east-northeastward at about 15 mph. By Sunday night, however, environmental conditions are expected to become unfavorable for significant development to occur. Interests in Bermuda should monitor the progress of this system.
* Formation chance through 48 hours…medium…40 percent
* Formation chance through 5 days…medium…40 percent
Here's a satellite image of the Atlantic Ocean
>>> Caribbean Sea: There are no active tropical cyclones
WSI satellite image of the Caribbean Sea
Latest satellite image of the Caribbean Sea and the Gulf of Mexico
>>> Gulf of Mexico: There are no active tropical cyclones
>> Eastern Pacific: There are no active tropical cyclones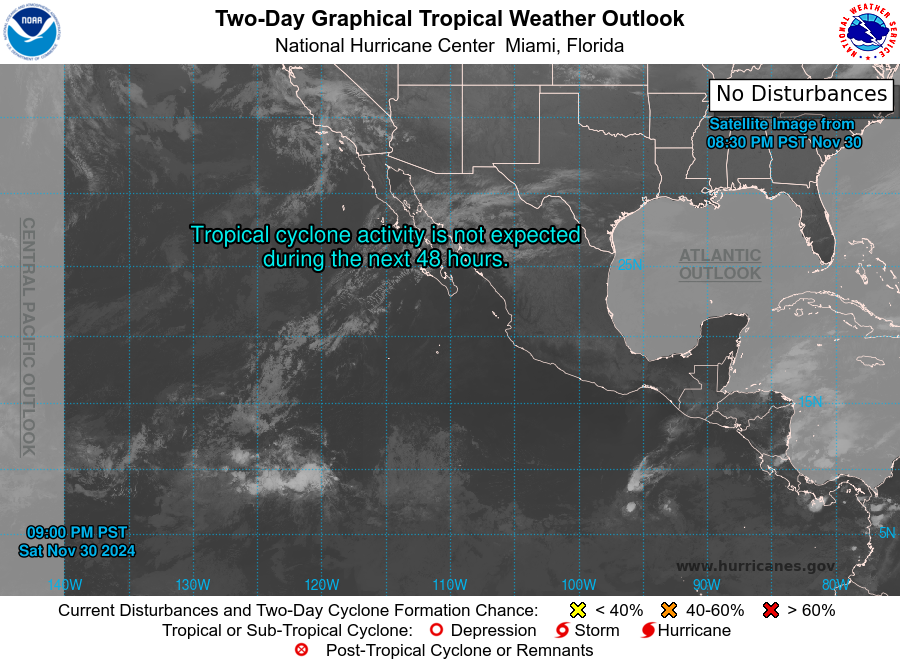 Showers and thunderstorms have become less organized during the past 24 hours in association with a broad area of low pressure located several hundred miles south-southwest of Manzanillo, Mexico. Some slow development of this system is still possible during the next few days while it moves west-northwestward at about 10 mph.
* Formation chance through 48 hours…low…10 percent
* Formation chance through 5 days…low…30 percent
An area of low pressure is forecast to form south of the coast of southern Mexico in a couple of days. Environmental conditions are expected to be conducive for gradual development, and a tropical depression could form by the middle of next week while it moves west-northwestward, well south of the coast of southern Mexico.
* Formation chance through 48 hours…low…near 0 percent
* Formation chance through 5 days…medium…50 percent
Here's the link to the Central Pacific Hurricane Center (CPHC)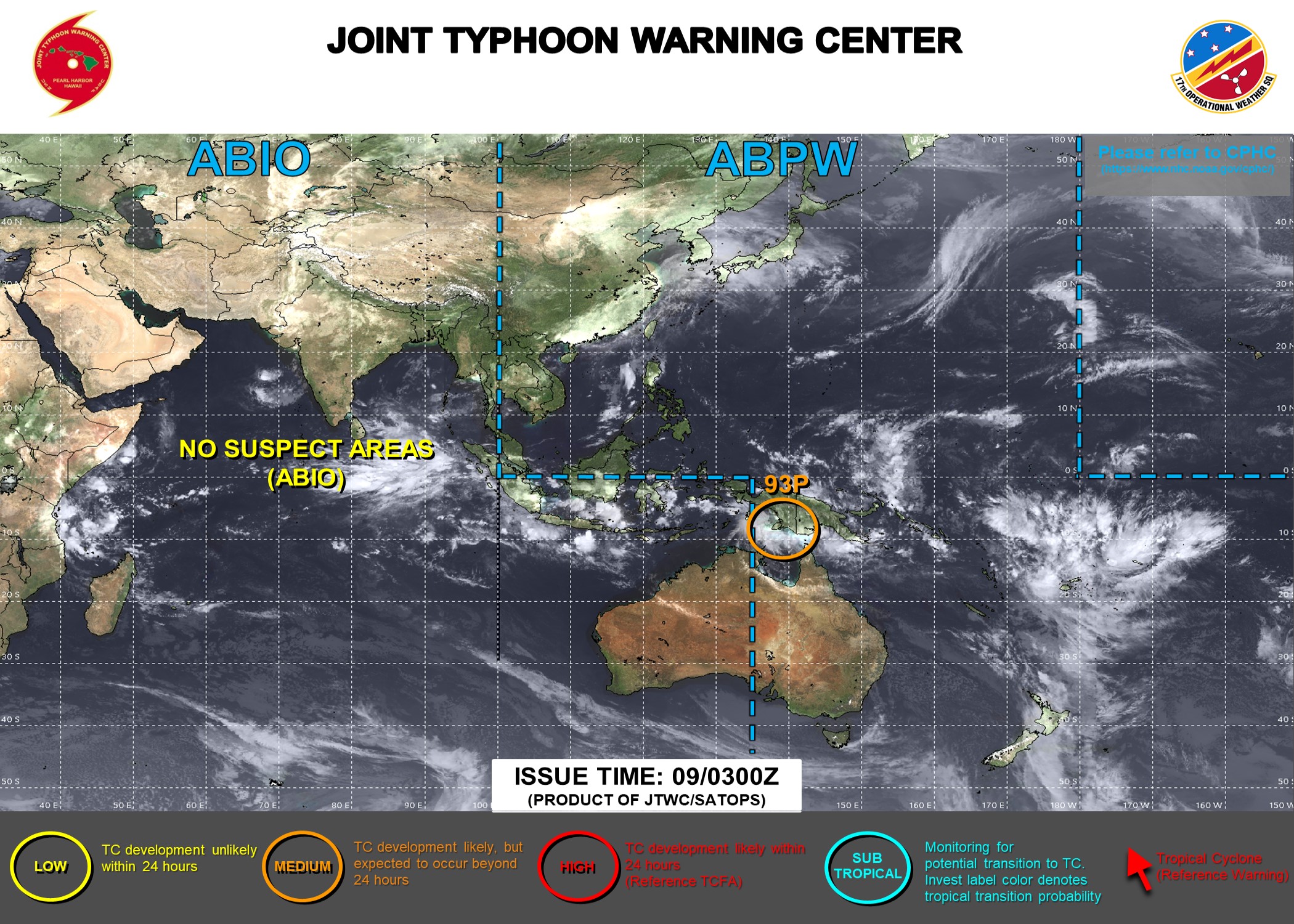 >>> Northwest Pacific Ocean: There are no active tropical cyclones
>>> South Pacific Ocean: There are no active tropical cyclones

>>> North and South Indian Oceans / Arabian Sea: There are no active tropical cyclones



Interesting: South Pole Warming Three Times the Global Rate – The South Pole has warmed at a rate three times the global average over the last three decades, according to a new study in the journal Nature Climate Change. Temperatures at the Amundsen-Scott research station in Antarctica rose by 1.8 degrees Celsius between 1989 and 2018. For comparison, global temperatures rose a total 0.5 to 0.6 degrees C during the same 30-year period.
The research, led by scientists at Victoria University of Wellington in New Zealand, determined the warming at the South Pole, a rate of 0.61 degree C per decade, was driven by both natural climate variability — warm ocean temperatures in the western tropical Pacific Ocean — and anthropogenic warming driven by rising greenhouse gas emissions.
"Research over the past couple decades revealed the Antarctic plateau, the coldest and one of the most remote places on Earth, had been cooling while global temperatures were increasing," Kyle Clem, a polar scientist and lead author of the new study, told Carbon Brief. "Our study has found that this is no longer the case. The South Pole is now one of the fastest warming regions on the planet, warming at an incredible three times faster than the global average rate."
The South Pole is still very cold – temperatures generally range from -50 to -20 degrees C. But researchers say that the findings point to how even the most remote parts of Antarctica are starting to feel the impacts of climate change. "An area of the planet that we felt was very isolated is actually not as isolated as we thought," Alexandra Isern, head of Antarctic research for the U.S. National Science Foundation who was not involved in the study, told Reuters.
Leave a Reply