Last update to this website occurred at 817pm HST Friday, October 30, 2020


Air Temperatures – The following high temperatures (F) were recorded across the state of Hawaii Friday afternoon…along with the low temperatures Friday morning:
83 – 65  Lihue, Kauai
88 – 69  Honolulu, Oahu –
88 – 72  Molokai AP
90 – 72  Kahului AP, Maui – 
88 – 77  Kona AP, Hawaii
86 – 74  Hilo, Hawaii – 

Here are the latest 24-hour precipitation totals (inches) for each of the islands Friday evening:

0.45  Hanapepe, Kauai
0.20  Makaha Stream, Oahu
0.22  Molokai
0.02  Lanai
0.11  Kahoolawe
0.53  Kealia Pond, Maui
0.93  Waiakea Uka, Big Island

The following numbers represent the strongest wind gusts (mph) Friday evening:

14  Port Allen, Kauai
12  Makua Range, Oahu
17  Molokai
14  Lanai
18  Kahoolawe
16  Maalaea Bay, Maui
25  South Point, Big Island
Hawaii's Mountains – Here's a link to the live webcam on the summit of our tallest mountain Mauna Kea (~13,800 feet high) on the Big Island of Hawaii. Here's the webcam for the (~10,023 feet high) Haleakala Crater on Maui. These webcams are available during the daylight hours here in the islands, and at night whenever there's a big moon shining down. Also, at night you will be able to see the stars, and the sunrise and sunset too…depending upon weather conditions.



A trough of low pressure is moving through…in the wake of the recent cold front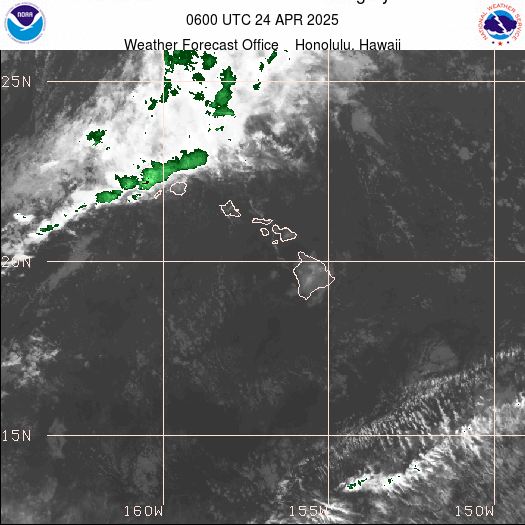 Variable clouds statewide…many clear areas

Cloudiness is diminishing…except around a trough moving through the state


Showers falling locally…mostly along a weak trough
Looping Radar Image
Model showing precipitation through the next 8-days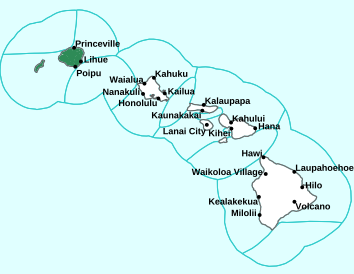 Please click this link…to see current Watches, Warnings and Advisories noted above



~~~

Hawaii Weather Narrative

~~~


>>> Glenn's Friday comments:  Early this morning before 5am, we have moderately heavy rain falling here in Kula, a little unusual to hear rain this early in the morning.

Now at 9am, it's turned windy, with showery clouds around…and a rainbow on this Aloha Friday.
Around noon most of the earlier cloudiness has backed off, leaving a pretty nice day here on Maui, although the winds have become quite gusty at times.
Mid-afternoon, Maui County has really turned the corner, weatherwise…with mostly clear to partly cloudy skies for a change!
Broad Brush Overview: A trough of low pressure approaching the islands from the west, will bring moderate west to northwest winds through Saturday, along with an increase in showers…although will likely remain light. A ridge will build north of the islands Monday, bringing returning trade wind weather through most of next week.
Details: The recent cold front is dissipating to the northeast of the Big Island, and will continue to lift away from the state, and is no longer a major factor in our weather. The front's associated clouds and showers are generally diminishing across the state, and this trend is expected to continue. Westerly winds will increase behind the trough, and could produce gusty down slope winds on the east sides of the islands.
As we push into the weekend, the trough will lift off northeast, causing winds to decrease. Light to moderate westerly winds will continue through Saturday, and become light and variable Sunday. Winds will be light enough for  afternoon sea breezes Sunday. This will cause afternoon clouds, along with scattered showers over upcountry areas during the afternoon. Also, a weak upper trough moving south over the state…could enhance showers Sunday.
Looking Further Ahead: The computer forecast models show a ridge of high pressure building into the area north of the islands by Monday. This ridge will produce easterly trade winds over the islands…lasting through most of next week. In turn, shower activity will generally be aligned along the windward coasts and slopes, with the leeward beaches finally getting back into a more normal pattern…with more sunshine during the days.
Here's a near real-time Wind Profile of the Pacific Ocean – along with a Closer View of the islands / Here's the latest Weather Map.  Here's the animated volcanic emissions graphic
Marine Environmental Conditions: A broad surface low pressure system north of Hawaii, has been moving slowly south. It is expected to stall, and then move toward the north-northeast tonight through Saturday. The large circulation around this low will continue to affect the waters adjacent to the islands into Saturday.
As a result, light to moderate west to southwest winds will persist over the waters surrounding the Big Island, while light to moderate northwest to west winds are expected over the waters around the smaller islands. Trade winds will gradually return to the state Sunday into early next week…as a surface ridge builds north of the area.
The fetch associated with the surface low north of the islands is sending a north-northwest swell toward the state. The peak surf produced by this swell will arrive, with the greatest surf heights expected along northern exposures of Kauai and Oahu. The swell will be on a downward trend tonight through Saturday.
Forerunners from a new northwest swell are expected to arrive late Saturday. This swell will likely build to moderate heights, and shift out of the north-northwest Saturday night through Sunday. Yet another north-northwest swell is expected to spread across the area late Sunday night through Monday. Surf produced by this swell may approach the High Surf Advisory criteria along some north and west facing shores of the smaller islands Monday. This north-northwest swell will gradually lower Tuesday into mid-week.
Surf along south facing shores will remain small into early next week, due to a mix of southerly swells. An upward trend in surf along south facing shores is possible next Wednesday, due to a slightly larger south swell. Expect tiny surf along east facing shores through this weekend. Surf along east facing shores may trend up slightly early next week as the trade winds return.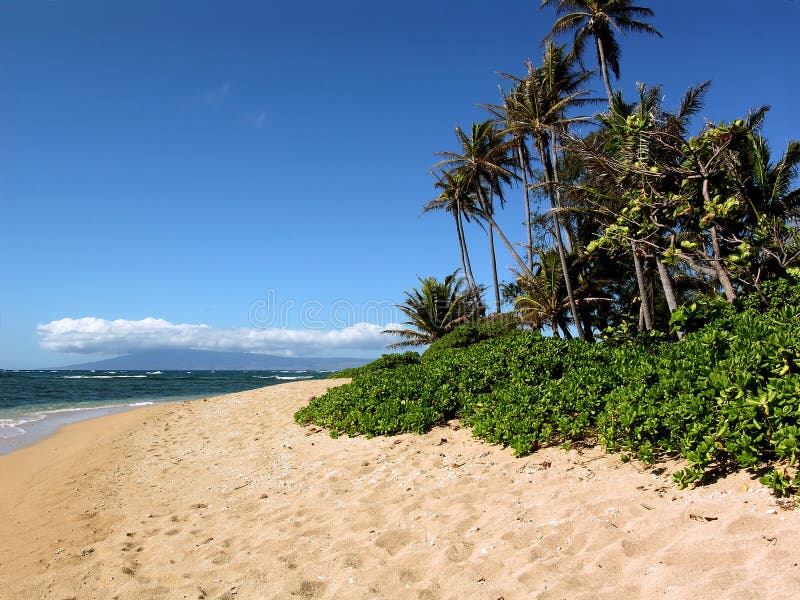 World-wide Tropical Cyclone Activity

>>>
Here's a link to the latest Pacific Disaster Center's
Weather Wall
…covering the Atlantic, Caribbean Sea, and Gulf of Mexico




>>>

Here's a link to the latest Pacific Disaster Center's Weather Wall

…covering the Pacific and Indian Oceans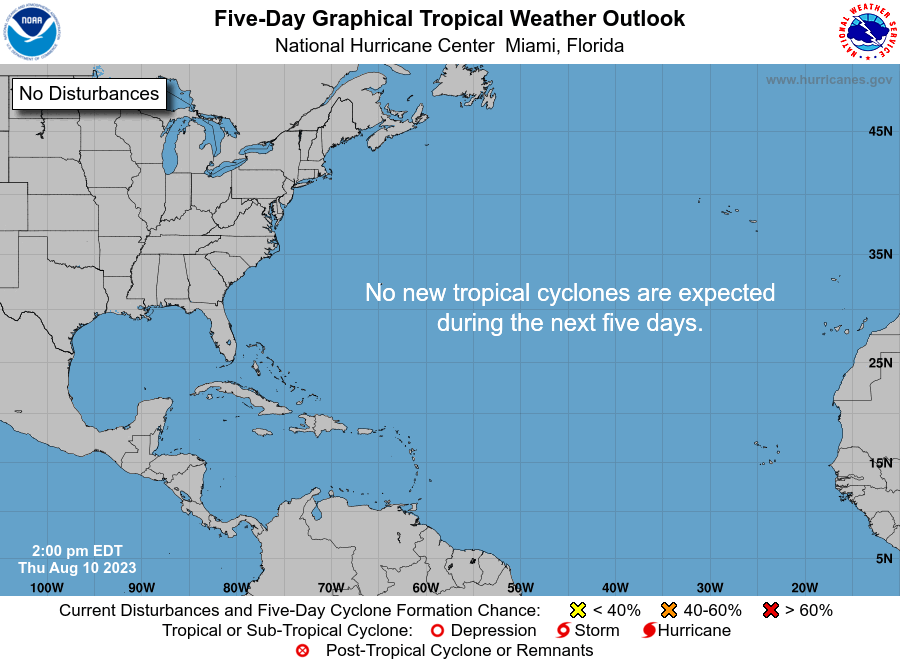 Atlantic Ocean: 
Here's a satellite image of the Atlantic Ocean
Caribbean:
A tropical wave located over the eastern and central Caribbean Sea is producing a concentrated area of showers and thunderstorms. This system is slowly becoming better organized, and conditions appear conducive for further development. A tropical depression is likely to form this weekend as the system moves westward across the central and western Caribbean Sea. Regardless of development, this system is expected to produce heavy rainfall across portions of the ABC islands and Jamaica through the weekend.
* Formation chance through 48 hours…high…80 percent
* Formation chance through 5 days…high…90 percent
Gulf of Mexico: 
Eastern Pacific: 
A broad trough of low pressure is expected to develop south or southwest of the coast of southern Mexico late this weekend or early next week. Environmental conditions are expected to be favorable for gradual development thereafter, and a tropical depression could form by the middle of the week as the system moves west-northwestward over the eastern Pacific.
* Formation chance through 48 hours…low…near 0 percent
* Formation chance through 5 days…medium…60 percent
Here's the link to the National Hurricane Center (NHC)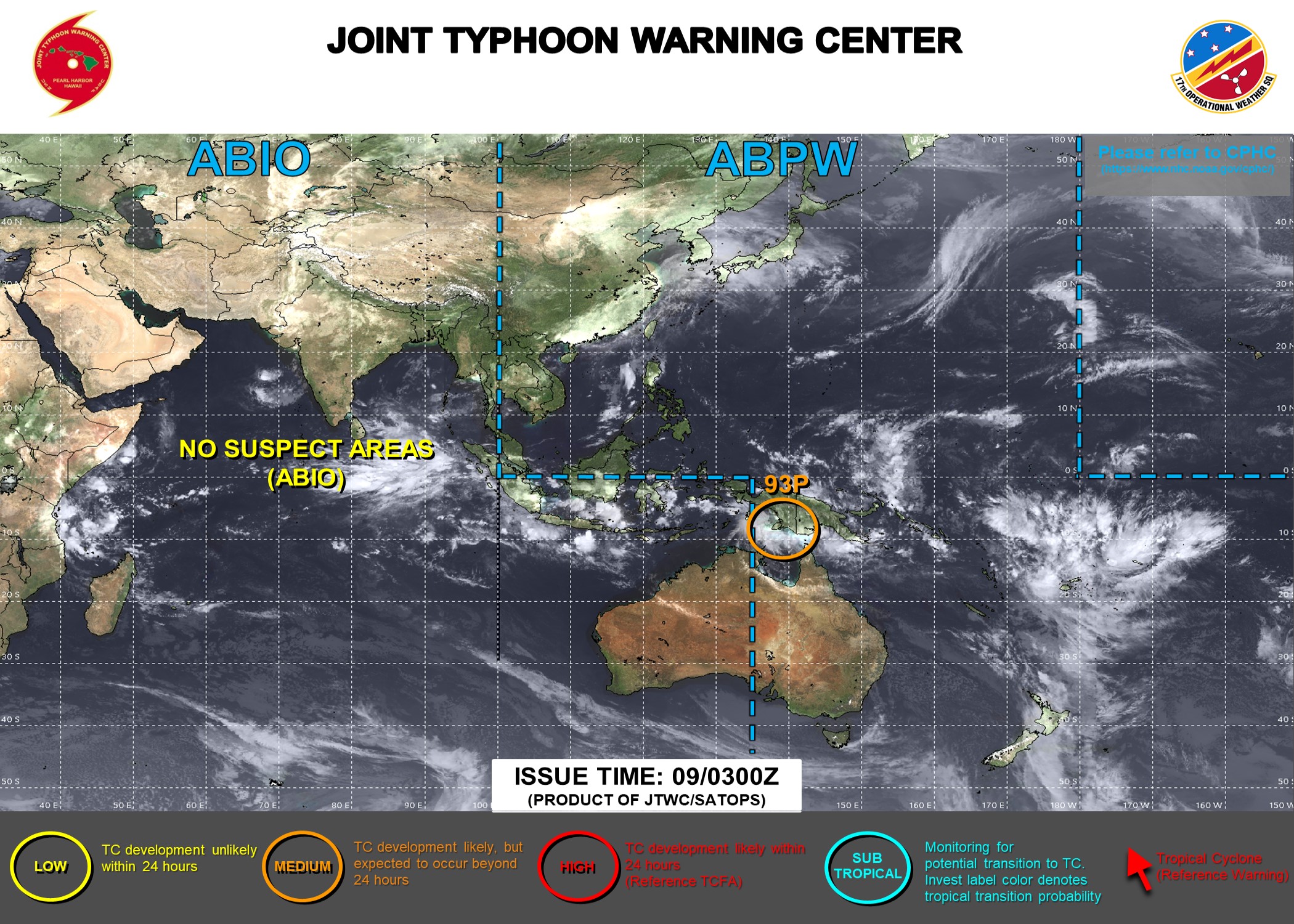 Northwest Pacific Ocean: 
Tropical Cyclone 22W (Goni)…is located approximately 454 NM east of Manila, Philippines

Tropical Cyclone 23W (Atsani)…is located approximately 247 NM north-northeast of Yap

South Pacific Ocean: There are no active tropical cyclones

North and South Indian Oceans / Arabian Sea: There are no active tropical cyclones

Here's a link to the Joint Typhoon Warning Center (JTWC)


Interesting: Trick or Treat? The Frightening Threats to Bats – Iconic symbols of Halloween, bats have long suffered a spooky reputation. They've been accused of harboring vampiric spirits, entangling themselves in human hair and are often associated with witches and warlocks. Few other mammals seem to frighten us with so many misunderstandings. But bats, because of their incredible echolocation abilities, rarely fly into or touch people, and provide valuable and essential ecological roles in our country and across the world.
Unfortunately, white-nose syndrome (WNS), a fatal fungal disease of hibernating bats, has killed over six million bats since 2006, and may well lead to the extinction of certain bat species. Bats are also susceptible to being killed or injured by wind turbines.
"People often ask why we should care about bats, and evidence strongly suggests that bats are saving us big bucks by gobbling up insects that eat or damage our crops," said Paul Cryan, a bat ecologist with the U.S. Geological Survey. "It is obviously beneficial that insectivorous bats are patrolling the skies at night above our fields and forests, and these bats deserve help."
Unlike the dreaded vampire bat typically associated with Halloween, insect-eating bats perform services valuable to humans. Research by Cryan and his colleagues shows that insect-eating bats, through their free pest-control services, save the agricultural industry billions of dollars each year. A single little brown bat, which has a body no bigger than an adult human's thumb, can eat four to eight grams (the weight of about a grape or two) of insects each night. The loss of millions of bats in the Northeast has likely resulted in between 1.4 and 2.9 million pounds (equivalent to about two to three full Boeing 747-8F airliners) of insects in the region no longer being eaten each year by bats.
Leave a Reply