`
The latest update to this website was Friday at 120pm (HST)

Air Temperatures – The following high temperatures (F) were recorded across the state of Hawaii Thursday…along with these low temperatures Friday morning: 
78 – 70  Lihue AP, Kauai
78 – 68  Honolulu AP, Oahu
81 – 68  Molokai AP, Molokai
81 – 68  Kahului AP, Maui 
84 – 73  Kona AP, Hawaii
75 – 69  Hilo AP, Hawaii 

Here are the latest 24-hour precipitation totals (inches) for each of the islands as of Friday afternoon:

1.32  Mount Waialeale, Kauai
1.21  Waiawa, Oahu
0.87  Puu Alii, Molokai
0.18  Lanai 1, Lanai
0.27  Kula 1, Maui
1.35  Glenwood, Big Island

The following numbers represent the strongest wind gusts (mph) as of Friday afternoon:

22  Barking Sands, Kauai
21  Oahu Forest NWR, Oahu
24  Makaulapai, Molokai
23  Lanai 1, Lanai
31  Maalaea Bay, Maui
25  Upolu AP, Big Island

Hawaii's Mountains – Here's a link to the live webcam on the summit of our tallest mountain Mauna Kea (~13,800 feet high) on the Big Island of Hawaii. Here's the webcam for the (~10,023 feet high) Haleakala Crater on Maui. These webcams are available during the daylight hours here in the islands, and at night whenever there's a big moon shining down. Also, at night you will be able to see the stars, and the sunrise and sunset too…depending upon weather conditions.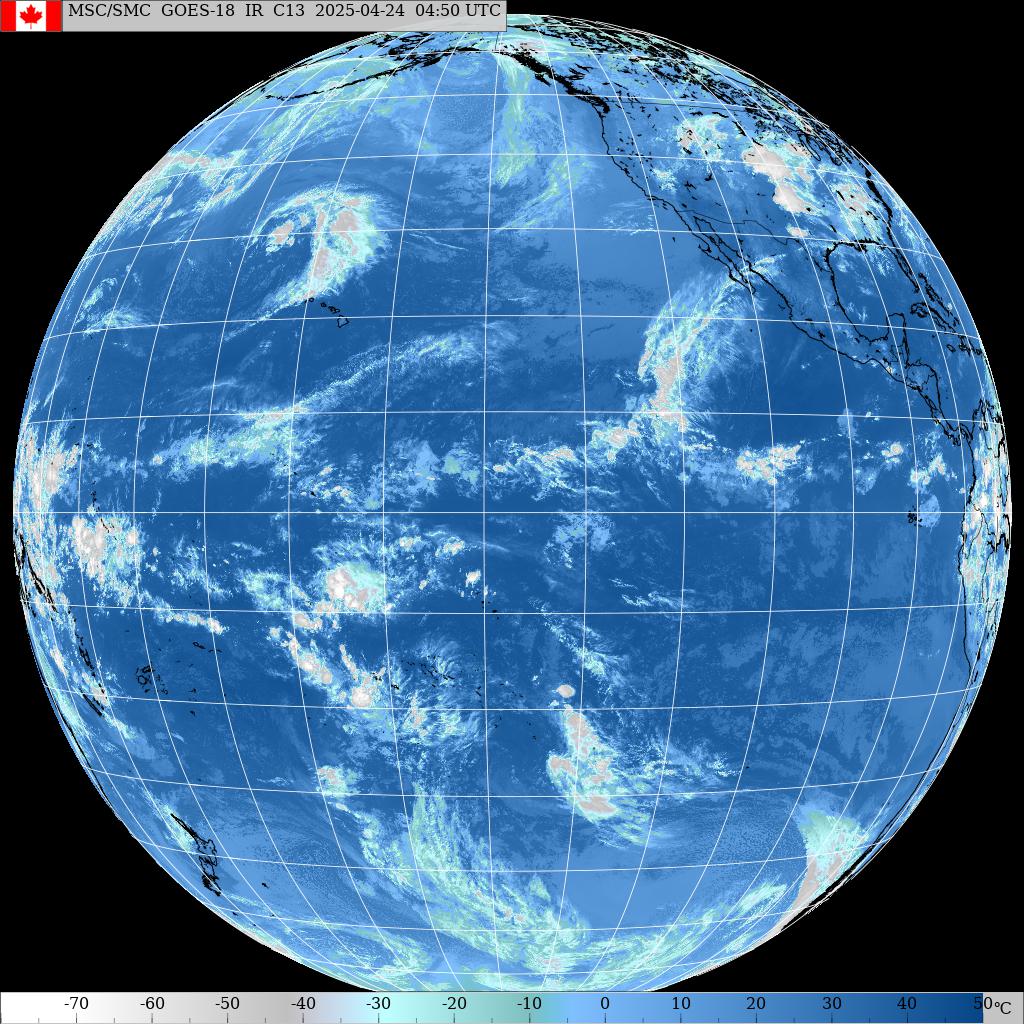 Big Blue…click twice for largest version
Kona Low moving away north-northwest
(click for larger version)

Deep clouds continue moving into the state from the southwest

Variable lower level clouds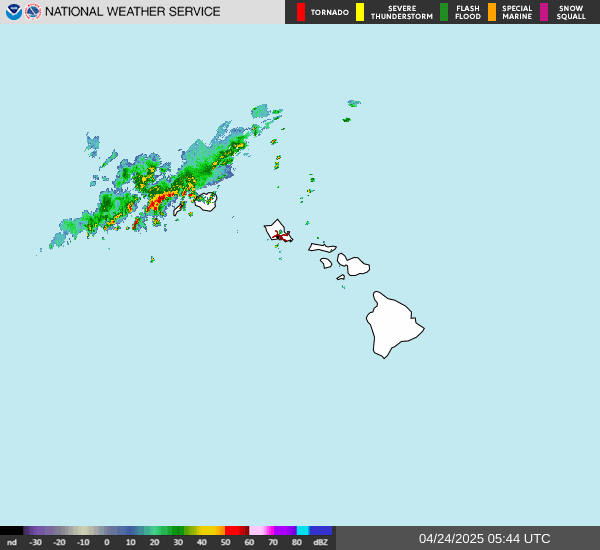 Passing showers locally…some are heavy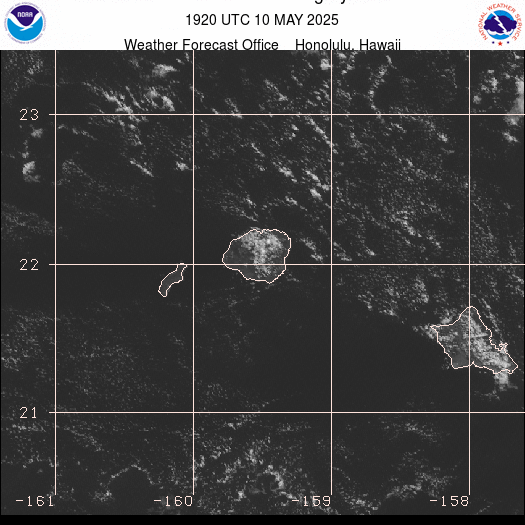 Kauai and Oahu (Satellite)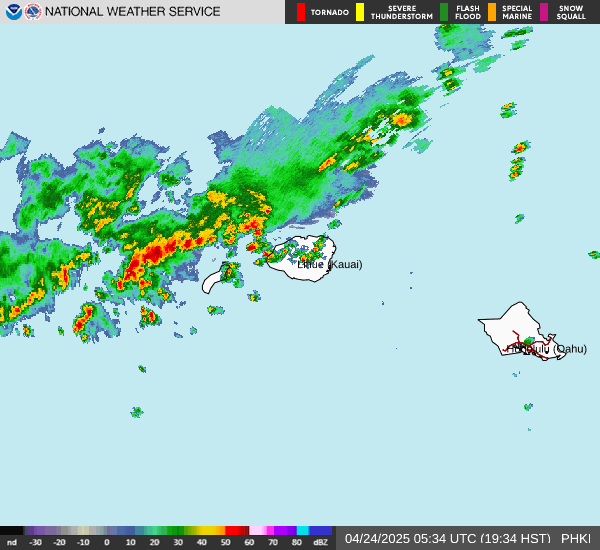 Kauai and Oahu (Radar)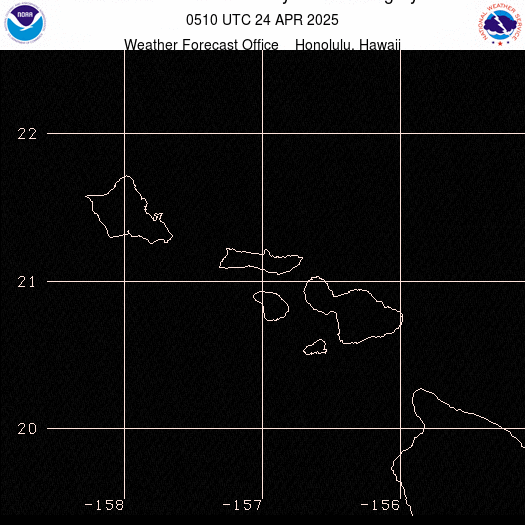 Oahu and Maui County (Satellite)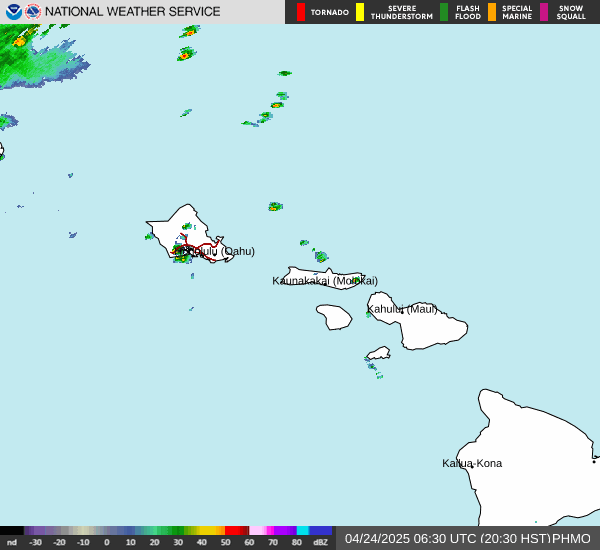 Oahu and Maui County (Radar)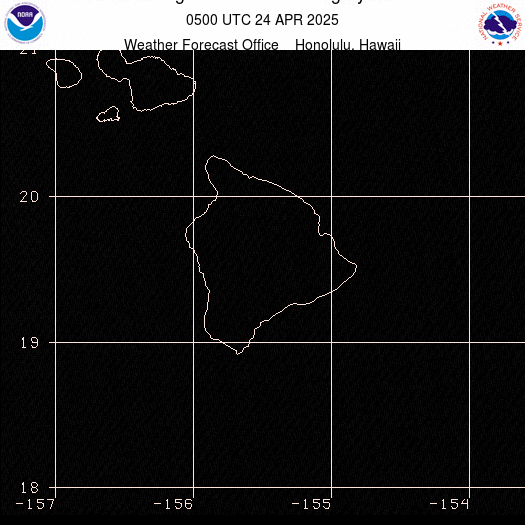 Maui, Kahoolawe, Lanai, and the Big Island (Satellite)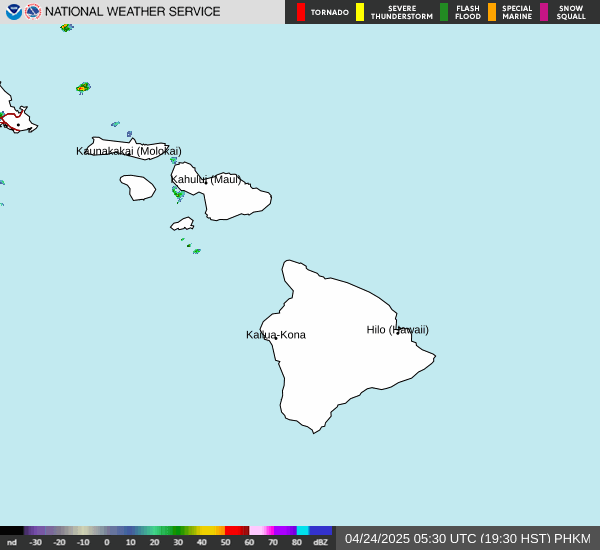 Maui County and the Big Island (Radar)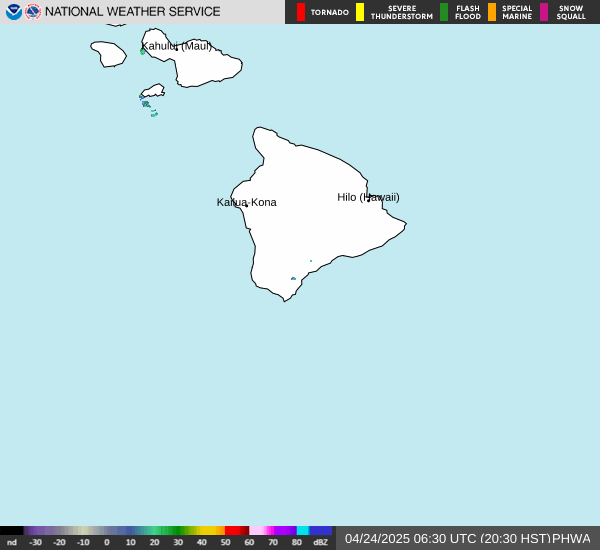 Big Island (Radar)
Model showing precipitation through 8-days (you can slow this animation down)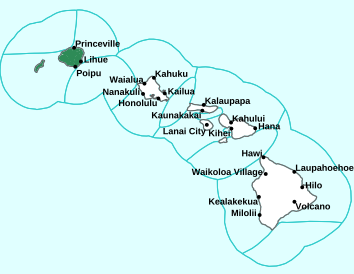 Please open this link…to see current Watches, Warnings and Advisories noted above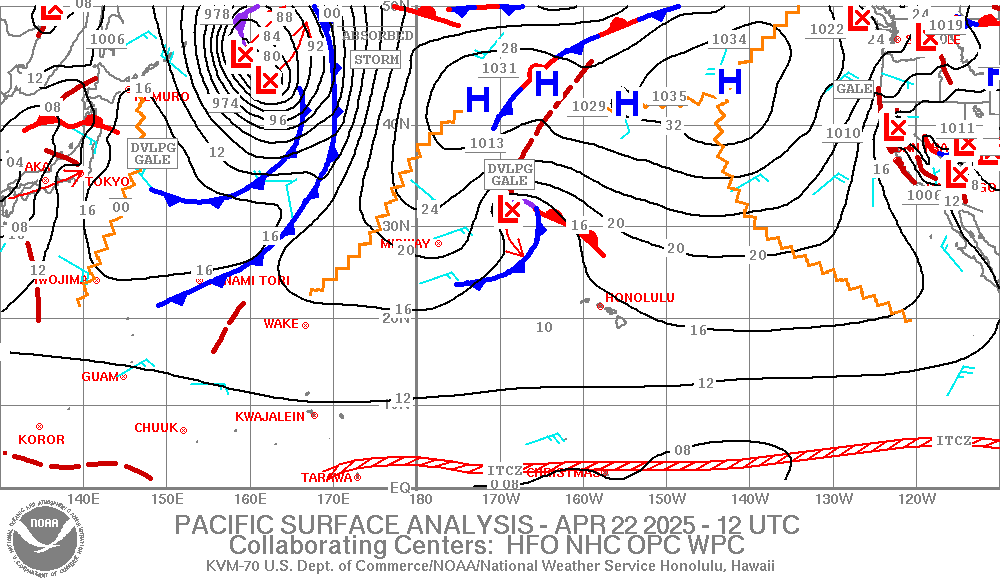 ~~~

Hawaii Weather Narrative ~~~
Glenn's Friday comments: I'm home here in upper Kula, Maui, Hawaii

Good day everyone, I hope you have a great Friday wherever you happen to be spending it.
It's partly cloudy here at my place with an occasional shower, with a low temperature of 59.5 degrees.
Noon, the clearing skies this morning here on Maui shifted, and now its partly to mostly cloudy, with radar showing showers not all that far away.

Hawaii's Broad Brush Weather Overview:  A kona low west of the islands will bring a continued threat for heavy rain and flooding along with isolated thunderstorms. Conditions will gradually improve over the weekend with stable trade wind weather expected for the first half of next week.
Hawaii's Weather Details:  Weather maps show a kona low is located around 425 miles west-northwest of Kauai, while a high is centered around 1500 miles northeast of Honolulu. A general southeast to south flow prevails across the islands, although convection continues to disrupt the wind fields.
Infrared satellite imagery shows mostly cloudy conditions across the state. Radar imagery shows numerous showers and a few thunderstorms moving through Oahu, with limited shower activity across the other islands at the moment.
The kona low will gradually break down during the next 24 hours or so, weakening into a surface trough by daybreak Saturday. Before it breaks down however, a south to southeast wind flow will continue to pump deeper moisture northward into the islands, with the upper low continuing to provide forcing for ascent.
This will keep the threat for heavy rain and thunderstorms in the forecast, particularly over the western end of the state. The Flood Watch will remain in effect for all Hawaiian Islands, although the threat for additional heavy rainfall over the Big Island appears to be diminishing.
The unstable airmass will linger over the islands through Saturday, with thunderstorms remaining possible across the entire state. More stable weather will then build into the islands Sunday, as trade winds begin to return. The trades will strengthen early next week, with stable trade wind weather prevailing through the middle of the week. The trades may ease late next week…as a new cold front approaches from the west.
>>> Here's a near real-time Wind Profile of the Pacific Ocean – along with a Closer View of the islands  / Here's the Volcanic emissions (Vog) map
Marine Environmental Conditions:  A kona low west-northwest of the Hawaiian Islands will continue to produce southeast to south winds, with bands of showers, heavy at times, and thunderstorms develop across the region. The kona low will weaken this weekend as the ridge builds in north of the islands.
Expect gentle to fresh trade winds spreading across the region Saturday to Sunday, strengthening to fresh to strong trade winds Monday onward. A Small Craft Advisory (SCA) remains in effect for most coastal waters surrounding Maui and the Big Island. This SCA will likely be cancelled, as wind speeds decrease below advisory thresholds.
The recent small to moderate northwest (320 degree) swell will gradually decline through Saturday. The next moderate size northwest (320 degree) swell will arrive and begin to fill in Saturday afternoon and evening. This swell will peak surf to near High Surf Advisory (HSA) heights Sunday, then slowly subside Monday. A reinforcing north-northwest (330-340 degree) swell arriving by Monday night, and may lift surf heights well above HSA thresholds and approach High Surf Warning levels Tuesday and Wednesday.
Expect the wind wave chop to persist along south facing shores. Small surf continues along south facing shores with small south swell pulses next week Monday and Thursday. Strengthening trades through next week will build surf heights along east facing shores.


World-wide Tropical Cyclone Activity
Atlantic Ocean: There are no active tropical cyclones
Caribbean Sea: There are no active tropical cyclones
Gulf of Mexico:  There are no active tropical cyclones
Northeastern Pacific: There are no active tropical cyclones
Here's the link to the National Hurricane Center (NHC)
North Central Pacific:  There are no active tropical cyclones
Northwest Pacific Ocean:  There are no active tropical cyclones

Southwest Pacific Ocean:  There are no active tropical cyclones
North and South Indian Oceans:  There are no active tropical cyclones

Arabian Sea:  There are no active tropical cyclones

Here's a link to the Joint Typhoon Warning Center (JTWC)
>>> Here's a link to the Pacific Disaster Center's (PDC Global) Weather Wall website
Interesting:  Riding the Whims of the Wind

As Earth's climate continues to change, a plant's ability to adapt to its shifting environment is critical to its survival. Often, to stay alive a plant must move locations by releasing its seeds, but plants are rooted in the ground and cannot move themselves. Instead, they are dependent on animals or the wind to carry their seeds to a new location.
Playing an essential foundational role in an ecosystem, plants contribute to the well-being of human health by helping create resources like food and medicine. Therefore, to better understand how plants can maintain resiliency in the face of challenges like climate change, a team of researchers at the University of Missouri and Michigan State University recently collaborated to develop an innovative mathematical model that can provide fast and reliable predictions of how far wind can carry a plant's seeds.
"Once seeds are released from a plant, we wanted to know how far they can go because as wind conditions fluctuate the seeds will be moved around differently as a result of various weights, sizes and shapes," said Binbin Wang, an assistant professor in the Department of Civil and Environmental Engineering at the MU College of Engineering. "This model gives us a better idea of the probability of where a seed will land on the ground in different conditions depending on the seed type, the plant type and the wind speed."
Read more at: University of Missouri
Leave a Reply