Air Temperatures – The following high temperatures (F) were recorded across the state of Hawaii Friday…along with the low temperatures Saturday:

85 – 75  Lihue, Kauai
90 – 77  Honolulu, Oahu – tied the old record for Friday
89 – 74  Molokai AP
94 – 69  Kahului AP, Maui – broke the old record for Friday…which was 90
86 – 74  Kona AP, Hawaii
84 – 65  Hilo, Hawaii

Here are the latest 24-hour precipitation totals (inches) for each of the islands Saturday morning:

0.49  Mount Waialeale, Kauai
0.58  Poamoho RG 1, Oahu
0.20  Molokai
0.01  Lanai
0.06  Kahoolawe
0.23  Kepuni, Maui
0.70  Saddle Quarry, Big Island
The following numbers represent the strongest wind gusts (mph) Saturday morning:

21  Port Allen, Kauai
31  Kuaokala, Oahu
31  Molokai
16  Lanai
32  Kahoolawe
21  Maalaea Bay, Maui
18  Pali 2, Big Island
Hawaii's Mountains – Here's a link to the live webcam on the summit of our tallest mountain Mauna Kea (13,803 feet high) on the Big Island of Hawaii. Here's the webcam for the 10,000+ feet high Haleakala Crater on Maui. These webcams are available during the daylight hours here in the islands, and at night whenever there's a big moon shining down. Also, at night you will be able to see the stars, and the sunrise and sunset too…depending upon weather conditions.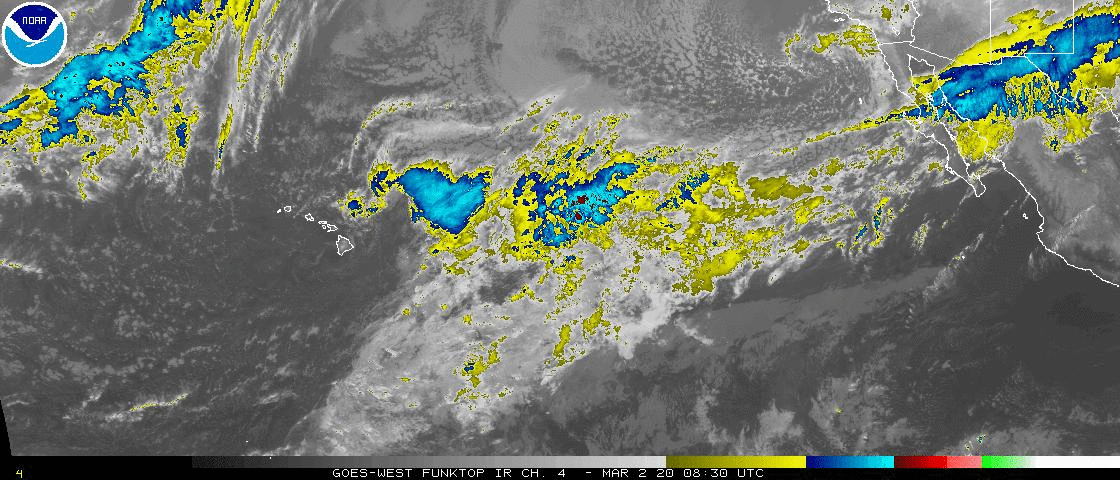 The out of season cold front…is lingering northwest of Kauai
(click on the images to enlarge them)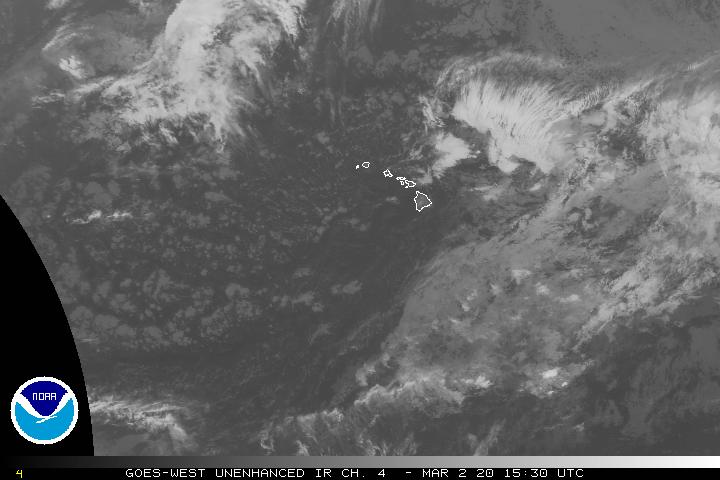 This frontal cloud band won't get much closer to the state


Variable clouds…with high cirrus approaching Kauai


Showers locally – Looping image
 Small Craft Advisory…pink color below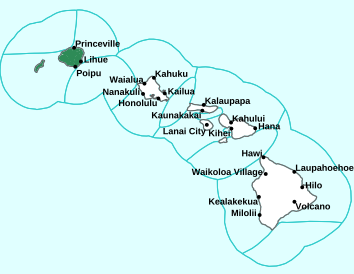 ~~~

Hawaii Weather Narrative

~~~
Broad Brush Overview:  Look for moderately strong trade winds and stable conditions to prevail through this Memorial Day weekend…and on into most of the new week ahead. Showers will be fall mostly over the windward coasts and slopes, with an occasional stray shower or two affecting the leeward areas locally.
Details: A moderately strong high is located far northeast, while a nearly stationary front lingers northwest of Kauai. The result in moderate trade winds across the state. Satellites show clear to partly cloudy skies, with more extensive cloud cover over the windward areas locally. Additionally, some high cirrus is developing just to the west of Kauai.
The area of high pressure northeast of the state will weaken, as it shifts southward over the next few days, while the front northwest of the state remains nearly stationary. Moderate trade wind are expected to hold in place through Sunday, then ease slightly into the light to moderate range Memorial Day.
Look for a fairly normal weather pattern across the island chain, with bands of low clouds and showers pushing through the area at times. Showers should favor windward and mountain areas, particularly during nights and mornings, with a stray shower or two affecting leeward sections from time to time as well.
Looking Further Ahead:  There may be a bit of an increase in leeward and interior shower activity each afternoon into the early evening hours Memorial day through Wednesday, due to the lighter trades…allowing for localized sea breeze cloud development over the slopes during the afternoons.
The trades should strengthen back to moderate and locally stronger levels later next week as the stationary front northwest of the state finally dissipates, and the high moves slightly closer to the island chain.
Here's a near real-time Wind Profile of the Pacific Ocean – along with a Closer View of the islands / Here's the latest Weather Map

Marine Environmental Conditions: The trade wind speeds have reached the Small Craft Advisory (SCA) criteria across most of the typically windier waters adjacent to the islands of Maui County and the Big Island. These trades are expected to decrease slightly late Sunday into mid-week. The trade winds may increase again late next week, so SCA conditions may develop over some of the typically windier waters starting next Friday.
The current south-southwest swell will gradually lower, while forerunners from a larger south-southwest swell begin to spread across the area. Surf from this reinforcing swell is expected to reach the High Surf Advisory (HSA) threshold long south facing shores Sunday through Monday (Memorial Day). The south-southwest swell will gradually fade Tuesday, while a new moderate south swell begins to fill in across the islands. This south swell combined with smaller south-southwest swells, should maintain moderate surf along most south facing shores from next Wednesday through Friday.
A moderate northwest swell will produce a rise in surf heights along most north and west facing shores of the smaller islands this weekend into early in the new week ahead. This northwest swell will be slightly lower by Tuesday, although will likely remain rather steady from mid-week into next Friday.
The locally breezy trade winds will keep moderate choppy surf along most east facing shores. The trade wind swell will gradually lower Sunday through mid-week. The trade wind swell may increase slightly starting late next week…as the trade winds strengthen again.



World-wide Tropical Cyclone Activity



>>> Here's Saturday's Pacific Disaster Center (PDC) Weather Wall Presentation covering the eastern and western Pacific Ocean, the Indian Ocean, and the Arabian Sea, showing a tropical disturbance being referred to as Invest 91E in the northeastern Pacific

>>> Atlantic Ocean: The 2019 hurricane season begins June 1, 2019
>>> Gulf of Mexico: The 2019 hurricane season begins June 1, 2019

>>> Caribbean Sea: The 2019 hurricane season begins June 1, 2019

Here's a satellite image of the Caribbean Sea…and the Gulf of Mexico
>>> Eastern Pacific: There are no active tropical cyclones
However, disorganized showers and thunderstorms continue along a trough of low pressure that extends from Nicaragua westward over the far eastern Pacific. This system is expected to move little during the next few days, and some gradual development is possible while the disturbance remains offshore.
Regardless of development, locally heavy rains are likely to continue over portions of Central America into early next week. These rains could cause flash flooding and mudslides in areas of mountainous terrain.
Here's what the computer models are showing
* Formation chance through 48 hours…low…30 percent
* Formation chance through 5 days…medium…40 percent
Here's the link to the National Hurricane Center (NHC)
>>> Central Pacific: The 2019 hurricane season begins June 1, 2019
>>> Central Pacific Hurricane Center officials predict that the region will see 5 to 8 tropical cyclones for the hurricane season that starts June 1.
They forecast 5 to 8 tropical cyclones for the Central Pacific, which is above the normal 4 to 5 storms.
Current El Nino conditions mean the water around Hawaii and along the equator is warmer than usual, meaning a better environment for storms to form.
In the 2018 season, six tropical cyclones either formed or moved into the Central Pacific.
Here's the link to the Central Pacific Hurricane Center (CPHC)
>>> Northwest Pacific Ocean: There are no active tropical cyclones

>>> South Pacific Ocean: There are no active tropical cyclones

>>> North and South Indian Oceans / Arabian Sea: There are no active tropical cyclones
Interesting: Why Do We Love Garlic…But Hate Garlic Breath? – Since at least 5,000 years ago, people have enthusiastically eaten garlic. Its pungent, slightly spicy flavor infuses curries, pastas, stir-fries and even the occasional dessert. But these delicious dishes can come with an aftershock: the sometimes off-putting aroma of garlic breath that lingers for hours afterward. So why do people love the taste of garlic, but hate the resulting garlic breath?
Chopping garlic releases a heady mix of chemical compounds called sulfides, said Sheryl Barringer, professor and department chair of food science and technology at The Ohio State University. These volatile molecules are what give garlic its "distinctive, pungent garlickiness," she said. When we cook garlic, the sulfide molecules rise into the air and fill the room with their pleasing aroma. Then "we put it into our mouths, the volatiles go up into our nose, [and] the smell is really what makes us like it."
Garlic's initial appeal may have something to do with its potential health benefits, said Wilfredo Colón, professor and department head of chemistry at Rensselaer Polytechnic Institute in Troy, New York. There's some evidence that the compounds in garlic can help lower blood pressure and offer antimicrobial effects. Those benefits may cause us to subconsciously crave garlic. At least until it turns on us, that is.
Most meal-induced bad breath comes from leftover food particles decaying in the crevices of the oral cavity. But true garlic breath doesn't get its start until the food hits your stomach, Barringer said. There, gastric juices break down the garlic further, releasing sulfides and other vitamins and minerals. Most of these molecules proceed to your intestines for additional processing, but one — a tiny molecule called allyl methyl sulfide (AMS) — is small enough to slip through your stomach lining and into your bloodstream.
AMS is just one of many components of garlic's characteristic aroma. But it's the only one small enough to worm its way into your blood so quickly, Barringer said. As it circulates past your lungs, AMS just as effortlessly passes through the membranes that let oxygen and carbon dioxide into and out of your body. When you exhale, along with CO2, you release a puff of garlicky AMS.
The effect can persist for up to 24 hours, Barringer said. But there are a few foods that can come to your rescue, she and her colleagues have found. In a 2016 paper in the Journal of Food Science, Barringer and graduate student Rita Mirondo reported that eating apples, lettuce or peppermint significantly reduces the concentration of garlic byproducts a person breathes out. These foods work because they contain phenolic compounds, which bind with the sulfides and make them too big to go airborne.
Of course, there is another option: Simply learn to embrace the unique phenomenon. There's nothing about the aroma of garlic breath that makes it inherently unpleasant, Barringer said — we're just not used to smelling food coming out of people's mouths rather than going in.
"It's not that it's a bad odor, it's just that it's out of context," she said. Try considering it a tiny time capsule of the delicious meal you once enjoyed.
Leave a Reply