The latest update to this website was 830pm Wednesday evening, May 31, 2023


Air Temperatures – The following high temperatures (F) were recorded across the state of Hawaii Wednesday…along with these low temperatures Wednesday morning: 
82 – 75  Lihue AP, Kauai
88 – 74  Honolulu AP, Oahu
87 – 68  Molokai AP
88 – 68  Kahului AP, Maui
85 – 73  Kona AP, Hawaii
82 – 67  Hilo AP, Hawaii 

Here are the latest 24-hour precipitation totals (inches) for each of the islands as of Wednesday evening:

0.54  Mount Waialeale, Kauai
0.94  Nuuanu Upper, Oahu
0.07  Kaunakakai, Molokai
0.31  Lanai City, Lanai
3.13  Puu Kukui, Maui
1.36  Mountain View , Big Island

The following numbers represent the strongest wind gusts (mph) Wednesday evening:

20  Port Allen, Kauai
29  Oahu Forest NWR, Oahu
23  Makapulapai, Molokai
23  Lanai 1, Lanai
23  Kahului AP, Maui
21  Kealakomo, Big Island

Hawaii's Mountains – Here's a link to the live webcam on the summit of our tallest mountain Mauna Kea (~13,800 feet high) on the Big Island of Hawaii. Here's the webcam for the (~10,023 feet high) Haleakala Crater on Maui. These webcams are available during the daylight hours here in the islands, and at night whenever there's a big moon shining down. Also, at night you will be able to see the stars, and the sunrise and sunset too…depending upon weather conditions.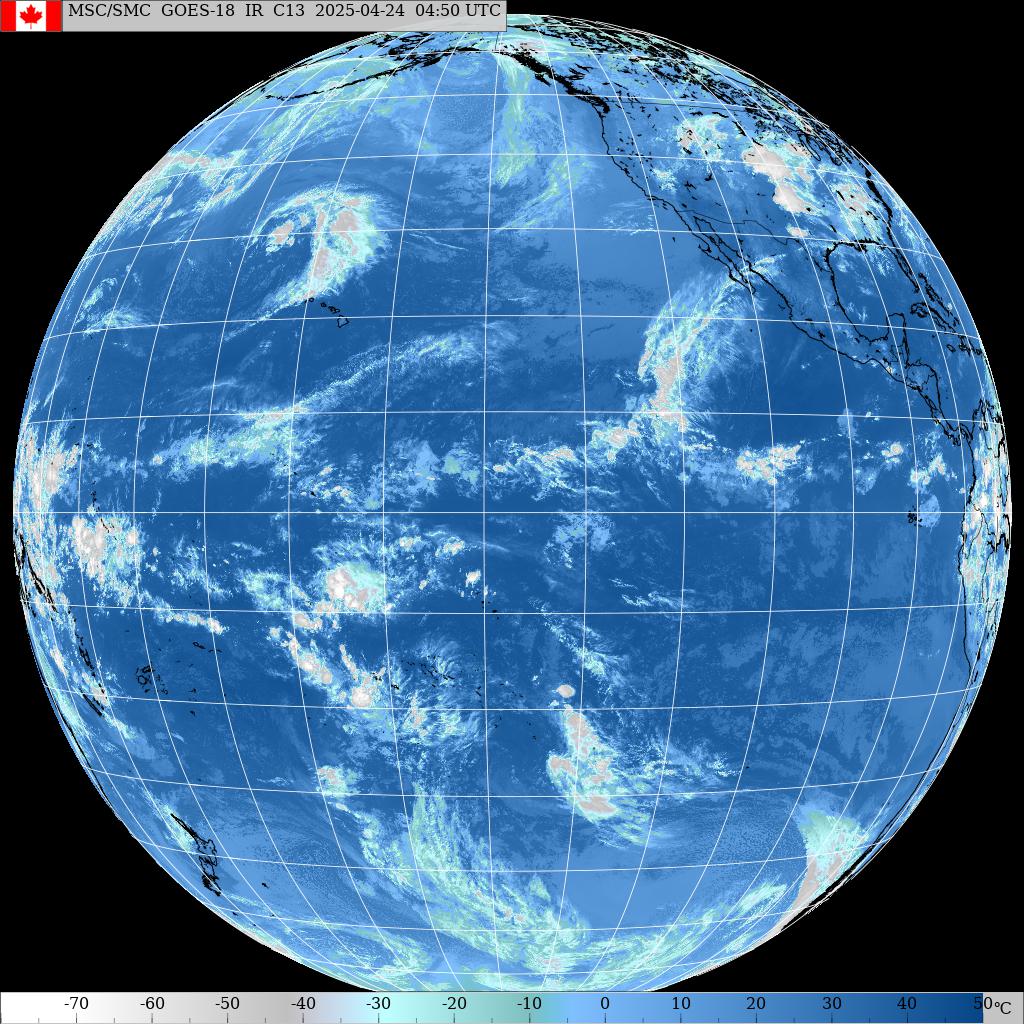 Click on this image to make it larger

Late season cold front far northwest…thunderstorms far southwest and a few to the west
(click on this image to make it larger)

 Variable clouds…with clear areas

Low clouds are arriving on the trades…high cirrus clouds from the southwest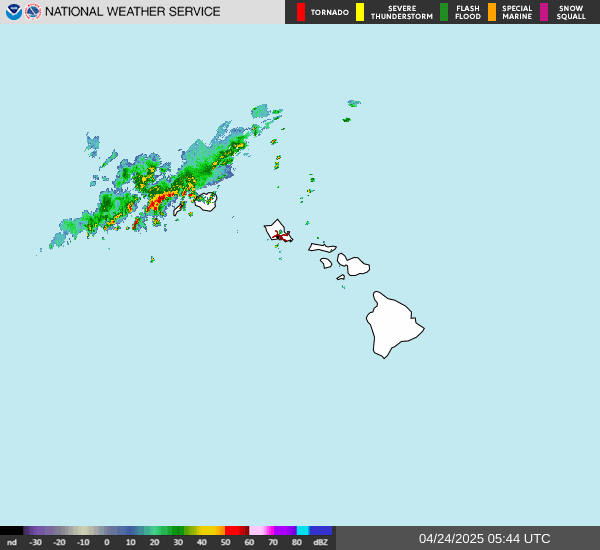 Passing showers locally…some are heavy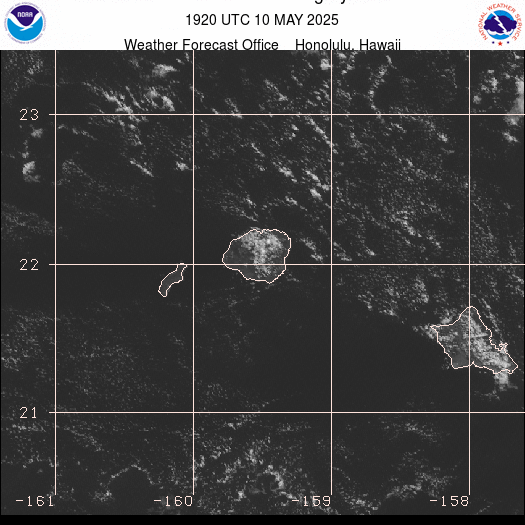 Kauai and Oahu (Satellite)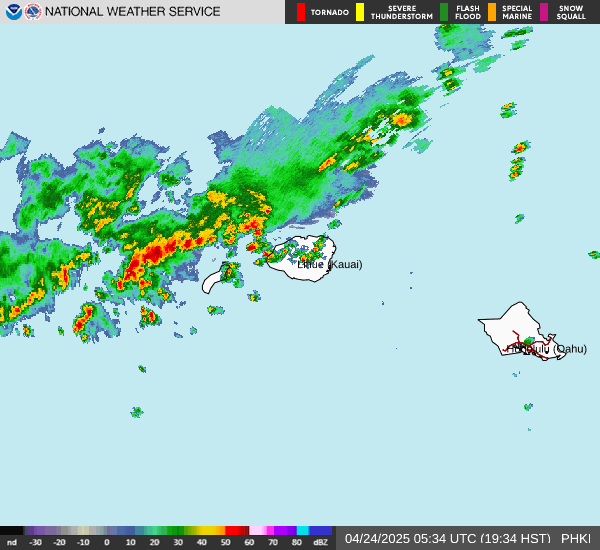 Kauai and Oahu (Radar)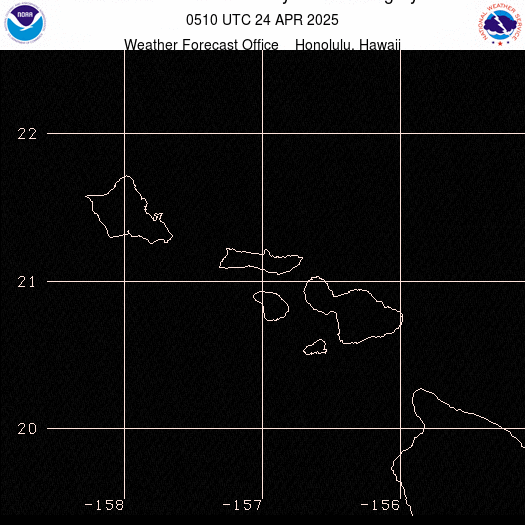 Oahu and Maui County (Satellite)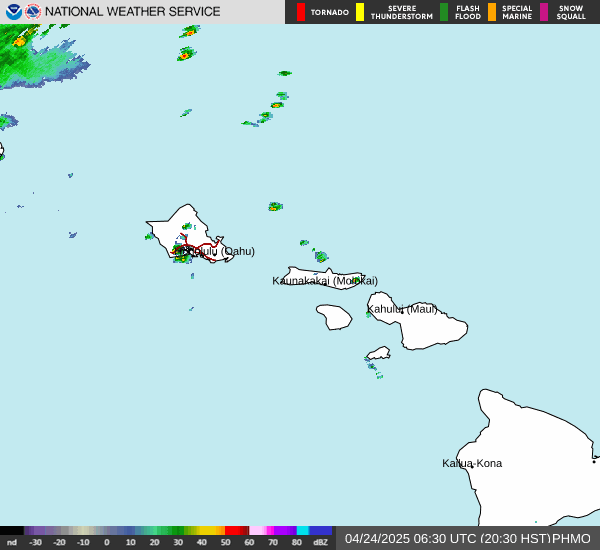 Oahu and Maui County (Radar)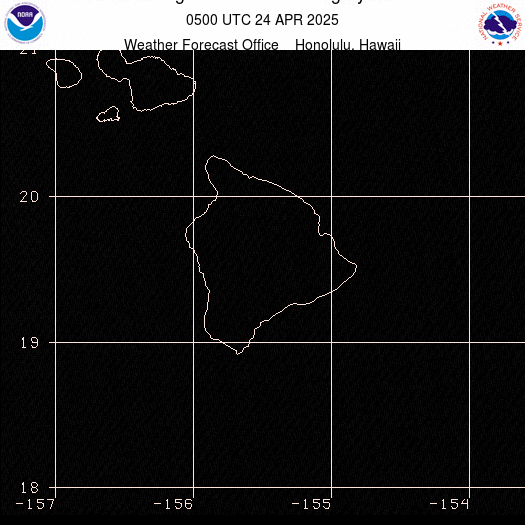 Maui, Kahoolawe, Lanai, and the Big Island (Satellite)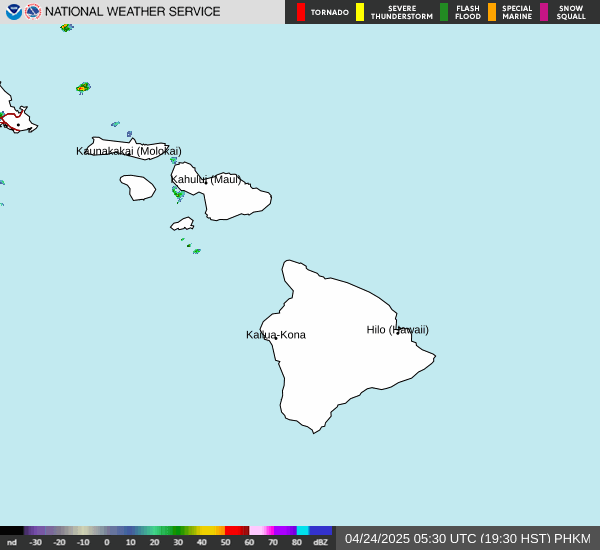 Maui County and the Big Island (Radar)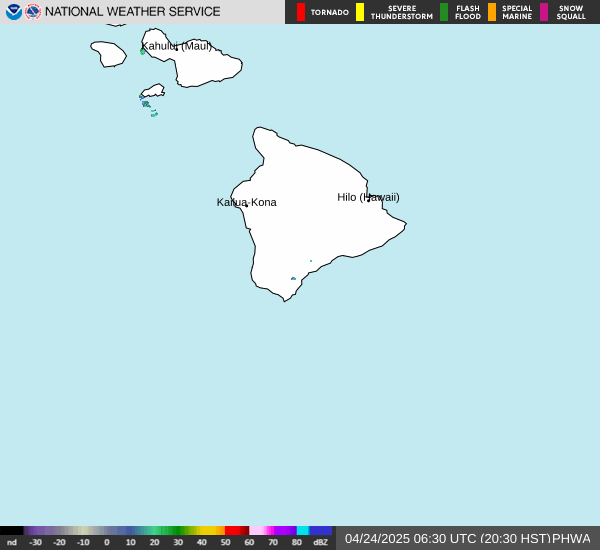 Big Island (Radar)
Model showing precipitation through 8-days (you can slow this animation down)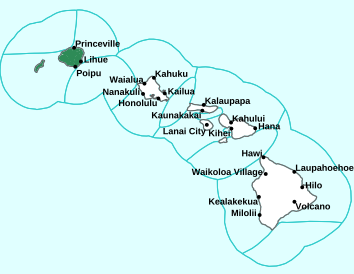 Please open this link…to see current Watches, Warnings and Advisories noted above
~~~

Hawaii Weather Narrative ~~~
Glenn's Wednesday comments: I'm here in upper Kula, Maui, Hawaii
Good morning everyone, I hope you have a great Wednesday wherever you happen to be spending it!
I'm finally back on Maui, and it feels good to be home. It's clear to partly cloudy, and the cool 52.5 degree temperature here at my place is refreshing. I plan to drive down to the Eddie Tam gym this morning after a short walk and breakfast, to play Pickleball…it will be nice to see my friends down there after all this time away!
Back from Pickleball, I felt I played well, and enjoyed meeting up with several friends, from when I played there last winter. I met a few new players too, it seemed that everyone played so well. As I was driving back to Kula from Makawao, I ran through a section of the upper Kula Highway that I had to turn on my windshield wipers, as it was drizzling quite heavily. I stopped at my friends goat farm in upper Kula, and picked up a jar of Kefir. I'm now catching up with some weather work, and will have my regular lettuce, beet, and carrot salad when lunch time rolls around. It's definitely more cloudy upcountry, than it is down towards the local beaches.
1210pm, the clouds over my place here in upper Kula are getting pretty darn dark! I'd say that it's looking like we'll get some rain before too long. The high temperature so far today was 73 degrees, although now with all the thick cloud cover, the temperature has dropped to 69.9 degrees.
510pm, off an on light rain showers continue to fall this afternoon, one of them was slightly heavier than light, and lasted a bit longer than the earlier ones. The temperature under partly to mostly cloudy skies is 68.5 degrees, with a light breeze triggering some nice sounds from my wind chimes. I expect the clouds to clear gradually this evening through the night, allowing the temperatures to fall by early Thursday morning.
723pm, it's off and on foggy here, with a light drizzle/mist falling. I just heard from a friend in Makawao, that it's raining cats and dogs! I wonder where that saying came from? BTW, it's 64.2 degrees here at my Kula Weather Tower.
Dry season Outlook for the Hawaiian Islands (May through September 2023) (NOAA)
Probabilities strongly favor El Niño development during the summer. El Niño expected to persist into 2024.

NOAA Climate Prediction Center's forecast probabilities and climate model consensus favor below average precipitation through the dry season and into the 2023 – 2024 wet season.

Below average dry season precipitation is not typical for the summer months of an El Niño onset year, but has happened in the past.
Most recently in 2009 (9th driest dry season in 30 years).
Drought expected to develop by early summer and progressively worsen through the dry season.
Severe drought (D2 category), and possibly extreme drought (D3 category), expected to develop by the end of the dry season.
Highest likelihood is in the leeward areas, especially in Maui County and the Big Island.
Impacts are expected to be the worst for non-irrigated agriculture, water systems dependent on surface water diversions, and residents relying on rainfall catchment.
Due to late wet season rainfall, significant wildfire risk is expected to develop later than the normal late-July to early-August time frame.
Fuels from wet season growth will be abundant. Leeward areas will have the highest risk

Hawaii's Broad Brush Weather Overview:  Expect a trade wind distribution of low clouds and showers as high pressure to our north drives moderate trade wind speeds. Persistent upper troughing will enhance trade showers. There is a slight chance of thunderstorms on the Big Island.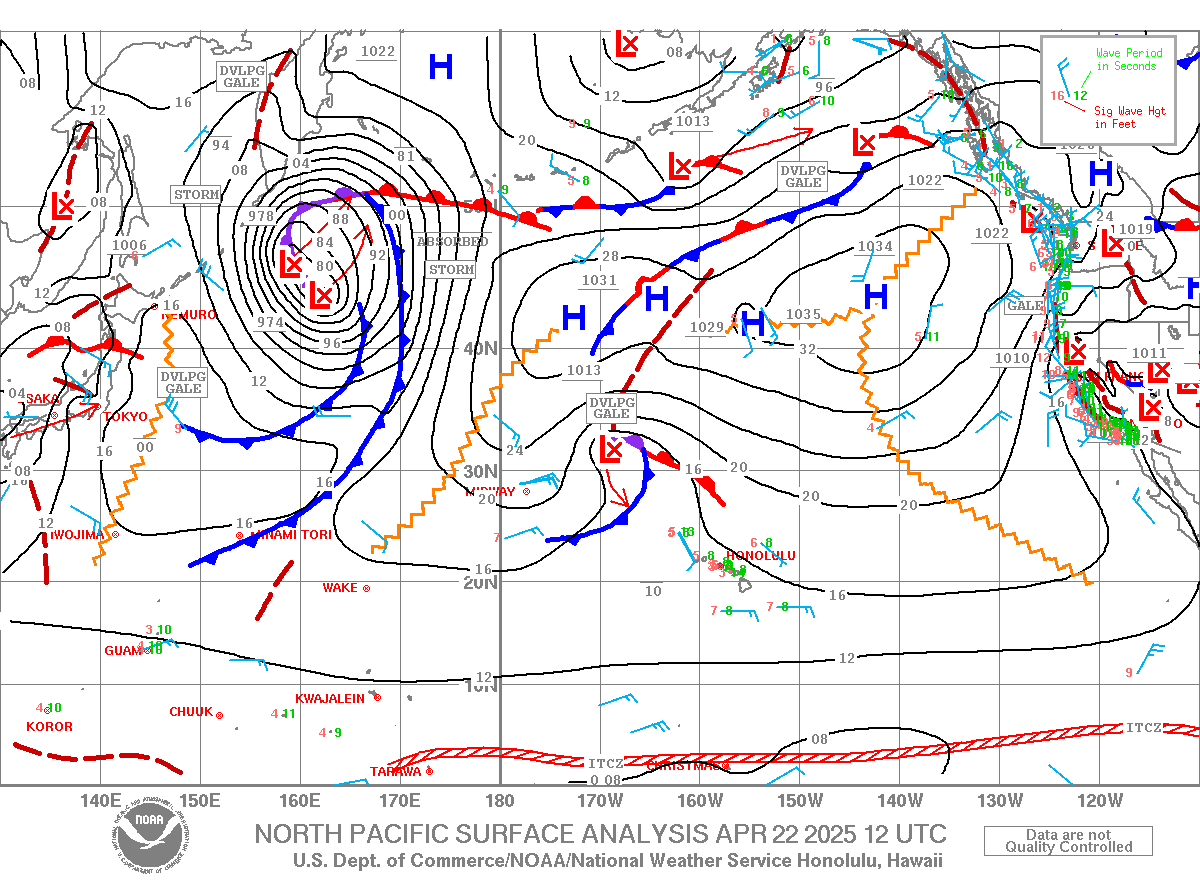 High pressure systems far north, with associated ridges well to the northeast and northwest of the islands…along with a trough of low pressure to the west


Hawaii's Weather Details:  High clouds have cleared the Big Island this morning, but there still could be some high cirrus passing overhead from time to time. The upper level trough to the north of the islands is expected to linger into the weekend, maintaining the upper level wind flow out of the southwest over the islands.
The presence of this upper trough will help to prevent a trade wind inversion, even though at the surface, trade winds will continue through the week. Precipitable water levels on the high end of normal will maintain shower activity, but the lack of a trade wind inversion means some of those showers could be a little heavier than normal.
Models show the higher inversions will be over Maui County and the Big Island, so they are more likely to see some of those heavier showers. Those heavier showers are more likely to form during the afternoon hours and could impact leeward areas locally.
Heading into the weekend, the GFS and ECMWF models develop a new upper level low along the trough to the northwest of the islands, as a weakening front approaches from the northwest. Both of these models bring a much stronger upper level trough over the islands during the first few days of the new week. This will continue the lack of a trade wind inversion for the foreseeable future.
>>> Here's a near real-time Wind Profile of the Pacific Ocean – along with a Closer View of the islands 

Marine Environmental Conditions:  A high pressure ridge far north of the Hawaiian Islands will continue to produce moderate to locally fresh trade winds through the weekend. Wind speeds will likely remain below Small Craft Advisory thresholds for all coastal waters and channels through Sunday.
The current south-southwest (190-210 degree) swell will slowly decrease through Thursday. Another south-southwest (200-220 degree) swell will arrive by Saturday, with small surf expected along south facing shores through the weekend…and then slowly decreasing early next week.
Very small surf will continue along north and west facing shores through next week Tuesday. A small northwest (320 degree) swell will build in by the middle of next week, associated with the remnants of Typhoon Mawar, producing fun sized waves along north and west facing shores.
East facing shores will remain small and choppy into the middle of next week, due to the moderate trade winds blowing across the area.

Hawaiian Fruit mix

World-wide Tropical Cyclone Activity
Atlantic Ocean:  The 2023 Hurricane Season begins June 1, 2023

Caribbean Sea:  The 2023 Hurricane Season begins June 1, 2023
Gulf of Mexico:  The 2023 Hurricane Season begins June 1, 2023
Eastern Pacific:  There are no active tropical cyclones
Here's the link to the National Hurricane Center (NHC)
Central Pacific: The 2023 Hurricane Season begins June 1, 2023
>>> There is a 50% chance of above-normal tropical cyclone activity during the central Pacific hurricane season this year, according to the outlook from NOAA's Central Pacific Hurricane Center and NOAA's Climate Prediction Center, divisions of the National Weather Service. The outlook also indicates a 35% chance for near-normal activity, and only a 15% chance of a below-normal hurricane season.
For the 2023 season, 4 to 7 tropical cyclones are predicted for the central Pacific hurricane region, which is located north of the equator between 140°W and the International Date Line. A near-normal season has 4 or 5 tropical cyclones. Tropical cyclones include tropical depressions, tropical storms and hurricanes.
"Hurricane season in the central Pacific region is expected to be slightly busier this year, compared to a normal season," said Matthew Rosencrans, NOAA's lead seasonal hurricane forecaster at the Climate Prediction Center. "A key factor influencing our forecast is the predicted arrival of El Nino this summer, which typically contributes to an increase in tropical cyclone activity across the Pacific Ocean basin."
The outlook is a general guide to the overall seasonal tropical cyclone activity in the central Pacific basin, and does not predict whether or how many of these systems will affect Hawaii. The central Pacific hurricane season begins June 1 and runs through November 30.
"The last few hurricane seasons have been pretty quiet around Hawaii, luring some folks to let their guard down. Now it's looking like this season will be more active than the past several years," said Chris Brenchley, director of NOAA's Central Pacific Hurricane Center. "It's more important than ever to review your emergency plan and supply kit now, so you will be prepared for the next hurricane threat."
Here's the link to the Central Pacific Hurricane Center (CPHC)
Northwest Pacific Ocean: 

Tropical Cyclone 02W (Mawar)…is located approximately 172 NM southwest of Kadena AB, Okinawa, Japan

Southwest Pacific Ocean: There are no active tropical cyclones
North and South Indian Oceans / Arabian Sea:  There are no active tropical cyclones
Here's a link to the Joint Typhoon Warning Center (JTWC)
>>> Here's a link to the Pacific Disaster Center's (PDC Global) Weather Wall website
Interesting: Shanghai Sees Hottest May Weather on Record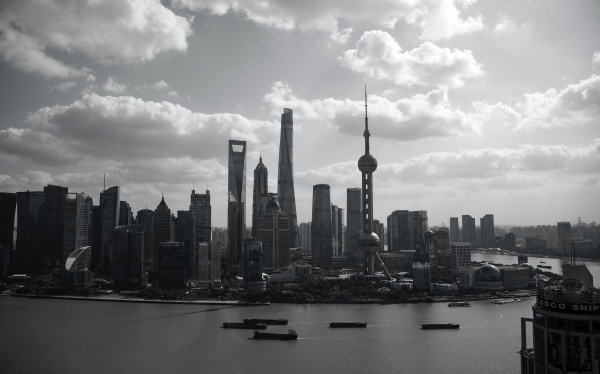 Shanghai recorded its highest May temperature ever amid an extended stretch of sweltering spring heat.
China's most populous city saw the mercury soar to 97 degrees F Monday, beating the previous record of 96.3 degrees F  to become the hottest May temperature in more than a century of record-keeping, Reuters reports. The hot spell comes just weeks after large parts of Europe, North Africa, South Asia, and Southeast Asia also saw record heat, which scientists linked to climate change.
In addition to coping with extreme heat, much of southern China is also girding against torrential rain. Thousands of people were evacuated from parts of Sichuan Province Monday ahead of forecast downpours, while the city of Chongqing warned that water levels on the Jialing River could rise 20 feet as a result of expected rainfall.
Read more at Yale Environment 360
Leave a Reply