Last update to this website occurred at 823pm HST Tuesday, August 4, 2020


Air Temperatures – The following high temperatures (F) were recorded across the state of Hawaii Tuesday afternoon…along with the low temperatures Tuesday morning:
84 – 74  Lihue, Kauai
89 – 76  Honolulu, Oahu –
84 – 72  Molokai AP
91 – 74  Kahului AP, Maui – 
90 – 77  Kona AP, Hawaii
84 – 70  Hilo, Hawaii –

Here are the latest 24-hour precipitation totals (inches) for each of the islands Tuesday evening:

0.68  Kilohana, Kauai
0.09  Luluku, Oahu
0.10  Molokai
0.01  Lanai
0.00  Kahoolawe
0.15  West Wailuaiki, Maui
0.32  Kawainui Stream, Big Island

The following numbers represent the strongest wind gusts (mph) Tuesday evening:

18  Port Allen, Kauai
30  Kuaokala, Oahu
28  Molokai
32  Lanai
32  Kahoolawe
30  Maalaea Bay, Maui
31  Waikoloa, Big Island
Hawaii's Mountains – Here's a link to the live webcam on the summit of our tallest mountain Mauna Kea (~13,800 feet high) on the Big Island of Hawaii. Here's the webcam for the (~10,023 feet high) Haleakala Crater on Maui. These webcams are available during the daylight hours here in the islands, and at night whenever there's a big moon shining down. Also, at night you will be able to see the stars, and the sunrise and sunset too…depending upon weather conditions.



Thunderstorms active in the deeper tropics…south through southeast
Looping version of this image
High clouds still coming up over parts of the state…from the south

Thunderstorms remain away from the state…(bright yellow and red colors)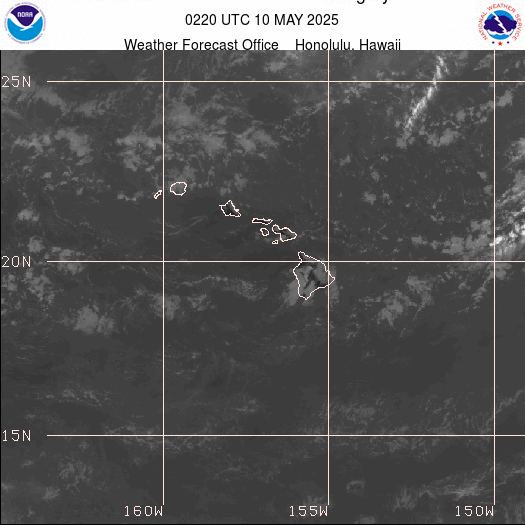 Low clouds arriving along the windward coasts and slopes locally


Just a few showers falling locally and offshore
Looping Radar Image
Model showing precipitation through the next 8-days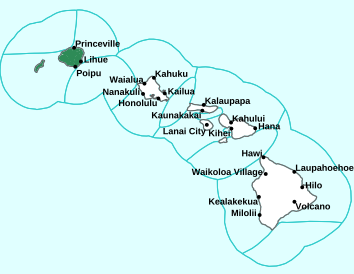 Please click this link…to see current Watches, Warnings and Advisories noted above



~~~

Hawaii Weather Narrative

~~~


Glenn's Tuesday comments: These cool mornings continue here in upcountry Maui lately, transforming into very warm afternoons…generally nice weather indeed.
1055am here in upper Kula, it was mostly clear a little while ago, although now the clouds are beginning to gather over the leeward slopes of the Haleakala Crater. The air temperature is 75, while down at the Kahului AP it was 88 degrees…and just 57 up at the summit of the Crater. I'm trusting that today will be a good day to do my laundry, and will be hanging them out on the line soon.
114pm, early afternoon, still partly cloudy, with a few thin streaks of high cirrus way up there, and it's a breezy day here in Kula…somewhat more than usual I'd say.
5pm, lots of blue skies, thus lots of very warm sunshine beaming down, as we slowly head towards the cooler sunset hour. The high cirrus clouds are all gone, so the color that we've seen the last several evenings…won't be around today.
Now at 641pm, I see that we have a band of middle level clouds that are in our western sky, and may light up some after all. As it turned out, the sunset was incredibly beautiful…as they have all been the last several evenings! 67.4 degrees here at my weather tower in Kula…at 725pm.
Broad Brush Overview: Moderate to strong trades will prevail through the week, and may get a little stronger by the weekend. These trades will carry passing clouds and showers, generally over windward areas, with a few leeward on the smaller islands. Increased moisture and a passing disturbance aloft are expected to bring an increase in showers late tonight into Friday.
Details: Our August trades will continue well into the future, supported by persistent high pressure to the north and northeast. Increasing moisture will bring off and on clouds and showers later tonight into Friday, favoring windward areas. The trade wind generating high will bring stronger trades by the weekend. A weak trough aloft west of the state will bring streaky higher level clouds at times.
Look for raising humidity, which will prompt a more muggy reality, even with the trades blowing. An upper level trough will move over the islands from the east, destabilizing the lower atmosphere. This will lead to periods of enhanced showers, mainly over windward areas, with even a few leeward on the smaller islands. The Big Island's leeward slopes will see afternoon and evening clouds developing…that will drop a few showers.
Looking Further Ahead: As we reach the weekend, a return to a more typical trade wind pattern is expected, with brief windward showers as moisture gradually diminishes. High pressure north-northeast of the islands will strengthen, and in turn will bring increased trade wind speeds. Finally, the tropics remain quiet in terms of cyclones here in the central Pacific…with no change expected through the next 5-days at least.
Here's a near real-time Wind Profile of the Pacific Ocean – along with a Closer View of the islands / Here's the latest Weather Map

Marine Environmental Conditions: Ridging will remain far north of the islands through the weekend, and continue to support locally moderate to strong trade winds. Therefore, a Small Craft Advisory remains in effect for the waters around Maui County and the Big Island through at least Wednesday.
Small southerly swells will arrive through the week with surf heights remaining below advisory levels. A southeast swell will linger through the week, keeping surf slightly elevated along exposed shorelines. Easterly trades will continue to produce elevated surf along east facing shores. A very small northwesterly swell may arrive late in the week.



World-wide Tropical Cyclone Activity

>>> Here's a link to the latest Pacific Disaster Center's Weather Wall…covering the Atlantic, Caribbean Sea, and Gulf of Mexico





>>>

Here's a link to the latest Pacific Disaster Center's Weather Wall…covering the Pacific and Indian Oceans



>>> Atlantic Ocean:
Post-Tropical Cyclone 09L (Isaias)…is located about 45 miles east-southeast of Montreal, Quebec, Canada – Last Advisory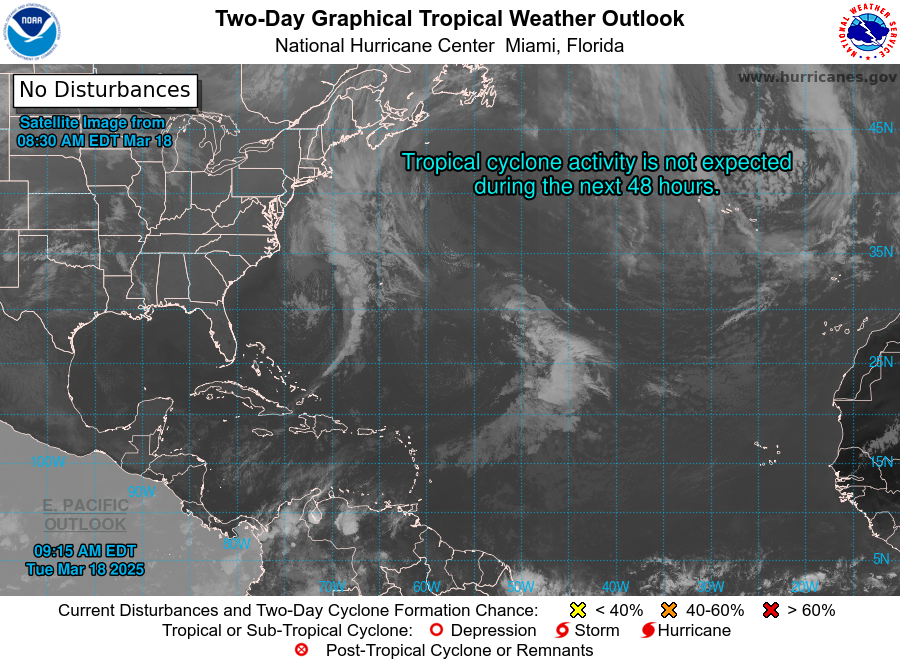 According to the NHC Advisory 32, the post-tropical cyclone is moving toward the north-northeast near 38 mph (61 km/h), and this general motion is expected with a decrease in forward speed through Wednesday night. Maximum sustained winds have decreased to near 45 mph (75 km/h) with higher gusts, mainly over water to the southeast of the center. Continued weakening is expected, and the winds are expected to drop below tropical-storm force during the next few hours. The post-tropical cyclone is expected to dissipate over southeastern Canada Wednesday night or Thursday. Tropical-storm-force winds extend outward up to 175 miles (280 km) to the southeast of the the center. The NOAA automated station at Isle of Shoals, New Hampshire recently reported sustained winds of 46 mph (74 km/h) and a wind gust of 51 mph (81 km/h) at an elevation of 63 ft (19 m).
1.) A small well-defined low has formed within a broader trough of low pressure located a few hundred miles southwest of Bermuda. This system is producing very little thunderstorm activity at this time, but some slight development is possible while the system moves little during the next couple of days. A southwestward drift is forecast on Thursday and Friday.
Here's what the computer models are showing
* Formation chance through 48 hours…low…20 percent
* Formation chance through 5 days…low…20 percent
 Here's a satellite image of the Atlantic Ocean

>>> Caribbean: There are no active tropical cyclones
WSI satellite image of the Caribbean Sea
Latest satellite image of the Caribbean Sea and the Gulf of Mexico
>>> Gulf of Mexico:  There are no active tropical cyclones
>>> Eastern Pacific: There are no active tropical cyclones
An area of low pressure is forecast to form south or southwest of the southern coast of Mexico over the weekend. Environmental conditions are forecast to be conducive for at least gradual development after that while the system moves generally west-northwestward.
* Formation chance through 48 hours…low…near 0 percent
* Formation chance through 5 days…low…20 percent
Here's the link to the Central Pacific Hurricane Center (CPHC)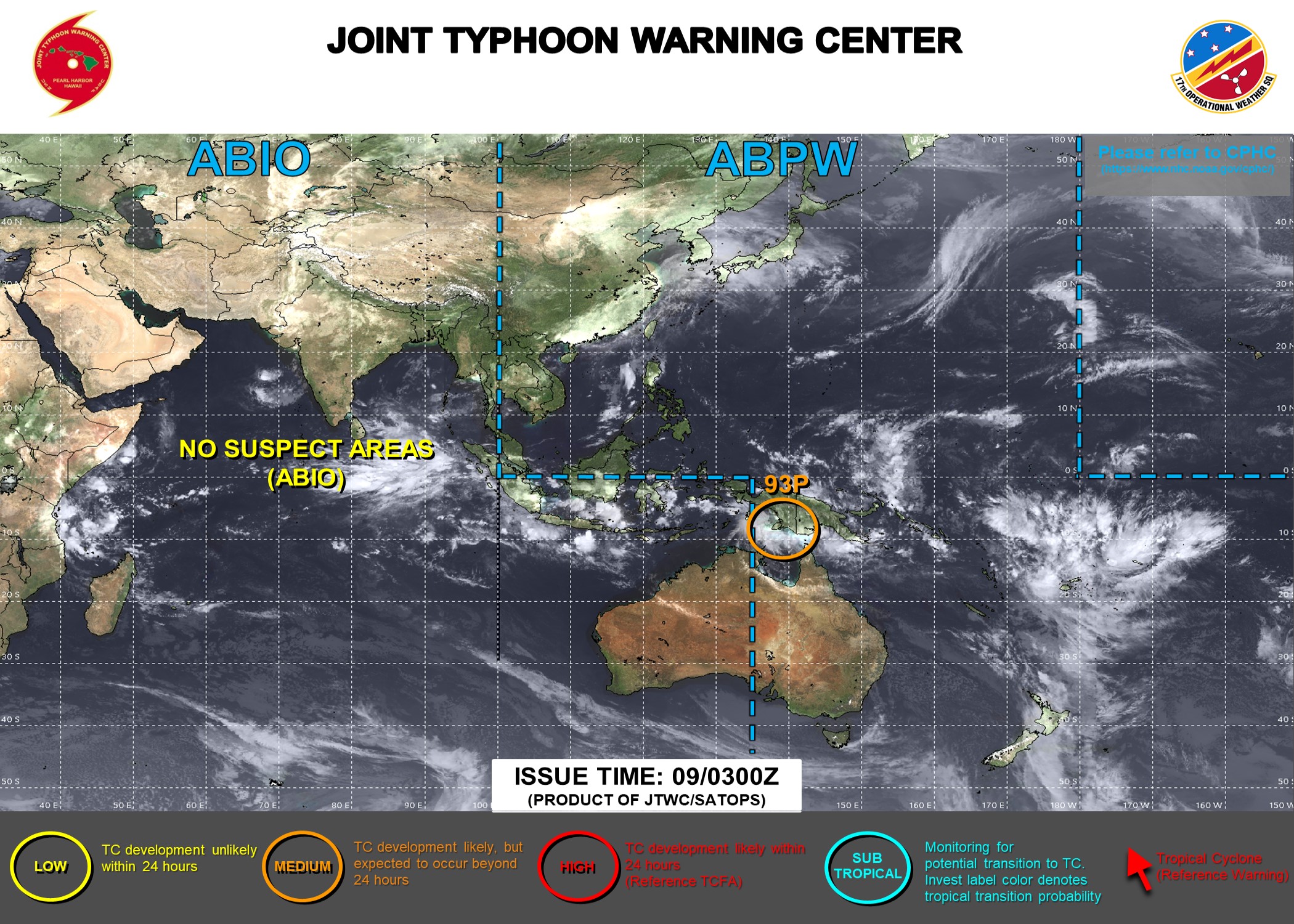 >>> Northwest Pacific Ocean: 
Tropical Depression 03W (Hagupit)…located approximately 71 NM west-southwest of Shanghai, China – Final Warning

Here's a link to the Joint Typhoon Warning Center (JTWC)
>>> South Pacific Ocean: There are no active tropical cyclones

>>> North and South Indian Oceans / Arabian Sea: There are no active tropical cyclones



Interesting: Transportation…Gauging pandemic impact – Oak Ridge National Laboratory researchers have developed a machine learning model that could help predict the impact pandemics such as COVID-19 have on fuel demand in the United States.
Called the Pandemic Oil Demand Analysis, or PODA, this model compared mobility patterns before and during the COVID-19 pandemic, analyzing historical weekly motor travel trends and projecting future usage.
"We developed this machine learning-based model by studying trip activities and corresponding fuel usage," ORNL's Shiqi (Shawn) Ou said. "The PODA analysis can serve as a useful tool to understand the impact of travel quarantine on fuel demand."
In a Nature Energy study sponsored by Aramco Research Center, researchers focusing on mid-May until August determined that average fuel demand is not likely to reach pre-pandemic levels before October 2020. However, while a continued quarantine would have a negative impact on fuel demand temporarily, demand would likely recover to normal levels quicker.
Leave a Reply