Air Temperatures – The following high temperatures (F) were recorded across the state of Hawaii Wednesday afternoon…along with the low temperatures Wednesday morning:
81 – 72  Lihue, Kauai
83 – 71  Honolulu, Oahu
81 – 71  Molokai AP
84 – 71  Kahului AP, Maui 
85 – 74  Kona AP, Hawaii
84 – 69  Hilo, Hawaii


Here are the latest 24-hour precipitation totals (inches) for each of the islands Wednesday evening:


1.41  Mount Waialeale, Kauai
0.36  Tunnel RG, Oahu
0.00  Molokai
0.00  Lanai
0.00  Kahoolawe
0.01  Puu Kukui, Maui
0.08  Saddle Quarry, Big Island

The following numbers represent the strongest wind gusts (mph) Wednesday evening:


24  Port Allen, Kauai 
39  Kuaokala, Oahu
27  Molokai
42  Lanai
18  Kahoolawe
25  Kapalua, Maui
32  Upolu AP, Big Island

Hawaii's Mountains – Here's a link to the live webcam on the summit of our tallest mountain Mauna Kea (~13,800 feet high) on the Big Island of Hawaii. Here's the webcam for the (~10,023 feet high) Haleakala Crater on Maui, although it's often not working correctly these days. These webcams are available during the daylight hours here in the islands, and at night whenever there's a big moon shining down. Also, at night you will be able to see the stars, and the sunrise and sunset too…depending upon weather conditions.



A minor cloud band is bringing a few showers…to some windward areas
Looping version of the central and northeast Pacific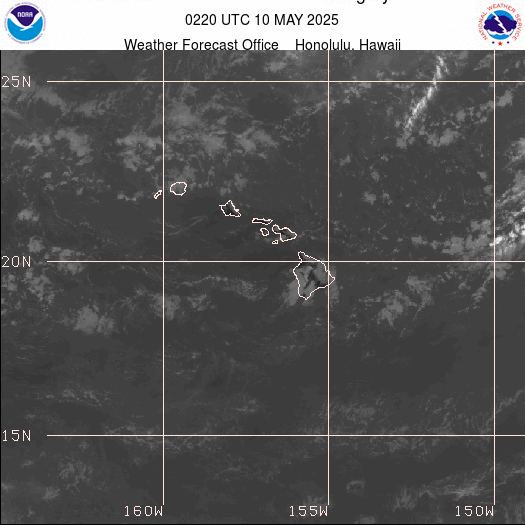 A batch of high cirrus is approaching the state from the north



Just a few showers falling locally
Looping Radar Image
Looping Surface Precipitation…through the next 8-days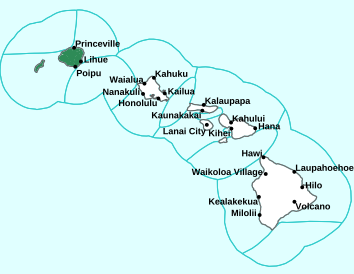 Please click this link…to see current Watches, Warnings and Advisories noted above



~~~

Hawaii Weather Narrative

~~~


Glenn's Wednesday comments: It's just getting light enough to see the sky at the moment, and the day is opening up beautifully, with hardly a cloud to be seen in any direction. As is often the case, that layer of capping clouds are over the West Maui Mountains. I'm looking for another gorgeous spring day here in the islands!


Late morning is still showing these sunny blue skies over the island, even here in upper Kula, where clouds often start showing up this time of day. It looks like this string of near perfect days will continue unabated, with the gusty trade winds prevailing…well into the future.


2pm Wednesday afternoon here in upper Kula, the air temperature was 77 degrees, while at near the same time, down at the Kahului AP, it was 83 and windy, with 59 degrees up at the summit of the Haleakala Crater. Everywhere from the top down to sea level, our mostly sunny conditions continue…with just a smattering of cumulus clouds here and there.


As we head through this sunset hour, skies remain clear, clear, clear. Earlier in the afternoon while I was out on my second walk of the day, I could see all of the slope on this leeward side of Haleakala, which is unusual…as there are typically clouds masking the view from here in Kula.


This evening after dark, after the mostly day, I see that clouds have formed along the slopes. I can still see stars shining in the cloud breaks, so it's not a solid overcast by any means…although nor does it feel anything like we might see a few showers. The temperature at 816pm was 60.2 degrees.


Broad Brush Overview: High pressure remains in place north of the state, which will keep gusty trades blowing through the weekend. Showers will favor windward areas, particularly at night and during the early morning hours. A few showers may be carried into leeward areas from time to time as well.


These trades will soften a little early next week, as a trough of low pressure develops along a stalled front north of the state. Showers may increase a bit heading into the middle of next week, as some deeper moisture moves in from the east…and upper level troughing arrives over the state then.


Details: High pressure will remain parked north of the state of Hawaii through the weekend, keeping the trade winds blowing across the island chain. The trades are expected to ease to moderate levels early next week…as a trough of low pressure develops north of the state.


The springtime trade wind weather pattern of late, will prevail through the weekend, and likely into early next week. Passing showers will favor windward and mountains, with a stray shower reaching leeward areas from time to time. Rainfall amounts will remain light through the period.


Here's a near real-time Wind Profile of the Pacific Ocean – along with a Closer View of the islands / Here's the latest Weather Map


Marine Environmental Conditions: Moderate to strong trade winds associated with a ridge anchored north of the state, will continue through the weekend. Strongest winds are expected over the channels, Maalaea Bay and waters near South Point of the Big Island. Seas will remain rough over these windier areas, as a moderate north-northwest swell fills in.

Surf along exposed north and west facing shores will trend up as a north-northwest swell builds down the island chain. The offshore buoys northwest of the islands are reflecting this new energy. This swell will peak, then lower into Thursday. A very similar setup is expected to fill in locally by Friday and Saturday as back-to-back small north-northwest swells build down the island chain.

Surf along east facing shores will remain rough due to the gusty trades. Heights will remain below the advisory level due to the limited fetch upstream across the eastern Pacific.

Surf along south facing shores will remain small each day, with southerly swells expected.

 Great weather we're having these days!


World-wide Tropical Cyclone Activity





>>>

Here's a link to the latest Pacific Disaster Center's Weather Wall


>>> Atlantic Ocean: There are no active tropical cyclones
Latest satellite image of the Atlantic
>>> Caribbean Sea: There are no active tropical cyclones
>>> Gulf of Mexico: There are no active tropical cyclones

Latest satellite image of the Caribbean Sea and the Gulf of Mexico
>>> Eastern Pacific: There are no active tropical cyclones
>>> Northwest Pacific Ocean: There are no active tropical cyclones
>>> South Pacific Ocean: There are no active tropical cyclones

>>> North and South Indian Oceans / Arabian Sea: There are no active tropical cyclones


Interesting: Admiralty Island: "Fortress of the Bears" – In the language of the Tlingit people, Admiralty Island's original name—Kootznoowoo—means "Fortress of the Bears." It is a fitting name for a place with one of the highest densities of brown bears in North America. The bears—roughly 1,500 in an area the size of Delaware—thrive in the island's dense spruce and hemlock forests and alpine meadows.

However, years of logging and ecosystem change near a cove in the northwestern part of the otherwise pristine island have left their mark. During a period of logging in the 1980s and 1990s, old-growth forests in certain stream and lake valleys were stripped bare. The changes near Cube Cove altered the island's coastal temperate rainforest ecosystem, requiring that bears—and several other types of wildlife—make adjustments. In addition to having some of the world's most productive bald eagle habitat, the forests and waterways around Cube Cove support deer, otters, martens, minks, and many types of other birds and fish.

Year by year, the clear-cut areas around Lake Kathleen, Lake Florence, and several stream drainages have grown thicker and greener. But even as these regrowing forests start to fill in where old-growth forests once stood, people who know Admiralty Island well say the newer forests are still of a very different character than those they are replacing. "This area will slowly return to supporting wildlife, but it will take at least 200 years—maybe 300—before these newer forests can provide the high-quality habitat conditions of old-growth forests," said KJ Metcalf, a retired U.S. Forest Service ranger for the Tongass National Forest and president of Friends of Admiralty Island. "But at least the forests have taken their first steps toward recovery."

One of the key differences between old-growth forests on Admiralty Island and the secondary forests is the size and age distribution of trees. After clear-cutting, secondary forests grow back with closely packed trees that are all roughly the same size and age. At certain stages of regrowth, the young trees become so tightly packed that they can block wildlife from passing, a problem for bears and deer that move between alpine and coastal ranges depending on the season.

At other stages, the leaf canopy becomes so dense that it blocks most light, preventing moss, lichens, shrubs, and other understory vegetation—forage for many types of wildlife — from growing on the forest floor. In future decades, gaps will open up in the forest canopy as winds, disease, and insects cause some trees to die and allow for a better distribution of tree sizes and ages and more under story.

"I can not emphasize how productive these drainages were and the key role they once played in connecting the high country to the coastline." said Metcalf. "For this part of Admiralty, that value has unraveled and remains broken, despite the regrowth. In time, fortunately, that will heal."
Leave a Reply