Air Temperatures – The following high temperatures (F) were recorded across the state of Hawaii Saturday…along with the low temperatures Saturday:

87 – 69  Lihue, Kauai /
86 – 72  Honolulu, Oahu /
87 – 67  Molokai AP
90 – 68  Kahului AP, Maui /
84 – 71  Kona AP, Hawaii
89 – 67  Hilo, Hawaii /

Here are the latest 24-hour precipitation totals (inches) for each of the islands Saturday evening:

0.19  Waiakoali, Kauai
0.01  Manoa Lyon Arboretum, Oahu
0.00  Molokai
0.07  Lanai
0.00  Kahoolawe
0.30  Mahinahina, Maui
0.77  Papaikou Well, Big Island
The following numbers represent the strongest wind gusts (mph) Saturday evening:

18  Nawiliwili, Kauai
17  Kuaokala, Oahu
12  Molokai
12  Lanai
17  Kahoolawe
18  Maalaea Bay, Maui
18  Nene Cabin, Big Island
Hawaii's Mountains – Here's a link to the live webcam on the summit of our tallest mountain Mauna Kea (~13,800 feet high) on the Big Island of Hawaii. Here's the webcam for the ~10,023 feet high Haleakala Crater on Maui. These webcams are available during the daylight hours here in the islands, and at night whenever there's a big moon shining down. Also, at night you will be able to see the stars, and the sunrise and sunset too…depending upon weather conditions.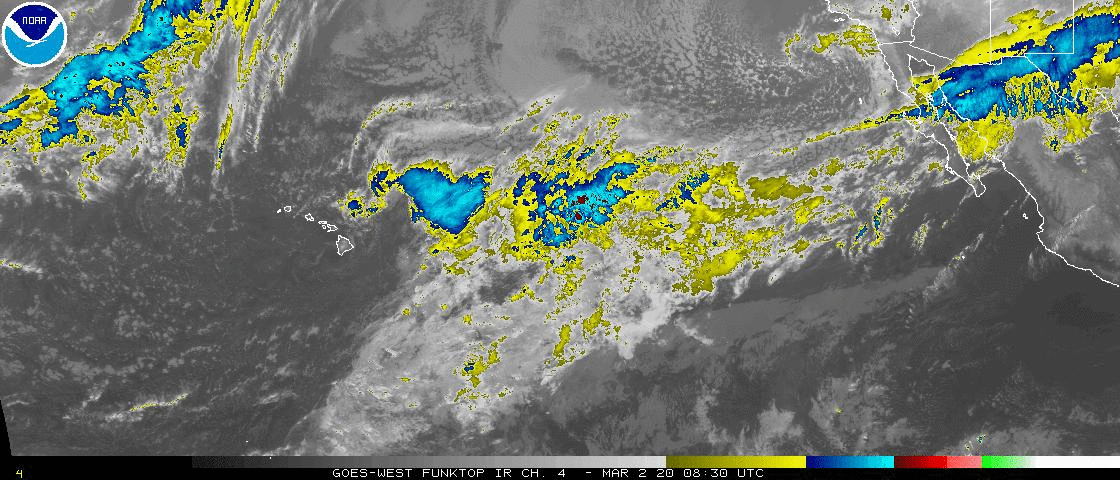 A weak autumn cold front is approaching to our northwest
(click on the images to enlarge or animate them)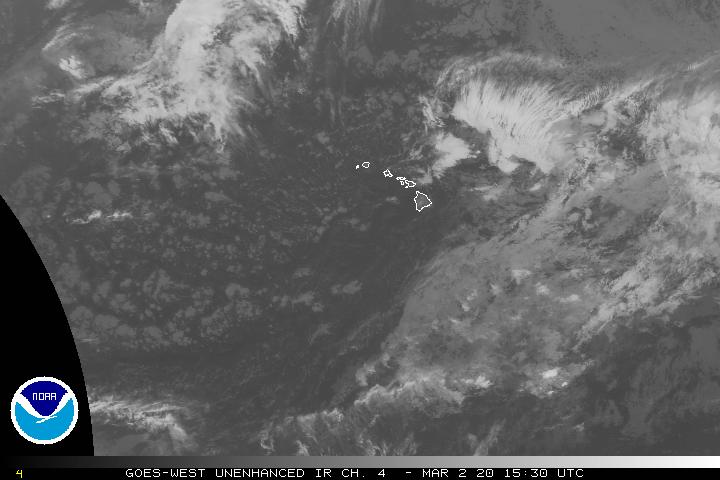 Thunderstorms…well offshore to the northeast and south


Clear to partly cloudy…some cloudy areas too


Showers falling locally
Looping image
There are no watches, warnings, or advisories at this time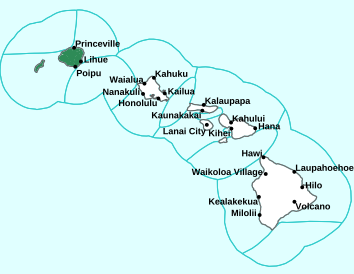 ~~~

Hawaii Weather Narrative

~~~

Broad Brush Overview: Light and variable winds will continue for the next several days. Showers will tend to favor interior and mountain areas during the afternoon and evening hours. A weakening cold front will reach Kauai Sunday. Increasing clouds and showers will likely accompany the front especially for Kauai and possibly Oahu. Light trade winds may return toward the middle of next week.
Details: Satellite imagery shows a weak cold front northwest of Kauai, slowly approaching the island chain. A large area of low pressure continues to linger just north of the state. Meanwhile, a strong high pressure system parked off the west coast of the U.S., will continue to block low pressure systems from moving into the East Pacific over the next few days.
This blocking pattern will keep an area of low pressure north of the island chain, keeping the ridge weak, and keeping light and variable winds in place. Daytime heating over the land will prompt sea breezes over island interiors. Look for upcountry clouds building through the afternoon, with scattered showers possible into the early evening. Overnight land breezes will clear out cloud coverage and shower activity.
The weakening autumn cold front will continue to drift towards the state of Hawaii. Although, a lack of any steering flow aloft will slow the movement of this relatively weak front as it reaches Kauai Sunday. Weather models show the frontal cloud band stalling near Kauai or even Oahu Sunday through Monday morning…with  associated showers falling along the frontal band.
There are still indications that some of the unstable clouds and showers may drift into Oahu by Sunday afternoon and evening. The precipitation enhancement for Oahu will depend upon the final position of the cold front, as the forward motion may stall over the Kauai channel. Elsewhere some prefrontal showers may develop over the Big Island Sunday afternoon.
Looking Further Ahead: This front will weaken by Wednesday and then lift slowly westward, as a weak high pressure ridge builds back into the area from the East. A light easterly trade wind flow will develop, and interact with the local scale land and sea breeze weather pattern. Windward and mountain showers will increase slightly Wednesday through Friday…as light trades interact with the sea breezes.
Here's a near real-time Wind Profile of the Pacific Ocean – along with a Closer View of the islands / Here's the latest Weather Map

Marine Environmental Conditions: A cold front will approach the islands from the northwest, then stall in the vicinity of Kauai Sunday through Monday. This will keep mainly light winds in place across the marine area. High pressure will build north of the state Tuesday through Friday, and this should bring a return of light to moderate trade winds. Winds are expected to remain below Small Craft Advisory (SCA) levels during the next week.
A series of small northwest swells will maintain small surf along north and west facing shores. A new large northwest swell will arrive late Sunday and Sunday night, peak Monday, then slowly lower through much of next week. This swell is expected to bring advisory level surf to most north and west facing shores Sunday night through Monday night, as well as SCA level seas to the coastal waters exposed to this swell.
A small rise out of the south-southwest is expected along south facing shores. A couple overlapping moderate sized south swells could bring a notable boost to south shore surf late next week into next weekend. East shore surf will remain well below seasonal levels during the next week.
The weekend's here!



World-wide Tropical Cyclone Activity
Here's a link to the latest Pacific Disaster Center's
Weather Wall
>>> Atlantic Ocean:  There are no active tropical cyclones

Latest satellite image of the Atlantic
>>> Caribbean Sea: There are no active tropical cyclones
>>> Gulf of Mexico: There are no active tropical cyclones

Latest satellite image of the Caribbean Sea and the Gulf of Mexico
>>> Eastern Pacific: There are no active tropical cyclones
Here's an animated color enhanced satellite image of the central and eastern Pacific
>>> Northwest Pacific Ocean: 

Tropical Cyclone 24W (Halong)

Sustained winds are 40 knots with gusts to 50 knots…as of Warning 3
Here's what the computer models are showing
>>>

South Pacific Ocean: There are no active tropical cyclones


>>>

North and South Indian Oceans / Arabian Sea:


Tropical Cyclone 05A (Maha)

Sustained winds are 65 knots with gusts to 80 knots…as of Warning 16
Here's what the computer models are showing
Interesting: My search for the best fried chicken in New York…When a Southerner gets homesick, the details matter. By Schuyler Velasco — When I decided to find the best fried chicken in the East Village, I was listening to my mother on the phone from my parents' house near Jacksonville, griping about the cold. She had to bring the plants inside, she whined. There was frost on the windshield. For three nights in a row, the temperature had fallen below 40 degrees.
Normally I'd agree — a brutally frigid stretch. But at that moment, 40 degrees sounded downright tropical. I'm a fourth-generation Floridian on both sides, and until that October, I had never owned a scarf. Now, in January, I was headlong into my first real winter.
I had moved to Manhattan for grad school and found it thrilling and disorienting in the usual ways. But the cold made me unbearably homesick, and it threw the more minor differences between New York and northern Florida into sharper relief. Wearing a jacket every day exacerbated the claustrophobia brought on by tightly-packed streets and buildings. I missed Spanish moss and vast, winding oak trees. I missed decent oranges. I missed calling people "ma'am," and driving on wide, straight roads.
I also missed Southern food. I was in the self-proclaimed "food capital of the world." Maybe finding one great plate of fried chicken would anchor me in place, give me something familiar in a sea of newness, help me survive New York.
My love for fried chicken is passed down from my mother, and the two of us are veritable connoisseurs on the matter. We share a set of precise, unflinching criteria:
• Boneless chicken doesn't count. Chicken nuggets aren't fried chicken, nor are chicken sandwiches.
• The skin should be crispy, like a first bite of cereal, to provide a proper contrast to the overwhelming juiciness contained within.
• A little spice is crucial; cayenne offers the best flavor.
• It has to be served scalding hot; the average mortal should have to wait at least 2 minutes or so for the chicken to cool to an edible temperature.
At first glance, finding the perfect fried chicken didn't look like it would be too tough. This was 2009, and Southern-inspired food joints were becoming New York trendy. High-end restaurants like Momofuku and Locanda Verde were booking $50-a-plate fried chicken dinners months in advance.
But in the South, the best and messiest fried chicken tends to come from the most desolate, remote places: roadside stands, the back ends of gas stations, run-down shacks off forgotten highway exits. For that reason, I refused to rely on Yelp!, instead starting with the fried chicken closest to my apartment and working my way out.
The first stop was Kennedy's, a justifiably obscure fast food chain on 14th Street between Avenue A and Avenue B. Beware of food joints boasting multiple cuisines. Kennedy's, according to its signage, also served hamburgers, seafood, and ice cream. The chicken was an alarming reddish-brown color, and the meat was completely raw near the bone. A sense of grease-laden regret is part of the fried chicken experience, but fear of salmonella should never enter the picture.
As bad as Kennedy's was, it didn't offer up the particular flavor of seasonal affective despair brought on by Mama's Food Shop on 6th Street and Avenue B. Mama's menu was full of the New York approximation of soul food that you typically got in those early days of Southern food's national takeover. The chicken seemed fine at first — temperature, crispiness, juices — but something wasn't quite right. I realized that the slightly acrid aftertaste I was picking up in the skin was rosemary.
That rosemary threw me into a fit. It was a small thing, but it was everything wrong with Mama's fried chicken. It was everything wrong with New York. The city felt, in that moment, like a poor imitation of a million places — like Epcot Center at Disney World, with all the little countries lined up on a half-mile loop: Norway next to China, China next to Mexico. A Moroccan walking through Epcot's Morocco feels farther from home than ever. Mama's Food Shop's rosemary fried chicken left me more homesick than no fried chicken at all.
This was the epiphany, the tragedy, of my fried chicken quest: The real existential longing sneaked up in the small stuff. It was in fried chicken dinners served with instant mashed potatoes that (even worse) came without gravy; in "biscuits" that weren't biscuits at all, but pre-packaged dinner rolls. There wasn't a drop of sweet tea for miles. More than even the relentless cold, the devil of my missing home was in the details.
October 31st, 2019 at 8:50 pm
David Sutton Says:

Aloha Glenn,

A couple nights ago those of us on part of Kauai's north shore were treated to lots of lightening flashing over the ocean, but no thunder. These rather large flashes continued until at least 5am. Do you have some insight into what causes this and why there is no thunder?

Best, David

~~~ Hi David, that sounds like quite a spectacular electrical storm…offshore from Kauai all night. My first impression would be to say that there was obviously lightning, which can be seen a long distance, as opposed to thunder, which was too far away to be heard. In addition, the surf along the north shore of Kauai was large a couple of nights ago, and those loud crashing waves may have helped to drown out the sound of the thunder too.

I always consider it a special treat to have thunderstorms close enough to see lightning, and doesn't happen often enough for my likes.

Thanks for your good question.

Aloha, Glenn

October 30th, 2019 at 4:59 pm
Douglas MacDougal Says:

Aloha Glenn,
Technology?! Keeping it simple….. a Nightcap, worn or otherwise, seems to work for me. Hope all is well with you.
Douglas

~~~ Hi Douglas, chuckling…good one!

Aloha, Glenn

October 30th, 2019 at 1:17 am
Jay Says:

Enjoyed the sleep article, so important…what a beautiful photo…Na Pali Coast Kauai?…from helicopter?

~~~ Hi Jay, I'm glad you enjoyed the interesting sleep article. Indeed, that photo of the north coast of Kauai is terrific…I totally agree. Yes, the picture was taken from an aircraft not far offshore.

Aloha, Glenn
Leave a Reply