Air Temperatures – The following high temperatures (F) were recorded across the state of Hawaii Monday…along with the low temperatures Monday:

90 – 82  Lihue, Kauai /
92 – 81  Honolulu, Oahu /
91 – 80  Molokai AP
93 – 78  Kahului AP, Maui  
89 – 78  Kona AP, Hawaii
85 – 74  Hilo, Hawaii

Here are the latest 24-hour precipitation totals (inches) for each of the islands Monday afternoon:

0.31  Mount Waialeale, Kauai
0.59  Schofield East, Oahu
0.25  Molokai
0.00  Lanai
0.00  Kahoolawe
0.51  West Wailuaiki, Maui
1.29  Kealakekua, Big Island
The following numbers represent the strongest wind gusts (mph) Monday afternoon:

31  Port Allen, Kauai
35  Kuaokala, Oahu
33  Molokai
32  Lanai
40  Kahoolawe
42  Maalaea Bay, Maui
36  PTA Keamuku, Big Island
Hawaii's Mountains – Here's a link to the live webcam on the summit of our tallest mountain Mauna Kea (~13,800 feet high) on the Big Island of Hawaii. Here's the webcam for the ~10,023 feet high Haleakala Crater on Maui. These webcams are available during the daylight hours here in the islands, and at night whenever there's a big moon shining down. Also, at night you will be able to see the stars, and the sunrise and sunset too…depending upon weather conditions.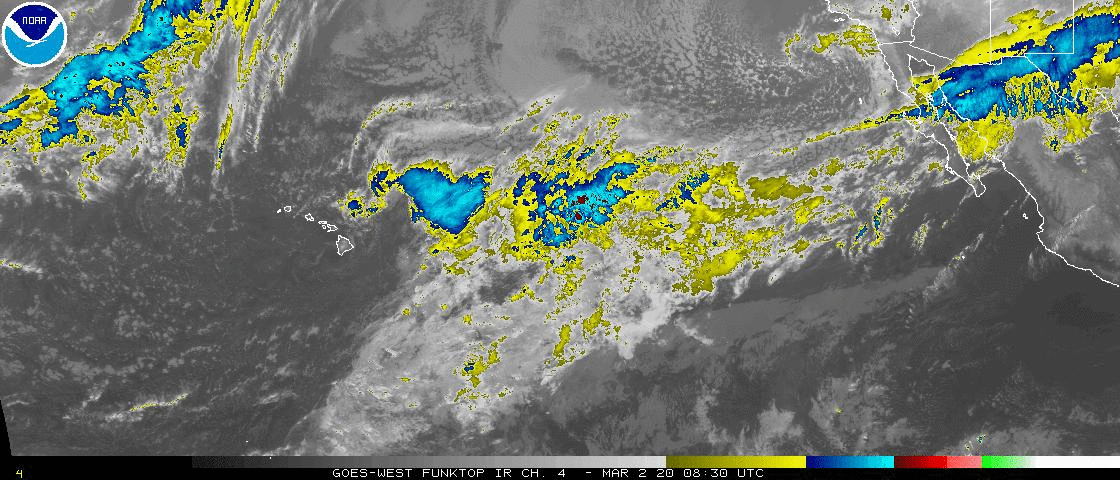 There are no tropical cyclones in our central Pacific
(click on the images to enlarge or animate them)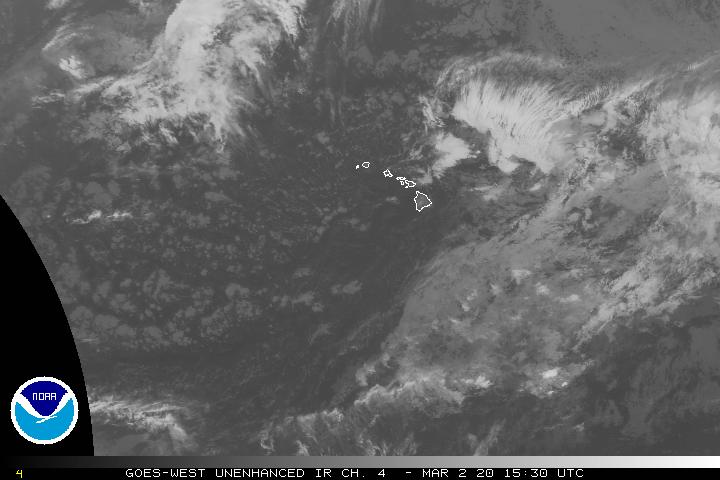 Thunderstorms west…sending high clouds over parts of the state


Clear to partly cloudy…some cloudy areas


Showers locally…mostly windward and offshore
Looping image
Small Craft Advisory…pink color below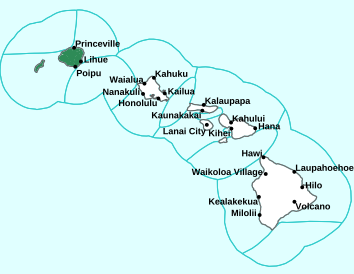 ~~~

Hawaii Weather Narrative

~~~

Broad Brush Overview: The trades will continue through Tuesday, then gradually soften through the rest of the week. Clouds and showers will favor windward and mountain locations as usual. The exception will be over the leeward areas of the Big Island, where afternoon and evening clouds and showers will fall locally. Warm and humid conditions will return Friday into the weekend as the winds ease.
Details: A moderately strong high is centered far north-northeast of Hawaii, while former Tropical Cyclone Akoni passes far southwest of the state. The tight pressure gradient between these two features is prompting gusty trades over our area. Meanwhile, clouds and showers are arriving with the breezy trades, and focusing over the windward sides, occasionally reaching leeward sides of the smaller islands.
The models show these active trades holding, as former Akoni passes to the southwest, and high pressure remains positioned to the north. Low clouds and off and on showers will favor windward and mountain locations, most often through the overnight and early morning hours. Afternoon clouds and showers are possible along the Kona coast and leeward Haleakala…as the sea breezes lift clouds into the upcountry areas.
Looking Further Ahead: Models go on to  show the gradient relaxing over the area, as the ridge weakens to the north and former Akoni continues westward. Trades will respond and trend down into the moderate range through the second half of the week. A localized land and sea breeze pattern will become a possibility by the weekend, as remnants of former Hurricane Juliette pass by far north of the state. If this scenario materializes…warm and humid conditions can be expected.
Here's a near real-time Wind Profile of the Pacific Ocean – along with a Closer View of the islands / Here's the latest Weather Map

Marine Environmental Conditions: High pressure far north of the state will maintain moderate to strong trades, then gradually weaken through mid-week. Moderate to locally strong trades are expected during the second half of the week. The trades are expected to drop to below small craft levels the near-shore waters by Wednesday.
A combination of south-southwest and southeast swells from former Akoni will continue to produce above average surf along south facing shores through Tuesday. There is also a small east swell, from the remnants of Juliette. Along with the breezy trades, surf along east facing shores will be just below advisory level…then gradually dropping through the week. Minimal swells are expected along north facing shores through the week…with a small northwest swell possible over the weekend.



World-wide Tropical Cyclone Activity



>>> Here's Tuesday's Pacific Disaster Center (PDC) Weather Wall Presentation covering the eastern, central, and western Pacific Ocean, the Indian Ocean, and the Arabian Sea, covering retiring Tropical Cyclone 14W (Faxai), and a tropical disturbance in the western Pacific…and two in the eastern Pacific

>>> Here's the latest Pacific Disaster Center (PDC) Weather Wall Presentation covering the Atlantic Ocean, the Caribbean Sea, and the Gulf of Mexico…including Tropical Cyclone 08L (Gabrielle)…and two tropical disturbances


>>> Atlantic Ocean: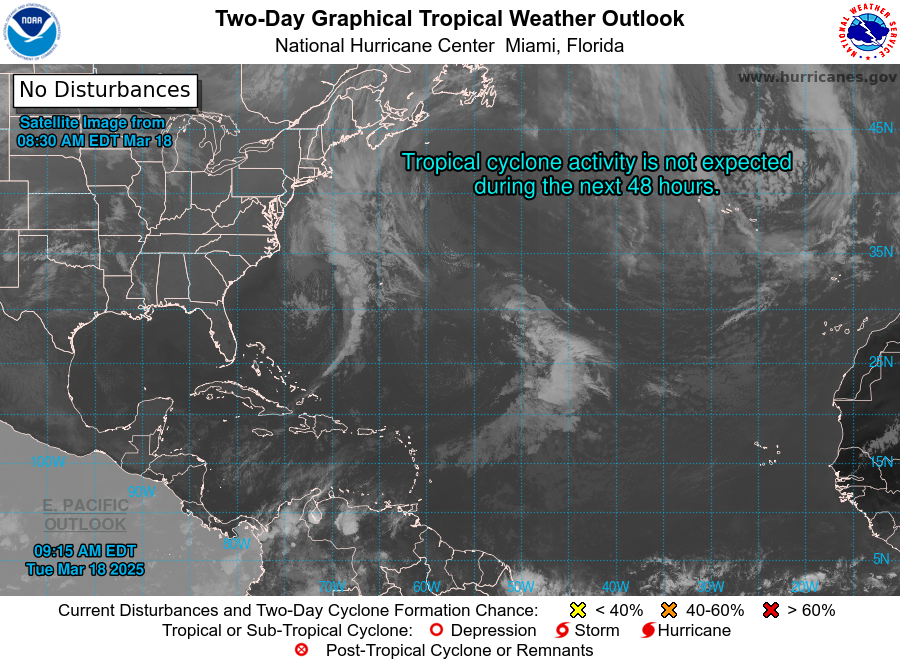 Tropical Cyclone 08L (Gabrielle)

Here's what the computer models are showing
Maximum sustained winds are near 50 mph with higher gusts…according to advisory 28

According to the NHC, Gabrielle is moving toward the northeast near 25 mph, and this general motion with an increase in forward speed is expected over the next couple of days. Little change in strength is forecast this morning, but a weakening trend is likely to begin tonight or Tuesday. Gabrielle is expected to become an extratropical low this morning and dissipate over the far North Atlantic near the northern British Isles on Thursday. Tropical-storm-force winds extend outward up to 125 miles from the center.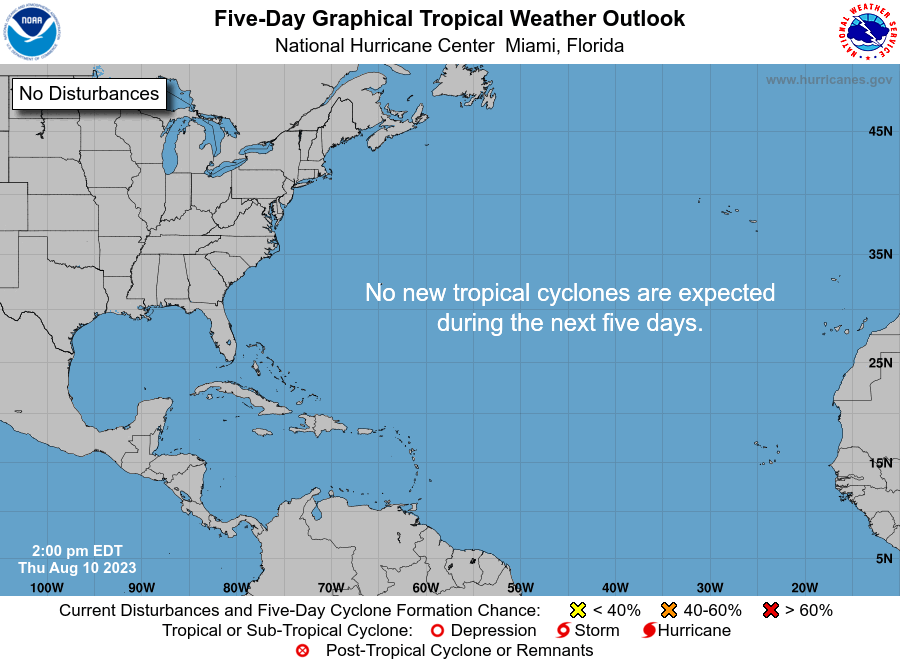 1.) A weak area of low pressure, associated with a tropical wave located a little more than 900 miles east of the Lesser Antilles is producing disorganized showers and thunderstorms. Although some slight development of this system is possible today or tomorrow, by Thursday, upper-level winds are forecast to become unfavorable for tropical cyclone formation. This disturbance is expected to move slowly westward across the tropical Atlantic Ocean for the next several days.
* Formation chance through 48 hours…low…20 percent
* Formation chance through 5 days…low…20 percent
3.) A tropical wave located just off the west coast of Africa is expected to move quickly westward during the next several days. Some slow development is possible late this week and over the weekend when the system is several hundred miles east of the Lesser Antilles.
* Formation chance through 48 hours…low…near 0 percent
* Formation chance through 5 days…low…20 percent
Latest satellite image of the Atlantic
Here's the link to the National Hurricane Center (NHC)
>>> Caribbean Sea: There are no active tropical cyclones
2.) Shower activity associated with a surface trough interacting with an upper-level low near the north coast of Hispaniola northeastward over the southwestern Atlantic has increased a little since yesterday. Little, if any, development of this disturbance is expected during the next few days while it moves west-northwestward across the Bahamas and the Florida peninsula. However, environmental conditions could become a little more conducive for development when the system moves into the Gulf of Mexico over the weekend. Regardless of development, this disturbance will produce periods of locally heavy rainfall across the Bahamas through Thursday, and across Florida on Friday and continuing into the weekend.
* Formation chance through 48 hours…low…near 0 percent
* Formation chance through 5 days…low…30 percent
Here's a satellite image of the Caribbean Sea…and the Gulf of Mexico
>>> Gulf of Mexico: There are no active tropical cyclones

Latest satellite image of the Gulf of Mexico
>>> Eastern Pacific: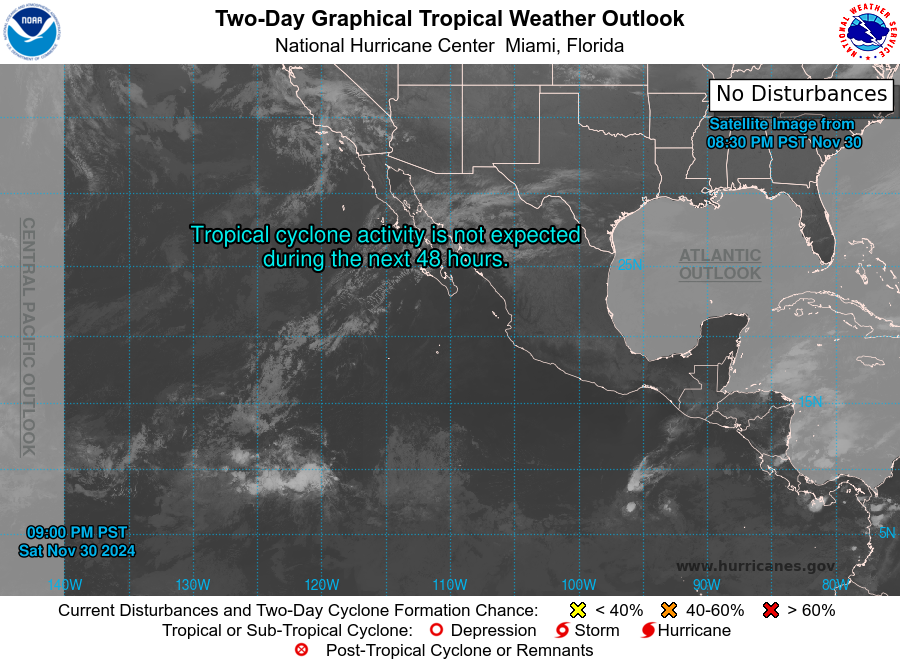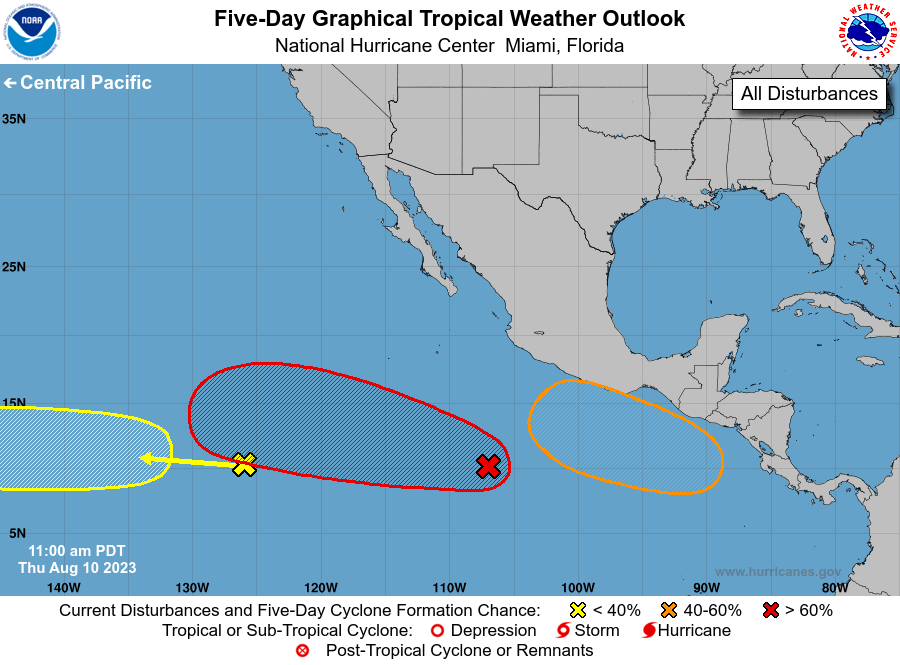 1.) A large and disorganized area of showers and thunderstorms located several hundred miles southwest of Acapulco, Mexico, is associated with a broad area of low pressure. Environmental conditions are expected to be conducive for development, and a tropical depression is likely to form within the next few days while the system moves west-northwestward at 10 to 15 mph.
* Formation chance through 48 hours…medium…60 percent
* Formation chance through 5 days…high…90 percent
2.) An area of low pressure is expected to form more than 1000 miles to the southwest of the southern tip of the Baja California Peninsula by late this week. Some additional slow development is possible as the system moves slowly westward.
* Formation chance through 48 hours…low…near 0 percent
* Formation chance through 5 days…low…20 percent
Here's an animated color enhanced satellite image of the central and eastern Pacific
Tropical Cyclone 14W (Faxai) – Final Warning

Here's what the computer models show
>>> South Pacific Ocean: There are no active tropical cyclones
>>> North and South Indian Oceans / Arabian Sea: There are no active tropical cyclones


Interesting: The Voracious and Invasive Lionfish Is Taking Over the Atlantic. Here's Why — One of the most notorious invasive species around, the lionfish, is known for its voracious appetite and can literally eat its competitors out of an ecosystem. And that's what the striking fish is doing, feasting its way through waters that stretch from the Gulf of Mexico to the Eastern Seaboard.
Now, scientists and startups are crafting methods for capturing and killing the hungry invaders. But while these new ideas show promise, tried-and-true spearfishing seems to be the most effective way to eradicate lionfish.
"It's actually hard to describe how a lionfish eats because they do it in a split second," said Kristen Dahl, a postdoctoral researcher at the University of Florida. Lionfish use a complex series of tactics that no other fish in the world is known to employ. In the blink of an eye, a lionfish goes from silently hovering above its prey to flaring its fins, firing a disorienting jet of water from its mouth, unhinging its jaw and swallowing its meal whole, scientists reported in a study published in 2012 in the journal Marine Ecology Progress Series. The attacks happen so quickly that nearby fish don't seem to notice.
"It's actually nice when I'm looking at gut contents," Dahl said, "because if something has been freshly eaten, it's in immaculate condition."
New fish on the block
Lionfish (Pterois volitans) are one of the most notorious invasive species in the United States. Their bold colors and frilly fins make lionfish popular in the aquarium trade; over the past 25 years or so, it seems aquarium fish owners have sometimes dumped unwanted lionfish — which are native to the Indo-Pacific region — into the Atlantic Ocean, according to the National Oceanic and Atmospheric Administration (NOAA). Their popularity in the aquarium trade has also spurred several breeding programs.
Lionfish are fast and powerful, but their biggest advantage is novelty. Atlantic prey fish simply don't know what's going on. Biologists call this phenomenon prey naivete, and they believe it is largely responsible for the lionfish's dramatic success as an invader.
Since the first breeding populations were spotted off the coast of North Carolina in 2000, lionfish have rapidly overtaken coastal environments in the Atlantic Ocean, Gulf of Mexico and the Caribbean Sea.
"Sightings increased rapidly in 2004 along the Atlantic seaboard of the United States," according to Pam Schofield, research fishery biologist at the U.S. Geological Survey.
"Lionfish sightings quickly spread throughout the Caribbean and then the Gulf of Mexico," Schofield, who tracks non-native marine fish in U.S. waters. There are now breeding populations in the coastal waters of Venezuela, throughout the coastal Caribbean and the Gulf of Mexico. On the Eastern Seaboard, breeding populations extend into North Carolina, and stray individuals are seen as far north as Massachusetts, Schofield said. Reports of lionfish sightings have tapered off since their peak in 2010, but that's probably not because their populations have decreased — lionfish are so pervasive that spotting one is no longer noteworthy.
Managing an invasion
Lionfish aren't easily caught when traditional fishing techniques are used, so a number of research groups and startup companies are developing novel tools for managing the invasion. These include specially designed traps that lure in lionfish while sparing native species, remotely operated vehicles that allow a human pilot to remotely spear lionfish and autonomous hunting vehicles that use artificial intelligence to find the fish themselves. While some progress has been made in new technologies, spear guns used by scuba divers still seem to be the tool that's most effective tool at killing them, Dahl said.
Florida's Fish and Wildlife Conservation Commission, a leader in lionfish management, has a number of incentive programs to entice recreational and commercial scuba divers to harvest lionfish, according to the FWC. The lionfish derby is one of the most successful management tools being used today. At a derby, spearfishing divers spend a day working together to remove as many lionfish as they can. At the larger derbies, organizers award prizes to the teams or individuals who catch the biggest, smallest or most lionfish. "The derbies are a good opportunity to educate people about the lionfish and about the danger of releasing aquarium fish into the wild," Dahl said. She's worked and volunteered at dozens of derbies. "If enough people learn about this invasion, maybe there won't be another 'lionfish.'"
Culling lionfish one by one will never eliminate the species from the Atlantic, but it can help mitigate their effects. While a single lionfish can eat a lot of native fauna, lionfish wreak havoc on a reef only after their populations reach a certain density, researchers reported in 2014 in the journal Ecological Applications. And the incentives seem to be working. At a handful of popular dive sites in the Florida Keys, recreational divers are so diligent in culling invasive lionfish that it is unusual to see a single one, according to several dive tour operators.
Scientists knew from the start that population growth would eventually taper off as lionfish populations reach the point at which there's no more food or habitat to support additional individuals. But the number of lionfish in parts of the Gulf of Mexico where Dahl and her colleagues have tracked their populations for several years have actually declined. It's too early to say what's behind the change, but Dahl points to a poorly understood parasitic skin lesion that "has put a dent in their population."
Now, less than two decades since the invasion began, ecologists are still trying to learn enough about lionfish to manage the new invasion.
"We're not sure if [the population decline] is going to last or if it's a boom-bust population cycle," Dahl said. "It could be a little bit of both. We aren't really sure."
Leave a Reply