Air Temperatures – The following high temperatures (F) were recorded across the state of Hawaii Thursday…along with the low temperatures Thursday:

85 – 76  Lihue, Kauai
90 – 77  Honolulu, Oahu
87 – 75  Molokai AP
87 – 73  Kahului AP, Maui 
87 – 73  Kona AP, Hawaii
85 – 69  Hilo, Hawaii

Here are the latest 24-hour precipitation totals (inches) for each of the islands Thursday evening:

0.04  Mount Waialeale, Kauai
0.04  Moanalua RG, Oahu
0.01  Molokai
0.01  Lanai
0.01  Kahoolawe
0.03  West Wailuaiki, Maui
0.32  Puho CS, Big Island
The following numbers represent the strongest wind gusts (mph) Thursday evening:

24  Port Allen, Kauai
27  Kuaokala, Oahu
21  Molokai
23  Lanai
31  Kahoolawe
30  Maalaea Bay, Maui
27  Kealakomo, Big Island
Hawaii's Mountains – Here's a link to the live webcam on the summit of our tallest mountain Mauna Kea (13,803 feet high) on the Big Island of Hawaii. Here's the webcam for the 10,000+ feet high Haleakala Crater on Maui. These webcams are available during the daylight hours here in the islands, and at night whenever there's a big moon shining down. Also, at night you will be able to see the stars, and the sunrise and sunset too…depending upon weather conditions.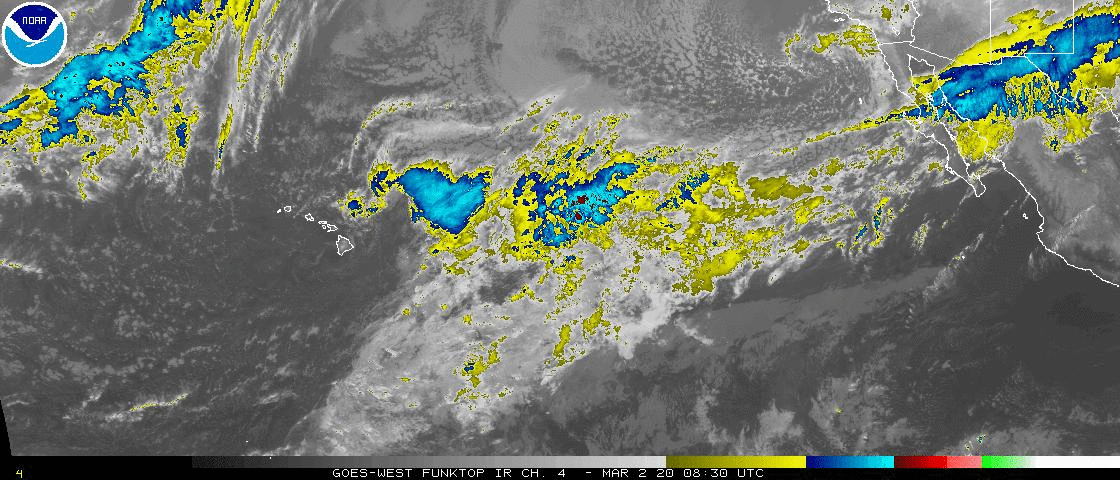 Higher level clouds to our northwest and west…will move over the state at times
(click on the images to enlarge them)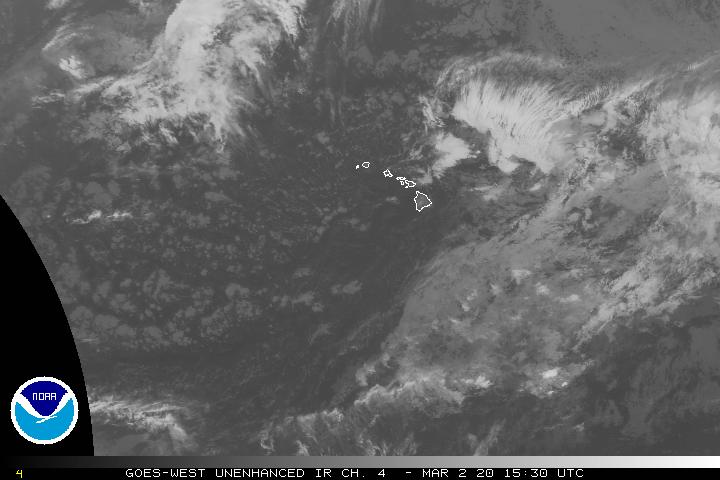 Thunderstorms well offshore…to the southwest, southeast and northwest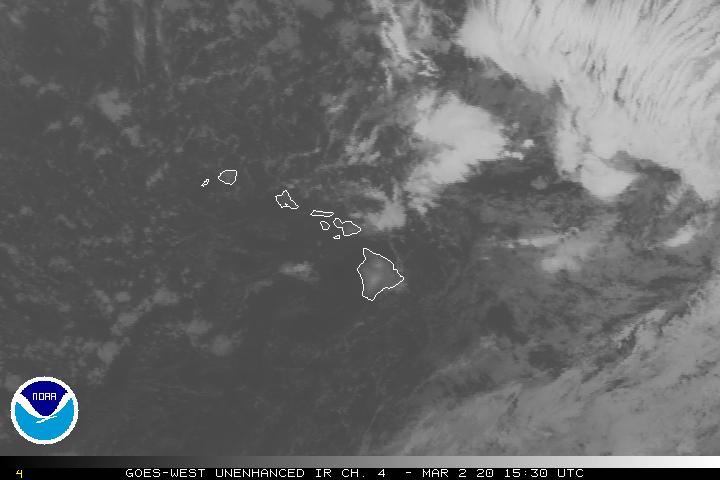 Partly to mostly cloudy…clear areas locally


Just a few showers locally – Looping image
There are no watches, warnings, or advisories at this time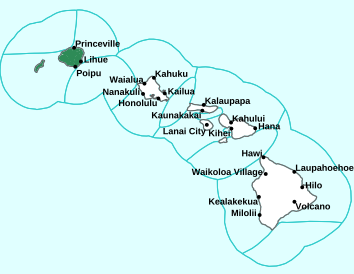 ~~~

Hawaii Weather Narrative

~~~
Broad Brush Overview: Moderately strong trade winds will carry clouds and passing showers across windward areas for the most part. These very late spring trade winds will weaken and shift southeast Friday through early next week, leading to daytime sea breezes, isolated upcountry showers…and increasingly muggy conditions.
>>> Maui News story on the recent heat
Details: Our winds will shift southeast and decrease Friday into the weekend. The trades will hold for the time being at moderate strength, then a sea and land breeze pattern will develop Friday through the weekend. The models go on to suggest lighter winds holding through the middle of next week…with land and sea breezes continuing in leeward areas.
As the trades diminish and the low level flow shifts southeast, showers will favor windward areas and locations near the coast tonight and Friday morning, and interior and leeward areas during the afternoon hours Friday. A fairly dry pattern should then hold in place Friday night through the weekend, with a few showers possible near the coast at night and a few showers developing over the island interiors each afternoon.
Looking Further Ahead: The weather outlook becomes a bit more uncertain next week, although with the lighter wind regime looking quite likely, showers should favor windward and mountain areas during the mornings, and interior and leeward areas during the afternoon and evening hours. No significant rainfall is expected through this extended period…nor any tropical cyclones.
Here's a near real-time Wind Profile of the Pacific Ocean – along with a Closer View of the islands / Here's the latest Weather Map

Marine Environmental Conditions: Moderately strong trades will hold, then begin to weaken tonight through Friday, as the ridge shifts southward into the area. This transition will allow the low-level flow to shift to the southeast direction, likely giving way to localized land and sea breeze conditions near the coasts Friday through early next week.
Surf along south facing shores will remain small through early next week, with mainly a combination of southeast trade wind energy and overlapping southerly swells moving through.
A decent south swell will become a possibility at the end of the month through the first couple of days in July.
Small to moderate surf will hold along east facing shores, then trend down Friday as the trades ease. An upward trend, however, is anticipated over the weekend as a northeast swell, from over the northeast Pacific moves through. Heights should remain below the advisory level for east facing shores through the peak this weekend.
Fire weather: Fuel conditions are drier than normal, although we're still not expected to reach all the Red Flag thresholds (wind will likely be the limiting factor), although conditions will be dry and somewhat gusty, resulting in increased fire danger. Decreasing winds and increasing relative humidity values Friday onward…will diminish these concerns a bit.



World-wide Tropical Cyclone Activity



>>> Here's the latest Pacific Disaster Center (PDC) Weather Wall Presentation covering the eastern, central, and western Pacific Ocean, the Indian Ocean, and the Arabian Sea

>>> Here's the latest Pacific Disaster Center (PDC) Weather Wall Presentation covering the Atlantic Ocean, the Caribbean Sea, and the Gulf of Mexico

>>> Atlantic Ocean: There are no active tropical cyclones
Tropical cyclone formation is not expected during the next 5 days
>>> NOAA's Climate Prediction Center is predicting that a near-normal Atlantic hurricane season is most likely this year. This outlook forecasts a 40% chance of a near-normal season, a 30% chance of an above-normal season and a 30% chance of a below-normal season. The hurricane season officially extends from June 1 to November 30.
For 2019, NOAA predicts a likely range of 9 to 15 named storms (winds of 39 mph or higher), of which 4 to 8 could become hurricanes (winds of 74 mph or higher), including 2 to 4 major hurricanes (category 3, 4 or 5; with winds of 111 mph or higher). NOAA provides these ranges with a 70% confidence. An average hurricane season produces 12 named storms, of which 6 become hurricanes, including 3 major hurricanes.
Latest satellite image of the Atlantic
>>> Gulf of Mexico: There are no active tropical cyclones

Tropical cyclone formation is not expected during the next 5 days
Latest satellite image of the Gulf of Mexico
>>> Caribbean Sea: There are no active tropical cyclones

Tropical cyclone formation is not expected during the next 5 days
Here's a satellite image of the Caribbean Sea…and the Gulf of Mexico
>>> Eastern Pacific: There are no active tropical cyclones
Tropical cyclone formation is not expected during the next 5 days
A low pressure system is expected to form within the next few days several hundred miles south of the southwestern coast of Mexico. Environmental conditions could support gradual development of this system while it moves west-northwestward through the middle of next week.
* Formation chance through 48 hours…low…near 0 percent
* Formation chance through 5 days…low…30 percent
Here's the link to the National Hurricane Center (NHC)
>>> Central Pacific: There are no active tropical cyclones

Tropical cyclone formation is not expected during the next 5 days
>>> The central Pacific outlook calls for a 70% probability of 5 to 8 tropical cyclones, which includes tropical depressions, tropical storms, and hurricanes.
Here's the link to the Central Pacific Hurricane Center (CPHC)
>>> Northwest Pacific Ocean: There are no active tropical cyclones

>>> South Pacific Ocean: There are no active tropical cyclones
>>>North and South Indian Oceans / Arabian Sea: There are no active tropical cyclones


Interesting: Most of the World to Face Record-High Temperatures Every Year Without Serious Climate Action — When we say, "how about that heat wave," perhaps you think of the western United States, where temperatures last week soared above 120 degrees Fahrenheit, smashing dozens of historical heat records from Oregon to Arizona.
Or maybe you think of India — where intense heat has scorched the country for more than a month, killing at least 36 people and forcing hundreds of thousands to evacuate their villages — or perhaps Kuwait, where local media recently reported high temperatures of 145 F, potentially the highest temperature ever recorded on Earth.
The point is, the Northern Hemisphere is really, really hot right now and summer has barely begun. If it seems like these record heat waves are happening more often, that's because they are — and, according to a new study published June 17 in the journal Nature Climate Change, this scorching trend will continue for most of the globe every single year as long as no action is taken to reduce greenhouse gas emissions.
In the new study, a team of Australian meteorologists analyzed the predictions in 22 separate climate reports to calculate one range of über predictions about our planet's hot, hot future. The scientists found that, under current levels of greenhouse gas emissions, high monthly temperature records will be set in approximately 58% of the world (including 67% of the poorest nations) every single year until 2100. Nearly 10% of the world will also have at least one monthly temperature record "smashed" by more than 1.8 F every year.
That's one possible future. However, the researchers found, if the world's nations substantially reduce greenhouse gas emissions by 2020 (a scenario that the United Nations Intergovernmental Panel on Climate Change calls RCP2.6), the percentage of places on the planet setting new heat records every year drops to 14%.
"The impact of emissions reductions on the total number of monthly records set is stark," the authors wrote in the study.
For example, the team found, many nations near the equator can expect to see 24 monthly heat records surpassed every decade that emissions remain unchecked — in other words, roughly two months of every year will be hotter than in any year before it. Under the low-emissions model, that number drops to less than three records per decade.
"The benefits of reducing emissions, in terms of both reducing the pace at which high temperature records are set and restricting the magnitude by which records are broken, are very clear," the researchers wrote.
However, they cautioned, under the best-case scenario, it could still take decades for the rate of these monthly temperature extremes to start dropping. There's no way we're meeting that 2020 goal — but still, the sooner the world starts taking meaningful action against climate change, the better.
Leave a Reply