Air Temperatures – The following high temperatures (F) were recorded across the state of Hawaii Monday…along with the low temperatures Monday:

79 – 61  Lihue, Kauai
79 – 68  Honolulu, Oahu
79 – 57  Molokai AP
84 – 58  Kahului AP, Maui
80 – 65  Kona AP, Hawaii
78 – 67  Hilo, Hawaii

Here are the latest 24-hour precipitation totals (inches) for each of the islands Monday evening:

0.18  Kokee, Kauai
0.08  Makua Ridge, Oahu
0.00  Molokai
0.00  Lanai
0.00  Kahoolawe
0.52  Hana AP, Maui
0.36  Saddle Quarry, Big Island
The following numbers represent the strongest wind gusts (mph) Monday evening:

16  Barking Sands, Kauai
12  Kii, Oahu
10  Molokai
18  Lanai
20  Kahoolawe
17  Maalaea Bay, Maui
17  Hilo AP, Big Island
Hawaii's Mountains – Here's a link to the live webcam on the summit of our tallest mountain Mauna Kea (nearly 13,800 feet high) on the Big Island of Hawaii. Here's the webcam for the 10,000+ feet high Haleakala Crater on Maui. These webcams are available during the daylight hours here in the islands, and at night whenever there's a big moon shining down. Also, at night you will be able to see the stars, and the sunrise and sunset too…depending upon weather conditions.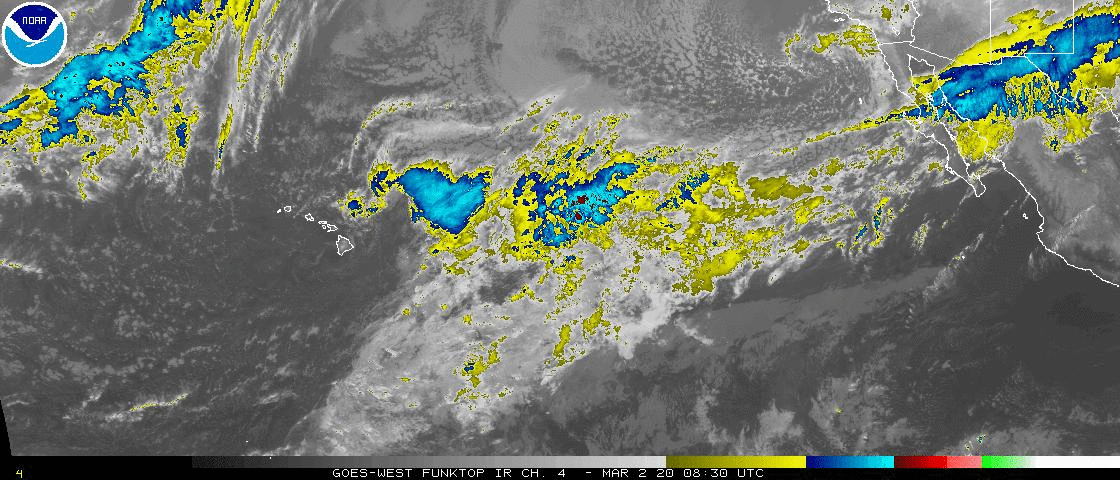 The recent "out of season" cold front is gone…with a counter-clockwise rotating upper level low pressure system moving away far northeast
(click on the images to enlarge them)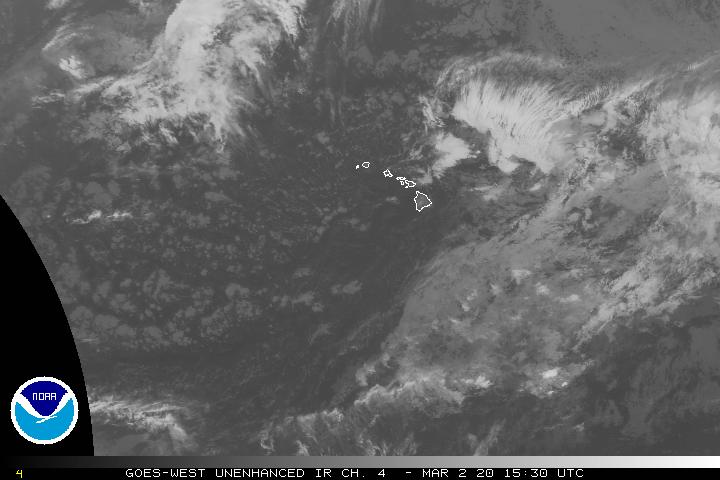 Heavy showers…remain well offshore to the northeast


Variable clouds… cirrus south through southwest


A few showers locally – Looping image
 There are no watches, warnings, or advisories at this time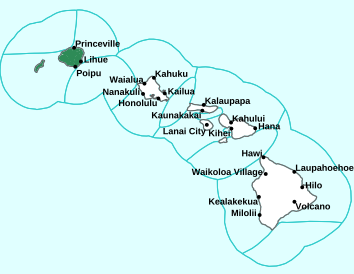 ~~~

Hawaii Weather Narrative

~~~
Broad Brush Overview: A weakening low pressure system northeast of the state will continue to drift away from the islands. Drier and more stable air, with a light land and sea breeze pattern, will persist across the state through Wednesday. A light trade wind pattern returns Thursday, with a cold front/trough passing by north of the area. Light to moderate trade winds will continue through the weekend with showers favoring windward and mountains.
Details: Drier and more stable air will linger over the region under an upper level ridge pattern. A trough over the Central Pacific will keep the subtropical ridge weak through the first half of the week. Light and variable winds through Wednesday, with local scale land and sea breezes. Look for increasing clouds and scattered showers over island interior sections in the afternoon and early evening hours…due to island heating and sea breeze convergence. Cloud cover will trend lower overnight with only isolated showers as island cooling and more stable offshore land breezes take over.
Looking Further Ahead: As we push into Thursday, the larger scale weather pattern shifts a bit, as the a high pressure ridge builds back in north of the state, allowing a return to trade winds. Several low pressure troughs passing through the area will keep light trade winds in the forecast through the upcoming weekend, with scattered showers favoring windward and mountain areas. A stronger surface high builds in north of the island chain by next week Monday…with moderate trade winds in the extended forecast.
Here's a near real-time Wind Profile of the Pacific Ocean – along with a Closer View of the islands / Here's the latest Weather Map

Marine Environmental Conditions: A trough northeast of the area is producing northwest winds over the area. The winds are strong enough over the Big Island windward waters to require a Small Craft Advisory (SCA) there. The trough will shift southwest and weaken, with winds becoming light and variable through Wednesday…with daytime onshore sea breezes and nighttime offshore land breezes. By Thursday a ridge will build northwest of the area bringing northeast trade winds back through the weekend.
The current northwest swell will subside through Tuesday. A new moderate northwest swell will build Wednesday and linger through Friday, before subsiding by the  weekend. Surf along other shores will remain small through Friday. A new swell from the southern hemisphere could produce surf near the advisory level, along south facing shores by the weekend.
Fine Art America…Hanalei Bay, Kauai



World-wide Tropical Cyclone Activity



Here's the latest Pacific Disaster Center (PDC) Weather Wall Presentation covering the western Pacific Ocean, the Indian Ocean, and the Arabian Sea, including a tropical disturbance being referred to as Invest 90W…and Invest 92W


>>> Atlantic Ocean: The 2019 hurricane season begins June 1, 2019

Here's a satellite image of the Atlantic
>>> Gulf of Mexico: The 2019 hurricane season begins June 1, 2019

>>> Caribbean Sea: The 2019 hurricane season begins June 1, 2019

Here's a satellite image of the Caribbean Sea…and the Gulf of Mexico
>>> Eastern Pacific: The 2019 hurricane season begins May 15, 2019

Here's the link to the National Hurricane Center (NHC)
>>> Central Pacific: The 2019 hurricane season begins June 1, 2019
Here's the link to the Central Pacific Hurricane Center (CPHC)
>>> Northwest Pacific Ocean: There are no active tropical cyclones

>>> South Pacific Ocean: There are no active tropical cyclones

>>> North and South Indian Oceans / Arabian Sea: There are no active tropical cyclones
Interesting: Volunteers Remove 3 Tons of Trash From Mount Everest in Two Weeks – Volunteers have removed more than 3 tons of trash from Mount Everest in just two weeks, part of an ambitious project by the Nepalese government to clean up decades of garbage left by hikers and tourists that has recently been exposed by melting snow and ice, Agence France-Presse reported.
Among the rubbish were tents, climbing equipment, bottles, cans, empty oxygen canisters, and human waste, according to the news agency. Helicopters carried one-third of the garbage to Kathmandu for recycling. The remaining trash was taken to the district of Okhaldhunga for disposal in landfills. The volunteers started their work at Nepal's Everest busy base camp and are now moving to sites higher up the 29,029-foot mountain, Dandu Raj Ghimire, chief of Nepal's tourism ministry, told AFP.
"The clean-up campaign will be continued in the coming seasons as well to make the world's tallest mountain clean," Ghimire said. "It is our responsibility to keep our mountains clean." Overall, the initiative aims to remove 10 tons of trash from Mount Everest over a six-week period this year. The 14-person clean-up crew has also discovered the bodies of four climbers, unveiled by melting snow and ice.
Nepal and China have long struggled with ways to keep the mountain clean. More than 4,000 people have summited Everest since 1953, 807 of them last year alone. And thousands more tourists visit the lower elevations of Everest every year. In 2013, Nepal implemented a $4,000 waste deposit per team of hikers, refundable if each climber brought down at least 18 pounds of waste from the mountain. Only half of climbers did so. And in February, China reportedly banned tourists from its base camp in Tibet in an effort to reduce waste on its side of the mountain.
May 5th, 2019 at 9:26 am
Jay Says:

"so better grab that extra blanket that you may have put away after winter ended."…so true! I was just going to do that…and it feels like winter this morning, and I guess will feel even more like it tomorrow. That was quite the gully washer – hope the jacarandas keep some blossoms…they were so beautiful last week…ahhh, living on Maui!!

~~~ Hi Jay, good to hear from you again, during this little bit of left over winter weather, before we slide steadily towards our upcoming summer season. This year has served up lots of interesting weather here in Hawaii, that's for sure! I'm already curious about what the deeper tropics will serve up in terms of tropical cyclone activity…time will tell as usual.

Ahh, living on Maui is the best of the best, although I love the beauty of all the islands!

Stay warm…

Aloha, Glenn
Leave a Reply