Air Temperatures – The following high temperatures (F) were recorded across the state of Hawaii Sunday…along with the low temperatures Sunday:

84 – 73  Lihue, Kauai
89 – 78  Honolulu, Oahu
88 – 75  Molokai AP
89 – 70  Kahului AP, Maui 
84 – 72  Kona AP, Hawaii
81 – 69  Hilo, Hawaii

Here are the latest 24-hour precipitation totals (inches) for each of the islands Sunday evening:

0.94  Mount Waialeale, Kauai
0.26  Poamoho RG 1, Oahu
0.17  Molokai
0.00  Lanai
0.83  Puu Kukui, Maui
1.34  Saddle Quarry, Big Island
The following numbers represent the strongest wind gusts (mph) Sunday evening:

32  Port Allen, Kauai
27  Kuaokala, Oahu
30  Molokai
33  Lanai
35  Kahoolawe
33  Kahului AP, Maui
27  Waikoloa, Big Island
Hawaii's Mountains – Here's a link to the live webcam on the summit of our tallest mountain Mauna Kea (13,803 feet high) on the Big Island of Hawaii. Here's the webcam for the 10,000+ feet high Haleakala Crater on Maui. These webcams are available during the daylight hours here in the islands, and at night whenever there's a big moon shining down. Also, at night you will be able to see the stars, and the sunrise and sunset too…depending upon weather conditions.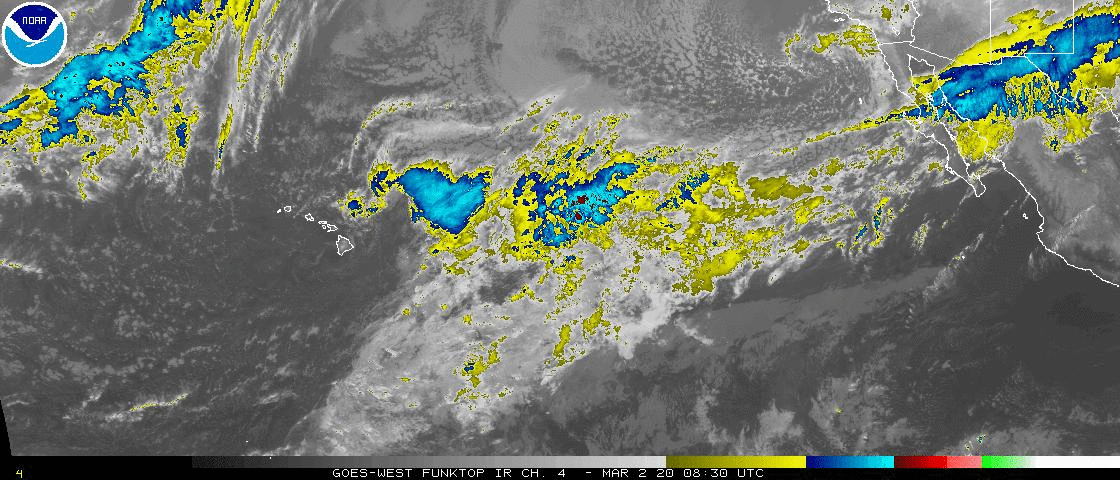 High cirrus clouds moving by just south of the state…while edging closer
(click on the images to enlarge them)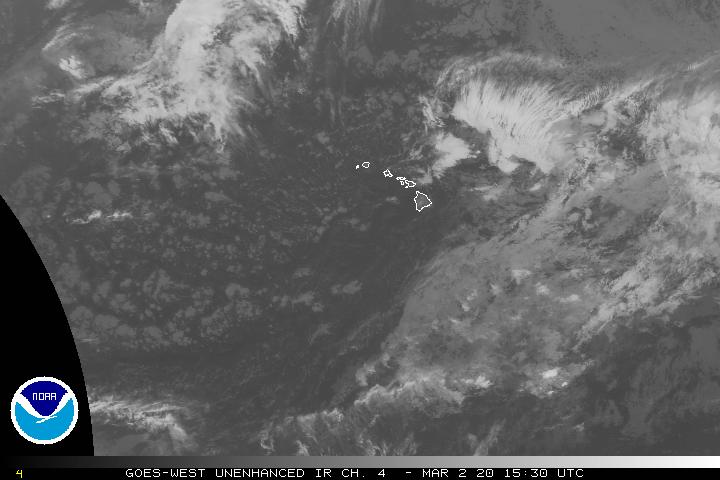 Thunderstorms brewing in the deeper tropics…far southwest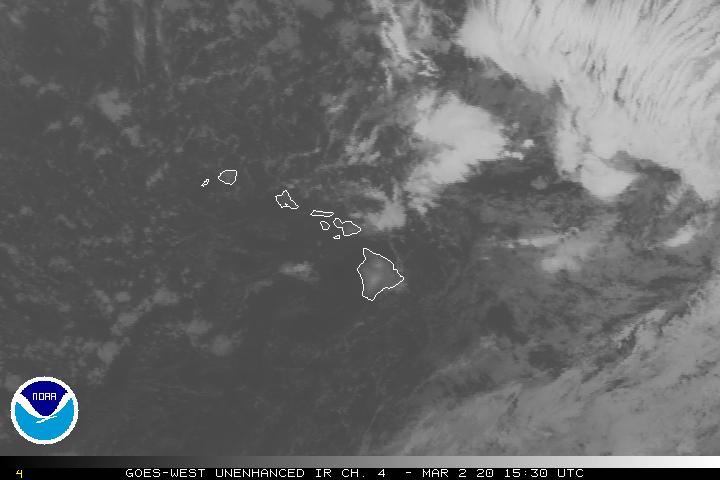 Mostly clear to partly cloudy…cloudy areas locally


Showers locally – Looping image
 Small Craft Advisory…pink color below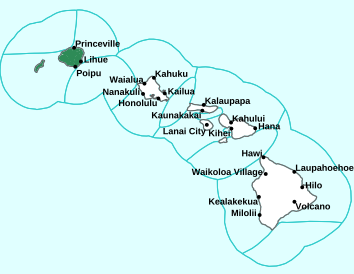 ~~~

Hawaii Weather Narrative

~~~
Broad Brush Overview: Firm trades will continue, although are expected to diminish Wednesday, and remain on the lighter side into next weekend. The trade winds will bring periods of off and on clouds and showers to windward areas, which will favor the night and morning hours. A passing upper-level disturbance may bring increased windward showers Tuesday into Thursday.
Details:  A trade wind weather pattern will persist over the islands, bringing passing clouds and showers at times, that will favor windward and mountain areas as usual, especially during the nights and mornings. Most leeward areas will remain dry, although the leeward side of the Big Island will see afternoon clouds and showers lingering through the evening hours…at least locally.
High pressure cells passing by to the north of the state will support the trade wind flow over the next several days, with locally strong trade winds most prominent during the afternoon hours. The island atmosphere will remain relatively stable through Tuesday, although a somewhat elevated subsidence inversion will allow showers to develop within the incoming clouds.
A stronger upper-level disturbance is expected to pass over the state Tuesday through Thursday, bringing cooler mid-level temperatures, that may lead to increased windward showers. This instability may also allow afternoon convection on the leeward slopes of the Big Island to become more active, with some isolated heavy showers possible. The low may also bring thickening high clouds over Maui and Hawaii counties.
Looking further ahead: Yet another out of season cold front will approach Wednesday, weakening the ridge and pushing it southward. Trade winds will soften in response, with light to moderate east to southeast winds Thursday and Friday. As the front dissipates just north of the islands next weekend, and a new high builds to the north, light to moderate trade winds return. The low aloft will move away Friday…limiting windward-biased rainfall next weekend.
Here's a near real-time Wind Profile of the Pacific Ocean – along with a Closer View of the islands / Here's the latest Weather Map

Marine Environmental Conditions: A series of highs to the north of the state will keep moderate to locally strong trade winds in place through Tuesday. A cold front approaching from the northwest, is expected to ease the trade winds back into the light to moderate range for the second half of the upcoming work week. A Small Craft Advisory (SCA) is now in effect for the typically windy waters around Maui and the Big Island through Monday. This SCA may eventually need to be extended…as conditions will likely near SCA levels through Tuesday.
A series of south and southwest swells will maintain small surf along south facing shores through the upcoming work week. Slightly larger surf is possible next weekend. A small northwest swell will continue, with surf become nearly flat along north facing shores thereafter. Locally strong trade winds upstream of the islands will produce moderate surf along east facing shores through the first half of the new week. This surf will subside later in the week as the trade winds weaken.



World-wide Tropical Cyclone Activity



>>> Here's Sunday's Pacific Disaster Center (PDC) Weather Wall Presentation covering the eastern, central, and western Pacific Ocean, the Indian Ocean, and the Arabian Sea
>>> Here's Sunday's Pacific Disaster Center (PDC) Weather Wall Presentation covering the Atlantic Ocean, the Caribbean Sea, and the Gulf of Mexico

>>> Atlantic Ocean:  There are no active tropical cyclones
>>> Gulf of Mexico:  There are no active tropical cyclones

However, according to the National Hurricane Center (NHC) showers and thunderstorms associated with a broad area of low pressure, being referred to as Invest 91L, over the Bay of Campeche remain disorganized. This system is expected to move slowly northwestward toward the coast of Mexico, and may become a tropical cyclone before it moves inland in a day or two.
Regardless of development, the disturbance will likely produce heavy rainfall over portions of southern and eastern Mexico during the next few days. An Air Force Reserve reconnaissance aircraft will investigate the disturbance Monday afternoon, if necessary. Interests along the Gulf coast of Mexico should monitor the progress of this system.
This disturbance could develop into a tropical depression before moving into eastern Mexico by Tuesday. If the low manages to briefly develop into a tropical storm…it would be named Barry.
By mid-week, heavy rains would likely become more localized around the area from Tampico, Mexico to southern Texas.
Gusty winds and choppy seas are also likely over the western Gulf of Mexico and eastern Mexico.
Here's what the computer models are showing
* Formation chance through 48 hours…medium…60 percent
* Formation chance through 5 days…medium…60 percent
Latest satellite image of the Gulf of Mexico
>>> Caribbean Sea:  There are no active tropical cyclones

Tropical cyclone formation is not expected during the next 5 days
Here's a satellite image of the Caribbean Sea…and the Gulf of Mexico
>>> Eastern Pacific: There are no active tropical cyclones
Tropical cyclone formation is not expected during the next 5 days
According to the National Hurricane Center (NHC), locally heavy rainfall will continue over portions of southeastern Mexico and the adjacent coastal waters during the next few days as the region remains under the influence of a broad, low-level cyclonic circulation known as the Central American Gyre.
Deep moisture from the eastern Pacific will interact with a low pressure system over the southern Bay of Campeche to maintain the threat of heavy rainfall for the next several days.
Here's the link to the National Hurricane Center (NHC)
>>> Central Pacific:  There are no active tropical cyclones

Tropical cyclone formation is not expected during the next 5 days
Here's the link to the Central Pacific Hurricane Center (CPHC)
>>> Northwest Pacific Ocean: There are no active tropical cyclones

>>> South Pacific Ocean: There are no active tropical cyclones

>>> North and South Indian Oceans / Arabian Sea: There are no active tropical cyclones
Interesting:  Exploding Stars May Have Put Humanity on Two Feet – As human ancestors went from swinging through trees to walking on two legs, they may have received a boost from an unlikely source: ancient supernovas.
These powerful stellar explosions may have showered Earth with enough energy to shift the planet's climate, bathing Earth in electrons and sparking powerful, lightning-filled storms, according to a new hypothesis.
Lightning then could have kindled raging wildfires that scorched African landscapes. As savanna replaced the forest habitat, early humans that lived there may have been pushed to walk on two legs, the new study suggests.
However, don't go jumping to conclusions just yet. Many factors likely contributed to the evolution of bipedalism, a process that began many millions of years before these stellar explosions took place.
Clues to the ancient supernovas were found in traces of iron-60 in Earth's crust. This radioactive isotope, or version of iron, originates in stars nearing the ends of their lives; it's thought to have arrived on Earth after the violent explosion of supernovas in our cosmic neighborhood millions of years ago, scientists wrote in the new study.
Prior studies described traces of iron-60 preserved on Earth from stars that blew up, beginning around 8 million years ago. That explosive activity peaked with a supernova (or series of supernovas) that occurred about 123 light-years away from Earth about 2.6 million years ago, the scientists reported. Around that time, the dawn of the Pleistocene epoch, forests in eastern Africa began to give way to open grasslands.
High-energy emissions from the supernovas may have been strong enough to penetrate the troposphere, ionizing Earth's atmosphere and affecting the planet's weather, according to lead study author Adrian Melott, a professor emeritus with the Department of Physics and Astronomy at the University of Kansas.
The researchers estimated that energy infusions from supernovas could have increased atmospheric ionization by a factor of 50; this would have greatly increased the likelihood of cloud-to-ground lightning, which in turn could have sparked more wildfires, Melott said.
While the scientists could not calculate precisely how many additional lightning events would result from a 50-fold boost in ionization, "the potential is there for a large increase," they wrote in the study.
Today, most wildfires are caused by human actions; before that, "lightning was the single biggest cause of wildfires," Melott explained. Forests scorched by wildfires would give way to grasslands; more open savanna meant more walking from tree to tree, which would then put evolutionary pressure on human relatives to spend more time on two legs.
Yet hominins were already becoming upright walkers long before the supernova activity peaked, according to William Harcourt-Smith, an assistant professor of paleoanthropology with Lehman College at The City University of New York.
The first evidence for bipedalism in ancient humans dates to approximately 7 million years ago, and the transition to full bipedalism was well underway by around 4.4 million years ago, said Harcourt-Smith, who was not involved in the study.
"By 3.6 million years ago, we have proficient bipeds, like 'Lucy,' and by 1.6 million years ago, [we have] obligate bipeds very similar to us," he explained.
Bipedalism was energy efficient, freed up hands for carrying, and offered improved visibility of faraway predators or resources. The shift to fully upright walking "most certainly relates to the opening up of grassland habitats and adapting to this kind of environment," Harcourt-Smith said. Yet the study does not provide compelling geologic evidence of wildfires as the main cause for those dramatic changes in Africa's ancient habitats, he said.
What's more, the destructive power and scope of those hypothetical wildfires hinges on a significant increase in lightning as a result of the supernovas, a variable that the researchers were "unable to estimate," they wrote in the study.
Leave a Reply