Air Temperatures – The following high temperatures (F) were recorded across the state of Hawaii Wednesday…along with the low temperatures Wednesday:

77 – 71  Lihue, Kauai
86 – 71  Honolulu, Oahu
83 – 72  Molokai AP
86 – 72  Kahului AP, Maui
78 – 70  Kona AP, Hawaii
81 – 67  Hilo, Hawaii

Here are the latest 24-hour precipitation totals (inches) for each of the islands Wednesday evening:

2.44  Kilohana, Kauai
0.80  Manoa Lyon Arboretum , Oahu
0.07  Molokai
0.01  Lanai
0.00  Kahoolawe
0.08  Hana AP, Maui
0.18  Kawainui Stream, Big Island
The following numbers represent the strongest wind gusts (mph) Wednesday evening:

21  Port Allen, Kauai
30  Oahu Forest NWR, Oahu
20  Molokai
31  Lanai
29  Kahoolawe
29  Maalaea Bay, Maui
30  Kealakomo, Big Island
Hawaii's Mountains – Here's a link to the live webcam on the summit of our tallest mountain Mauna Kea (nearly 13,800 feet high) on the Big Island of Hawaii. Here's the webcam for the 10,000+ feet high Haleakala Crater on Maui. These webcams are available during the daylight hours here in the islands, and at night whenever there's a big moon shining down. Also, at night you will be able to see the stars, and the sunrise and sunset too…depending upon weather conditions.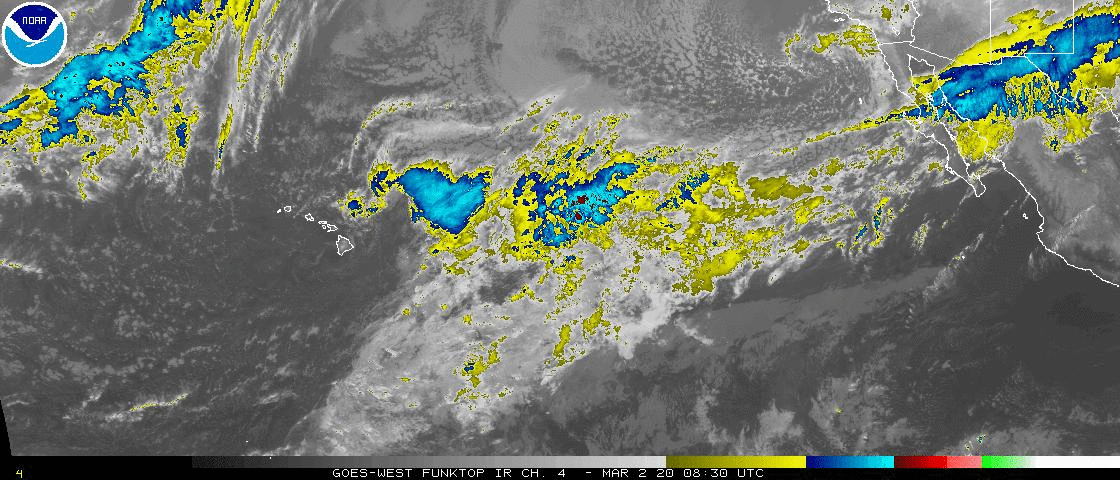 The next late season cold front is coming into view…far northwest
(click on the images to enlarge them)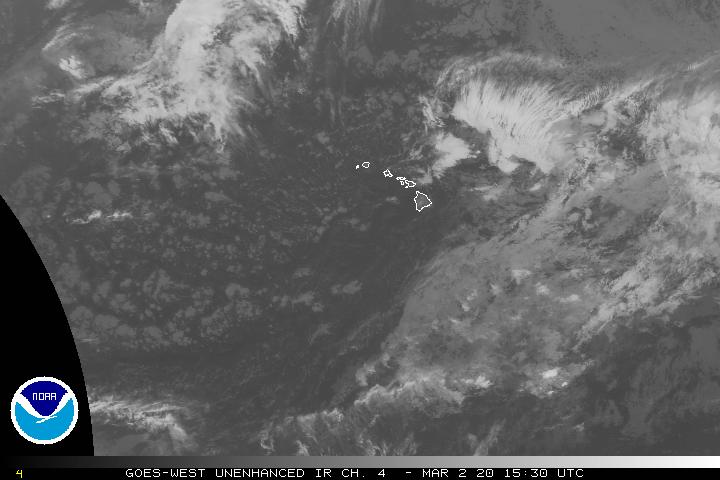 Deep clouds in the tropics to the southeast


Clear to partly cloudy…some cloudy areas

Showers locally – Looping image
There are no watches, warnings, or advisories at this time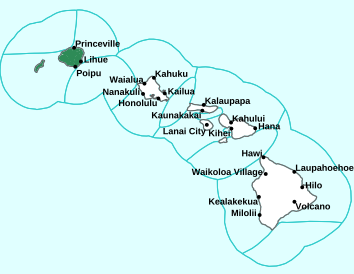 ~~~

Hawaii Weather Narrative

~~~
Broad Brush Overview: The trade wind conditions will continue through Thursday, as an area of high pressure passes by north of the state. Clouds and passing showers will favor windward and mountain areas as usual. A late season cold front will approach Friday…pushing across the islands Friday night through Saturday night. As a result, showers will increase ahead of and along the frontal cloud band, along with possible gusty kona winds. Somewhat cooler north-northwest winds will arrive in the wake of the front…with a drier weather pattern early next week.
Details: Trade winds prevail as high pressure builds to our north. Satellite imagery shows upper ridging has moved in across the area, replacing the upper trough, which triggered the recent deep convection. High pressure will pass north of the area through Thursday, keeping the islands in a typical trade wind weather pattern. Passing shower activity will be most active over the windward and mountain areas…with most leeward locations remaining dry.
Looking Further Ahead: A strong upper trough, along with its associated frontal boundary, will approach the area from the northwest Friday. Winds will become light and generally out of the south ahead of the front. This in turn will trigger shower, some of which may become locally heavy Friday night through Saturday night. Northwest winds will fill in behind the front, which may carry some showers at times Sunday…drier weather is expected early next week.
As the upper low and surface frontal system move east of the state by the middle of next week, models show Hawaii being left in a region of relatively weak winds (aloft and at the surface) into late Thursday, with perhaps some resumption of weak trade winds by Thursday…as a surface high begins to move north of the state.
Here's a near real-time Wind Profile of the Pacific Ocean – along with a Closer View of the islands / Here's the latest Weather Map

Marine Environmental Conditions: Moderate to locally strong trades will continue for another day before they turn southerly Thursday night, as a trough and cold front approaches the islands from the west. A Small Craft Advisory (SCA) is in effect to until Thursday morning for waters around Maui County and waters south of the Big Island.
Unsettled weather is expected Thursday night through Sunday. The weather will first be associated with the surface trough and the front pushing through the island chain between Friday and Saturday night. A surface low follows, moving across the northern offshore waters Sunday and Sunday night. The passing of the front will usher in light to moderate northwest breezes.
The subsiding northwest swell will be reinforced by a small to moderate size swell. The swell will peak Thursday, then slowly decline into Saturday. A moderate size northwest swell arrives early Saturday. The swell peaks Sunday, then gradually lowers through Monday. Surf along east facing shores will be small, especially after Thursday, as the trades falter. A series of southwest swells will reach the islands between Friday and Sunday. Otherwise…surf will remain small.


 



World-wide Tropical Cyclone Activity



Here's the latest Pacific Disaster Center (PDC) Weather Wall Presentation covering the western Pacific Ocean, the Indian Ocean, and the Arabian Sea, including Tropical Cyclone 01B (Fani)…along with a tropical disturbance being referred to as Invest 90W


>>> Atlantic Ocean: The 2019 hurricane season begins June 1, 2019

Here's a satellite image of the Atlantic
>>> Gulf of Mexico: The 2019 hurricane season begins June 1, 2019

>>> Caribbean Sea: The 2019 hurricane season begins June 1, 2019

Here's a satellite image of the Caribbean Sea…and the Gulf of Mexico
>>> Eastern Pacific: The 2019 hurricane season begins May 15, 2019

Here's the link to the National Hurricane Center (NHC)
>>> Central Pacific: The 2019 hurricane season begins June 1, 2019
Here's the link to the Central Pacific Hurricane Center (CPHC)
>>> Northwest Pacific Ocean: There are no active tropical cyclones

>>> South Pacific Ocean: There are no active tropical cyclones

>>> North and South Indian Oceans / Arabian Sea:

Tropical Cyclone 01B (Fani)

JTWC textual advisory
JTWC graphical track map
Interesting: 
1.) 5 Responses to Climate Change Deniers

2.) Human Composting May Soon Be Legal in Washington State – When a loved one dies, you typically get two choices for the human remains: Place the body in a coffin or cremate it into ashes. But now, another option may soon be possible — "natural organic reduction," also known as human composting — at least in Washington state.
The state legislature passed a bill regarding this new end-of-life practice on April 19, and it's now awaiting the signature of Democratic Gov. Jay Inslee. If he signs it, Washington will become the first state to allow human composting, which would become legal on May 1, 2020, according to the Associated Press.
The technique accelerates the decomposition process, turning bodies into soil within 4 to 7 weeks. The practice also has a smaller carbon footprint than cremation or burial, its supporters say.
One of those supporters is Katrina Spade, the founder of Recompose, a company poised to help turn people into soil after they expire. Of note, human composting "is not a type of burial." "It is a newly emerging form of human disposition, and it is an alternative to burial and to cremation."
Having more options is a good thing, she said.
"With cremation, you have the burning of fossil fuels and emission of carbon and mercury particulates into the atmosphere. With conventional burial, there is quite a carbon footprint from the manufacturer and transport of caskets, grave liners, and then the upkeep of cemeteries," Spade told King 5 News, a Washington news station. "So, you have those two options, and if people want those options, absolutely they need to remain. But recomposition uses about an eighth of the energy of cremation, and also has a significant carbon reduction thanks in part from the sequestration that happens of the materials during the process," she said, referring to the sequestration of the body's carbon underground.
Once a body is "composted" through this process, the end product is about a cubic yard of soil, or about enough to fill two large wheelbarrows, the AP reported. Just like cremated remains, friends and family can choose to keep the soil in urns, repurpose it in a garden, or spread it on public land, as long as they comply with local laws.
The newly passed bill also approves the use of alkaline hydrolysis, or "water cremation," which is already legal in 19 other U.S. states. In this process, heat, pressure, water and chemicals such as lye are used to reduce bodies into fragments that, like cremated ashes, can be saved in urns or elsewhere, the AP reported.
April 30th, 2019 at 4:13 pm
peter mac Says:

aloha Glenn, guessing that you are Cali taking good care of your Mom. Your "interesting"s are indeed, and have an ironic juxtaposition; ecocide and human ʻrecompositionʻ. From Puna, take care and mahalo.

~~~ Hi Peter, I'm glad you are finding the interesting pieces…interesting!

Aloha, Glenn
Leave a Reply