Air Temperatures – The following high temperatures (F) were recorded across the state of Hawaii Wednesday…along with the low temperatures Wednesday:

82 – 73  Lihue, Kauai
86 – 76  Honolulu, Oahu
82 – 73  Molokai AP
86 – 72  Kahului AP, Maui
82 – 72  Kona AP, Hawaii
79 – 69  Hilo, Hawaii

Here are the latest 24-hour precipitation totals (inches) for each of the islands Wednesday evening:

0.43  Mount Waialeale, Kauai
0.56  Manoa Lyon Arboretum, Oahu
0.11  Molokai
0.00  Lanai
0.03  Kahoolawe
0.63  West Wailuaiki, Maui
2.37  Piihonua, Big Island

The following numbers represent the strongest wind gusts (mph) Wednesday evening:

31  Port Allen, Kauai
33  Kuaokala, Oahu
28  Molokai
30  Lanai
45  Kahoolawe
32  Maalaea Bay, Maui
37  PTA Keamuku, Big Island
Hawaii's Mountains – Here's a link to the live webcam on the summit of our tallest mountain Mauna Kea (nearly 13,800 feet high) on the Big Island of Hawaii. Here's the webcam for the 10,000+ feet high Haleakala Crater on Maui. These webcams are available during the daylight hours here in the islands, and at night whenever there's a big moon shining down. Also, at night you will be able to see the stars, and the sunrise and sunset too…depending upon weather conditions.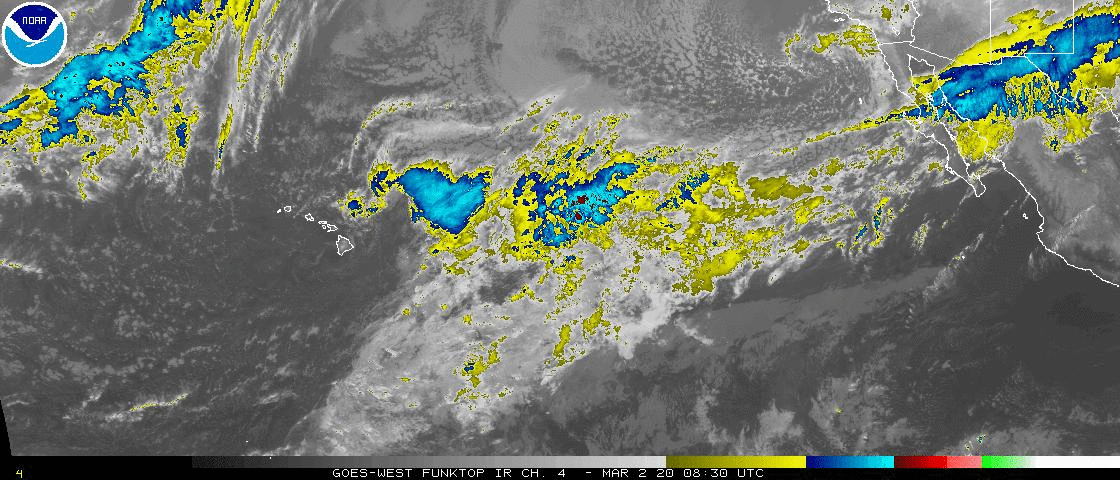 An upper level low pressure system is developing/approaching from the east
(click on the images to enlarge them)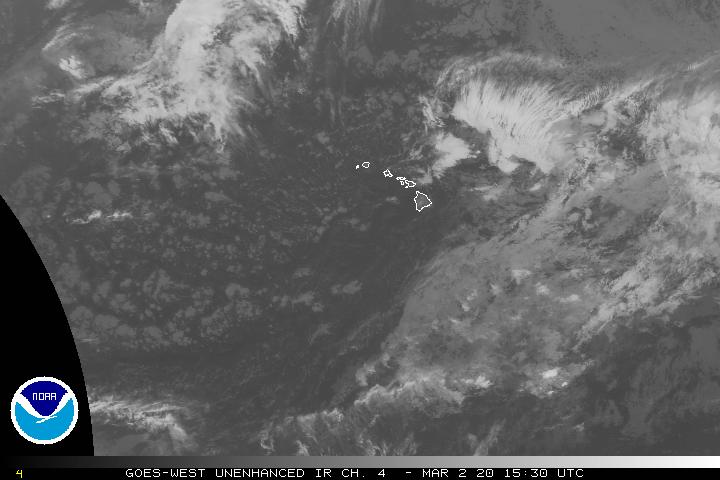 Unsettled weather conditions looming to our east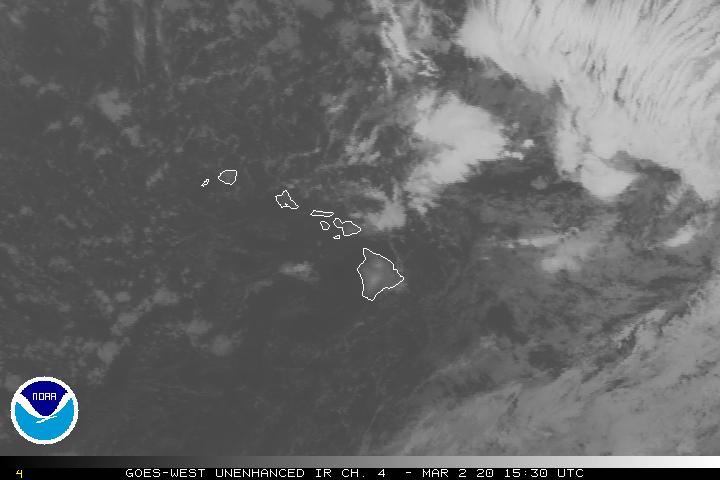 Low clouds over some parts of the state…heavy shower bearing clouds east


Showers falling locally…some are heavy – Looping image
Small Craft Advisory…pink color below
Wind Advisory…beige color below
High Surf Advisory…purple color below
Flash Flood Watch…green color below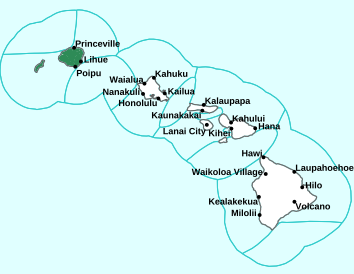 ~~~

Hawaii Weather Narrative

~~~
Broad Brush Overview:  Strong high pressure northeast of the state will maintain strong trades into the weekend. Increasing shower activity is expected from east to west tonight through Saturday, as an upper low drifts westward into the islands. Showers will become heavy at times, potentially leading to localized flooding, especially over the eastern end of the state. A few thunderstorms are possible, mainly near Maui County and the Big Island.
Details: The models show strong trades continuing into the weekend, due to robust high pressure northeast of the state. In addition to the winds, we're heading into a wet trade wind pattern tonight through Saturday, as an upper low shifts westward towards the islands. This upper low will end up near the Big Island Thursday. Gust trades in combination with increasingly deep moisture and instability, will lead to an increasing threat for localized flooding over the eastern end of the state.
This unsettled weather should arrive late tonight, with widespread heavy showers developing near and over windward Big Island and Maui. This upper low and deep layer moisture will remain over the eastern end of the state into the weekend. For the higher elevations on the Big Island, periods of heavy snow will become a possibility late tonight into Saturday.
Although the better instability and deep source of moisture will remain focused to our east, look for the wet trade wind conditions to edge over the western end of the state as well. Given the strength of the trades and elevated inversion heights, some shower activity will manage to spill over into leeward locations periodically, especially Thursday through the weekend.
Looking Further Ahead: There are differences in the various model solutions as we push into early next week. However, it appears that drier weather and less windy conditions may return. It looks like the Big Island may lag behind the other islands a bit, in regards to improving weather conditions after the weekend.
Here's a near real-time Wind Profile of the Pacific Ocean – along with a Closer View of the islands / Here's the latest Weather Map

Marine Environmental Conditions: The trade winds will strengthen over the next few days, as a surface high pressure system builds far northeast of the island chain…resulting in small craft advisory conditions.
By early Thursday morning, a low pressure system in the middle and upper levels of the atmosphere, located east of the Big Island, will track slowly westward closer to the eastern end of the state. This will likely produce unstable atmospheric conditions, which will cause showers to increase in coverage and intensity. In addition, there's a chance that thunderstorms will develop late tonight into early Thursday morning, especially over the waters around the Big Island and Maui. These unstable and wet conditions are expected to persist into this weekend.
The current northwest swell will continue to gradually decrease. Small reinforcing northwest and west-northwest swells are expected tonight through this weekend. The surf produced by these swells is expected to remain modest along north and west facing shores of the smaller islands. The strengthening trades and the development of a significant upstream fetch, will eventually generate rough and elevated surf along east facing shores. As a result, surf heights are expected to reach the High Surf Advisory threshold along east facing shores Thursday…and then persist through this weekend. Elsewhere, swell energy originating from the southern hemisphere will maintain small surf along south facing shores through early next week.



World-wide Tropical Cyclone Activity



Here's the latest Pacific Disaster Center (PDC) Weather Wall Presentation covering the western Pacific Ocean, the Indian Ocean, and the Arabian Sea…including retiring Tropical Cyclone 23S (Wallace)


>>> Atlantic Ocean: The 2019 hurricane season begins June 1, 2019

Here's a satellite image of the Atlantic
>>> Gulf of Mexico: The 2019 hurricane season begins June 1, 2019

>>> Caribbean Sea: The 2019 hurricane season begins June 1, 2019

Here's a satellite image of the Caribbean Sea…and the Gulf of Mexico
>>> Eastern Pacific: The 2019 hurricane season begins May 15, 2019

Here's the link to the National Hurricane Center (NHC)
>>> Central Pacific: The 2019 hurricane season begins June 1, 2019
Here's the link to the Central Pacific Hurricane Center (CPHC)
>>> Northwest Pacific Ocean: There are no active tropical cyclones

>>> South Pacific Ocean: There are no active tropical cyclones

>>> North and South Indian Oceans / Arabian Sea:

Tropical Cyclone 23S (Wallace) – Final Warning

JTWC textual advisory
JTWC graphical track map
Interesting: Study shows potential for Earth-friendly plastic replacement – The quest to keep plastic out of landfills and simultaneously satisfy the needs of the food industry is filled with obstacles.
A biodegradable replacement for petroleum-based products has to meet all sorts of standards and, so far, attempts at viable replacements from renewable sources have faced limited success due to processing and economic constraints. Among the obstacles, products to date have been too brittle for food packaging.
But new research from The Ohio State University has shown that combining natural rubber with bioplastic in a novel way results in a much stronger replacement for plastic, one that is already capturing the interest of companies looking to shrink their environmental footprints.
Almost all plastics – about 90 percent – are petroleum-based and are not biodegradable, a major environmental concern.
In a new study published in the journal Polymers, the research team reports success with a rubber-toughened product derived from microbial fermentation that they say could perform like conventional plastic. This new study highlights the greatest success in this area so far, according to the scientists.
"Previous attempts at this combination were unsuccessful because the softness of the rubber meant the product lost a lot of strength in the process," said lead author Xiaoying Zhao, a postdoctoral researcher in Ohio State's Department of Food Science and Technology.
The new study involved melting rubber into a plant-based thermoplastic called PHBV along with organic peroxide and another additive called trimethylolpropane triacrylate (TMPTA).
The end product was 75 percent tougher and 100 percent more flexible than PHBV on its own – meaning it is far easier to shape into food packaging.
Other research teams have combined rubber and PHBV, but the products have been too weak to withstand all the demands of a food package – from processing, to shipping, to handling in stores and homes, especially containers that are used for freezing and then microwaving, said the study's senior author, Yael Vodovotz, a professor of food science and technology at Ohio State.
Increased flexibility, without a significant loss of strength, is particularly important when it comes to plastic films commonly used to package everything from fresh produce to frozen foods, she said.
While other attempts at making this type of rubber-enhanced bioplastic have reduced the strength of the PHBV by as much as 80 percent, only 30 percent of the strength was lost in this study – a much more manageable amount, Zhao said.
Toughness, which was improved, is different from strength, explained study co-author Katrina Cornish, an expert in natural rubber and professor of horticulture and crop science at Ohio State.
"Imagine trying to pull a block of concrete apart with your hands. That's testing its strength. But karate chopping it with your hand or foot is testing its toughness – how easily it breaks," Cornish said.
"You can never pull it apart, but if you're strong enough you can break it."
Much of the researchers' current focus is on the potential use of various biodegradable – and otherwise environmentally conscious – materials they might use as fillers to further strengthen the mix. They've discussed using the "cake" left behind after a fellow researcher extracts oil from spent coffee grounds. Tomato skins are under consideration, as are eggshells.
"We want something that would otherwise go to waste that is sustainable and also relatively cheap," Vodovotz said.
They're even looking at the potential to attack two environmental problems at once, by seeing how invasive grasses that environmentalists are yanking out of waterways might play with the rubber-infused mix.
"We could dry them, grind them up and potentially use these grasses as a fibrous filler," Vodovotz said.
Beyond packaged foods, a bioplastic could potentially be used in other food-related applications such as utensils and cutting boards.
And the researchers are looking to collaborate with colleagues outside of food science to consider other applications for their product, such as to create building materials, gloves for those working in food service, or parts for cars and airplanes.
As the team works to move its technology out of the lab and into the food industry, there will be many details to work out depending on a company's individual priorities and concerns, Vodovotz said, and that may mean tinkering with the mix.
"As we get closer and closer to working with food manufacturers, there are specific questions our potential partners are asking," Vodovotz said. "We have to be very careful about what we use in this process in order to meet their needs, and they have very specific parameters."
The Center for Advanced Processing and Packaging Studies provided funding for the study.
April 9th, 2019 at 9:11 am
Hans Rosendal Says:

Aloha All,

The Island weather has been mainly fine recently with little in the way of rainfall. This is typical of the mild El Nino conditions we are presently experiencing. The sunshine is rather intense here shortly after the equinox with the noontime solar zenith angle at about our latitude of 20 degrees locally for intense evaporation of soil moisture for the usual brush fires and the many severe sunburns for the careless tourists.

Needless to say, the air temperatures have also responded with readings well up in the high 80s on several days, such as at Lihue with a light west wind from off land on one day, and at Kahului Maui with a southeast downslope wind off Haleakala into the airport area, where the thermometer is situated, on another day.

This warm weather will cool a few degrees in a day or two. The upper flow pattern will make some strong undulations beginning about Wednesday. This will result in another blizzard {a bomb cyclone) coming out of Colorado into the Plains and Midwest on the Mainland, and at the same time, one wavelength upstream, an upper Low will cut off here in our neighborhood just east of the Hawaiian Islands.

The central core of this upper Low will be as close as the Big Island of Hawaii on Thu, Fri and Sat. Some heavy showers or thunderstorms with snow and hail are thus possible at the observatories up there at the summits with snow down to perhaps 8000 feet. A dusting on Mount Haleakala is therefore also possible. This is a weaker system than the last one in early February, so expect less weather with this one.

Precipitation on the other smaller islands to the west will be progressively lighter, and the main effect of the nearby upper Low center to the east will be cold northerly and northeasterly winds aloft, while at the surface gusty trades and colder than normal conditions with a few showers will prevail.

So all in all, not much of a weather maker. If we had no knowledge of the flow aloft, we might not even notice much of a change…just a little colder and more showery with locally brisk trades for a few days during the latter half of the new week.

Much aloha from Hans.

~~~ Hi Hans, great to hear from you again, with this summary of what's going on in our local weather story here in the islands!

Please feel free to contribute more at any time, I'm honored to have your expert assessment, and to be able to share with all my valued readers on this weather site!

Aloha, Glenn
Leave a Reply