Air Temperatures – The following high temperatures (F) were recorded across the state of Hawaii Tuesday…along with the low temperatures Tuesday:

79 – 70  Lihue, Kauai
83 – 66  Honolulu, Oahu
78 – 68  Molokai AP
82 – 66  Kahului AP, Maui
80 – 67  Kona AP, Hawaii
76 – 65  Hilo, Hawaii

Here are the latest 24-hour precipitation totals (inches) for each of the islands Tuesday evening:

1.36  Mount Waialeale, Kauai
1.11  Tunnel RG, Oahu
0.49  Molokai
0.00  Lanai
0.19  Kahoolawe
1.19  Puu Kukui, Maui
1.13  Kawainui Stream, Big Island

The following numbers represent the strongest wind gusts (mph) Tuesday evening:

31  Port Allen, Kauai
30  Oahu Forest NWR, Oahu
24  Molokai
25  Lanai
30  Kahoolawe
30  Maalaea Bay, Maui
33  Puu Mali, Big Island
Hawaii's Mountains – Here's a link to the live webcam on the summit of our tallest mountain Mauna Kea (nearly 13,800 feet high) on the Big Island of Hawaii. Here's the webcam for the 10,000+ feet high Haleakala Crater on Maui. These webcams are available during the daylight hours here in the islands, and at night whenever there's a big moon shining down. Also, at night you will be able to see the stars, and the sunrise and sunset too…depending upon weather conditions.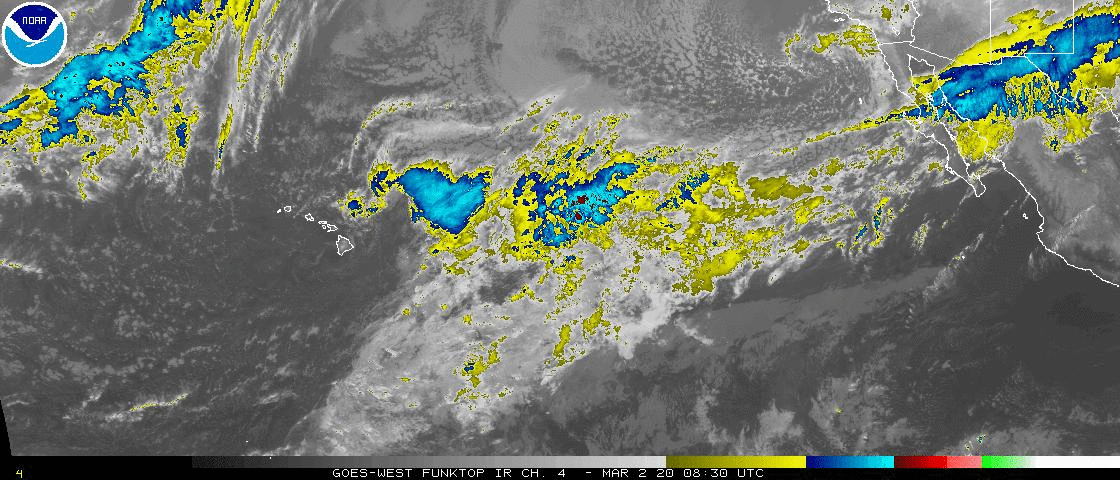 High and middle level clouds are moving into the state…from the southwest
(click on the images to enlarge them)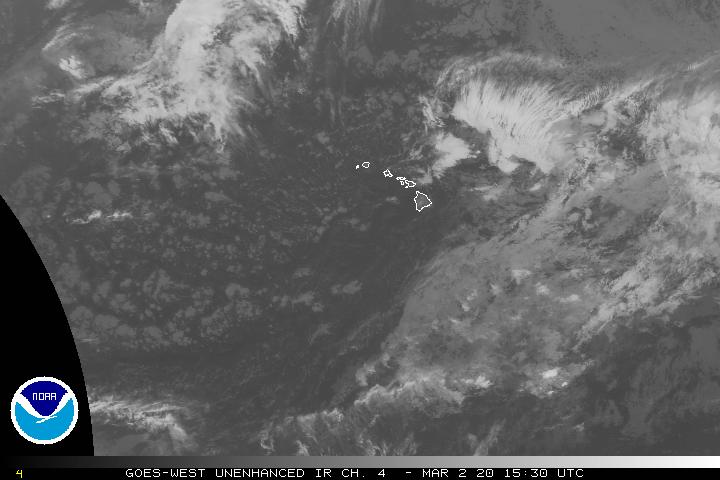 Deep clouds are well southwest and southeast of the state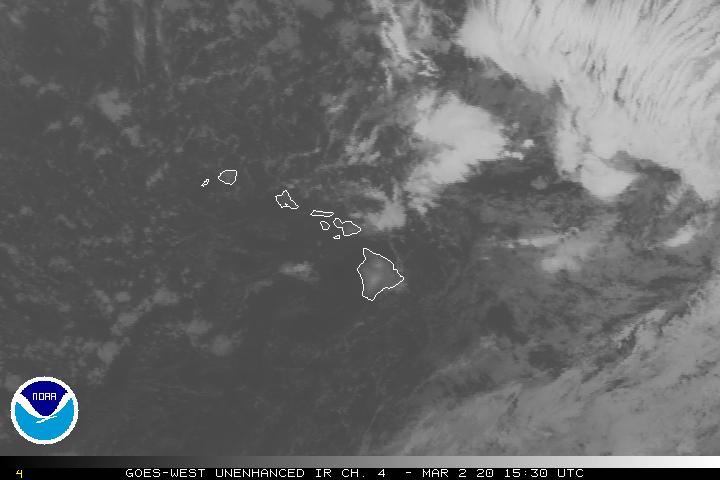 Clear to partly cloudy for the most part (haze in some areas)


Showers locally – Looping image
 There are no watches, warnings, or advisories at this time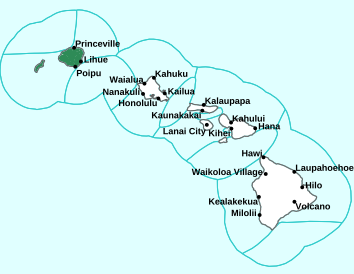 ~~~

Hawaii Weather Narrative

~~~
Broad Brush Overview: Look for moderate to strong trade winds to continue, as weaker high pressure moves into place north of the state. Clouds and showers carried in our direction on these trades will favor windward and mountain areas as usual. Local land and sea breezes may develop towards the weekend, as a cold front approaches from the northwest. This front cloud band will push down across the islands Sunday through next Monday.
Details: This trade wind producing high northeast of the state is moving eastward, gradually allowing winds to decrease. Another high far northwest of the islands will move east through the week, maintaining the trade wind flow. This high however is expected to remain weaker than the high moving away to our northeast. A ridge trailing behind the high will shift to the south over the islands during the second half of the week…further decreasing winds.
Looking Further Ahead: A cold front will approach the islands this weekend. Models show some rain from the front may reach the northern end of the state late Saturday night. Models increase showers along the front, although don't show significant amounts for the state. In the immediate wake of the frontal passage, we'll find cool northeasterly breezes, taking a quick turn back to the classic trade flow next Monday…along with drier conditions.
Here's a near real-time Wind Profile of the Pacific Ocean – along with a Closer View of the islands / Here's the latest Weather Map

Marine Environmental Conditions: The strong trade winds are expected to hold through Thursday, then drop into the light to moderate range Friday, as the ridge of high pressure shifts southward near the local waters. A brief period with light and variable winds late Friday through Saturday will become a possibility with the ridge near the islands. This scenario would allow overnight land breezes Friday night into early Saturday, then sea breezes late Saturday morning through the afternoon hours. Guidance continues to advertise a cold front approaching and quickly moving through the state late Saturday through Sunday with fresh to strong northerly winds following its passage. Winds should quickly shift back around out of the northeast late Sunday through Monday.
Surf along north and west facing shores will remain in the small to moderate category through mid-week as a small northwest swell moves through. A similar reinforcement is expected Thursday into Thursday night, followed by a smaller west-northwest swell Friday. These overlapping sources will be enough to keep the surf up each day into the weekend. All of these swells will remain below advisory levels along north and west facing shores through Saturday.
Surf along east facing shores will remain near the advisory level, then gradually ease through the rest of the week, as the trades locally and upstream relax.
Seas should build over the Hawaiian waters late Sunday through Monday, with accompanying moderate to strong northerly winds behind a cold front. Small craft advisory conditions along with warning-level surf for north and west facing shores may result.



World-wide Tropical Cyclone Activity



Here's the latest Pacific Disaster Center (PDC) Weather Wall Presentation covering the western Pacific Ocean, the Indian Ocean, and the Arabian Sea, including Tropical Cyclone 18S (Idai)…and a tropical disturbance being referred to as Invest 99S


>>> Atlantic Ocean: The 2019 hurricane season begins June 1, 2019

Here's a satellite image of the Atlantic
>>> Gulf of Mexico: The 2019 hurricane season begins June 1, 2019

>>> Caribbean Sea: The 2019 hurricane season begins June 1, 2019

Here's a satellite image of the Caribbean Sea…and the Gulf of Mexico
>>> Eastern Pacific: The 2019 hurricane season begins May 15, 2019

Here's the link to the National Hurricane Center (NHC)
>>> Central Pacific: The 2019 hurricane season begins June 1, 2019
Here's the link to the Central Pacific Hurricane Center (CPHC)
>>> Northwest Pacific Ocean: No active tropical cyclones

>>> South Pacific Ocean: No active tropical cyclones
>>> North and South Indian Oceans / Arabian Sea:

Tropical Cyclone 18S (Idai)

JTWC textual advisory
JTWC graphical track map
Interesting: Ice Samples Reveal a Massive Sun Storm Hit Earth in Ancient Times…And It Could Happen Again – A gigantic solar storm hit Earth about 2,600 years ago, one about 10 times stronger than any solar storm recorded in the modern day, a new study finds.
These findings suggest that such explosions recur regularly in Earth's history, and could wreak havoc if they were to hit now, given how dependent the world has become on electricity.
The sun can bombard Earth with explosions of highly energetic particles known as solar proton events. These "proton storms" can endanger people and electronics both in space and in the air.
In addition, when a proton storm hits Earth's magnetosphere — the shell of electrically charged particles — it is trapped by Earth's magnetic field. When the solar storm causes a disturbance in our planet's magnetosphere, it's called a geomagnetic storm which can wreak devastation on power grids across the planet. For example, in 1989, a solar outburst blacked out the entire Canadian province of Quebec within seconds, damaging transformers as far away as New Jersey, and nearly shutting down U.S. power grids from the mid-Atlantic through the Pacific Northwest.
Scientists have analyzed proton storms for less than a century. As such, they may not have good estimates of how often extreme solar eruptions happen or how powerful they can actually get.
"Today, we have a lot of infrastructure that could be badly damaged, and we travel in air and space where we are much more exposed to high-energy radiation," senior study author Raimund Muscheler an environmental physicist at Lund University in Sweden.
The so-called Carrington Event of 1859 may have released about 10 times more energy than the one behind the Quebec blackout in 1989, making it the most powerful known geomagnetic storm , according to a 2013 study from Lloyd's of London. Worse yet, the world has become far more dependent on electricity since the Carrington Event, and if a similarly powerful geomagnetic storm were to hit now, power outages might last weeks, months or even years as utilities struggle to replace key parts of power grids, the 2013 study found.
Now, researchers have found radioactive atoms trapped within ice in Greenland that suggest an enormous proton storm struck Earth in about 660 B.C., one that might dwarf the Carrington Event.
Previous research found that extreme proton storms can generate radioactive atoms of beryllium-10, chlorine-36 and carbon-14 in the atmosphere. Evidence of such events is detectable in tree rings and ice cores, potentially giving scientists a way to investigate ancient solar activity.
The scientists examined ice from two core samples taken from Greenland. They noted a spike of radioactive beryllium-10 and chlorine-36 about 2,610 years ago. This matches prior work examining tree rings that suggested a spike of carbon-14 about the same time.
Previous research detected two other ancient proton storms in a similar manner — one happened about A.D. 993-994, and the other about A.D. 774-775. The latter is the largest solar eruption known to date.
Regarding number of high-energy protons, the 660 B.C. and the A.D. 774-775 events are about 10 times larger than the strongest proton storm seen in the modern day, which occurred in 1956, Muscheler said. The A.D. 993-994 event was smaller than the other two ancient storms by about a factor of two to three, he added.
It remains unclear how these ancient proton storms compared with the Carrington Event, since estimates of the number of protons from the Carrington Event are very uncertain, Muscheler said. However, if these ancient solar outbursts "were connected with a geomagnetic storm, I would assume that they would exceed the worst-case scenarios that are often based on Carrington-type events," he noted.
Although more research is needed to see how much damage such eruptions might inflict, this work suggests "these enormous events are a recurring feature of the sun — we now have three big events during the past 3,000 years," Muscheler said. "There might be more that we have not yet discovered."
"We need to search systematically for these events in the environmental archives to get a good idea about the statistics — that is, the risks — for such events and also smaller events," Muscheler added. "The challenge will be to find the smaller ones that probably still exceed anything we measured in recent decades."
The scientists detailed their findings online March 11th in the journal Proceedings of the National Academy of Sciences.
March 11th, 2019 at 10:23 pm
Keith Says:

Glenn, that doesn't seem like virga at all – no streaks. And sea spray – at 4,000 feet? Would really like to know what this is!

~~~ Hi Keith, good points, as I mentioned, I'm not sure what this haze is. Does anyone else have any ideas to share?

Aloha, Glenn

March 11th, 2019 at 7:46 pm
Tim Says:

Aloha Glenn,

Interesting conditions on the westside today. The trades are still definitely blowing, but the sky is very hazy…mauka and makai. It honestly looks like a southerly day with heavy vog. Neither of those two conditions are in effect though. Any thoughts on what is causing the limited visibility? (ps-It doesn't look like heavy sea spray either)

Thanks!

~~~ Hi Tim, as I was commenting to Eric below, I'm not sure what this haze is, although according to this Vog forecast graphic (http://weather.hawaii.edu/vmap/hysplit/animate.cgi?domain=haw&variable=so4&ftype=ensmax01), it shouldn't be vog, as the low level trades are definitely well established. Please see the comment below, provided by a respected meteorologist from the NWSFO in Honolulu.

Aloha, Glenn

March 11th, 2019 at 4:32 pm
Eric Phillips Says:

Aloha
Eric Phillips from Island Paddler on Oahu. What is the haze from?
Love your report!

~~~ Hi Eric, I wasn't sure what was causing this haze, so I posed your question to Maureen Ballard, a lead forecaster at the National Weather Service office in Honolulu. BTW, I appreciate your positive feedback about my website!

Aloha Glenn,

We have had some reports of vog today, but it is not vog. All the reporting air quality sensors we've checked show green and any emissions from the volcano would not be coming up over the smaller islands today. All the reporting sites continue to report 10 miles visibility. We suspect what most people are seeing is a combination of sea spray on the horizon with our recent winds, or some low clouds or virga type precipitation. Nothing on satellite shows anything from the west, and we have moderate trades in the lower elevations.

I hope this helps

Aloha, Glenn
Leave a Reply