Air Temperatures – The following high temperatures (F) were recorded across the state of Hawaii Sunday…along with the low temperatures Sunday:

80 – 62  Lihue, Kauai
82 – 68  Honolulu, Oahu
78 – 65  Molokai AP
82 – 66  Kahului AP, Maui
81 – 67  Kona AP, Hawaii
76 – 69  Hilo, Hawaii

Here are the latest 24-hour precipitation totals (inches) for each of the islands Sunday evening:

0.01  Waialae, Kauai
0.43  Ahuimanu Loop, Oahu
0.06  Molokai
0.02  Lanai
0.00  Kahoolawe
0.56  West Wailuaiki, Maui
2.82  Laupahoehoe, Big Island

The following numbers represent the strongest wind gusts (mph) Sunday evening:

20  Mana, Kauai
21  Oahu Forest NWR, Oahu
21  Molokai
27  Lanai
29  Kahoolawe
25  Maalaea Bay, Maui
32  Kealakomo, Big Island
Hawaii's Mountains – Here's a link to the live webcam on the summit of our tallest mountain Mauna Kea (nearly 13,800 feet high) on the Big Island of Hawaii. Here's the webcam for the 10,000+ feet high Haleakala Crater on Maui. These webcams are available during the daylight hours here in the islands, and at night whenever there's a big moon shining down. Also, at night you will be able to see the stars, and the sunrise and sunset too…depending upon weather conditions.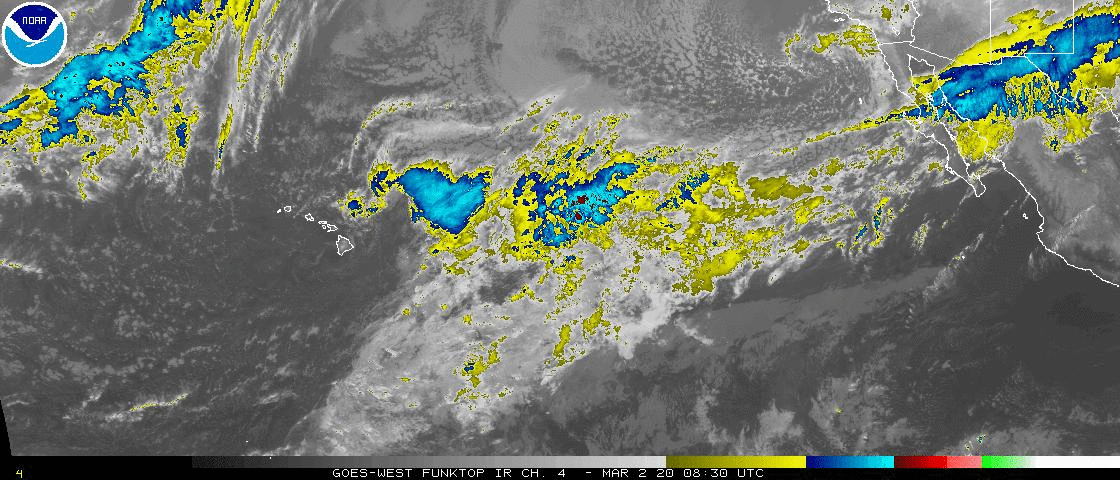 We see a cold front to the northwest…with deep clouds now well east of the Big Island
(click on the images to enlarge them)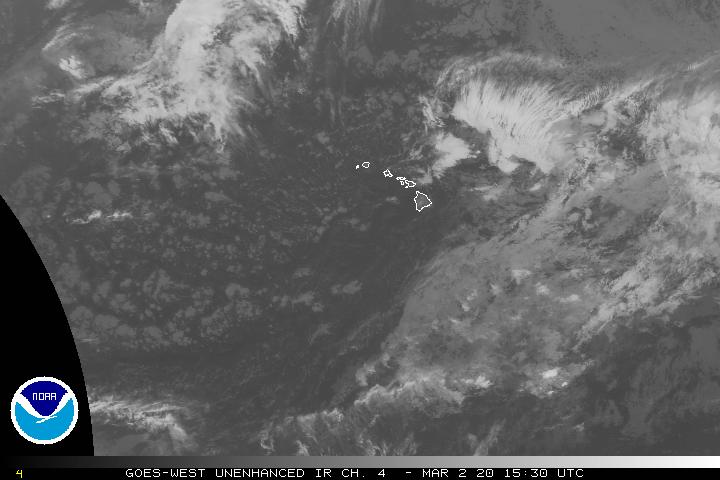 Clouds remain over parts of the island chain…with the tail-end of a cold front over Kauai


Clear to partly cloudy…with cloudy areas locally


Showers locally – Looping image
 There are no watches, warnings, or advisories at this time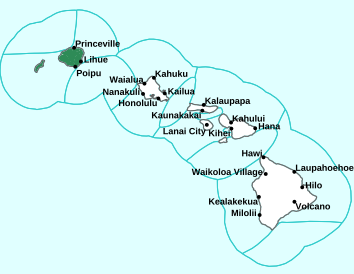 ~~~

Hawaii Weather Narrative

~~~
Broad Brush Overview: A surface trough of low pressure located near the Big Island, will weaken and move slowly away to the east. The trailing end of a cold front will move over the island chain from the northwest Monday…and linger through mid-week. A new high pressure system will build northwest of the area during the second half of the new week ahead.
Details: A surface high well northwest of the islands is moving east. This high will maintain light to moderately strong northeast winds, and mostly dry conditions over the state. A surface trough extending northeast from just southeast the Big Island, is keeping lighter winds and more moisture over the Big Island. A trough aloft is producing cold temperatures, and making the atmosphere somewhat unstable over the islands.
This instability will have little impact over the smaller islands, where the atmosphere is rather dry. On the Big Island, the moisture and instability may be enough to allow thunderstorms or locally heavy showers to develop. Temperatures on the summits of Mauna Kea and Mauna Loa are well below freezing. The cold temperatures and high humidity are producing icy conditions on the summits, along with cloud buildups that could produce snow showers on these mountain tops.
Looking Further Ahead: As the high pressure system northwest of the islands moves east, then southeast through mid-week, it will push the tail-end of a frontal cloud band over the islands…reaching Kauai late tonight. The band is expected to move slowly south over Maui County Tuesday, then stall as another cold front approaches from the northwest.
Rainfall along the front will start off rather light, although a trough aloft may destabilize the atmosphere Wednesday, enhancing showers along the old frontal band. A low developing northeast of the islands Wednesday night will produce strengthening north winds, which will push the merging frontal moisture south of the islands. The atmosphere will stabilize Thursday…as ridging builds over the area from the northwest.
Here's a near real-time Wind Profile of the Pacific Ocean – along with a Closer View of the islands / Here's the latest Weather Map

Marine Environmental Conditions: A weak area of high pressure northwest of the state will keep northeasterly winds generally in the moderate range across the coastal waters through Tuesday. High resolution models show a brief wind surge across Maalaea Bay, the Alenuihaha Channel, and the leeward Big Island waters for the time being. A more significant increase in northerly winds is possible Wednesday and Wednesday night, as a new strong high builds northwest of the state and an area of low pressure develops several hundred miles northeast of the islands. This surge could result in small craft advisory level winds across a large portion of the marine area. Moderate to strong northerly winds will likely hold in place through Thursday and possibly Thursday night, with winds then diminishing and returning to a more typical trade wind direction late in the week.
Small surf is expected on all shores through tonight, with a small east swell fading, and tiny northwest swell holding well below the winter time average. A pulse of moderate northwest swell is expected Monday, followed by a large northwest swell that will build Tuesday, peak Tuesday night through Wednesday night, then slowly fade through late next week. This large swell will produce advisory level surf for most north and west facing shores, with some areas possibly reaching warning levels.
The combination of this large northwest swell, large wind waves associated with fresh to potentially strong north winds, along with a north swell, will lead to rough conditions that will likely require small craft advisories for most waters and possibly a High Surf Advisory (HSA) for east facing shores as well. Though winds will decline on Thursday, seas will remain elevated. Winds and seas should decrease below SCA levels by late Friday or Friday night, with HSA level surf possibly holding along east facing shores exposed to the declining north swell into early Friday.




World-wide Tropical Cyclone Activity



Here's the latest Pacific Disaster Center (PDC) Weather Wall Presentation covering the western Pacific Ocean, the Indian Ocean, and the Arabian Sea, including Typhoon 02W (Wutip) offshore west-northwest of Guam…and tropical disturbances being referred to as Invest 95P and Invest 15P


>>> Atlantic Ocean: The 2019 hurricane season begins June 1, 2019

Here's a satellite image of the Atlantic
>>> Gulf of Mexico: The 2019 hurricane season begins June 1, 2019

>>> Caribbean Sea: The 2019 hurricane season begins June 1, 2019

Here's a satellite image of the Caribbean Sea…and the Gulf of Mexico
>>> Eastern Pacific: The 2019 hurricane season begins May 15, 2019

Here's the link to the National Hurricane Center (NHC)
>>> Central Pacific: The 2019 hurricane season begins June 1, 2019
Here's the link to the Central Pacific Hurricane Center (CPHC)
>>> Northwest Pacific Ocean:

Tropical Cyclone 02W (Wutip)

JTWC textual advisory
JTWC graphical track map
>>> South Pacific Ocean: No active tropical cyclones
>>> North and South Indian Oceans / Arabian Sea: No active tropical cyclones

Interesting: Why Does Earth Have an Atmosphere? — Earth's atmosphere is enormous, so far reaching that it even affects the International Space Station's route. But how did this giant gaseous envelope form?
That is, why does Earth have an atmosphere?
In short, our atmosphere is here because of gravity. When Earth formed, about 4.5 billion years ago, the molten planet barely had an atmosphere. But as the world cooled, its atmosphere formed, largely from gases spewed out of volcanoes, according to the Smithsonian Environmental Research Center (SERC). This ancient atmosphere was very different from today's; it had hydrogen sulfide, methane and 10 to 200 times as much carbon dioxide as the modern atmosphere does, according to SERC.
"We believe the Earth started out with an atmosphere a bit like [that of] Venus, with nitrogen, carbon dioxide, maybe methane," said Jeremy Frey, a professor of physical chemistry at the University of Southampton in the United Kingdom. "Life then began somehow, almost certainly in the bottom of an ocean somewhere."
After around 3 billion years, the photosynthetic system evolved, meaning that single-celled organisms used the sun's energy to turn molecules of carbon dioxide and water into sugar and oxygen gas. This dramatically increased oxygen levels. "And that is the biggest pollution event, you might say, that life has ever done to anything, because it slowly transformed the planet," he said.
Nowadays, Earth's atmosphere consists of approximately 80 percent nitrogen and 20 percent oxygen, Frey said. That atmosphere is also home to argon, carbon dioxide, water vapor and numerous other gases, according to the National Center for Atmospheric Research (NCAR).
It's a good thing these gases are there. Our atmosphere protects the Earth from the harsh rays of the sun and reduces temperature extremes, acting like a duvet wrapped around the planet. Meanwhile, the greenhouse effect means that energy from the sun that reaches Earth gets waylaid in the atmosphere, absorbed and released by greenhouse gases, according to the NCAR. There are several different types of greenhouse gases; the major ones are carbon dioxide, water vapor, methane and nitrous oxide. Without the greenhouse effect, Earth's temperature would be below freezing.
However, today, greenhouse gases are out of control. As humans release more carbon dioxide into the atmosphere, Earth's greenhouse effect gets stronger, according to NCAR. In turn, the planet's climate gets warmer.
Intriguingly, no other planet in the universe has an atmosphere like Earth's. Mars and Venus have atmospheres, but they cannot support life (or, at least, not Earth-like life), because they don't have enough oxygen. Indeed, Venus' atmosphere is mainly carbon dioxide with clouds of sulfuric acid, the 'air' is so thick and hot that no human could breathe there. According to NASA, the thick carbon dioxide atmosphere of Venus traps heat in a runaway greenhouse effect, making it the hottest planet in our solar system. Surface temperatures there are hot enough to melt lead.
"The fact that Earth has an atmosphere is extremely unusual in respect of the planets in the solar system, in that it's very different from any of the other planets," Frey said. For example, the pressure of Venus is about 90 atmospheres, the equivalent to diving 3,000 feet beneath the ocean on Earth. "The original Russian spaceships that went there [to Venus] just recorded for a few seconds and then got crushed," Frey said. "Nobody ever really understood how hot it was."
So, Earth's atmosphere is life — and without it, life as we know it wouldn't exist. "Earth needed the right atmosphere [for life] to get started," Frey said. "It has created that atmosphere, and it has created circumstances to live in that atmosphere. The atmosphere is a totally integral part of the biological system."
February 23rd, 2019 at 6:34 pm
Woody Adamz Says:

A Big Warm ALOHA to your Mother and You..,"Interesting" pertains to one of my fav subjects ….LIFE and "our" and Connectiveness to Nature and each other. 😊)…Our Human Race has made some not so smart moves which show zero to little forethought environmentally speaking.We NEED TO(asap)pursue a modus that depends upon Sun,Water and Wind (again emphasizing the import of TIME being of the greatest import which,we daily find out is "snowballing"our projections and,telling us that we might already have passed the proverbial point of No Return. Obviously,we fail to grasp our situations peril and/or avoid it as does an ostrich in a sand dune….also, we NEED TO do some profound Inner Explorations of our relationship to this in terms of getting and staying more in Tune with Nature and it's ways and needs, especially since we depend on this "Atmosphere/Climate/environment" is our Life Support System…..This deserves in depth contemplation I perceive..May Enlightened Ways prevail lest, we become our own executioner thru our ignorance…Peace….. 😍 Aloha Nui to all.

~~~ Hi Woody, thanks for your comments, good thinking I'd say.

My Mom is well, thanks for your kind words.

Aloha, Glenn

February 23rd, 2019 at 1:26 pm
Allan Says:

Maybe it's a typo but the statement "no other planet in the universe has an atmosphere like Earth", should say "no other planet in the solar system has an atmosphere like Earth". Recent discoveries have concluded that there are trillions of other solar systems and planets in the universe and the possibility of another Earth like planet is very likely. In my opinion we humans have just begun to realize what's out there… and the possibilities are beyond our comprehention.
Thanks for the stimulating article Glenn.

~~~ Hi Allan, thanks for your comment…glad you enjoyed reading it. I suppose it should say that no other planet in the Universe (that we know about) has an atmosphere like Earth.

I'm with you, we know so little about what's out there, or even what's in here!

Aloha, Glenn
Leave a Reply