Air Temperatures – The following high temperatures (F) were recorded across the state of Hawaii Friday…along with the low temperatures Friday:

78 – 62  Lihue, Kauai
80 – 65  Honolulu, Oahu
80 – 68  Molokai AP
83 – 64  Kahului AP, Maui
82 – 71  Kona AP, Hawaii
86 – 70  Hilo, Hawaii

Here are the latest 24-hour precipitation totals (inches) for each of the islands Friday evening:

0.02  N Wailua Ditch, Kauai
0.06  Palisades, Oahu
0.00  Molokai
0.02  Lanai
0.02  Kahoolawe
0.18  West Wailuaiki, Maui
0.45  Kapapala RAWS, Big Island

The following numbers represent the strongest wind gusts (mph) Friday evening:

13  Mana, Kauai
16  Wheeler AAF, Oahu
10  Molokai
10  Lanai
14  Kahoolawe
20  Maalaea Bay, Maui
20  Hilo Harbor, Big Island
Hawaii's Mountains – Here's a link to the live webcam on the summit of our tallest mountain Mauna Kea (nearly 13,800 feet high) on the Big Island of Hawaii. Here's the webcam for the 10,000+ feet high Haleakala Crater on Maui. These webcams are available during the daylight hours here in the islands, and at night whenever there's a big moon shining down. Also, at night you will be able to see the stars, and the sunrise and sunset too…depending upon weather conditions.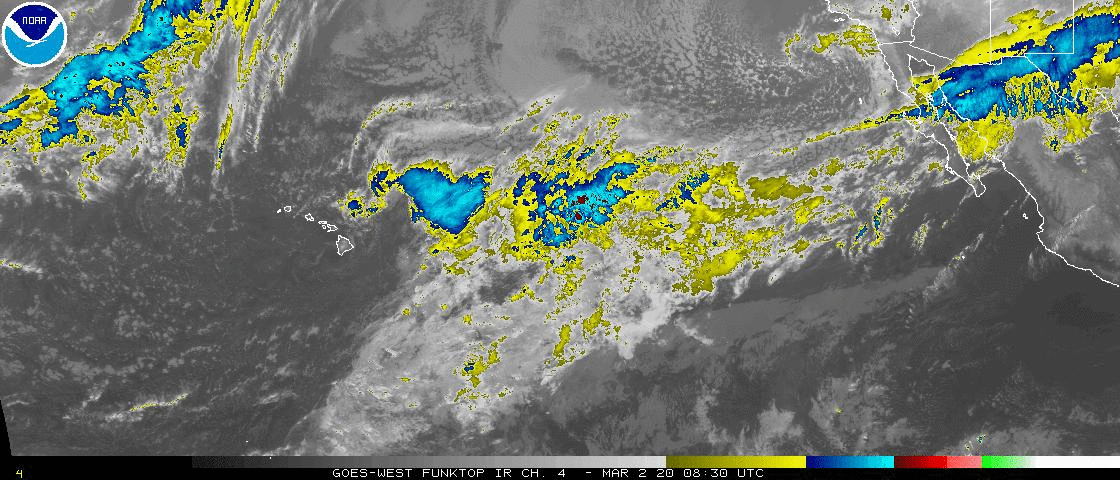 The recent heavy rains are finally moving away from the state
(click on the images to enlarge them)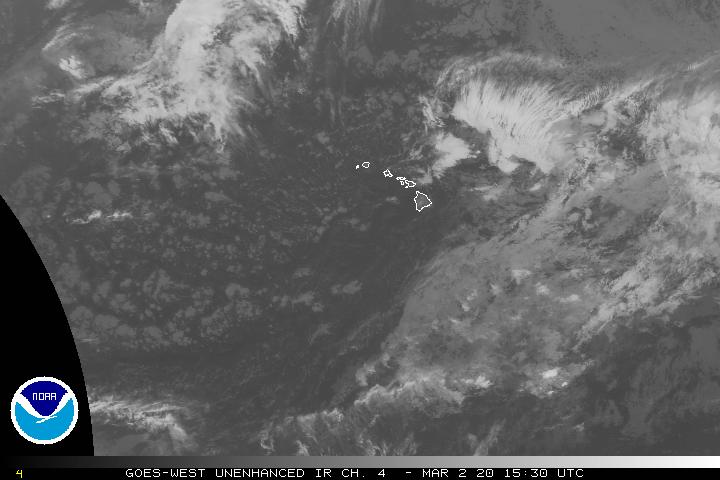 Clouds remain over parts of the island chain…less so for the western islands


Clear to partly cloudy…with cloudy areas


Showers locally
Looping image
There are no watches, warnings, or advisories at this time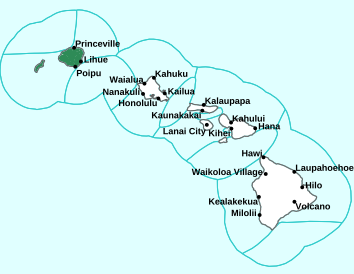 ~~~

Hawaii Weather Narrative

~~~
Broad Brush Overview: A trough of low pressure near the Big Island, will keep clouds and showers over the eastern end of the state into Saturday. Meanwhile, weak high pressure to the northwest will support mostly dry weather over Kauai and Oahu. Light winds will continue, although a new high building northwest of the islands late Saturday, will bring gradually strengthening north to northeast winds Sunday…which may become stronger next week. These winds will carry clouds and showers to north and east facing slopes and coasts…while also bringing cooler weather to the islands.
Details: A persistent surface trough just east of the Big Island is keeping clouds and showers in its vicinity, while a weak high pressure system to the northwest of the islands, is supplying mostly dry weather and light winds to many areas of the state. A southwest flow just above the surface is supplying partly to mostly cloudy conditions to parts of Maui County and all of the Big Island…with nearly clear skies over Kauai and Oahu in contrast. A few thunderstorms have been observed over the Hawaiian Offshore waters, a distance southeast of the Big Island.
The trough will drift west, then remain nearly stationary into Saturday…moving away to the east Sunday. Clouds and showers will be most active near the trough, primarily affecting windward and southeast Big Island, although possibly spreading to portions of Maui. Elsewhere, a mostly dry light wind regime will continue into the weekend. Light winds will allow afternoon sea breezes to carry clouds over interior portions of Kauai, Oahu and parts of Maui County, with little rainfall is expected. There may be a few locally heavy downpours…mostly limited to the eastern half of the Big Island.
Looking Further Ahead: As we push into the weekend, the trough will weaken and shift east as a new high builds northwest of the islands. This high will bring light to moderate north to northeasterly winds, which will push the remnants of a cold front over the state…bringing cooler air our way. This moisture will likely fuel a few showers along north and east facing slopes and coasts late Saturday into Monday. A stronger high is expected to develop northwest of the islands Tuesday and Wednesday, leading to chilly north-northeast winds, that will usher in additional frontal moisture over the islands, as yet another new low develops northeast of the islands. This would keep wintery northwest to northerly winds over the islands toward the end of the week…bringing passing clouds and showers.
Here's a near real-time Wind Profile of the Pacific Ocean – along with a Closer View of the islands / Here's the latest Weather Map

Marine Environmental Conditions: Light northeast winds will continue across most Hawaiian waters into the weekend, then shift north and increase into the light to moderate category late Saturday through Sunday. Near the coasts, overnight and early morning land breezes followed by late morning and afternoon sea breezes will continue through Saturday. The increase out of the north to northeast direction late Saturday through Sunday may be strong enough to hold off the sea breezes from developing Sunday. The exception will be around the Big Island due to a trough of low pressure that is forecast to linger in the area into the weekend. Moderate to fresh breezes (northeast winds west of the trough and southeast winds to its east) will hold across the windward and southeast Big Island waters. The trough will begin to shift east over the weekend as high pressure builds to the northwest and a front passes by to the north.
Despite the light winds in place, seas are slow to lower due to the large easterly swell that has been in place. This swell has peaked and will continue to lower through the weekend. Surf along east facing shores will respond and gradually lower.
After a long stretch of large surf and northerly winds for our north facing shores through the first half of February, surf will near a minimum for the month through the weekend. Storms over the far northwest Pacific have been quickly lifting north-northeast from Japan to the Bering Sea, ultimately limiting our traditional setup for northwest swell sources.
A cold front will approach and move into the area from the north Monday night through mid-week, which will bring fresh to strong north winds and rough seas (small craft advisory conditions) across the waters Tuesday through mid-week.
Surf along north and west facing shores is expected to rise next week in response to a powerful hurricane-force low projected to develop off the coast of Japan Saturday, then race northeastward toward the Aleutians/Date line Sunday. WAVEWATCH III and the ECMWF- Wave solutions depict a large northwest swell evolving from this source moving through the Hawaiian waters Tuesday through mid-week. If this materializes, surf could near warning levels for exposed north and west facing shores Wednesday through Thursday.




World-wide Tropical Cyclone Activity



Here's the latest Pacific Disaster Center (PDC) Weather Wall Presentation covering the western Pacific Ocean, the Indian Ocean, and the Arabian Sea, including retiring Tropical Cyclone 15P (Oma) and Tropical Cyclone 02W (Wutip)


>>> Atlantic Ocean: The 2019 hurricane season begins June 1, 2019

Here's a satellite image of the Atlantic
>>> Gulf of Mexico: The 2019 hurricane season begins June 1, 2019

>>> Caribbean Sea: The 2019 hurricane season begins June 1, 2019

Here's a satellite image of the Caribbean Sea…and the Gulf of Mexico
>>> Eastern Pacific: The 2019 hurricane season begins May 15, 2019

Here's the link to the National Hurricane Center (NHC)
>>> Central Pacific: The 2019 hurricane season begins June 1, 2019
Here's the link to the Central Pacific Hurricane Center (CPHC)
Interesting: Why Do So Many Americans Now Support Legalizing Marijuana? — American views on marijuana have shifted incredibly rapidly. Thirty years ago, marijuana legalization seemed like a lost cause. In 1988, only 24 percent of Americans supported legalization.
But steadily, the nation began to liberalize. By 2018, 66 percent of U.S. residents offered their approval, transforming marijuana legalization from a libertarian fantasy into a mainstream cause. Many state laws have changed as well. Over the last quarter-century, 10 states have legalized recreational marijuana, while 22 states have legalized medical marijuana.
So why has public opinion changed dramatically in favor of legalization? In a study published this February, we examined a range of possible reasons, finding that the media likely had the greatest influence.
It's not about use, geography or demographics
For one, it's not about marijuana use. Yes, marijuana use has increased. Data from the National Survey on Drug Use and Health show that, in 2002, about 10 percent of adults reported using marijuana the previous year. By 2015, 13.5 percent reported using. But that increase is too small to have had much of an impact on attitudes.
And it's not about older, more conservative Americans being replaced by younger generations who are more familiar with marijuana. Both younger and older people developed more liberal views about the legalization of marijuana at a similar pace over the last 30 years. In this way, changes in attitudes about marijuana legalization mirror recent increases in support for LGBTQ individuals.
We looked to see if people who lived in states where it was illegal, but resided next to ones where it became legal, were more likely to have changed their views. But the rate of change has been no different in states that legalized marijuana than in others.
Likewise, the pace of change has been similar across political parties, religions, educational levels, racial and ethnic groups and gender. As politically polarized as the country may seem, when it comes to marijuana, Americans have been changing their attitudes together, as a nation.
We did find that a small part of the increase in support was related to more people disaffiliating with religion. The proportion of people who do not identify with a religion has increased some, by about 7 percent between 2007 and 2014. People who do not have a religion tend to be more liberal than others. However, this factor accounts for only a small proportion of the change.
Media medical framing
So what's going on? What has likely made the biggest difference is how the media has portrayed marijuana. Support for legalization began to increase shortly after the news media began to frame marijuana as a medical issue.
We took The New York Times as a case study, looking at the number of published articles from 1983 to 2015 about marijuana. Just before the number of Americans supporting legalization began to increase, we found a sharp increase in the proportion of articles about marijuana that discussed its medical uses.
In the 1980s, the vast majority of New York Times stories about marijuana were about drug trafficking and abuse or other Schedule I drugs. At that time, The New York Times was more likely to lump marijuana together in a kind of unholy trinity with cocaine and heroin in discussions about drug smuggling, drug dealers and the like.
During the 1990s, stories discussing marijuana in criminal terms became less prevalent. Meanwhile, the number of articles discussing the medical uses of marijuana slowly increased. By the late 1990s, marijuana was rarely discussed in the context of drug trafficking and drug abuse. And marijuana had lost its association with other Schedule I drugs like cocaine and heroin in the New York Times. Gradually, the stereotypical persona of the marijuana user shifted from the stoned slacker wanting to get high to the aging boomer seeking pain relief.
Of course, many Americans do not read The New York Times. But analysis of newspapers of record, like this one, provide insight into how the news media has changed its framing of marijuana, especially during an era when newspapers were still a primary news source.
Harsh criminal justice system
As Americans became more supportive of marijuana legalization, they also increasingly told survey researchers that the criminal justice system was too harsh.
In the late 1980s, the "war on drugs" and sentencing reform laws put a large number of young men, often black and Latino, behind bars for lengthy periods of time. As Americans started to feel the full social and economic effects of tough-on-crime initiatives, they reconsidered the problems with criminalizing marijuana.
Because support for the legalization of marijuana and concerns about the harshness of the criminal justice system changed at about the same time, it's difficult to know what came first. Did concern about the harshness of the criminal justice system affect support for legalization — or vice versa?
By contrast, the cause and effect is clearer with respect to the media framing of marijuana. The news media's portrayal of marijuana began to change shortly before the public did, suggesting that the media influenced support for the legalization of marijuana.
Once attitudes begin to change, it is difficult to know what keeps the momentum moving. Whatever the initial impetus, attitudes today are drastically more supportive, and legalization is increasing fast.
Leave a Reply