Air Temperatures – The following high temperatures (F) were recorded across the state of Hawaii Friday…along with the low temperatures Friday:

77 – 66  Lihue, Kauai
78 – 66  Honolulu, Oahu
76 – 63  Molokai AP
77 – 64  Kahului AP, Maui
81 – 64  Kona AP, Hawaii
75 – 60  Hilo, Hawaii

Here are the latest 24-hour precipitation totals (inches) for each of the islands Friday evening:

2.24  Mount Waialeale, Kauai
0.92  Kamananui Stream, Oahu
1.25  Molokai
0.12  Lanai
0.00  Kahoolawe
3.34  Puu Kukui, Maui
3.96  Laupahoehoe, Big Island

The following numbers represent the strongest wind gusts (mph) Friday evening:

30  Lihue, Kauai
31  Oahu Forest NWR, Oahu
27  Molokai
37  Lanai
28  Kahoolawe
29  Maalaea Bay, Maui
27  Hilo Harbor, Big Island
Hawaii's Mountains – Here's a link to the live webcam on the summit of our tallest mountain Mauna Kea (nearly 13,800 feet high) on the Big Island of Hawaii. Here's the webcam for the 10,000+ feet high Haleakala Crater on Maui. These webcams are available during the daylight hours here in the islands, and at night whenever there's a big moon shining down. Also, at night you will be able to see the stars, and the sunrise and sunset too…depending upon weather conditions.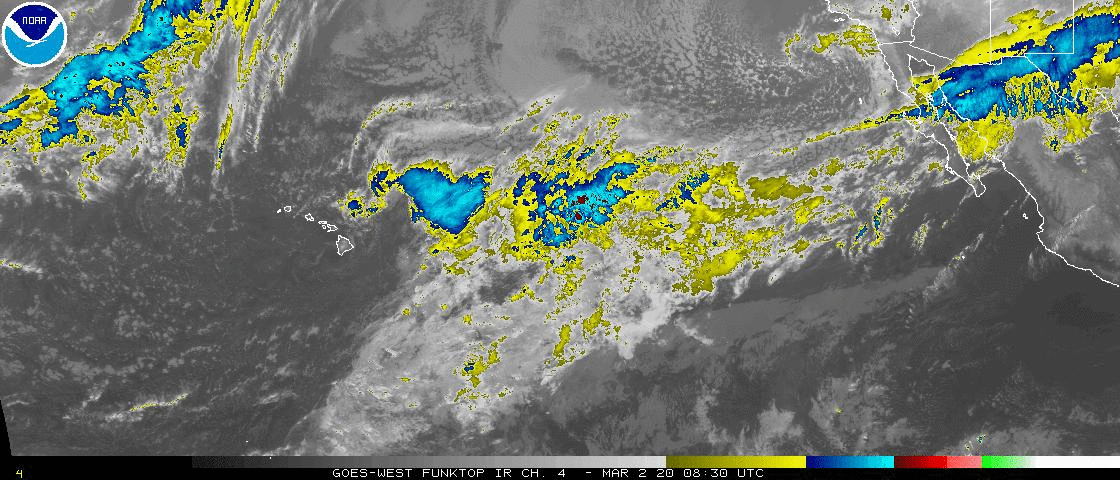 Large swath of moisture (Atmospheric River/Pineapple Express) moving up from the deeper tropics…running by southeast, east, and northeast of the state
(click on the images to enlarge them)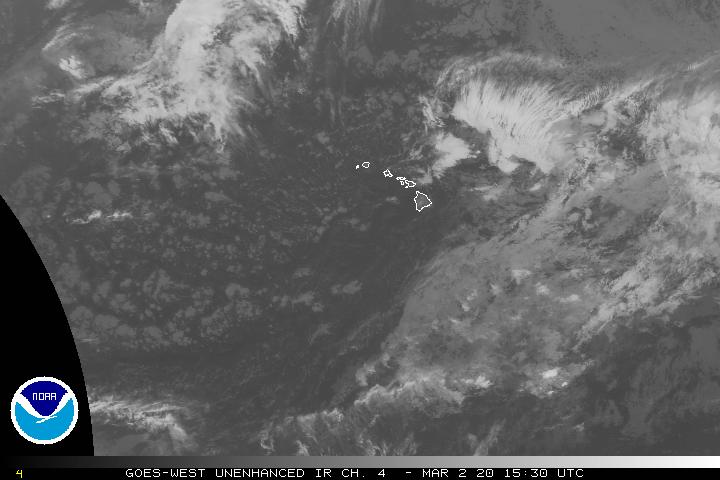 Heavy clouds just northeast of the state


Partly cloudy…although with clear and cloudy areas too


Showers locally…some are heavy in the vicinity
Looping image
Small Craft Advisory…pink color below
Winter Weather Statement…blue color below
Wind Advisory…beige color below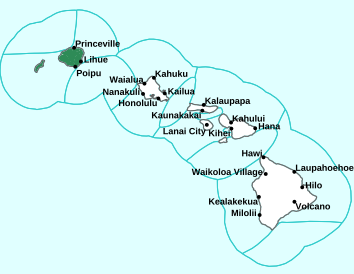 ~~~

Hawaii Weather Narrative

~~~
Broad Brush Overview: The upper low will remain over the eastern half of the state, before slowly drifting westward across the entire island chain this weekend. Look for continued unsettled weather with periods of showers, locally heavy at times, with isolated thunderstorms through Sunday. A surface low developing under the upper low will weaken the trades through Saturday. Southeasterly winds will pull in deeper tropical moisture over the eastern islands next week…with additional rounds of unsettled weather in the long range forecast.
Details: A persistent upper level low over the state will keep an active winter weather pattern in place through the weekend. Trade wind speeds will begin to decrease as a surface low pressure area near the Big Island slowly shifts westward. The greatest shower coverage will remain over windward and mountain slopes, with scattered showers spilling into leeward areas. Due to the unstable air mass over the state, some of these showers may become locally heavy at times…with isolated thunderstorms possible.
The cold temperatures near the center of this upper low will keep snow levels below the highest peaks of Haleakala, Mauna Kea and Mauna Loa. Convective showers will continue to bring off and on snow showers across these peaks into Saturday…although snowfall amounts will trend lower. Summit roads will be icy and dangerous with driving visibilities quickly dropping to near zero, as snow shower bands rapidly develop over these mountain peaks. Roads to the summits are reported as closed until these winter weather conditions diminish.
Looking Further Ahead: As we push into the first half of next week, the upper low will set up west of the islands, as a surface trough develops over the western half of the state. This surface trough will interact with a ridge of high pressure located far to the northeast of Hawaii, producing a light to moderate southeasterly wind flow. A deep plume of tropical moisture will move up over the eastern islands, producing rounds of showers across Maui and Hawaii Counties Tuesday and Wednesday…please stay tuned for adjustments to this outlook.
Here's a near real-time Wind Profile of the Pacific Ocean – along with a Closer View of the islands / Here's the latest Weather Map

Marine Environmental Conditions: Strong high pressure far north of the area will combine with a developing low just east of the Big Island, to bring strong and gusty northeast winds. A vigorous low aloft continues to decrease stability, maintaining the possibility for heavy showers and thunderstorms. This developing low is expected to track over waters just north of the islands…and then move west Saturday. A fetch of strong to gale force northeast winds will likely support a continuation of large seas and swells moving toward the islands from the northeast into the first part of the weekend. A small to moderate WNW swell this weekend will produce below advisory-level surf along north and west facing shores.
As the low tracks west, winds over island waters will be quite changeable, although will generally trend down as the low interrupts the wind flow. The low is forecast to pass very close to Kauai  Sunday, then move west of the islands, which is expected to lead to light to moderate east to southeast winds early next week.




World-wide Tropical Cyclone Activity



Here's the latest Pacific Disaster Center (PDC) Weather Wall Presentation covering the western Pacific Ocean, the Indian Ocean, and the Arabian Sea, including Tropical Cyclone Oma


>>> Atlantic Ocean: The 2019 hurricane season begins June 1, 2019

Here's a satellite image of the Atlantic
>>> Gulf of Mexico: The 2019 hurricane season begins June 1, 2019

>>> Caribbean Sea: The 2019 hurricane season begins June 1, 2019

Here's a satellite image of the Caribbean Sea…and the Gulf of Mexico
>>> Eastern Pacific: The 2019 hurricane season begins May 15, 2019

Here's the link to the National Hurricane Center (NHC)
>>> Central Pacific: The 2019 hurricane season begins June 1, 2019
Here's the link to the Central Pacific Hurricane Center (CPHC)
>>> Northwest Pacific Ocean: No active tropical cyclones

>>> South Pacific Ocean:
Tropical Cyclone 15P (Oma)

JTWC textual advisory
JTWC graphical track map
>>> North and South Indian Oceans / Arabian Sea: No active tropical cyclones

Interesting: What Will Happen to the Opportunity Rover's Dead Body on Mars? – NASA's Opportunity Rover has died on Mars. The little solar-paneled robot apparently ran out of battery power during the Red Planet's awesome 2018 dust storm, and after one last attempt to contact it, NASA concluded February 13th that the far-off explorer is no more.
Which raises the question: What's going to happen to its body?
Many human artifacts wouldn't last very long beyond our protective biosphere.
Jeff Moersch, a professor of planetary science at the University of Tennessee, Knoxville, and a member of the Opportunity team, cautioned that he's not an expert in the rover's engineering. But he said that Opportunity does have some plastic bits that might eventually break down under the glare of the sun — its insulation, for example.
"But, by and large, I think it'll look pretty much as we left it," when and if astronauts ever do come across its resting place. It'll probably be pretty dusty, though, he added.
That's assuming that astronauts do make it to Mars in the relatively near future — the next century or two, for example.
Over much longer periods, Moersch said, dust will settle on the rover. Opportunity functioned as long as it did because regular Martian winds tended to routinely blow dust off its body. But over longer periods, it's a bit of an open question whether the dust or the wind will win out.
"I doubt it will end up buried in a mound, though," he added.
What about millions of years in the future? On Earth, anything old and dead and sitting in one place on the surface tends to eventually end up underground. But that's thanks to the effects of water and plate tectonics, Moersch said — factors that aren't present in the same way on Mars.
"Over the very long-term, you're going to get impacts that knock up ejecta [airborne Mars dirt] from where they hit, and that ejecta will very gradually resurface [on] the planet and bury things that were on the surface," he said.
If Opportunity were to be left on Mars, aliens who landed there millions and millions of years from now would find the rover somewhere in the rock record — much like how paleontologists find dinosaur fossils here on Earth.
But NASA is hoping to send humans to Mars one day. And there are dreams of establishing some sort of human settlement there. Steve Squyres, a professor of astronomy at Cornell University in Ithaca, New York, and head of the Opportunity science mission, made clear during NASA's press conference announcing the rover's death that the agency has no plans to bring the rover back to Earth. (Why would we spend the money bringing material back from Mars when we already know exactly what it's made of? he asked.)
That said, Moersch added, when humans do settle Mars, it's not unreasonable to imagine they might make some effort to recover and preserve Opportunity. Perhaps it could end up in museum, or the region explored by the rover might end up as a national park.
Of course, if humans never get there, Opportunity might not make it into the fossil record at all. It's at least plausible that, given millions of years, a meteor could strike it directly and smash it to bits.
Leave a Reply