Air Temperatures – The following high temperatures (F) were recorded across the state of Hawaii Tuesday…along with the low temperatures Tuesday:

81 – 63  Lihue, Kauai
83 – 65  Honolulu, Oahu
79 – 61  Molokai AP
84 – 57  Kahului AP, Maui
83 – 70  Kona AP, Hawaii
80 – 63  Hilo, Hawaii

Here are the latest 24-hour precipitation totals (inches) for each of the islands Tuesday evening:

0.03  Mount Waialeale, Kauai
0.02  Kawailoa, Oahu
0.00  Molokai
0.00  Lanai
0.00  Kahoolawe
0.00  Maui
0.28  Saddle Quarry, Big Island

The following numbers represent the strongest wind gusts (mph) Tuesday evening:

15  Mana, Kauai
12  Waianae Harbor, Oahu
09  Molokai
15  Lanai
12  Kahoolawe
17  Kahului AP, Maui
21  Puu Mali, Big Island
Hawaii's Mountains – Here's a link to the live webcam on the summit of our tallest mountain Mauna Kea (nearly 13,800 feet high) on the Big Island of Hawaii. Here's the webcam for the 10,000+ feet high Haleakala Crater on Maui. These webcams are available during the daylight hours here in the islands, and at night whenever there's a big moon shining down. Also, at night you will be able to see the stars, and the sunrise and sunset too…depending upon weather conditions.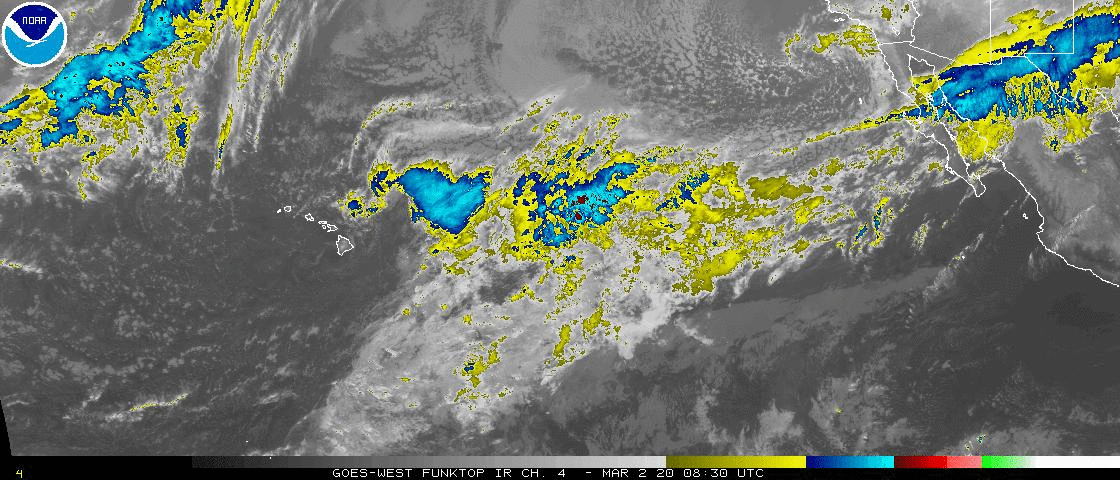 A new front is north-northwest
(click on the images to enlarge them)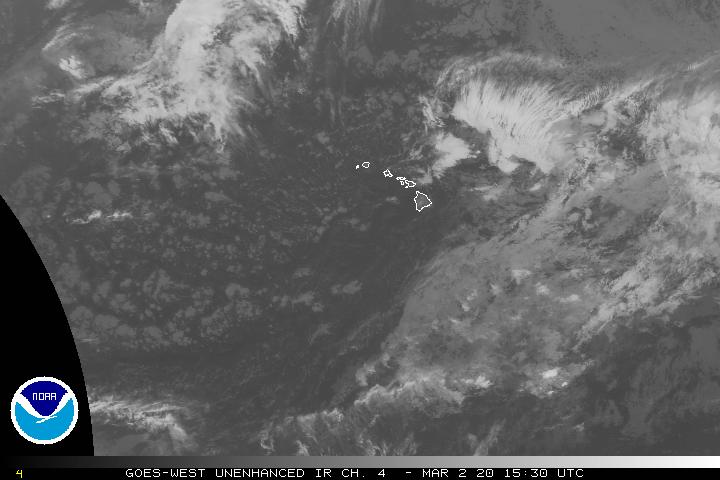 This new front will move through the state…Thursday into Friday


Partly to mostly cloudy…with many clear areas


Showers locally…although very few – Looping image

 Small Craft Advisory…pink color below
 High Surf Advisory…purple color below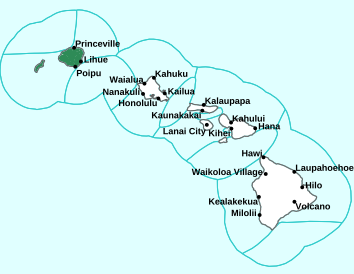 ~~~

Hawaii Weather Narrative

~~~
Broad Brush Overview: A fair weather pattern will continue, with light and variable winds for the time being. An approaching cold front from the northwest will cause winds to shift towards a more southerly direction with scattered showers Wednesday. As we push into Thursday and Friday, a cold front will move through the state, spreading clouds and showers over each island. Look for a return to trade winds Friday afternoon into Saturday with typical windward and mountain showers. Yet another cold front approaches the islands for the first half of next week…with another period of wet weather.
Details: A ridge of high pressure remains just north of Hawaii, keeping a light east to southeasterly wind flow over the state, with light and variable winds locally. Strong subsidence from the upper level ridge over the area will keep the trade wind inversion heights low, capping upward cloud growth through Wednesday morning. These shallow cloud heights will limit rainfall over the state, with not much shower coverage. A low pressure system moving by to the north, will be pushing a cold front towards Hawaii from the northwest.
This front and associated trough of low pressure will break down the ridge over the islands, causing our winds to shift towards a more southerly kona direction. An upper level trough associated with this system will reduce large scale downward subsidence, and lift the trade wind inversion heights to around 8000 feet…and in the process deepen the cloud depths. Look for scattered rains showers to develop by Wednesday afternoon, although focusing their efforts mainly over the western half of the state, for Kauai and Oahu.
The cold front will sweep from west to east through the island chain Thursday and Friday. Southwesterly kona wind speeds will increase ahead of the front, with chilly northerly winds in the wake of the front. Look for an 8-12 hour period of showers, starting with Kauai Thursday around noon. The frontal cloud band and showers will then reach Oahu late Thursday afternoon into the early evening, arriving over Maui County Thursday night into early Friday morning…and finally pushing through the Big Island Friday morning.
Looking Ahead: By Saturday, a high pressure system passing through the Central Pacific will bring one more day of typical moderate to breezy trade winds, with scattered showers mainly over windward and mountain areas.  Sunday finds winds veering towards a more southeasterly direction, with land and sea breezes along with mostly dry conditions…as a second cold front approaches the islands from the northwest. Scattered showers remain in the forecast for the first half of next week, as the models continue to show another cold front moving into Kauai.
Here's a near real-time Wind Profile of the Pacific Ocean – along with a Closer View of the islands / Here's the latest Weather Map

Marine Environmental Conditions: A ridge of high pressure just north of the islands will keep light to locally moderate trades in place through tonight. An approaching cold front will shift winds around to the south Wednesday, with moderate to strong south to southwest kona winds expected for Thursday ahead of the front. The cold front is expected to sweep eastward through the islands late Thursday through Friday, with moderate to strong and cool north to northeast winds following the frontal passage. Moderate to strong trade winds are expected to fill in late Friday through Saturday, as a quick moving high builds eastward to the north of the state. A new approaching cold front will likely shift winds back around to the south and southeast late in the weekend…through early next week.
The current large northwest swell has trended downward, although a reinforcing northwest swell is expected. This swell will then move towards the islands, with surf heights expected to reach solid warning levels across north and west shores of Niihau and Kauai, with High Surf Warning (HSW) threshold for the west/north facing shores of Oahu and Molokai, and north facing shores of Maui. The High Surf Advisory (HSA) remains in effect for the west facing shores of the Big Island as well.
The swell will gradually lower Wednesday through Thursday, although advisory level surf will likely hang on across north and west facing shores exposed to the swell through Wednesday afternoon. A new large northwest shifting to north swell will build Thursday night and Friday, then slowly lower over the weekend. This swell may reach advisory levels for exposed north and west facing shores Thursday night and Friday.
The Small Craft Advisory (SCA) for elevated seas is expected to continue through tonight for portions of the marine area exposed to the series of northwest swells moving through. This SCA may need to be extended through Wednesday. Additionally, SCA conditions may develop ahead of and behind the cold front across portions of the marine area Thursday through Friday for winds, seas or a combination of the two. A period of strong trades may also produce SCA level winds across the typically windy zones around Maui and the Big Island Friday night through Saturday.





World-wide Tropical Cyclone Activity



Here's the latest Pacific Disaster Center (PDC) Weather Wall Presentation covering the western Pacific Ocean, the Indian Ocean, and the Arabian Sea, including a tropical disturbance which is remnants of TC 01W…in the western Pacific

>>> Atlantic Ocean: The 2019 hurricane season begins June 1, 2019

Here's a satellite image of the Atlantic
>>> Gulf of Mexico: The 2019 hurricane season begins June 1, 2019

>>> Caribbean Sea: The 2019 hurricane season begins June 1, 2019

Here's a satellite image of the Caribbean Sea…and the Gulf of Mexico
>>> Eastern Pacific: The 2019 hurricane season begins May 15, 2019

Here's the link to the National Hurricane Center (NHC)
>>> Central Pacific: The 2019 hurricane season begins June 1, 2019
Here's the link to the Central Pacific Hurricane Center (CPHC)
>>> Northwest Pacific Ocean: No active tropical cyclones

>>> South Pacific Ocean: No active tropical cyclones

>>> North and South Indian Oceans / Arabian Sea: No active tropical cyclones

Here's a link to the Joint Typhoon Warning Center (JTWC)
Interesting: Wine on Mars? The World's Oldest Wine-Making Country Wants to Make It Happen –  The first human colonists on Mars will have to forgo many of the creature comforts of Earth — things like enjoying an ozone layer, for example, or opting out of rearing genetically engineered Martian babies. Fortunately, one essential earthly amenity these hardscrabble colonists may not have to give up is wine.
Georgia, a country with an 8,000-year-old viticulture tradition, is putting its top space and wine scientists to work figuring out how to grow grapes on Mars.
The project, named IX Millennium, ostensibly as a nod to Georgia's ninth millennium making wine, will involve several phases of research into building an agricultural infrastructure on Mars. One critical step: identifying the grape varietals on Earth best equipped to withstand the harsh radiation, fearsome dust storms and severe temperature swings of the Red Planet. This research could help hydrate permanent settlements on Mars a soon as 2024 — the year when SpaceX founder Elon Musk intends to launch the first crewed mission there. (NASA hopes to follow in the 2030s.)
"If we're going to live on Mars one day, Georgia needs to contribute," Nikoloz Doborjginidze, founder of Georgia's Space Research Agency and an adviser on the wine project, told The Washington Post. "Our ancestors brought wine to Earth, so we can do the same to Mars." (The origins of wine are still debated, but Georgia holds a valid claim thanks to their recent discovery of an old wine-stained pot dated to 6000 B.C.)
The first wine on Mars
The new space wine project will kick off later this year with the installation of "vertical greenhouses" inside a hotel in the capital city of Tbilisi, according to Georgian news agency Agenda.ge. There, floor-to-ceiling pods of soil and seeds (including grapes, strawberries and arugula) will be left to grow under hydroponic lights with minimal human interference, simulating the possible conditions of a controlled agriculture pod on Mars.
In the meantime, Georgian wine experts are hard at work trying to figure out which grape varietals might best survive harsh Martian conditions. Over the next few years, researchers at Tbilisi's Business Technology University plan to simulate a Martian environment in the laboratory, exposing soil samples to subzero conditions, high carbon monoxide levels and thin air meant to mimic the atmospheric pressure at "20,000 feet altitude on Earth," The Washington Post reported.
These experiments likely will not bear fruit until at least 2022, but scientists already have a hunch that white wine will fare best on the Red Planet.
"Whites tend to be more resistant to viruses," Levan Ujmajuridze, director of Georgia's vineyard Laboratory, told The Washington Post. "So, I'd imagine they'll do well against radiation, too. Their skin could reflect it."
These experiments could well provide future Martians with grapevines — but the actual fermenting, bottling and aging would be up to them. Nobody knows exactly how fermenting grapes in microgravity will actually work yet, but NASA scientists think it's possible.
The Georgia team's boozy experiments aren't the first foray into space agriculture. Astronauts aboard the International Space Station (ISS) have already begun growing salad crops in microgravity, while China's recently deployed Chang'e-4 lander will attempt to grow potatoes and rockcress (a flowering plant similar to cabbage and mustard) on the moon.
The makers of Budweiser, meanwhile, have launched barley seeds into space three times in hopes of becoming "the first beer on Mars," while a batch of Ardmore scotch whisky spent three years aboard the ISS from 2011 to 2014. That project showed Earthlings that even an old drop of the pure is apparently not immune to the ravages of microgravity; the scotch reportedly came home tasting of "antiseptic lozenges" and "rubbery smoke."
January 15th, 2019 at 3:33 pm
Douglas MacDougal Says:

Aloha Glen
"Antiseptic lozenges". Proof indeed! I've always known a wee dram was good medicine.
Mahalo for enlightening us yet again….
Douglas

~~~ Hi Douglas, indeed, a wee bit of Scotch never hurt anyone…especially in the middle of winter!

Thanks for your fun comment…

Aloha, Glenn
Leave a Reply