Air Temperatures – The following high temperatures (F) were recorded across the state of Hawaii Monday…along with the low temperatures Monday:

79 – 67  Lihue, Kauai
82 – 68  Honolulu, Oahu
78 – 69  Molokai AP
82 – 67  Kahului AP, Maui
81 – 67  Kona AP, Hawaii
78 – 67  Hilo, Hawaii

Here are the latest 24-hour precipitation totals (inches) for each of the islands Monday evening:

0.89  Mount Waialeale, Kauai
0.88  Tunnel RG, Oahu
0.72  Molokai
0.06  Lanai
0.00  Kahoolawe
1.89   West Wailuaiki, Maui
2.30  Waiakea Uka, Big Island

The following numbers represent the strongest wind gusts (mph) Monday evening:

18  Poipu, Kauai
30  Oahu Forest NWR, Oahu
28  Molokai
28  Lanai
27  Kahoolawe
27  Kapalua, Maui
30  Kealakomo, Big Island
Hawaii's Mountains – Here's a link to the live webcam on the summit of our tallest mountain Mauna Kea (nearly 13,800 feet high) on the Big Island of Hawaii. Here's the webcam for the 10,000+ feet high Haleakala Crater on Maui. These webcams are available during the daylight hours here in the islands, and at night whenever there's a big moon shining down. Also, at night you will be able to see the stars, and the sunrise and sunset too…depending upon weather conditions.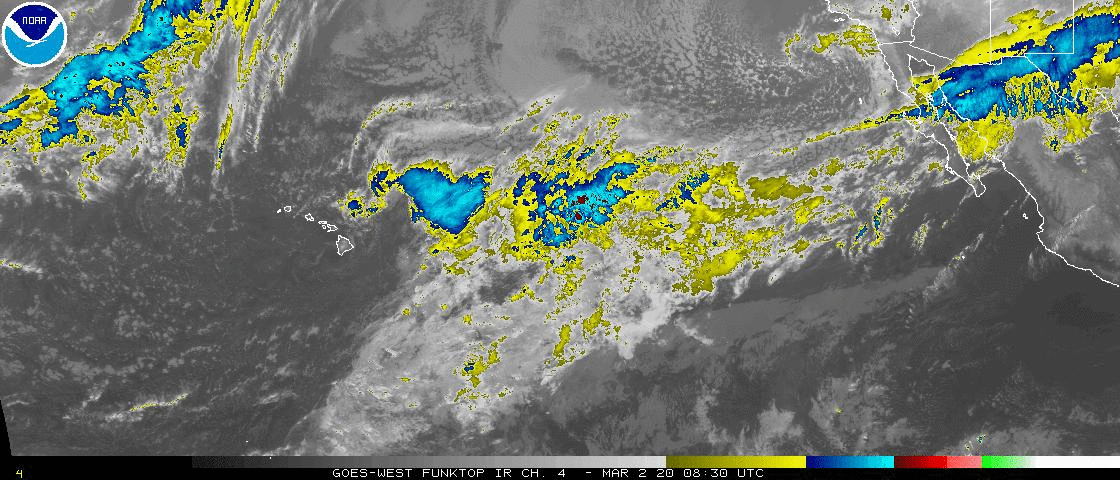 We see yet another cold front well to the northwest
(click on the images to enlarge them)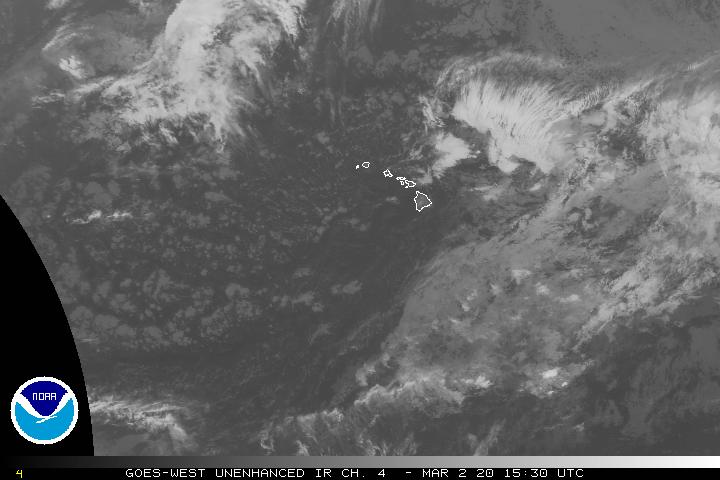 Fragmenting cold front  northwest…deeper clouds northeast associated with a low pressure system


Clear to partly cloudy…although with cloudy areas locally too


Showers locally…mostly windward – Looping image
 There are no watches, warnings, or advisories at this time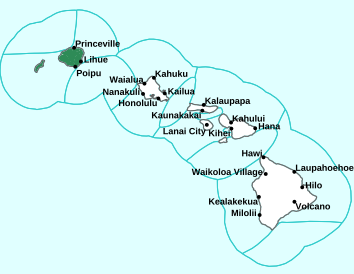 ~~~

Hawaii Weather Narrative

~~~
Broad Brush Overview:  An upper level ridge of high pressure moving over the islands now, will produce drier trade wind weather conditions for most islands through Tuesday. An upper level trough of low pressure will move in from the northwest Tuesday evening, producing increased showers, along with variable wind conditions Wednesday through Thursday. Cool northerly winds return Friday into the weekend, as a high pressure system builds into the state…spreading scattered showers along north and northeast facing mountain slopes.
Details: Generally pleasant winter weather will remain in place over the state through Tuesday, as an upper level trough moves eastward away from the islands, and an upper level ridge moves over the state. This ridge aloft will bring downward (subsidence) motions in the atmosphere, and in turn lower trade wind inversion heights for most islands through Tuesday afternoon. The trades will prevail during this time period, with scattered windward and mountain showers…while the leeward sides will remain generally dry through much of Tuesday afternoon.
The weather pattern changes to a wetter situation Tuesday evening, as an upper level trough moves over us, lifting the trade wind inversion heights and allowing deeper clouds to develop statewide. A surface trough will form over the islands, causing winds to decrease and become more variable in speed and direction. These lighter winds will allow some land and sea breezes to develop over each island. Look for enhanced showers to develop through Thursday with the American (GFS) model showing a low forming north of the state.
Looking Further Ahead: High pressure builds in across the islands from the northwest Friday, resulting in cooler northerly winds lasting into the weekend. Clouds and showers will tend to favor mountain areas and north through northeast slopes of all islands. Model guidance on precipitation coverage for the islands remains more uncertain than usual from Friday onward…with a split between the GFS and ECMWF models. Thus, more specific details on the rainfall timing and coverage will need to wait until the models converge on a more agreeable solution.
Here's a near real-time Wind Profile of the Pacific Ocean – along with a Closer View of the islands / Here's the latest Weather Map

Marine Environmental Conditions: Moderate to strong trades associated with high pressure to the north will continue into Tuesday. A transition period is anticipated through the day Tuesday, as an upper trough approaches and begins to disrupt the trade flow. Winds will trend down, likely giving way to land and sea breeze conditions near the coasts Tuesday night through Thursday. Although confidence lowers Thursday night through the upcoming weekend, guidance continues to suggest the low-level flow will shift to the north-northwest direction, as low pressure develops to the north. These cool northerly winds may strengthen into the moderate to strong category over the weekend.
Surf along north facing shores will remain up through the week, as a series of overlapping moderate west-northwest swells continue. These sources have been consistently arriving later than predicted. A similar reinforcement is expected to arrive by Tuesday night, hold through Wednesday, then lower into Thursday. Surf along north and west facing shores will near advisory levels Wednesday as it fills in…especially on Kauai.
A more significant west-northwest swell is expected Thursday through Saturday that may drive surf well above warning criteria for exposed north and west facing shores. The source for this large swell is currently being analyzed as a developing hurricane-force low centered near Japan. Guidance depicts a sizable area of storm to near hurricane-force westerly winds becoming focused towards the islands.
Surf along east facing shores will hold steady through Tuesday, then potentially rise by Wednesday as the wind increases upstream of the state. A northeast swell from a large batch of strong to gale-force northerly winds can't be ruled out through the second half of the week…likely peaking through the day Thursday.

Baldwin Beach…Maui



World-wide Tropical Cyclone Activity



Here's the latest Pacific Disaster Center (PDC) Weather Wall Presentation covering the western Pacific Ocean, the Indian Ocean, and the Arabian Sea, including two tropical disturbances being referred to as Invest 98S and Invest 97S…both in the South Indian Ocean


>>> Atlantic Ocean: The 2019 hurricane season begins June 1, 2019

Here's a satellite image of the Atlantic
>>> Gulf of Mexico: The 2019 hurricane season begins June 1, 2019

>>> Caribbean Sea: The 2019 hurricane season begins June 1, 2019

Here's a satellite image of the Caribbean Sea…and the Gulf of Mexico
>>> Eastern Pacific: The 2019 hurricane season begins May 15, 2019

Here's the link to the National Hurricane Center (NHC)
>>> Central Pacific: The 2019 hurricane season begins June 1, 2019
Here's the link to the Central Pacific Hurricane Center (CPHC)
>>> Northwest Pacific Ocean: No active tropical cyclones

>>> South Pacific Ocean: No active tropical cyclones

>>> North and South Indian Oceans / Arabian Sea: No active tropical cyclones

Here's a link to the Joint Typhoon Warning Center (JTWC)
Interesting: A warming world increases air pollution – Climate change is warming the ocean, but it's warming land faster and that's really bad news for air quality all over the world, says a new University of California, Riverside study.
The study, published February 4th in Nature Climate Change, shows that the contrast in warming between the continents and sea, called the land-sea warming contrast, drives an increased concentration of aerosols in the atmosphere that cause air pollution.
Aerosols are tiny solid particles or liquid droplets suspended in the atmosphere. They can come from natural sources, like dust or wildfires, or human-made sources such as vehicle and industrial emissions. Aerosols affect the climate system, including disturbances to the water cycle, as well as human health. They also cause smog and other kinds of air pollution that can lead to health problems for people, animals, and plants.
"A robust response to an increase in greenhouse gases is that the land is going to warm faster than the ocean. This enhanced land warming is also associated with increased continental aridity," explained first author Robert Allen, an associate professor of earth sciences at UC Riverside.
The increase in aridity leads to decreased low cloud cover and less rain, which is the main way that aerosols are removed from the atmosphere.
To determine this, the researchers ran simulations of climate change under two scenarios. The first assumed a business-as-usual warming model, in which warming proceeds at a constant, upward rate. The second model probed a scenario in which the land warmed less than expected.
In the business-as-usual scenario, enhanced land warming increased continental aridity and, subsequently, the concentration of aerosols that leads to more air pollution. However, the second model—which is identical to the business-as-usual model except the land warming is weakened—leads to a muted increase in continental aridity and air pollution. Thus, the increase in air pollution is a direct consequence of enhanced land warming and continental drying.
The results show that the hotter Earth gets, the harder it's going to be to keep air pollution down to a certain level without strict control over the sources of aerosols.
Because the researchers wanted to understand how greenhouse gas warming affects air pollution, they assumed no change to human-made, or anthropogenic, aerosol emissions.
"That's probably not going to be true because there's a strong desire to reduce air pollution, which involves reducing anthropogenic aerosol emissions," cautioned Allen. "So this result represents an upper bound."
But it also suggests that if the planet keeps warming, larger reductions in anthropogenic aerosol emissions will be required to improve air quality.
"The question is what level of air quality are we going to accept," said Allen. "Even though California has some of the strictest environmental laws in the country we still have relatively poor air quality, and it's much worse in many countries."
Unless anthropogenic emission reductions occur, a warmer world will be associated with more aerosol pollution.
The paper, "Enhanced land–sea warming contrast elevates aerosol pollution in a warmer world," was co-authored by Allen and Taufiq Hassan, a doctoral student at UC Riverside, Cynthia A. Randles, a researcher with Exxon Mobil, and Hui Su, a researcher at NASA's Jet Propulsion Laboratory.
Leave a Reply