Air Temperatures – The following high temperatures (F) were recorded across the state of Hawaii Tuesday…along with the low temperatures Tuesday:

80 – 71  Lihue, Kauai
81 – 73  Honolulu, Oahu
79 – 67  Molokai AP
83 – 66  Kahului AP, Maui
81 – 70  Kona AP, Hawaii
79 – 68  Hilo, Hawaii

Here are the latest 24-hour precipitation totals (inches) for each of the islands Tuesday evening:

5.55  Mount Waialeale, Kauai
2.59  Poamoho RG, Oahu
0.42  Molokai
0.05  Lanai
0.04  Kahoolawe
1.48  West Wailuaiki, Maui
0.82  Kawainui Stream, Big Island

The following numbers represent the strongest wind gusts (mph) Tuesday evening:

21  Waimea Heights, Kauai
28  Oahu Forest NWR, Oahu
25  Molokai
22  Lanai
36  Kahoolawe
21  Maalaea Bay, Maui
28  South Point, Big Island
Hawaii's Mountains – Here's a link to the live webcam on the summit of our tallest mountain Mauna Kea (nearly 13,800 feet high) on the Big Island of Hawaii. Here's the webcam for the 10,000+ feet high Haleakala Crater on Maui. These webcams are available during the daylight hours here in the islands, and at night whenever there's a big moon shining down. Also, at night you will be able to see the stars, and the sunrise and sunset too…depending upon weather conditions.




Aloha Paragraphs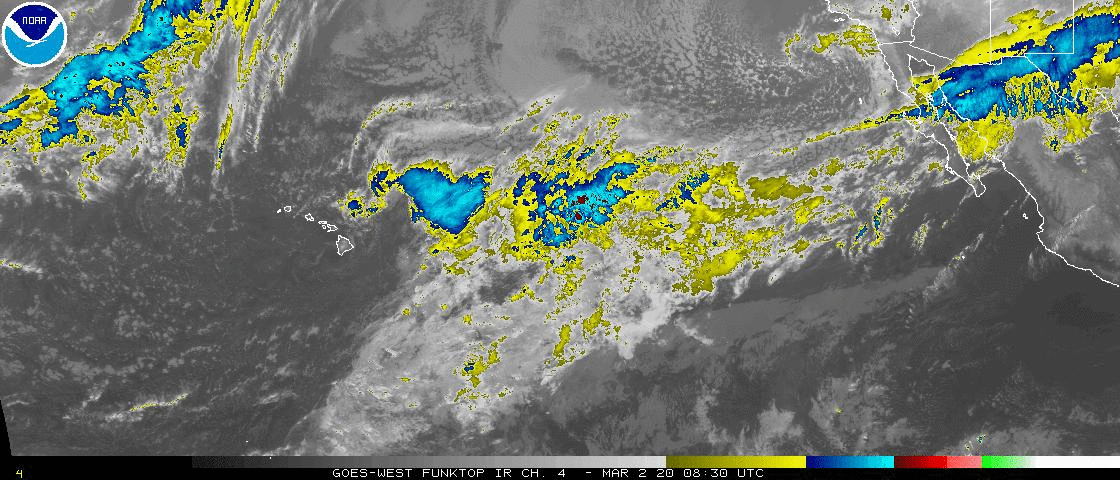 Weather changes taking place this Christmas holiday
(click on the images to enlarge them)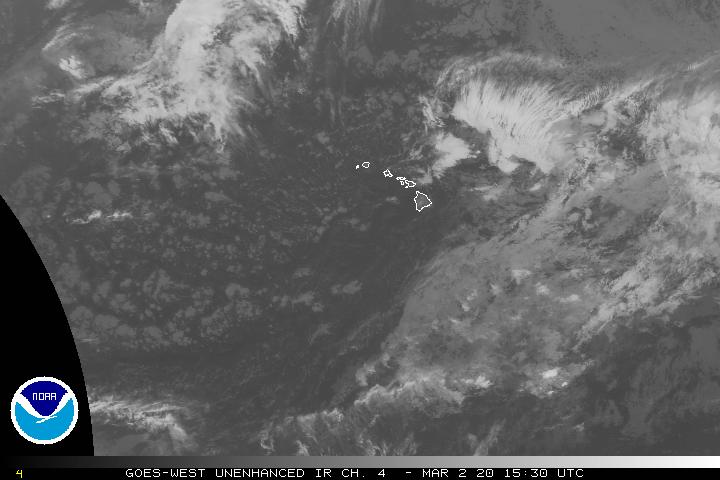 Deeper clouds in the vicinity of the islands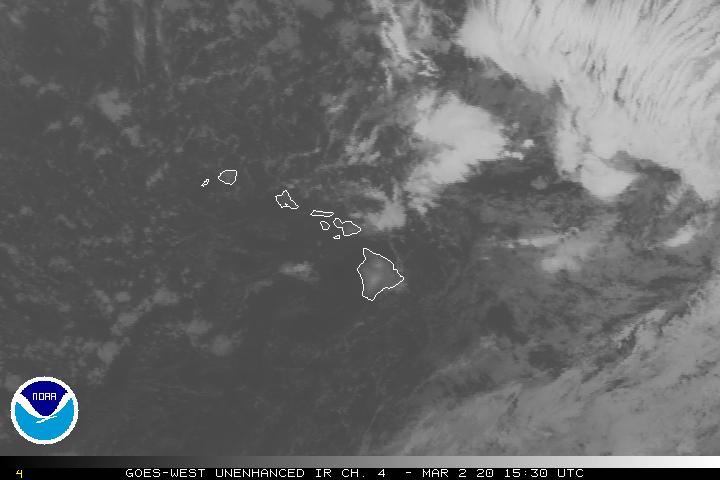 Showery clouds over parts of the state


Showers locally…mostly windward
Looping image

There are no warnings, watches or advisories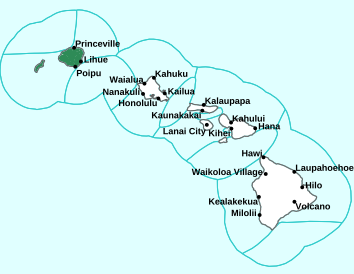 ~~~

Hawaii Weather Narrative

~~~
Broad Brush Overview: A wet trade wind weather pattern will continue to produce widespread showers across the state, as abundant moisture and instability associated with an upper low…moves into the state from the southeast. Winds will diminish Wednesday and Thursday, as a cold front approaches the islands from the northwest. This front will sweep across the islands Friday…spreading showers across the state through Saturday. Unsettled showers will linger across the islands through Sunday. Drier trends are forecast to return during the New Year's holiday period.
Details: Shower bands will continue drifting into the windward and mountain areas, as an upper level low near the Big Island continues to destabilize the atmosphere. Look for showers to continue across Hawaii, with rainfall amounts favoring windward and mountain areas. Cloud will rise over the Big Island, high enough in fact to potentially bring snow showers over the highest peaks at times. The atmosphere will be unstable enough, allowing a few thunderstorms to develop near the Big Island for the time being.
Wind speeds will diminish as we push into Wednesday and Thursday, as a cold front and upper level trough trough of low pressure break down the ridge of high pressure to the north of the state. Light broad scale surface winds will allow smaller scale terrain driven land and sea breezes to develop over each island. Onshore sea breezes will build clouds and showers over interior sections of each island during the day, with offshore land breezes bringing clearing skies each night.
A cold front will move into the western islands from the northwest Friday morning. Elevated moisture and instability created by the previous upper level low will cause shower bands to develop ahead of the frontal zone. The cold front will then sweep from west to east across the island chain through the day on Friday, with frequent rainfall…becoming heavy at times, along with the potential for scattered thunderstorm activity.
Looking Ahead: The models show some differences in the timing of the frontal passage. However, they trend towards significant rainfall developing ahead of the front. A strong upper level trough will also help to enhance heavy showers across the state. The latest model runs are showing the forward motion of this cold front stalling over Maui County Saturday morning. Some of these showers may drift back westward at this point…towards Oahu and Kauai by Sunday.
Nonetheless, which ever way it goes, this unsettled weather pattern will continue across the state through the upcoming weekend. A stronger high pressure ridge builds back in north of the islands from Sunday into Monday. Look for gusty trade winds with drying trends from New Year's Eve Day, on into the first several days of 2019, due to drier air moving in from the east…under this ridge of high pressure.
Here's a near real-time Wind Profile of the Pacific Ocean – along with a Closer View of the islands / Here's the latest Weather Map

Marine Environmental Conditions:  The trades will steadily trend down into mid-week as a cold front passes to the north, and a second front approaches the area from the northwest. Land and sea breeze conditions will be likely Wednesday through Thursday and possibly into Friday, depending on when the second front moves into the area. Once the boundary moves into the area, guidance suggests it will stall and weaken over the central portion of the islands Friday into the weekend. The front will bring increasing clouds and showers along with a few thunderstorms beginning as early as late Thursday for the northwest waters. Rain chances may linger into the weekend over portions of the waters…as the boundary stalls.
Overlapping northwest to west-northwest swells will continue to support moderate surf along exposed north and west facing shores through mid-week. Surf will rise, then potentially near advisory levels tonight through Wednesday as a larger reinforcement fills in out of the west-northwest. This source will fade through the day Thursday.
A larger northwest swell is expected by Friday, peak through the day…then slowly lower over the upcoming weekend. Seas will likely exceed small craft advisory levels around the peak of this event Thursday night through Friday night.
A small to moderate west-northwest swell will be possible early next week.






World-wide Tropical Cyclone Activity



Here's the latest Pacific Disaster Center (PDC) Weather Wall Presentation covering the western Pacific Ocean, the Indian Ocean, and the Arabian Sea, including Tropical Cyclone 35W


>>> Atlantic Ocean: The 2019 hurricane season begins June 1, 2019

Here's a satellite image of the Atlantic
>>> Gulf of Mexico: The 2019 hurricane season begins June 1, 2019

>>> Caribbean Sea: The 2019 hurricane season begins June 1, 2019

Here's a satellite image of the Caribbean Sea…and the Gulf of Mexico
>>> Eastern Pacific: The 2019 hurricane season begins May 15, 2019

Here's the link to the National Hurricane Center (NHC)
>>> Central Pacific: The 2019 hurricane season begins June 1, 2019
Here's the link to the Central Pacific Hurricane Center (CPHC)
Interesting: Disappointment About Gifts Is Good for Kids Who Have Enough – Disappointment is a natural human emotion that occurs after a perceived failure. For our young children, this perceived failure can look like not getting the toy they wanted, not being invited to a classmate's birthday party or losing their favorite stuffed animal.
It is essential for children's mental health, well-being and overall development that they experience how to deal with disappointment well. But this can be difficult for parents to handle, particularly around holidays that have grown to involve consumerism, gift-giving and expectations.
North American culture often mistakenly links love and happiness with material goods such as toys; the Santa story promises magical wish fulfilment. This can cause conflict for parents when children do not get the "right" gift.
On holidays, there's social and personal pressure to provide "happiness" and "joy" to children through material objects, which can be confused with providing the necessities. For parents who do not have the resources to provide the "perfect" or "desired" gift this can cause additional stress, shame, guilt and fear around disappointment.
Parents may feel as though they have let down their child and that they have impacted the child's experience or memory of their "special day."
This is especially true if the child has difficulty with or is learning to regulate emotions and expresses disappointment through tantrums or sulking.
These behaviors can affect parents profoundly, often leading them to feel badly about themselves or that the child does not love them.
Focus on traditions over gifts
The holiday season should be about love, connection and spending time together. This is at the core of all family traditions and what children will remember and bring with them as they develop and eventually have their own families.
Traditions and rituals are important for creating meaning and a sense of belonging.
Being a part of something greater than yourself or your immediate family and creating positive loving memories and security are all important for children's emotional, social and cognitive development.
To help children understand the "true" meaning of a holiday season, you might delve more into your own traditions. Or you might like to create new family traditions that provide opportunities to connect with each other and your wider community.
Experiences such as baking for others and donating to a food bank or toy drive can help children to understand that the holidays are for making a positive difference.
Emphasize giving, not receiving
Changing our focus from giving rather than receiving can help our children develop and appreciate the strength in gratitude.
Research has linked gratitude to significant health and wellness benefits such as improving self-esteem, improving sleep and developing empathy.
The other thing to know is that although disappointment feels awful, it is a part of life and is actually a positive and healthy emotion that's central to children's emotional, cognitive and social development throughout their lives.
Parents naturally try to protect their children from pain, to make them feel better from what we deem as negative emotions such as anger, sadness and disappointment.
But it is important for us to equip them with the tools to manage "special" day and day-to-day disappointments. Because ultimately, as they grow older, those disappointing moments in life become more profound.
When parents support children in dealing with disappointment it can lead to the development of adaptation and resilience, which are both important for children in order for them to bounce back from difficult experiences throughout life.
Here are some more ways you can help children deal with disappointment:
1. Acknowledge your child's feelings
Let them know that you understand. It is important to label and validate children's feelings.
Tell your child that you recognize why they are feeling disappointed and that it's OK to express this emotion.
In order for children to develop a positive sense of self, empathy and social skills, they need to be able to feel, label and talk about all feelings.
2. Share your own disappointments
Often times, when children are disappointed about not receiving what they wanted, they also feel badly because they are told to feel fortunate and thankful for what they have.
To encourage children to embrace and express their emotions, it is helpful to share a story of a time when you also felt disappointments.
Perhaps you can remember a holiday when you were young, when you too were disappointed over a dream gift that never arrived. Empathizing with your child's emotional experience will remind them that they are not alone and that their emotions are valid.
3. Be mindful, stay present
It's always important, but especially during the holiday season, to be intentional about the expectations you set for your children. Instead of talking about the gifts under the tree, you could talk about the fun they will have with friends and family during your holiday traditions.
Be present through the disappointment and the behavior. Disappointment can feel awful for children. The emotion and the behavior will pass and your child will be stronger and more resilient when they know the boundaries.
4. Don't label your child
During this time, it is important to be mindful of your own language and attitudes. Don't say: "You're acting like a baby."
Although it is difficult, try not to label your child, even if the label describes what he or she has done. You can use questions to motivate change, such as "Are your actions safe?" or "Are your words kind?"
Although the holiday season brings out the best and worst in all of us, if we want to support our child's growth and development it is important that we help them learn to manage and deal with their disappointments everyday.
Through loving, caring relationships our children will always grow and prosper.
December 24th, 2018 at 12:47 pm
Woody Adamz Says:

Hi Glenn and Mom and, a Very Happy & Merry Holiday Season to you both…I know your mom has insights we can only dream of and, is grateful to live a full life, as is her son…

Neat article, I laughed because Parents must adjust constantly to disappointment in this world.

Best Wishes for The Season and, for daily life as well…Malama Pono

~~~ Hi Woody, my Mom and I both appreciate your warm holiday wishes…thanks!

Aloha, Glenn
Leave a Reply