Air Temperatures – The following high temperatures (F) were recorded across the state of Hawaii Tuesday…along with the low temperatures Tuesday:

83 – 71  Lihue, Kauai
85 – 75  Honolulu, Oahu
83 – 74  Molokai AP
87 – 74  Kahului AP, Maui 
87 – 73  Kailua Kona
82 – 72  Hilo, Hawaii

Here are the latest 24-hour precipitation totals (inches) for each of the islands Tuesday evening:

0.02  Mount Waialeale, Kauai
0.40  Tunnel RG, Oahu
0.14  Molokai
0.01  Lanai
0.00  Kahoolawe
2.22  West Wailuaiki, Maui
1.22  Papaikou Well, Big Island

The following numbers represent the strongest wind gusts (mph) Tuesday evening:

28  Port Allen, Kauai
27  Waianae Valley, Oahu
21  Molokai
24  Lanai
24  Kahoolawe
24  Maalaea Bay, Maui
25  Kealakomo, Big Island
Hawaii's Mountains – Here's a link to the live webcam on the summit of our tallest mountain Mauna Kea (nearly 13,800 feet high) on the Big Island of Hawaii. Here's the webcam for the 10,000+ feet high Haleakala Crater on Maui. These webcams are available during the daylight hours here in the islands, and at night whenever there's a big moon shining down. Also, at night you will be able to see the stars, and the sunrise and sunset too…depending upon weather conditions.




Aloha Paragraphs






 Swath of higher level clouds moving over the Big Island



Thunderstorms brewing over the ocean south of the islands


Partly to mostly cloudy…some clear areas


A few showers locally and offshore
Looping image
High Surf Advisory…purple color below
Small Craft Advisory…pink color below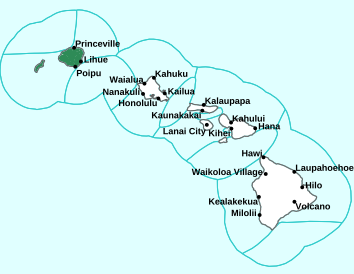 ~~~

Hawaii Weather Narrative

~~~
Broad Brush Overview: Cloud remnants of a cold front will linger near the Big Island for the next few days. A surface ridge of high pressure will remain north of the area through early next week…keeping our trade winds alive.
Details: Showery low clouds, remnants of a cold front, extend over the Big Island of Hawaii. The trade winds are pushing showery low clouds, remnants of this cloud band, over windward Maui and the Big Island. Satellites show a trough aloft just northwest of Kauai. Southwest winds aloft associated with the trough are carrying high clouds over the Big Island…which is slowly shifting southeast.
The trough aloft is also making the atmosphere less stable over the Big Island with deeper moisture there. Showers will remain more active on the Big Island, with some showers building over interior and leeward slopes during the afternoon. As the trough aloft lifts north and weakens over the next few days…the atmosphere over the Big Island will become more stable.
Looking Ahead: As we push into Wednesday through the weekend, a surface ridge will persist north of the state, and maintain moderate to locally stronger  trade winds over the area. High pressure ridging aloft will keep the atmosphere rather dry and stable, so showers will be focused mainly over the windward areas…with no heavy rain expected. Leeward areas will remain mostly dry, sunny and warm…keeping near perfect autumn weather in place along the beaches there.
Here's a near real-time Wind Profile of the Pacific Ocean – along with a Closer View of the islands / Here's the latest Weather Map / Here's the latest Vog Forecast Animation / Here's the Vog Information website

Marine Environmental Conditions: A large north-northwest swell will build down the island chain, peaking tonight through Wednesday, then gradually lower Thursday through Friday. A combination of the large swell and increasing wind waves generated locally by moderate to strong trades will prompt advisory-level seas over most waters through Wednesday.
Surf along exposed north and west facing shores will quickly rise, likely exceeding the high surf advisory thresholds. Surf may reach advisory levels along north facing shores of the Big Island tonight and Wednesday, which would require the current high surf advisory to be expanded. If the swell surges above the predicted peak, marginal warning-level surf will become a possibility tonight into Wednesday, especially for Kauai and Oahu. After this swell diminishes later in the week, a smaller north-northwest swell over the weekend is expected to produce surf heights below advisory levels.
Surf will remain elevated, although below advisory levels, along south facing shores, then lower through mid-week. A potent south swell arriving Friday is expected to peak Saturday into Sunday, bringing high surf that may support surf near the warning-levels along south facing shores at its peak.
A weak high pressure cell far northwest of the islands will move quickly east, supporting moderate to locally strong east-northeast trade winds through Wednesday. The high is expected to weaken northeast of the islands Wednesday night and Thursday, as a cold front passes to the north, leading to lighter trade winds. Moderate to strong northeast winds are expected over the weekend, supported by a new high pressure cell centered far northwest of the islands.




World-wide Tropical Cyclone Activity



Here's the Wednesday Pacific Disaster Center (PDC) Weather Wall Presentation covering the Atlantic Ocean, Caribbean Sea, and Gulf of Mexico

Here's the Wednesday Pacific Disaster Center (PDC) Weather Wall Presentation covering the Pacific and Indian Oceans, including two tropical disturbances in the eastern Pacific


>>> Atlantic Ocean:  No active tropical cyclones

>>> Gulf of Mexico: No active tropical cyclones

>>> Caribbean Sea: No active tropical cyclones
Here's a satellite image of the Caribbean Sea…and the Gulf of Mexico
Here's the link to the National Hurricane Center (NHC)

>>> Eastern Pacific:

>>> 1.) Satellite-derived winds and surface observations indicate that an elongated low pressure system has developed about 100 miles south of Guatemala. Although associated shower and thunderstorm activity is currently disorganized, environmental conditions are expected to be conducive for additional development, and a tropical depression or a tropical storm is likely to form during the next day or two. The system is forecast to moves generally toward the west-northwest at 10 to 15 mph, near or just offshore the coast of southern Mexico.
* Formation chance through 48 hours…high…80 percent
* Formation chance through 5 days…high…90 percent
>>> 2.) A weak and nearly stationary area of low pressure located about 900 miles south-southwest of the southern tip of the Baja California peninsula continues to produce disorganized shower activity. Some slow development of this system is possible while it drifts northward or north-northeastward during the next several days.
* Formation chance through 48 hours…low…10 percent
* Formation chance through 5 days…low…20 percent
>>> Central Pacific: No active tropical cyclones

>>> Northwest Pacific Ocean: No active tropical cyclones

>>> South Pacific Ocean: No active tropical cyclones

>>> North and South Indian Oceans / Arabian Sea: No active tropical cyclones

Here's a link to the Joint Typhoon Warning Center (JTWC)
Interesting: Moonmoons (Moons That Orbit Other Moons) Could Exist, Scientists Say – True to form, the internet has endeavored to name an unnamed thing, and the results are hilarious. From the people who brought you Boaty McBoatface— the Arctic research drone that has already returned some very interesting discoveries from the world's coldest abysses — here come moonmoons: moons that orbit other moons.
Moonmoons — also known online as submoons, moonitos, grandmoons, moonettes and moooons — may not exist in our solar system or any other. However, according to a pair of astronomers writing in the preprint journal arXiv.org earlier this week, the concept of a moon hosting its own mini-moon is, at least, plausible.
"In all known planetary systems, natural satellites occur in a restricted dynamical phase space: Planets orbit stars, and moons orbit planets," the researchers wrote in their new paper (published online October 9th). "It is natural to ask, 'Can submoons orbit moons?'"
Study author Juna Kollmeier's son asked her that same question in 2014, Gizmodo reported. Kollmeier, an astronomer at the Observatories of the Carnegie Institution of Washington, D.C., didn't have a good answer then. While no known moonmoons reside in our solar system, the phenomenon does seem possible. After all, Earth's moon is so massive that some scientists want to call it a planet in its own right; why shouldn't this planet-size moon have its own moon?
In their new paper, Kollmeier and her colleague Sean Raymond, an astronomer at the University of Bordeaux in France, looked for a mathematical answer to the moonmoon puzzle. Using equations designed to show the tidal effects of planets on their moons, the team determined that moonmoons (or "submoons," as these researchers called the objects) could hypothetically exist if the host moon is sufficiently massive, the submoon is sufficiently small, and there is a wide orbital gulf between those moons and their host planet.
"We find that 6 miles submoons can only survive around large 600 miles moons on wide-separation orbits," the researchers wrote. If these persnickety parameters are not met, the host planet's tidal forces would either be great enough to smash the moon and submoon together or weak enough that the submoon would get jettisoned into space.
Based on this criteria, a handful of moons in our solar system could hypothetically host mini-moons of their own, "including Saturn's moons Titan and Iapetus, Jupiter's moon Callisto, and Earth's moon."
That's right: Our very own moon could have its very own moonmoon! Why it doesn't is a question that Kollmeier and Raymond said they hope to answer with further study.
"The existence, or lack thereof, of submoons may yield important constraints on satellite formation and evolution in planetary systems," the authors wrote.
Once that's settled, the next natural question will be whether a moonmoon can host its own moonmoonmoon — and, if so, what the proper name would be for it. A great-grandmoon? Moony McMoonface? Truly, the sky's the limit.
October 15th, 2018 at 1:43 pm
Varsha Says:

Hi Glenn

I too am touched by Patti's outpouring of appreciation. She wrote everything I feel in regard to your website. Thank you Patti for doing something I value whenever it happens, namely taking the time to express gratitude and appreciation, and so eloquently and from the heart at that.

Mahalo nui

Thanks Glenn
Enjoy the fall colors soon!

V

~~~ Hi Varsha, you are so kind, as was Patti, to acknowledge your true feelings about my website…and for me personally!

It warms my heart to read your kind words!

Indeed, my friend Bob and I will enjoy the yellow leaves of Aspens…if they aren't already gone by the time we get there.

Much Aloha, Glenn

October 15th, 2018 at 8:31 am
Patti Says:

Aloha Glenn…my family and I just returned from a great 12 days in Wailea arriving just as Hurricane Olivia departed the islands. It was well over the 60th time in Hawaii for me as I started visiting when I was just 21! For many of these last years, I found your website to be as essential to planning a successful vacation as a bottle of good sunscreen. In case you haven't guessed yet, I have no meteorological questions for you..this is just a straight up fan letter. I am grateful for all that you do to maintain your site and for the kindness and grace you demonstrate every day by posting facts and figures, charts and graphs to keep all informed about our planet's changeable weather worldwide…and especially for Hawaii. Mahalo!
Patti
Folsom, CA

Patti

~~~ Patti, first of all I'm very happy that you had yet another wonderful vacation on Maui!

Then I want to thank you for your lovely comment, I hold it close to my heart, as I can feel your sincere appreciation! Notes from folks like you are part of what keeps these daily updates coming out…after all these years. I've been doing this since 1996, and in my book that seems like quite a run.

You know, I've got a friend who lives in Folsom California, and I'll be visiting him next week. He's a college professor at Davis, and several other colleges in the area…we went to college together back in the early 70's. We're going to head over to the eastern Sierra's and try to catch sight of the tail-end of the yellow leaved Aspen trees. Then we'll head over to the the Sonoma coast for a stay at Sea Ranch for four days.

So, thanks again Patti, I really appreciate your taking the time to let me know how you feel about what I do in life!

Aloha, Glenn
Leave a Reply