Air Temperatures – The following high temperatures (F) were recorded across the state of Hawaii Thursday…along with the low temperatures Thursday:

83 – 71  Lihue, Kauai
86 – 75  Honolulu, Oahu
83 – 73  Molokai AP
87 – 75  Kahului AP, Maui
87 – 77 Kailua Kona
78 – 73  Hilo, Hawaii

Here are the latest 24-hour precipitation totals (inches) for each of the islands Thursday evening:

0.38  Mount Waialeale, Kauai
0.40  Moanalua RG, Oahu
0.95  Molokai
0.21  Lanai
0.00  Kahoolawe
2.92  West Wailuaiki, Maui
3.14  Piihonua, Big Island

The following numbers represent the strongest wind gusts (mph) Thursday evening:

14  Port Allen, Kauai
24  Oahu Forest NWR, Oahu
20  Molokai
24  Lanai
23  Kahoolawe
25  Maalaea Bay, Maui
21  Kealakomo, Big Island
Hawaii's Mountains – Here's a link to the live webcam on the summit of our tallest mountain Mauna Kea (nearly 13,800 feet high) on the Big Island of Hawaii. Here's the webcam for the 10,000+ feet high Haleakala Crater on Maui. These webcams are available during the daylight hours here in the islands, and at night whenever there's a big moon shining down. Also, at night you will be able to see the stars, and the sunrise and sunset too…depending upon weather conditions.




Aloha Paragraphs






Deep tropical moisture coming up from the southwest…with a cold front northwest



Thunderstorms in the vicinity of the islands


Variable clouds…some clear areas


Showers locally and offshore…some are heavy near the Big Island
Looping image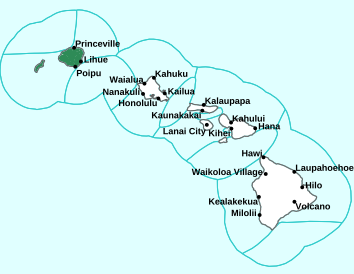 ~~~

Hawaii Weather Narrative

~~~
Broad Brush Overview: Light to locally moderate trade winds will persist through the next couple of days. Showers will remain focused across windward slopes, while instability near the Big Island will likely trigger leeward and interior showers…and a few thunderstorms. An upper level trough slowly passing overhead from west to east Friday through Sunday will produce unstable conditions, and bring a risk of thunderstorms to much of the island chain. Trade winds will rebuild on Sunday and early next week…though unstable conditions may linger over portions of the state.
Details: A plume of deep moisture associated with the remnants of an old front, will linger over the Big Island through the weekend, and possibly into early next week. Showery trade wind weather is expected to persist over the Big Island, with drier trade wind weather expected across the smaller islands. Clouds and showers will favor windward areas, although we should see some interior and leeward shower development as a result of the weakening trades…particularly Friday.
The models are showing quite a different outlook than they were 24 hours ago…during the weekend into early next week. Both the GFS and ECMWF models now show an upper trough moving southward over the western islands Friday night, then shifting over the central and eastern islands Saturday through Sunday. The models to differing degrees, then show the trough aloft lingering over or in the vicinity of the island chain through the first half of next week.
Looking Ahead: Deep moisture associated with the frontal remnants are expected to linger over the eastern end of the state through the middle of next week, so this should keep a showery trade wind pattern in place. Across the western islands the moisture won't be quite as deep through Saturday night, so expect the shower coverage to not be as great there…at least initially. This will likely change Sunday as moisture begins to lift back across western islands, making for a more showery trade wind pattern which could continue through the middle of next week.
Here's a near real-time Wind Profile of the Pacific Ocean – along with a Closer View of the islands / Here's the latest Weather Map / Here's the latest Vog Forecast Animation / Here's the Vog Information website

Marine Environmental Conditions: Trade winds are forecast to remain weak through Friday night. The trades may gradually strengthen Saturday into early next week. The current forecast does not have Small Craft Advisory (SCA) conditions over any of the coastal waters or channels through Sunday night. SCA conditions may develop across the typically windy waters adjacent to the islands of Maui County and the Big Island early next week.
Unstable atmospheric conditions are forecast to develop over parts of the state Friday. This may cause locally heavy downpours, and allow thunderstorms to form across some areas from Friday night into this weekend.
The current north-northwest swell is gradually declining. This swell will continue to slowly subside through the weekend. The weak trades will cause surf to slowly decrease along most east facing shores. However, some east facing shores with a northerly exposure may continue to see small waves from the north-northwest swell energy during the next couple of days.
A new long-period south swell arriving Friday and will peak this weekend. Based on the latest guidance, surf will likely reach the HSA criteria along south facing shores Saturday. There is also a possibility surf may approach the High Surf Warning threshold along south facing shores this weekend…before the swell begins to gradually decline early next week.




World-wide Tropical Cyclone Activity



Here's the latest Pacific Disaster Center (PDC) Weather Wall Presentation covering the Atlantic Ocean, Caribbean Sea, and Gulf of Mexico

Here's the latest Pacific Disaster Center (PDC) Weather Wall Presentation covering the Pacific and Indian Oceans, including two tropical disturbances in the eastern Pacific


>>> Atlantic Ocean: No active tropical cyclones

>>> Gulf of Mexico: No active tropical cyclones

>>> Caribbean Sea: No active tropical cyclones
Here's a satellite image of the Caribbean Sea…and the Gulf of Mexico
Here's the link to the National Hurricane Center (NHC)

>>> Eastern Pacific:

1.) An area of low pressure centered a couple of hundred miles south of Zihuatanejo, Mexico, has become a little better organized overnight. Environmental conditions are expected to become increasingly favorable for further development, and a tropical depression is likely to form during the next day or two while the low moves westward or west-northwestward at 10 to 15 mph, offshore of the coast of southwestern Mexico.
* Formation chance through 48 hours…high…70 percent
* Formation chance through 5 days…high…80 percent
2.) Showers and thunderstorms associated with a low pressure system centered less than 100 miles off the coast of Guatemala continue to show signs of organization, and it is possible that a tropical depression could be forming. If this trend continues, then advisories could be initiated on this system later today. This disturbance is forecast to move generally westward near the coast of southern Mexico, and interests in that area should monitor the progress of the low during the next several days.
* Formation chance through 48 hours…high…70 percent
* Formation chance through 5 days…high…80 percent
>>> Central Pacific: No active tropical cyclones

>>> Northwest Pacific Ocean: No active tropical cyclones

>>> South Pacific Ocean: No active tropical cyclones

>>> North and South Indian Oceans / Arabian Sea: No active tropical cyclones

Here's a link to the Joint Typhoon Warning Center (JTWC)
Interesting: Stephen Hawking's Final Book Says There's 'No Possibility' of God in Our Universe – From his desk at Cambridge University and beyond, Stephen Hawking sent his mind spiraling into the deepest depths of black holes, radiating across the endless cosmos and swirling back billions of years to witness time's first breath. He viewed creation as a scientist, and when he was called to discuss creation's biggest puzzles — Where do we come from? What is our purpose? Are we alone? — he answered as a scientist, often to the chagrin of religious critics.
In Stephen Hawking's final book "Brief Answers to Big Questions," published this past Tuesday by Bantam Books, the  professor begins a series of 10 intergalactic essays by addressing life's oldest and most religiously fraught question of all: Is there a God?
Hawking's answer — compiled from decades of prior interviews, essays and speeches with the help of his family, colleagues and the Steven Hawking Estate — should come as no surprise to readers who have followed his work, er, religiously.
"I think the universe was spontaneously created out of nothing, according to the laws of science," Hawking, who died in March, wrote. "If you accept, as I do, that the laws of nature are fixed, then it doesn't take long to ask: What role is there for God?"
In life, Hawking was a vocal champion of the Big Bang theory — the idea that the universe began by exploding suddenly out of an ultradense singularity smaller than an atom. From this speck emerged all the matter, energy and empty space that the universe would ever contain, and all that raw material evolved into the cosmos we perceive today by following a strict set of scientific laws. To Hawking and many like-minded scientists, the combined laws of gravity, relativity, quantum physics and a few other rules could explain everything that ever happened or ever will happen in our known universe.
"If you like, you can say the laws are the work of God, but that is more a definition of God than a proof of his existence," Hawking wrote.
With the universe running on a scientifically guided autopilot, the only role for an all-powerful deity might be setting the initial conditions of the universe so that those laws could take shape — a divine creator who caused the Big Bang to bang, then stepped back to behold His work.
"Did God create the quantum laws that allowed the Big Bang to occur?" Hawking wrote. "I have no desire to offend anyone of faith, but I think science has a more compelling explanation than a divine creator."
Hawking's explanation begins with quantum mechanics, which explains how subatomic particles behave. In quantum studies, it's common to see subatomic particles like protons and electrons seemingly appear out of nowhere, stick around for a while and then disappear again to a completely different location. Because the universe was once the size of a subatomic particle itself, it's plausible that it behaved similarly during the Big Bang, Hawking wrote.
"The universe itself, in all its mind-boggling vastness and complexity, could simply have popped into existence without violating the known laws of nature," he wrote.
That still doesn't explain away the possibility that God created that proton-size singularity, then flipped the quantum- mechanical switch that allowed it to pop. But Hawking says science has an explanation here, too. To illustrate, he points to the physics of black holes — collapsed stars that are so dense, nothing, including light, can escape their pull.
Black holes, like the universe before the Big Bang, condense into a singularity. In this ultra-packed point of mass, gravity is so strong that it distorts time as well as light and space. Simply put, in the depths of a black hole, time does not exist.
Because the universe also began as a singularity, time itself could not have existed before the Big Bang. Hawking's answer, then, to what happened before the Big Bang is, "there was no time before the Big Bang."
"We have finally found something that doesn't have a cause, because there was no time for a cause to exist in," Hawking wrote. "For me this means that there is no possibility of a creator, because there is no time for a creator to have existed in."
This argument will do little to persuade theistic believers, but that was never Hawking's intent. As a scientist with a near-religious devotion to understanding the cosmos, Hawking sought to "know the mind of God" by learning everything he could about the self-sufficient universe around us. While his view of the universe might render a divine creator and the laws of nature incompatible, it still leaves ample space for faith, hope, wonder and, especially, gratitude.
"We have this one life to appreciate the grand design of the universe," Hawking concludes the first chapter of his final book, "and for that I am extremely grateful."
October 17th, 2018 at 8:56 am
Paul Says:

Hi Glenn

I go to your daily narrative regularly especially when it gets close to my wife and I visiting Maui for our annual vacation. We arrive this weekend for a 3 week visit so have been keenly watching the weather patterns in your part of the world.

Looks as though we may experience some mixed weather the first week? Hearing the beaches in the Kihei/Wailea area were effected by the passing tropical storms/hurricanes a number of weeks ago. Is this true?

Rgds
Paul

~~~ Hi Paul, good to hear from you…I'm sure you're looking forward to your soon to arrive vacation here on Maui!

I appreciate your using my website, as the time gets closer. Three weeks is a good long time to spend in paradise!

As for the south shore beaches, there have been a number of high surf days, arriving from storms in the southern hemisphere…and those tropical storms that have moved by to our south as well.

I believe that our beaches are fine however, and you should have a great time getting into the ocean.

Have a wonderful vacation this time around!

Aloha, Glenn
Leave a Reply