Air Temperatures – The following maximum temperatures (F) were recorded across the state of Hawaii Sunday:


84  Lihue, Kauai
88  Honolulu, Oahu
84  Molokai
88  Kahului, Maui
85  Kailua Kona
83  Hilo, Hawaii

Air Temperatures ranged between these warmest and coolest spots near sea level – and on the highest mountain tops on Maui and the Big Island…as of 743pm Sunday evening (HST):

Kailua Kona – 81
Hana airport, Maui – 73

Haleakala Summit –   48 (near 10,000 feet on Maui)
Mauna Kea Summit – 41 (13,000+ feet on the Big Island)

Hawaii's Mountains – Here's a link to the live web cam on the summit of near 13,800 foot Mauna Kea on the Big Island of Hawaii. This web cam is available during the daylight hours here in the islands…and when there's a big moon shining down during the night at times. Plus, during the nights you will be able to see stars, and the sunrise and sunset too… depending upon weather conditions.

Aloha Paragraphs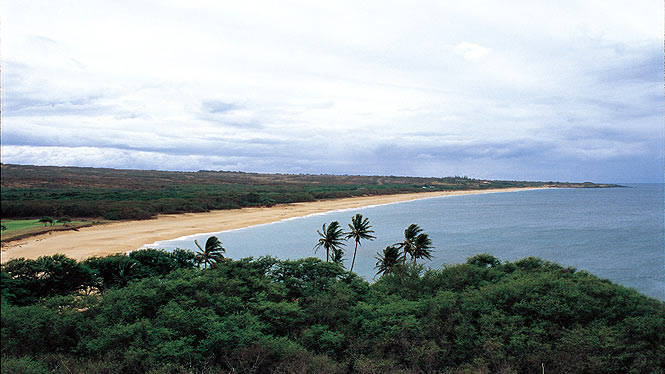 Trade wind speeds pick up Tuesday and Wednesday…no end in sight

There will be some passing showers along the windward sides,
mostly at night…just a few elsewhere around the state

Looping satellite image…showing high cirrus clouds being
carried over the state from the southwest







The following numbers represent the strongest wind gusts (mph), along with directions…as of Sunday evening


27  Port Allen, Kauai – NE
28  Oahu Forest NWR, Oahu – NE
24  Molokai – ENE
31  Lanai – NE
35  Kahoolawe – NE
33  Kahului, Maui – NE
27  Kealakomo, Big Island – ENE


Here are the latest 24-hour precipitation totals (inches) for each of the islands…as of Sunday evening (545pm totals):


1.51  Mount Waialeale, Kauai
1.25  Manoa Lyon Arboretum, Oahu
0.04  Molokai
0.01  Lanai
0.00  Kahoolawe
0.86  Puu Kukui, Maui
0.45  Piihonua, Big Island


We can use the following links to see what's going on in our area of the north central Pacific Ocean. Here's the latest NOAA satellite picture – the latest looping satellite image… and finally the latest looping radar image for the Hawaiian Islands.



~~~ Hawaii Weather Narrative ~~~
Moderately strong trade winds through Monday…increasing again some thereafter. Here's the latest weather map, showing the Hawaiian Islands, and the rest of the North Pacific Ocean, along with a real-time wind profile of the central Pacific…focused on the Hawaiian Islands. We have moderately strong high pressure systems located to the northeast and northwest of the state. At the same time we see the tail-end of a cold front breaking through the ridge of high pressure…between these high pressure cells. The models suggest that the trade winds will remain active, with no definite end in sight.

Satellite imagery shows high cirrus clouds coming up from the southwest…moving over the island chain in places. Looking at this larger looping satellite image, it shows some low level clouds riding along in the trade wind flow from east to west. There's a thinning area of high cirrus clouds to our southwest…coming up over the islands. These high clouds will dim and filter our Hawaiian sunshine at times, and give us good sunset and sunrise colors too. Here's the looping radar, showing passing showers arriving over our islands, although have backed-off considerably since last night. Whatever few showers that are left, are mostly falling over the offshore waters…although may moving back over our windward sides during the cooler nighttime hours into Monday.

Favorably inclined weather conditions, with little change on the long term horizon. The trade winds will remain moderately strong today and Monday, picking up later Tuesday onwards. As is often the case, most showers that grace our shores and slopes will occur during the night and early morning hours. There are those typical patches of showery clouds upstream, which will bring moisture our way periodically. Weather should remain nice, supporting all manner of outdoor activities each day through the upcoming work week. I'll be back early Monday morning with your next new weather narrative, I hope you have a great Sunday night wherever you're spending it! Aloha for now…Glenn.

Here on Maui, at the 3,100 foot elevation, at my upper Kula, Maui weather tower, the air temperature was a 56.1 degrees at 610am on this Sunday morning. Skies are clear to partly cloudy for the most part, while the high cirrus clouds continue to stream by in places. This area of cirrus is slowly moving eastward, and I notice that Kauai is out from under these high icy clouds this morning.

It's now early afternoon at 1250pm, under partly cloudy skies, light winds…and an air temperature of 81.3 degrees. The high cirrus streaks continue to race across our skies, which is filtering our sunshine to some degree. It's helping to keep our high temperatures a bit cooler than would otherwise be the case. The refreshing trade wind breezes too, are making the heat feel a little easier to take as well. All things considered, it's a good day weatherwise, which is good…on this last day of our 4th of July holiday weekend.

We're into the early evening hours now at 520pm, under partly cloudy skies, light winds…and an air temperature of 78.8 degrees. Those high clouds above have that look, like they could light up nicely at sunset. I never know for sure, although I think we have a pretty good chance…and probably again on Monday morning at sunrise too.


World-wide tropical cyclone activity:

Atlantic Ocean: There are no active tropical cyclones

A trough of low pressure, located just offshore of the coast of
the Carolinas, is producing disorganized showers and a few
thunderstorms. Surface pressures remain high across the area and
strong upper-level winds should prevent any significant development
of this system as it moves northeastward at about 15 mph over the
next several days.

* Formation chance through 48 hours…low…0 percent.
* Formation chance through 5 days…low…0 percent.

Here's a satellite image of the Atlantic Ocean

Caribbean Sea: There are no active tropical cyclones expected through the next 2 days

Gulf of Mexico: There are no active tropical cyclones expected through the next 2 days

Here's a satellite image of the Caribbean Sea…and the Gulf of Mexico.

Here's the link to the National Hurricane Center (NHC)

North Eastern Pacific: There are no active tropical cyclones

1.)  A broad area of low pressure, located several hundred miles southwest
of Acapulco, Mexico, is producing a large area of disorganized showers and
thunderstorms. Gradual development of this system is possible during the
next couple of days while it moves west-northwestward at 10 to 15 mph.

* Formation chance through 48 hours…medium…30 percent.
* Formation chance through 5 days…medium…40 percent.
2.) A small low pressure area located several hundred miles
south-southwest of the southern tip of the Baja California peninsula
continues to produce disorganized showers and thunderstorms. Any
development this disturbance should be slow to occur during the next
few days while it moves generally westward at 10 to 15 mph.

* Formation chance through 48 hours…low…20 percent.
* Formation chance through 5 days…low…20 percent.

Here's a wide satellite image that covers the entire area between Mexico, out through the central Pacific…to the International Dateline.

Central Pacific Ocean: No tropical cyclones are expected through the next two days


Here's a link to the Central Pacific Hurricane Center (CPHC)

Northwest Pacific Ocean: Super Typhoon 08W (Neoguri) remains active, and will be strengthening over the next several days…moving by near Okinawa and then across parts of Japan. Here's the JTWC graphical track map…along with a satellite image.


South Pacific Ocean: There are no active tropical cyclones

North and South Indian Oceans: There are no active tropical cyclones

Here's a link to the Joint Typhoon Warning Center (JTWC)


Interesting: Ocean health depends more on whales than we thought – Baleen and sperm whales, known collectively as the great whales, include the largest animals in the history of life on Earth. Though large in size, whales have long been considered too rare to make much of a difference in the ocean, and the focus of much marine ecological research has been on smaller organisms, such as algae and planktonic animals. While these small organisms are essential to life in the sea, they are not the whole story. As great whales recover from centuries of over hunting, scientists are beginning to appreciate their roles as ecosystem engineers of the ocean.

A recent synthesis, published in Frontiers in Ecology and the Environment, evaluates decades of research on the ecological role of great whales. The authors, led by Joe Roman at the University of Vermont, suggest that the influence of these animals has been substantially undervalued because, until now, scientists have underestimated the degree to which the decline in whale population has altered marine ecosystems.

Commercial whaling dramatically reduced the abundance of great whales — by at least 66% and perhaps as high as 90%, according to some estimates — but recovery is possible, and potentially critical for ocean resiliency.

Among their many ecological functions, whales recycle nutrients and enhance primary productivity, locally and on a regional scale. Whales mix the water column, and after feeding at depth, release surface plumes of fecal material. This "whale pump" supplies iron and nitrogen – essentially fertilizers – to primary producers in the surface ocean. Further, the migrations of baleen whales between highly productive, high-latitude feeding and low-latitude calving grounds are among the longest annual movements of mammals. By fasting in these winter calving grounds near the equator, humpback whales, for example, release nitrogen in the form of urea into comparatively nutrient-poor areas — transporting nutrients nearly 10,000 kilometers on the "great whale conveyor belt."

Sometimes, commercial fishermen have seen whales as competition. But this new paper summarizes a strong body of evidence that indicates the opposite can be true: whale recovery "could lead to higher rates of productivity in locations where whales aggregate to feed and give birth," supporting more robust fisheries.
Leave a Reply