Air Temperatures – The following maximum temperatures (F) were recorded across the state of Hawaii Monday:


84 Lihue, Kauai
87 Honolulu, Oahu
86 Molokai
91 Kahului, Maui – the record high temperature for Monday was 92 degrees…back in 1950
88 Kailua Kona
84 Hilo, Hawaii

Air Temperatures ranged between these warmest and coolest spots near sea level – and on the highest mountain tops on Maui and the Big Island…as of 743pm Monday evening (HST):

Kailua Kona – 83
Hana airport, Maui – 75

Haleakala Summit –   46 (near 10,000 feet on Maui)
Mauna Kea Summit – 37 (13,000+ feet on the Big Island)

Hawaii's Mountains – Here's a link to the live web cam on the summit of near 13,800 foot Mauna Kea on the Big Island of Hawaii. This web cam is available during the daylight hours here in the islands…and when there's a big moon shining down during the night at times. Plus, during the nights you will be able to see stars, and the sunrise and sunset too… depending upon weather conditions.

Aloha Paragraphs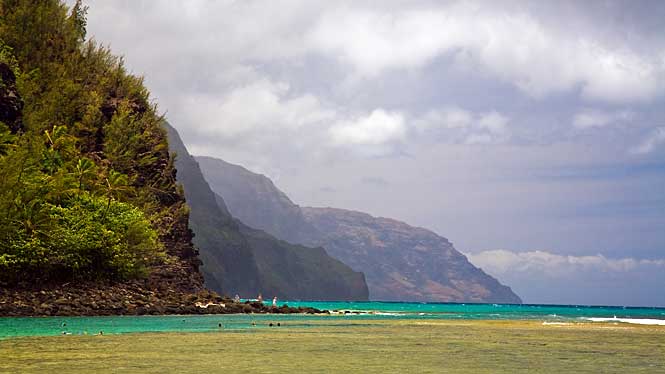 Our local winds will be a little lighter, and then increase some into
mid-week. We'll be feeling muggy for the time being… although
the strengthening trade winds will bring refreshing relief 

Off and on showers…primarily along the windward sides

This looping satellite image shows lower level clouds, and
some high clouds in our general area too

Small Craft Wind Advisory…in the windiest coasts and
channels around Maui County and the Big Island




The following numbers represent the strongest wind gusts (mph), along with directions…as of Monday evening


31  Port Allen, Kauai – NE
27  Oahu Forest NWR, Oahu – W
31  Molokai – NE
27  Lanai – NE
36  Kahoolawe – NE
31  Kahului, Maui – NE
27  South Point, Big Island – NE


Here are the latest 24-hour precipitation totals (inches) for each of the islands…as of Monday evening (545pm totals):


4.70  Mount Waialeale, Kauai
3.38  Poamoho RG 1, Oahu
0.07  Molokai
0.35  Lanai
0.00  Kahoolawe
1.99  Puu Kukui, Maui
4.36  Keaumo, Big Island


We can use the following links to see what's going on in our area of the north central Pacific Ocean. Here's the latest NOAA satellite picture – the latest looping satellite image… and finally the latest looping radar image for the Hawaiian Islands.



~~~ Hawaii Weather Narrative ~~~
The winds will be lighter, at least locally…picking up later Tuesday into Friday. Here's the latest weather map, showing the Hawaiian Islands, and the rest of the North Pacific Ocean, along with a real-time wind profile of the central Pacific…focused on the Hawaiian Islands. We have a moderately strong high pressure system located to the northeast. Meanwhile, there's a low pressure system, with its cold front reaching southward…to the north of the state. There's also a trough of low pressure moving by just southwest of the islands. The forecast calls for the winds to remain active, although a little lighter in places, before picking up again later Tuesday into Wednesday onwards.

Satellite imagery shows high cirrus clouds…stretching over the state from the west and southwest. Looking at this larger looping satellite image, it shows low level clouds riding along in the trade wind flow from east to west. The high clouds will dim and filter our sunshine at times…plus provide some nice color for sunset locally. We see a large thunderstorm area offshore to our southwest, at the time of this writing…migrating westward if appears. Here's the looping radar, showing passing showers moving across our area. These off and on showers will fall locally, most actively along our windward sides. Our weather will bounce back into a fairly typical summer trade wind weather pattern by mid-week, with the usual windward biased showers…mostly at night.

An unusual period of tropical showers occurred today. These showers arrived thanks to a trough of low pressure moving by in the deeper tropics to our south and southwest, and are associated with retired tropical cyclone Fausto…which was active in the northeast Pacific Ocean last week. This has brought some beneficial showers, at least in some areas, which is rather rare during our relatively dry month of July. This tropical moisture increased shower activity across the state, a few of which have been very generous in intensity during the day. The Big Island and Kauai hit the jackpot during the last 24 hours, at least in terms of rainfall. There was lots of rain, and even some thunderstorms on both the Big Island and Maui…and on the other islands in places too. The models are trying to bring another increase in showers for this coming weekend…stay tuned. I'll be back again early Tuesday morning, I hope you have a great Monday night wherever you're spending it! Aloha for now…Glenn.

Here on Maui, at the 3,100 foot elevation, at my upper Kula, Maui weather tower, the air temperature was a relatively warm 63.7 degrees at 545am on this Monday morning. Skies are clear to partly cloudy, with still some thin cirrus clouds in a few places…which lit up a faint pink at sunrise. The relatively humidity is higher than normal now, what with the tropical air brought our way by an old tropical cyclone in the eastern Pacific…is m0ving through our area now. It will make for sultry conditions for a couple of days.

We're into the early afternoon at 1250pm, under mostly cloudy skies, light breezes…and an air temperature of 80.6 degrees. Today looks and feels a lot like yesterday, with considerable clouds, muggy conditions, dark cloud bases…like that. I thought we might get some rain yesterday, although we didn't get a drop where I live in the upcountry area. We'll see how that goes today, and will give an update here if I see one drop falling. Update at 225pm, thunderstorm over east Maui, raining here at my place, very cool! It happens to be my birthday today, and we haven't had a thunderstorm for a long time…so it feels like a big gift from the weather to the weatherman!

It's now early evening at 540pm, under foggy skies, near calm winds…and an air temperature of 76.8 degrees. As this afternoon's thunderstorm ended, the sun came out and it got muggy. Now more recently, the skies have clouded up more, and banks of fog are coming through in an off and on manner. It's not showering, although its starting to get that feeling again, we'll see what happens. Update at 815pm, it didn't shower…although there certainly was a beautiful sunset!


World-wide tropical cyclone activity:

Atlantic Ocean: There are no active tropical cyclones expected through the next 5 days


Here's a satellite image of the Atlantic Ocean

Caribbean Sea: There are no active tropical cyclones expected through the next 5 days

Gulf of Mexico: There are no active tropical cyclones expected through the next 5 days

Here's a satellite image of the Caribbean Sea…and the Gulf of Mexico.

Here's the link to the National Hurricane Center (NHC)

North Eastern Pacific: There are no active tropical cyclones

Shower activity associated with an area of low pressure located about 1400 miles east-southeast of the Big Island of Hawaii has changed little in organization during the past several hours. Environmental conditions appear to be conducive for some development, and this system could still become a tropical depression during the next couple of days. After that time, upper-level winds are forecast to become less favorable for development. This low is expected to move toward the west or west-northwest at 10 to 15 mph and move into the central Pacific Basin late on Wednesday.
This area is being referred to as Invest 90E…here's what the hurricane models are showing for this disturbance.

* Formation chance through 48 hours…medium…50 percent.
* Formation chance through 5 days…high…60 percent.

Here's a wide satellite image that covers the entire area between Mexico, out through the central Pacific…to the International Dateline.

Central Pacific Ocean: No tropical cyclones are expected through the next two days


Here's a link to the Central Pacific Hurricane Center (CPHC)

Northwest Pacific Ocean: Typhoon 09W (Rammasun) remains active, and will be gradually increasing in strength. Here's the JTWC graphical track map…along with a satellite image – animated images

South Pacific Ocean: There are no active tropical cyclones

North and South Indian Oceans: There are no active tropical cyclones

Here's a link to the Joint Typhoon Warning Center (JTWC)


Interesting: Pesticide impairs bees' ability to forage – A study that involved fitting bumblebees with tiny radio frequency tags found long-term exposure to a neonicotinoid pesticide hampers bees' ability to forage for pollen.

The research by Nigel Raine, a professor at the University of Guelph, and Richard Gill of Imperial College, London, shows how long-term pesticide exposure affects individual bees' day-to-day behaviour, including pollen collection and which flowers worker bees chose to visit.

"Bees have to learn many things about their environment, including how to collect pollen from flowers," said Raine, who holds the Rebanks Family Chair in Pollinator Conservation, a Canadian first.

"Exposure to this neonicotinoid pesticide seems to prevent bees from being able to learn these essential skills."

The researchers monitored bee activity using radio frequency identification (RFID) tags similar to those used by courier firms to track parcels. They tracked when individual bees left and returned to the colony, how much pollen they collected and from which flowers.

Bees from untreated colonies got better at collecting pollen as they learned to forage. But bees exposed to neonicotinoid insecticides became less successful over time at collecting pollen.

Neonicotinoid-treated colonies even sent out more foragers to try to compensate for lack of pollen from individual bees.

Besides collecting less pollen, said Raine, "the flower preferences of neonicotinoid-exposed bees were different to those of foraging bees from untreated colonies." Raine and Gill studied the effects of two pesticides — imidacloprid, one of three neonicotinoid pesticides currently banned for use on crops attractive to bees by the European Commission, and pyrethroid (lambda cyhalothrin) — used alone or together, on the behaviour of individual bumblebees from 40 colonies over four weeks.

"Although pesticide exposure has been implicated as a possible cause for bee decline, until now we had limited understanding of the risk these chemicals pose, especially how it affects natural foraging behavior," Raine said.
Leave a Reply