Air Temperatures – The following maximum temperatures (F) were recorded across the state of Hawaii Sunday:


83  Lihue, Kauai
87  Honolulu, Oahu
85  Molokai
88  Kahului, Maui
87  Kailua Kona
79  Hilo, Hawaii

Air Temperatures ranged between these warmest and coolest spots near sea level – and on the highest mountain tops on Maui and the Big Island…as of 730pm Sunday evening:

Honolulu, Oahu – 81
Hilo, Hawaii – 72

Haleakala Summit –   52 (near 10,000 feet on Maui)
Mauna Kea Summit – 46 (13,000+ feet on the Big Island)

Hawaii's Mountains – Here's a link to the live web cam on the summit of near 13,800 foot Mauna Kea on the Big Island of Hawaii. This web cam is available during the daylight hours here in the islands…and when there's a big moon shining down during the night at times. Plus, during the nights you will be able to see stars, and the sunrise and sunset too… depending upon weather conditions.

Aloha Paragraphs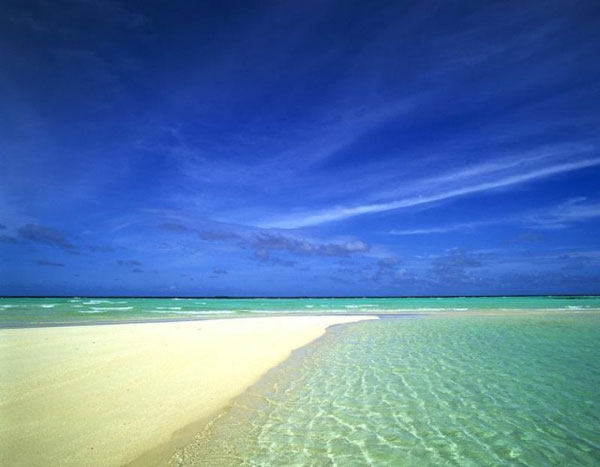 Easterly winds – strengthening trades during
the first half of the new week…remaining
active well into the future

There will be some passing showers along the
windward sides…mostly at night

Looping satellite image…showing clouds being
carried along by the trade wind breezes





The following numbers represent the strongest wind gusts (mph), along with directions…as of Sunday evening


20  Poipu, Kauai – NE
23  Oahu Forest NWR, Oahu – NNE
23  Molokai -NE
27  Lanai – NE
28  Kahoolawe – NE
24  Kapalua, Maui – NE
31  Kealakomo, Big Island – NE


Here are the latest 24-hour precipitation totals (inches) for each of the islands…as of Sunday evening (545pm totals):


0.17  N Wailua ditch, Kauai
1.72  Oahu Forest NWR, Oahu
0.02  Molokai
0.00  Lanai
0.00  Kahoolawe
0.15  Puu Kukui, Maui
0.48  Kawainui Stream, Big Island


We can use the following links to see what's going on in our area of the north central Pacific Ocean. Here's the latest NOAA satellite picture – the latest looping satellite image… and finally the latest looping radar image for the Hawaiian Islands.



~~~ Hawaii Weather Narrative ~~~
Our local winds will gradually build back strength…lasting throughout the upcoming week. Here's the latest weather map, showing the Hawaiian Islands, and the rest of the North Pacific Ocean, along with a real-time wind profile of the central Pacific…focused on the Hawaiian Islands. We have  areas of moderately strong high pressure located to the north-northwest and northeast of the state. At the same time, we have a low pressure system to our north…with its associated cold front extending southwest from its center, along with a trough just to the north of Kauai.  The models suggest that our temporary weakening of the winds will rebound as we get into the new week.

Satellite imagery shows low clouds around the islands…most of which are offshore. Looking at this larger looping satellite image, it shows those low level clouds riding along in the easterly wind flow. There are high cirrus clouds well offshore to the southwest…although they're diminishing before arriving over our area. Here's a looping radar image, showing passing showers arriving over our islands in some locations. The windward sides will receive most of these showers, although the leeward sides will find some falling on the smaller islands at times too. The cooler night and early morning hours will find the greatest chance of showers falling.

We're embarking on a prolonged period of generally fine trade wind weather…with no definite end in sight.  The trade winds will slowly rebound in strength later Monday, likely lasting through the following week from there. As is often the case, any showers that grace our shores or slopes will occur during the night and early morning hours. Sunshine should be abundant, forcing the air temperatures up up and up. I expect temperatures, at least near sea level, to reach up well into the 80's…if not reaching 90 in places during the upcoming week. The  waves at our local beaches will be small to very small, if not flat in some places, making our local beaching prospects stand out. I'll be back again early Monday morning with your next new weather narrative, I hope you have a great Sunday night wherever you're spending it! Aloha for now…Glenn.

Here on Maui, at the 3,100 foot elevation, at my upper Kula, Maui weather tower, the air temperature was a 57 degrees at 555am on this Sunday morning. Skies are mostly clear in all directions. It's a great looking day out there, with hardly a cloud in the sky. As the daytime heating kicks in later however, I expect clouds to begin forming over and around the mountains…leading to showers falling locally in the upcountry areas. Everything's still wet, from those afternoon and early evening showers we had yesterday. Update at 9am, under increasingly cloudy skies, very light winds…with an air temperature of 68.5 degrees.  Update at 1110am, skies are less cloudy, these clouds look less showery at the moment too…with an air temperature of 78.8 degrees.

We're into the early afternoon hours now at 1245pm, under partly cloudy skies, light winds…and an air temperature of 79.9 degrees. The rather heavy duty clouds we saw forming over the Haleakala Crater yesterday, aren't as impressive today. This doesn't mean that there won't be some showers, although they don't seem as imminent as they did Saturday afternoon…perhaps this will change later? At 330pm, under almost totally clear blue skies, the air temperature was 88.2 degrees…the hottest I've ever had it here in Kula!

It's now 555pm under mostly clear skies, light breezes, and a very warm 83.3 degrees. It was so hot today, having reached 88 degrees here in Kula, unbelievable! The sun was beating down, compared to the cloudy and wet afternoon we had yesterday. The forecast for afternoon clouds and showers today, at least here in Kula, was a bust. It was just the opposite of what I thought it was going to be! That's why I'm fond of saying: "being a weatherman is a great job, you can be wrong lots of times…and not get fired." I was just sitting out on my weather deck enjoying the cooler air after sunset, and see the thinnest sliver of a new moon in the western sky, really nice.

Friday Evening Film: There were a couple films in the running for the Friday evening choice, although I decided on one that wasn't brand new, and less likely to have a crowded theater. It was called Jersey Boys, starring Christopher Walken, Francesca Eastwood, John Lloyd Young, Michael Lomenda, Erich Bergen, Vincent Piazza, and Steven R. Schirripa…among many others. The synopsis: Clint Eastwood's big screen version of the Tony Award-winning musical tells the story of the four young men from the wrong side of the tracks in New Jersey, who came together to form the iconic `60s rock group The Four Seasons. Their trials and triumphs are accompanied by the hit songs that influenced a generation, and are now being embraced by a new generation of fans through the stage musical.

The critics are giving this film a just alright 54% liking, while the audience is upping that to a more respectable 72% rating. I was looking forward to the powerful pleasures of its musical moments, and wasn't let down in that regard. Most of these songs were slightly before my time, although not by much. It was fun to look back into those earlier days, a much different time than our current reality…that's for sure! I ended up liking this film more than I thought I was going to, as it was more touching than I had expected. I didn't find any tears rolling down my cheeks, although the actors brought me into the emotionality of their plights…and delights too. Clint Eastwood was the Director, and I think he did a terrific job in taking the audience behind the scenes of the music business in that day and age. This film got into my heart and soul, and had me tapping my foot on the floor many times, which felt great! If this all sounds well and fine, try taking a look at the trailer for this film…which I gave a strong B+ grade.


World-wide tropical cyclone activity:

Atlantic Ocean: There are no active tropical cyclones


Shower and thunderstorm activity remains minimal in association with
a low pressure area located about 140 miles east-northeast of
Melbourne, Florida.  However, surface pressures are falling, and
environmental conditions are forecast to become more conducive for
development during the next few days.  A tropical depression is
likely to form by mid-week while the system moves slowly
southwestward and thens turns northward and northeastward near the
southeastern United States coast.  An Air Force Reserve
reconnaissance aircraft is scheduled to investigate the low this
afternoon, if necessary.

Here's a satellite image showing this area…along with what the hurricane models are showing for what's being referred to as Invest 91L


* Formation chance through 48 hours…high…near 60 percent.
* Formation chance through 5 days…high…near 80 percent.


Here's a satellite image of the Atlantic Ocean

Caribbean Sea: There are no active tropical cyclones expected through the next 5 days

Gulf of Mexico: There are no active tropical cyclones expected through the next 5 days

Here's a satellite image of the Caribbean Sea…and the Gulf of Mexico.

Here's the link to the National Hurricane Center (NHC)

North Eastern Pacific: Tropical Storm 04E (Douglas) remains active, and will be strengthening a bit more over the next few days. Here's the NHC graphical track map…along with a satellite image. Here's what the hurricane models are showing for this tropical cyclone.

Thunderstorm activity associated with an area of low pressure
located about 180 miles south-southeast of Manzanillo, Mexico,
continues to show signs of organization.  Latest satellite data,
plus coastal surface observations and ship reports, indicate that
the low is producing tropical-storm-force winds. However, the system
still lacks a well-defined circulation center.  Upper-level winds
are not particularly conducive for additional development, but only
a slight increase in organization could result in the formation of a
tropical storm during the next day or so while the system moves
west-northwestward at about 10 mph.

Here's a satellite image showing TS 04E...and this area to the east-southeast. Here's what
the

 hurricane models 

are showing for this tropical disturbance being referred to as Invest 97E.

* Formation chance through 48 hours…high…70 percent.
* Formation chance through 5 days…high…70 percent.

Here's a wide satellite image that covers the entire area between Mexico, out through the central Pacific…to the International Dateline.

Central Pacific Ocean: No tropical cyclones are expected through the next two days


Here's a link to the Central Pacific Hurricane Center (CPHC)

Northwest Pacific Ocean: There are no active tropical cyclones


South Pacific Ocean: There are no active tropical cyclones

North and South Indian Oceans: There are no active tropical cyclones

Here's a link to the Joint Typhoon Warning Center (JTWC)


Interesting: Connecting population growth and biodiversity decline – It took humans around 200,000 years to reach a global population of one billion. But, in two hundred years we've septupled that. In fact, over the last 40 years we've added an extra billion approximately every dozen years. And the United Nations predicts we'll add another four billion—for a total of 11 billion—by century's end. Despite this few scientists, policymakers, or even environmentalists are willing to publicly connect incredible population growth to worsening climate change, biodiversity loss, resource scarcity, or the global environmental crisis in general.

"We are already to a point where our population size is unsustainable," Jeffrey McKee with the Ohio State University said." "In other words, we are already beyond the point of the biological concept of 'carrying capacity.' Millions of people go hungry every day, and an unfathomable number don't even have access to clean drinking water. A world of 11 billion people would be regrettable to humans as well as to other species."

McKee has recently studied the intersection between human population and biodiversity decline, finding a direct correlation between the rate of population growth and the number of endangered species in a country.

Meanwhile another researcher, geographer Camila Mora with the University of Hawaii, recently argued in a paper in Ecology and Society that overpopulation was exacerbating global warming, the biodiversity crisis, as well as creating large-scale economic and societal problems.

But if our population is already beyond sustainable, why has the subject become almost taboo? And not just in political circles, but even in environmental circles?

"There are multiple reasons including historical flip-flops about [overpopulation's] importance" Mora said." "However, the fact that we're not interested in talking about it it does not make it less critical."

For decades scientists have been warning that the world may well be entering a period of mass extinction with untold consequences for human societies and the natural world. While the drivers of global biodiversity decline are many and complicated—including habitat destruction, deforestation, over-exploitation of species, climate change, and ocean acidification—they are also underpinned by one simple fact: the human population continues to boom.

"It is simple math," Mora mentioned." "We live in a world with limited resources and space. The more we use and take the less other species have. Today some 20,000 species may be driven to extinctions due to habitat loss alone."
June 29th, 2014 at 10:58 am
Frank Says:

Good Morning…was interested in seeing rainfall total for Moloka'i… .05″……Live on West End of island…rain guage in yard …2.2″!!!!!!!!!!! for late June, incredible. Yesterday, all day event. Official reading at the landing strip, maybe? Never been sure when you post the totals where they are.~~~Hi Frank, there are 6 gauges on Molokai, 5 of which work properly. As of 845 Sunday morning, 4 of the gauges reported .00″…while the .05′ total was from Kamalo. Glad to hear you got 2.20″ wow…great news, especially considering, like you mentioned…it's very late June! Looking over your way from here on Maui, there's not as many clouds today…as there were yesterday. Aloha, Glenn
Leave a Reply