Air Temperatures – The following maximum temperatures (F) were recorded across the state of Hawaii Thursday:


82  Lihue, Kauai
86  Honolulu, Oahu
84  Molokai
88  Kahului, Maui
86  Kailua Kona
80  Hilo, Hawaii

Air Temperatures ranged between these warmest and coolest spots near sea level – and on the highest mountain tops on Maui and the Big Island…as of 743pm Thursday evening:

Kailua Kona – 83
Hana airport, Maui – 73

Haleakala Summit –   54 (near 10,000 feet on Maui)
Mauna Kea Summit – 45 (13,000+ feet on the Big Island)

Hawaii's Mountains – Here's a link to the live web cam on the summit of near 13,800 foot Mauna Kea on the Big Island of Hawaii. This web cam is available during the daylight hours here in the islands…and when there's a big moon shining down during the night at times. Plus, during the nights you will be able to see stars, and the sunrise and sunset too… depending upon weather conditions.

Aloha Paragraphs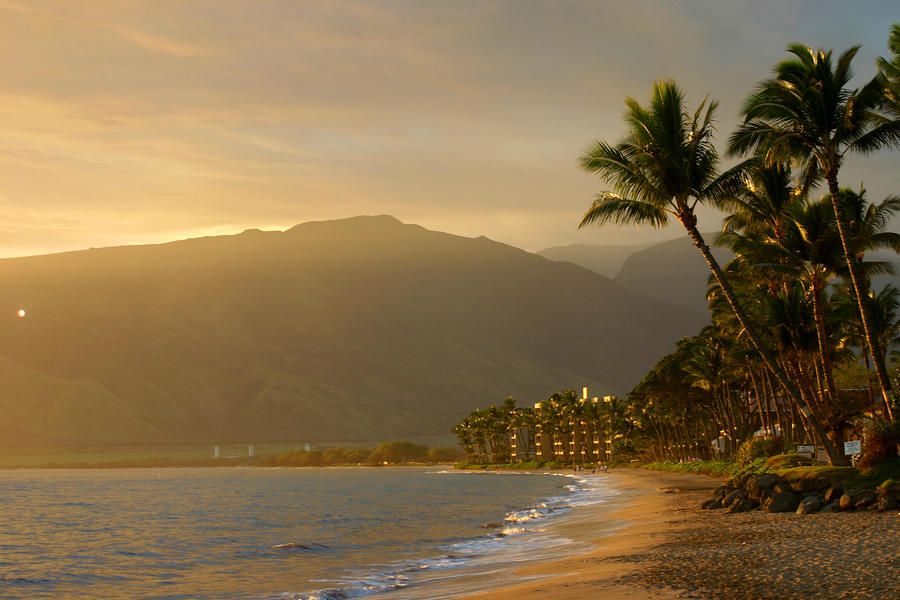 Trade winds becoming lighter Friday into the weekend –
prompting muggy conditions that will feel very warm
during the days

There will be some passing showers along the windward
sides…a few elsewhere

Looping satellite image…showing clouds being carried
along by the trade winds – which will increase
somewhat tonight into Friday morning





The following numbers represent the strongest wind gusts (mph), along with directions…as of Thursday evening:


28  Port Allen, Kauai – NE
29  Oahu Forest NWR, Oahu – N
29  Molokai – NE
33  Lanai – NE
27  Kahoolawe – NE
28  Kahului, Maui – NE
31  Kealakomo, Big Island – ENE


Here are the latest 24-hour precipitation totals (inches) for each of the islands…as of Thursday evening (845pm totals):


1.68  Mount Waialeale, Kauai
0.88  Manoa Lyon Arboretum, Oahu
0.07  Molokai
0.00  Lanai
0.00  Kahoolawe
1.20  Puu Kukui, Maui
0.75  Kawainui Stream, Big Island


We can use the following links to see what's going on in our area of the north central Pacific Ocean. Here's the latest NOAA satellite picture – the latest looping satellite image… and finally the latest looping radar image for the Hawaiian Islands.



~~~ Hawaii Weather Narrative ~~~
Our trade winds will remain active, although they will become softer Friday into the weekend. Here's the latest weather map, showing the Hawaiian Islands, and the rest of the North Pacific Ocean, along with a real-time wind profile of the central Pacific…focused on the Hawaiian Islands. We have a moderately strong high pressure system, weighing-in at near 1026 millibars, located to the north-northwest of the state. The trade winds will become lighter into the weekend. The models suggest that this temporary weakening of the trades will rebound early next week.

Satellite imagery shows of low clouds over and around the islands…especially upwind of the state. Looking at this larger looping satellite image, shows those low level clouds riding along in the trade wind flow…coming in from the east. There are high cirrus clouds well offshore in most directions…although they're diminishing before arriving over our area at the moment. There's a counterclockwise rotating upper level low pressure system evident to the northeast of Hawaii…which seems like its moving in our direction. Here's a looping radar image, showing passing showers arriving over our islands, which will likely increase to some degree tonight into early Friday morning. The windward sides will receive most of these showers, although the leeward sides will find some falling on the smaller islands at times too.

This trade wind weather pattern will continue…giving way to a convective pattern this weekend. There are moisture areas which continue taking aim on our islands, bringing off and on passing showers. These showers are generally light to moderately heavy. The leeward beaches will have fewer showers, although will see some here and there on the smaller islands…especially during the overnight hours. The easing of the trade winds this weekend will bring an increase in afternoon clouds and showers over our leeward slopes, with some showers falling from them locally. The normal trade winds will return early next week, probably lasting through the following seven days thereafter. I'll be back again early Friday morning with your next new weather narrative, I hope you have a great Thursday night until then! Aloha for now…Glenn.

Here on Maui, at the 3,100 foot elevation, at my upper Kula, Maui weather tower, the air temperature was a 58.8 degrees at 550am on this Thursday morning. Skies are partly to mostly cloudy along our windward sides, with clear to partly cloudy skies elsewhere. As shown on this looping satellite image, there are way more than the normal amount of clouds being carried our way on the fresh trade wind flow.

We're into the early afternoon now at 1240pm, under cloudy skies, light breezes…and an air temperature of 75 degrees. The clouds have gathered over and around the mountain this afternoon, as is often the case. Looking down towards the beaches however, there's lots of very warm sunshine beaming down there. I'm sure all the folks who love the beach, and who doesn't, are enjoying the warm ocean and refreshing breezes down that way.

It's now 545pm under partly cloudy skies, near calm winds…and an air temperature of 72.1 degrees. It's a lovely early evening, with a mix of clear to partly cloudy skies, with some fairly generous cloudy areas too. This was another dry day here in Kula, with not a drop falling that I saw, nor was there a particularly threatening period during the afternoon hours…as there sometimes are.

~~~ Here's a music video that I like very much, as Olomana sings Home / I'm feeling so so grateful that I found Hawaii, and have lived here over the past 40 years…it's still wonderful!


World-wide tropical cyclone activity:

Atlantic Ocean: There are no active tropical cyclones

1. A non-tropical area of low pressure over South Carolina is
expected to move offshore of the southeastern United States this
weekend. Some development of this system is possible while it
lingers off the southeastern coast of the United States early next
week.

* Formation chance through 48 hours…low…near 0 percent.
* Formation chance through 5 days…low…20 percent.


Here's a satellite image of the Atlantic Ocean

Caribbean Sea: There are no active tropical cyclones expected through the next 5 days

Gulf of Mexico: There are no active tropical cyclones expected through the next 5 days

Here's a satellite image of the Caribbean Sea…and the Gulf of Mexico.

Here's the link to the National Hurricane Center (NHC)

North Eastern Pacific: There are no active tropical cyclones


1. Cloudiness and disorganized showers and thunderstorms extend for
several hundred miles offshore of the coast of southern Mexico and
Central America.  An area of low pressure is expected to form within
this region of disturbed weather over the weekend, and conditions
appear favorable for this system to become a tropical cyclone early
next week while it moves west-northwestward.

* Formation chance through 48 hours…low…20 percent.
* Formation chance through 5 days…high…70 percent.

Here's a wide satellite image that covers the entire area between Mexico, out through the central Pacific…to the International Dateline.

Central Pacific Ocean: No tropical cyclones are expected through the next two days


Here's a link to the Central Pacific Hurricane Center (CPHC)

Northwest Pacific Ocean: There are no active tropical cyclones


South Pacific Ocean: There are no active tropical cyclones

North and South Indian Oceans: There are no active tropical cyclones

Here's a link to the Joint Typhoon Warning Center (JTWC)


Interesting:  MIT study unearths Neanderthal diet – The popular conception of the Neanderthal as a club-wielding carnivore is, well, rather primitive, according to a new study conducted at MIT. Instead, our prehistoric cousin may have had a more varied diet that, while heavy on meat, also included plant tissues, such as tubers and nuts.

Scientists from MIT and the University of La Laguna in Spain have identified human fecal remains from El Salt, a known site of Neanderthal occupation in southern Spain that dates back 50,000 years. The researchers analyzed each sample for metabolized versions of animal-derived cholesterol, as well as phytosterol, a cholesterol-like compound found in plants. While all samples contained signs of meat consumption, two samples showed traces of plants — the first direct evidence that Neanderthals may have enjoyed an omnivorous diet.

We have passed through different phases in our interpretation of Neanderthals," says Ainara Sistiaga, a graduate student at the University of La Laguna who led the analysis as a visiting student at MIT. She and her colleagues have published their study in the journal PLoS ONE.

It's important to understand all aspects of why humanity has come to dominate the planet the way it does," adds co-author Roger Summons, a professor of geobiology in MIT's Department of Earth, Atmospheric and Planetary Sciences. "A lot of that has to do with improved nutrition over time."

While scientists have attempted to reconstruct the Neanderthal diet, much of the evidence has been inconclusive, until now. Researchers looked for fecal remains in El Salt, an excavation site in Alicante, Spain, where remnants of multiple Neanderthal occupations have been unearthed. Samples were then analyzed for coprostanol – a lipid formed when the gut metabolizes cholesterol. While this is evidence of a largely meat-based diet, two samples also held biomarkers of plants which Sistiaga says may indicate a rather significant plant intake. This leads researchers to believe that while Neanderthals had a mostly meat-based diet, they may have also consumed a fairly regular portion of plants, such as tubers, berries, and nuts.

Richard Wrangham, a professor of biological anthropology at Harvard University says that, "These lovely new data on fecal sterols confirm what many people have been increasingly thinking, which is that something is wrong with the inference that Neanderthals were 100 percent carnivores … the Sistiaga data are a wonderful new source for challenging conventional wisdom. In the end it would not be surprising to find that Neanderthals show little difference from sapiens in their diet composition."
Leave a Reply