Air Temperatures – The following maximum temperatures (F) were recorded across the state of Hawaii Thursday:


82  Lihue, Kauai
86  Honolulu, Oahu
81  Molokai
86  Kahului, Maui
88  Kailua Kona
81  Hilo, Hawaii

Air Temperatures ranged between these warmest and coolest spots near sea level – and on the highest mountain tops on Maui and the Big Island…as of 830pm Thursday evening:

Kailua Kona – 80
Hana airport, Maui – 72

Haleakala Summit –   43 (near 10,000 feet on Maui)
Mauna Kea Summit – 39 (13,000+ feet on the Big Island)

Hawaii's Mountains – Here's a link to the live web cam on the summit of near 13,800 foot Mauna Kea on the Big Island of Hawaii. This web cam is available during the daylight hours here in the islands…and when there's a big moon shining down during the night at times. Plus, during the nights you will be able to see stars, and the sunrise and sunset too… depending upon weather conditions.

Aloha Paragraphs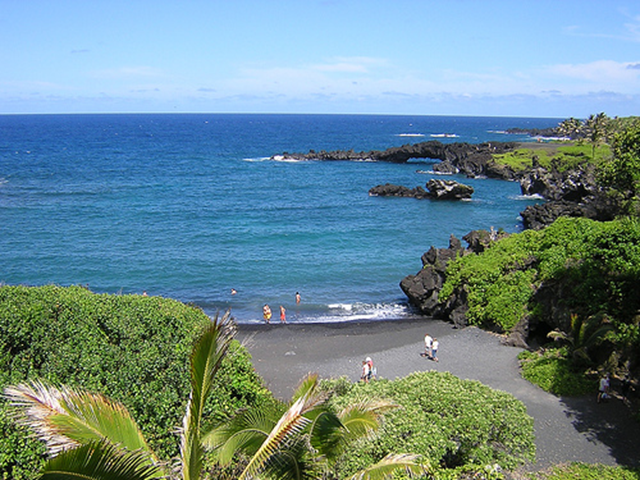 Trade winds will continue…into the new week ahead

There will be some passing showers generally along
the windward sides…a few elsewhere

Small Craft Wind Advisory…over the windiest coasts
and channels around Maui County – Big Island





The following numbers represent the strongest wind gusts (mph), along with directions…as of Thursday evening:


14  Port Allen – NE
27  Oahu Forest NWR, Oahu – NNE
18  Molokai – NE
27  Lanai – NE
22  Kahoolawe – NE
13  Lipoa, Maui – NE
28  Pali 2, Big Island – NE


Here are the latest 24-hour precipitation totals (inches) for each of the islands…as of Thursday evening (845pm totals):


0.25  Mount Waialeale, Kauai
0.22  Oahu Forest NWR, Oahu
0.04  Molokai
0.00  Lanai
0.22  Kahoolawe
0.42  Puu Kukui, Maui
0.60  Pahoa, Big Island


We can use the following links to see what's going on in our area of the north central Pacific Ocean. Here's the latest NOAA satellite picture – the latest looping satellite image… and finally the latest looping radar image for the Hawaiian Islands.



~~~ Hawaii Weather Narrative ~~~
Gusty trade winds becoming just a little lighter Friday into the weekend. Here's the latest weather map, showing the Hawaiian Islands, and the rest of the North Pacific Ocean, along with a real-time wind profile of the central Pacific…focused on the Hawaiian Islands. We have two moderately strong high pressure systems located to the north-northwest and northeast of the state. These high pressure cells have associated ridges extending far southwest and southeast of their centers. Our local winds will remain gusty for the time being, with those places with the most direct exposure to this wind flow reaching 30-40 mph in gusts in a few places. A fairly minor reduction in wind speeds will take place Friday into this weekend, and then rebound next week…continuing well into the future from there.

Satellite imagery shows scattered clouds around the islands…bringing a few showers our way. Looking at this larger looping satellite image, we see an area of high level clouds to our south and southwest…and yet another to our north at the moment. These high cirrus to our north look like they will roll in over us tonight. They are associated with a counterclockwise rotating upper level low to our northeast. In addition, there's an area of thunderstorms well to the west-southwest of Hawaii, associated with another upper level low pressure system. Meanwhile, there are lower level clouds riding along in the trade wind flow…impacting our windward sides at times locally. Here's a looping radar image, showing some showers arriving across the state, although the leeward areas continue to be generally dry.

We continue to be involved in a well established trade wind weather pattern…as we push towards the beginning of the summer season early Saturday morning. There will be some showers reaching the windward sides of our islands, although nothing much is expected. As a matter of fact generally normal amounts of shower activity will continue, or even less than that in most areas. There will be a trough of low pressure aloft, moving over the state Friday into early next week. This upper level low may enhance some of the showers that fall locally…especially along the Kona slopes during the afternoon hours here and there. The leeward beaches, as is often the case under these conditions, will continue to have very nice weather. I'll be back early Friday morning with your next new weather narrative, I hope you have a great Thursday night wherever you're spending it! Aloha for now…Glenn.

Here on Maui, at the 3,100 foot elevation, at my upper Kula, Maui weather tower, the air temperature was a cool 53.4 degrees at 545am on this Thursday morning. Skies are clear overhead and down through the leeward beaches. There are a few clouds hugging the windward sides this morning, which are stretching over the West Maui Mountains. All things considered, we'll find great weather through these last two days of the spring season.

We're into the early afternoon now at 105pm, under mostly sunny skies, gusty breezes…and an air temperature of 77.9 degrees.

It's now 625pm in the early evening hours, under partly cloudy skies, near calm breezes…and an air temperature of 74.3 degrees. It's interesting, in that the Kahului airport, very near sea level, was reporting 76 degrees at the same time I'm having that 74 degree reading up here in Kula. That's pretty unusual, as Kula is often 10 degrees cooler than Kahului. I can see what look like some showery clouds arriving along our windward side, which are showing up on this looping radar image. Typically the showers increase a bit during the cooler night hours, and then decrease again during the warmer daylight hours…which I expect to happen into Friday.

Here's a weather product that I produced for the Pacific Disaster Center this morning.


World-wide tropical cyclone activity:

Atlantic Ocean: There are no active tropical cyclones expected through the next 5 days

A weak area of low pressure located about 70 miles east-northeast
of Daytona Beach, Florida, continues to produce disorganized
showers and thunderstorms. This system has changed little over the
past several hours, and significant development is not expected
while it drifts slowly northward during the next day or so. After
that time, conditions are expected to remain unfavorable for
development while the disturbance accelerates northeastward.

* Formation chance through 48 hours…low…near 10 percent.
* Formation chance through 5 days…low…near 10 percent.

Here's a satellite image of the Atlantic Ocean

Caribbean Sea: There are no active tropical cyclones expected through the next 5 days

Gulf of Mexico: There are no active tropical cyclones expected through the next 5 days

Here's a satellite image of the Caribbean Sea…and the Gulf of Mexico.

Here's the link to the National Hurricane Center (NHC)

North Eastern Pacific: There are no active tropical cyclones expected through the next 5 days


Here's a wide satellite image that covers the entire area between Mexico, out through the central Pacific…to the International Dateline.

Central Pacific Ocean: No tropical cyclones are expected through Sunday morning


Here's a link to the Central Pacific Hurricane Center (CPHC)

Northwest Pacific Ocean: There are no active tropical cyclones


South Pacific Ocean: There are no active tropical cyclones

North and South Indian Oceans: There are no active tropical cyclones

Here's a link to the Joint Typhoon Warning Center (JTWC)


Interesting: Are we close to bringing back supersonic travel? – Remember the Concorde? The supersonic passenger jet that flew from 1969 to almost 2000. It was not cost effective for the airlines, and extravagantly expensive for passengers. It was also cramped. The luxury was being able to fly from New York to London in about 3 hours!

The Concorde had a big problem, the sonic boom it created when flying at supersonic speed. This led to governments restricting where it could fly supersonically and was a major factor in it not being economical to continue flying. That and a very advanced airframe that was getting old.

The return of supersonic passenger travel may be coming closer to reality thanks to NASA's efforts to define a new standard for low sonic booms.

Several NASA aeronautics researchers will present their work in Atlanta this week at Aviation 2014, an annual event of the American Institute of Aeronautics and Astronautics. They will share with the global aviation community the progress they are making in overcoming some of the biggest hurdles to supersonic passenger travel.

The research generates data crucial for developing a low-boom standard for the civil aviation industry. NASA works closely with the Federal Aviation Administration and the international aerospace community, including the International Civil Aviation Organization, to gather data and develop new procedures and requirements that may help in a reconsideration of the current ban on supersonic flight over land.

"Lessening sonic booms — shock waves caused by an aircraft flying faster than the speed of sound — is the most significant hurdle to reintroducing commercial supersonic flight," said Peter Coen, head of the High Speed Project in NASA's Aeronautics Research Mission Directorate at the agency's Headquarters in Washington. "Other barriers include high altitude emissions, fuel efficiency and community noise around airports."

Engineers at NASA centers in California, Ohio and Virginia that conduct aviation research are tackling sonic booms from a number of angles, including how to design a low-boom aircraft and characterize the noise. NASA researchers have studied how to quantify the loudness and annoyance of the boom by asking people to listen to the sounds in a specially designed noise test chamber.

A recent flight research campaign at NASA's Armstrong Flight Research Center in Edwards, California, had residents explore ways to assess the public's response to sonic booms in a real-world setting. Researchers at Armstrong have an advantage — pilots are permitted to fly at supersonic speeds because the facility is located on Edwards Air Force Base.

"People here are more familiar with sonic booms," said Armstrong aerospace engineer Larry Cliatt. "Eventually, we want to take this to a broader level of people who have never heard a sonic boom."
June 20th, 2014 at 9:07 am
maggie Says:

Gee, to think that there is a generation who have never heard a sonic boom. I remember summers on Cape Cod where they were a daily event and we all got used to rattling dishes.~~~ Hi Maggie, I used to remember hearing a few when I was a kid in southern California…although haven't heard one in many years. Aloha, Glenn
Leave a Reply