Air Temperatures – The following maximum temperatures (F) were recorded across the state of Hawaii Monday:


79  Lihue, Kauai
81  Honolulu, Oahu
81  Molokai
83  Kahului, Maui
84  Kailua Kona
80  Hilo, Hawaii

Air Temperatures ranged between these warmest and coolest spots near sea level – and on the highest mountain tops on Maui and the Big Island…as of 810pm Monday evening:

Kailua Kona – 80
Hana, Maui – 66


Haleakala Summit –   41 (near 10,000 feet on Maui)
Mauna Kea Summit – 30 (13,000+ feet on the Big Island)

Hawaii's Mountains – Here's a link to the live web cam on the summit of near 13,800 foot Mauna Kea on the Big Island of Hawaii. This web cam is available during the daylight hours here in the islands…and when there's a big moon shining down during the night at times. Plus, during the nights you will be able to see stars, and the sunrise and sunset too… depending upon weather conditions.

Aloha Paragraphs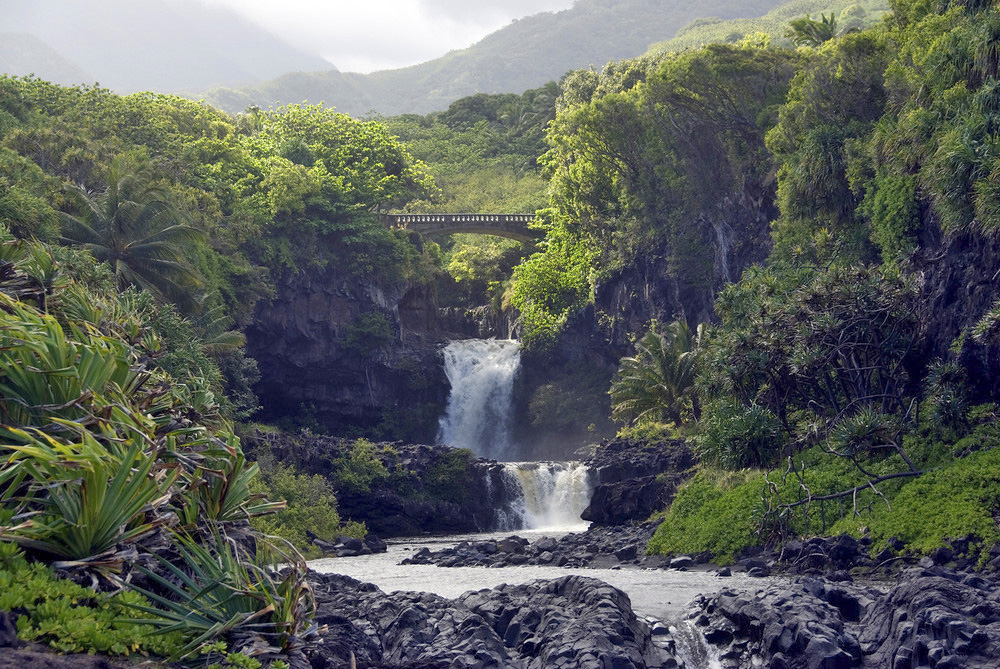 Oheo Gulch (Seven Sacred Pools)…east Maui

Windward showers will remain active at times, some of which will
be quite generous, with showers elsewhere…especially over and
around the mountains / leeward beaches will remain nice and warm

A prolonged trade wind weather pattern will continue through
this new week, with the trades in the moderately strong realms
for the most part

Another front is expected to arrive later Friday into the weekend –
which will bring strong and gusty trade winds, with some showers…
especially along our windward sections





The following numbers represent the most recent top wind gusts (mph), along with directions…as of Monday evening:


12  Port Allen, Kauai – NE
17  Kahuku Trng, Oahu – SE
18  Molokai – E
21  Lanai – NE
17  Kahoolawe – NE
14  Lipoa, Maui – NE
21  Upolu airport, Big Island – NE


Here are the latest 24-hour precipitation totals (inches) for each of the islands…as of Monday evening (545pm totals):


2.36  N Wailea ditch, Kauai
2.53  Oahu Forest NWR, Oahu
0.04  Molokai
0.00  Lanai
0.19  Kahoolawe
4.78  Puu Kukui, Maui
3.63  Laupahoehoe, Big Island


We can use the following links to see what's going on in our area of the north central Pacific Ocean. Here's the latest NOAA satellite picture – the latest looping satellite image… and finally the latest looping radar image for the Hawaiian Islands.



~~~ Hawaii Weather Narrative ~~~
Our winds will be trade winds through this week…into early next week. Here's the latest weather map, showing the Hawaiian Islands, and the rest of the North Pacific Ocean. Here's a real-time wind profile of the central Pacific…centered on the Hawaiian Islands. ~~~ We see a storm low pressure system far north of the state, with a cold front draping southward from its center…to the northwest of Hawaii. Meanwhile, we see high pressure systems to our northeast and northwest…with a ridge of high pressure located to our north. Our winds will be trade winds through the rest of this week. They will maintain more or less moderately strong levels through Friday, and then strengthen later Saturday into early next week.

Satellite imagery shows generally clear skies around the state, with clouds over the mountains…which will evaporate during the night. There's also a deeper area of clouds well offshore to the northeast of the Big Island…with some associated thunderstorms. The island of Kauai and Oahu have some higher clouds offshore to the north at the time of this writing. There's the looping radar image, showing light to moderately heavy showers over the eastern islands, at least locally at the time of this writing. The leeward sides are generally clear to partly cloudy and dry, which should remain the case into Tuesday. Looking at this larger satellite image, which is in the looping mode, we can see the area of bright white higher level clouds, with embedded heavy showers, or even thunderstorms over the ocean to our north and northeast.

We continue to be under the influence of a well established trade wind weather pattern…with no distinct end in sight. There will continue to be some showers around the state, particularly along our windward sides, and over and around the slopes at times too. In contrast, the south and west facing leeward beaches will find generally fine weather through the next several days. Looking further ahead, we could see another frontal cloud band arrive this coming weekend. This front will usher in strong and gusty trade winds, and a period of cool showers. I'll be back many early Tuesday morning with your next new weather narrative, I hope you have a great Monday night wherever you're spending it! Aloha for now…Glenn.

Here on Maui, at the 3,100 foot elevation, at my upper Kula, Maui weather tower, the air temperature was 60.8 degrees at 610am on this Monday morning, under clear to partly cloudy skies. It's just turned light enough that I can see those gray clouds banked up against and over the windward sides…and over the West Maui Mountains too. Here in Kula, it's mostly clear in contrast, which should provide a nice morning. I expect those afternoon clouds to build over this area again, with a good chance of more showers later in the day too, which could be locally heavy…like they were Sunday afternoon.

~~~ It's now 810am here on Maui, clear to partly cloudy skies, while it's 64.6 degrees at my place in Kula. There's essentially no wind to speak of here, along with nice warm sunshine. I'm beginning to see clouds increasing already, and I think they will do nothing but more of that as we move through the day. Nonetheless, glancing around the island at the moment, I would rate the weatherwise, as still looking quite nice.

~~~ Here it is 920am, and the clouds are closing in already, with an air temperature of 65.8 degrees. It's not raining, although those clouds sure are acting like they're thinking about it strongly. There are still some small blue patches around, although it doesn't like that we're moving in that direction.

~~~ It just got through raining, here at 1050am, a quick little light to moderately heavy shower, lasted maybe 20 minutes. Actually, now that I look closer, it's still very lightly misting. I can also see fog hanging in the trees, just a little way up the mountain from here. This light mist is now turning back into a light shower, which when things go this direction so early in the morning, it can set up similar conditions for the afternoon hours quite easily. The air temperature is 76.8 degrees, while at the same time more or less, the Kahului airport was reporting mostly sunny skies with 79 degrees. Meanwhile, Kailua Kona and Honolulu were mostly sunny too, while Hilo and Lihue were partly sunny.

~~~ We're into the early afternoon hours now at 1230pm, under cloudy skies, and a very light shower. Looking down country into the Central Valley, I can see sun shining there…now that fog has cleared. The air temperature is 67.3 degrees, with no wind. The major cities around the state, which are all down near sea level, including, Lihue, Honolulu, Kahului, and Kailua Kona…are all reporting mostly skies at the moment. Here on Maui, the mountain slopes continue to collect showery clouds, with light showers so far. We may end up seeing some heavier rainfall later today, as we did Sunday afternoon – oops, its now coming down moderate to heavy at 1245pm.

~~~  Well, we're into the early evening hours now, at 540pm, with clear to partly cloudy skies, and an air temperature of 66.4 degrees. Things have really improved now, with all kinds of blue skies around the edges. Things here in Kula are still a bit on the cloudy side, although even these clouds will be clearing back soon I think. It's shaping up to be a very nice, mild-mannered sunset, a good one to have your toes in the ocean, with perhaps a little cocktail in hand…if you're over 21 that is!

World-wide tropical cyclone activity:

Atlantic Ocean: The Atlantic hurricane season runs from June 1st through November 30th.
Here's the 2013 hurricane season summary


Here's a satellite image of the Atlantic Ocean

Caribbean Sea:

Gulf of Mexico:

Here's a satellite image of the Caribbean Sea…and the Gulf of Mexico.

Here's the link to the National Hurricane Center (NHC)

Eastern Pacific: The Eastern Pacific hurricane season runs from May 15th through November 30th. Here's the 2013 hurricane season summary

Here's a wide satellite image that covers the entire area between Mexico, out through the central Pacific…to the International Dateline.

Central Pacific Ocean: The Central Pacific hurricane season runs from June 1st through November 30th. Here's the 2013 hurricane season summary

Here's a link to the Central Pacific Hurricane Center (CPHC)

North Pacific Ocean: There are no active tropical cyclones

South Pacific Ocean: Tropical Cyclone 17P (Gillian) remains active in the Gulf of Carpentria, Australia. Here's the JTWC graphical track map, and a NOAA satellite image. – Final Warning


Tropical Cyclone 18P (Luis) remains active in the southwest Pacific. Here's the JTWC graphical track map, and a NOAA satellite image.

Tropical Cyclone 19P (Hadi) is now active in the southwest Pacific. Here's the JTWC graphical track map, and a NOAA satellite image.


North and South Indian Oceans: There are no active tropical cyclones

Here's a link to the Joint Typhoon Warning Center (JTWC)


Interesting: Warming up all over, even in the Arctic – It's long been established that Arctic Ocean sea ice is on the retreat, writes Tim Radford. But it's the pace of change that's surprising scientists: latest studies show that the ice-free period is increasing by 5 days / decade. Ice in the Arctic continues to retreat. The season without ice is getting longer by an average of five days every 10 years.

And in some regions of the Arctic, the autumn freeze is now up to 11 days later every decade.

The findings come in a new study in Geophysical Research Letters – 'Changes in Arctic melt season and implications for sea ice loss' by Stroeve et al.

That means that a greater proportion of the polar region for a longer timespan no longer reflects sunlight but absorbs it. This change in albedo – the scientist's term for a planet's reflectivity – means that open sea absorbs radiation, stays warmer, and freezes again ever later.

Warming accelerates

None of this is news: sea ice in the Arctic has been both retreating and thinning in volume for four decades.

Researchers have tracked the retreat of the snow line to find tiny plants exposed that had been frozen over 40,000 years ago: the implication is that the Arctic is warmer now than it has been for 40 millennia.

This warming threatens the animals that depend for their existence on a stable cycle of seasons and is accelerating at such a rate that the polar ocean could be entirely free of ice in late summer in the next four decades.

So Julienne Stroeve, of University College London and her colleagues have provided yet further confirmation of an increasing rate of change in the region in their latest study.

The scientists examined satellite imagery of the Arctic for the last 30 years, on 25 square kilometer grid; to work out the albedo of each square for every month they had data.

Their headline figure of five days is an average: in fact the pattern of freeze and thaw in the Arctic varies. In one region the melt season has been extended by 13 days, in another the melt season is actually getting shorter.

Energy increases

This increasing exposure to summer sunlight means that ever greater quantities of energy are being absorbed.

"The extent of sea ice in the Arctic has been declining for the last four decades", said Professor Stroeve…and the timing of when melt begins and ends has a large impact on the amount of ice lost each summer."
March 10th, 2014 at 11:54 am
jerry smallwood Says:

Hi Glenn- On the wind profile site you have linked lately, is that upper or lower (surface) level wind being represented?
Thank~~~Hi Jerry, good question…that's surface level winds. Aloha, Glenn
Leave a Reply