Air Temperatures – The following maximum temperatures (F) were recorded across the state of Hawaii Saturday:


81  Lihue, Kauai
83  Honolulu, Oahu
84  Molokai
86  Kahului, Maui
84  Kona, Hawaii
85  Hilo, Hawaii

Air Temperatures ranged between these warmest and coolest spots near sea level – and on the highest mountain tops on Maui and the Big Island…as of 543pm Saturday evening:

Kailua Kona – 81
Kapalua, Maui – 77


Haleakala Summit –   54 (near 10,000 feet on Maui)
Mauna Kea Summit – 46 (13,000+ feet on the Big Island)

Hawaii's Mountains – Here's a link to the live web cam on the summit of near 13,800 foot Mauna Kea on the Big Island of Hawaii. This web cam is available during the daylight hours here in the islands…and when there's a big moon shining down during the night at times. Plus, during the nights you will be able to see stars, and the sunrise and sunset too… depending upon weather conditions. Here's the Haleakala Crater webcam on Maui – if it's working.

Aloha Paragraphs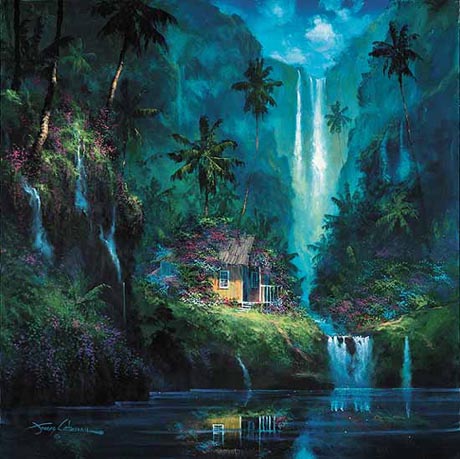 Secret Island Hide away…James Coleman


Pleasant autumn weather / Lighter winds /
Limited rainfall at best /
Locally voggy





The following numbers represent the most recent top wind gusts (mph), along with directions as of Saturday evening:


22  Port Allen, Kauai – ESE
31  Oahu Forest NWR, Oahu – NNE
25  Molokai – E
32  Lanai – NE
37  Kahoolawe – NE
27  Kahului, Maui – NE
30  Upolu airport, Big Island – NE


Here are the latest 24-hour precipitation totals (inches) for each of the islands as of Saturday evening:


0.17  Kokee, Kauai
0.01  Hakipuu Mauka, Oahu
0.00  Molokai
0.00  Lanai
0.00  Kahoolawe
0.00  Maui
0.10  Kawainui Stream, Big Island

We can use the following links to see what's going on in our area of the north central Pacific Ocean. Here's the latest NOAA satellite picture – the latest looping satellite image… and finally the latest looping radar image for the Hawaiian Islands.



~~~ Hawaii Weather Narrative ~~~
Trade winds becoming southeast through Monday…then south to southwest kona breezes Tuesday through about Thursday. Here's a weather chart showing low pressure systems to the north, one with a cold front draping down to the north of here. At the same time, there's high pressure systems to the northeast, and west-northwest…with their associated ridges. The trade winds are currently blowing across the Aloha state, although will be short-lived. These winds will shift to the southeast Sunday into Monday, with locally voggy skies. The longer range forecast calls for Kona winds (south and southwest) to set in by Tuesday…lasting for several days.

There will be a few showers falling locally…although most areas will remain dry through Monday. Satellite imagery shows a large area of multi-layered clouds pulling west away from the islands…most of which consists of high and middle level clouds. These clouds will give way to sunnier skies, at least in the mornings, with rainfall very limited. Here's the looping radar image, showing just a few very light showers over the offshore waters, carried along in the trade flow…with little change expected tonight. The longer range outlook calls for more showers to arrive from a cold front…during the second half of the upcoming new work week.

Here on Maui, looking down towards the central valley from up here in Kula…I see a fair amount of what looks like volcanic haze in the air. It has been a dry day here, and in most other areas around the state as well. The expectation is for more of the same through the next several days. As the southeasterly breezes come up, they will be blocked to some degree by the bulk of the Big Island. This in turn will put the smaller islands in a wind shadow, which will likely have us feeling a bit warmer than usual…and muggy too. These lighter winds will probably have our early morning hours feeling somewhat chilly, with afternoon clouds building up around the mountains during the afternoon hours. The atmosphere will remain drier than normal however, although we see a few light showers falling over the leeward slopes at times. All things considered, our weather will remain quite nice, that is if you don't mind the voggy skies at times locally. I'll be back again Sunday morning with your next new weather narrative, I hope you have a great Saturday night from wherever you're reading. Aloha for now…Glenn

Friday evening film: There are a lot of good films showing now, so it was a little difficult to pick one this time. Although, with that said, I'm going to see the film called Twelve Years a Slave, starring Chiwetel Ejiofor, Michael Fassbende, Benedict Cumberbatch, Paul Dano, Paul Giamatti, Lupita Nyong'o, Sarah Paulson, Brad Pitt, and Alfre Woodward. The synopsis: In the pre-Civil War United States, Solomon Northup, a free black man from upstate New York, is abducted and sold into slavery. Facing cruelty at the hands of a malevolent slave owner, as well as unexpected kindnesses, Solomon struggles not only to stay alive, but to retain his dignity. In the twelfth year of his unforgettable odyssey, Solomon's chance meeting with a Canadian abolitionist will forever alter his life. ~~~ The critics are being very generous with this film, with near perfect grades across the board. It looks rather intense to me, and some of the reviews I've read, say things like: "it makes you angry, sad, appreciative, reflective…hollow and full at the same time." ~~~ This film wasn't easy to sit through, as it was brutal, but also with a relentlessly calm intensity…impossible to turn away from. It was a frank film, with a unique juxtaposition of natural beauty…and unnatural ugliness. As for a grade, it deserves what I would consider a very near A rating. Here's the trailer for this film.

World-wide tropical cyclone activity:

Atlantic Ocean: There are no active tropical cyclone


A NEARLY STATIONARY NON-TROPICAL LOW PRESSURE SYSTEM LOCATED OVER
THE CENTRAL ATLANTIC OCEAN ABOUT 750 MILES NORTHEAST OF THE
NORTHERN LEEWARD ISLANDS IS PRODUCING A LARGE AREA OF CLOUDINESS
AND SHOWERS...AND WINDS TO GALE FORCE. ENVIRONMENTAL CONDITIONS
COULD BECOME CONDUCIVE FOR THIS LOW TO ACQUIRE SUBTROPICAL OR
TROPICAL CHARACTERISTICS DURING THE NEXT FEW DAYS WHILE IT MOVES
SLOWLY NORTHWARD TO NORTHWESTWARD.  

THIS SYSTEM HAS A MEDIUM
CHANCE...30 PERCENT...OF BECOMING A SUBTROPICAL OR TROPICAL CYCLONE
DURING THE NEXT 48 HOURS

...AND A 

HIGH CHANCE...60 PERCENT...OF
BECOMING A SUBTROPICAL OR TROPICAL CYCLONE DURING THE NEXT 5 DAYS.
Here's a satellite image of the Atlantic Ocean

Caribbean Sea: There are no active tropical cyclones

Gulf of Mexico: There are no active tropical cyclone

Here's a satellite image of the Caribbean Sea…and the Gulf of Mexico.

Here's the link to the National Hurricane Center (NHC)

Eastern Pacific: There are no active tropical cyclone

Here's a wide satellite image that covers the entire area between Mexico, out through the central Pacific…to the International Dateline.

Central Pacific Ocean: There are no active tropical cyclones

Here's a link to the Central Pacific Hurricane Center (CPHC)

Western Pacific Ocean: There are no active tropical cyclones


South Pacific Ocean: There are no active tropical cyclones

North and South Indian Oceans: There are no active tropical cyclones


Here's a link to the Joint Typhoon Warning Center (JTWC)


Interesting: What was Mars like in the distant past, and what happened to its climate? Liquid water flowed in long rivers that emptied into lakes and shallow seas. A thick atmosphere blanketed the planet and kept it warm. In this cozy environment, living microbes might have found a home, starting Mars down the path toward becoming a second life-filled planet next door to our own.

But that's not how things turned out.

Today, Mars is bitter cold and desiccated. The planet's thin, wispy atmosphere provides scant cover for a surface marked by dry riverbeds and empty lakes. If Martian microbes still exist, they're probably eking out a meager existence somewhere beneath the dusty Martian soil.

What happened? This haunting question has long puzzled scientists. To find the answer, NASA is sending a new orbiter to Mars called MAVEN (Mars Atmosphere and Volatile Evolution).

"The goal of MAVEN is to figure out what processes were responsible for those changes in Martian climate," says Bruce Jakosky, Principal Investigator for MAVEN at the University of Colorado at Boulder.

Scheduled for launch in Nov. 2013, and due to arrive in Sept. 2014, MAVEN is bristling with instruments to study Mars' upper atmosphere. That's where many researchers believe the answer lies.

The only way Mars could have been wet and warm 4 billion years ago, is if it also had a thick atmosphere. CO2 in the Martian atmosphere is a greenhouse gas, just as it is in our own atmosphere. A thick blanket of CO2 and other greenhouse gases would have provided the warmer temperatures and greater atmospheric pressure required to keep liquid water from freezing solid or boiling away.

Something caused Mars to lose that blanket. One possibility is the solar wind. Unlike Earth, Mars is not protected by a global magnetic field. Instead, it has "magnetic umbrellas" scattered around the planet that shelter only part of the atmosphere. Erosion of exposed areas by solar wind might have slowly stripped the atmosphere away over billions of years. Recent measurements of isotopes in the Martian atmosphere by Mars rover Curiosity support this idea: light isotopes of hydrogen and argon are depleted compared to their heavier counterparts, suggesting that they have floated away into space.

Scientists have also speculated that the planet's surface might have absorbed the CO2 and locked it up in minerals such as carbonate. However, this theory has faded in recent years as Mars rovers and orbiters have failed to find enough carbonate to account for the missing gas.

MAVEN will be the first mission to Mars specifically designed to help scientists understand the ongoing escape of CO2 and other gases into space. The probe will orbit Mars for at least one Earth-year. At the elliptical orbit's low point, MAVEN will be 125 km above the surface; its high point will take it more than 6000 km out into space. MAVEN's instruments will track ions and molecules in this broad cross-section of the Martian atmosphere, thoroughly documenting the flow of CO2 and other molecules into space for the first time.

Once Jakosky and his colleagues know how quickly Mars is losing CO2 right now, they can extrapolate backward in time to estimate the total amount lost during the last four billion years. "MAVEN will determine if loss to space was the most important player in driving Martian climate change," Jakosky says.

In the grand scheme of the Solar System, Earth orbits alongside a world that began with as much promise for life as our own — yet turned out so differently. After all these years, MAVEN could write the final chapter in a haunting planetary mystery.




Leave a Reply