We can use the following links to see what's going on in our area of the north central Pacific Ocean. Here's the latest NOAA satellite picture – the latest looping satellite image…and finally the latest looping radar image for the Hawaiian Islands. 

Here's the latest weather chart…covering the Pacific Ocean

Hawaii's Mountains – Here's a link to the live web cam on the summit of near 13,800 foot Mauna Kea on the Big Island of Hawaii. This web cam is available during the daylight hours here in the islands…and when there's a big moon shining down during the night at times. Plus, during the nights you will be able to see stars, and the sunrise and sunset too… depending upon weather conditions. Here's the Haleakala Crater webcam on Maui – if it's working.

Aloha Paragraphs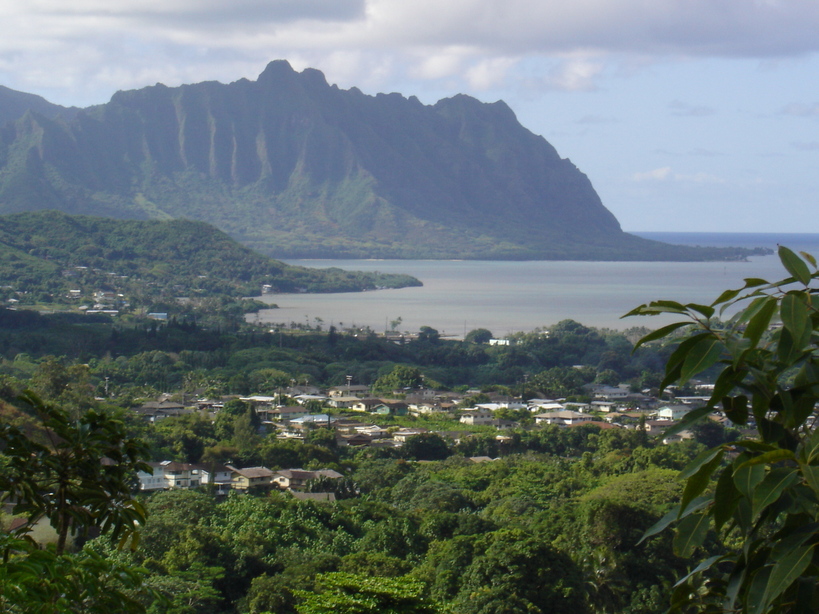 I will be on vacation to the mainland from October 11th to November 13th


In my absence, you can get the latest weather information by clicking on the links for the island forecasts…on the upper left hand margin of this page – below where it reads Glenn's Daily Weather Narrative
     
I will provide a travelogue of my activities around California, and then up to Oregon…and back to northern California while away. These writings will appear below:

October 11th – When I got up early this morning to sit quietly for 40 minutes, and before doing my Pacific Disaster Center (PDC) weather products, and taking off for my vacation…I noticed lightning flicker in the distance off the north shore here on Maui. This is unusual occurrence, and at the same time, there has been localized flooding around the Aloha state as well. At any rate, I take off from the Kahului airport today, flying to San Francisco, where I land in the early evening. I'll take the Marin Airporter north through The City, and across the Golden Gate Bridge to Marin County. My friend Linda will pick me up, and we'll head over to her house. She always has a nice warm bowl of soup, some bread and cheese, and a glass of red wine…to help take the edge off of traveling through the day to get there. Saturday morning we plan on driving over to the Tennessee Valley trail head, and walk out to that cold Pacific Ocean. She's a birder, so that I'll get the names and songs of all those precious birds along the way. Typically we stop by this little restaurant that servers organic breakfasts, for some food and a cup of java on the way back to her place.

We'll hang out a bit, perhaps doing a little yard work around her property, she also owns a great place here on Maui too…which I lived in for 11 years. Another friend, whose name is Kathy, will then pick me up, and we'll go shopping together, before driving out to the coast again. This time to a place that we're renting for three nights in Stinson Beach. This place has a hot tub, and a nice view of the ocean, which I'm greatly looking forward to experiencing. We'll do lots of hiking around Point Reyes, and this whole west Marin County area. If I have internet connectivity while I'm out on the coast, I'll be sure to check back in here, and provide some notes on what we're doing. Kathy is a Yoga teacher, who gets flown all over the world to teach, so perhaps I'll end up learning some Yoga too. At any rate, I'll check back in here,  when and where I can…along the way. I trust you will all be well wherever you happen to be spending your time! Aloha, Glenn

October 12th – Hi, I made it, am in northern California, and love it as usual! Have been hanging out with Linda, and another friend Elaine stopped by, and visiting like crazy. I'm about to head out to Stinson Beach with my friend Kathy, where I expect cool weather with either fog or low clouds. I don't mind in the least however, and any kind of weather is good weather to me, except perhaps hot and muggy. I'll catch up with you again out on the coast, that is if I have internet connectivity. Aloha, Glenn

October 14th – I'm still here on Stinson Beach, which I love! This vacation rental is close enough to the beach, that we can walk there in a matter of minutes, which makes it very easy. When I'm around the ocean and the beach, this close, I get sort of mesmerized, and find myself staring down towards it most of the time. You can see the ocean from the hot tub, which is nice too. The weather has been perfect, at least in terms of clear warm weather…with very little wind. Yesterday we spent lots of time walking up and down this very long beach, which is easily miles long. I love walking with my pant legs hiked up, right in the small waves that break near shore. Being here brings up all these memories of the time I lived very close to the ocean, which has been most of my life.

My friend Elaine, who has a shop right on Hwy 1, in this little town, gave us little bags to carry, so we could pick up little bits of trash and cigarette butts off the sand…and thrown it away when we left the beach. Yesterday in the afternoon, Kathy and I walked along a trail inland a distance, up into the trees. We stopped and sat down up there and greatly enjoyed the view down to the Pacific, which had hardly any wind on it…really glassy. We haven't started her car since we arrive, which has been a pleasure, just doing lots of walking. Today we're going to head out towards Bolinas, Point Reyes, and some some more hiking around. I'll catch up with you later, and tomorrow morning with a report about what what we found. Have a great day until then! Aloha, Glenn

October 15th – Hi again, this is our last morning here on the coast of Marin. The weather has been absolutely perfect, just gloriously sunny and near calm. Yesterday we drove out to Bolinas, and walked out to the beach, where lots of surfing takes place. I remember surfing there in the old days a time or two, it's an easy break, and fun. Then we drove to Point Reyes, and walked around that fun little town too. I bought a couple of Red Bartlett pears, and we sat out in this cute little community garden, and ate them right down in the warm sunshine. We bought a big piece of wild caught local Halibut, and put it in a cooler that we brought with us. Then, and this was the coolest thing, we drove eight miles off of Highway 1 down to Limantour Beach…a super long sandy beach. Because of the Government shutdown, or whatever we're calling it, there was not one soul from one end of the beach, and its probably 3-5 miles, to the other! I waded into the cold surf up to my waist, and was frolicking around for a good long time, and saw a seal just out beyond where I was, and by the way, it was so warm and sunny, I was totally naked.

We are luxuriating in these last few hours of this last morning on the coast. I got up early, and there were still a few stars out, when I got into the hot tub and sat there for an hour enjoying the sunrise. We just finished breakfast with dark roast coffee, while enjoying the expansive view of the ocean down below our place. Kathy will drop me off at Linda's, and she and I, along with a couple other friend's of ours, will drive up to Cotati, which is a small town just south of Santa Rosa. One of these friends has a farm in an even smaller community called Penngrove. She has a cow, horses, sheep, all kinds of fruit trees, and a big organic garden.  I have a 9 AM something flight from San Francisco down to Long Beach.  I'll spend a week with my Mom and my brother Steve, who is flying in from Texas.  I'm really looking forward being down there, and seeing the rest of my family, including my sister Judy. I may get back online later today, and share a bit about my farm experience.   More than likely though, I'll be in southern California the next time I check back in. Take care until then…Aloha, Glenn.

October 19th – Hi again from Long Beach, California, still at my Mom's, enjoying time with my family. The weather has been outstanding, without a doubt. Everyday has been clear, sunny and warm, and the nights cool. Early this morning, lets see, what day is it, Saturday that's right…there was some very thin fog in the air. We've been watching the National and American league baseball playoffs on TV in the evenings, which is fun. My brother and I used to play little league and were big into baseball, and so we still have interest in watching the games. I won't be able to watch the world series games, as I'll be up in Oregon when they are played I think. I'll most likely be away from a TV set, which is fine with me. You may know that I haven't had a TV in my own house for over 100 years…or whatever.

We haven't had so much work to do this time, as my brother and I are coming home more often these days. Nonetheless, we do have our customary list of small jobs that we enjoy doing, and then putting a line through them. I'll be here in Long Beach for another five days, so there's plenty of time to get stuff done, and more importantly, hang out with my Mom. She's 91 this year, although is in top-notch shape, it's amazing! People tell her she looks like she's in her 70's, and I agree. She takes a good long walk most days, and I have her drinking more water now too. Her name is Dorothy, and I know she appreciates having us to take care of when we visit her.  My Mom and my Brother both, enjoy ribbing me on the fact that I eat only organic food, actually my sister Judy likes to get into the act as well. At any rate, things are good here, and I trust they are good where you are too! I'll be back again in a few days, to share a few more things about life here on the home front. Aloha…Glenn.

October 24th – Hi, it's early in the morning, still dark outside here in Long Beach. I took my walk already, and drank three glasses of water, as I prepare to fly up to Portland, Oregon later this morning. I've had a great time here, visiting with my family, and just spending quality time with them. I'll meet my friend Bob in Portland early this afternoon, where he'll have a rental car waiting. We then take the drive across the Cascade Mountains to Bend, Oregon. We'll stay with one of his cousin's tonight, and then join three other of his cousin's…and the wife of one of those cousins early tomorrow morning. We've rented a great large house out near the Steens Mountains in far southeast Oregon for three nights. Apparently this place is very special, and I'll try and get some pictures of it when I get to a computer up there. One of his cousin's is retired from the army, where she was a full bird colonel, and got a doctorate degree while in the service as well. The second sister was in management with the National Park Service, while the third is a well known farrier…a farrier is a specialist in equine hoof care. I'm not sure what the forth cousin does, or his wife either, although I know they live along the Hood River, and are sports enthusiasts.

We plan on doing some good hikes each day together, and apparently there are some hot springs out on the edge of the nearby Alvord Desert. Several of the sisters, who have stayed at this rental before, know the lay of the land well, and have plans to take us to some incredible hikes. This one hike they've been mentioning, is way up this canyon, where they've seen Big Horn Sheep before! I understand that there are cougars in the area as well, and a large Aspen grove too. You may know that I distinctly love Aspen trees when their leaves are turning yellow! We're all bringing food, which we'll share each morning and evening, which will be fun. I'm sure there will be a few bottles of wine floating around too. At the end of this trip to the mountains, Bob and I will drive back to Bend, and stay at one of the sister's homes, before driving back to Portland the next morning. He'll fly back to Sacramento, and I'll fly down to San Francisco. I'll then take the airporter back to Marin County, where I'll spend several days with friends there. I'll be able to catch up with you again then, and flesh in more details about the Oregon part of my trip, and what's up ahead too. Be well until then, Aloha…Glenn.

October 25th – Wow,  I'm up here in Bend, Oregon, after sitting outside last night around a big campfire, eating our dinner, talking late…and sipping on some delicious Oregon red wine. I slept outside in a sleeping bag, and woke up with ice all over the place…although I was warm as toast inside that bag! The thermometer read 31 degrees, and with the trees all turning yellow and red, it was a treat to wake up in these new surroundings. We're getting ready to head out on a fast one mile loop, around Bob's cousins property before breakfast. I'm not sure when I'll be able to get back online, but when I do, I'm sure I'll have lots of good stories to share. I'll catch up with you in a couple of days, bye for now…Glenn.

October 29th – Hi everyone, I'm back in Marin County, California, after an incredible trip up north to Oregon and Washington! I'm on an IPad, which I'm not used to using, so I'm going to make this very brief. Let me say this however, I hiked into the Steen Mountains, up through Juniper and Sage brush cover, and small groves of Aspen trees…at the tail-end of their yellow leaf phase. I got into some small hot springs on a chilly afternoon out in the middle of nowhere, slept outside most of the time, and woke up several times with frost on my sleeping bag. Speaking of weather, I experienced lots of warm, totally clear and sunny days, followed by a quickly passing, although windy, cold and snowy front during my last 24 hours in the great Pacific Northwest! Lots more happened, although I'll wait until I get on a regular computer before I share the rest soon. Aloha, Glenn

October 31st – It's Halloween, what fun to see the little kids all dressed in their costumes while out walking early this morning! I've been enjoying being back in civilization, going on walks to Tennessee Valley, shopping in Whole Foods, and seeing my lady friends here in Marin County too. The weather has turned clear and beautiful, after that cold front I mentioned above. The mornings here in northern California are cool, although far from being frosty. I have a couple more days here in Marin, before several friends and I head up to the coast in Mendocino County.

We're renting a vacation rental right on the coastal bluff, one that we've had before, which is very special…just south of Point Arena. We'll be up there for five days, communing with nature, taking great hikes into the Redwood and Douglas Fir forests, eating great food, drinking wonderful red wines, soaking in the hot tub which overlooks the Pacific…and of course spending lots of the time on the deserted beaches. Then it's down the coast to Sonoma County, where I'll spend the night with a couple I know, and then finally end up at my friend Greg's place in western Sebastopol for about a week. I'll get back online again before I leave here, at my friend Linda's, and head up north. Be well everyone, really well! Aloha…Glenn.

November 2nd – Hi again, well…we've pushed into the 11th month of the year, right past Halloween towards the upcoming Thanksgiving holiday! The old saying that time flies seems to become even more vivid while on vacation, have you noticed that to? I find myself still at Linda's house here in Marin County, and have been having a terrific time. I must admit, or perhaps am just realizing, that I really like it here. I've always been more attracted to Sonoma County somehow, although Marin is gaining a solid foothold at the moment. At any rate, I've been doing some great hiking around, which as usual, is one of my favorite things to do. Yesterday Linda and a couple of good friends of her's, Don and Cindy, took a great near five hour hike up on Mt. Tamalpais!

Today is another transition day, leading into the last part of my mainland vacation. I leave Linda's, and head north through Sonoma County to the Mendocino coast. Bob and I are taking a couple of lady friends with us this time, ladies that we've know for a long time. As I mentioned above, we've rented a place called Serendipity (which is defined as: luck that takes the form of finding valuable or pleasant things that are not looked for), which is on two acres, and sits right on the bluff overlooking the ocean. I especially like the hot tub, sitting outside with a grand view of everything. This place is totally private, so you can play music loud if desired, running around free as birds! We'll take many hikes all over the place, and just be out in nature as much as possible. The weather is perfect today, and is expected to turn colder and windy this evening into the next day or two, although no rain is expected, which sounds perfect to me. I'll catch up with you again either out on the coast, or when I arrive at Greg's house in west Sebastopol in a couple of days. Take care until then, Aloha, Glenn.

November 5th – Hi again, I just arrived at Greg's place, after spending the last four days up the coast in Mendocino County. I had a fabulous time up there, supported by the most lovely weather possible, at least considering the fact that we are into early November. It's late afternoon as I finally get back onto a computer, and made a nice cup of dark roasted bean juice (organic java), to spur my fingers into typing. By the way, it gets dark early now that we're into this new phase of turning the clocks back. I started the day, as I do everyday on the coast, in the hot tub, with the stars still out…and just the faintest light in the eastern horizon. I love sitting in the hot water, all warm, as I witness the beginning of each new cool day. Bob typically comes down to join me before the sun rise, and we end up having the most interesting, and often far flung…conversations. The weather here in Sebastopol remains clear, warm, and dry, with no major changes out into the future, at least for the time being. Greg is in town playing baseball with his son now, although should be home soon, so I'll finish up this current installment, and get back to you again soon. Aloha, Glenn.

November 7th – I've just returned to Greg's, after spending a couple of days at my friend's Jeff, and his wife Roberta's place. I had a delightful time, a lot of which entailed stimulating conversations…as they are both therapists. They have the most lovely house, and I literally mean the most incredible that I've ever been in! They have a great fireplace, and was in charge of starting, and keeping the fires going…which I loved doing. While there, one of the things that Jeff and I did, was go into Sebastopol to see a film, called Counselor. This excellent film, at least in my opinion, as opposed to Jeff's, starred Penelope Cruz, Brad Pitt, and several other top actors. It is absolutely not for the faint of heart, and was a seriously heavy film, although ultimately entertaining. We had many good meals together, and I met a few good friends of theirs. My visit was special, and leaves me feeling like I'd like to spend lots more time with them. I got up earlier than they did, which allowed me to sit around their place, and luxuriate in the peaceful surroundings on their 7 acre property. It's just before 5pm as I type these words, and its already well on its way towards being dark…as daylight savings time is now over.

I don't have any definite plans this weekend, although my friend Bob will be at a work related seminar in Santa Rosa. He is planning on coming here to spend a couple of days, since Santa Rosa and Sebastopol are so close. This will be the third time that he and I will have had a chance to see each other on this particular vacation, which is great. Our mutual friend Susan lives in Greg's cottage, so I'm sure that the four of us will have a good time conversing, and hopefully taking some nice hikes, and have a chance to get down to the Sonoma coast too. Looking a bit further ahead, it appears that northern California will have a cold front moving through Monday night into Tuesday, which makes me excited. California is dry now, so it would be good to get some precipitation, especially because the longer range forecast calls for warmer and drier weather setting in right behind this frontal passage. Now that I'm at Greg's again, I should be able to add a few more paragraphs before I fly back to Maui on the 13th. I hope you are all well! Aloha, Glenn.

November 10th – Hi, it's very near the end of my vacation here on the West Coast, with just two more full days left. I leave on Wednesday, getting back to Maui in the early evening. I've heard from a few friends that Hawaii has gotten soaked recently, at least in places, which is a good thing! Here in northern California, it has remained dry and warm during the days, although this morning we finally had some low level moisture move in from the ocean. This low cloudiness burned off before noon however, making way for another nice afternoon, with temperatures reaching up into the low 70's here in west Sebastopol. I've been enjoying the heck out of my time the last several days, and today reveled in the glory of being in the company of three of my very best male friends, Bob, Greg, and Jeff. I've know these three guys for all of my adult life, and it was such a pleasure to hang out with them all this afternoon. Last evening I went to dinner with Greg and a lady friend of his, at one of the best restaurants here in Sebastopol. This morning Jeff  and I had breakfast out together at a great little restaurant in Graton, not far from downtown Sebastopol. This evening I'm by myself for a change, and decided to sit down here and jot down a few words.

I just popped the cork on a 1/2 bottle of 2006 Goldeneye, Anderson Valley, Pinot Noir, and poured myself a glass…saving the other half for another evening before I leave. I've had a chance to try many bottles of fine red wine during this month long vacation, which has been fun. I typically don't eat at restaurants on Maui, although because I'm away from home, I've been having meals out much more than usual. Its fun to be out with friends, and sit down together for a bite. I take an early walk each morning by myself, on Greg's road, which is called Moonshine Rd. This time, at least so far, I haven't seen any wild life, other than lots of birds. In the past, I've seen a Bobcat, and several Owls on occasion too. Since Bob is here visiting, he may join me tomorrow, and if I see anything, I'll let you know if I see something unusual. This one spot on my walk I can see all the way over into the Santa Rosa plain in one direction…and over to the ocean in the opposite direction. I enjoy sitting at the top of the ridge, on this little bench someone made, and watch the sun rise in the East. I'm sure I can sneak in one more paragraph or two, before I take the air porter down to the San Francisco airport on Wednesday. Be well until then! Aloha…Glenn.

November 12th – Ok, this is it, my last entry, on this last full day of my autumn vacation…as tomorrow is a travel day back to Maui. I continue to have a most enjoyable time here on the West Coast, each and everyday. Yesterday Bob and I drove out to Jenner, on the coast, and spent some quality time watching the Russian River flow into the Pacific. There were lots of seals hauled out onto the sand, with sea gulls whirling around all over the place. I lived in Jenner back in the 1970's for two and a half years, where Greg and I rented a property, he in his redwood cabin…and me in my small trailer right next to the river, overlooking the ocean. We were going to college back then, as was Bob, and also Susan, who also lives here now on Greg's property. We are all such old friends, and its wonderful to have this history together! At any rate, we stopped by the store in Sebastopol on the way back from the beach, and picked up food for a shared meal last evening. Greg left to join his poetry group, while Bob, Susan and I sat around sipping some nice red wine, and waiting for Greg to come back. We sat around taking turns reading poems for a while upon his return, before Bob and I ventured out for a night walk under the cloudy skies.

I don't have any plans today, as I continue to settle into the quietude surrounding me. A weak little system moved across the area last night into this morning, which dropped a few sprinkles just as Bob begin his drive to  the Central Valley. I'll soon be looking into the weather back in the islands, so I'll be ready to launch back into my narratives. It looks like some sun and some showers will be the reality on Maui, and I'll be discovering what the rest of the state can expect soon too. Jeff is taking me into Cotati in the morning, where I'll catch an air porter down to the San Francisco airport. My neighbors David and Varsha will pick me up at the Kahului airport upon my arrival back home. It's been such a great trip, and a long one it seems too, as it feels longer than the month its been. I'll miss all my friends and family here on the mainland, although I'm looking forward to seeing all my friends in Hawaii too. My neighbor tells me that its turned chilly in the mornings now, which is fine with me. I look forward to whatever kind of weather that comes my way, and will begin updating this page later on the 13th, or early on the 14th. Thanks for following along during my vacation, or at least putting up with my being gone! Aloha, Glenn

Interesting: Pacific Ocean warming 15 times faster than before

While the temperature of the Earth's atmosphere may have hit the "pause" button recently — with little global warming measured over the past few years — that hasn't been the case with the oceans.

In a study out today in the journal Science, researchers say that the middle depths of a part of the Pacific Ocean have warmed 15 times faster in the last 60 years than they did during the previous 10,000 years.

Much of the heat that humanity has put into the atmosphere since the 1970s from greenhouse gas emissions has likely been absorbed by the oceans, according to the most recent report from the Intergovernmental Panel on Climate Change, a United Nations sponsored group of scientists that issues reports every few years about the effects of global warming.

"Increases in ocean heat content and temperature are robust indicators of global warming during the past several decades," according to today's Science study.

"We're pumping heat into the ocean at a faster rate over the past 60 years," said study lead author Yair Rosenthal, a climate scientist at Rutgers University. "We may have underestimated the efficiency of the oceans as a storehouse for heat and energy," he added. "It may buy us some time – how much time, I don't really know. But it's not going to stop climate change."

"It's not so much the magnitude of the change, but the rate of change," noted study co-author Braddock Linsley, a Columbia University climate scientist. "We're experimenting by putting all this heat in the ocean without quite knowing how it's going to come back out and affect climate."

He said that in the past six decades, the temperature of the Pacific Ocean water studied (from the surface to about 2,200 feet below) has increased by about one-third of a degree Fahrenheit. (The specific area studied was in the Pacific near Indonesia.) While researchers say that might seem small in the scheme of things, it's the rate of warming that's so alarming, said Linsley.

The researchers found that Pacific Ocean water has generally been cooling over the past 10,000 years, until a few hundred years ago, when temperatures started to slowly rise. It's only been in the past few decades, though, that the rate has dramatically increased.

The Earth's atmosphere has been about the same temperature for the past 15 years or so, providing fuel for skeptics of man-made global warming. However, this study, along with other recent research, finds that heat absorbed by the planet's oceans has increased significantly.

Obviously, there were no thermometers taking measurements of ocean temperatures over the past few thousand years (instrument records from buoys only go back to the 1960s). So scientists had to use "proxy" sources to measure temperature. In this case, it was fossils of ancient marine life, which could be analyzed to reconstruct the climates in which they lived over the millennia.
"This is a relatively new way of measuring past temperature data," noted Rosenthal.

How long will this pause in atmospheric temperature last? It may be up to natural variability in the Pacific: When the La Niña climate pattern (cooler than average Pacific Ocean water) switches, and the Pacific reverts to a warmer than usual El Niño phase, global temperatures may likely shoot up again, along with the rate of warming, said Kevin Trenberth, a climate scientist at the National Center for Atmospheric Research in Boulder, Colo., who was not involved in the research.

"With global warming you don't see a gradual warming from one year to the next," Trenberth said. "It's more like a staircase. You trot along with nothing much happening for 10 years and then suddenly you have a jump and things never go back to the previous level again."
Leave a Reply