Air Temperatures – The following maximum temperatures (F) were recorded across the state of Hawaii Sunday:


86  Lihue, Kauai
90  Honolulu, Oahu – Record high temperature for this date / 92 in 1995, 2004
88  Molokai
92  Kahului, Maui – Record high temperature for this date / 94 in 1951
87  Kona, Hawaii
86  Hilo, Hawaii

Air Temperatures ranged between these warmest and coolest spots near sea level – and on the highest mountain tops on Maui and the Big Island…as of 510pm Sunday evening:

Kahului, Maui – 88
Hana airport, Maui – 82


Haleakala Summit –    M (near 10,000 feet on Maui)
Mauna Kea Summit – 50 (13,000+ feet on the Big Island)

Hawaii's Mountains – Here's a link to the live web cam on the summit of near 13,800 foot Mauna Kea on the Big Island of Hawaii. This web cam is available during the daylight hours here in the islands…and when there's a big moon shining down during the night at times. Plus, during the nights you will be able to see stars, and the sunrise and sunset too… depending upon weather conditions. Here's the Haleakala Crater webcam on Maui – if it's working.

Aloha Paragraphs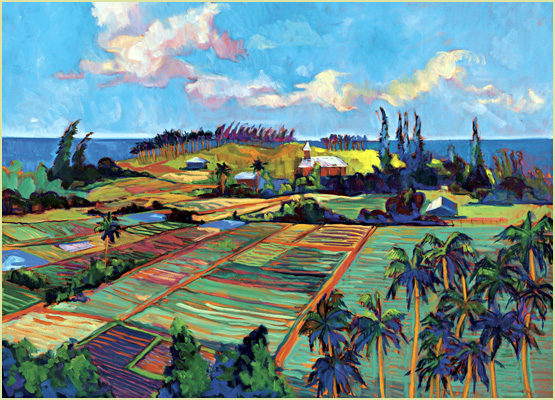 Typical late summer, trade wind weather pattern…with
moderate winds blowing through the next week

A few showers around…mostly windward sections
during the night and early mornings

The following numbers represent the most recent top wind gusts (mph), along with directions as of Sunday evening:


24  Port Allen, Kauai – ENE
30  Kahuku Trng, Oahu – ESE
27  Molokai – ENE
36  Lanai – NE
39  Kahoolawe – ENE
30  Kahului, Maui – NE
31  South Point, Big Island – NE

Here are the latest 24-hour precipitation totals (inches) for each of the islands as of Sunday evening:


0.35  Lihue, Kauai
0.20  Punaluu Stream, Oahu
0.20  Molokai
0.00  Kahoolawe
0.00  Lanai
0.61  Puu Kukui, Maui
2.95  Saddle Quarry, Big Island

We can use the following links to see what's going on in our area of the north central Pacific Ocean. Here's the latest NOAA satellite picture – the latest looping satellite image… and finally the latest looping radar image for the Hawaiian Islands.



~~~ Hawaii Weather Narrative ~~~
The winds will be moderately strong, gradually strengthening a bit more on Monday…prevailing through the rest of the new week. Here's a weather chart showing a near 1017 millibar high pressure system located far to the west-northwest, and another near 1025 millibar high pressure cell far northeast of the islands…which has a ridge running southwest to the north of the state. At the same time, we find an early season cold front approaching the state towards the northwest. This front won't get down into the islands, as its too early in the season for that kind of thing. We'll find moderate trades blowing…lasting through the rest of the new week.

Windward showers at times, otherwise quite dry and favorably inclined weather conditions. Satellite imagery shows small areas of low level clouds…mostly over the ocean to the southwest of the leeward sides. At the same time, we see a small area of high cirrus clouds over the ocean to the west-southwest. Here's the looping radar image, showing a few showers moving across the islands…especially over the Big Island, and over the ocean southwest of the central islands. Our weather Monday will continue to be good, with lots of sunshine, and seasonably warm to very warm daytime temperatures at our local beaches.

Reflections from Maui: Here on Maui this evening, there are clear to partly cloudy skies.  The air temperature here in Kula at 525pm, was 76.5F degrees, with the clouds overhead still quite dense…and a few light raindrops falling out of them, at the time of this writing. Meanwhile, down at the airport in Kahului, it was mostly sunny at the same time, with a warmer 88 degrees. Glancing around in all directions, from here in my Kula weather tower, I see cumulus clouds still compacted in places, although it remains nearly cloud free at the beaches.

I took an early walk this morning with one of my neighbors, and then went down to our local French restaurant for breakfast with another neighbor. I'm so glad to have these amazingly nice folks to have in my life! He and I then drive back up the mountain a short distance, and checked out the developments on his girlfriends new property, which is being constructed now. I had no other plans, and just relaxed through the rest of the day. I will go next door with my neighbors to see a film that I missed seeing earlier this year, called Life of Pi, on a 55″ screen…a wonderful looking film! I'll be back with your next new weather narrative early Monday morning, I hope you have a great Sunday night wherever you're spending it! Aloha for now…Glenn.

Friday evening film: I went to see The Grandmaster with several friends, this film was starring Tony Leung, Zhang Ziyi, Zhang Jin, among many others. The synopsis: The Grandmaster is an epic action feature inspired by the life and times of the legendary kung fu master, Ip Man. The story spans the tumultuous Republican era that followed the fall of China's last dynasty, a time of chaos, division and war, that was also the golden age of Chinese martial arts. Filmed in a range of stunning locations that include the snow-swept landscapes of Northeast China and the subtropical South, The Grandmaster features virtuoso performances by some of the greatest stars of contemporary Asian cinema, including Tony Leung and Ziyi Zhang.

~~~ The critics are giving it a strong 75% rating, while the viewers are providing a somewhat softer 64%. Some are saying that this film ranks up there with Crouching Tiger-Hidden Dragon, Hero, and House of Flying Daggers…as one of the most elegant and beautiful martial-arts films to play on American screens. It was a very serious and dark film, and very artistic in its approach. The music was wonderful, the visuals were stunning, and the lead actor and actress were handsome and beautiful. There was lots of fighting, and drama, and love too, lots of unrequited love. This film swept me along, and was very entertaining, and a bit depressing if I would have let it carry me in that direction. I was with five other folks, and most everyone liked it very much, with one dissenting grade. Those grades ranged from A- to C+…the bottom rating from this group was that C+, with all the rest up towards B+ to A-. Here's a trailer for this action film, it's pretty interesting…although there's quite a bit of fighting going on too.



World-wide tropical cyclone activity:

Atlantic Ocean: Tropical depression 09L is now active in the far eastern Atlantic. Here's the National Hurricane Center's graphical track map…along with a NOAA satellite image. Here's what the hurricane models are showing for this system.
AN ELONGATED AREA OF LOW PRESSURE...ASSOCIATED WITH THE REMNANTS OF
GABRIELLE...IS LOCATED ABOUT 500 MILES SOUTH-SOUTHWEST OF BERMUDA. 
STRONG UPPER-LEVEL WESTERLY WINDS ARE DISPLACING SHOWER AND
THUNDERSTORM ACTIVITY TO THE EAST OF THE LOW...AND NO SIGNIFICANT
DEVELOPMENT IS EXPECTED DURING THE NEXT FEW DAYS WHILE THE LOW MOVES
NORTHEASTWARD OR NORTH-NORTHEASTWARD. 

THIS SYSTEM HAS A LOW
CHANCE...10 PERCENT...OF BECOMING A TROPICAL CYCLONE DURING THE
NEXT 48 HOURS

...AND A 

LOW CHANCE...20 PERCENT...OF BECOMING A
TROPICAL CYCLONE DURING THE NEXT 5 DAYS.

Caribbean Sea: There are no active tropical cyclones


Gulf of Mexico: There are no active tropical cyclones
A BROAD AREA OF LOW PRESSURE COULD FORM OVER THE BAY OF CAMPECHE OR
THE EXTREME SOUTHWESTERN GULF OF MEXICO IN A FEW DAYS.
ENVIRONMENTAL CONDITIONS SHOULD BE CONDUCIVE FOR SOME DEVELOPMENT
OF THIS LOW AROUND THAT TIME IF IT REMAINS OVER WATER. 

THIS SYSTEM
HAS A LOW CHANCE...NEAR 0 PERCENT...OF BECOMING A TROPICAL CYCLONE
DURING THE NEXT 48 HOURS

...AND A MEDIUM CHANCE...30 PERCENT...OF
BECOMING A TROPICAL CYCLONE DURING THE NEXT 5 DAYS. REGARDLESS OF
DEVELOPMENT...LOCALLY HEAVY RAINS ARE POSSIBLE OVER PORTIONS OF
EASTERN MEXICO LATER THIS WEEK.

Here's a satellite image of the Caribbean Sea…and the Gulf of Mexico.

Here's the link to the National Hurricane Center (NHC)

Eastern Pacific: There are no active tropical cyclones


A LOW PRESSURE AREA COULD FORM SOUTH OF THE COAST OF MEXICO IN A FEW DAYS…AND CONDITIONS APPEAR CONDUCIVE FOR SOME DEVELOPMENT BY THE END OF THIS WEEK. THIS SYSTEM HAS A LOW CHANCE…NEAR 0 PERCENT… OF BECOMING A TROPICAL CYCLONE DURING THE NEXT 48 HOURS AND A LOW CHANCE…20 PERCENT…OF BECOMING A TROPICAL CYCLONE DURING THE NEXT FIVE DAYS.

Here's a wide satellite image that covers the entire area between Mexico, out through the central Pacific…to the International Dateline.

Central Pacific Ocean: There are no active tropical cyclones
Here's a link to the Central Pacific Hurricane Center (CPHC)

Western Pacific Ocean: There are no active tropical cyclones


South Pacific Ocean: There are no active tropical cyclones
North and South Indian Oceans: There are no active tropical cyclones

Here's a link to the Joint Typhoon Warning Center (JTWC)



Interesting: Hawaii Coastlines on Track to Lose 100 Feet of Beach – Hawaii is known for it's pristine beaches and it's 750 miles of coastline. However with looming sea water rise due to melting ice caps and climate change, a new study by the University of Hawaii shows the state is on pace to lose 100 feet of beach in the coming decades.

According to the study, Maui beaches are most at risk as the sea-level rise is approximately 65% higher compared to the island of Oahu.

While many beaches have been faced with erosion for years, predictions show that beaches will start to disappear even faster.

Researchers with the School of Ocean and Earth Science and Technology (SOEST) studied 100 years of data for both Maui and Oahu. They found global warming is causing the sea level to rise which in turn is causing beaches to erode. In the next 25 to 30 years the prediction is Hawaii shores could lose 100 feet of beach.

Island-wide and regional historical shoreline trends were calculated for the islands using shoreline positions measured from aerial photographs and survey charts. Shoreline positions were manually digitized using photogrammetric and geographic information system (GIS) software from aerial photo mosaics and topographic and hydrographic survey charts provided by the National Ocean Service (NOS).

"A hundred feet of shoreline erosion around Hawaii takes us into homes and communities and highways so this is a coming problem that has already started and it's going to become magnified within the next decade or two," said Charles Fletcher, PhD. SOEST Associate Dean.

In places like Kailua and Waikiki sand has been added which is good but not a permanent fix.

"We patch potholes in our roads, it's not a permanent solution but it gets you through the next couple of years. It makes the roads usable," said Prof. Fletcher. "Putting sand on the beach is a form of environmental maintenance."

Not only is sea level rising around Maui and the Big Island, but the islands are also sinking because the volcanoes there are relatively new and haven't fully settled.

Managing coastal erosion is a daunting task. Not only does it take hundreds of man hours to create temporary solutions, but it can cost hundreds of thousands to millions of dollars. In order to combat these issues, planning needs to occur.

The authors of the study hope to show that sea level rise is a primary cause of shoreline change on a regional scale. They also hope to encourage managers and other coastal zone decision-makers to focus on these impacts in their own research programs and long-term planning.
Leave a Reply