Air Temperatures – The following maximum temperatures (F) were recorded across the state of Hawaii Sunday:


86 Lihue, Kauai
88 Honolulu, Oahu
86 Molokai
89 Kahului, Maui
87 Kona, Hawaii
82 Hilo, Hawaii

Air Temperatures ranged between these warmest and coolest spots near sea level – and on the highest mountain tops on Maui and the Big Island…as of 730pm Sunday evening:
Kailua Kona – 82
Hilo, Hawaii – 81


Haleakala Summit –   46 (near 10,000 feet on Maui)
Mauna Kea Summit – 39 (13,000+ feet on the Big Island)

Hawaii's Mountains – Here's a link to the live web cam on the summit of near 13,800 foot Mauna Kea on the Big Island of Hawaii. This web cam is available during the daylight hours here in the islands…and when there's a big moon shining down during the night at times. Plus, during the nights you will be able to see stars, and the sunrise and sunset too… depending upon weather conditions. Here's the Haleakala Crater webcam on Maui – if it's working.

Aloha Paragraphs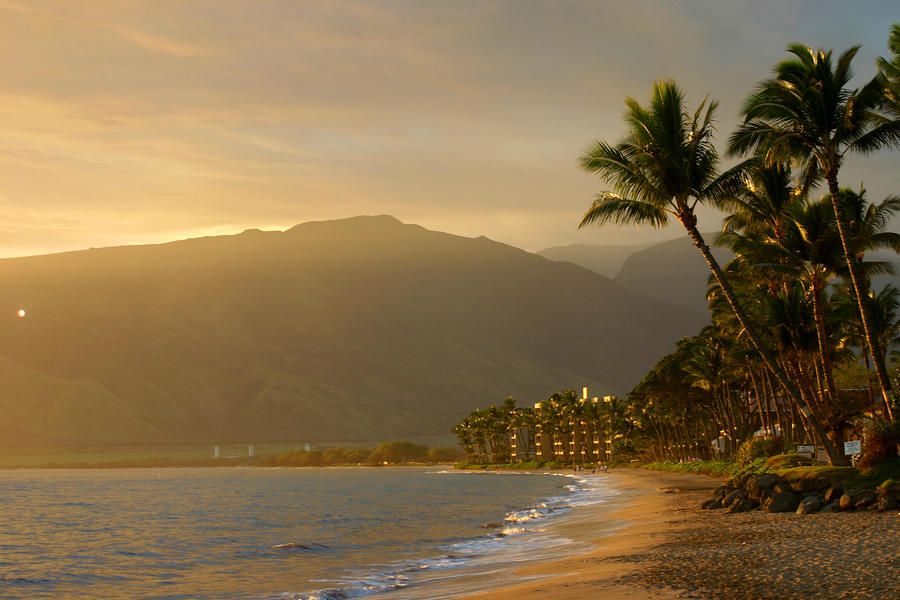 Trade winds remaining active…into the first couple
of days of the new week

Small Craft Wind Advisory…windiest coasts
and channels around Maui and the Big Island

Red Flag Warning…leeward areas – critical fire danger

A few windward showers, although limited…dry
leeward beaches






The following numbers represent the most recent top wind gusts (mph), along with directions as of Sunday evening:


30  Port Allen Kauai – ENE
35  Kuaokala, Oahu – NNE
27  Molokai – NE
35  Lanai – NE
36  Kahoolawe – NE
32  Kahului, Maui – NE
35  South Point, Big Island – NE

Here are the latest 24-hour precipitation totals (inches) for each of the islands as of Sunday evening:


0.17  Mount Waialeale, Kauai
0.06  Poamoho RG 1, Oahu
0.00  Molokai
0.00  Kahoolawe
0.00  Lanai
0.15  Puu Kukui, Maui
0.76  Island Dairy, Big Island

We can use the following links to see what's going on in our area of the north central Pacific Ocean. Here's the latest NOAA satellite picture – the latest looping satellite image… and finally the latest looping radar image for the Hawaiian Islands.



~~~ Hawaii Weather Narrative ~~~
The trade winds will remain quite robust today…continuing into the first part of the new work week. Here's a weather chart showing a large near 1029 millibar high pressure system located far to the north of the islands. The models depict a reduction in our trade wind speeds by mid-week. This will occur as an area of low pressure aloft edges towards our area, along with a surface cold front well to the north and northeast…which will prompt a lighter wind, convective weather pattern for a few days. The longer range outlook suggests that the trade winds will rebound later in the week into the weekend.

A few showers will arrive along the windward sides…although the next several days will be generally dry most areas. Satellite imagery shows only a few scattered low clouds over the ocean upstream of the islands, while the leeward sides were mostly clear. Here's the looping radar image, showing very little precipitation falling anywhere in the Aloha state. As the lighter breezes arrive by Wednesday we'll likely see some increase in our leeward upcountry shower activity during the afternoon hours. Then, as the trades pick up again later in the week, those upcountry showers will diminish…followed by more windward showers Friday into next weekend.

Glenn on Maui: I  was up late dancing with my neighbors in Kihei last night, after having a drink at one of the Grand Wailea bars. This late night activity was lots of fun…although had me rising a bit later than usual this morning. The sun had already risen by the time I peeled myself out of bed. Glancing around, I see low clouds over towards the windward sides, while the Kihei and Lahaina beach areas look perfectly clear. My neighbors just texted me, and said lets go down to our French restaurant, which I agreed to do. These are the two Astro-physicists, who I went dancing with last night. I spent the rest of the day taking it very easy, with lots of catch up reading. Back to the weather, I expect fairly typical trade wind weather conditions over the next several days. I'll be back with your next new weather narrative early Monday morning, I hope you have a great Sunday night wherever you're spending it! Aloha for now…Glenn.

Friday night film: There are so many good looking films playing now, although several of them are just opening…which can often leave them too crowded. So, I'll see one, that some of you may roll your eyes over, called The Wolverine. It stars Hugh Jackman, Will Yun Lee, Hiroyuki Sanada, Hal Yamanouchi, Rita Fukushima, and Famke Janssen…among many others. The synopsis: Logan, the eternal warrior and outsider, finds himself in Japan. Out of his depth in an unknown world, he will face a host of unexpected and deadly opponents in a life-or-death battle that will leave him forever changed. Vulnerable for the first time and pushed to his physical and emotional limits, he confronts not only lethal samurai steel but also his inner struggle against his own immortality. ~~~ Looking at what the reviews and critics say, they're being quite generous with this action/adventure film. It's a long 2 hours and 6 minutes, although I like long films usually. I knew for sure that it was going to be full of violence, and intense sci-fi action, which turned out to be very true. I think I'm starting to sound like a broken record here, as I like all the films that I see! Let's just put it this way, this was a clawing adventure, taking one on a slick, very entertaining, super hero thrill ride. As for a grade, I'll say it was a B+ outing to the theater, and I was glad I made the choice to see it. If you're interested in taking a look…here's a trailer for you.


World-wide tropical cyclone activity:

Atlantic Ocean: There are no active tropical cyclones
A TROPICAL WAVE EMERGING OFF OF THE WEST COAST OF AFRICA IS EXPECTED
TO MOVE GENERALLY WESTWARD ACROSS THE TROPICAL ATLANTIC OVER THE
NEXT SEVERAL DAYS.  SOME DEVELOPMENT OF THIS DISTURBANCE IS POSSIBLE
BY MIDDLE TO LATE WEEK.  

THIS SYSTEM HAS A LOW CHANCE...NEAR 0
PERCENT...OF BECOMING A TROPICAL CYCLONE DURING THE NEXT 48
HOURS

...AND A 

MEDIUM CHANCE...30 PERCENT...OF BECOMING A TROPICAL
CYCLONE DURING THE NEXT 5 DAYS. 

TROPICAL CYCLONE FORMATION IS NOT EXPECTED DURING THE NEXT 48 HOURS

Caribbean Sea: There are no active tropical cyclones

TROPICAL CYCLONE FORMATION IS NOT EXPECTED DURING THE NEXT 48 HOURS.

Gulf of Mexico: Tropical storm Fernand 06L remains active in the far southwest Gulf, here's a NHC graphical track map…and a satellite image.

OTHER SYSTEMS WITH FORMATION POTENTIAL BEYOND 48 HOURS…

ELSEWHERE…TROPICAL CYCLONE FORMATION IS NOT EXPECTED DURING THE NEXT 48 HOURS.

Here's a satellite image showing this area of disturbed weather under investigation

Here's the link to the National Hurricane Center (NHC)

Eastern Pacific: Tropical depression Ivo (09E) remains active in this part of the Pacific. Here's a NHC graphical track map…along with a satellite image. – Final Warning

CLOUDINESS AND SHOWERS ASSOCIATED WITH A BROAD AREA OF LOW PRESSURE
NEAR SOUTH-CENTRAL MEXICO JUST WEST OF THE GULF OF TEHUANTEPEC ARE
GRADUALLY BECOMING BETTER ORGANIZED.  ENVIRONMENTAL CONDITIONS ARE
FAVORABLE FOR FURTHER DEVELOPMENT DURING THE NEXT FEW DAYS...AND A
TROPICAL DEPRESSION COULD FORM BY MIDWEEK.  

THIS SYSTEM HAS A
MEDIUM CHANCE...40 PERCENT...OF BECOMING A TROPICAL CYCLONE DURING
THE NEXT 48 HOURS

...AND A HIGH CHANCE...90 PERCENT...OF BECOMING A
TROPICAL CYCLONE DURING THE NEXT 5 DAYS WHILE IT MOVES WEST-
NORTHWESTWARD AT ABOUT 10 MPH.  THIS DISTURBANCE COULD PRODUCE
LOCALLY HEAVY RAINFALL ALONG THE SOUTHERN COAST OF MEXICO DURING
THE NEXT FEW DAYS...AND INTERESTS IN THIS AREA SHOULD MONITOR THE
PROGRESS OF THIS SYSTEM.

Here's a wide satellite image that covers the entire area between Mexico, out through the central Pacific…to the International Dateline.

Central Pacific Ocean: There are no active tropical cyclones

Here's a link to the Central Pacific Hurricane Center (CPHC)

Western Pacific Ocean:  Tropical depression 14W is now active in the Philippine Sea, here's the JTWC graphical track map…along with a NOAA satellite image

South Pacific Ocean: There are no active tropical cyclones
North and South Indian Oceans: There are no active tropical cyclones

Here's a link to the Joint Typhoon Warning Center (JTWC)



Interesting: NASA mission to study the moon's atmosphere – The moon is a barren, rocky sphere that doesn't have an atmosphere like planet Earth, right? Well, it apparently does have a thin atmosphere and NASA is getting ready to launch a new mission to learn more about the lunar atmosphere.

NASA is making final preparations to launch a probe at 11:27 p.m. EDT Friday, Sept. 6, from NASA's Wallops Flight Facility on Wallops Island, Va. The small car-sized Lunar Atmosphere and Dust Environment Explorer (LADEE) is a robotic mission that will orbit the moon to gather detailed information about the structure and composition of the thin lunar atmosphere and determine whether dust is being lofted into the lunar sky. A thorough understanding of these characteristics of our nearest celestial neighbor will help researchers understand other bodies in the solar system, such as large asteroids, Mercury, and the moons of outer planets.

"The moon's tenuous atmosphere may be more common in the solar system than we thought," said John Grunsfeld, NASA's associate administrator for science in Washington. "Further understanding of the moon's atmosphere may also help us better understand our diverse solar system and its evolution."

The mission has many firsts, including the first flight of the Minotaur V rocket, testing of a high-data-rate laser communication system, and the first launch beyond Earth orbit from the agency's Virginia Space Coast launch facility.

LADEE also is the first spacecraft designed, developed, built, integrated and tested at NASA's Ames Research Center in Moffett Field, Calif. The probe will launch on a U.S. Air Force Minotaur V rocket, an excess ballistic missile converted into a space launch vehicle and operated by Orbital Sciences Corp. of Dulles, Va.

LADEE was built using an Ames-developed Modular Common Spacecraft Bus architecture, a general purpose spacecraft design that allows NASA to develop, assemble and test multiple modules at the same time. The LADEE bus structure is made of a lightweight carbon composite with a mass of 547.2 pounds — 844.4 pounds when fully fueled.

"This mission will put the common bus design to the test," said Ames Director S. Pete Worden. "This same common bus can be used on future missions to explore other destinations, including voyages to orbit and land on the moon, low-Earth orbit, and near-Earth objects."

Butler Hine, LADEE project manager at Ames, said the innovative common bus concept brings NASA a step closer to multi-use designs and assembly line production and away from custom design. "The LADEE mission demonstrates how it is possible to build a first class spacecraft at a reduced cost while using a more efficient manufacturing and assembly process," Hine said.

Approximately one month after launch, LADEE will begin its 40-day commissioning phase, the first 30 days of which the spacecraft will be performing activities high above the moon's surface. These activities include testing a high-data-rate laser communication system that will enable higher rates of satellite communications similar in capability to high-speed fiber optic networks on Earth.
Leave a Reply