Air Temperatures – The following maximum temperatures (F) were recorded across the state of Hawaii Wednesday:


83  Lihue, Kauai
88  Honolulu, Oahu
83  Molokai
88  Kahului, Maui
87  Kona, Hawaii
84  Hilo, Hawaii

Air Temperatures ranged between these warmest and coolest spots near sea level – and on the highest mountain tops on Maui and the Big Island…as of 743pm Wednesday evening:

Kailua Kona – 84
Lihue, Kauai – 75


Haleakala Summit –   50 (near 10,000 feet on Maui)
Mauna Kea Summit – 36 (13,000+ feet on the Big Island)

Hawaii's Mountains – Here's a link to the live web cam on the summit of near 13,800 foot Mauna Kea on the Big Island of Hawaii. This web cam is available during the daylight hours here in the islands…and when there's a big moon shining down during the night at times. Plus, during the nights you will be able to see stars, and the sunrise and sunset too… depending upon weather conditions. Here's the Haleakala Crater webcam on Maui – if it's working.

Aloha Paragraphs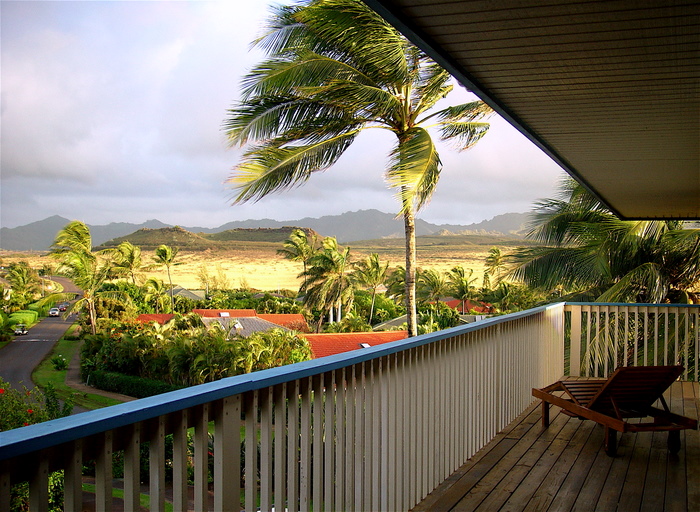 Poipu…Kauai


Small Craft Wind Advisory across all coasts and channels

Wind Advisory for the Big Island summits

Strong trades…gradually easing up into the weekend

Passing windward showers at times…a few in the leeward areas


The following numbers represent the most recent top wind gusts (mph), along with directions as of Wednesday evening:


28  Port Allen, Kauai – NE
46  Oahu Forest NWR, Oahu – NNE
31  Molokai – ENE
45  Lanai – NE
43  Kahoolawe – E
36  Kapalua, Maui – NE
40  Pali 2, Big Island – NNE


Here are the latest 24-hour precipitation totals (inches) for each of the islands as of Wednesday evening:


0.84  Mount Waialeale, Kauai
0.70  Oahu Forest NWR, Oahu
0.15  Molokai
0.00  Kahoolawe
0.00  Lanai
0.17  Puu Kukui, Maui
0.35  Mountain View, Big Island

We can use the following links to see what's going on in our area of the north central Pacific Ocean. Here's the latest NOAA satellite picture – the latest looping satellite image… and finally the latest looping radar image for the Hawaiian Islands.



~~~ Hawaii Weather Narrative ~~~
Active trade winds through Thursday, locally strong and gusty…then gradually lighter Friday into the weekend. Here's a weather chart showing a very large and strong near 1038 millibar high pressure system located to the north of the islands. The trade winds will remain strong and gusty through Thursday, with gusts up to 40-50 mph…or a bit higher in those windiest places. Small craft wind advisory flags remain up over all of our marine zones across the state, along with wind advisories across those windiest areas around Maui County and the Big Island…including the summits. These blustery trades will gradually slide back into more normal realms Friday into the first part of next week. The longer term outlook shows moderately strong trade winds increasing a notch next Tuesday or Wednesday.

This blustery trade wind weather pattern will prevail, with windward biased showers at times. Satellite imagery shows low level cloud patches over and around the islands…with showers falling from them at times locally. Here's the looping radar image, showing light to moderate showers passing by over the offshore waters, and over the islands here and there too. These strong trades will carry windward showers our way, with a few traveling over into the leeward sections on the smaller islands. The overlying atmosphere remains quite stable, so showers won't be all that active during the days. I'll be back with with many more updates on all of the above, I hope you have a great Wednesday wherever you're spending it! Aloha for now…Glenn.


World-wide tropical cyclone activity:


Atlantic Ocean: There are no active tropical cyclone

Caribbean Sea:  There are no active tropical cyclone

A LOW PRESSURE TROUGH…THE REMNANTS OF CHANTAL…IS PRODUCING WINDS TO NEAR TROPICAL STORM FORCE AND A LARGE AREA OF CLOUDINESS AND THUNDERSTORMS THAT EXTENDS FROM THE NORTH-CENTRAL CARIBBEAN SEA NORTHWARD ACROSS HISPANIOLA AND THE SOUTHEAST BAHAMAS. SIGNIFICANT REDEVELOPMENT OF THIS SYSTEM IS NOT EXPECTED DURING THE NEXT DAY OR SO DUE TO STRONG UPPER-LEVEL WESTERLY WINDS AND THE INTERACTION WITH LAND. THIS SYSTEM HAS A LOW CHANCE…20 PERCENT…OF BECOMING A TROPICAL CYCLONE DURING THE NEXT 48 HOURS. REGARDLESS OF DEVELOPMENT…HEAVY RAINS AND WINDS TO NEAR TROPICAL STORM FORCE… ESPECIALLY IN SQUALLS…ARE EXPECTED TO CONTINUE OVER HISPANIOLA THIS MORNING…THEN SPREAD OVER EASTERN CUBA AND THE REMAINDER OF BAHAMAS DURING THE NEXT DAY OR SO WHILE THE TROUGH MOVES GENERALLY NORTHWESTWARD.

ELSEWHERE, TROPICAL CYCLONE FORMATION IS NOT EXPECTED DURING THE NEXT 48 HOURS.

Gulf of Mexico: There are no active tropical cyclones

TROPICAL CYCLONE FORMATION IS NOT EXPECTED DURING THE NEXT 48 HOURS.

Here's the link to the National Hurricane Center (NHC)

Eastern Pacific: There are no active tropical cyclones

Tropical cyclone formation is not expected during the next 48 hours


Here's a wide satellite image that covers the entire area between Mexico, out through the central Pacific…to the International Dateline.

Central Pacific Ocean: There are no active tropical cyclones

Here's a link to the Central Pacific Hurricane Center (CPHC)…covering our central Pacific.

No Tropical cyclones are expected through Friday night
Western Pacific Ocean: Typhoon 07W (Soulik) remains active, and is located approximately 317 NM southeast of Kadena, AB. Here is the latest Joint Typhoon Warning Center (JTWC) graphical track map, along with a NOAA satellite image for this very dangerous, and strengthening typhoon.  


South Pacific Ocean: There are no active tropical cyclones
North and South Indian Oceans: There are no active tropical cyclones

Here's a link to the Joint Typhoon Warning Center (JTWC)

Leave a Reply