Air Temperatures – The following maximum temperatures (F) were recorded across the state of Hawaii Thursday:


83  Lihue, Kauai
84  Honolulu, Oahu
82  Molokai
88  Kahului, Maui
84  Kona, Hawaii
83  Hilo, Hawaii

Air Temperatures ranged between these warmest and coolest spots near sea level – and on the highest mountain tops on Maui and the Big Island…as of 810pm Thursday evening:

Kailua Kona – 80
Hana airport, Maui – 75


Haleakala Summit –  55 (near 10,000 feet on Maui)
Mauna Kea Summit – 45 (13,000+ feet on the Big Island)

Hawaii's Mountains – Here's a link to the live web cam on the summit of near 13,800 foot Mauna Kea on the Big Island of Hawaii. This web cam is available during the daylight hours here in the islands…and when there's a big moon shining down during the night at times. Plus, during the nights you will be able to see stars, and the sunrise and sunset too… depending upon weather conditions. Here's the Haleakala Crater webcam on Maui – if it's working.

Aloha Paragraphs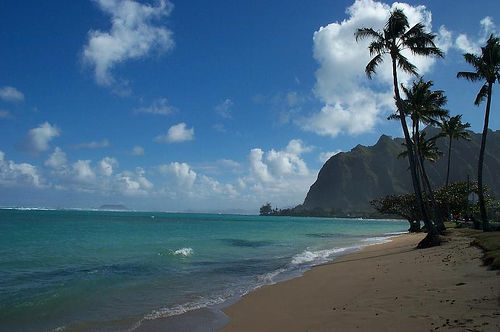 Big Island


Small Craft Wind Advisory for parts of Maui County and the
Big Island…starting early Friday through Sunday


Trade winds, with  off and on passing windward
showers…hardly any leeward sections

Summer began Thursday evening at 704pm HST


The following numbers represent the most recent top wind gusts (mph), along with directions as of Thursday evening:


17  Waimea Heights, Kauai – NE
32  Kuaokala, Oahu – NE
27  Molokai – NE
28  Lanai – NE
28  Kahoolawe – NE
28  Kahului, Maui – NE
27  South Point, Big Island – NE


Here are the latest 24-hour precipitation totals (inches) for each of the islands as of Thursday evening:


0.68  Mount Waialeale, Kauai
0.39  Poamoho RG 1, Oahu
0.18  Molokai
0.00  Kahoolawe
0.01  Lanai
0.40  Puu Kukui, Maui
0.50  Puho CS, Big Island

We can use the following links to see what's going on in our area of the north central Pacific Ocean. Here's the latest NOAA satellite picture – the latest looping satellite image… and finally the latest looping radar image for the Hawaiian Islands.



~~~ Hawaii Weather Narrative ~~~
Trade winds strengthening some this weekend…then lighter again next week. Here's a weather chart showing a near 1030 millibar high pressure system located to the northeast of our islands…with a second less strong high pressure cell to the west-northwest. A weak cold front to the north of the state, is moving by from west to east. This weather feature has slowed down our trade winds temporarily. As we get into later Friday and the weekend, they will strengthen a notch. Looking further ahead, our trades will ease up again during the new week ahead.

Trade wind weather pattern will prevail, with just a few off and on windward showers. Satellite imagery shows high cirrus clouds just southeast and south of the Big Island. Here's a larger satellite picture showing the extend of these high cirrus. At lower levels, there's patches of cumulus clouds surrounding the islands, bringing off and on showers at times. Here's the looping radar image, showing showers passing by along our windward coasts and slopes, and over the offshore waters as well. There doesn't appear to be any sign of heavy showers however, with just light to perhaps moderate showers here and there.

The official beginning of summer just occurred (704pm HST)…as I write these words. It's interesting, I find it a little difficult to get very excited about this fact. I've never found summer to be my favorite season, and actually…it's my least favorite season as it turns out. I've always liked the fall through winter into spring seasons the best. I do however enjoy reporting on the tropical cyclones that occur during the late spring, through summer into the fall season. If the truth be told, I like experiencing the later autumn, through winter, into the early spring season storms. Perhaps this is because I live here on Maui, and storms are rarely intense…so I sort of crave those more intense winter low pressure systems! Maybe if I lived on the mainland, someplace where it was really cold, and it snowed a lot, I might feel differently about this odd affection for winter storminess. At any rate, I know that many of you prefer summer, and I can certainly understand why. I'll be back with more updates, I hope you have a great Thursday night wherever you're spending it! Aloha for now…Glenn.


World-wide tropical cyclone activity:


Atlantic Ocean: There are no active tropical cyclones

TROPICAL CYCLONE FORMATION IS NOT EXPECTED DURING THE NEXT 48 HOURS

Caribbean Sea: There are no active tropical cyclones

TROPICAL CYCLONE FORMATION IS NOT EXPECTED DURING THE NEXT 48 HOURS.

Gulf of Mexico: Tropical depression Barry continues moving inland, and dissipating in the process over the state of Veracruz, Mexico. This quickly weakening tropical cyclone was located about 60 miles east-northeast of Mexico City. Maximum sustained winds were 25 mph. The present movement was west at 06 mph. Here's the National Hurricane Center's (NHC) graphical track map, along with a satellite image. This tropical system will bring heavy, flooding rainfall to parts of southern Mexico. – Final Advisory


ELSEWHERE…TROPICAL CYCLONE FORMATION IS NOT EXPECTED DURING THE NEXT 48 HOURS

Eastern Pacific: There are no active tropical cyclones
Tropical cyclone formation is not expected during the next 48 hours


Here's a wide satellite image that covers the entire area between Mexico, out through the central Pacific…to the International Dateline.

Central Pacific Ocean: There are no active tropical cyclones

Here's a link to the Central Pacific Hurricane Center (CPHC)…covering our central Pacific.

No Tropical cyclones are expected through Saturday evening
Western Pacific Ocean: Tropical depression 04W (Leepi) remains active over the East China Sea, located about 215 NM west-southwest of Sasebo, Japan. Here's the JTWC graphical track map…along with the satellite image showing TD 04W. Here's a link to the Joint Typhoon Warning Center (JTWC). – Final Warning

Tropical Depression 05W remains active in the South China Sea, located about 262 NM south-southeast of Hong Kong. Here's the JTWC graphical track map…along with the satellite image showing TD 05W. Here's a satellite image showing this depression…along with dissipating TD 04W.

South Pacific Ocean: There are no active tropical cyclones
North and South Indian Oceans: There are no active tropical cyclones


Interesting: Dead zones are hypoxic (low-oxygen) areas in the world's oceans and large lakes, caused by excessive nutrient pollution from human activities coupled with other factors that deplete the oxygen required to support most marine life in bottom and near-bottom water. In the 1970s oceanographers began noting increased instances of dead zones. These occur near inhabited coastlines, where aquatic life is most concentrated.

The vast middle portions of the oceans, which naturally have little life, are not considered dead zones. Scientists are expecting a very large dead zone in the Gulf of Mexico and a smaller than average hypoxic level in the Chesapeake Bay this year, based on several NOAA-supported forecast models.


NOAA-supported modelers at the University of Michigan, Louisiana State University, and the Louisiana Universities Marine Consortium are forecasting that this year's Gulf of Mexico hypoxic dead zone will be between 7,286 and 8,561 square miles which could place it among the ten largest recorded. That would range from an area the size of Connecticut, Rhode Island and the District of Columbia combined on the low end to the New Jersey on the upper end. The high estimate would exceed the largest ever reported, 8,481 square miles in 2002. Aspects of weather, including wind speed, wind direction, precipitation and temperature, also impact the size of dead zones.
The Gulf estimate is based on the assumption of no significant tropical storms in the two weeks preceding or during the official measurement survey cruise scheduled from July 25-August 3 2013. If a storm does occur the size estimate could drop to a low of 5344 square miles.


This year's prediction for the Gulf reflects flood conditions in the Midwest that caused large amounts of nutrients to be transported from the Mississippi watershed to the Gulf. Last year's dead zone in the Gulf of Mexico was the fourth smallest on record due to drought conditions, covering an area of approximately 2,889 square miles, an area slightly larger than the state of Delaware. The overall average between 1995-2012 is 5,960 square miles.


A second NOAA-funded forecast, for the Chesapeake Bay, calls for a smaller than average dead zone in the nation's largest estuary. The forecasts from researchers at the University of Maryland Center for Environmental Science and the University of Michigan has three parts: a prediction for the mid-summer volume of the low-oxygen hypoxic zone, one for the mid-summer oxygen-free anoxic zone, and a third that is an average value for the entire summer season.


The forecasts call for a mid-summer hypoxic zone of 1.46 cubic miles, a mid-summer anoxic zone of 0.26 to 0.38 cubic miles, and a summer average hypoxia of 1.108 cubic miles, all at the low end of previously recorded zones. Last year the final mid-summer hypoxic zone was 1.45 cubic miles.


This is the seventh year for the Bay outlook which, because of the shallow nature of large areas of the estuary, focuses on water volume or cubic miles, instead of square mileage as used in the Gulf. "Monitoring the health and vitality of our nation's oceans, waterways, and watersheds is critical as we work to preserve and protect coastal ecosystems," said Kathryn D. Sullivan, Ph.D., acting under secretary of commerce for oceans and atmosphere and acting NOAA administrator. "These ecological forecasts are good examples of the critical environmental intelligence products and tools that help shape a healthier coast, one that is so inextricably linked to the vitality of our communities and our livelihoods."


During May 2013, stream flows in the Mississippi and Atchafalaya rivers were above normal resulting in more nutrients flowing into the Gulf. According to USGS estimates, 153,000 metric tons of nutrients flowed down the rivers to the northern Gulf of Mexico in May, an increase of 94,900 metric tons over last year's 58,100 metric tons, when the region was suffering through drought. The 2013 input is an increase of 16 percent above the average nutrient load estimated over the past 34 years.


For the Chesapeake Bay, USGS estimates 36,600 metric tons of nutrients entered the estuary from the Susquehanna and Potomac rivers between January and May, which is 30 percent below the average loads estimated from 1990 to 2013.


"Coastal hypoxia is proliferating around the world," said Donald Boesch, Ph.D., president of the University of Maryland Center for Environmental Science. "It is important that we have excellent abilities to predict and control the largest dead zones in the United States. The whole world is watching."


Despite the Mississippi River/Gulf of Mexico Nutrient Task Force's goal to reduce the dead zone to less than 2,000 square miles, it has averaged 5,600 square miles over the last five years. Demonstrating the link between the dead zone and nutrients from the Mississippi River, this annual forecast continues to provide guidance to federal and state agencies as they work on the 11 implementation actions outlined by the Task Force in 2008 for mitigating nutrient pollution.


Dead zones are reversible. The Black Sea dead zone, previously the largest in the world, largely disappeared between 1991 and 2001 after fertilizers became too costly to use following the collapse of the Soviet Union and the demise of centrally planned economies in Eastern and Central Europe. Fishing has again become a major economic activity in the region.


While the Black Sea cleanup was largely unintentional and involved a drop in hard-to-control fertilizer usage, the U.N. has advocated other cleanups by reducing large industrial emissions. From 1985 to 2000, the North Sea dead zone had nitrogen reduced by 37% when policy efforts by countries on the Rhine River reduced sewage and industrial emissions of nitrogen into the water. Other cleanups have taken place along the Hudson River and San Francisco Bay.
June 20th, 2013 at 10:19 pm
Matt Says:

Aloha Glenn,

Totally in the same boat as you as far as storms go. I grew up in Oregon where we would get some solid storms.Since moving here I long for them. I think it was the winter of 09 or 10 that i remember tracking storms on Doppler and sitting on my porch in the middle of the night watching the storms roll in. Man I sure hope we can get our fix this winter. Mahalo for all you do Glenn.~~~I know that there are few of us storm lovers around, although I also know that most folks move to the tropics to enjoy the summer season. Oregon, you got some good storms up there. I grew up at the beach in southern California, so I never got enough while a kid. That's why I typically take one of my vacations up in northern California during the late autumn, so I can sneak in a couple of storms before I hightail it back here to Hawaii. Thanks for letting me know your preference too, and thanks for your positive feedback about my website too! Aloha, Glenn

June 20th, 2013 at 8:43 pm
Bruce Says:

Hi Glenn,

Very interesting prospective on the summer season! Living in Canada, my prospective is polar opposite of yours…

Bruce~~~Hi Bruce, I can quite well understand your point of view, I'm sure that's true for many! Aloha, Glenn
Leave a Reply