We can use the following links to see what's going on in our area of the north central Pacific Ocean. Here's the latest NOAA satellite picture – the latest looping satellite image…and finally the latest looping radar image for the Hawaiian Islands.
Here's the latest weather map
Hawaii's Mountains – Here's a link to the live web cam on the summit of near 13,800 foot Mauna Kea on the Big Island of Hawaii. This web cam is available during the daylight hours here in the islands…and when there's a big moon shining down during the night at times. Plus, during the nights you will be able to see stars, and the sunrise and sunset too…depending upon weather conditions. Here's the Haleakala Crater webcam on Maui – when it's working.
Aloha Paragraphs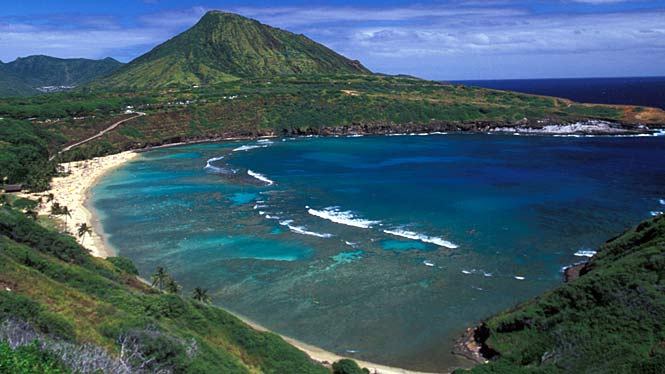 The leeward side of Oahu


I will be on the mainland from March 13 to April 11th.
In my absence, you can get the latest weather information
by clicking on the links for the island forecasts…on the
upper left hand margin of this page – below where
it reads Glenn's Daily Weather Narrative
I will provide a travelogue of my activities as I come and
go between northern and southern California. These
writings will appear below



March 13th – I fly out of the Kahului, Maui airport today, on my way to San Francisco. Yes, I'm excited for a number of reasons, not the least of which include being able to see my Mom in Long Beach…and a number of friends in northern California too. I'll start my trip by taking the Marin airporter from the SF airport, across the Golden Gate Bridge, to Larkspur Landing this evening. My good friend Linda will pick me up there, and bring me back to her place. As usual, she had a nice dinner waiting for me, which included spinach lasagna, artichoke, and fresh salad, with cannoli for dessert. She also served up a nice glass of 2010 Carmenere Ventisquero Reserve, just to take the edge off…from the traveling I've just done.
March 14th – Linda and I hung out most of the day, other than doing a bit of yard work. A friend of ours came over in the early afternoon, and we had a nice visit. I invited these two friends to let me cook them dinner, which they were both into. Linda and I drove over to a place called Baltimore Canyon, in Larkspur for a walk in the Redwoods later in the afternoon…which was great. I got wild caught King Salmon, asparagus spears, and yukon gold potatoes, and a nice bottle of Ridge, 2010 Three Valleys red wine for dinner. Likely we'll watch a bit of TV, or go out for a short walk afterwards. My friend Bob will be driving over, from the Sacramento area, after teaching his college class later this evening. It will be great to have him show up, and of course this will require a second glass of wine, to celebrate the three of us getting together…hey I'm on vacation!
March 15th – I don't want to skip too far ahead, although very likely we'll be up early this morning, for our cherished walk out through Tennessee Valley. We've found a great little breakfast place, which serves only organic food, which we really like after our walk. Then, Bob and I will head north on the 101 Redwood freeway, towards the Sebastopol exit…to the Whole Foods store there. We'll stock up on food and stuff, for our four day, three night stay on the Mendocino coast. We have a great vacation rental lined up. Here's a picture of this rental from the ocean side, and from the hot tub looking out to the ocean. The inside is a great place, with a fireplace, and three different bedrooms. Here's a picture of the front room, with the fabulous view out the picture windows! We have another friend of ours, an attorney, who will drive up to join us early the next morning. We'll all pal around that day, probably going to some remote beach, and spend many hours enjoying each others company, and the wild coast. She will stay one night, and then has to drive back to Sonoma County the next day. ~~~ I'll catch up with you when I get back here to Marin…after being on the coast for four days. Aloha, Glenn
March 16-21 – Hi again, I'm back from the coast, and had a wonderful time as always! Our vacation rental, as described above, was one of our favorites on that wild stretch of coast. The weather was perfect, with high temperatures in the 50F's…and lows in the 40's at night. We had good meals while at our place, and visited St. Orres restaurant, which wasn't far south on Highway One…a couple of the nights for dinner and a drink. There was a great fireplace, with lots of cut wood to feed it. The hot tub was placed perfectly, which allowed good views of the nearby ocean and rock outcroppings. I particularly enjoyed seeing all the birds flying by in the wind, overhead and just offshore. We took a long hike inland from the coast one day, following along the Big River, close to the small town of Mendocino. My Friend Bob is a an expert on trees, and so we had great talks about all the trees we drove and walked by. I'm back at our friend Linda's house now, enjoying each others company. I'll catch up with you next when I get to my Mom's house down in Long Beach soon. Be well until then…and Happy Spring to you! Aloha, Glenn
March 22-24 – I'm very much enjoying my time down here in Long Beach, visiting with my Mom. I must admit that southern California isn't my favorite place in the world, although the weather has been incredible…I will readily say that. The mornings are cloudy, although by mid-morning the skies clear, and the warm sunshine takes over. She and I have been having fun going to stores and buying stuff that she needs around the house. We buy food together for our meals, with the one big difference…I buy only organic. She doesn't have that same requirement, although excepts the fact that I'm a little strange in that way. I get up early in the mornings and walk around the neighborhood, and then we walk together later in the days. It's different not having my Father around, as some of you know, he died around this time last year. I made it a point to be here on the day of his death, this March 28th. I leave the afternoon of the next day, flying back up to northern California. I'll check back in with you in a day or two, trust everyone is doing well! Aloha, Glenn
March 25-27 – Another couple of days have passed here in southern California. We've been putting in quite a bit of time out in the yard, doing this and that…mostly gardening stuff. Yesterday we drove down to Seal Beach, not far away, for a walk on the pier. While we were down that way, we strolled around looking in shops, and had lunch out. Things are going well, as my Mom and I hang out together, enjoying the two cats that live here. I try to give her at least one lesson on the computer everyday. One of her favorite things, besides reading this page, is to view the youtube site. I've been teaching her how to navigate around there. She particularly enjoys watching Frank Sinatra, Barbra Streisand, Tony Bennett, and Count Basie videos. She and my Dad loved to dance together, and watching these video's brings back lots of memories for her. We pour a small glass of red wine near sunset, and sit out in the patio chatting. My Sister is coming over today for lunch, and it will be great to have the time to visit. This particular Sister's name is Judy, and she is busy raising two kids and working full time. I've still got a couple of days left here in Long Beach, before flying back up to northern California later in the day on Friday the 29th. I'll post one more entry here, before leaving. I hope you're all doing well wherever you happen to be reading from! Aloha, Glenn
March 28 – This is my last full day here in Long Beach, and I think both my Mom and I are feeling that reality. We have our list of things to do, which I enjoy marking a line through each one. This morning early, I was out on my usual walk around the neighborhood. This morning though was kind of special, in that I saw a Racoon! I was so surprised, when I spotted it, before it ducked down a drain gutter. Across the street from my Mom's house, there's a junior high school, the same one that I, and my brother and sisters went to…way back when. At any rate, Paramount Pictures has been filming something there on the campus the whole time I've been here, kind of interesting. I'm back to work now, we're walking over to the post box a couple of streets away, and I'll point out where I saw the Racoon to my Mom. I'll be back with you again, once I get back up to northern California soon. Be well! Aloha, Glenn
April 1 – Hi again, I'm writing from Greg's house in western Sebastopol, just inland from Bodega Bay…here in Sonoma County. I've been here a few days, and have enjoyed the cloudy and off and on showery weather. Greg and I enjoyed playing some baseball with his son the first day I was here. It was exciting to play out in the rain, and at one point…there was a loud clap of thunder! Later that evening, my friend Susan, Greg and I had dinner together and enjoyed sitting in front of the fireplace talking until almost midnight.
Yesterday Greg and I drove down to San Francisco to his daughter's house, to help her move to her boyfriends house in Berkeley. We ran into lots of traffic along the way, although I didn't mind, as we had interesting talks, and I enjoyed watching all the cars I don't often see on Maui. We all went out to dinner together after we got her moved in, at a place in Berkeley, which was fun. Berkeley is such an interesting place, with a vast array of different sorts of people walking and sitting around on the streets.
This morning, April Fools day of course, dawned cool and foggy here in Sebastopol. I made my oatmeal as usual, had some orange juice, and sat around reading while sipping on a strong cup of coffee. I set the ping pong table up in Greg's garage this morning, so the games will start soon. Greg and I are both quite aggressive on the table, which sets the stage for rousing matches. We always forget from one visit to the next, who won the most games, so we argue about that. Between you and I though, I always win the most games, I write with a smile on my face. By the way, the spring vegetation is blossoming so wonderfully here in California, which is so lovely to to see. It's interesting to have all these memories from the past moving through my experience, as I lived here in Sonoma County while going to college back in the 1970's. I'll check back in with you again soon, Aloha for now…Glenn.
April 2nd – I've been reading a lot poetry here at Greg's the last few days, here's one I'd like to share with you, written by Elizabeth Herron…out of her book Desire
Suppose
the antelope accentuates
her arc
to enthral
the tiger
the deer knows the danger
of dancing
with the bear
the bear discovers
it has the eyes of a deer
and the deer discovers claws
where a hoof should be
From the tangle of the two
an exchange surprises
the bear and the deer
become a tree
We might see
whole jungles
emerge
from an embrace
April 4th – Howzit, as we say in Hawaii. Things are going well here in Sebastopol, with the addition of a new, wet cold front last night. I've been playing lots of baseball, with Greg and his son Julian. I've had time to do more poetry reading, and being outside enjoying the spring blossoms too. Greg and I, along with another lady friend of ours, went out to dinner last night, at a nice restaurant called Corks, in Forestville. Today, I'll meet with another old friend, who used to live up on Vashon Island in Washington…although has since moved within walking distance of Greg's place. I don't know exactly what we'll end up doing, but it will be stimulating without a doubt. He used to be a contractor, although went back to school to get his Masters in psychology. His wife is a doctor working in the same field…so we always find interesting topics of conversation. It is so beautiful as I sit here writing this latest short entry, with the light rain and fog falling softly through the Redwood and Douglas Fir forest surrounding Greg's house. I'll catch up with you later, and until then, I hope you are doing very well! Aloha, Glenn
April 7th – I'm back at a computer again, after being here and there the last few days. I've been to baseball games, played ping pong, had nice meals at several local restaurants, and enjoyed hanging out with different friends along the way. The weather has been great, not as in sunny and warm, but more in the direction of partly to mostly cloudy, with periods of generally light precipitation…which I love. Most recently, I stayed with my friends Jeff and Roberta, who have a lovely house not far from here at Greg's place. I mean like in walking distance, which is great for me. Their house, on six acres, is one of the finest I've seen, at least in terms of my own personal sensibilities. It has a great wood burning fireplace, where Jeff and I sat up late last night talking about this and that. He and I have known each other for over 30 years, so we have quite a history.
Early this morning, he and his wife and I, drove over the small town of Graton, where we joined the local Zen meditation community for a couple of periods of sitting, followed by breakfast together at a long table, and then one of the teachers gave a good talk. Then, we went over to one of their friends property, and had a nice long visit. We were all hungry after that, so we ate at a little restaurant called Willow Wood. Now, I'm back at Greg's drinking a late afternoon cup of coffee, and ready to sit in a window seat, and read some poetry while watching the sun set through the nearby forest. Tomorrow I'll spend the day here at Greg's, before going to dinner at Jeff and Roberta's house. I'll spend the night with them, before Roberta drives me down to San Rafael the next morning, where Linda will pick me up. I'll catch up with you again at least one more time before I hop on an airplane back to Maui on the 11th. Aloha for now…Glenn
Here's another poem, this one from Jane Hirschfield, from her book The Lives of the Heart…called

Hope and Love
All Winter
the blue heron
slept among the horses.
I do not know
the custom of herons,
do not know
if the solitary habit
is their way,
or if he listened for
some missing one –
not knowing even
that was what he did –
in the blowing
sounds in the dark.
I know that
hope is the hardest
love we carry.
He slept
with his long neck
folded, like a letter
put away.
April 8th – Oh my, this vacation is winding down, this is my last day here at Greg's in west Sebastopol. I got up early before sunrise, and took a walk out along the dirt road that's called Moonshine Road. It was windy and chilly, after a quick moving cold front brought light rain last night. It was the first completely clear morning that I've had up here in northern California, at least one of just a few. As I was walking back I spotted a Bobcat on the road ahead of me! It was interesting, as I was just thinking about seeing one, after spotting several Jack Rabbits just a few minutes earlier. It's so lovely here, looking out the big picture windows of Greg's office. The sun has taken over, with warm weather expected across this area well into the future, with no more rain on the horizon either. I'm so pleased that the weather was just the way it was while I was here.
I have my friend Gillian and her son coming over today…Greg is his father. Whenever Julian is around, it's stimulating in every way, especially around the ping pong table. This evening I'll leave Greg's, and head back over to Jeff and Roberta's home, to spend the night there. Tomorrow Roberta will drive me down to Marin County, where my friend Linda will pick me up. There will be two days there, before I fly back to Maui. Speaking of which, my neighbor Varsha tells me that it has been voggy lately, with more in the forecast ahead. I honestly haven't given to much attention to the weather in the islands since I left…although that will change soon! I'll write again once I get down to Linda's, be well until then. Aloha, Glenn
April 11th – I'm outta here, from California that is, as I fly back to Maui this afternoon. Linda and I have been taking some great hikes in this Marin County area…the last few days. This morning, before sunrise, we were out walking to the ocean, through the Tennessee Valley. I dipped my fingers into the chilly Pacific Ocean, in way of celebrating my great vacation here. I have had a fabulous trip, and am already starting to think of returning during the summer months for a couple of weeks. My Mom is almost 91 years old, and I want to spend more time with her…and I love my friends here too. At the same time, I'm very much looking forward to getting back to Hawaii. I'll be back at work at the Pacific Disaster Center early Friday morning, and of course will be updating all the pages on this website soon as well. I'll catch up with you again, either later today on Maui, or early Friday morning, when I'll have your next weather narrative waiting for you then. Aloha for now…Glenn
March 29th, 2013 at 2:16 pm
Vicky Says:

Hi Glenn, Glad you are having a great vacation here on the mainland. I was wondering where in the islands that picture was taken on your weather page today. Looks like a fantastic snorkeling spot! Dreaming of it right now :-)~~~Hi Vicky, good to hear from you, that great snorkeling area is on the leeward side of Oahu, really nice! I'm having a great time, thanks for checking in. Aloha, Glenn

March 27th, 2013 at 12:48 am
Gary Workman Says:

Amazing Glen, you are so faithful to those who trust in you for your daily weather reports (which I might add, we miss) that you stay in touch even during your vacations! You are such a man of character, I must say!
Much Aloha,
Gary~~~Hi Gary, thanks for your very positive feedback, it is much appreciated! I will be back at my computer there in Kula, Maui, by April 11th…not much longer. A man of character, who wouldn't enjoy that being said about them!? Aloha, Glenn

March 20th, 2013 at 5:26 pm
Glenn Says:

Back at ya! Not much spring here on the east coast. Except for the birds singing. And my Carolina Wrens on eggs already on my deck! Good to see you back on line. I miss your posts and insights. Can't wait to get to Maalaea next Thur. Looking forward to checking out The General Store that opened since our last visit and wishing Travis a happy birthday at Beach Bums. I hope you have a great time during your west coast visit.
Aloha
Glenn in South Jersey~~~Hi again Glenn, you arrive on Maui today, how fun! Have a great time while on vacation, as I'm enjoying mine here in California. Wren eggs on your porch, how wonderful! Aloha, Glenn
Leave a Reply