Air Temperatures – The following maximum temperatures were recorded across the state of Hawaii Friday afternoon:
Lihue, Kauai – 77
Honolulu airport, Oahu – 78
Molokai airport – 80
Kahului airport, Maui – 86
Kona airport – 81
Hilo airport, Hawaii – 80
Air Temperatures ranged between these warmest and coolest spots near sea level – and on the highest mountain tops around the state…as of 530am Saturday morning:
Hana airport, Maui – 72
Lihue, Kauai – 64

Haleakala Summit – 41 (near 10,000 feet on Maui)
Mauna Loa Summit – 37 (13,000+ feet on the Big Island)
Hawaii's Mountains – Here's a link to the live web cam on the summit of near 13,800 foot Mauna Kea on the Big Island of Hawaii. This web cam is available during the daylight hours here in the islands…and when there's a big moon shining down during the night at times. Plus, during the nights you will be able to see stars, and the sunrise and sunset too…depending upon weather conditions. Here's the Haleakala Crater webcam on Maui…if it's available.

Tropical Cyclone activity in the eastern and central Pacific – Here's the latest weather information coming out of the National Hurricane Center, covering the eastern north Pacific. You can find the latest tropical cyclone information for the central north Pacific (where Hawaii is located) by clicking on this link to the Central Pacific Hurricane Center. A satellite image, which shows the entire ocean area between Hawaii and the Mexican coast…can be found here. The 2012 hurricane season is over in the eastern and central Pacific…resuming on May 15th and June 1st 2013.
Aloha Paragraphs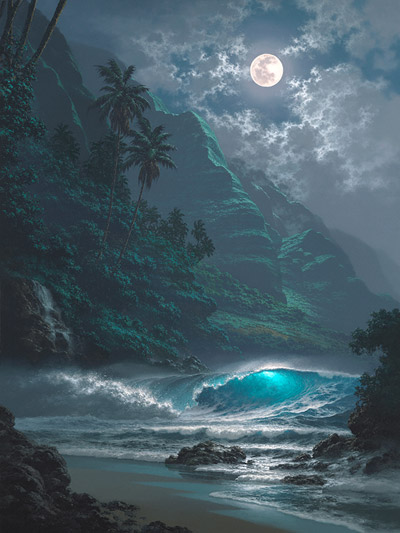 Artist Credit…Roy Tabora
January full moon Saturday evening

Flash Flood Watch for Kauai, Niihau and Oahu…from
Sunday afternoon through Monday afternoon
Lighter winds today in most areas, showers mostly
along our southeast sides, and over the lower
mountains on the smaller islands…in the afternoon
As the winds are coming in from the southeast now,
they will be light, and at the same time…will
carry volcanic haze (vog) to the smaller islands
Afternoon showers will break out over the higher
terrain of the islands today…then
a vigorous cold front will bring heavier rains
Sunday-Monday / with localized flooding
~~~Air temperature at 615am HST Saturday morning,
partly cloudy with vog, calm…at my upcountry
Kula, Maui weather tower: 49.6F degrees~~~

Full Moon this evening

The following numbers represent the most recent top wind gusts (mph), along with directions as of Friday evening:

17 Puu Opae, Kauai – SE
15 Kahuku Trng, Oahu – SE
23 Molokai – ESE
23 Kahoolawe – ENE
21 Lipoa, Maui – SE
23 Hilo airport, Big Island – SE

Here are the latest 24-hour precipitation totals (inches) for each of the islands as of Friday evening:

1.09 Kapahi, Kauai
0.82 Poamoho RG 1, Oahu
0.00 Molokai
0.00 Kahoolawe
0.01 Lanai
0.46 Hana airport, Maui
0.49 Lower Kahuku Ranch, Big Island

We can use the following links to see what's going on in our area of the north central Pacific Ocean. Here's the latest NOAA satellite picture – the latest looping satellite image…and finally the latest looping radar image for the Hawaiian Islands.

~~~ Hawaii Weather Commentary ~~~

South to southeast breezes will prevail…ahead of a cold front approaching Kauai from the northwest and west Sunday morning. Here's a weather chart showing a large high pressure system located to the northeast of Hawaii. At the same time, we see deep storm low pressure systems far to our west, northwest and northeast, along with a surface trough northwest, and a cold front further to the northwest of that feature. Our winds have shifted to the southeast now, and then on to the south this weekend. As the winds continue to blow from the southeast, look for an increase in volcanic haze (vog) over some parts of the island chain…becoming locally thick.
Showers will fall in places, especially along southeast sides…and over the mountains during the afternoon hours Saturday. The models continue to show our next cold front approaching the state later this weekend, which is helping to turn our winds to the southeast, and then south as it gets closer. We find ourselves in a less stable environment now, with the increased chance of heavy showers falling locally going forward. Saturday will find the bulk of this shower activity focusing over and around the mountains…during the afternoon hours.
Here's a satellite image, showing lots of clouds over the ocean…which will begin spreading over the islands with time. There are some high cirrus moving into the state now as well, which are those brighter white ones on the satellite photo…which will give a colorful sunset this morning. The lower level clouds will become more shower prone, especially over Kauai and Oahu…as we push into the weekend time frame. As the cold front, mentioned above, approaches the state during the second half of this weekend, we'll see showery clouds being pulled up over the island chain ahead of it. Our winds will shift to the south and eventually perhaps even southwesterly breezes near Kauai and Oahu. These winds from the deeper tropics, will help set the stage for flooding rainfall, at least in places, especially as the cold front draws closer…and actually arrives into the state.
The NWS forecast office in Honolulu has issued a flash flood watch for Kauai, Niihau, and Oahu…starting Sunday afternoon. This is a product that highlights the chance of heavy rains, and flash flooding potential. This strongly suggests that the chances continue to increase, for a very wet period here in the islands Sunday into Monday. Here's how its looking: moisture laden winds from our southeast through southwest will carry rainy/showery clouds into the state later this weekend. The models suggest that an area of heavy rains will arrive ahead of the cold front itself. The front will trail this heavy rain producing area, as it slows its progress towards and into the state. The cold front, and this prefrontal area will eventually team up, providing the good chance of flooding precipitation…and possible thunderstorms.
All of the above points to the fact that we should be preparing for a period of potentially intense rainfall, which could affect ground transportation and other things…making for dangerous conditions locally. This rainfall activity will begin Sunday morning on Kauai, reaching Oahu during the afternoon hours, Maui County Sunday night into Monday, and reaching down to the Big Island Monday night into Tuesday morning. The combination of the prefrontal area of rain, and the slow moving cold front lagging behind, will bring the chance of substantial rainfall totals, and intense rainfall rates. ~~~ We will finally escape this winter, wet weather event around next Tuesday or Wednesday, as the front clears the state. It appears that drier trade winds will fill in behind the front, lasting for several days. As is always the case in situations like these, there will be many adjustments to the outlook, with daily fine tuning necessary…stay tuned please. I'll be back Saturday morning with the latest news on this upcoming heavy rainfall situation, I hope you have a great Friday night wherever you're spending it! Aloha for now…Glenn.
Friday evening film: there are still several good films showing at the theaters in Kahului, so rather than break my habit, I'll be taking one in this evening. I've decided to see one that I've been really looking forward to, but wanted the crowds to thin out before going. It's called Gangster Squad, starring Josh Brolin, Sean Penn, Ryan Gosling, Emma Stone, Nick Nolte, Mireille Enos…among many others. The synopsis: Los Angeles, 1949. Ruthless, Brooklyn-born mob king Mickey Cohen runs the show in this town, reaping the ill-gotten gains from the drugs, the guns, the prostitutes and — if he has his way — every wire bet placed west of Chicago. And he does it all with the protection of not only his own paid goons, but also the police and the politicians who are under his control. It's enough to intimidate even the bravest, street-hardened cop…except, perhaps, for the small, secret crew of LAPD outsiders led by Sgt. John O'Mara and Jerry Wooters, who come together to try to tear Cohen's world apart. ~~~ I'll be sure to give you my personal impression of the film Saturday morning, until then, here's the trailer. – this is not light weight…as you can imagine with the film title!

World-wide tropical cyclone activity:

Atlantic Ocean/Caribbean Sea: There are no active tropical cyclones
Gulf of Mexico: There are no active tropical cyclones
Eastern Pacific Ocean: There are no active tropical cyclones
Central Pacific Ocean: There are no active tropical cyclones
Western Pacific Ocean: There are no active tropical cyclones
South Pacific Ocean: Tropical cyclone 10P (Garry) remains active in the southwest Pacific, located approximately 470 NM west-southwest of Bora Bora. The Joint Typhoon Warning Center (JTWC) shows this cyclone with 55 knot sustained winds, with gusts to 70 knots. 10P will gradually weaken over the rest of his life cycle. Here's the graphical track map, along with a satellite image.
North and South Indian Oceans: Tropical cyclone 13S is now active in the South Indian Ocean, located approximately 750 NM northeast of La Reunion Island. The Joint Typhoon Warning Center (JTWC) shows this cyclone with 35 knot sustained winds, with gusts to 45 knots. 13S will maintain its current strength, and then slowly intensify through the next 120 hours…heading towards Madagascar. Here's the graphical track map, along with a satellite image.


Interesting: Dogs and wolves are actually from the same species: Canis lupis. Physically and genetically, these two canines are similar, but behaviorally, it has been difficult for biologists to understand why wolves remain fiercely wild, while dogs are content on being man's companion.
While domestication of the dog plays a huge role in the differences between the two, according to new research, evolutionary biologist Kathryn Lord at the University of Massachusetts Amherst suggests the different behaviors are related to the animals' earliest sensory experiences and the critical period of socialization.
After observing responses of seven wolf pups and 43 dog pups to familiar and novel smells, sounds, and sights from 2-7 weeks old, researchers confirmed that both wolf pups and dogs develop senses at the same time: smell at two weeks, hearing at four weeks and vision by six weeks on average. However, what varies between these pups is the four-week developmental window called the "critical period of socialization."
Socialization is the process in which animals learn to recognize and interact with other species in their environment. Wild wolf pups will begin to explore at two weeks old, when they are still blind and deaf, and must rely primarily on their sense of smell, whereas dogs begin this period at four weeks.
When the socialization window is open, wolf and dog pups begin walking and exploring without fear and will retain familiarity throughout their lives with those things they contact. But as the period advances, fear will increase and after the socialization window closes, new sights, sounds and smells will elicit a fear response.
Because each subspecies experiences the world with different senses, this period is extremely different, and likely leads to different developmental paths, says Lord. Lord is the first to report that wolf pups are still blind and deaf when they begin to walk and explore their environment.
She also notes: "When wolf pups first start to hear, they are frightened of the new sounds initially, and when they first start to see they are also initially afraid of new visual stimuli. As each sense engages, wolf pups experience a new round of sensory shocks that dog puppies do not."
These findings lead to an alternative explanation for the difference in dogs' and wolves' abilities to form interspecies social attachments, such as those with humans, Lord says. This new information has implications for managing wild and captive wolf populations, she says.
January 25th, 2013 at 7:30 pm
Mary Says:

Question about this upcoming rain event early next week; does it look to be one of those that only happen upcountry and on the east side, or might we actually get precipitation here in Kihei? We sure need it down here! I know it's too early to say for sure, but an educated guess, perhaps?~~~Hi Mary, I believe that yes, Kihei will get into the action. I think this rainfall event has a good chance of bringing widespread precipitation. I know you folks are dry down there on the leeward south coast, and that rain would be a welcome guest. I think Monday would be the best chance, with perhaps some as early as tomorrow afternoon perhaps, with more chances through Tuesday. I'll have much more to say about all this over the next several days. Thanks for checking in! Aloha, Glenn
Leave a Reply