Air Temperatures – The following maximum temperatures were recorded across the state of Hawaii Friday afternoon:
Lihue, Kauai – 82
Honolulu airport, Oahu – 82
Molokai airport – 83
Kahului airport, Maui – 83
Kona airport – 84
Hilo airport, Hawaii – 80
Air Temperatures ranged between these warmest and coolest spots near sea level – and on the highest mountain tops around the state…as of 1010pm Friday evening:
Kailua-kona – 77
Hilo, Hawaii, Maui – 67

Haleakala Summit – M (near 10,000 feet on Maui)
Mauna Kea Summit – 28 (near 13,800 feet on the Big Island)
Hawaii's Mountains – Here's a link to the live web cam on the summit of near 13,800 foot Mauna Kea on the Big Island of Hawaii. This web cam is available during the daylight hours here in the islands…and when there's a big moon shining down during the night at times. Plus, during the nights you will be able to see stars, and the sunrise and sunset too…depending upon weather conditions. Here's the Haleakala Crater webcam on Maui.

Tropical Cyclone activity in the eastern and central Pacific – Here's the latest weather information coming out of the National Hurricane Center, covering the eastern north Pacific. You can find the latest tropical cyclone information for the central north Pacific (where Hawaii is located) by clicking on this link to the Central Pacific Hurricane Center. A satellite image, which shows the entire ocean area between Hawaii and the Mexican coast…can be found here.
Aloha Paragraphs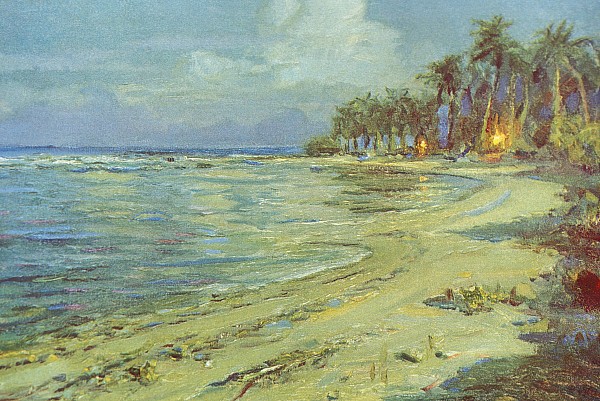 Winds light from the south, locally voggy…then
returning trade winds after the weekend
Showers falling at times…some locally heavy
Here's the NOAA radar loop for Hawaii


The following numbers represent the most recent top wind gusts (mph), along with directions as of Friday evening:

13 Port Allen, Kauai – SE
22 Kuaokala, Oahu – NNE
12 Molokai – E
17 Kahoolawe – NE
16 Kula 1, Maui – SE
22 Lanai – NE
23 South Point, Big Island – NE
Here are the latest 24-hour precipitation totals (inches) for each of the islands as of Friday evening:

1.03 N Wailua Ditch, Kauai
1.80 Waiawa, Oahu
0.00 Molokai
0.00 Lanai
0.00 Kahoolawe
1.59 Kula 1, Maui
0.87 Pahala, Big Island

We can use the following links to see what's going on in our area of the north central Pacific Ocean. Here's the latest NOAA satellite picture – the latest looping satellite image…and finally the latest looping radar image for the Hawaiian Islands.

~~ Hawaii evening commentary ~~
Light south winds prevail across the islands through Saturday into Sunday, with trade winds returning after the weekend…strengthening for several days then. We currently have a near 1028 millibar high pressure system (weather map), located far to the east-northeast of the islands. Our atmosphere will remain showery, at least locally at times through Saturday, with some heavy downpours leading to possible flooding here and there…especially during the afternoon into the early evening hours. We saw a few thunderstorms in our area too, forming over central Oahu, the southwest flank of the Haleakala Crater on east Maui, the northern portions of the Big Island too. This unsettled weather pattern will carry forth into Saturday, with more or less similar conditions prevailing. A cold front now to the west-northwest, may get pushed down into the state late Sunday, although will be quite weak, with brief showers accompanying it. Perhaps more importantly, a stronger surge of trade winds will fill in behind it by early next week…triggering small craft wind advisories through much of the state then.
As we look at this satellite image, we see a large area of clouds to the east of the Big Island…and a few thunderstorms over the ocean to the north of Kauai and Oahu. We'll find ample available moisture in our overlying atmosphere through Saturday evening, which will help to fuel shower activity in places. The combination of this moisture, light winds, daytime heating of the islands, and low pressure near our area…will lead to another increase in showers later in the day Saturday. Those thunderstorms that we saw around Friday, may spring up again Saturday, with more possible localized flooding then too. The trade winds will tend to bring some shower activity to our windward sides going forward…when they start to blow more robustly later Monday through Wednesday.

It's Friday evening again, and so…I'll be driving down to Kahului to see a new film. This time I'm hoping to see the new 007 film called Skyfall, starring Daniel Craig, Judi Dench, Javier Bardem, Ralph Fiennes, Naomie Harris, Albert Finney, Ola Rapace, Berenice Marlohe, and Tonia Sotiropoulou…among many others. The synopsis: 007 (Daniel Craig) becomes M's only ally as MI6 comes under attack, and a mysterious new villain emerges with a diabolical plan. James Bond's latest mission has gone horribly awry, resulting in the exposure of several undercover agents, and an all-out attack on M16. Meanwhile, as M (Judi Dench) plans to relocate the agency, emerging Chairman of the Intelligence and Security Committee Mallory (Ralph Fiennes) raises concerns about her competence while attempting to usurp her position, and Q (Ben Whishaw) becomes a crucial ally. Now the only person who can restore M's reputation is 007. Operating in the dark with only field agent Eve (Naomie Harris) to guide him, the world's top secret agent works to root out an enigmatic criminal mastermind named Silva (Javier Bardem) as a major storm brews on the horizon. Albert Finney also stars in the 23rd installment of the long-running spy series. ~~~ I'm pretty sure, no, very sure this film will meet my needs, in terms of an action packed good one! I'll be letting you know my thoughts on this new film Saturday morning, and until then, here's the trailer.
In sum: The stage remains set for more showers as we move into the weekend, and it wouldn't be out of the question to see more localized flooding in a few places either. Low pressure will remain over and around the state, which will provide the convective boost for developing cumulus clouds. The daytime heating will add its part in the vertical growth of these cumulus clouds as well. Meanwhile, there is ample moisture around now too, which is also a necessary component to these shower prone atmospherics. As an aside, here on Maui, where I'm writing from, our skies continue to be filled with rather thick volcanic haze, as they have been the last few days.
We may see more showers around this evening into the night, although they will tend to occur offshore…over the relatively warm ocean. Things should gradually settle down, in terms of the heavy shower threat, as we move into the second half of the weekend. Meanwhile, that low pressure system just to our northwest, and its short cold front dangling southward from its center, may come into play later this weekend, as shown here. Actually, this low pressure system is expected to move away to the northeast, and its weak frontal boundary may get pushed southeast over some parts of the state. Nonetheless, we'll see strengthening trade winds arriving late Sunday or on Monday, with trade winds gaining even more strength rather quickly thereafter. I'll continue to monitor these autumn unsettled weather conditions, and will be back Saturday morning with your next new weather narrative from paradise. Aloha for now…Glenn.
World-wide tropical cyclone activity:

Atlantic Ocean/Caribbean Sea: There are no active tropical cyclones
Gulf of Mexico: There are no active tropical cyclones
Eastern Pacific Ocean: There are no active tropical cyclones
Central Pacific Ocean: There are no active tropical cyclones
Western Pacific Ocean: There are no active tropical cyclones

South Pacific Ocean: There are no active tropical cyclones
North and South Indian Oceans: Newly formed tropical cyclone Boldwin (02S) has formed in the south Indian Ocean…located approximately 435 NM South-southeast of Diego Garcia. Sustained winds were 45 knots, with gusts to near 55 knots. The Joint Typhoon Warning Center (JTWC) predicts this tropical storm to fall short of reaching the typhoon stage, and remain over open ocean through the next four days. Here's the JTWC graphical track map for Boldwin.
Interesting: A comprehensive survey of youngsters from around the world has discovered the biggest concern they have about the environment they live in is pollution. The global poll of more than 6,000 children in 47 countries found that, although almost one in three 10-to-12-year-olds had personally experienced such catastrophes as drought, flood or fires, their most pressing ecological concern is not natural disasters but the growing threat of pollution.
More than one in four children (29%) cited various forms of pollution as the "environmental problem they worry about most," edging natural disasters, named by 20 percent of children. Percentages citing pollution were higher within the industrialized world. One in three (33%) children in developed countries cited pollution as their top concern, with half as many (16%) singling out global warming.
Within developing countries, pollution was named as the top choice by 26 percent of children surveyed, while 23 percent cited natural disasters. Children in Africa and Asia placed natural disasters as their biggest worry, cited by 26 percent and 27 percent, respectively. Among children in the Americas, pollution was far and away the biggest concern, selected by 43 percent of respondents.
Next was deforestation, named by one in six (16%) children within the nine countries in Latin and South America and the Caribbean who participated in the survey. "The Small Voices, Big Dreams survey is an ambitious, comprehensive undertaking, carried out largely on a one-on-one basis with children in literally every corner of the globe," said Anne Lynam Goddard, president and CEO of ChildFund International, a member of the ChildFund Alliance.
"Although often overlooked and discounted, theirs are important voices, including their telling perspectives on the myriad threats to our environment. Children in developing countries, in particular, have a front-row seat to environmental devastation, devastation that is often compounded within the world's poorest nations. Their observations underscore the fact children on every continent understand the importance of sound environmental stewardship, even in the face of hardship and deprivation."
Asked if they had personally experienced a natural disaster, almost three in 10 (29%) children said they had been the victims of floods, with a similar percentage (28%) saying they had endured drought. Another 24 percent said they had been through an earthquake and 22 percent a forest or bush fire.
November 23rd, 2012 at 3:13 pm
Eliza Says:

Aloha Glenn –
Trust you had a nice T-day. The trade winds are back and wiggling the air here in upper Pukalani (11am HST). Looking across the harbor towards Kahakuloa, the bump is still not visible but there's some inkling of the other side of the valley appearing. May the winds strengthen and get rid of the gunk.
Peace to all ~ Eliza~~~Hi Eliza, good to hear from you. I believe what you are seeing is onshore flowing sea breezes. It may still be too early for the trade winds to return, although that's what it will take to ventilate our vog. Are you seeing those impressive cumulus cloud turrets over the West Maui Mountains, showing that there's cold air aloft, with warm moist air rising up into it. Aloha, Glenn
Leave a Reply