Air Temperatures – The following maximum temperatures were recorded across the state of Hawaii Sunday afternoon:
Lihue, Kauai – 85
Honolulu airport, Oahu – 83
Molokai airport – 85
Kahului airport, Maui – 89
Kona airport – 84
Hilo airport, Hawaii – 80
Air Temperatures ranged between these warmest and coolest spots near sea level – and on the highest mountain tops around the state…as of 330am Monday morning:
Honolulu, Oahu – 75
Kahului, Maui – 67

Haleakala Summit – 48 (near 10,000 feet on Maui)
Mauna Kea Summit – 41 (near 13,800 feet on the Big Island)
Hawaii's Mountains – Here's a link to the live web cam on the summit of near 13,800 foot Mauna Kea on the Big Island of Hawaii. This web cam is available during the daylight hours here in the islands…and when there's a big moon shining down during the night at times. Plus, during the nights you will be able to see stars, and the sunrise and sunset too…depending upon weather conditions. Here's the Haleakala Crater webcam on Maui…although this webcam is not always working correctly.

Tropical Cyclone activity in the eastern and central Pacific – Here's the latest weather information coming out of the National Hurricane Center, covering the eastern north Pacific. You can find the latest tropical cyclone information for the central north Pacific (where Hawaii is located) by clicking on this link to the Central Pacific Hurricane Center. A satellite image, which shows the entire ocean area between Hawaii and the Mexican coast…can be found here.
Aloha Paragraphs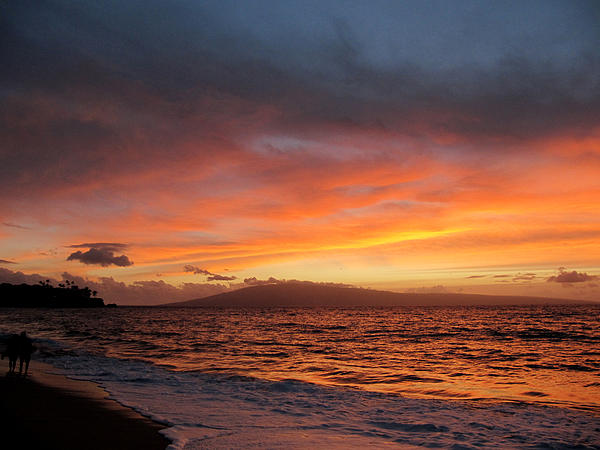 Lighter winds through Tuesday…then trades again
Afternoon interior showers locally…and voggy
skies through Tuesday here and there
Good sunrise this morning…big moon too!



As this weather map shows, we have a moderately strong near 1030 high pressure system located far to the northeast of the islands. At the same time, we have a near 1008 millibar developing gale low pressure system to our north, with its associated cold front moving southeast towards Hawaii. Our local winds will be easing up more today, from the south to southeast from Kauai down to Oahu…southeast around the Big Island and Maui through Tuesday.
The following numbers represent the most recent top wind gusts (mph), along with directions as of Monday morning:

10 Puu Opae, Kauai – NE
12 Makua Range, Oahu – SE
04 Molokai – ESE
21 Kahoolawe – SE
08 Hana, Maui – SE
15 Lanai – NE
16 PTA West, Big Island – SE

We can use the following links to see what's going on in our area of the north central Pacific Ocean. Here's the latest NOAA satellite picture – the latest looping satellite image…and finally the latest looping radar image for the Hawaiian Islands.
Here are the latest 24-hour precipitation totals (inches) for each of the islands as of Monday morning:

0.15 Kapahi, Kauai
1.14 Poamoho RG 1, Oahu
0.00 Molokai
0.01 Lanai
0.00 Kahoolawe
0.15 Kepuni, Maui
0.45 Pahoa, Big Island
~~ Hawaii Sunset Commentary ~~
Our local winds will be from the east to south into the first part of the new week. We find a moderately strong high pressure system (weather map), located far to the northeast of the islands this evening. At the same time we find a low pressure system to our north…with its associated cold front dropping southeastward towards Hawaii. It's presence will turn our winds lighter through Tuesday…although the Big Island, and perhaps east Maui…will remain in a trade wind flow. We'll see the southeast to southerly breezes carrying volcanic haze over parts of the island chain for a couple of days. At the same time, aided by daytime heating of the islands, and the associated sea breezes…we'll see afternoon clouds and localized showers in the interior upcountry areas each afternoon through Tuesday as well. The trade winds will bring a few showers to the windward sides in the eastern part of the island chain at times too. The trade winds will rebound around the middle of the new week, although the forecast keeps them light to moderate. The latest models show another early season cold approaching the state towards next weekend, which will tamp down our trade winds, and perhaps turn them southeast again then.
As we look at this satellite image, it shows scattered clouds around the state…both at the surface and at higher levels too. If we shift to this looping satellite image, we see that the clouds, at least the lower level ones, are moving up from the south to southeast…on the islands from Maui up through Kauai. The clouds are still coming into the Big Island from the east for the time being. At the same time, there's an area of high cirrus clouds moving through the state too, coming up from the west-southwest. Then, if we turn to this even larger satellite image, we see the large area of clouds associated with the cold front to the northwest of Kauai…well offshore over the ocean.
Saturday evening film: several friends and I drove down to Kahului last evening to see a new film. This is one that everyone seems to be taking about, called The Master, starring Joaquin Phoenix, Amy Adams, and Philip Seymour Hoffman…among many others. The synopsis: a Naval veteran arrives home from war unsettled and uncertain of his future – until he is tantalized by The Cause and its charismatic leader. This dramatic film is getting good reviews, and based on those, as well as the trailer, I was excited about seeing it. It was a long film, running 2 hours and 13 minutes. It may have been because I was tired from surfing earlier in the day, or whatever, although it felt too long to me. It was well acted, there was no doubt about that, especially by Joaquin Phoenix and Phillip Seymour Hoffman. There was lots of alcohol drinking, and cigarette smoking, and with a good bit of general craziness too. I was entertained, as I always am, although I came out of the theater somewhat confused. We, there were five of us, had rousing discussions in my car on the way back upcountry. As far as grades went, there were two A's, a C++, and a B…with one person not giving one.

Here in Kula, Maui at 5pm Sunday evening, it was partly to mostly cloudy…with an air temperature of 70F degrees. As mentioned above, we'll see a few windward showers falling at times, mostly during the night and early morning hours on the Big Island and perhaps east Maui. Our winds are veering to the south and southeast from Kauai to Maui, and become lighter too. This is occurring in response to an area of low pressure to our north. This low pressure system has an associated cold front, which is pushing a ridge of high pressure down closer to our islands…and eventually right over Kauai and Oahu by Monday. As this happens, we'll find the resultant sea breezes, and the daytime heating of the islands, combining to prompt afternoon clouds and showers over the upcountry areas, especially on Kauai and Oahu. There's a good chance of volcanic haze spreading up from the Big Island vents, to other parts of the state into the first part of the new week. This lighter wind regime, with locally hazy skies and afternoon upcountry showers…will prevail until Tuesday or so. Thereafter, the ridge will move northward again as the cold front dissipates, allowing light to moderately strong trade winds to return, along with those common windward biased showers Wednesday through Friday. As I was pointing out above, the next early season cold front will approach the state next weekend. We may see similar conditions then, as we're seeing this weekend, with the trade winds giving way to light winds from the south to southeast, and likely hazy conditions returning then too. I'll be back again early Monday morning with your next new weather narrative, I hope you have a great Sunday night wherever you're spending it! Aloha for now…Glenn.
World-wide tropical cyclone activity:

Atlantic Ocean/Caribbean Sea: Tropical storm Nadine remains active, located about 690 miles west of the Azores….in the Atlantic Ocean. Sustained winds were 70 mph, moving south-southeast at 5 mph. Here's the NHC graphical track map, along with the satellite image showing long lasting Nadine's position…as it heads towards the Azores again, after a second loop.
A tropical disturbance is remains active about 500 miles southwest of the Cape Verde Islands…in the Atlantic Ocean. It has a medium 30% chance of developing into a tropical depression within the next 48 hours or so. Here's a satellite image showing this area, along with Nadine far to its north-northwest.
Gulf of Mexico: There are no active tropical cyclones
Eastern Pacific Ocean: There are no active tropical cyclones
Central Pacific Ocean: There are no active tropical cyclones
Western Pacific Ocean: Tropical storm Maliksi 20W remains active about 50 NM north-northwest of Pagan, CNMI. This tropical cyclone has 35 knot sustained winds, with gusts to near 45, and will be strengthening into a typhoon within 48 hours or so. Here's a JTWC graphical track map, along with a satellite image of this depression.
Tropical depression 21W is now active about 300 NM south of Hong Kong. This tropical cyclone has 25 knot sustained winds, with gusts to near 35, and will be strengthening into a tropical storm within 24 hours. Here's a JTWC graphical track map, along with a satellite image of this depression.
South Pacific Ocean: There are no active tropical cyclones
North and South Indian Oceans: There are no active tropical cyclones


Interesting: Summer temperatures on the Norwegian archipelago of Svalbard in the High Arctic are now higher than during any time over the last 1,800 years, including a period of higher temperatures in the northern hemisphere known as the Medieval Warm Period, according to a new study. In an analysis of algae buried in deep lake sediments, a team of scientists calculated that summer temperatures in Svalbard since 1987 have been 3.6 to 4.5 degrees F warmer than during the Medieval Warm Period, which lasted from roughly 950 to 1250 AD.
Scientists say this year's record declines in Arctic sea ice extent and volume are powerful evidence that the giant cap of ice at the top of the planet is on a trajectory to largely disappear in summer within a decade or two, with profound global consequences.
The Medieval Warm Period is often cited by climate change skeptics as proof that the planet has experienced periods of high temperatures in recent centuries unrelated to the burning of fossil fuels. "Our record indicates that recent summer temperatures on Svalbard are greater than even the warmest periods at that time," said William D'Andrea, a climate scientist at Columbia University.
The algae, which make more unsaturated fats in colder periods and more saturated fats in warmer periods, reveal critical clues about past climates. Scientists were able to date the lake specimens by analyzing grains of glass emitted by a series of well-known Icelandic volcanoes that left unique chemical time markers. The study is published in the journal Geology.
Leave a Reply