October 20-21, 2010

Air Temperatures – The following maximum temperatures were recorded across the state of Hawaii Wednesday afternoon:
Lihue airport, Kauai – 84
Honolulu airport, Oahu – 86
Kaneohe MCAS, Oahu – 84
Molokai airport – 85
Kahului airport, Maui – 83
Ke-ahole airport (Kona) – 86
Hilo airport, Hawaii – 83
Air Temperatures ranged between these warmest and coolest spots near sea level – and on the highest mountain tops…as of 5pm Wednesday evening:
Kailua-kona – 84F
Molokai airport – 78
Haleakala Crater – 50 (near 10,000 feet on Maui)
Mauna Kea summit – 39 (near 14,000 feet on the Big Island)
Precipitation Totals – The following numbers represent the largest precipitation totals (inches) during the last 24 hours on each of the major islands, as of Wednesday afternoon:
0.01 Lihue, Kauai
0.08 Wilson Tunnel, Oahu
0.00 Molokai
0.00 Lanai
0.05 Kahoolawe
3.05 West Wailuaiki, Maui
2.04 Hilo airport, Big Island
Marine Winds – Here's the latest (automatically updated) weather map showing high pressure systems to the north, and east-northeast of our islands. Our local winds will pick up from the trade wind direction later Thursday into Friday.
Satellite and Radar Images: To view the cloud conditions we have here in Hawaii, please use the following satellite links, starting off with this Infrared Satellite Image of the islands to see all the clouds around during the day and night. This next image is one that gives close images of the islands only during the daytime hours, and is referred to as a Close-up visible image. This next image shows a larger view of the Pacific…giving perspective to the wider ranging cloud patterns in the Pacific Ocean. Finally, here's a Looping IR satellite image, making viewable the clouds around the islands 24 hours a day. To help you keep track of where any showers may be around the islands, here's the latest animated radar image.
Hawaii's Mountains – Here's a link to the live webcam on the summit of near 14,000 foot Mauna Kea on the Big Island of Hawaii. The tallest peak on the island of Maui is the Haleakala Crater, which is near 10,000 feet in elevation. These two webcams are available during the daylight hours here in the islands…and when there's a big moon rising just after sunset for an hour or two! Plus, during the nights and early mornings you will be able to see stars, and the sunrise too…depending upon weather conditions.

Tropical Cyclone activity in the eastern and central Pacific – Here's the latest weather information coming out of the National Hurricane Center, covering the eastern north Pacific. You can find the latest tropical cyclone information for the central north Pacific (where Hawaii is located) by clicking on this link to the Central Pacific Hurricane Center. Here's a tracking map covering both the eastern and central Pacific Ocean. A satellite image, which shows the entire ocean area between Hawaii and the Mexican coast…can be found here. Of course, as we know, our hurricane season won't end until November 31st here in the central Pacific.


Aloha Paragraphs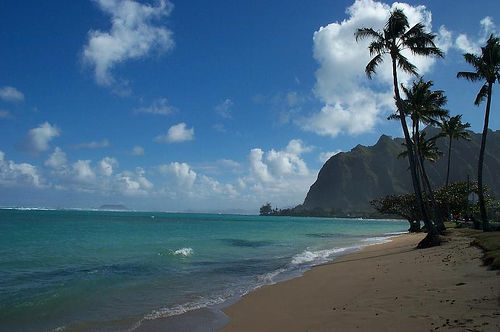 The gorgeous Hawaiian Islands




Our local winds will gradually become more breezy over the next several days…from the trade wind direction. This weather map shows a high pressure system to the east-northeast Wednesday night…along with a high pressure cell to our north…moving east. As we move through Thursday and Friday…our trade winds will fill back into the islands, extending into the weekend and beyond. These trade winds will blow generally in the light to moderately strong category, perhaps strengthening further Saturday and Sunday. The winds won't be much of an issue going forward however, at least compared to our potential precipitation regime…as noted below.
The atmospheric conditions which kept the Big Island and Maui showery the last two days…is moving away towards the east. This will end the threat of heavy showers for the time being, although there are more showers slated to arrive, in an off and on manner into the weekend. As we can see from glancing at this satellite image, there are some clouds generally forming around the Big Island at the time of this writing. Glancing far to the southwest, south and southeast, there's some of those towering cumulus clouds way out there. We can see these tall clouds by using this larger view of the central Pacific. The models are suggesting that as we move into the weekend and early next week, we could see the chance of more localized heavy showers…especially along our windward sides.
As pointed out above, the Big Island end of the chain had some very interesting weather yesterday and today. There are no flood advisories in place this evening, so the threat of showers is ending almost completely. The remnant bit of showers may hang out over the Big Island, although should be shifting away to the east even there soon. Speaking of advisories and such, we now have a high surf advisory in place for our north shores from Kauai down through Maui. This north-northwest swell train of waves will make for hazardous surf conditions locally. The surf will peak early Thursday morning, and then drop slowly through Friday into Saturday.
It's Wednesday evening as I begin writing this last section of today's narrative update. As pointed out above, the Big Island end of the chain had some very interesting weather recently, although that has pretty much ended now. It looks like the weather will calm down, or at least dry out, at least for the immediate future. The computer models continue to suggest that we could see more showers arriving later Thursday, and then continue moving in our direction into the weekend. As the trade winds will begin over the next two days, most of the incoming showers will focus their efforts best along the windward sides of the islands. ~~~ I'm about ready to leave my office here in Kihei, to have dinner with a friend. I'll then head up to Kula, and will be back in the morning to say goodbye. At that time I'll add a bit more detail about what I have coming up for my vacation. I'll certainly look forward to sharing some of the stuff that I'm doing in California along the way, as I do each year. I'll catch up with you early Thursday morning, Aloha for now…Glenn.
Interesting: Kilauea Volcano on Hawaii's big island has been erupting on its east rift since 1983. But, in March 2008, an additional eruption vent opened at the volcano's summit, resulting in about triple the amount of sulfur dioxide gas (SO2) emissions drifting to the local community of Ka'u, raising health concerns over the risks associated with exposure to "vog," as the islanders refer to this volcanic air pollution.
A University of Nevada, Reno researcher seized the opportunity to build upon her previous research of health risks associated with exposure to vog. Bernadette Longo, assistant professor at the University's Orvis School of Nursing, embarked on a study to compare local health clinic records for the 14 weeks prior to the March 2008 eruption on the summit, to the health clinic records March through June 2008, when the volcano's SO2 emissions tripled.
Her team's research, published in an article in the Journal of Toxicology and Environmental Health last month, found that the clinic saw three times as many headaches and twice as many severe sore throats after the increase in volcanic emissions. In addition, there was a 56 percent increase in cough, and a six-fold increase in the odds of having acute airway problems — more serious respiratory problems usually requiring immediate breathing treatments or transfer to the nearest hospital for emergency care.
"The results suggest that children and adolescents are likely to be the most sensitive to SO2 exposure, which is especially concerning," Longo said. "Children tend to be mouth-breathers. When we breathe through our noses, our noses act as filters, removing about 85 percent of the harmful substances before they can reach our respiratory system and lungs," she explained. "But, when children breathe mostly through their mouths, they don't get the benefit of the nose's filtering system."
Longo said that in addition to children, the elderly, smokers and those with existing conditions such as asthma and emphysema are also especially at risk. She has been conducting research on vog for eight years and has identified those exposed to Kilauea's vog are at greater risk of developing acute bronchitis than those not exposed to vog.
Longo also conducted studies published earlier this year in a Family and Community Health article, showing that a large percentage of the SO2 was penetrating indoors, into the Ka'u schools and hospital, especially when air conditioning wasn't installed or in use and windows were left open. As a result, the area's schools have installed air conditioners and the hospital's ventilation system has been improved, with more improvements planned as funding becomes available.
This past summer, Longo worked with local health-care agencies and emergency-room doctors to help provide education to the community about using air conditioners if they have them, closing windows and avoiding outdoor activity during the times of heaviest exposure, 7 p.m. to 10 a.m., each day. "It is fairly safe for schoolchildren and residents to exercise, go fishing or play outside in the afternoons, when the trade winds keep the vog out of the area," Longo said.
"If people take the necessary precautions, they can lower the health risks posed by the vog, and ultimately, that is the purpose of our research," she said. Collaborating on the most recent study with Longo was her Nevada colleague, Wei Yang, professor of epidemiology and biostatistics; Dr. Joshua B. Green from the Ka'u Hospital and Rural Health Care Clinic; and advanced practice nurses Frederick and Vickie Crosby, from the Ocean View Family Health Clinic.
Dr. Green, also a Hawaii State Senator, said that as a result of the studies, they've been able to get more doctors and nurses into the area to provide care. He says he will continue to use the research findings to garner additional support to study the effects of vog and minimize its health impacts on the island's population. "The research has spurred quite a lot of conversation at the Department of Health, and there was a special task force created in the House of Representatives to study it," he said.
"This research will help some of those recommendations to be implemented. It's very important that we have scientific assessment of the effects of the vog. We need to continue this work in the years to come to see what the long-term effects are on our people."
Interesting2: Bangladesh and India are the countries most vulnerable to climate change, according to an index on Wednesday that rates the Nordic region least at risk. British consultancy Maplecroft said its rankings showed that several "big economies of the future" in Asia were among those facing the biggest risks from global warming in the next 30 years as were large parts of Africa.
It said poverty and large low-lying coastal regions prone to floods and cyclones were among factors making Bangladesh the most exposed country. India, in second place, was vulnerable because of pressures from a rising population of 1.1 billion. Madagascar was in third place, followed by Nepal, Mozambique, the Philippines, Haiti, Afghanistan, Zimbabwe and Myanmar.
Vietnam, in 13th place and flood-hit Pakistan in 16th were also in the most exposed group. "Understanding climate vulnerability will help companies make their investments more resilient to unexpected change," wrote Matthew Bunce, principal analyst at Maplecroft, who noted that many Asian countries were attracting large investments.
Norway was bottom of the list of 171 nations, least vulnerable ahead of Finland, Iceland, Ireland, Sweden and Denmark — all rich north European nations which may initially gain from factors such as longer crop growing seasons.
The ranking combined exposure to extremes such as droughts, cyclones and mudslides, sensitivity to damage tied to poverty, population, internal conflicts and dependence on agriculture, and the capacity of a country to adapt.
The U.N. panel of climate scientists says it is at least 90 percent likely that a build-up of greenhouse gases, mainly from human use of fossil fuels, is responsible for most warming in the past 50 years.
Leave a Reply