Last update to this website was at 430am (HST) Monday morning, December 6, 2021

Air Temperatures – The following high temperatures (F) were recorded across the state of Hawaii Sunday afternoon…along with these low temperatures Monday morning:
80 – 71  Lihue AP, Kauai
69 – 63  Honolulu AP, Oahu
73 – 66  Molokai AP
78 – 71  Kahului AP, Maui
75 – 71  Kona AP, Hawaii
78 – 68  Hilo AP, Hawaii 

Here are the latest 24-hour precipitation totals (inches) for each of the islands Monday:

1.67  N Wailua Ditch, Kauai
2.95  Nuuanu Upper, Oahu
7.18  Molokai
5.64  Lanai
1.94  Kahoolawe
10.72  Kula 1, Maui!
8.60  Nene Cabin, Big Island
The following numbers represent the strongest wind gusts (mph) Monday:

15  Mana, Kauai
56  Kuaokala, Oahu
48  Molokai
27  Lanai
37  Kahoolawe
48  Kula 1, Maui
28  Keaumo, Big Island
Hawaii's Mountains – Here's a link to the live webcam on the summit of our tallest mountain Mauna Kea (~13,800 feet high) on the Big Island of Hawaii. Here's the webcam for the (~10,023 feet high) Haleakala Crater on Maui. These webcams are available during the daylight hours here in the islands, and at night whenever there's a big moon shining down. Also, at night you will be able to see the stars, and the sunrise and sunset too…depending upon weather conditions.


Unusually heavy weather conditions…be careful!


Variable clouds…with an upper level low west of the islands


 Unsettled weather conditions…with localized thunderstorms and flooding

Off and on rain…some of which is heavy 

Model showing precipitation through 8-days (you can slow this animation down)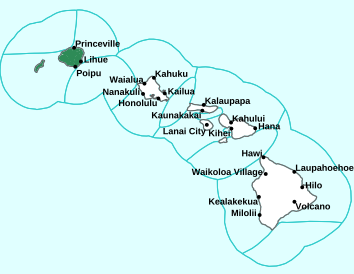 Please click this link…to see current Watches, Warnings and Advisories noted above



~~~
Hawaii Weather Narrative
~~~
Glenn's Monday comments: I'm at my Mom's house in Long Beach, California for the moment, although will be flying to Kahului, Maui at 9am this morning. / My neighbor told me Sunday evening that we had lost our power. I'm hoping that it was restored during the night! Otherwise, when I get back home to Kula early this afternoon (Hawaii time), I won't be able to update this website, after my 5-hour flight from Long Beach to Maui…keeping my fingers crossed.
Broad Brush Overview: A kona low will linger just west-northwest of Kauai, drifting slowly westward through Wednesday. A large band of heavy rain associated with this low will also track slowly westward across the state. Expect widespread heavy rainfall, especially under the large heavy rain band, capable of producing catastrophic flooding, and strong gusty southerly winds through Wednesday.
The heaviest rainfall will slowly drift westward into Oahu and Kauai. Improving weather conditions will start over the eastern side of the state by late Tuesday, with drier air slowly spreading into the western islands on Wednesday. More typical trade wind weather will return from late Wednesday onward.
Weather Details: Satellite imagery shows a kona low west of the island of Kauai, with a large plume of clouds around 300 miles wide extending from Kauai eastward to the Big Island. Deep convective showers continue to develop within this tropical moisture plume producing widespread rain, heavy at times, across the island chain.
Radar imagery shows bands of moderate to heavy showers developing and moving northward in the southerly winds. Strong and gusty winds are also observed in the 20 to 35 mph range with gusts up to 50 mph in some areas. The latest rainfall observations in Maui County show from 2 to 10 inches of rain has fallen over the past 24 hours with more rainfall expected through tomorrow.
The main threats with this kona low will be continued widespread heavy rain and strong southerly winds. Widespread storm total rainfall amounts in the 10 to 15 inch range are forecast with isolated areas of 20 to 25 inches of rainfall. Rain events of this magnitude can produce catastrophic flooding and affect areas that are typically drier, such as the south and west slopes of each island.
Isolated thunderstorms also remain in the forecast into Wednesday. Some additional impacts include dangerous driving conditions due to near zero visibility. Many roads could become impassable due to severe runoff and flooding. Numerous land slides are also expected in areas with steep terrain. Debris in streams and gulches may clog bridges and culverts resulting in dangerous flooding.
Urban areas, especially on Oahu, could have severe flooding. Isolated highways, such as the Belt Highway in the Big Island`s Kau District, and Piilani Highway on Maui, may be closed in one or more locations, resulting in long detours or even the isolation of some communities. Strong and gusty south to southwest winds will continue today.
Wind Advisories remain in effect for all Hawaiian Islands including the summits areas of Maui and Hawaii Counties. These strong southerly winds may produce damaging downslope winds over areas along the northern slopes of mountain ranges. Oahu and portions of Molokai may be especially vulnerable to these downsloping gusty winds.
Weather conditions are forecast to improve from east to west starting on Wednesday, as the kona low drifts further westward away from the main Hawaiian Islands. Higher pressure will build in north of the state, allowing an easterly trade wind weather pattern to return with more typical passing windward and mountain showers.
>>> Here's a near real-time Wind Profile of the Pacific Ocean – along with a Closer View of the islands / Here's the latest Weather Map.  Here's the animated volcanic emissions graphic
Marine Environmental Conditions: A slow-moving kona low west-northwest of Kauai is producing a large convergence bands of heavy rain, with an occasional isolated thunderstorm, across most local waters. These moderate to strong bands of rain, in tandem with the wind acceleration around Mauna Kea, Mauna Loa and Haleakala, have produced strong winds frequently gusting to gale force.
As the low moves westward the next several days, convergence bands of precipitation will generally spread more westward over Oahu, and eventually in the proximity of Kauai into early Tuesday. Bands of primarily showers with isolated storms will likely linger over the western end of the island chain Tuesday and then move west of the islands Wednesday as high pressure building in northeast of the state reinstates a moderate to fresh trade wind regime.
To account for strong rain convergent bands passing across more western islands, a Gale Warning is now in in effect for the coastal waters west of the Kaiwi Channel including the channel. A Small Craft Advisory (SCA) is in effect for the remaining eastern Hawaiian nearshore waters, due to a combination of these high winds and seas that still remain elevated due to the passage of a large north swell.
he greatest potential for the strongest maritime winds the next few days will be within any band of showers that may or may not contain embedded thunderstorms. Strengthening trade winds will maintain SCA conditions, especially for those typically windier waters around Maui and Big Island Tuesday night or Wednesday.
The most recent swell observations at the far northwest offshore buoys are beginning to show that the large north swell that has peaked, has begun a slow and steady decline. North shore surf will likely fall below HSA levels tonight and will fade to small heights from late Tuesday into the weekend.
Strong southerly winds within and near recently strong convergent rain bands developing far east of a kona low northwest of Kauai, have produced periods of rough chop that will be impacting south facing shores.
As high pressure builds in from the northeast later this week, strengthening trade winds will result in elevated rough wind wave surf along most east facing shores from mid-week onward. By Wednesday, increasing trade winds will produce elevated rough wind wave surf along most east facing shores.
Abnormally high ocean levels are coinciding with seasonal peak high tides the next couple of days. Although the north swell is declining, some elevated coastal run up may occur at peak high tide times. Even in areas not affected by swell, ocean levels will be elevated and some coastal inundation may occur, especially during periods of heavy rainfall.
(Urban) flooding such as what was experienced in the Waikiki area Sun has prompted a Coastal Flood Statement, to primarily increase potential nuisance flooding awareness during high tides.
World-wide Tropical Cyclone Activity
Atlantic Ocean: There are no active tropical cyclones

Caribbean: There are no active tropical cyclones
Gulf of Mexico: There are no active tropical cyclones
Eastern Pacific: There are no active tropical cyclones
Here's the link to the National Hurricane Center (NHC)
Northwest Pacific Ocean: There are no active tropical cyclones
South Pacific Ocean: There are no active tropical cyclones
North and South Indian Oceans / Arabian Sea: There are no active tropical cyclones
Here's a link to the Joint Typhoon Warning Center (JTWC)
Interesting: Research Suggests More Than 400 Hazardous Sites in California Face Flooding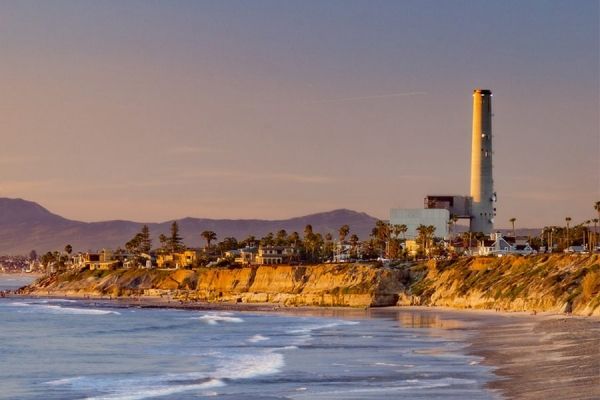 Unless climate change is slowed significantly, more than three feet of sea level rise (SLR) is expected in California by the end of the century, potentially flooding communities that are currently home to more than 145,000 residents.
In addition to the threat to residential neighborhoods, new research from UC Berkeley School of Public Health and UCLA Fielding School of Public Health suggests sea level rise will expose over 400 industrial facilities and contaminated sites in California, including power plants, refineries, and hazardous waste sites, to increased risk of flooding. Increased flooding can come with risks of contamination releases into nearby communities.
"Prior research has focused on the risks of sea level rise to property," said Dr. Rachel Morello-Frosch, Professor at UC Berkeley School of Public Health and the Department of Environmental Science, Policy, and Management.
"Little work has holistically examined its environmental health implications statewide, particularly for environmental justice communities where industries utilizing hazardous chemicals are located.
Disadvantaged communities in California are more than five times more likely to live less than one kilometer from one or more facilities at risk of flooding in 2050, and six times more likely in 2100. Out of 10,544 hazardous facilities in low-lying coastal areas, 440 are projected to be at risk of at least one flood event per year by 2100.
The majority of at-risk facilities are in five counties: Alameda, Contra Costa, and San Mateo in the San Francisco Bay Area, and Orange and Los Angeles counties in southern California.
Continue reading at University of California Berkeley
Leave a Reply