The latest update to this website was at 721am (HST) Saturday morning, September 25, 2021
Air Temperatures – The following high temperatures (F) were recorded across the state of Hawaii Friday afternoon…along with these low temperatures Friday morning:
81 – 76  Lihue AP, Kauai
87 – 74  Honolulu AP, Oahu
83 – 70  Molokai AP
89 – 68  Kahului AP, Maui
86 – 73  Kona AP, Hawaii
85 – 66  Hilo AP, Hawaii 

Here are the latest 24-hour precipitation totals (inches) for each of the islands Saturday morning:

2.98  Mount Waialeale, Kauai
1.83  Manoa Lyon Arboretum, Oahu
0.25  Molokai
0.12  Lanai
0.00  Kahoolawe
1.07  Puu Kukui, Maui
0.45  Lower Kahuku, Big Island
The following numbers represent the strongest wind gusts (mph) Saturday morning:

20  Port Allen, Kauai
23  Kii, Oahu
24  Molokai
23  Lanai
35  Kahoolawe
30  Maalaea Bay, Maui
25  PTA Range 17, Big Island
Hawaii's Mountains – Here's a link to the live webcam on the summit of our tallest mountain Mauna Kea (~13,800 feet high) on the Big Island of Hawaii. Here's the webcam for the (~10,023 feet high) Haleakala Crater on Maui. These webcams are available during the daylight hours here in the islands, and at night whenever there's a big moon shining down. Also, at night you will be able to see the stars, and the sunrise and sunset too…depending upon weather conditions.


 Thunderstorms in the deeper tropics


Thin high clouds moving into the state from the southwest


Low level clouds being carried in on the trade wind flow

Showers falling locally

Model showing precipitation through 8-days (you can slow this animation down)


Hawaii is on the 3rd line down from the top…and the 1st line to the right of the middle line (lightning is the blue dots)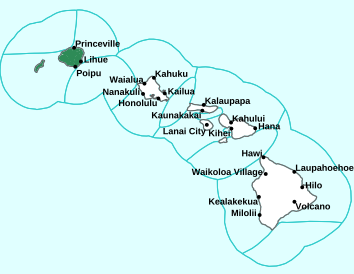 Please click this link…to see current Watches, Warnings and Advisories noted above



~~~

Hawaii Weather Narrative

~~~
Glenn's Saturday comments: I'm at my friend Greg's place here in Sebastopol, located in far western Sonoma County, California. / The low temperature this morning was 52.5 degrees with foggy skies. /
Broad Brush Overview: Clouds and showers will favor windward areas, as a locally breezy trade wind weather pattern continues. A surface trough of low pressure passing south of the islands, will increase shower coverage over windward Big Island into Sunday.
Details: Strong high pressure to the north of the islands will maintain gusty trade winds across local waters through the weekend into the new week. Our airmass will remain stable, although showery low clouds will continue to push primarily across windward and mountain areas.
In addition, some of these passing showers will push westward across leeward areas on the smaller islands. A weak surface trough is passing through the islands, supporting showery low clouds over and upstream from the smaller islands…pass westward.
Models show another trough, far southeast of the Big Island, passing westward just south of the state tonight and Sunday. While the bulk of the associated moisture is expected to remain south of the islands, some of it will move over the chain, most notably over the Big Island and Maui.
This will likely lead to an increase in shower coverage before the moisture moves west of the islands early Monday. Drier trade wind weather will then resume through much of the new week. Trade wind speeds will likely receive a subtle boost as the trough passes by.
>>> Here's a near real-time Wind Profile of the Pacific Ocean – along with a Closer View of the islands / Here's the latest Weather Map.  Here's the animated volcanic emissions graphic
Marine Environmental Conditions: A ridge of high pressure far north of the state will maintain trade winds mostly in the moderate to locally strong range through the new week.
A surface trough, currently southeast of the Big Island, is slated to move northwest into the far southeast offshore waters. The trough will take a more westerly course thereafter, grazing the Big Island early Sunday, then dissipate as it passes south of the smaller islands the rest of Sunday and Sunday night.
While passing south of the islands, the trough will tighten the pressure gradient around the islands, resulting in a boost in the trade winds to moderate to strong tonight and Sunday. In doing so, the small craft advisory will likely be expanded into other areas around the state.
The north-northwest swell will continue to lower through the rest of the weekend. Surf along north shores should be small during the new week, with only small pulses from the north and north-northwest.
For the south facing shores, a small swell is slated to reach our south facing shores next week Wednesday, lasting through Friday. East shores will have moderate surf, thanks to the moderate to strong trades that will hold through this weekend.
World-wide Tropical Cyclone Activity
>>> Here's a link to the latest Pacific Disaster Center's Weather Wall…covering the Atlantic Ocean, Caribbean Sea, and Gulf of Mexico



>>>

Here's a link to the latest Pacific Disaster Center's Weather Wall…covering the Pacific and Indian Oceans
Atlantic Ocean: 
Tropical Cyclone 18L (Sam)…is located about 1150 miles east-southeast of the northern Leeward Islands
Sub-Tropical Cyclone 19L (Teresa)…is located about 155 miles north-northwest of Bermuda

Tropical Cyclone 18L (Sam)
SAM ALMOST A MAJOR HURRICANE…ADDITIONAL STRENGTHENING EXPECTED
According to the NHC Advisory 11…Sam is moving toward the west-northwest near 13 mph (20 km/h). A slower motion to the west-northwest is expected over the weekend, followed by a turn to the northwest on Monday. Maximum sustained winds have increased to near 110 mph (175 km/h) with higher gusts. Additional strengthening is forecast, and Sam is expected to become a major hurricane later today. Sam is a small hurricane. Hurricane-force winds extend outward up to 15 miles (30 km) from the center and tropical-storm-force winds extend outward up to 60 miles (95 km).
Sub-Tropical Cyclone 19L (Teresa)
TERESA REMAINS POORLY ORGANIZED…EXPECTED TO BECOME A REMNANT LOW BY TONIGHT
According to the NHC Advisory 3…The storm is moving toward the west-northwest near 6 mph (9 km/h). A turn to the north is expected later today, followed by a northeastward motion after that. Maximum sustained winds are near 40 mph (65 km/h) with higher gusts. Teresa is expected to become a remnant by tonight and dissipate on Sunday. Winds of 40 mph extend outward up to 140 miles (220 km) from the center.
>>> An area of disorganized showers and thunderstorms associated with the remnants of Peter is located several hundred miles south of Bermuda. Environmental conditions appear marginally conducive for slow development of this disturbance over the next few days as it moves northeastward at 5 to 10 mph.
* Formation chance through 48 hours…low…10 percent
* Formation chance through 5 days…low…20 percent
>>> A tropical wave is expected to move off the west coast of Africa by early Monday. Thereafter, environmental conditions are forecast to be conducive for gradual development, and a tropical depression could form by the middle of next week while the system moves westward at 10 to 15 mph over the far eastern tropical Atlantic.
* Formation chance through 48 hours…low…near 0 percent
* Formation chance through 5 days…medium…50 percent
Caribbean: There are no active tropical cyclones
Gulf of Mexico: There are no active tropical cyclones
Eastern Pacific: There are no active tropical cyclones
Here's the link to the National Hurricane Center (NHC)
Northwest Pacific Ocean: 
Tropical Cyclone 20W (Mindulle)…is located approximately 467 NM west of Agrihan

South Pacific Ocean: There are no active tropical cyclones
North and South Indian Oceans / Arabian Sea: 

Tropical Cyclone 03B…is located approximately 267 NM south of Kolkata, India

Here's a link to the Joint Typhoon Warning Center (JTWC)
Interesting: Moving Beyond Mining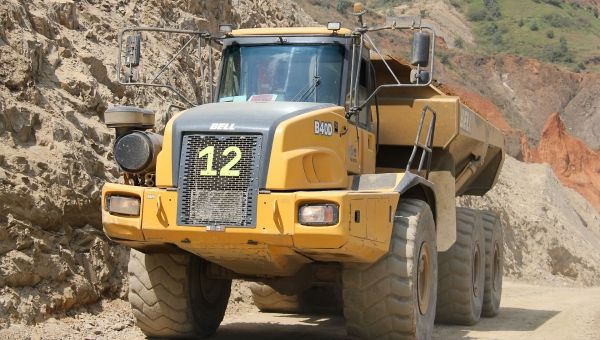 Mining has been Western Australia's jewel in the crown for well over a century, but Curtin research shows that if the state diversifies its regional industries, it could support sustained and inclusive growth throughout WA and promote a more resilient economy.
The 2019 Bankwest Curtin Economics Centre (BCEC) report Future-Proofing the WA Economy reveals that by capitalizing on regions' existing industry strengths and identifying areas for future development, the state could create 165,000 new jobs by 2025 and contribute more than A$19 billion to its economy, on top of current growth predictions.
"WA has been dominated by mining, but when the boom ended, this strong reliance on resources exposed the economy to a lot of flow-on effects. If we were more diversified, we'd have been more resilient to those changes," says Dr Steven Bond-Smith, lead author of the report.
Leave a Reply