The latest update to this website was at 750am (Hawaii time) Tuesday, March 28, 2023


Air Temperatures – The following high temperatures (F) were recorded across the state of Hawaii Monday…along with these low temperatures Tuesday morning: 
81 – 68  Lihue AP, Kauai
83 – 70  Honolulu AP, Oahu
83 – 61  Molokai AP
86 – 66  Kahului AP, Maui
83 – 72  Kona AP, Hawaii
81 – 68  Hilo AP, Hawaii 

Here are the latest 24-hour precipitation totals (inches) for each of the islands as of Tuesday morning:

0.83  Lihue, Kauai
0.68  St. Stephens, Oahu
0.00  Molokai
0.65  Lanai
0.92  Kepuni, Maui
1.25  Honolii Stream, Big Island

The following numbers represent the strongest wind gusts (mph) Tuesday morning:

14  Puu Lua, Kauai
12  Palehua, Oahu
07  Molokai 1, Molokai
10  Lanai
13  Hana, Maui
21  South Point, Big Island

Hawaii's Mountains – Here's a link to the live webcam on the summit of our tallest mountain Mauna Kea (~13,800 feet high) on the Big Island of Hawaii. Here's the webcam for the (~10,023 feet high) Haleakala Crater on Maui. These webcams are available during the daylight hours here in the islands, and at night whenever there's a big moon shining down. Also, at night you will be able to see the stars, and the sunrise and sunset too…depending upon weather conditions.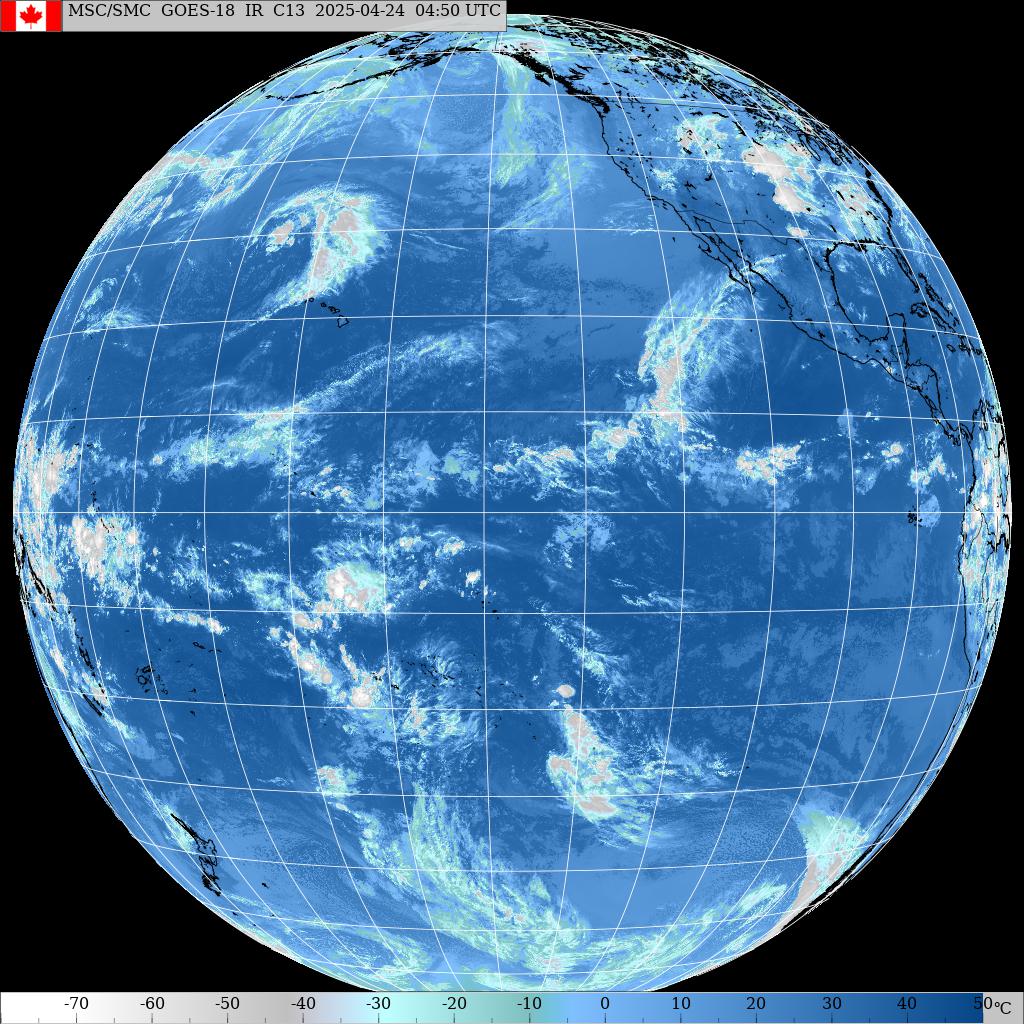 Click on this image to make it larger

We see a cold front northwest…with heavy showers along the frontal cloud band
(click on this image to make it larger)

 High clouds arriving from the west

Variable clouds with some clear areas…heavy showers west and northwest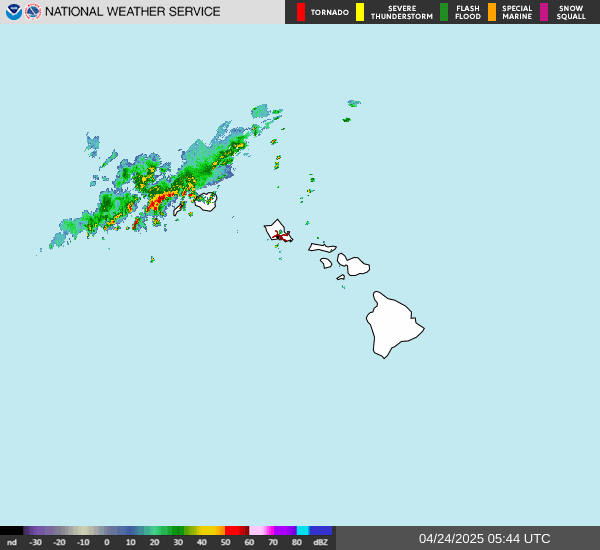 Passing showers locally…some are heavy near Kauai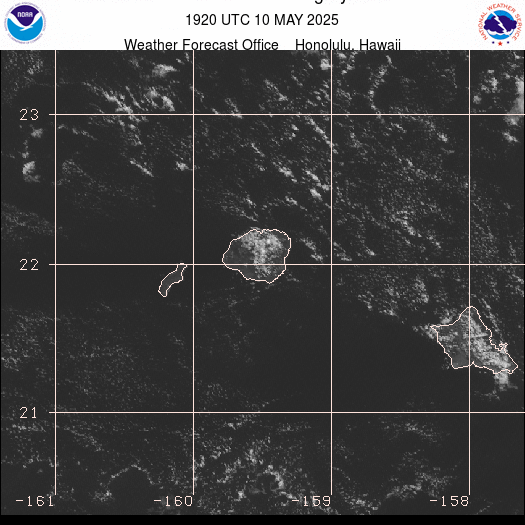 Kauai and Oahu (Satellite)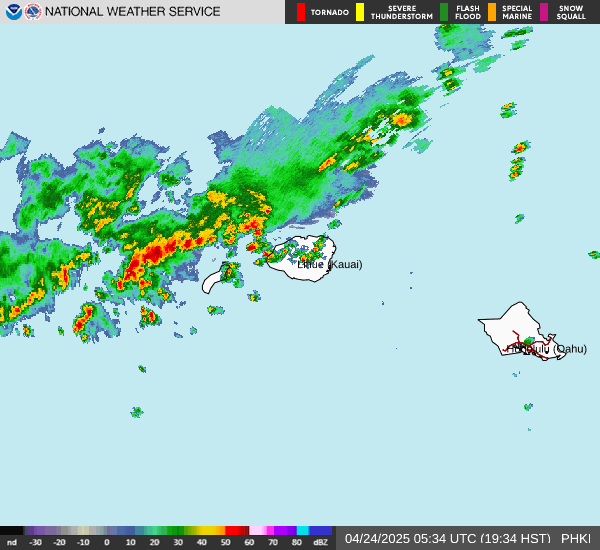 Kauai and Oahu (Radar)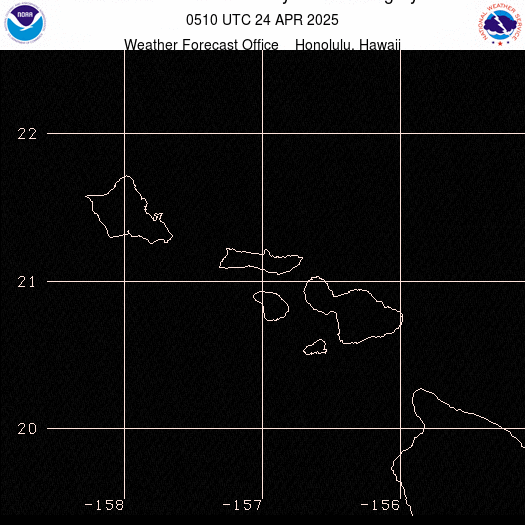 Oahu and Maui County (Satellite)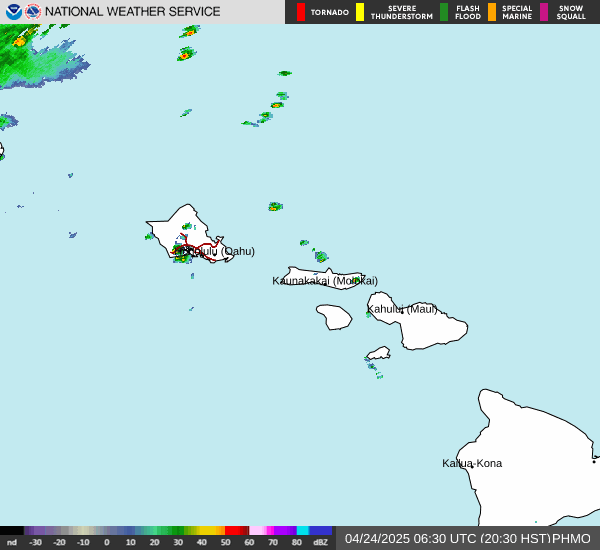 Oahu and Maui County (Radar)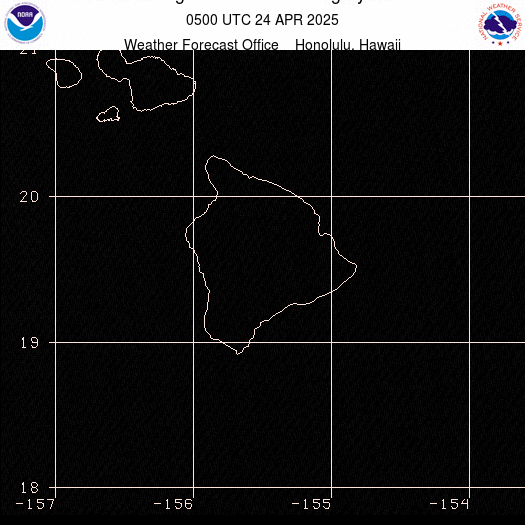 Maui, Kahoolawe, Lanai, and the Big Island (Satellite)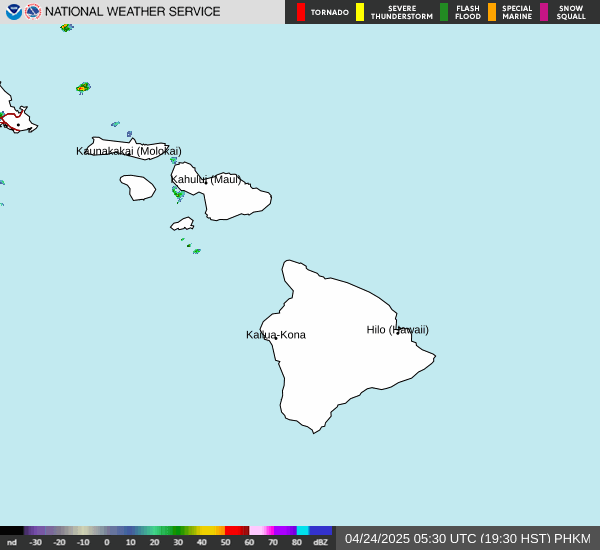 Maui County and the Big Island (Radar)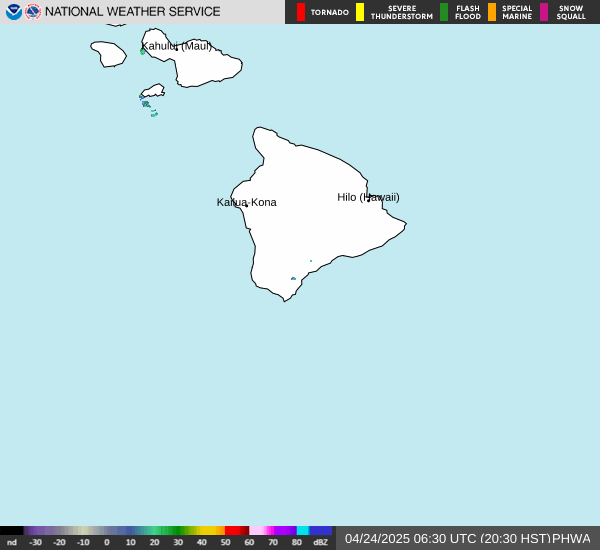 Big Island (Radar)
Model showing precipitation through 8-days (you can slow this animation down)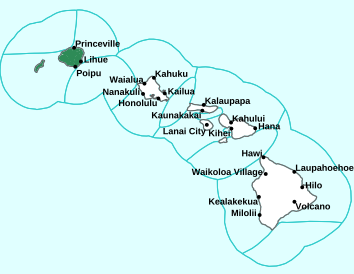 Please open this link…to see current Watches, Warnings and Advisories noted above
~~~

Hawaii Weather Narrative ~~~
Glenn's Tuesday comments: I'm here in Long Beach, California, for an extended stay in order to visit with my 100+ year old Mom. Skies are clear this morning. The temperature is a cold 37.7 degrees at 727am CA time.
It's another sunny morning here in Southern California, with a temperature of 61.3 degrees according to my personal outdoor temperature sensor. This will be the final day of this clear and mostly sunny weather pattern, as we head back into another cloudy and off and on wet period beginning early Wednesday morning.
1031am CA time, I'll be heading over to the nearby YMCA soon, for some rousing Pickleball games. I'll come back here to take a shower, and fix my salad, which I'll take over to my Mom's rest home, where I'll visit with her for a couple of hours.

Hawaii's Broad Brush Weather Overview: A high pressure ridge north of the islands will continue to weaken, in response to a rapidly deepening low pressure system moving into the area.
This low will drift south this week and break down the ridge over the western islands, opening the door for deep unstable southerly winds to develop over Kauai and Oahu through Thursday.
An upper level trough rotating around the low will produce moderate to heavy shower bands over these western islands with thunderstorms. The eastern islands in Maui and Hawaii counties will see less rainfall activity with isolated thunderstorms possible over the Big Island each afternoon.
High pressure will build in north of the region by Friday, allowing typical easterly trade wind weather to spread across the state into the first half of next week.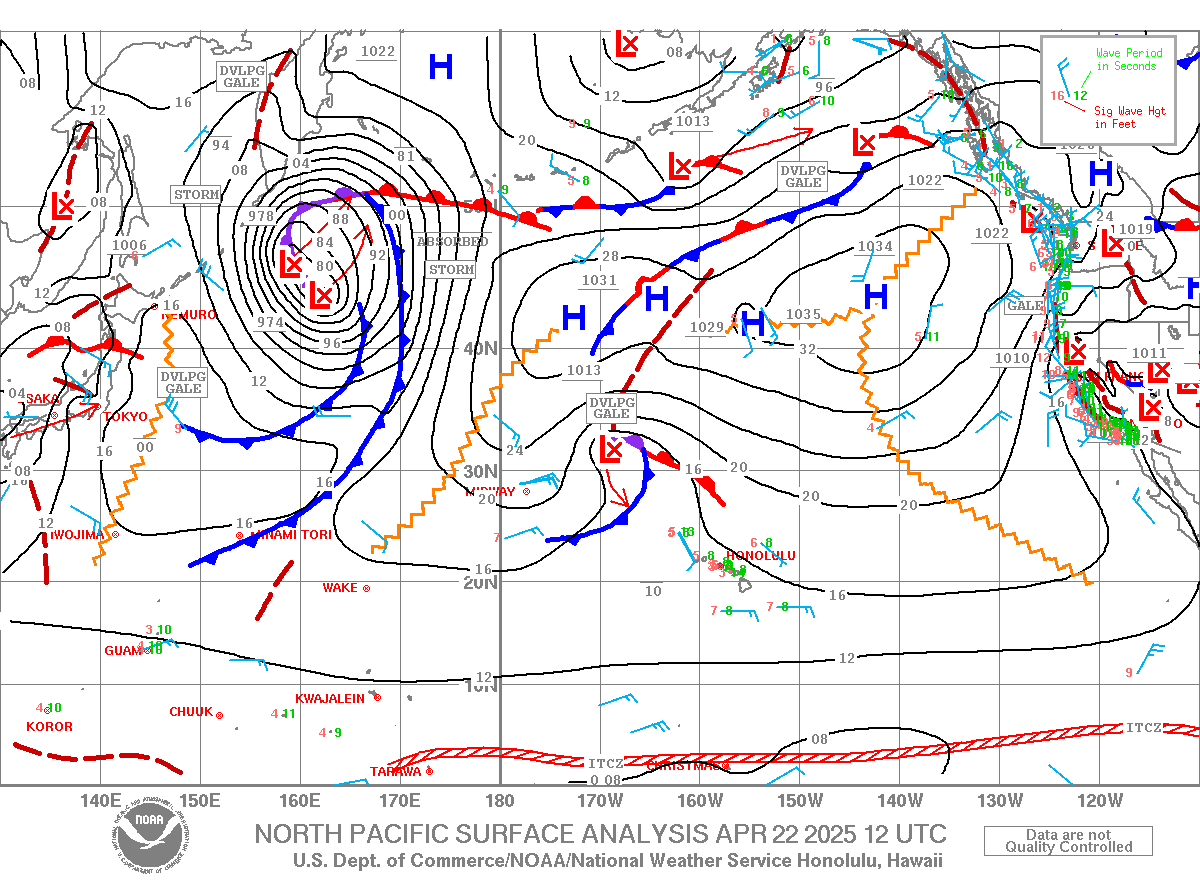 We see high pressure systems far west-northwest, and another far east-northeast of the islands…with a low pressure system well north, with its associated front dipping down towards the islands


Hawaii's Weather Details: Weather maps show a stationary front northwest of Kauai has shown increasing thunderstorm activity this morning, as a low pressure system farther to the northwest moves south into the Hawaii area. Southerly winds will develop over the western islands later today, drawing up deep unstable tropical moisture over the islands of Kauai, Niihau, and Oahu. The subtropical jet stream south of the islands will be drawn northward over the island chain…augmenting the shower potentials.
Expect increasing shower trends through the day today for these western islands, as winds veer to a more southerly direction. Upper level forcing provides the lift to produce moderate to heavy rain bands and thunderstorms moving up from the south. These wet weather conditions will start later this morning over Kauai, and then spread to Oahu later this afternoon to evening. Short range weather models continue to show the heaviest showers and most unstable thunderstorm activity along a nearly stationary boundary just west of Kauai.
Thus, a threat for localized flash flooding will remain elevated for Kauai County and Oahu into Thursday with this developing weather system. Maui County and the Big Island will remain in a more stable southeasterly wind pattern during this time period. One exception to this forecast will be lingering chances for isolated thunderstorms each afternoon over the Big Island, triggered by strong surface heating above the trade wind inversion and sea breeze moisture lift.
The main forecast challenge with this changing weather pattern, is in determining how close this approaching low will get to the western islands. A fifty to one hundred mile error on the low center position could create stronger island weather impacts. Close monitoring will be necessary for any heavy shower bands that develop, which could cause training of showers or thunderstorms approaching the western islands from the south. If these heavy shower bands are numerous enough, there would likely be a Flood Watch product for the affected western islands.
Long range forecast guidance continues to show this deep low northwest of the state drifting northward Thursday onward. This changing pressure pattern will allow the subtropical ridge to strengthen and build back in north of the Hawaiian Islands, allowing a transition back to more typical easterly trade winds from Friday through the upcoming weekend.
Look for periods of windward and mountain showers over each island, favoring the overnight to early morning hours. Long range weather model solutions continue to show a weak upper level low developing near the islands from Saturday through Monday, which could enhance trade wind shower activity into the first half of next week.
Here's a near real-time Wind Profile of the Pacific Ocean – along with a Closer View of the islands / Here's the latest Weather Map / Vog Model Forecast
Marine Environmental Conditions: The pressure gradient produced by a high moving south off the U.S. West Coast, along with a stalled front to the west of us, will result in moderate to locally fresh southeast winds. A Small Craft Advisory may be required for the notoriously windier zones around Maui and Big Island by Wednesday. A stationary front just on the fringe of our far western offshore waters, will serve as a focus for thunderstorm activity over the next few days.
A new surface low forming just west of the offshore waters and slowly moving north, along with the northeast high pressing south, will continue to support area wide moderate to locally fresh southeasterly winds, possibly transitioning more south around Kauai by Thursday. Convergence ahead of the stationary boundary will keep the threat for western waters isolated to scattered thunderstorms alive through the week.
The small northwest (310 degree) swell that peaked Monday will be gradually subsiding. A similar size northwest (320 degree) swell will arrive Thursday. This swell will only pick up north and west-facing shore surf by a foot or two, as it peaks Thursday night and then lowers through Friday.
Elevated wind wave chop along eastern exposures, generated from a large source region of moderate trades upstream of the islands, will persist the next few days.
Very small early to mid week rises in surf along southwest and southeast shores, from either background energy moving in from the Southern Hemisphere (190-210 degree), or from trade wind swell wrap (040-130 degree), will keep south-facing shore surf around waist high, at best. The combination of the trade swell and the south swell, will sustain slightly higher surf heights along many eastern and southern Big Island exposures the next few days.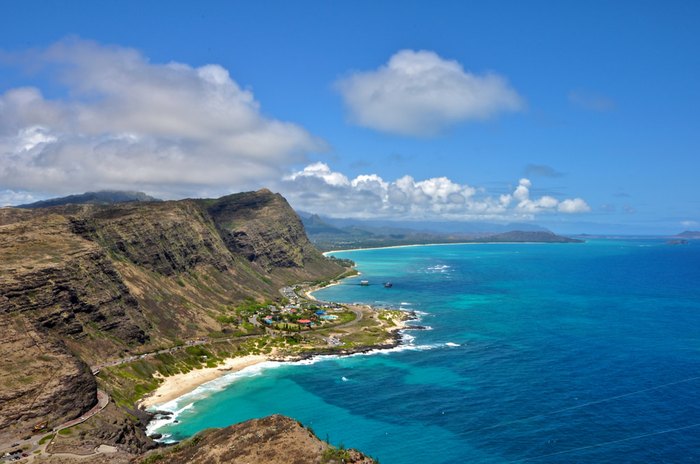 World-wide Tropical Cyclone Activity
Atlantic Ocean:  The 2022 Hurricane Season has ended…the 2023 season begins June 1, 2023

Caribbean Sea:  The 2022 Hurricane Season has ended…the 2023 season begins June 1, 2023
Gulf of Mexico:  The 2022 Hurricane Season has ended…the 2023 season begins June 1, 2023
Eastern Pacific:  The 2022 Hurricane Season has ended…the 2023 season begins May 15, 2023
Here's the link to the National Hurricane Center (NHC)
Northwest Pacific Ocean: There are no active tropical cyclones
South Pacific Ocean: There are no active tropical cyclones
North and South Indian Oceans / Arabian Sea: There are no active tropical cyclones
Here's a link to the Joint Typhoon Warning Center (JTWC)
>>> Here's a link to the Pacific Disaster Center's (PDC Global) Weather Wall website
Interesting: 11,000-Plus Years of Tree Rings Confirm Historic Extremity of 2021 Western North America Heat Wave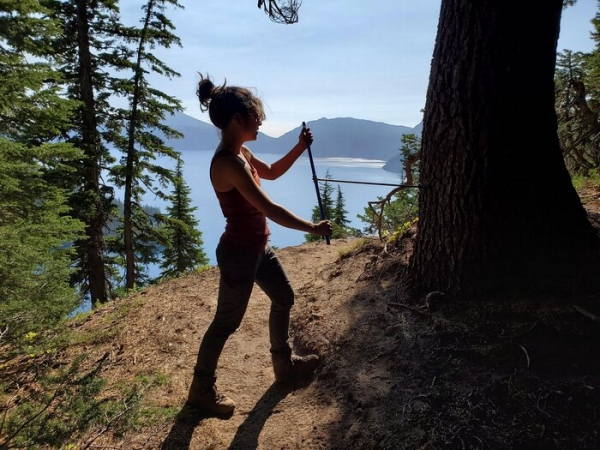 In summer 2021, a stunning heat wave swept western North America, from British Columbia to Washington, Oregon and beyond into other inland areas where the climate is generally mild. Temperature records were set by tens of degrees in many places, wildfires broke out, and at least 1,400 people died. Scientists blamed the event largely on human-driven climate warming, and declared it unprecedented. But without reliable weather data going back more than a century or so, did it really have no precedent?
A new study of tree rings from the region shows that the event was almost certainly the worst in at least the past millennium. The research, published in the journal Climate and Atmospheric Science, established a year-by-year record of summer average temperatures going back to the year 950. Scores of abnormally hot summers showed up, many grouped into multiyear warm periods. But the new study shows that the last 40 years, driven by human-influenced warming, has been the hottest—and that 2021 was the hottest summer in the entire span.
"It's not that the Pacific Northwest has never before experienced waves of high temperature. But with climate change, their magnitude is much hotter, and they have a much greater impact on the community," said lead author Karen Heeter, a postdoctoral researcher at Columbia University's Lamont-Doherty Earth Observatory. "Being able to look at the past and compare that with climate models, and come to similar conclusions, there's a lot of power in that."
Read more at Columbia Climate School
Leave a Reply