Air Temperatures – The following high temperatures (F) were recorded across the state of Hawaii Tuesday…along with the low temperatures Wednesday:

84 – 78  Lihue, Kauai /
89 – 78  Honolulu, Oahu /
90 – 77  Molokai AP
91 – 69  Kahului AP, Maui / 
87 – 75  Kona AP, Hawaii
87 – 75  Hilo, Hawaii / 

Here are the latest 24-hour precipitation totals (inches) for each of the islands Wednesday morning:

0.46  Mount Waialeale, Kauai
0.22  Poamoho RG 1, Oahu
0.09  Molokai
0.00  Lanai
0.00  Kahoolawe
0.27  West Wailuaiki, Maui
0.67  Waiaha, Big Island
The following numbers represent the strongest wind gusts (mph) Wednesday morning:

18  Port Allen, Kauai
21  Kii, Oahu
23  Molokai
10  Lanai
28  Kahoolawe
20  Kahului Harbor, Maui
24  Waikoloa, Big Island
Hawaii's Mountains – Here's a link to the live webcam on the summit of our tallest mountain Mauna Kea (~13,800 feet high) on the Big Island of Hawaii. Here's the webcam for the ~10,023 feet high Haleakala Crater on Maui. These webcams are available during the daylight hours here in the islands, and at night whenever there's a big moon shining down. Also, at night you will be able to see the stars, and the sunrise and sunset too…depending upon weather conditions.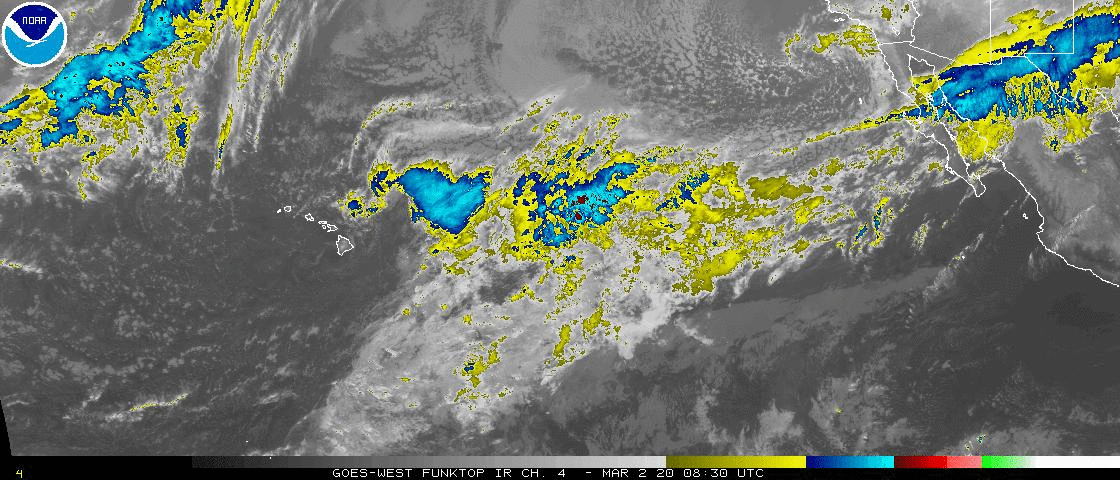 A weakening cold front is well northwest of the state
(click on the images to enlarge or animate them)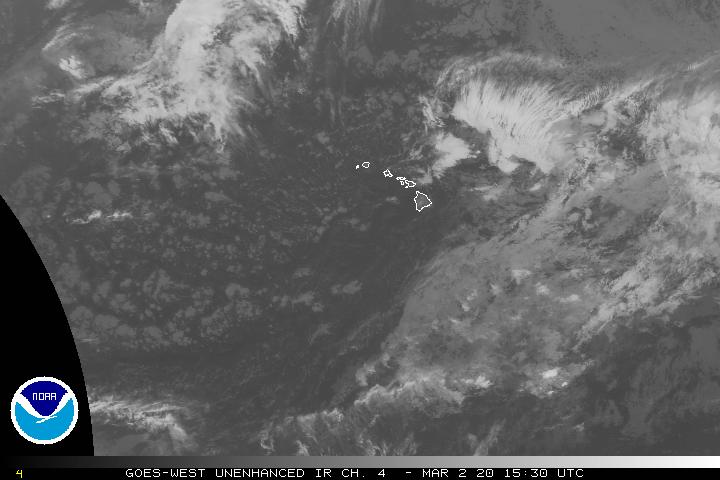 Thunderstorms offshore southwest…with more further southwest through southeast


Clear to partly cloudy…cloudy areas locally


Showers falling locally…mostly windward and offshore
Looping image
Small Craft Advisory…pink color below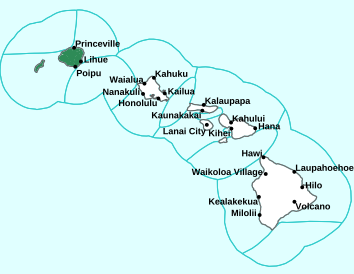 ~~~

Hawaii Weather Narrative

~~~

Broad Brush Overview: High pressure northeast of the state will keep moderate to locally strong trade winds blowing. These trades will weaken tonight through Friday, as a cold front approaches from the northwest. The trades will then strengthen Saturday through early next week, as high pressure strengthens north of the state. Typical autumn trade wind weather conditions will continue, with showers favoring windward areas…with an occasional shower reaching leeward.
Details: A weakening cold front will approach from the northwest, then stall north of Kauai through the weekend. A second front will approach from the northwest over the weekend and stall in roughly the same area…early next week. The first front will cause the trades  to falter some Thursday through Friday night, with localized land and sea breezes possible in the more sheltered leeward areas. Moderate trade winds will increase again Saturday through early next week.
Looking Further Ahead: Trade wind weather will prevail through the next week, with showers favoring windward and mountain areas, particularly at night through the early morning hours. There may be a slight increase in leeward shower activity Thursday and Friday, as the trades weaken, allowing for sea breeze activated shower development. There could also be some enhancement to rainfall over windward sections of the Big Island and possibly Maui County, as moisture associated with weak disturbance moves by to the south of the state.
Here's a near real-time Wind Profile of the Pacific Ocean – along with a Closer View of the islands / Here's the latest Weather Map

Marine Environmental Conditions: A ridge of high pressure north of Kauai continues to support locally strong trade winds. An approaching front will force the ridge south and weaken it over the next day or two, leading to weakening winds that will veer slightly toward the southeast.
The front will stall and dissipate well north of the area Thursday and Friday, although the ridge will remain suppressed southward near the islands into Saturday, as a second front approaches. High pressure building northwest of this second front will start to tighten the local pressure gradient late Saturday, leading to an increase in trade wind speeds heading into next week. As this high passes north of the area through early next week…it should support light to moderate trade winds.
Surf along north and west facing shores will be increasing some over the next several days, with increasing potential for High Surf Advisory (HSA) level surf this weekend into early next week. A northwest swell arriving Thursday will back to the north Friday, while peaking below advisory levels, then diminish Saturday. A winter-like powerful low (with hurricane-force winds) will develop in the north Pacific over the next 24 hours, generating a northwest swell that arrives early Sunday and persists through Tuesday. Peak surf heights will almost certainly warrant a HSA for several days. Elsewhere, wind waves will gradually diminish along windward facing shores, as trade winds weaken some over the next few days. A slight increase in south swell is expected…holding into Thursday before fading Friday.

Good Wednesday morning Hawaii!
 




World-wide Tropical Cyclone Activity
Here's a link to the latest Pacific Disaster Center's
Weather Wall
>>> Atlantic Ocean: There are no active tropical cyclones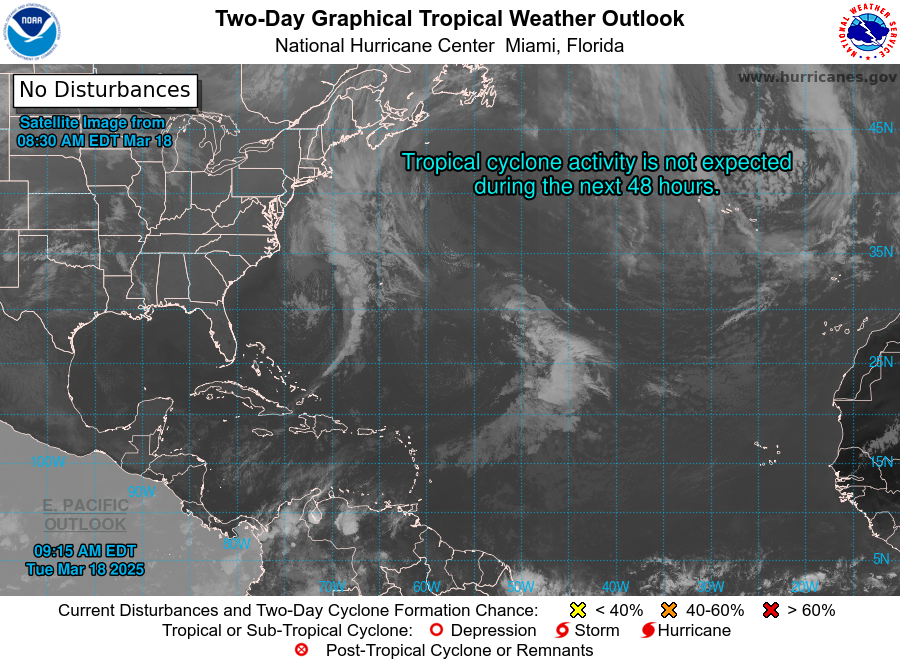 >>> Caribbean Sea: There are no active tropical cyclones
1.) A tropical wave is producing disorganized showers and thunderstorms over the Yucatan Peninsula, Belize, and the adjacent waters of the northwestern Caribbean Sea and the southwestern Gulf of Mexico. This disturbance is forecast to move west-northwestward and emerge over the Bay of Campeche on Thursday, and then move northward and northeastward into the southwestern and central Gulf of Mexico on Friday and Saturday. Some development will be possible on Friday and early Saturday before the system merges with a cold front by early Sunday.
* Formation chance through 48 hours…low…10 percent
* Formation chance through 5 days…low…30 percent
>>> Gulf of Mexico:  There are no active tropical cyclones

Latest satellite image of the Caribbean Sea and the Gulf of Mexico
>>> Eastern Pacific: There are no active tropical cyclones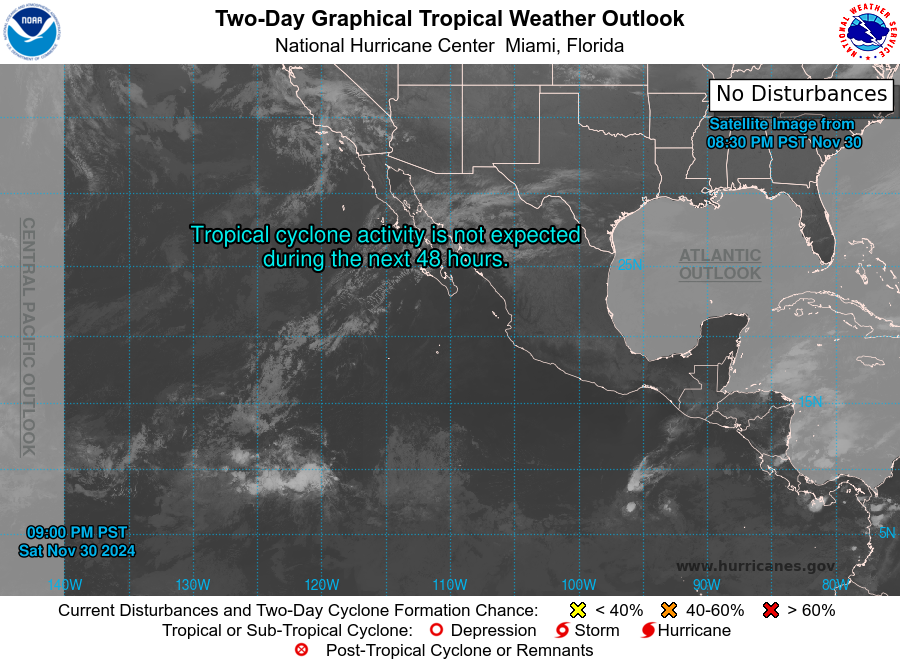 Here's an animated color enhanced satellite image of the central and eastern Pacific
Here's the link to the National Hurricane Center (NHC)
>>> Central Pacific: There are no active tropical cyclones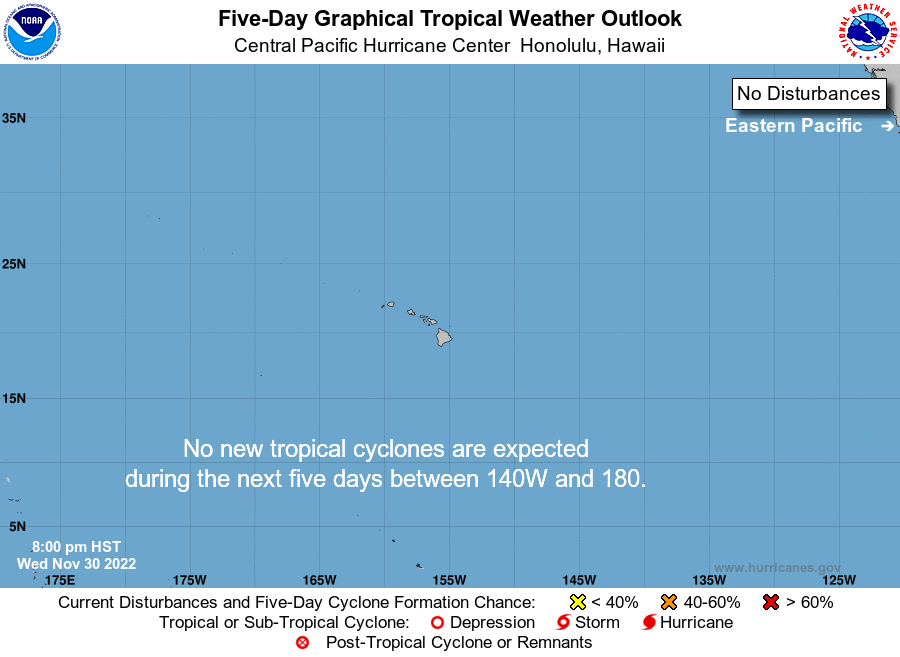 1.) Showers and thunderstorms associated with an elongated area of low pressure about 800 miles southeast of Hilo, Hawaii, has become more disorganized over the past 24 hours. Upper-level winds are not expected to be conducive for further development of this system.
* Formation chance through 48 hours…low…near 0 percent
* Formation chance through 5 days…low…near 0 percent
Here's the link to the Central Pacific Hurricane Center (CPHC)
>>> Northwest Pacific Ocean:
Tropical Cyclone 22W (Bualoi)

Sustained winds are 100 knots with gusts to 125 knots…as of warning 18
>>>

South Pacific Ocean: There are no active tropical cyclones


>>> North and South Indian Oceans / Arabian Sea: There are no active tropical cyclones

Interesting: The World's Oldest Pearl Was Just Discovered on an Island in the Persian Gulf…the pearl dates back 8,000 years to the Neolithic period — Archeologists have discovered what they claim is the world's oldest natural pearl on Marawah Island, off the coast of Abu Dhabi. The pearl dates back 8,000 years to the Neolithic period — the last stage of the Stone Age.
Dubbed the "Abu Dhabi Pearl," this ancient gem is faint pink in color and about 0.3 centimeters (0.13 inches) long. It was found in a layer at a Neolithic site that dates to between 5800 B.C. and 5600 B.C., making it the oldest in the world, according to a statement from Abu Dhabi's Department of Culture and Tourism.
"The presence of pearls at archeological sites is evidence that the pearl trade existed from at least as far back as the Neolithic period," said Abdulla Khalfan Al-Kaabi, the director of the archeological survey unit at Abu Dhabi's Department of Culture and Tourism.
Indeed, "if we look at historical sources, we find more than one indication that Abu Dhabi was considered one of the major pearl centers," he said. Pearls could have been worn as jewelry or traded for goods from other civilizations, such as ceramics from Mesopotamia, according to the statement.
This Neolithic site, composed of collapsed stone structures, was first discovered in 1992 and many artifacts have been found there, including flint arrowheads, beads and ceramics. What's more, because this site sits on an island, many of the artifacts found, such as the bones of fish, turtles, dolphins, dugongs and oysters, relate to the sea. "People in this period were very familiar with the sea and considered it a major part of daily life," Al-Kaabi said.
Even centuries later, diving for pearls remained prominent in the area and was an important driver of the United Arab Emirates economy until the 1930s, according to the statement.
The Abu Dhabi Pearl will be displayed for the first time in an upcoming exhibition called "10,000 Years of Luxury" at the Louvre Abu Dhabi.
Leave a Reply