Air Temperatures – The following maximum temperatures were recorded across the state of Hawaii Monday afternoon:
Lihue, Kauai – 76
Honolulu airport, Oahu - 79
Molokai airport - 77
Kahului airport, Maui – 80
Kona airport – 80
Hilo airport, Hawaii - 79
Air Temperatures ranged between these warmest and coolest spots near sea level – and on the highest mountain tops around the state…as of 330am Tuesday morning:
Kaneohe, Oahu – 72
Molokai airport - 67

Haleakala Summit – 45 (near 10,000 feet on Maui)
Mauna Kea Summit – 34 (13,000+ feet on the Big Island)
Hawaii's Mountains – Here's a link to the live web cam on the summit of near 13,800 foot Mauna Kea on the Big Island of Hawaii. This web cam is available during the daylight hours here in the islands…and when there's a big moon shining down during the night at times. Plus, during the nights you will be able to see stars, and the sunrise and sunset too…depending upon weather conditions. Here's the Haleakala Crater webcam on Maui.

Tropical Cyclone activity in the eastern and central Pacific - Here's the latest weather information coming out of the National Hurricane Center, covering the eastern north Pacific. You can find the latest tropical cyclone information for the central north Pacific (where Hawaii is located) by clicking on this link to the Central Pacific Hurricane Center. A satellite image, which shows the entire ocean area between Hawaii and the Mexican coast…can be found here. The 2012 hurricane season is over in the eastern and central Pacific…resuming on May 15th and June 1st 2013.
Aloha Paragraphs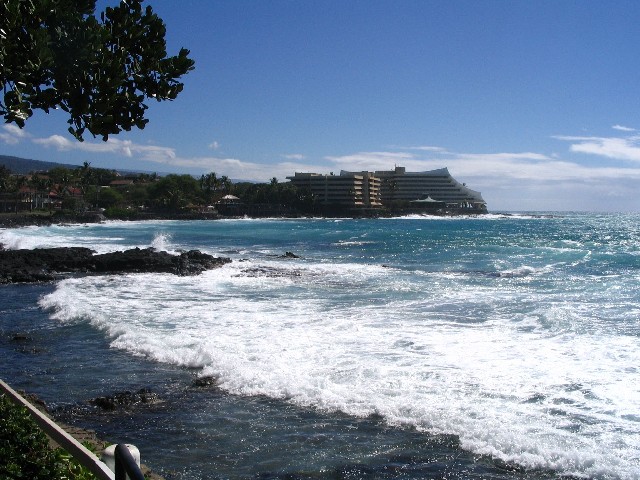 Gale Warning…in the Alenuihaha Channel between
Maui and the Big Island of Hawaii
Wind Advisory for North Kohala on the Big Island,
Volcanoes National Park, Lanai…and the Haleakala
summit on Maui
Small Craft Advisory for strong and gusty trade winds…
over all of the coastal and channel waters
More windward showers into Thursday – chance
of heavy showers during the second half of this week
~~~530am HST Tuesday morning: clear, calm…at my
upcountry Kula, Maui weather tower: 48.9F degrees~~~
Today is National Weatherman's Day


The following numbers represent the most recent top wind gusts (mph), along with directions as of Monday evening:

27 Poipu, Kauai – NE
37 Kuaokala, Oahu – NE
32 Molokai – NE
38 Kahoolawe – NE
35 Kahului airport, Maui – NE
35 Pali 2, Big Island – NE

Here are the latest 24-hour precipitation totals (inches) for each of the islands as of Monday evening:

0.01 Kilohana, Kauai
0.27 Oahu Forest NWR, Oahu
0.01 Molokai
0.00 Lanai
0.00 Kahoolawe
0.20 Kahakuloa, Maui
0.15 Kawainui Stream, Big Island

We can use the following links to see what's going on in our area of the north central Pacific Ocean. Here's the latest NOAA satellite picture – the latest looping satellite image…and finally the latest looping radar image for the Hawaiian Islands.

~~~ Hawaii Weather Commentary ~~~

Our trade winds will remain strong and more gusty than normal…through mid-week. Here's a weather chart showing trade wind producing, high pressure systems located to the northeast and the northwest of Hawaii. At the same time, we see a storm low pressure systems far to our north…with an associated cold front to the west and northwest of Kauai. Small craft wind advisories are now covering all of the marine zones in the state. At the same time, there's a wind advisory active over parts of the Big Island and Maui County. Finally, we have a relatively unusual gale warning in the Alenuihaha Channel between Maui and the Big Island.
Satellite imagery shows clouds surrounding the islands in all directions…with more showery looking clouds to our east. We can also see a fragmenting cold front to our north and northwest. Showers here in the islands will slowing increase along our north and east facing windward coasts and slopes over the next few days…especially by Tuesday night through Thursday morning. The south and west leeward beaches will remain in pretty good shape, albeit quite windy in some locations.
As we get into Wednesday, we'll find a trough of low pressure edging over the state…or close to it at least. This trough will bring colder than normal air overhead, in the middle and high layers of the atmosphere. This cold air aloft will help to destabilize the air mass below it late Tuesday through most of Thursday. This in turn may bring snow to our higher summits on the Big Island, and increase showers locally…some of which may be locally heavy. Low level moisture will arrive later Tuesday, helping to fuel the increasing showers then into Thursday. As Saturday rolls around, we may find a cold front arriving, bringing the bulk of its showers to our windward sides. As this front passes through, gusty north to northeast winds will follow in its wake on Sunday and next Monday, bringing drier and cooler air into the state. ~~~ I'll be back later with more updates on all of the above. I hope you have a great Monday night wherever you're spending it! Aloha for now, Glenn.
Extra: Youtube music video, Nelly Furtado…I'm like a bird – Full screen please

World-wide tropical cyclone activity:

Atlantic Ocean/Caribbean Sea: There are no active tropical cyclones
Gulf of Mexico: There are no active tropical cyclones
Eastern Pacific Ocean: There are no active tropical cyclones
Central Pacific Ocean: There are no active tropical cyclones
Western Pacific Ocean: There are no active tropical cyclones
South Pacific Ocean: There are no active tropical cyclones
North and South Indian Oceans: There are no active tropical cyclones
Interesting: According to new research out of the New Zealand's University of Otago, consuming more fruits and vegetables increases calm, happiness, and energy in one's daily life. Perhaps it is the knowledge of eating wholesome, unprocessed foods that fundamentally affects our brains. The body knows that it is doing something right and feels better because of it, both physiologically and mentally.
The researchers compared consumption of fruits and vegetables with other types of food, but the difference was clear. To beat depression and increase happiness, fruits and veggies are the way to go.
The study was conducted by Department of Psychology researchers Dr. Tamlin Conner, Bonnie White, and Dr. Caroline Horwath. They took a sample of 281 young adults with the average age of 20 years.
First, the participants filled out a questionnaire which asked about their background information. Then, they completed an internet-based food diary for 21 consecutive days. Then, using a set of nine positive adjectives and nine negative adjectives, they were asked to rate how they felt each evening.
The online diary asked them to report the number of servings of fruit (excluding fruit juices and dried fruit) and vegetables (excluding juices) they consumed. They were also asked to report consumption of other less healthy foods such as biscuits, cookies, potato crisps, cakes, and muffins.
The evidence was clear that there was a strong correlation between a positive mood and higher fruit and vegetable consumption, and not the other foods. Further analysis was conducted to see what actually came first, feeling good or eating healthy foods.
The researchers found that eating fruits and vegetables predicted improvements in positive mood the next day, regardless of other key factors such as body mass index. "After further analysis we demonstrated that young people would need to consume approximately seven to eight total servings of fruits and vegetables per day to notice a meaningful positive change.
One serving of fruit or vegetables is approximately the size that could fit in your palm, or half a cup. My co-author Bonnie White suggests that this can be done by making half your plate at each meal vegetables and snacking on whole fruit like apples," says Dr Conner.
Bottom line, eating natural foods and avoiding unhealthy processed foods will not only make your body more fit, but will improve your spirits too. This study has been published in the British Journal of Health Psychology.
February 4th, 2013 at 1:41 pm
Maggie Says:

Aloha Glenn. The usual winter trade wind showers here in Haiku and a good day to be on the south shore. I noticed that the link to the Haleakala web cam has changed from the one on your page. The correct link appears to be: http://kopiko.ifa.hawaii.edu/cams/crater.shtml. ~~~ Hi Maggie, I updated my webcam link to the Haleakala Crater, thanks to you. Yes, I see those clouds over on your side, and looking down towards the south shore, as you point out…its sunny. Thanks for the updated link, and the on the spot report from the windward side of east Maui! Please feel free to provide updates of what's going on in Haiku, any time. Aloha, Glenn
Leave a Reply