Air Temperatures – The following maximum temperatures were recorded across the state of Hawaii Friday:
Lihue, Kauai – 76
Honolulu airport, Oahu - 77
Molokai airport - 76
Kahului airport, Maui – 76
Kona airport – 82
Hilo airport, Hawaii - 72
Air Temperatures ranged between these warmest and coolest spots near sea level – and on the highest mountain tops around the state…as of 530am Saturday morning:
Kailua Kona – 70
Hilo airport – 65

Haleakala Summit – 34 (near 10,000 feet on Maui)
Mauna Kea Summit – 23 (13,000+ feet on the Big Island)
Hawaii's Mountains – Here's a link to the live web cam on the summit of near 13,800 foot Mauna Kea on the Big Island of Hawaii. This web cam is available during the daylight hours here in the islands…and when there's a big moon shining down during the night at times. Plus, during the nights you will be able to see stars, and the sunrise and sunset too…depending upon weather conditions. Here's the Haleakala Crater webcam on Maui – if it's working.

Tropical Cyclone activity in the eastern and central Pacific - Here's the latest weather information coming out of the National Hurricane Center, covering the eastern north Pacific. You can find the latest tropical cyclone information for the central north Pacific (where Hawaii is located) by clicking on this link to the Central Pacific Hurricane Center. A satellite image, which shows the entire ocean area between Hawaii and the Mexican coast…can be found here. The 2012 hurricane season is over in the eastern and central Pacific…resuming on May 15th and June 1st 2013.
Aloha Paragraphs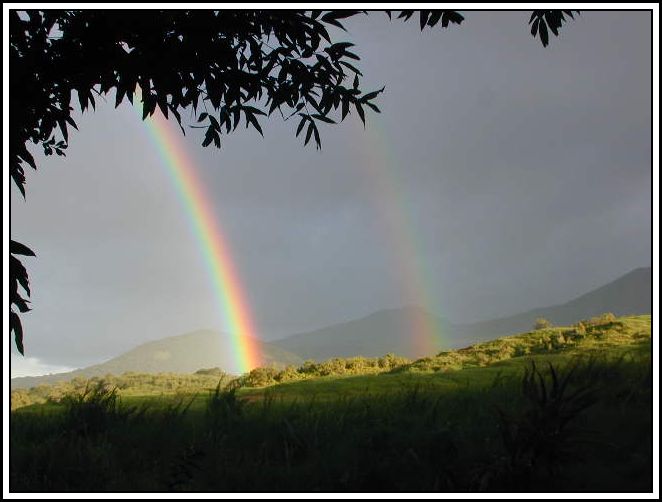 Wet and windy Trade Wind Weather Pattern, mostly along
our windward sides…although elsewhere in places too

Flash Flood Watch for Maui and the Big Island / Radar
Here's the Looping Radar Image for all the islands
Winter Weather Advisory for the Big Island summits…
possible periods of snow / Mauna Kea webcam
,
Small Craft Advisory for gusty trade winds for all marine
zones across the Hawaiian Islands
High Surf Advisory along all east facing shores
~~~622am HST Saturday morning: partly cloudy and calm…
at my upcountry Kula, Maui weather tower:
the air temperature was 52.7F degrees~~~

The following numbers represent the most recent top wind gusts (mph), along with directions as of Friday evening:

28 Lihue, Kauai – NE
43 Kuaokala, Oahu – NE
29 Molokai – NE
37 Kahoolawe – NE
32 Kahului, Maui – NE
32 Waikoloa, Big Island – NE

Here are the latest 24-hour precipitation totals (inches) for each of the islands as of Friday evening:

6.14 Kilohana, Kauai
3.63 Oahu Forest NWR, Oahu
0.97 Molokai
0.00 Lanai
0.00 Kahoolawe
9.64 Puu Kukui, Maui
7.56 Hilo airport, Big Island

We can use the following links to see what's going on in our area of the north central Pacific Ocean. Here's the latest NOAA satellite picture – the latest looping satellite image…and finally the latest looping radar image for the Hawaiian Islands.

~~~ Hawaii Weather Commentary ~~~

Our trade winds will continue to be strong and gusty, reaching 30-40+ mph in gusts…locally at times. Here's a weather chart showing a broad area of high pressure, anchored by a strong 1037 millibar high pressure cell to the northeast of Hawaii. At the same time, we see a deep storm low pressure system far to the north-northwest….with hurricane force winds revolving around its center. Our trade wind weather pattern will prevail, with the winds continuing to be stronger than normal through the weekend… into the first half of the new work week ahead. The longer range outlook shows that these long lasting trade winds, will finally subside around next Thursday, when a cold front approaches the state from the northwest.
Satellite imagery shows clouds covering parts of the island chain, with thick high cirrus now moving by south of the Big Island. As the trades remain gusty, they will bring us windward biased showers, at least locally. The leeward sides will see clouds too, with showers reaching over into those areas here and there as well. An upper level trough of low pressure, will enhance our incoming showers at times into the weekend. This larger satellite picture shows a large area of bright white, high level clouds in the process of moving by south and east of the state. The lower level moisture to our east and northeast, will bring locally heavy rains to our islands, especially around Maui County and the Big Island…with flooding at times locally. Snow will pile up on the Big Island summits through the night, depending upon available moisture. There may still be a few thunderstorms popping-up…especially from Maui eastward to the Big Island.
Our local trade winds will remain strong and gusty, with off and on showers, mostly along our windward sides…a few of which will continue to be locally heavy. Speaking of heavy, the largest rainfall totals ranged from over 6.00" to just below 10.00" during the last 24 hours…on Kauai, Maui, and the Big Island! These are big numbers, demonstrating the local deluges that have fallen over the islands lately. There continues to be lots of available moisture to fuel these locally heavy showers. At the same time, there's cold air aloft, associated with low pressure over the state, which enhances this precipitation. Up high, like on the summits of the Big Island, there has been periodic snowfall…as shown on this webcam on Mauna Kea.
I'm afraid we aren't out of the woods, so to speak, just yet…with the threat of more windy weather, and those aforementioned locally heavy showers through the weekend. As we push through the weekend, we may see some slight relief in the precipitation department, although the trade winds will remain gusty. Looking a bit further ahead, those trade winds will finally back-off around next Thursday, as a cold front approaches the state, into next weekend. It's too early to know the particulars, although that information will become available as we move forward. The best chance for sunshine, less wind, and fewer showers will be along our leeward beaches. Those folks who live on the windward sides, which have been soaked lately, are probably about ready to head over to our leeward beaches, for sunshine and dry weather about now! I'll be back Saturday morning with your next new weather narrative. I hope you have a good Friday night until then. Aloha for now…Glenn.
World-wide tropical cyclone activity:

Atlantic Ocean/Caribbean Sea: There are no active tropical cyclones
Gulf of Mexico: There are no active tropical cyclones
Eastern Pacific Ocean: There are no active tropical cyclones
Central Pacific Ocean: There are no active tropical cyclones
Western Pacific Ocean: There are no active tropical cyclones
South Pacific Ocean: There are no active tropical cyclones
North and South Indian Oceans: Tropical cyclone 16S (Haruna) remains active offshore to the southeast of Madagascar…located approximately 460 NM southwest of La Reunion Island. Sustained winds are 45 knots, with gusts to 55 knots (52-63 mph). Here's the Joint Typhoon Warning Center (JTWC) graphical track map, and a satellite image.
Interesting: Break out that guacamole! New data suggests avocado consumption may be associated with better diet quality! Avocados, also known as the alligator pear for their shape, green skin and rough texture can be found in dishes all around the world.
From adding them to dips, spreads, salads and sandwiches, avocados not only add to the flavor of your meal, but carry multiple health benefits as well. According to the new analysis of data from the National Health and Nutrition Examination Survey, avocado consumption is associated with improved overall diet quality, nutrient intake, and reduced risk of metabolic syndrome.
The health benefits of avocados have been publicly known as they contain monounsaturated fatty acids (what some call the "good" type of fat), dietary fiber, and essential nutrients. However no data had existed on the fruit's effects on diet quality and weight management, until now.
Researchers collected data from over 17,000 participants over the age of 19 who provided information on their avocado consumption and overall nutrition while also undergoing physical examinations.
The study revealed that in general, avocado consumers had significantly higher intakes of vegetables and fruit, thus contributing to their diet quality, total fat, dietary fiber, vitamins E, K, magnesium, and potassium. The consumers also had lower intakes of added sugars.
The research also shows that body weight, BMI, and waist circumference were significantly lower in avocado consumers vs non-consumers. "These findings suggest an interesting association between the consumption of avocados and better nutrient intakes and other positive outcomes," said study primary investigator Victor Fulgoni, PhD.
"These observations were derived from population survey data, they provide important clues to better understanding the relationships between diet and health, and give direction to future research endeavors."
"To this end, the Hass Avocado Board is funding additional clinical studies to investigate the relationship between fresh avocado consumption and risk factors for cardiovascular disease, avocados' potential positive role in weight management and diabetes, and avocados' ability to enhance nutrient absorption," said Hass Avocado Board Executive Director Emiliano Escobedo.
While it can be debated that healthier people may be eating other and more nutritious foods besides avocados that could be contributing to their overall diet quality and despite the paper's connection to the Hass Avocado Board, one thing is for sure- avocados are a vitamin-packed super food, so eat up!
February 22nd, 2013 at 2:31 pm
Ren V Says:

Hey there Glenn. Here is some footage, a buddy of mine got of the flash flooding yesterday. The other guy who was with us, will be putting another video up as well, as soon as he's done editing. http://www.youtube.com/watch?v=jjjsag5ya8Y~~~Hi Ren, thanks, I'll check it out, and I'm sure others will be clicking on your footage as well. Aloha, Glenn
Leave a Reply