Air Temperatures – The following maximum temperatures were recorded across the state of Hawaii Wednesday afternoon:
Lihue, Kauai – 79
Honolulu airport, Oahu - 82
Molokai airport - 81
Kahului airport, Maui – 83
Kona airport – 83
Hilo airport, Hawaii - 79
Air Temperatures ranged between these warmest and coolest spots near sea level – and on the highest mountain tops around the state…as of 810pm Wednesday evening:
Barking Sands, Kauai - 75
Hilo, Hawaii – 69

Haleakala Summit – 41 (near 10,000 feet on Maui)
Mauna Kea Summit – 28 (near 13,800 feet on the Big Island)
Hawaii's Mountains – Here's a link to the live web cam on the summit of near 13,800 foot Mauna Kea on the Big Island of Hawaii. This web cam is available during the daylight hours here in the islands…and when there's a big moon shining down during the night at times. Plus, during the nights you will be able to see stars, and the sunrise and sunset too…depending upon weather conditions. Here's the Haleakala Crater webcam on Maui.

Tropical Cyclone activity in the eastern and central Pacific - Here's the latest weather information coming out of the National Hurricane Center, covering the eastern north Pacific. You can find the latest tropical cyclone information for the central north Pacific (where Hawaii is located) by clicking on this link to the Central Pacific Hurricane Center. A satellite image, which shows the entire ocean area between Hawaii and the Mexican coast…can be found here. The 2012 hurricane season is over in the eastern and central Pacific…resuming on May 15th and June 1st 2013.
Aloha Paragraphs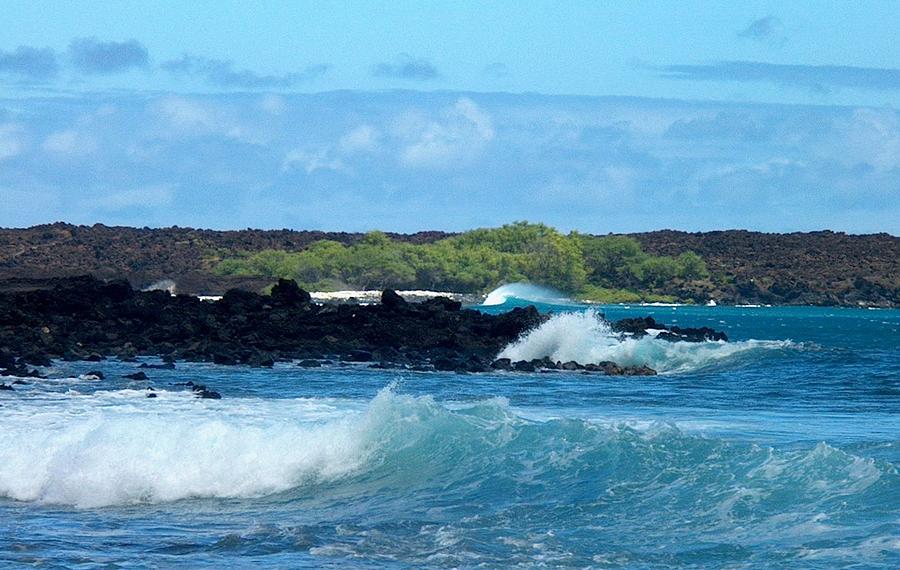 Clear to partly cloudy, cloudy periods, gradually
increasing passing showers windward sides…along
the leeward sides in places at times
Blustery trade winds…Small craft wind
advisory all marine zones
Gale warning for the Alenuihaha and
Pailolo Channels…through 6pm Thursday
High surf advisory for east shores of all
islands…through 6pm Friday
The following numbers represent the most recent top wind gusts (mph), along with directions as of Wednesday evening:

39 Puu Lua, Kauai – NE
38 Kahuku Trng, Oahu – ENE
40 Molokai – ENE
47 Kahoolawe – NE
37 Lipoa, Maui – ESE
35 Lanai – NE
46 South Point, Big Island – NE

Here are the latest 24-hour precipitation totals (inches) for each of the islands as of Wednesday evening:

0.95 Mount Waialeale, Kauai
0.32 Manoa Lyon Arboretum, Oahu
0.20 Molokai
0.00 Kahoolawe
0.37 Puu Kukui, Maui
1.13 Saddle Quarry, Big Island

We can use the following links to see what's going on in our area of the north central Pacific Ocean. Here's the latest NOAA satellite picture – the latest looping satellite image…and finally the latest looping radar image for the Hawaiian Islands.

~~ Hawaii weather commentary ~~
Strong and gusty trade winds will prevail through the rest of the week. We currently have a strong, near 1037 millibar high pressure system (weather map), located far to the north-northeast of Hawaii…moving south-southwest towards Hawaii. Here's a satellite image, showing high cirrus, and middle level altocumulus clouds just to the south and southeast of the islands. If we take a look at these higher level clouds, by putting the image into motion, we can see them streaming northeast out of the deeper tropics to our southwest…just clipping the Big Island at the time of this writing. At the same time we have lower level clouds riding in on the trade winds. These clouds will provide passing showers at times, along our windward coasts and slopes. We'll likely find an increase in showers tonight, generally over the windward sides, although elsewhere at times too…into Friday. A few of these showers may become quite generous at times.

These gusty trades were abnormally strong today…as they have been all this week. We saw the day start off, even well before sunrise, in a gusty manner. During the day Wednesday, all the islands saw wind gusts well over 30 mph. There were reports of 40+ mph gusts many times during the day as well. South Point, down on the Big Island, saw a gust hit 49 mph this afternoon, which may have topped-out above 50 mph briefly. Early this evening, as you can see above, Molokai, Kahoolawe, and South Point were all reaching into the 40-47 mph range. We had a wind advisory today, for those windiest areas around Maui County and the Big Island, although it was cancelled recently. It looks like the winds will charge up the scale again tomorrow, necessitating another wind advisory for those areas again. When will these winds calm down, well, lets just saw they're expected to slow down a little this weekend…we'll see.
Meanwhile, these stronger than normal winds will carry showery clouds into our windward sides, with a few being carried over into the leeward sides at times too. This evening into the night, an upper level low pressure system will move close to…or over the western end of the island chain. This in turn will enhance these incoming showery clouds, likely through about Friday or so, at least at times. There's a chance that some of these showers may become locally heavy, with a few downpours falling here and there. This precipitation activity is expected to mellow out, and diminish to some degree as we push into the weekend. ~~~ I'll be back with more news on this windy episode, and those showers riding in on the trades as well, early Thursday morning. I hope you have a great Wednesday night wherever you're spending it! Aloha for now…Glenn.
World-wide tropical cyclone activity:

Atlantic Ocean/Caribbean Sea: There are no active tropical cyclones
Gulf of Mexico: There are no active tropical cyclones
Eastern Pacific Ocean: There are no active tropical cyclones
Central Pacific Ocean: There are no active tropical cyclones
Western Pacific Ocean: There are no active tropical cyclones
South Pacific Ocean: Typhoon Evan (04P) remains active in the south Pacific Ocean…located approximately 65 NM west-northwest of Pago Pago, American Samoa. Sustained winds are near 90 knots, with gusts to near 110 knots. Typhoon Evan will increase in strength…through the next 36 hours. Here's the JTWC graphical track map, along with a satellite image.
North and South Indian Oceans: There are no active tropical cyclones
Interesting: The National Interagency Fire Center (NIFC) is the nation's support center for wild land firefighting and provides up-to-date reports on current forest fires. While the NIFC has been collecting data for the past 50 years, records maintained by the center and by NASA both indicate that 2012 was an extraordinary year for wildfires in the United States. NIFC statistics show that more than 9.1 million acres had burned as of December 7, 2012—the third highest total in the record that dates back to 1960.
The statistics also report that despite the high number of acres burned in 2012, the total number of fires—over 56,000—was low, compared to the other years on the NIFC record. Data also concludes that the average fire size in 2012 was the highest on the record. Louis Giglio, a scientist based at NASA's Goddard Space Flight Center, helps maintain another fire record of area burned per year that is part of the Global Fire Emissions Database (GFED), an ongoing effort to track the world's fire emissions.
The GFED records are based largely on data acquired by the two Moderate Resolution Imaging Spectroradiometer (MODIS) instruments on NASA's Terra and Aqua satellites. Giglio said that 2012 will almost certainly break the GFED record. Giglio also stated: "This type of long-term fire monitoring will only become more important as the climate changes and certain regions prone to fire become drier."
Looking at records from longer time periods will be useful to researchers who can study these trends and start predicting which regions need to be better managed so wildfires do not spread. Also of importance is where prescribed burnings (intentional fires that remove underbrush and agricultural waste) have occurred so foresters can better mange these areas.
The newly released map depicts fires that burned between January 1 and October 31, 2012, as detected by the MODIS instruments and data collected by NASA satellites. While one would assume that red would depict stronger forest fires, for this graphic, yellow and orange indicates fires that were more intense and had a larger area of active burning.
Most of these intense fires occurred in the western United States, where lightning and human activity often sparks blazes that firefighters cannot contain. Many of the lower intensity fires shown in red were prescribed fires, lit for either agricultural or ecosystem management purposes.
Leave a Reply