Air Temperatures – The following maximum temperatures were recorded across the state of Hawaii Saturday afternoon:
Lihue, Kauai – 84
Honolulu airport, Oahu - 87
Molokai airport - 84
Kahului airport, Maui – 87
Kona airport – 85
Hilo airport, Hawaii - 82
Air Temperatures ranged between these warmest and coolest spots near sea level – and on the highest mountain tops around the state…as of 930pm Saturday evening:
Barking Sands, Kauai – 79
Hilo, Hawaii - 71

Haleakala Summit - 54 (near 10,000 feet on Maui)
Mauna Kea Summit – M (near 13,800 feet on the Big Island)
Hawaii's Mountains – Here's a link to the live web cam on the summit of near 13,800 foot Mauna Kea on the Big Island of Hawaii. This web cam is available during the daylight hours here in the islands…and when there's a big moon shining down during the night at times. Plus, during the nights you will be able to see stars, and the sunrise and sunset too…depending upon weather conditions. Here's the Haleakala Crater webcam on Maui…although this webcam is not always working correctly.

Tropical Cyclone activity in the eastern and central Pacific - Here's the latest weather information coming out of the National Hurricane Center, covering the eastern north Pacific. You can find the latest tropical cyclone information for the central north Pacific (where Hawaii is located) by clicking on this link to the Central Pacific Hurricane Center. A satellite image, which shows the entire ocean area between Hawaii and the Mexican coast…can be found here.
Aloha Paragraphs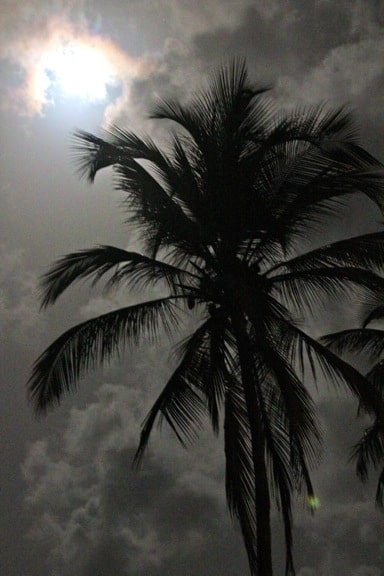 Big just past full moon tonight

Gusty trade winds, just a few windward
showers through Labor Day on Monday

As this weather map shows, we have a moderately strong high pressure system located to the northeast of the islands. Our local trade winds will be moderately strong and gusty through the next week…increasing some this weekend into Monday.
The following numbers represent the most recent top wind gusts (mph), along with directions as of Saturday evening:

30 Lihue, Kauai – NE
37 Kuaokala, Oahu – NE
31 Molokai – NE
36 Kahoolawe – NE
35 Kahului, Maui -NE
33 Lanai – NE
30 PTA Keamuku, Big Island – NE

We can use the following links to see what's going on in our area of the north central Pacific Ocean. Here's the latest NOAA satellite picture – the latest looping satellite image…and finally the latest looping radar image for the Hawaiian Islands.
Here are the latest 24-hour precipitation totals (inches) for each of the islands as of Saturday evening:

0.30 Mount Waialeale, Kauai
0.07 Waihee Pump, Oahu
0.00 Molokai
0.00 Lanai
0.00 Kahoolawe
0.02 Puu Kukui, Maui
0.40 Mountain View, Big Island
~~ Hawaii Sunset Commentary ~~
Our trade winds will be on the increase over the next several days…lasting through the next week. The NWS forecast office in Honolulu is keeping the small craft wind advisory active over those windiest parts of Maui County and the Big Island. We find a moderately strong, near 1029 millibar high pressure system (weather map) located to the northeast of the islands Saturday evening. Windward showers will fall at times, although not many through this holiday weekend into Monday.
Here in Kula, Maui at 510pm Saturday evening, it was clear to partly cloudy and a little breezy…with an air temperature of 82.3F degrees. The trades are forecast to continue across our islands, increasing a notch or so Sunday into Monday. These trade winds will blow generally in the moderately strong realms, although there will be those stronger gusts at times. If we look at this satellite image, it shows low cloud patches upwind of the islands, with clears skies downwind of the leeward sides. These lower level clouds will bring a few passing showers over the next few days. At the same time, we see an area of high cirrus clouds approaching the state from the southwest.
~~~ Friday evening I went to a dance party in Haiku, on the windward side of east Maui. It was fun to dance to good music outside under the full moon! For some reason, as is often the case, there were more women dancing than men, which was fine with me. The dance floor was on grass, which made it a little difficult, and it wasn't quite flat either, oh well…it worked out alright anyway. I had the sunroof open on my car as I drove home through Makawao, and up through the pasture lands of Kula…so the full moon was beaming down on me.
~~~ Since I went dancing last evening, rather than going to see a new film, I've decided at the last moment to head down to Kahului this evening, to see Hit and Run, starring Dax Shepard, Kristen Bell, Bradley Cooper, and Kristin Chenoweth…among many others. The synopsis: a young couple risks it all when they leave their small town life and embark on a road trip that may lead them towards the opportunity of a lifetime. Their fast-paced road trip grows awkwardly complicated and hilarious when they are chased by a friend from the past, a federal marshal and a band of misfits. Looking at the critics comments, they range from terrible to very good, what else is new? At any rate, I'm willing to give this film a try, while I'm bidding my time, until the film I really want to see, called Lawless, has the crowds thinned out at the theaters perhaps next weekend. Here's the trailer for Hit and Run, and I'll let you know what I thought about it Sunday morning.
By the way, just because the moon was full last night, doesn't mean it won't be very bright again tonight. I'll be back again Sunday morning with your next new weather narrative. I hope you have a great Saturday night wherever you happen to be spending it! Aloha for now…Glenn.

World-wide tropical cyclone activity:

Atlantic Ocean/Caribbean Sea: Tropical storm Kirk (11L) remains active, although weakening in the central Atlantic Ocean…located 745 miles northwest of the Azores. Sustained winds were 50 mph, moving towards the northeast rapidly at 37 mph. Here's the NHC graphical track map, along with a satellite image of tropical storm Kirk. Here's the hurricane model output for Kirk.

Tropical storm Leslie (12L) is active in the tropical Atlantic…located 295 miles north of the Leeward Islands. Sustained winds were 65 mph, moving northwest at 15 mph. Here's the NHC graphical track map for Leslie, and a satellite image. Here's the hurricane models information for this storm. Look for Leslie to become a hurricane within 120 hours or so…as its meeting less than favorable environmental conditions for strengthening at the moment. Leslie will move in a generally northwest direction, keeping it away from the Caribbean Islands. Later in the forecast cycle, it will turn more towards the north, attaining hurricane strength. There are no land areas in the projected path of this tropical cyclone at the moment, although Leslie could move close to Bermuda next weekend.
Meanwhile, a new area of disturbed weather has now formed in the central Atlantic, located about 1125 miles northwest of the Cape Verde Islands. It is expected to be slow to occur, and has a low 10% chance of developing into a tropical depression within the next 48 hours.

Here's a satellite image showing tropical storm Kirk, former tropical cyclone Leslie…and this new tropical disturbance.
Gulf of Mexico: There are no active tropical cyclones
Eastern Pacific Ocean: Post-tropical cyclone Ileana (9E) remains active offshore from the Mexican west coast…located about 805 miles west of the southern tip of Baja California. Sustained winds were 30 mph. Here's the NHC graphical track map, along with a satellite image. There is no threat to land from this now retiring tropical cyclone. – Final Advisory
Meanwhile, there's a tropical disturbances offshore from southern Mexico. This area is located about 250 miles southwest of Mazanillo…with a high 90% chance of developing soon. It will become tropical depression 10E, and if it were to strengthen into a tropical storm, would be given the name John.
Here's a satellite image showing Ileana, and this area of disturbed weather.
Central Pacific Ocean: There are no active tropical cyclones
Western Pacific Ocean: There are no active tropical cyclones
South Pacific Ocean: There are no active tropical cyclones
North and South Indian Oceans: There are no active tropical cyclones

Interesting: Soot is a general term that refers to impure carbon particles resulting from the incomplete combustion of a hydrocarbon. Global climate models may be overstating the warming properties of black carbon particles, according to new research led by the University of California, Davis. The study was published online Friday in the journal Science.
Black carbon is a climate forcing agent formed through the incomplete combustion of fossil fuels, biofuel, and biomass, and is emitted in both anthropogenic and naturally occurring soot. It consists of pure carbon in several linked forms.
Black carbon warms the Earth by absorbing heat in the atmosphere and by reducing albedo, the ability to reflect sunlight, when deposited on snow and ice. "Our results don't change the fact that things are going to warm — just to what degree, literally," said Christopher Cappa, a UC Davis civil and environmental engineering professor. "Our findings should result in more accurate predictions."
A component of soot, black carbon is created through combustion — when fuels such as oil, coal and wood are burned. Because black carbon absorbs sunlight, it can warm the atmosphere. Reducing black carbon in the atmosphere has been a target for near-term climate mitigation. Earlier studies have suggested black carbon's warming impacts are second only to carbon dioxide.
Approximately 20% of black carbon is estimated as emitted from burning biofuels, 40% from fossil fuels, and 40% from open biomass burning. Today, the majority of black carbon emissions are from developing countries and this trend is expected to increase. The largest sources of black carbon are Asia, Latin America, and Africa. China and India together account for 25-35% of global black carbon emissions.
Unlike greenhouse gases, which can live in the atmosphere for centuries, black carbon particles have lifespans of only one to two weeks, making it more difficult to quantify their impacts on a global scale through direct measurements. So scientists have had to rely more heavily on mathematical models to understand black carbon particles' impacts on climate change.
Climate models regarding black carbon have been based on theories and laboratory experiments showing that as other chemicals are condensed onto black carbon particles, the warming properties of these particles increase. In the new study, an international team of researchers left the lab and went into the field, where they used direct measurements to establish to what extent laboratory experiments translated to the real atmosphere.
The researchers found that the chemical and physical changes that occurred in the field had less impact on black carbon's warming ability than lab experiments and models had forecast. Atmospheric changes to the black carbon particles increased light absorption by about 6 percent, rather than the 100 percent increase suggested by previous studies.
"This study has implications for thinking about the direct impact of black carbon on Earth's energy budget," said Cappa. In their new study, Cappa and his colleagues collected data during two field studies in 2010: CalNex 2010 and the Carbonaceous Aerosols and Radiative Effects Study (CARES). For CalNex, Cappa boarded the research vessel Atlantis and sailed along the California coast from San Diego to San Francisco.
The team measured the light absorption by black carbon particles, the extent to which black carbon particles mixed with other chemical components in the urban atmosphere, and how black carbon particles changed over time. During CARES, measurements were made at a ground site in Sacramento.
Leave a Reply