Air Temperatures – The following maximum temperatures were recorded across the state of Hawaii Sunday:
Lihue, Kauai - 83
Honolulu airport, Oahu - 86
Kaneohe, Oahu - 87
Molokai airport - 85
Kahului airport, Maui – 86
Kona airport – 85
Hilo airport, Hawaii - 83
Air Temperatures ranged between these warmest and coolest spots near sea level – and on the highest mountain top around the state…as of 5pm Sunday evening:
Honolulu, Oahu - 83
Hilo, Hawaii - 79

Haleakala Summit - M (near 10,000 feet on Maui)
Mauna Kea Summit – 46 (near 13,800 feet on the Big Island)
Hawaii's Mountains – Here's a link to the live web cam on the summit of near 13,800 foot Mauna Kea on the Big Island of Hawaii. This web cam is available during the daylight hours here in the islands…and when there's a big moon shining down during the night at times. Plus, during the nights you will be able to see stars, and the sunrise and sunset too…depending upon weather conditions. Here's the Haleakala Crater webcam on Maui…although this webcam is not always working correctly.

Tropical Cyclone activity in the eastern and central Pacific - Here's the latest weather information coming out of the National Hurricane Center, covering the eastern north Pacific. You can find the latest tropical cyclone information for the central north Pacific (where Hawaii is located) by clicking on this link to the Central Pacific Hurricane Center. A satellite image, which shows the entire ocean area between Hawaii and the Mexican coast…can be found here.

Aloha Paragraphs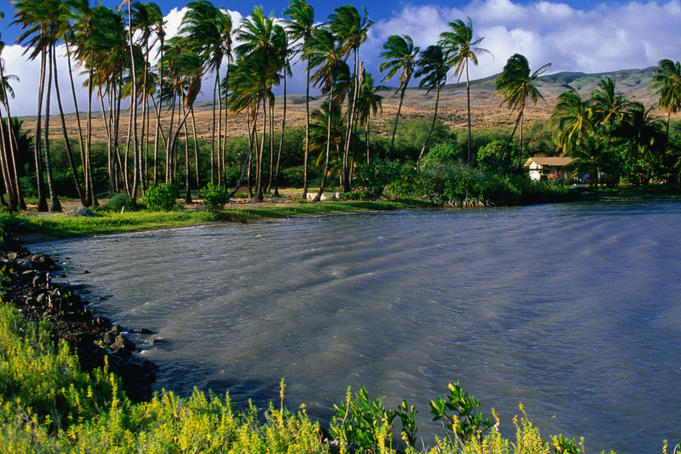 Gusty trade winds…windward showers locally


As this weather map shows, we have moderately strong high pressure systems located to the northwest through northeast of the islands. Our local trade winds will remain active…increasing a notch into Tuesday.
The following numbers represent the most recent top wind gusts (mph), along with directions as of Sunday evening:

32 Port Allen, Kauai – NE
32 Honolulu airport, Oahu – E
28 Molokai – NE
42 Kahoolawe – ENE
32 Kapalua, Maui – NE
33 Lanai – NE
36 Pali 2, Big Island – NE

We can use the following links to see what's going on in our area of the north central Pacific Ocean. Here's the latest NOAA satellite picture – the latest looping satellite image…and finally the latest looping radar image for the Hawaiian Islands.
Here are the latest 24-hour precipitation totals (inches) for each of the islands as of Sunday evening:

4.13 Mount Waialeale, Kauai
2.59 Manoa Lyon Arboretum, Oahu
0.66 Molokai
0.14 Lanai
0.01 Kahoolawe
2.51 Puu Kukui, Maui
0.99 Kawainui Stream, Big Island

Sunset Commentary:
Our local trade wind speeds will remain generally in the moderately strong realm…speeding up some over the next few days. We find several moderately strong high pressure systems located far to the northeast through northwest of Hawaii…providing this local wind flow. The trade winds will carry windward showers our way at times, with a few along our leeward sides locally too. We can use this satellite image to see areas of clouds to our east and northeast, being carried our way by the trades. These clouds will bring showers periodically over the next several days. It still looks like the Big Island and parts of Maui County will see the northern fringe of moisture, associated with a trough of pressure…bringing a localized increase in showers tonight into Tuesday. The trade wind boost, along with those passing showers, will fade after Tuesday, with a more typical trade wind weather returning Wednesday or Thursday through next weekend.
Friday night film: I went to see of of the hot films of the summer season, called The Amazing Spider-man, starring Andrew Garfield, Rhys Ifans, Emma Stone, Sally Field, Martin Sheen, Denis Leary…among many others. The synopsis: the Amazing Spider-Man is the story of Peter Parker (Garfield), an outcast high schooler who was abandoned by his parents as a boy, leaving him to be raised by his Uncle Ben (Sheen) and Aunt May (Field). Like most teenagers, Peter is trying to figure out who he is and how he got to be the person he is today. As Peter discovers a mysterious briefcase that belonged to his father, he begins a quest to understand his parents' disappearance – leading him directly to Oscorp and the lab of Dr. Curt Connors (Ifans), his father's former partner. As Spider-Man is set on a collision course with Connors' alter-ego, The Lizard, Peter will make life-altering choices to use his powers and shape his destiny to become a hero. ~~~ The critics have been generous with this long 2 hour, 17 minute film, and rightly so in my opinion. This film was very entertaining, engaging, and quick paced…which was perfect for me. There was lots of action, good special effects, and a nice slice of romance ta boot. As far as a grade goes, I think A- is very fitting, and not at all too generous. Here's a trailer if you're interested in taking a quite look.
Here in Kula, Maui at 520pm Sunday evening, it was partly cloudy and near calm…while the air temperature was 72.9F degrees. The trade winds will increase a notch tonight into Tuesday or Wednesday…before settling down again after the middle of the new week ahead. The NWS forecast office in Honolulu has issued a small craft wind advisory over those windiest parts of Maui County and the Big Island. Meanwhile, off and on passing showers will stick around along our windward sides. The windward sides of Maui and the Big Island will have the best chance to see an increase in showers as we move into the new work week…especially through Tuesday. As I was mentioning above, we'll grade back into a classic summer trade wind weather pattern by the middle of the new week onwards. I'll be back again early Monday morning with your next new weather narrative, I hope you have a great Sunday night wherever you happen to be spending it! Aloha for now…Glenn.
[World-wide tropical cyclone activity:

Central Pacific Ocean: There are no active tropical cyclones
Eastern Pacific Ocean: There are no active tropical cyclones
Atlantic Ocean/Gulf of Mexico/Caribbean: There are no active tropical cyclones
Western Pacific Ocean: Tropical storm Saola (10W) remains active in the Philippine Sea…moving in a northwesterly direction offshore to the northeast of Luzon Island. Sustained winds were 55 knots, with gusts to 70 knots. It is expected to slowly increase in strength, attaining typhoon status by Monday. The latest JTWC forecast shows Saola remaining offshore to thenortheastern tip Taiwan…and then towards mainland China. Here's the JTWC graphical track map, along with a NOAA satellite image.
Meanwhile, tropical storm Damrey (11W) is active in the western Pacific…moving in a west-northwesterly direction to the east-northeast of Iwo To Island. Sustained winds were 40 knots, with gusts to 50 knots. It is expected to slowly increase in strength some, although not attaining typhoon status during its life cycle. The latest JTWC forecast shows Damrey moving towards the mainland China coast, impacting the coast just to the north of Shanghai…remaining offshore from southern Japan along its way. Here's the JTWC graphical track map, along with a NOAA satellite image.

South Pacific Ocean: There are no active tropical cyclones

South and North Indian Oceans: There are no active tropical cyclones
Interesting: Regular physical activity adds about four years to life expectancy, and endurance exercise during leisure time seems to be better at extending life than physical activity done as work, according to a new research review published in the Journal of Aging Research. German researchers gathered well-designed studies on one of the most basic, but important, questions in health: Does physical activity increase life expectancy?
In reviewing the results of the studies, they found the answer was an unequivocal yes. Among the studies, there was a wide range of extra years found for active versus nonactive people, from less than half a year in one study to close to seven years in another.
When the results of the studies were combined, the researchers wrote, "The median increase of life expectancy of men and women in the eight studies presenting data on both sexes amounted to 3.7 years each."
One interesting finding was that purposeful exercise might trump being physically active as a consequence of one's life. As the researchers put it, "Physical activity during leisure time seems to increase life expectancy more effectively than total physical activity."
A potential contributing factor here is that people who exercise regularly might have other good health habits, such as eating well and not smoking, while people who are active as a result of their work might be more likely to have bad health habits.
Indeed, the researchers note the strong cumulative effect of activity with other good health habits: "Subjects who never smoked, follow a healthy diet, are adequately physically active, and consume only moderate alcohol have a mean life expectancy that is 11.1 years longer than those who practice none of these healthy life behaviors."
July 29th, 2012 at 3:25 pm
Eliza Says:

Aloha Glenn – well how about this? A nice rainshower here in upper Puka-ville about 11am. Of course it wasn't drenching, like we need. Have a neighbor who has no clue to water after 3pm or before 9am. At least we're cloudy today.
Did you find out anything about the concentric circles in the sky the other day? Noticed the weather guy on Hawaii News Now had other images of it from people on Oahu. The best they could conclude is that they were related to the RimPac exercises south of the islands.
~ Peace to all ~ Eliza~~~Hi Eliza, glad you're getting some shower activity down there, lightly showering up here in Kula too. As for those clouds, as I was just telling Rob, and before that another lady named Jules, I didn't see it. I hadn't even thought of having it be caused from some exercises, as I wasn't aware of that military thing. At any rate, it sounds like it was a very interesting formation of clouds. If I come across something else about this, I'll add it here. Aloha, Glenn

July 29th, 2012 at 2:47 pm
Robert Kay Says:

Aloha Glenn, I was wondering if you noticed the multiple rings in the sky, above the cloud line near Lanai this past Thursday-26th. A few of us upcountry noticed it and we were hoping you might have an explanation for it. Your input would be appreciated.–Aloha–Rob. Makawao.~~~Hi Rob, good to hear from you. I did hear about this cloud formation by a lady named Jules, who saw it too. She asked me about it, although without having seen it myself, I'd be hard pressed to give you feedback about it. If I was to see a picture, that would help lots. At any rate, glad you saw it too! Aloha, Glenn
Leave a Reply