Air Temperatures – The following maximum temperatures were recorded across the state of Hawaii Monday:
Lihue, Kauai - 83
Honolulu airport, Oahu - 86 (Highest recorded temperature Monday – 90 / 1995)
Kaneohe, Oahu - 82
Molokai airport - 82
Kahului airport, Maui – 85
Kona airport – 81
Hilo airport, Hawaii - 82
Air Temperatures ranged between these warmest and coolest spots near sea level – and on the highest mountain top around the state…as of 8pm Monday evening:

Barking Sands, Kauai - 80
Hilo, Hawaii - 71

Haleakala Summit - M (near 10,000 feet on Maui)
Mauna Kea Summit – 45 (near 13,800 feet on the Big Island)
Hawaii's Mountains – Here's a link to the live web cam on the summit of near 13,800 foot Mauna Kea on the Big Island of Hawaii. This web cam is available during the daylight hours here in the islands…and when there's a big moon shining down during the night at times. Plus, during the nights you will be able to see stars, and the sunrise and sunset too…depending upon weather conditions. Here's the Haleakala Crater webcam on Maui…although this webcam is not always working correctly.

Tropical Cyclone activity in the eastern and central Pacific - Here's the latest weather information coming out of the National Hurricane Center, covering the eastern north Pacific. You can find the latest tropical cyclone information for the central north Pacific (where Hawaii is located) by clicking on this link to the Central Pacific Hurricane Center. A satellite image, which shows the entire ocean area between Hawaii and the Mexican coast…can be found here. Here's a tropical cyclone tracking map for the eastern and central Pacific.

Aloha Paragraphs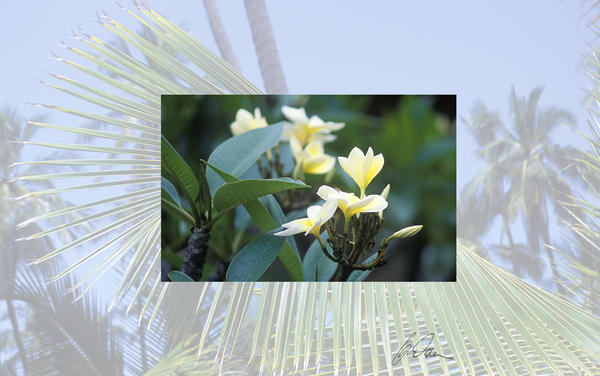 Active trade winds this week, with
windward showers…a few elsewhere



As this weather map shows, we have a large near 1030 millibar high pressure system to the north-northwest of the islands. Our local winds will remain active from the trade wind direction through the next week…at least.
The following numbers represent the most recent top wind gusts (mph), along with directions as of Monday evening:

27 Port Allen, Kauai – NE
36 Kuaokala, Oahu – NE
30 Molokai – NE
39 Kahoolawe – ENE
33 Kahului, Maui – NE
32 Lanai – NE
28 South Point, Big Island – NE

We can use the following links to see what's going on in our area of the north central Pacific Ocean. Here's the latest NOAA satellite picture – the latest looping satellite image…and finally the latest looping radar image for the Hawaiian Islands.
Here are the latest 24-hour precipitation totals (inches) for each of the islands as of Monday evening:

0.31 Mount Waialeale, Kauai
0.12 Waihee Pump, Oahu
0.04 Molokai
0.00 Lanai
0.00 Kahoolawe
0.05 Hana airport, Maui
1.03 Glenwood, Big Island

Sunset Commentary: Our trade winds will remain at moderately strong levels through the next week…with minor fluctuations from day to day. These trade winds remain strong enough now to keep small craft wind advisories active across those windiest areas in Maui County and the Big Island. There will continue to be a few off and on passing showers falling along our windward sides. These showers won't stretch over into leeward sides very often, with generally light showers at times here and there. The one exception will be on the Big Island, where a few afternoon showers will break out more regularly on the slopes in the Kona and Kau districts. There are no signs of heavy showers in the forecast well into the future.
As this large view satellite image shows, we have some large patches clouds to our east, some of which will bring showers to our windward sides. It appears that the Big Island will be the first in line for these showers this evening, which will migrate westward through the chain during the night. Meanwhile, there continues to be an area of thunderstorms far south of the Big Island, with a swath of high cirrus clouds to its north. Here's a closer look at our islands using this satellite picture…so we can keep track of those clouds upstream of the islands…as they continue to be carried in our direction on the gusty trade wind flow. In sum, showers arriving occasionally along our north and east facing windward sides. The leeward sides will be generally clear to partly cloudy, with just a few showers at times.
Here in Kula, Maui at 515pm, it was partly to mostly cloudy and calm…with an air temperature of 70.2F degrees. As noted above, our trade winds will continue blowing, carrying those periodic windward biased showers our way. The trade winds will remain steady, with only minor variations in strength through the next week. Small craft wind advisories are active over parts of Maui County and the Big Island, which is a common occurrence this time of year. All looks well and fine, with nothing of threat in our long range Hawaiian Island weather picture. ~~~ I'll be back early Tuesday morning with your next new weather narrative. I hope you have a great Monday night wherever you're spending it! Aloha for now…Glenn.
Extra: youtube video: Simply Red…Mellow My Mind
[World-wide tropical cyclone activity:

Central Pacific Ocean: There are no active tropical cyclones
Eastern Pacific Ocean: There are no active tropical cyclones
A BROAD AREA OF LOW PRESSURE LOCATED ABOUT 500 MILES SOUTH OF ACAPULCO MEXICO CONTINUES TO PRODUCE DISORGANIZED SHOWERS AND THUNDERSTORMS. SLOW DEVELOPMENT OF THIS LOW IS POSSIBLE OVER THE NEXT COUPLE OF DAYS AS IT MOVES WEST-NORTHWESTWARD AT 10 MPH. THIS SYSTEM HAS A MEDIUM CHANCE...30 PERCENT...OF BECOMING A TROPICAL CYCLONE DURING THE NEXT 48 HOURS.
Here's a satellite image showing this tropical disturbance
Atlantic Ocean/Gulf of Mexico/Caribbean: There are no active tropical cyclones

Western Pacific Ocean: There are no active tropical cyclones

South Pacific Ocean: There are no active tropical cyclones

South and North Indian Oceans: There are no active tropical cyclones

Interesting: A noted climate scientist says there is "no doubt" that climate change is "playing a role" in this year's series of record fires in the western U.S. A massive wildfire in Colorado has forced the evacuation of 36,000 people, destroyed over 300 homes, and killed two people. The devastation wrought by the Waldo Canyon Fire even prompted a visit from U.S. President Barack Obama.
But this is not the only epic fire in the U.S. this year: less than a month before the Colorado disaster, New Mexico experienced its largest fire on record in Gila National Forest; the conflagration burned up 247,000 acres. Other major wildfires have occurred in Utah and Wyoming, as well as other parts of New Mexico and Colorado.
"I have no doubt climate change is playing a role in this," climate scientist Kevin Trenberth, who heads the Climate Analysis Section at the National Center for Atmospheric Research (NCAR), told The Salt Lake Tribune, noting that "there are wildfires all over the place." Located in Boulder Colorado, Trenberth's NCAR lab was recently evacuated due to the Waldo Canyon Fire.
Trenberth may be be a bit more outspoken about the link between on-going fires and climate change than some of this colleagues, but his views are widespread among other climate experts as well. "Global warming has in general made this part of the world [the Southwest U.S.] warmer and drier than it would be otherwise," Michael Oppenheimer director of the Program in Science, Technology and Environmental Policy (STEP) at Princeton University said in a recent conference call, noting that "what we're seeing fits into a pattern."
Hotter temperatures, lower snow pack, and droughts are creating optimal conditions for fires in the Southwest. In addition, the longtime practice of suppressing small fires and a recent mass-infestation of bark beetles in the region's forests has left plenty of fuel to burn.
Add wind, and the fire becomes "a blast furnace," Steven Running, a forest ecologist with the University of Montana, said in the conference call. When that happens he says, "humans aren't going to stop [these fires] anymore than they're going to stop hurricanes in the Gulf Coast."
Such mega-fires are not a surprise, but fit into general predictions made for a warming world. A 2009 report commissioned by the George W. Bush administration specifically predicted that climate change would increase the likelihood of droughts and wildfires in the American Southwest.
The report also made particular note that a rise in wildfires would devastate both forests and property in the area. The infestation of bark beetles, which is also exacerbating fires in the region, is widely considered to be connected to global climatic changes as well.
Bark beetles cannot survive longtime exposure to cold temperatures, but given warmer nights and milder winters, bark beetles have decimated forests in the American and Canadian west over the last decade. Climate change has also allowed bark beetles to successfully infest new areas, including high altitudes and new latitudes.
This year's temperatures have been particularly extreme in the U.S., even though the globe is currently at neutral when it comes to El Nino conditions, which usually harbinger warmer temperatures. The last 12 months have been the warmest on record (going back to 1880) in the continental U.S., and the number of record high temperatures have outpaced record lows by 9 to 1 this year.
The past spring was also the warmest ever recorded, while the current summer is breaking some records set during the Dust Bowl. These extremes also fit into patterns seen worldwide. A recent report by Climate Communication points out that major heat waves struck Texas in 2011, Russia in 2010 (including massive forest fires), and Europe in 2003.
Statistical research has since shown that there is an 80 percent chance that the Russian heat wave of 2010 would not have occurred if not for climate change. "Extremely hot summers, those more than three standard deviations above the historic average, are now observed in about 10% of the global land area, compared to 0.1-0.2% for the period 1951-1980," reads the report.
Given ongoing climate change, heat waves, droughts, and fires are expected to occur with greater regularity in some parts of the world, while other regions are expected to become more prone to flooding. Oppenhemier said that the Waldo Canyon Fire, the most destructive in Colorado's history, was a "vivid image of what we can expect more of in the future."
The only way to combat this, says Oppenhemier, is to "[work] as hard as we can to reduce emissions." While leaders have pledged to keep global temperatures from rising above 2 degrees Celsius (3.6 Fahrenheit), greenhouse gas emissions continue to rise due to inaction.
Globally, climate change has pushed temperatures up 0.8 degrees Celsius (1.44 degrees Fahrenheit) to date, but the International Energy Agency warns that the world is currently on track to warm 6 degrees Celsius (10.8 degrees Fahrenheit) by the end of century of nations don't cut their emissions.
Leave a Reply